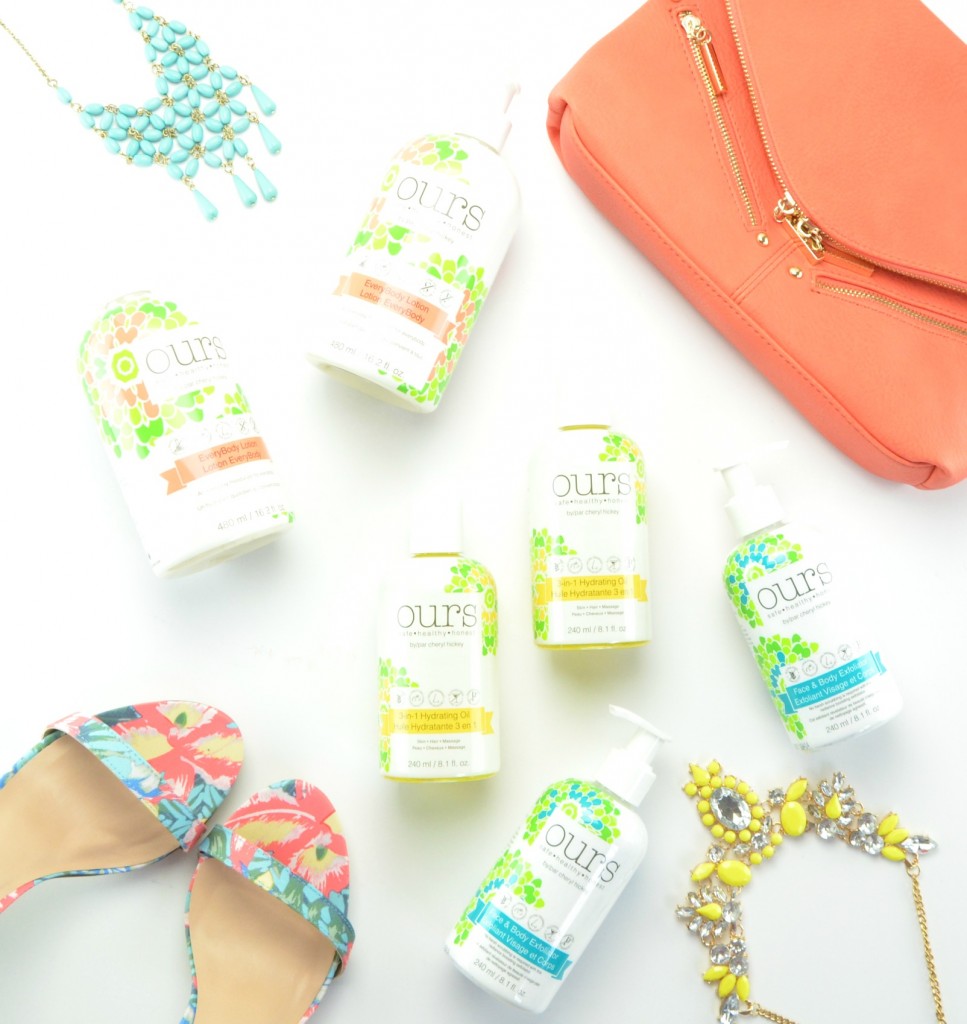 Natural Skincare
This Ours by Cheryl Hickey Giveaway came at the perfect time, not only is Cheryl a Canadian TV superstar, she's a mother of two and appreciates the need for products that are not only effective, but safe enough to use on the entire family. She's created a natural skincare line that keeps her family and yours in mind. This lineup is cruelty free and uses only the safest, most simplest and natural ingredients, free of any parabens, sulfates, petrochemicals, synthetic fragrances, dyes, silicones, and phthalates. It's enriched with ingredients you can actually read and understand like coconut and olive oil, aloe vera, vitamin E, Shea butter, cucumber and lavender.
As if the natural ingredients weren't enough, Ours by Cheryl Hickey products come in the most elegant and beautiful floral design packaging and features a meter reading system on the side of each bottle letting you know when it's time to repurchase. I can't tell you how many times I've ran out of my favourite body wash or lotion, because I never knew how much I had left. These bottles remind me if I have a "Full House" or "Empty Nest".
Ours by Cheryl Hickey Face & Body Exfoliator is a mild, yet effective face and body exfoliator. It has tiny exfoliating beads throughout that gently help to slough off dead skin cells for smoother, softer skin. It also contains shea butter and cocoa butter to help keep skin extremely hydrated and moisturized, while green tea extracts help to refresh the skin, and cucumber and aloe vera to help soothe. Not only can it be used on both the face and body, it can also triple as a conditioning mask if left on for 10 minutes. It retails for $11.99 for 240ml.

Ours by Cheryl Hickey EveryBody Lotion is an extremely moisturizing body lotion, yet is gentle enough for babies and those with sensitive skin. It has a lightweight, creamy texture that absorbs into the skin almost instantly. It never feels greasy or oily, yet provides intense hydration. It's formulated with coconut and olive oil, along with aloe vera and cucumber, to help soft, smooth and calm the skin. It retails for $11.99 for 480ml.

Ours by Cheryl Hickey 3-in-1 Hydrating Oil is a multi-purpose product that can be used on both the face, body and hair. It has a special blend of avocado oil to help moisturize, camellia seed oil that contains vitamins A, B and E that quickly penetrates deep down into the skin leaving it supple and hydrated, along with lavender oil to help soothe. It's lightweight, never greasy or oily formula, can be used as an all over face and body moisturizer, as a relaxing massage oil to help soothe babies (and adults hehe) to sleep thanks to its calming scent of lavender, or even onto damp hair to help control and reduce frizz and fly-a-ways. I think this would also make a wonderful shave oil for the fellows in your life. It retails for $14.99 for 240ml.

Also available are a Head to Toe Wash, 24 Hour Face Cream, 2-in-1 Conditioner, 3-in-1 Cleansing Oil, and Anything Balm exclusively at Rexall.
In honour of Mother's Day, come enter for your chance at 2 sets of OURS by Cheryl Hickey Skincare Prize Packs. You'll receive 2x EveryBody Lotion, 2x 3-in-1 Hydrating Oil and 2x Face & Body Exfoliator, so you'll be able to keep one for yourself and give one to your beautiful mom (or any other special female in your life).