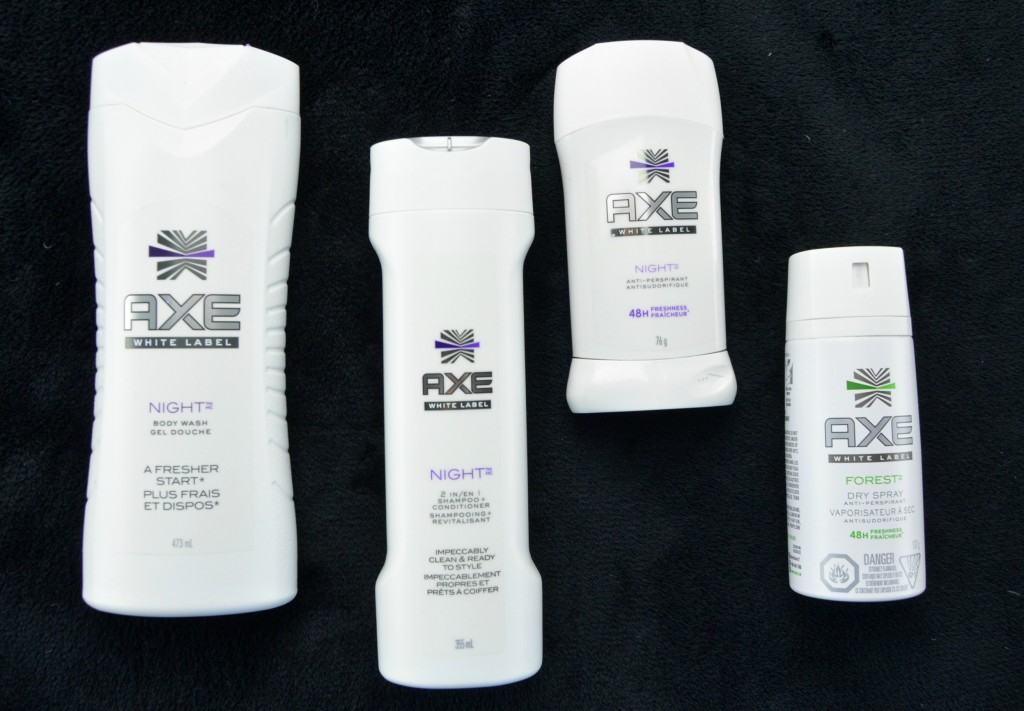 Grooming products for men
As much as Derek enjoys my girly shampoo and body washes, he sometimes just needs to feel like a man and have a masculine lineup of male grooming products designed specifically for him. The new Axe White Label Collection consists of four scents, Axe Night, a cool rush of grapefruit, lavender, cedarwood and praline notes, Axe Forest, a blooming blend of pear, starfruit, driftwood and moss notes, Axe Island, a surge of crushed citrus, fig, and coconut notes and Axe Air, an alluring breeze of lemon, ginger, coconut and sandalwood notes. These 4 new scents allow Derek to switch up his fragrances to best suit his mood for that day. It's designed to help men not only feel fresh, but to give them the confidence they need and help them to feel their finest. The collections includes a Dry Spray, an invisible antiperspirant, a body wash and a 2-in-1 shampoo and conditioner.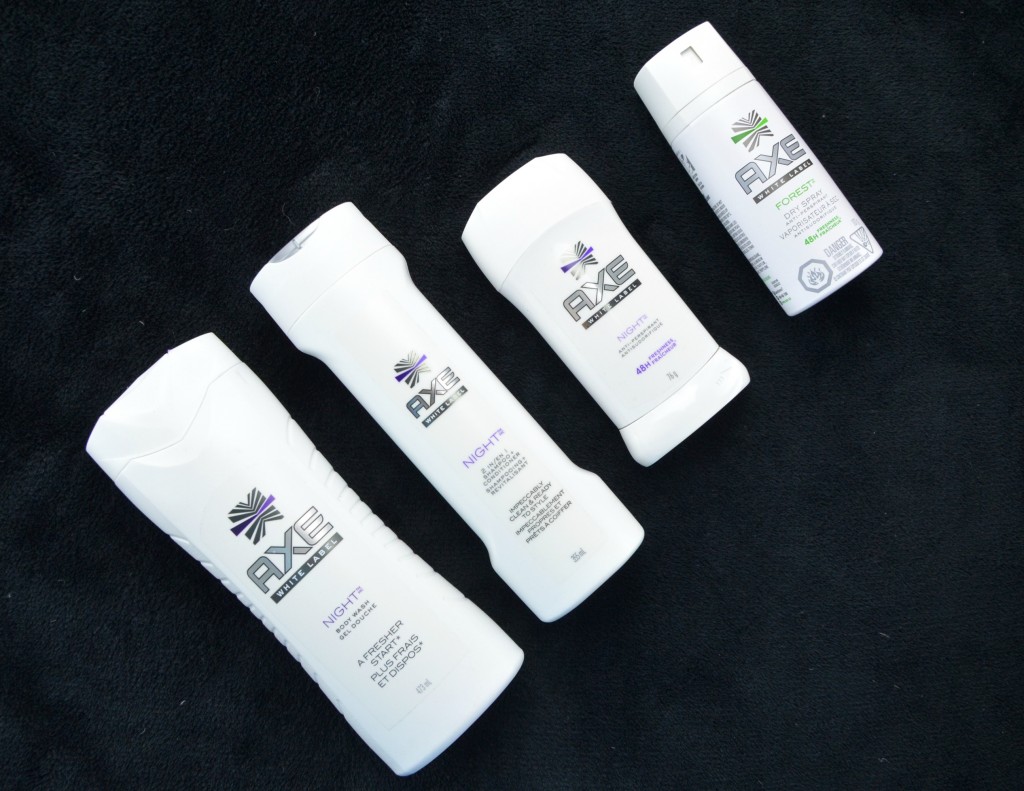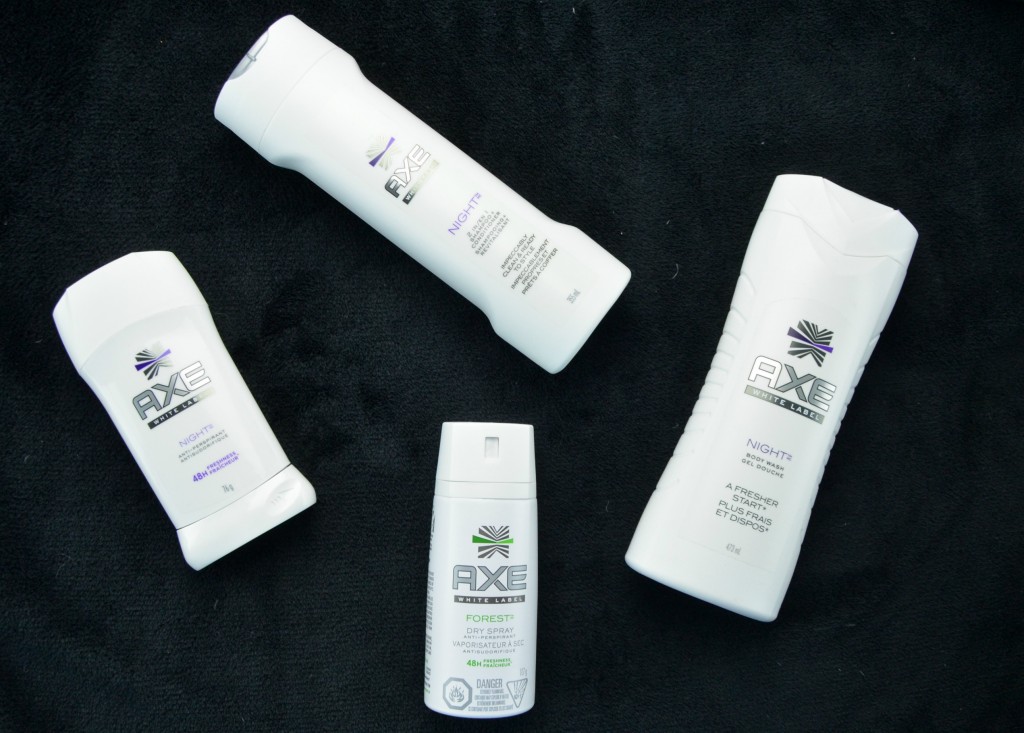 Axe White Label Dry Spray Antiperspirant is the first ever, ground breaking, dry spray antiperspirant line from AXE and is an entirely new way to stay dry. This innovated product was designed to instantly go on dry with no visible residue, while providing 48 hours of odour protection.

Axe White Label Dry Spray Antiperspirant is totally different than your typical body spray, this is actually a body spray with a built in deodorant, with antiperspirant, to provide all day freshness. Remember this is fairly new to men, and although us women have had it for years, it was somewhat of a learning curve for Derek. I guess the first time he used it, although it was easy to spray and came out quite evenly, he had his face in the direction of the spray, to make sure he was spraying the correct area, and he accidently sprayed himself in the face. Live and learn I guess? The spray really does apply dry, once it hits your skin, it's completely dry, no wetness or stickiness. It also applies clear, no nasty white residue left behind. It did provide Derek will all day freshness and kept his underarms completely dry, all day and night. Axe Forest is a fresh and almost fruity, yet woody scent that is extremely rich and luxurious. It retails for $5.99 for 107g.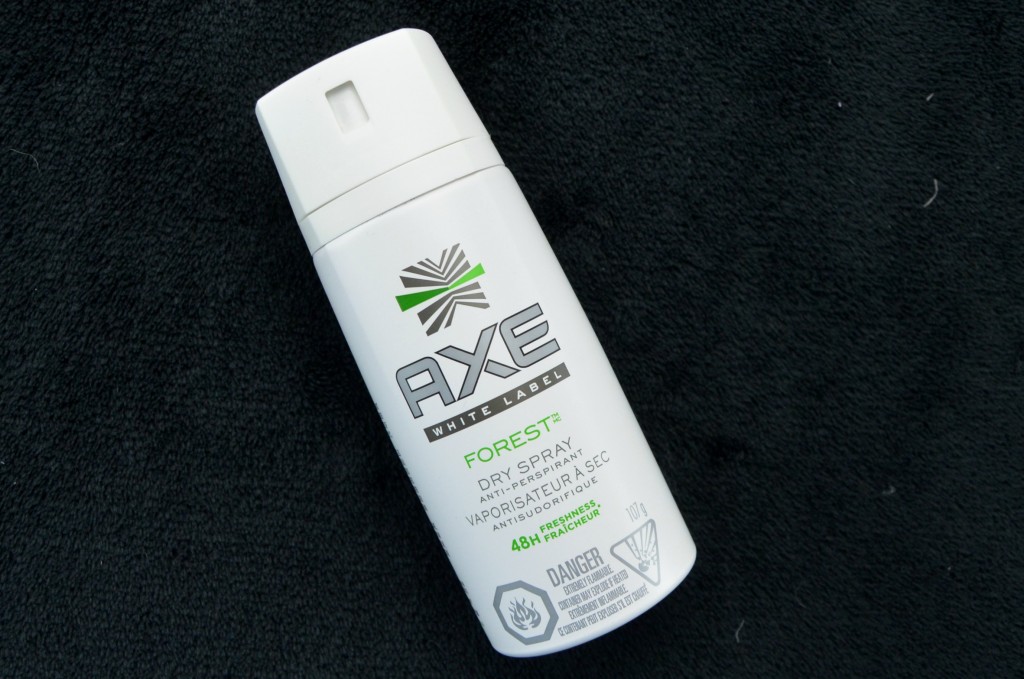 Axe White Label Antiperspirant Invisible Solid includes the highest level of sweat protecting ingredients and refreshing premium fragrance to keep your man confidently fresh with 48 hour odour protection.
Axe White Label Antiperspirant Invisible Solid is what you'd expect from your typical antiperspirant. Actually, I can't get much detail about it from Derek, he's pretty hooked on the dry spray. From the few times he's used it, he said he's really enjoying the scent. Axe Night is refreshing, yet has a strong and dominant scent of cedar that's extremely manly. Like the dry spray, it provides all day dryness without a greasy or white residue, but he just finds the dry spray a lot easier to use. It retails for $5.99 for 76g.

Axe White Label Body Wash is a 2-in-1 hair and body wash designed to leave your man feeling immaculately clean and to help give him the freshest start to his day.
Axe White Label Body Wash has a lightweight, creamy, bright purple formula that does an excellent job at cleansing the skin of dirt, oil and sweat without stripping the skin of its natural moisture. Derek says it keeps his skin hydrated throughout the day, even on the days he skips his moisturizer. It never seems to dry his skin out or make it feel tight or parched. It comes to a decent lather with only the smallest amount and it washes clean away. Axe Night has the same incredible fragrance as the antiperspirant, but isn't as overwhelming. It actually doesn't linger on the skin for more than a few minutes after getting out of the shower. It retails for $5.99 for 473ml.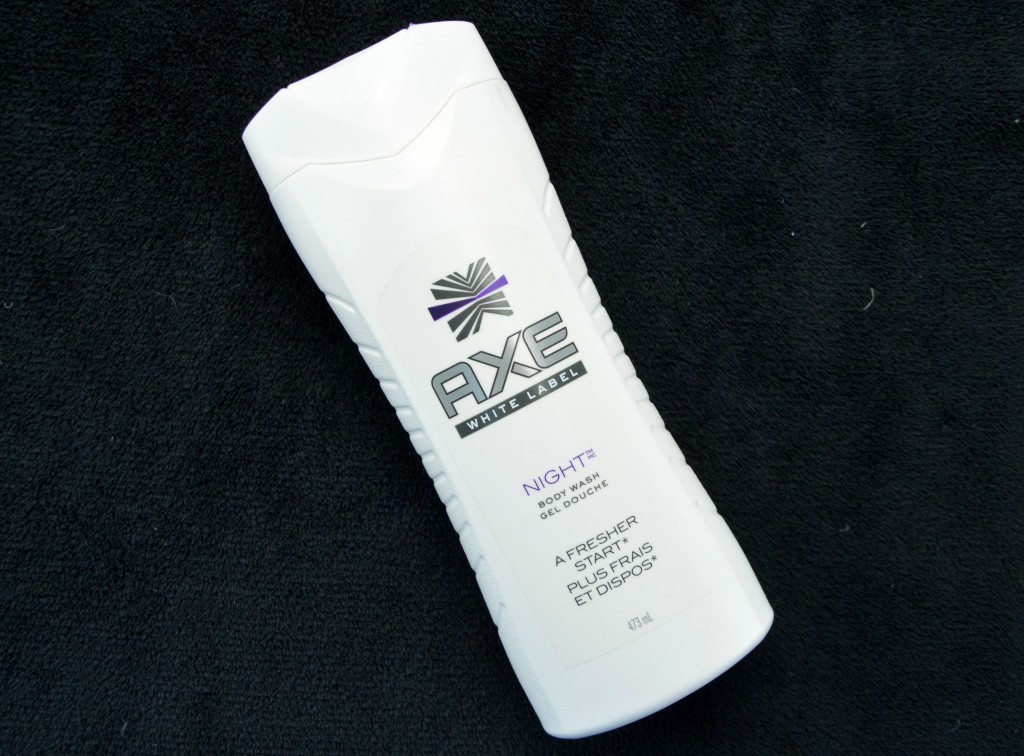 Axe White Label Shampoo + Conditioner is a 2-in-1 shampoo and conditioner that provides impeccably clean and ready to style hair in seconds.
Axe White Label Shampoo + Conditioner is perfect for those guys, like Derek, that don't want to fuss with too many products in the shower. If he's a little leery about applying the purple coloured Axe White Label Body Wash to his hair, like Derek, but still wants silky, soft hair, this dual product will be perfect for him. No need to fuss with two different products, this 2-in-1 product acts as both a shampoo to gentle cleanse the hair and get rid of any product buildup, and a conditioner to gently moisturize the hair for easy manageability. It too has an extremely lightweight texture, but it is done in a slim green shade. I guess these different coloured products are intended to keep things simple and not to confuse our men early in the morning hehe? It retails for $5.99 for 355ml.