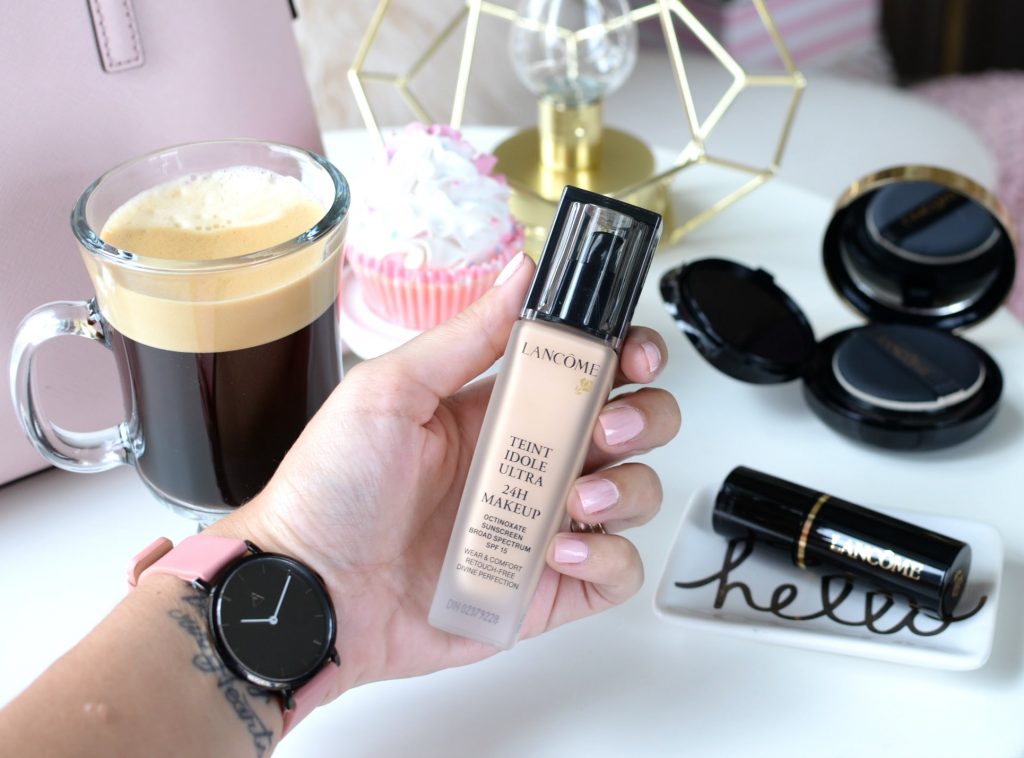 Lancôme Teint Idole Long Wear Foundation
Now more than ever, we need some direction in the makeup department. If you're anything like me, you can spend hours browsing the makeup aisle. I usually end up leaving more confused than when I walked in.  The cosmetic industry is constantly evolving and it can be quite intimidating. Knowing which brands to trust and what items to invest it is a challenge. Between liquid, cream, cushion and stick foundation, how does one know their ideal formula? There are literary thousands of choices when it comes to face makeup. Most of them are excellent options, but can get a tad confusing. Depending on your skin type and concerns, or how much coverage you want/ need, or how you want to apply it, there's a foundation for you.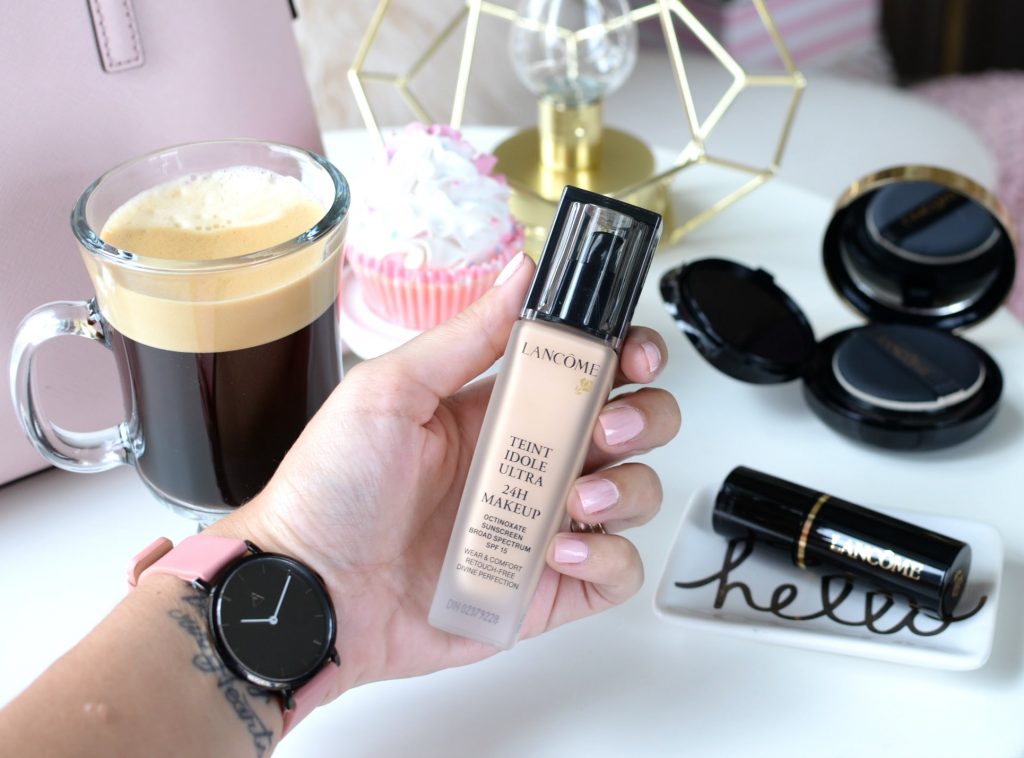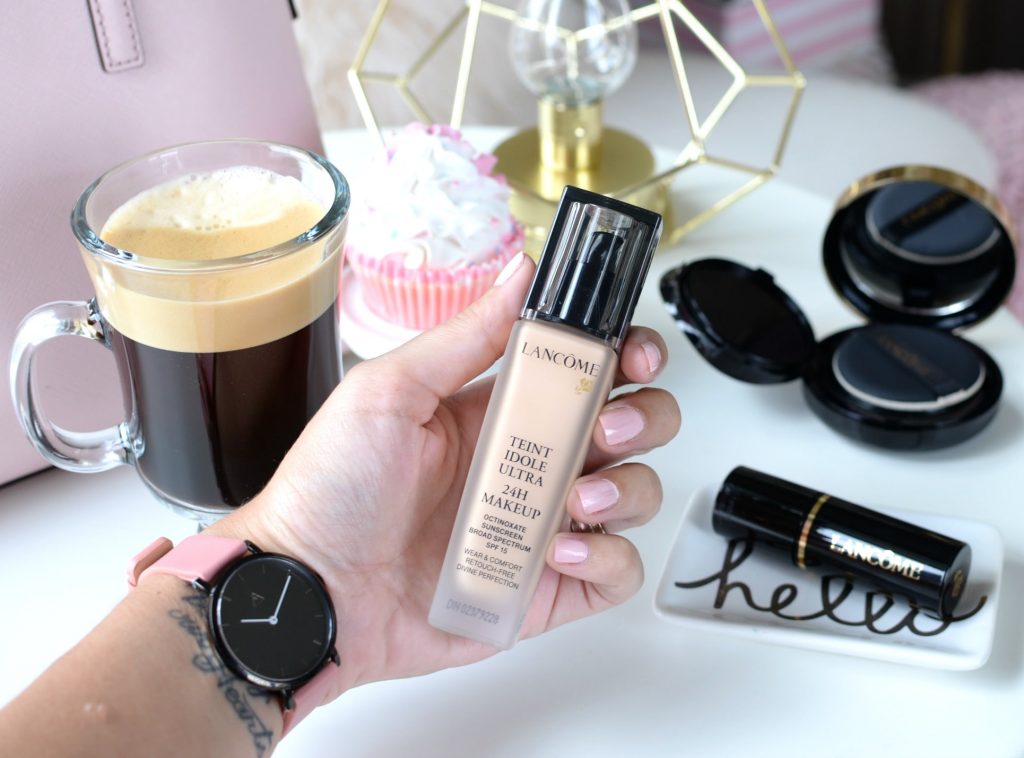 Liquid foundation is probably the most popular, due to their large shade range, finishes and coverage. From natural, matte or dewy, to sheer, medium or full coverage, the possibilities are endless. Cushion foundations offer the liquid-y texture of a liquid foundation with the control and easy of a stick. It's the perfect foundation for a girl on the go. Its lightweight texture is perfect for those days you want coverage without feeling like you're wearing a full face of makeup. Stick foundations are fairly new in the world of makeup, although makeup artists and experts have been using it for years. The solid texture is quick and easy to use, ideal for those that don't want to spend a ton of time getting ready. Its buildable formula can quickly take you from medium to full coverage in seconds.
I've been busying putting three different Lancôme Teint Idole products to the test, the Lancôme Teint Idole Long Wear Foundation, Teint Idole Ultra Longwear Foundation Stick SPF 21 and Teint Idole Ultra Cushion. The liquid foundation is ideal for those looking for a medium to full, velvety matte finish. It comes in 40 different shades and features SPF 15. The stick is designed for those wanting a more natural matte finish, with the bonus of being used as a concealer. It comes with 30 different shade options and SPF 21. The cushion was created for those with normal to dry skin, looking for a little extra hydration. It only comes in 18 shades, at the moment, but features SPF 50.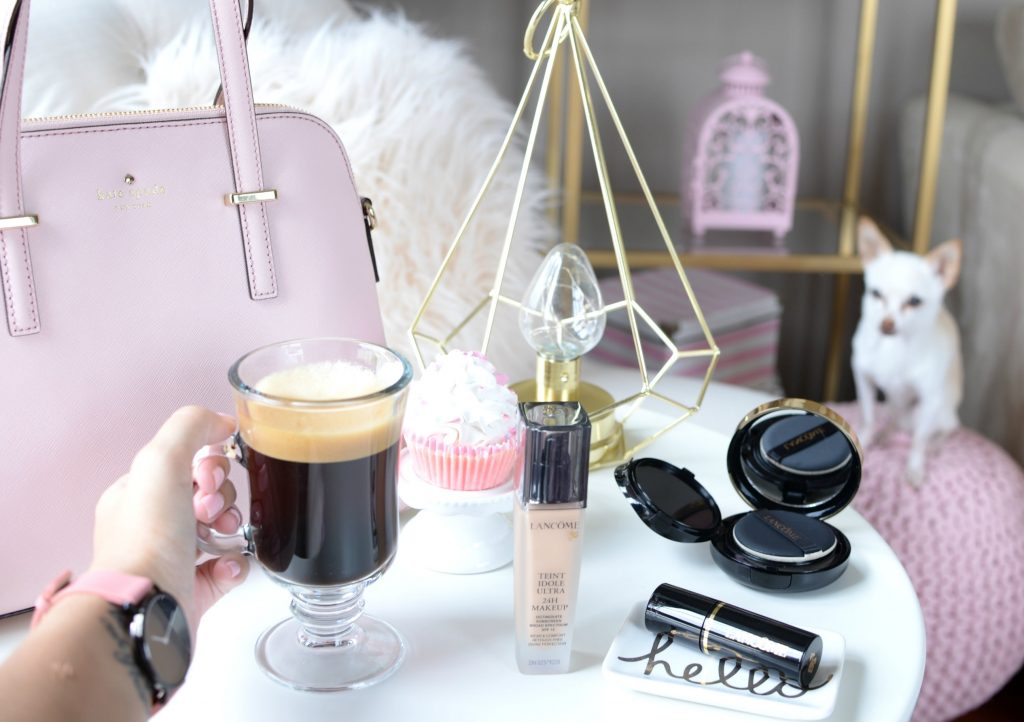 Lancôme Teint Idole Long Wear Foundation is an incredibly longwearing, full coverage foundation that features a natural, satin-to-matte finish. Its oil free formula provides a flawless, even complexion with perfect coverage in a single pump or two. It has a thick and creamy consistency, yet manages to be extremely lightweight once applied to the skin. It blends into the skin beautifully, sets and dries quickly and doesn't look or feel greasy on the skin.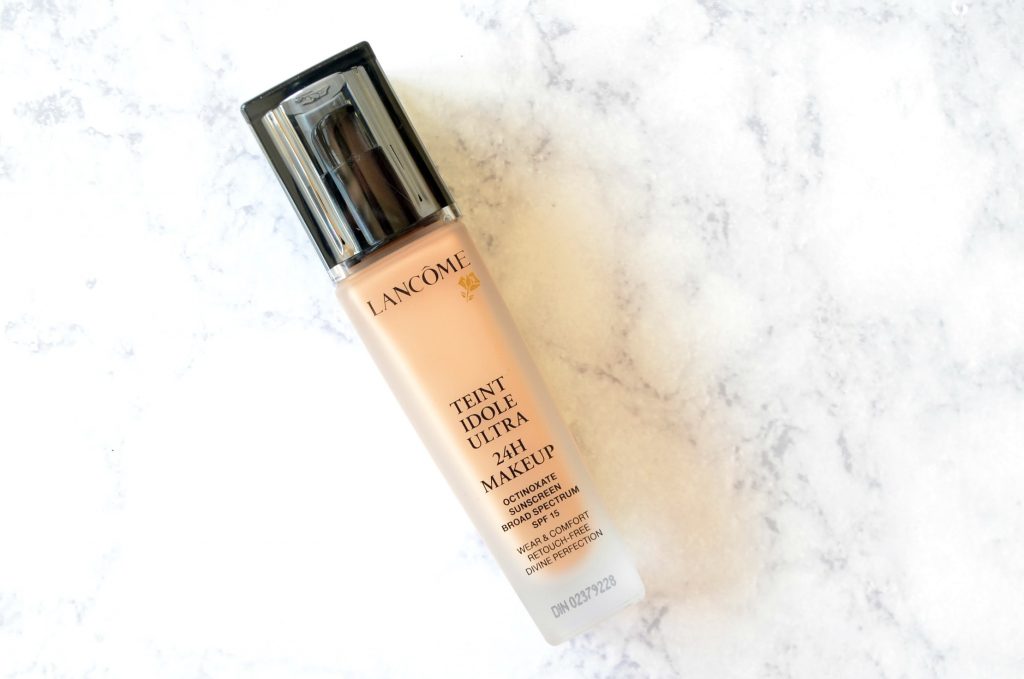 Lancôme Teint Idole Long Wear Foundation provides the full-coverage I look for in a foundation, hiding all imperfections, redness and hyperpigmentation, but sad to say, it's a tad drying for my skin type. Like the claims state, it's incredibly mattifying thanks to its absorbing oil formula. By hour 4, all the moisture in my skin was complexly sucked dry. It started to look a bit caky and settling in my fine lines. Thanks to its colour-true pigments, it didn't oxidize, fade or transfer the entire day. If you're oily, and looking for a foundation that will keep you shine-free, without touch-ups, you're going to love this. It retails for $55 for 30ml.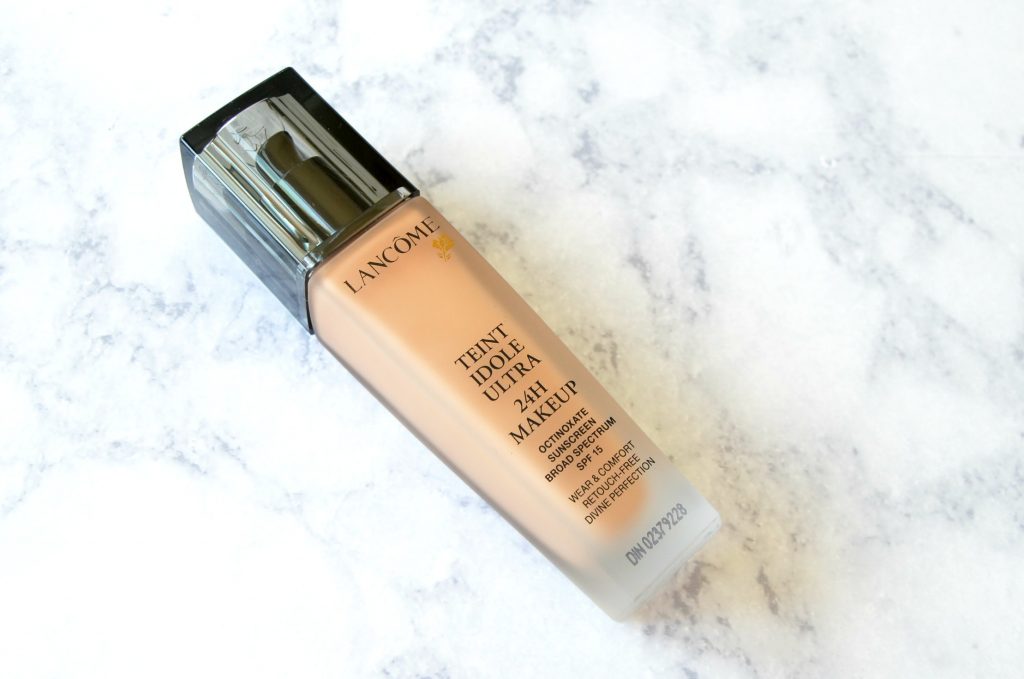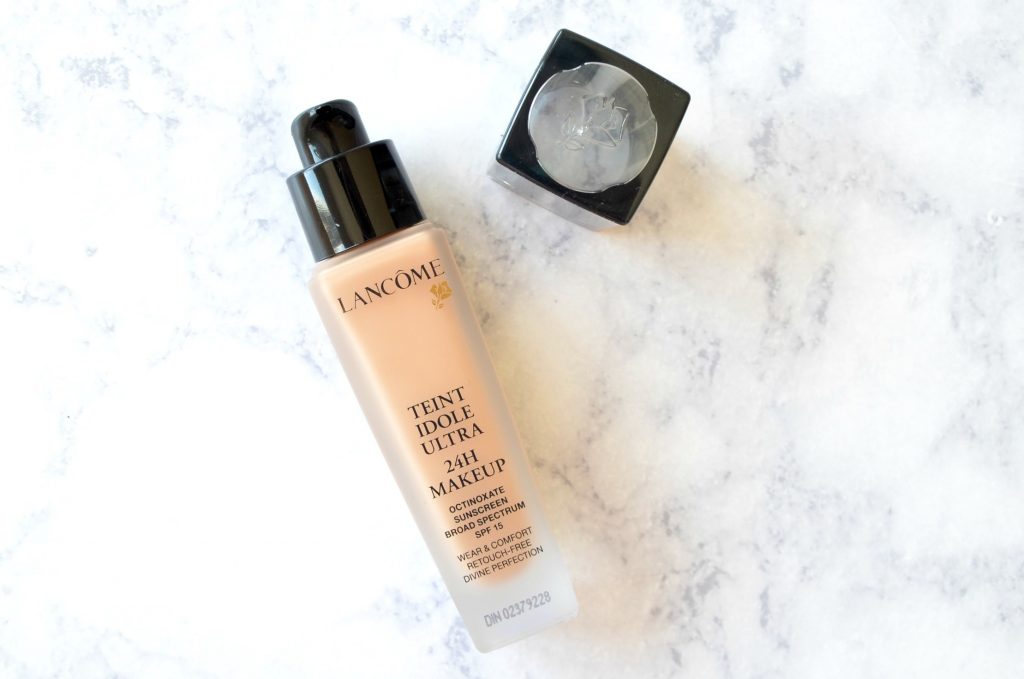 Lancôme Teint Idole Ultra Longwear Cushion Foundation SPF 50 is a long-wearing, high-coverage, liquid foundation that comes in a portable cushion compact. It features ultra-absorbent fibers that lock in coverage and its touch-activated filer dispenses the perfect amount of product. Upon application, its silky-smooth texture releases a slight refreshing and cooling sensation that's going to be perfect on hot summer days. It's lightweight, hydrating, comfortable and easy to apply. It blends seamlessly into the skin and stays in place the entire day.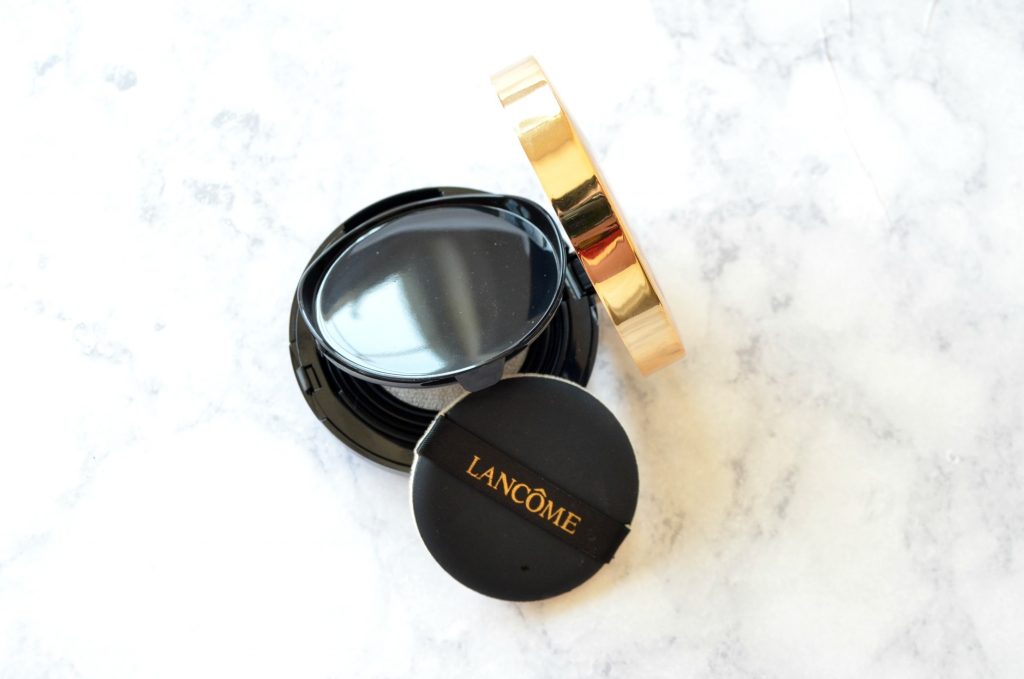 Upon opening the first compartment of the Lancôme Teint Idole Ultra Longwear Cushion Foundation SPF 50, you'll find a puff applicator for easy application. You then simply open the lid to reveal the actual cushion foundation. It has a whipped, almost mousse-like texture that feels lighter than air once applied to the skin. To apply, simply press the sponge into the cushion to lightly release the liquid foundation. Then gently tap the sponge with the foundation onto your skin. You can easily build up the coverage to your desired look, without it becoming too heavy or thick (perfect for those with dry skin). This is my new go-to foundation, as it doesn't leave my skin feeling or looking dehydrated. It retails for $55.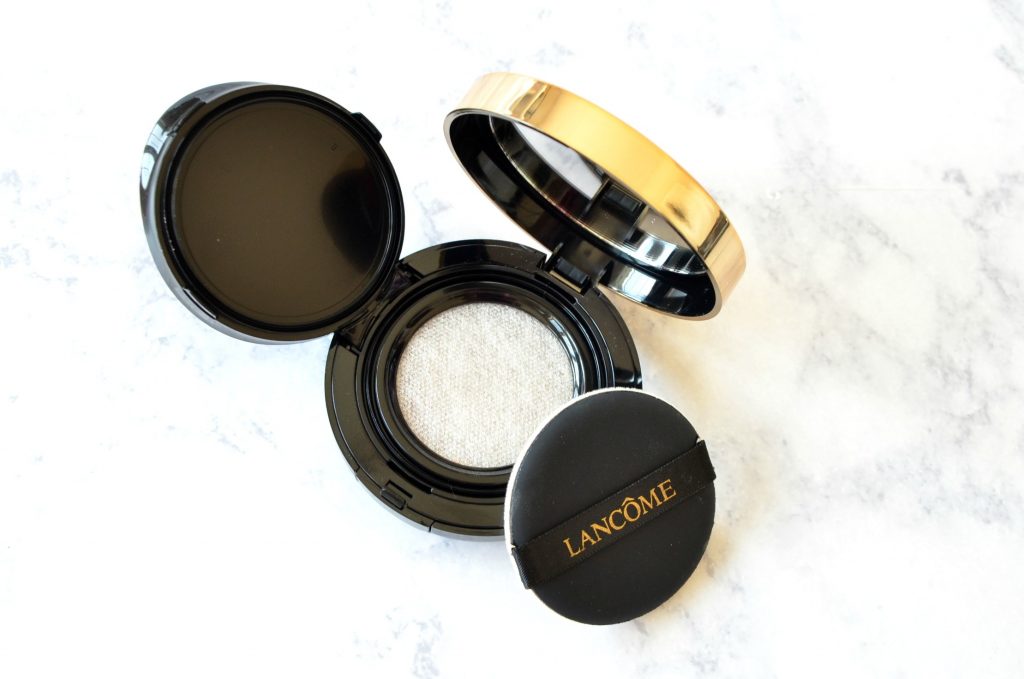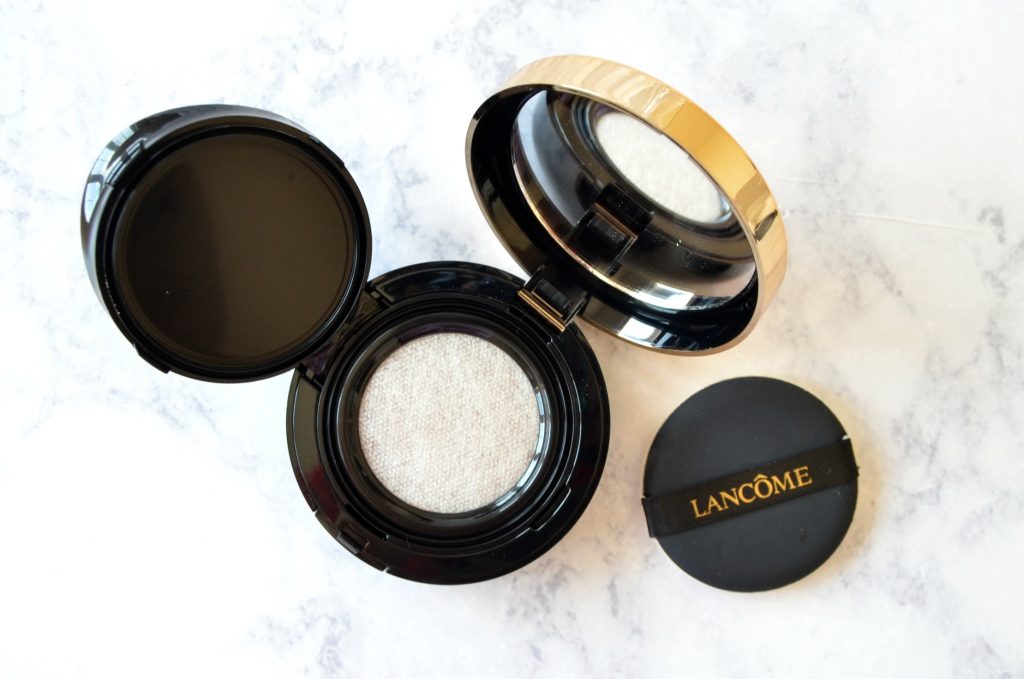 Lancôme Teint Idole Ultra Longwear Foundation Stick SPF 21 is also a long-wearing, 24-hour foundation that provides high coverage with a matte finish, but in a stick format. It's velvety soft, ultra-silky, weightless texture glides onto the skin with ease. Its highly-pigmented formula provides full coverage in a swipe or two. Its unique powder-to-cream consistency blends into the skin smoothly for a flawless finish, concealing all imperfection and flaws, yet with a second-skin look and feel. It's infused with ambora extra to help reduce the appearance of redness, for a seamless finish.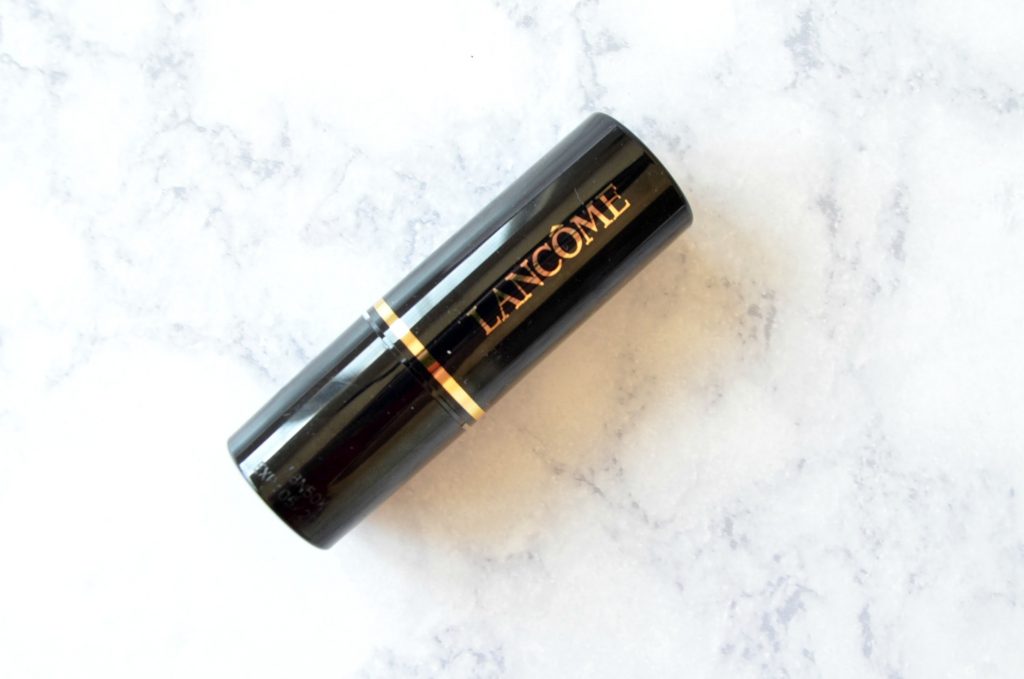 Lancôme Teint Idole Ultra Longwear Foundation Stick SPF 21 swivel-up design, with dome shape head, makes it perfect for touch-ups on the go or traveling. Its soft and creamy texture applies like a dream and its pigmented formula provides excellent colour payoff and full-coverage in a single swipe. Although it applies like a cream, it sets to a powdery finish that's completely flawless. Its buttery consistency almost melts into the skin and blends out with the warmth of your fingertips… no brushes required. Even after 12+ hours, it never seems to cling to any dry patches or emphasise fine lines or pores. It also doesn't fade, crease, become oily or oxidizing the entire day. It retails for $53.