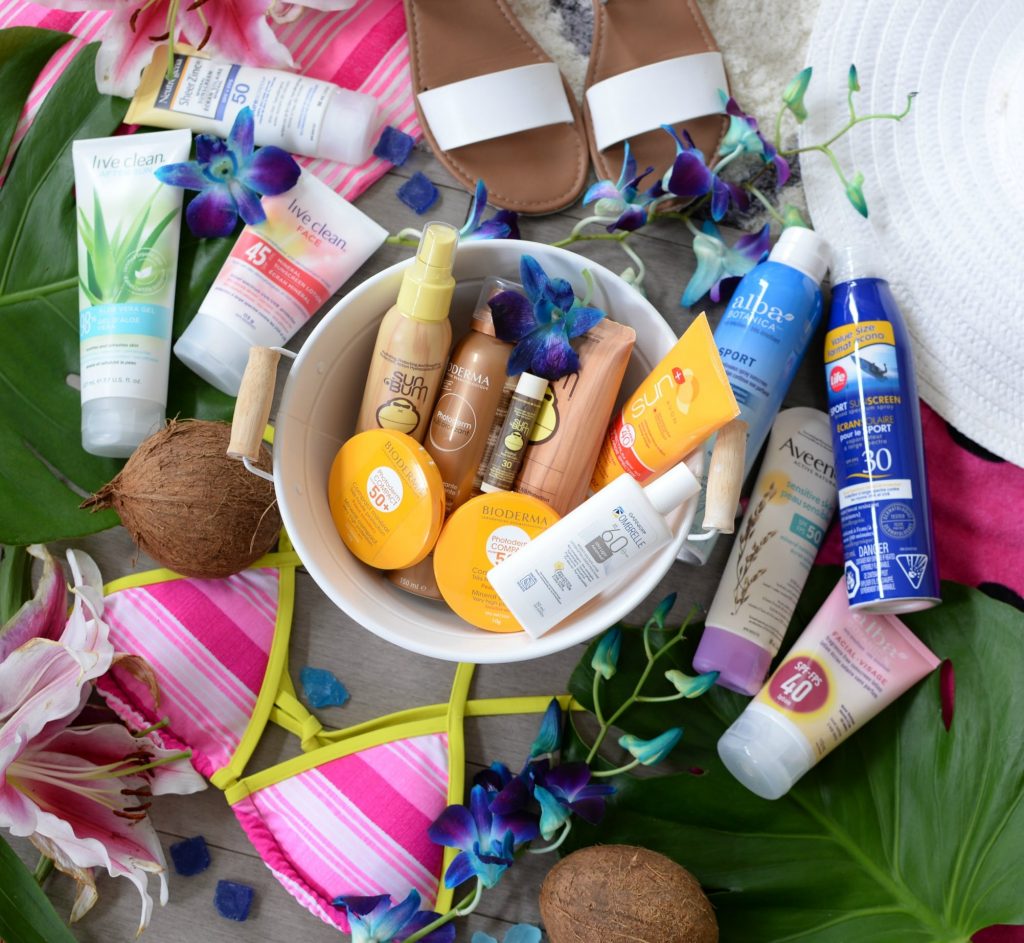 Top 14 Sun Care Products
Today is Sunscreen Awareness Day, so before you put on your water wings, make sure you apply some sunblock. Although it's extremely important to protect our skin all year round, it's extremely important during the hot summer months. We're outside longer and the sun is stronger, which means we're prone to sunburns. To encourage sun safety and reduce the risks of overexposure to the harmful UV rays of the sun, I'm sharing some of my favourite sunblocks to keep you sun safe this summer. This is a friendly reminder to protect both yourself and family this season.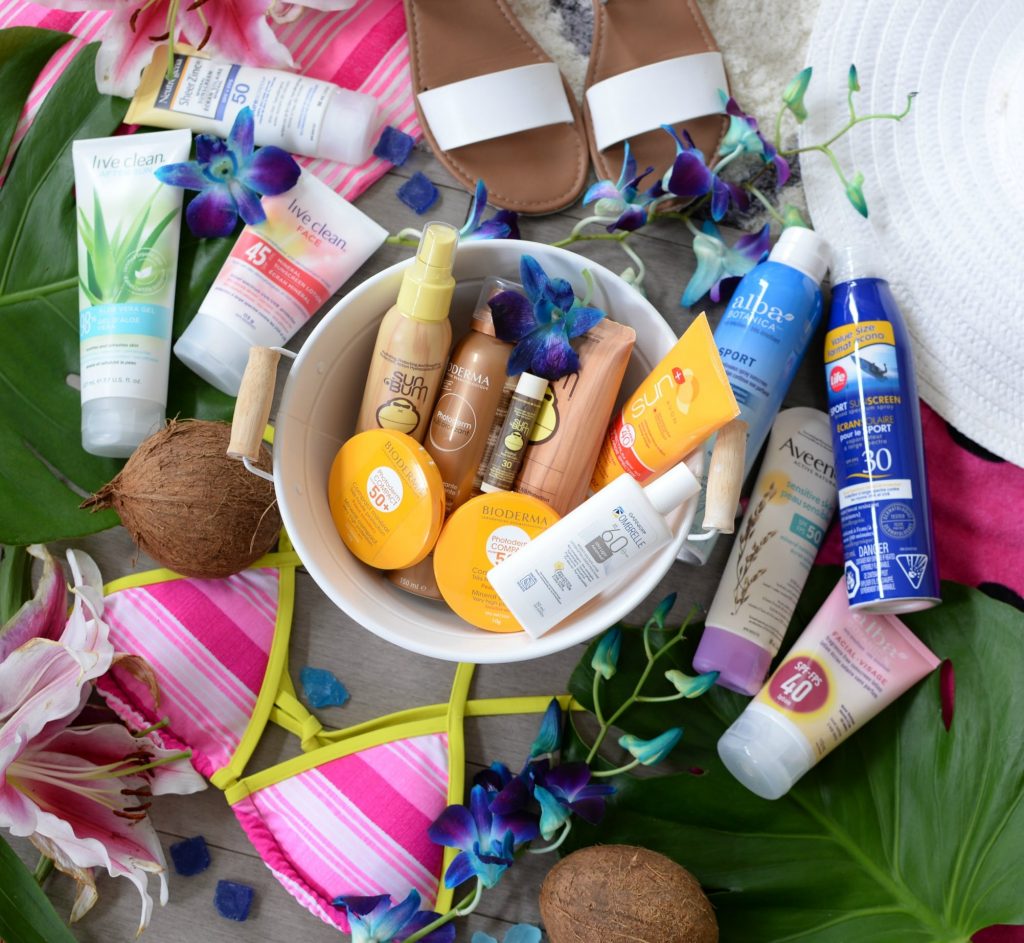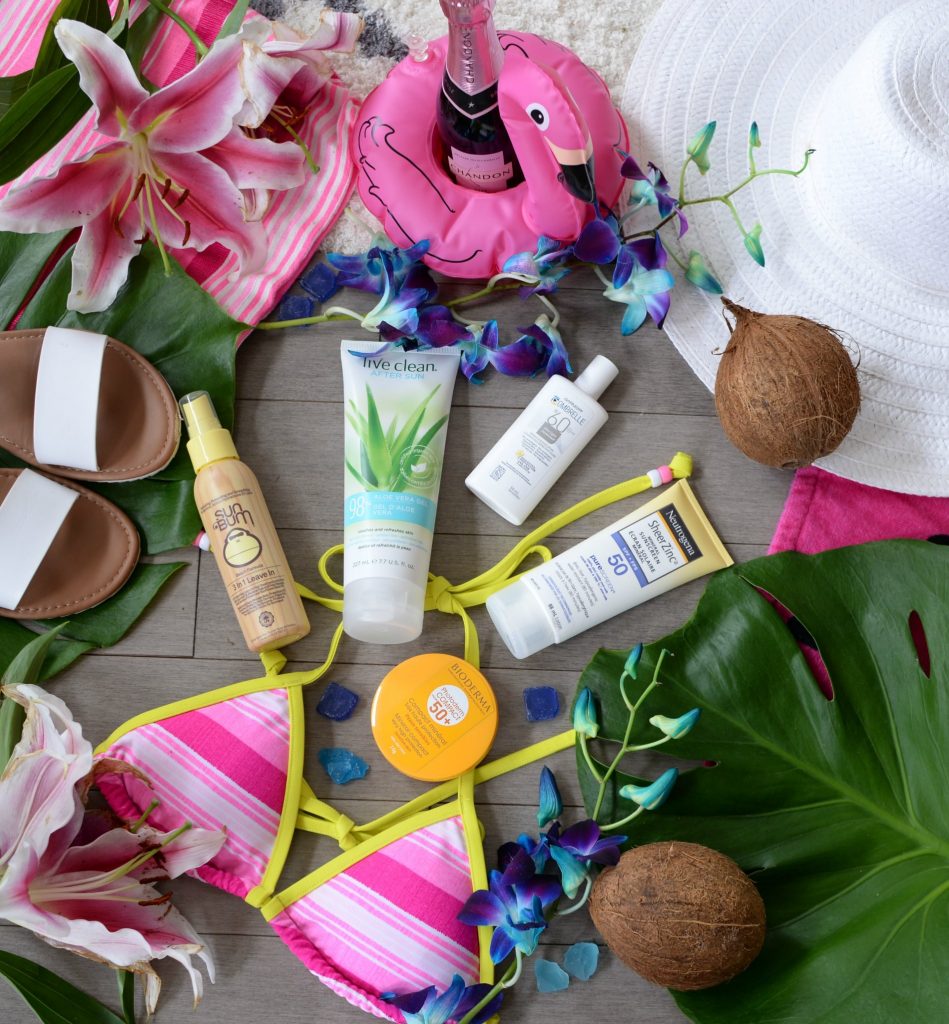 If there's one place on your body that you need to apply your sunscreen, it's your face. You don't want to look like an old catchers-mitt before your 30, do you? Garnier Ombrelle Weightless Face Lotion SPF 60 features an ultra-lightweight, fairly thin, almost liquidy texture that protects against both UVA & UVB rays. It's easily absorbed into the skin, penetrates deep down, to provide hours of protection and blends into the skin with ease. It's the perfect sunblock for those that like to apply foundation right after, as it doesn't leave a white cast on the skin. It also doesn't clog pores and doesn't feel heavy or greasy. It provides a solid 8 hours of hydration and doesn't have that strong sunblock scent like others. It retails for $19.99 for 75ml.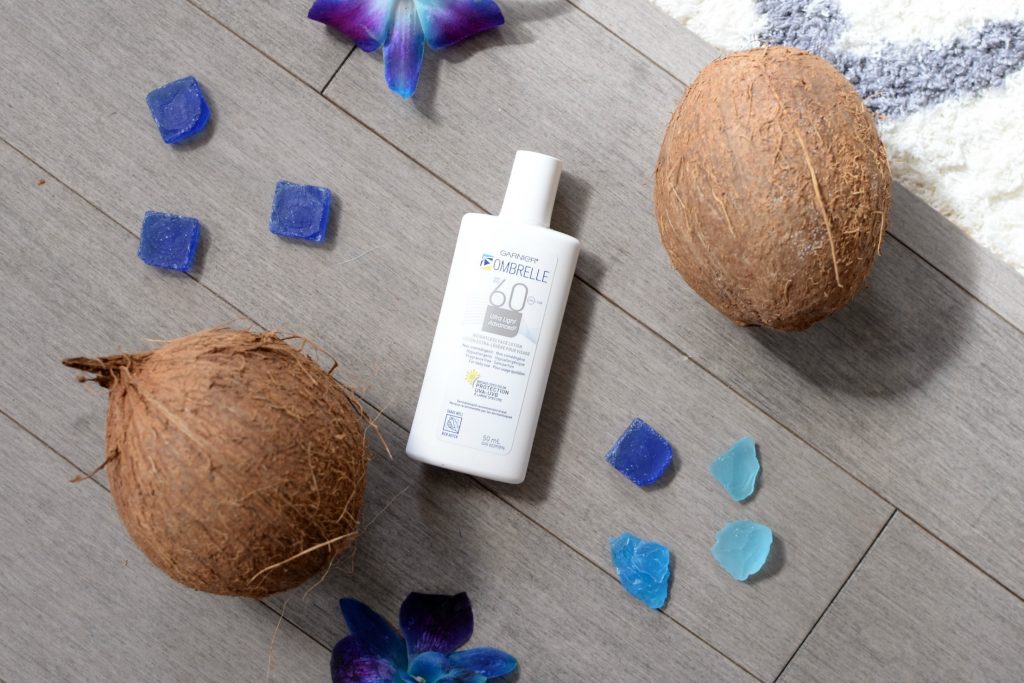 If your skin is a little more sensitive, or you're looking for a fragrance-free lotion, try Alba Botanica Facial Lotion SPF 40. It features soothing botanicals, like aloe, ginseng, lavender and calendula to not only help hydrate and nourish, but is gentle enough to not irritate delicate and sensitive skin. It has an incredibly lightweight, thin, almost runny consistency that blends into the skin beautifully and absorbs within seconds. It dries to a soft matte, never greasy or sticky, with UVA/UVB protection, with SPF 40. It easily penetrates deep down into the skin without clogging the pores, causing breakouts. It also seems to work beautifully under foundation, without causing it to breakdown, separate or cause flash-back. It retails for $9.99 for 113ml.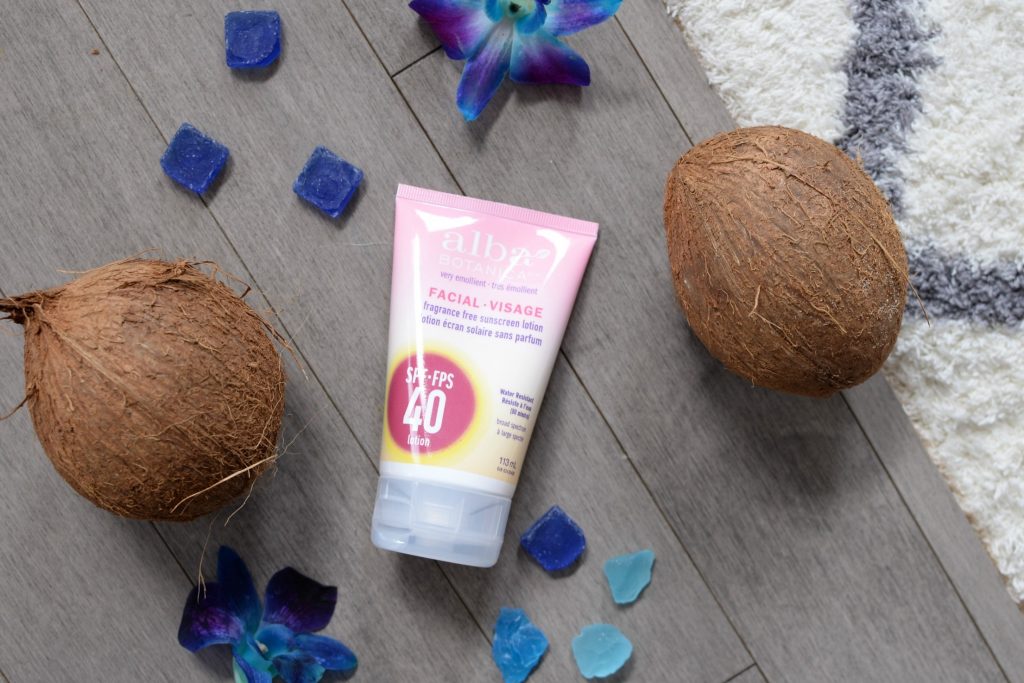 For my vegan friends, Live Clean Mineral Sunscreen SPF 45 Face Lotion is 98% naturally derived, never tested on animals and dermatologist tested. Its lightweight formula is specially designed for those with sensitive skin. Like all the other lotions, it blends in seamlessly, doesn't leave a whitecast on the skin and absorbs fairly quickly. It retails for $16.99 for 113g.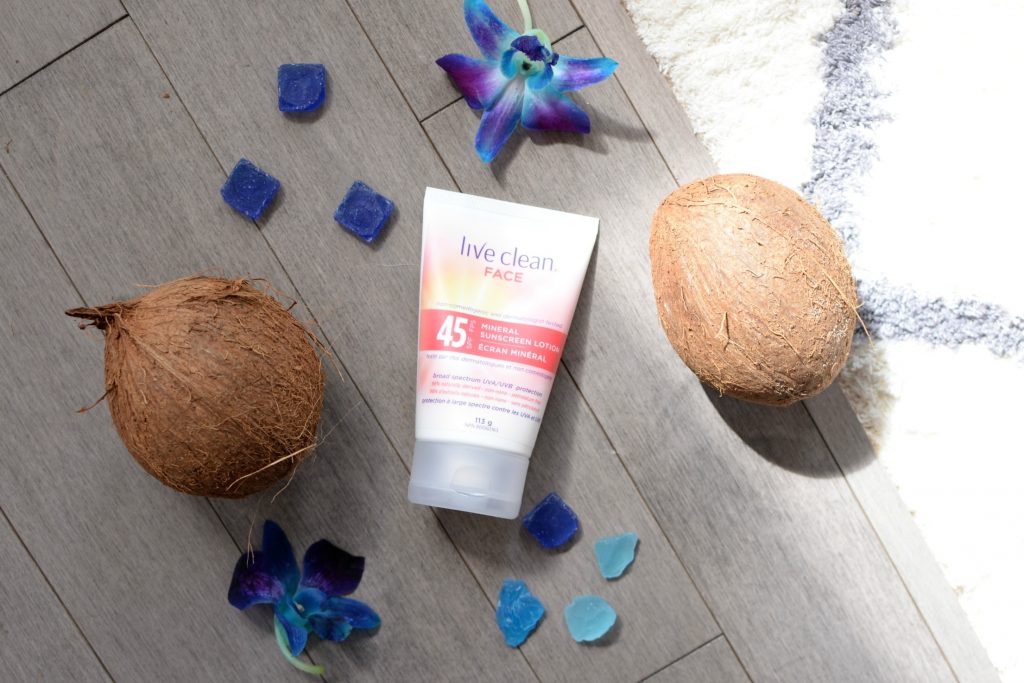 The new Aveeno Active Naturals Sensitive Skin SPF 50 Mineral Sunscreen is 100% naturally sourced from zinc oxide, a natural UVA/UVB filter, to help effectively protect your skin from the sun. Its natural oats formula helps to soothe and calm, while keeping the skin moisturized the entire day. Its clear, lightweight and ultra-fast drying formula nourishes and protects, without being irritating or greasy on the skin. It retails for $19.99 for88ml.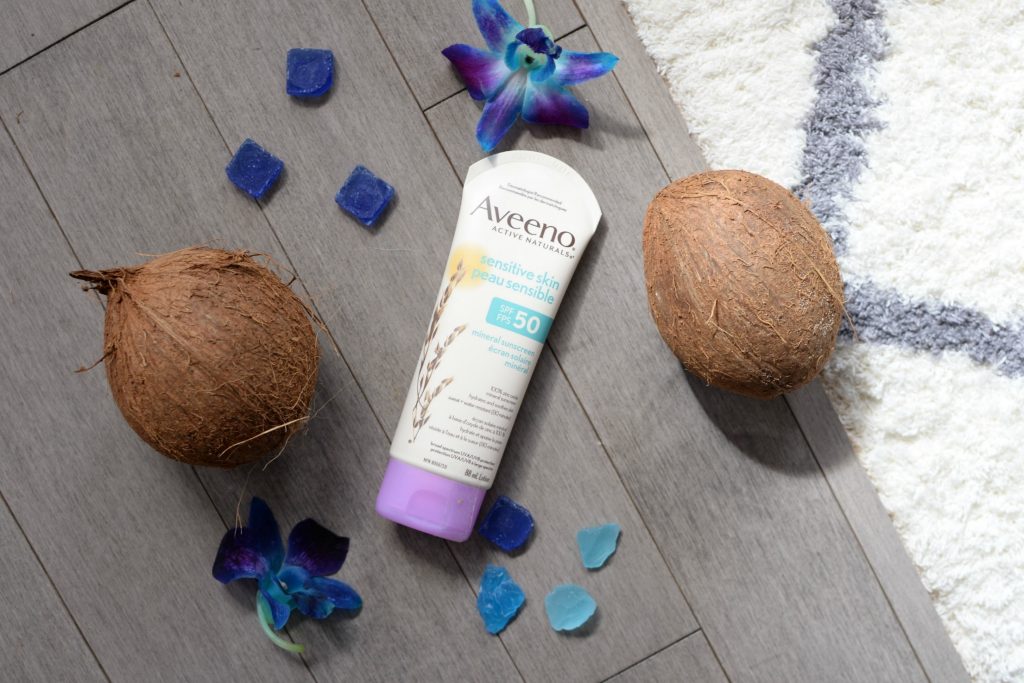 If your skin needs a little more moisture, try Avon Sun SPF 40 Face Lotion. Its lightweight, oil-free formula absorbs quickly into the skin and leaves it feeling hydrated and moisturized the entire day. Not only does it keep you clear of sunburns, its weightless formula doesn't clog pores or cause breakouts. It doesn't leave skin looking or feeling greasy or shiny. It helps to soothe and nourish the skin and acts as the perfect makeup base for foundation. It retails for $9.99.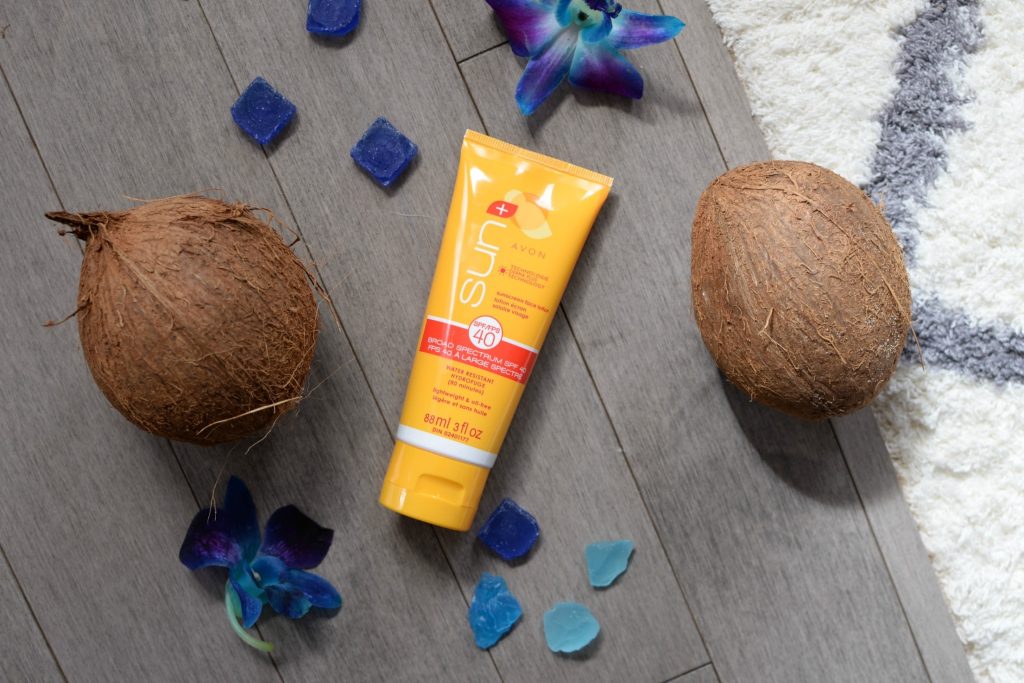 Bioderma Photoderm Compact SPF 50+ UVA24 is the first mineral photoprotection in a compact that's designed for those with sensitive and intolerant skin. Its soft, easy to apply texture creates a subtle powdery finish that helps to even out and smooth the complexion. Its tinted powders help to create a healthy glow in 2 shades designed for most skin tones. It comes with a mirror and sponge applicator for easy application and touch-ups on the go. The physical filters are opaque enough to help reflect and diffuse radiation like a mirror against the entire range of solar spectrum. This is the perfect sunscreen that has a hint of colour, while staying protected. It also helps to control oil, so your skin stays matte the entire day. It retails for $29.20 for 10g.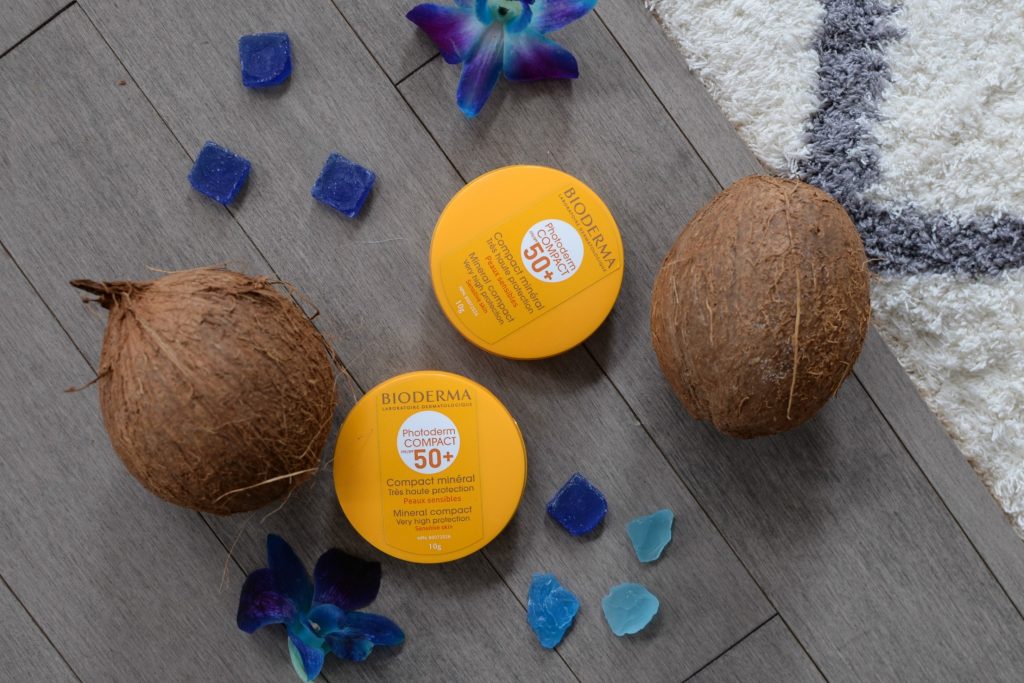 For all you extreme athletes or those who are extremely active in the hot summer months, you might want to take a closer look at Alba Botanica Sport SPF50. Its continuous sprays help to apply the sunscreen quickly and easily, allowing you to get back to your daily adventures within a few short seconds. Its aerosol spray design sprays out evenly and dries almost immediately. By the time you start onto a new area, the first area of your body is already completely dry. Its ultra-lightweight, non-irritating, non-sticky formula sets and dries to a matte finish. It's like you're not wearing sunscreen at all. Its emollient and moisturizing with no chemical propellants. Its water-resistant formula allows you to sweat and play in the water without having to re-apply as often. It retails for $16.99.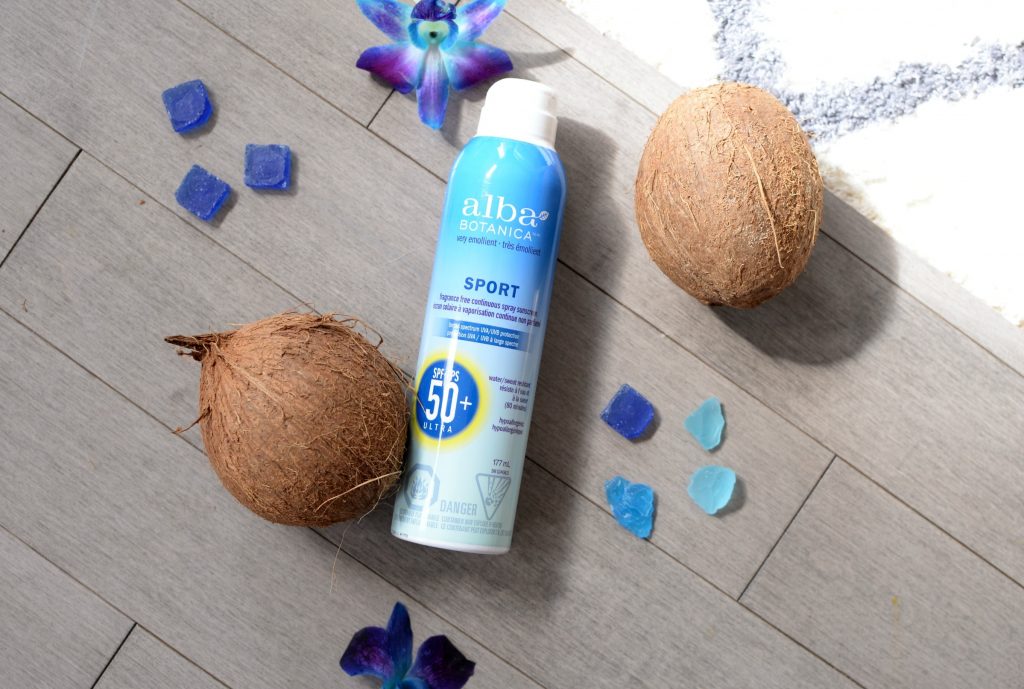 Keeping with the sports theme, Life Brand Sport Sunscreen SPF 30 is an excellent budget alternative to the Alba Botanica. It too is water resistant and offers both broad spectrum UVA and UVB protection. It sprays on evenly, sets and dries quickly, without a greasy or white overcast. It retails for $11.49.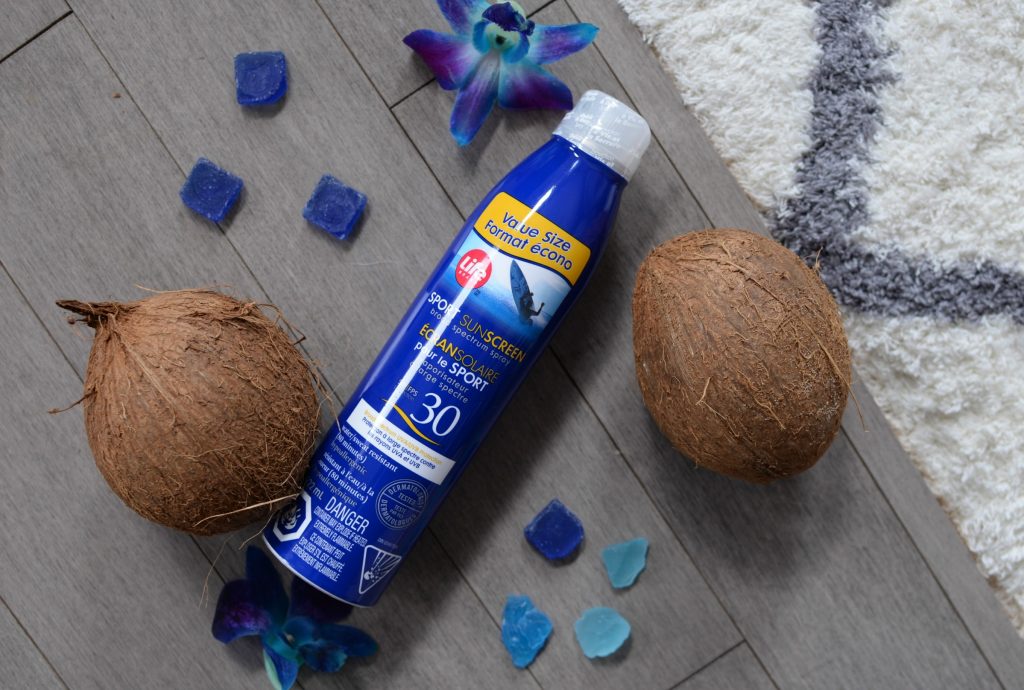 For those that still like the standard sunscreen lotion, Sun Bum Moisturizing Sunscreen Lotion is my go-to brand of choice. It applies and feels more like a moisturizing lotion rather than a typical sunscreen. It feels incredibly hydrating on the skin, without feeling too heavy, sticky or greasy. You'll never have that feeling of "I want to shower" with this lotion. It rubs into the skin easily, no whitening effect and doesn't have that classic sunscreen scent, yet a fresh banana tropical aroma. It is offered in both SPF 15, SPF 30 and SPF 50, depending on how much of a tan you want to achieve. It retails for $17.99 for 177ml.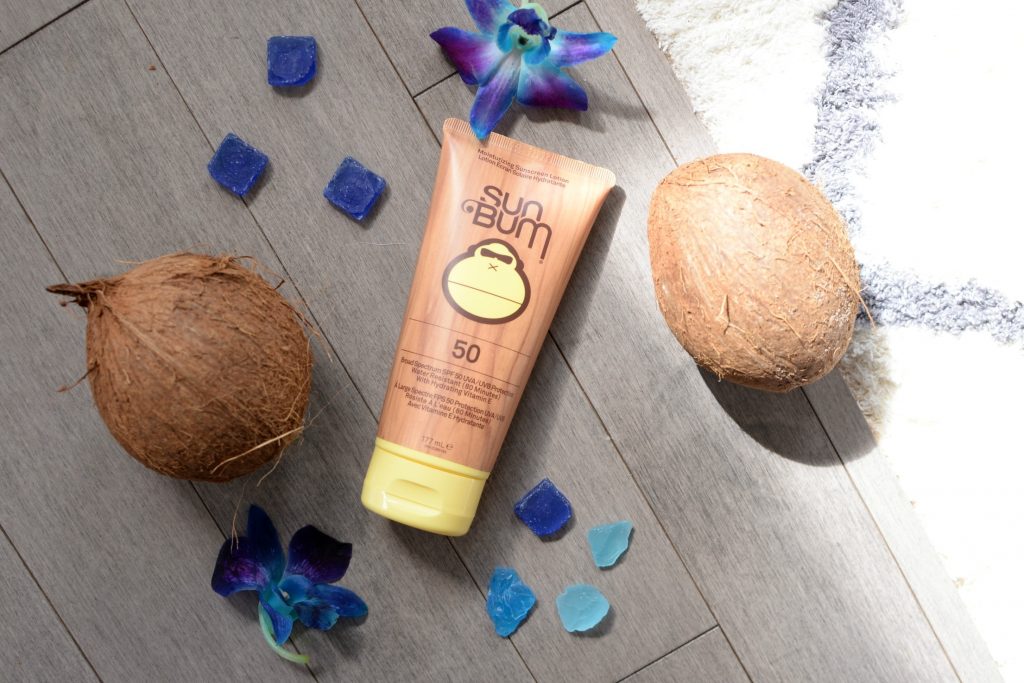 Neutrogena Sheer Zinc Mineral Sunscreen SPF 50 Body Lotion is powered by 100% zinc oxide to provide effective broad-spectrum protection in a lightweight formula. Its incredibly gentle on the skin, perfect for those with sensitive skin and is dermatologist recommended. It absorbs into the skin instantly, dries completely clear and is water-resistant up to 80 minutes. It retails for $19.99 for 88ml.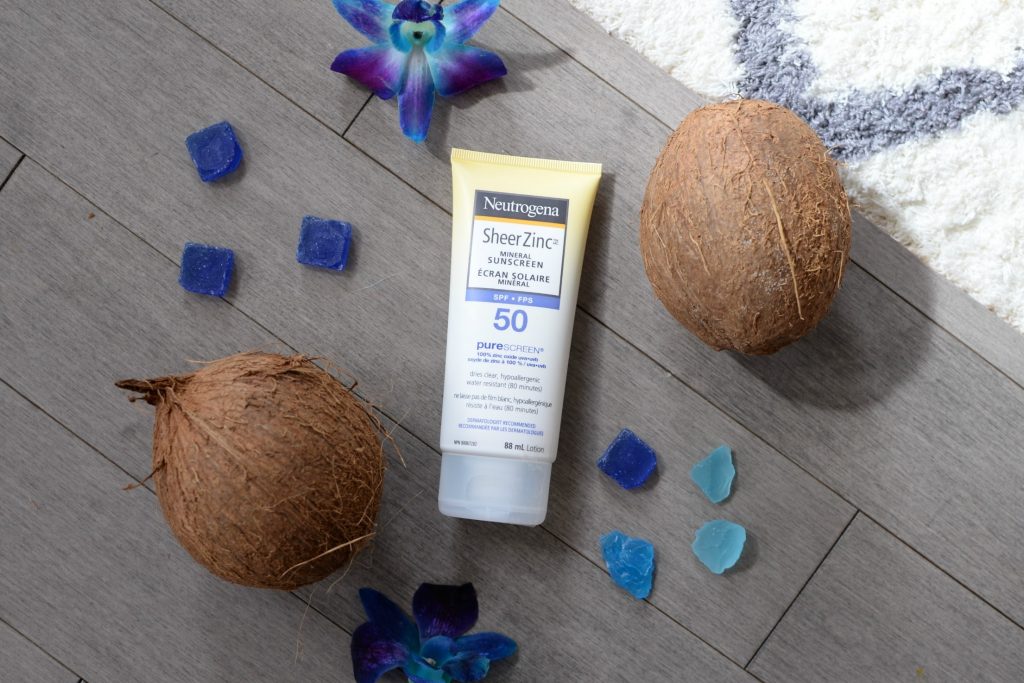 After hours out in the sun, no matter how many times we re-apply our sunscreen, our skin is still left feeling hot, dry and itchy. If you're looking to help reverse the damaging effects of over-exposed sunlight, try Live Clean After Sun 98% Aloe Vera Gel. This soothing and cooling gel features a unique blend of tea tree oil and Arnica extract to help bring your sun-weary skin a sign of relief. This lightweight, non-sticky, moisturizing after sun gel will give your skin a little boost of moisturize after a long day in the drying sun. It helps to instantly refresh and soothe the skin, with a calming and invigorating scent. It retails for $8.24 for 227ml.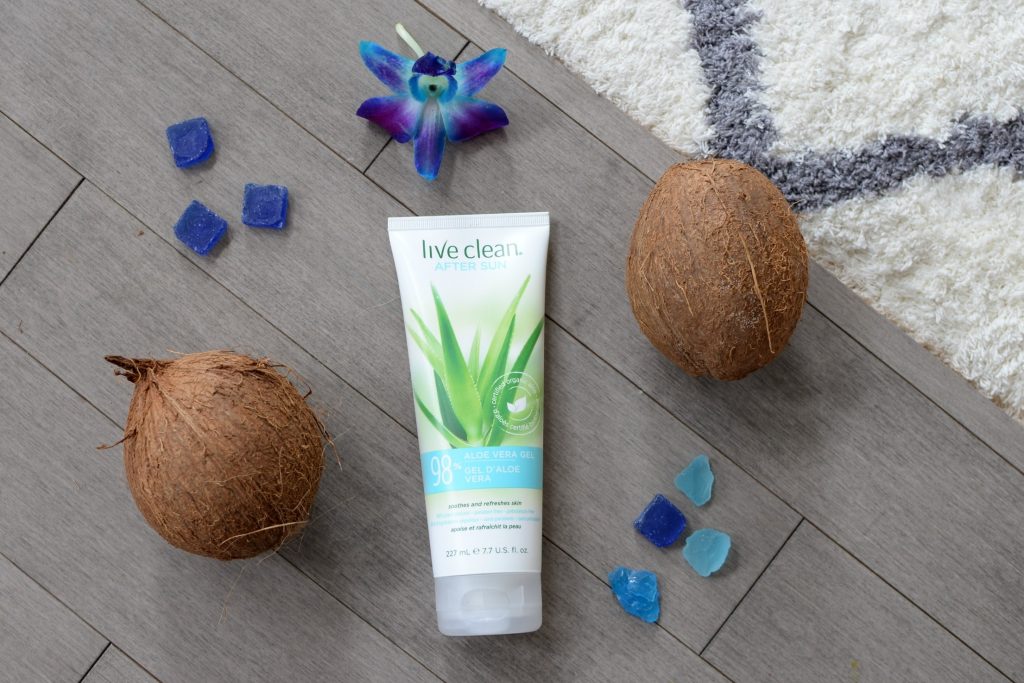 Your lips are an important part of your face, so don't forget to keep them sun safe also. Did you know that 90% of lip balms don't feature any sun protection and can make your lips more dry, sore and even burnt? Sun Bum Sunscreen Lip Balm SPF 30 in Coconut is formulated with aloe and vitamin E to not only help protect your lips, but it provides moisture and all day hydration. It has an incredibly rich and creamy texture that glides across the lips with ease and instantly penetrates deep down into the skin to give a healthy, shiny look and feel. It's comfortable to wear the entire day without feeling sticky, greasy or tacky. It retails for $4.99.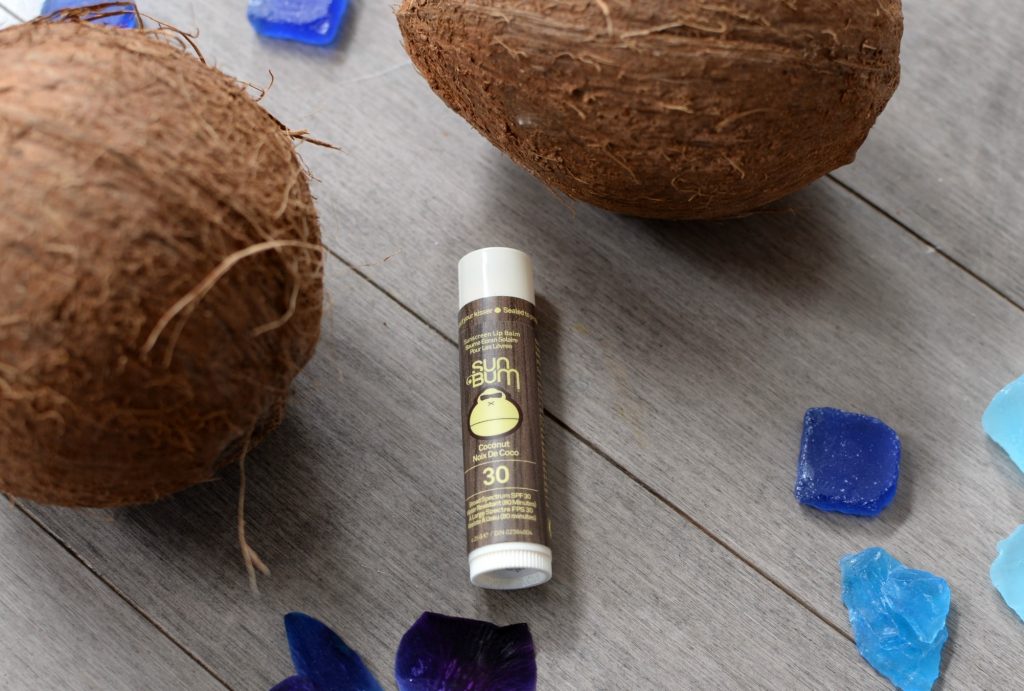 Although not necessarily SPF, it's also important to take care of your hair in the sun. Sun Bum 3 In 1 Leave In Hair Treatment helps protect, detangle and condition your hair while enhancing its natural body. It's enriched with coconut oil, banana pulp and peel, banana leaf, quinoa protein and sunflower seed oil to not only give it a delicious scent, but it helps to leave hair healthy, silky smooth and shiny.  Just spray directly onto hair to help keep hair manageable or spritzes into your palm, rub together, then focus on the ends or top of head. This helps to control frizz and fly-a-ways, while adding bounce and volume to your ends. It retails for $19.99 for 118ml.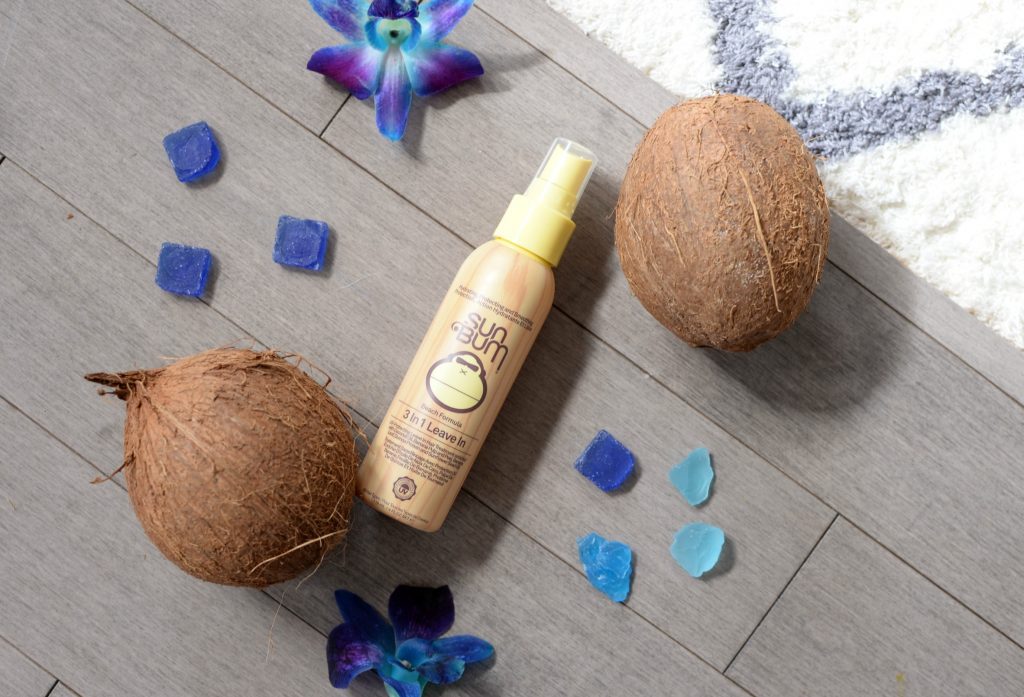 If you're looking to achieve a healthy and radiant tan, without the harmful effects of the sun, reach for Bioderma Photoderm Autobronzant Moisturising Tanning Spray. This moisturizing self-tanner mist helps to achieve a perfectly even tan in as little as 3 days. It's applied to clean, dry skin by simply holding the bottle 20 cm from the skin and spraying evenly across the entire body. It's applied once a day for 3 days, then once every 2 days, followed by once a week to maintain the tan. It dries instantly with an even finish with no traces on the skin. It gives a flawless coverage that requires no rubbing or blending into the skin, which means no tan lines or unevenness. Not only does it add a radiant glow to the skin, it increases skin's moisture level by almost 50% in less than 2 hours. It has a subtle scent without being overpowering or without that dreadful, strong self-tanner scent, making it ideal for those with sensitive skin. It retails for $19.95 for 150ml.