Paris, France
The city of love has to be one of the most beautiful and romantic cities in the world. If you're lucky enough, you'll be able to experience this gorgeous city with someone you like. I had the pleasure of seeing it with my hubby as we celebrated our 10-year wedding anniversary. When you think of Paris, you probably conjure up images of the Eiffel Tower and views over the Champs Élysées, however there's so much more to Paris than just wine, croissants and cappuccinos. It's a city that manages to celebrate the past while maintaining cutting-edge trends. Whether you spend the day at a museum, an afternoon in the park, catch a play or burlesque show, or simply enjoy a day of shopping, Paris is always a good idea.

Let's start off with the most iconic landmark, the Eiffel Tower. The Eiffel Tower is to Paris what the Statue of Liberty is to New York and what Big Ben is to London. I suggest waking up early, head to Trocadéro, and watch the sunrise. This is the perfect photo opt, as it tends to be less busy, yet a stunning view of the Tower in the background. You can then make your way down the steps for an even closer look at the Tower. Be sure to catch a breathtaking view of the tower at night though. The sparkling and glittering light show, of over 20,000 lights, twinkle in the night. The electric dance goes off every hour, on the hour, until 1AM.

Just down from the Eiffel Tower you'll find The Champ de Mars, the perfect place for a picnic with a view. The sprawling lawn that spans from the southeast side of the Tower to the Ecole Militaire is the ideal place to curl up with a book, baguette, cheese and a bottle of wine. Not only will you have a fabulous view, its well-manicured lawn is lined with a ton of walking paths and gorgeous flowerbeds.

Although the most recognized symbol of Paris is the Eiffel Tower, the ultimate traveler's prize is the Louvre. This is the world's largest and greatest art museum and with over 675,000 square feet, there's a little something for everyone. Of course, the three most popular pieces are the Mona Lisa, the Venus de Milo, and Winged Victory, but the museum has so much more to offer than just those. Don't worry about getting lost, it's almost guaranteed, but that only means you're bound to stumble across something truly special and memorable.

Just steps away from the Louvre, you'll find the perfect spot to grab a coffee or champagne and people watch. Palais Royal is best known for fashion bloggers getting that perfect Instagram shot, but these tiny little stripped stumps are actually part of an art installation called Les Deux Plateaux designed by French artist Daniel Buren. It was built in the 80's and came with a ton of controversy. To some, the columns were too "new" for the old French capital, but it quickly became a part of Parisian history and a fun place to capture a photo.

If you're looking for another picturesque location, try Tuileries Garden, located just minutes from the Louvre. It stretches across 25,000 acres and features endless paths and glorious fountains. The garden has a very simple linear layout with six paths along and eight across, surrounded by rectangular flowerbeds where you'll find a wide array of different plants. This is another excellent place to people watch and just take in the day.

Don't forget to ride the Big Wheel on Place de la Concorde. This ferris wheel will give you a birds-eye view of the city and worth the trip.

Get your shopping fix on the Champs Elysees. With its name reminiscent of Ancient Greek mythology Mount Olympus, this avenue is just under 2KM long of pure luxury. It's famous all over the world for a reason. Where else could you find Friend brands, top designers, and affordable shopping all in one place?

Just up the street from Champs Elysees is the infamous Arc de Triomphe. The Arc de Triomphe sits, quite literally, in the middle of the street, so you have to go under ground to get to it. Originally commissioned by Napoleon Bonaparte, to commemorate his victories, the Arc de Triomphe now pays homage to soldiers and generals who fought and died for France. The inside walls are engraved with the names of war generals, and victorious battles, who gave their lives in service for their country.

No matter the time of year or the time of day, there's always time for hot chocolate. Parisians are all about the sweets, so Angelina's is a must. If you have a sweet tooth or just looking for a mid-day treat, Angelina's is the place to be. From macarons, to rich hot chocolate to croissants and other delicious bake goods, this is one restaurant you don't want to miss. See my full blog review on Angelina's.

Notre Dame sits right in the centre of the city and is free to visit every day of the year. Napoléon was crowned here, and Kings and Queens exchanged marriage vows before the altar. The inside is absolutely beautiful, but the exterior is truly magical. The architectural detail and unforgettable view of Paris is one of the many reason it's a tourist hotspot. Although not the oldest or largest cathedral in Paris, its beauty and architectural harmony is a must-see.

Nothing quite screams Paris like the Luxembourg Gardens. If you're lucky, you'll get to see it on a warm, summer day. It features 55 acres of gardens, tree-lined walking paths and octagonal ponds. This lovey garden is beloved by Parisians and tourists longing to bask in the sun, while enjoying an impromptu picnic. Don't forget your sweet treats and a bottle of champagne. Take an afternoon stroll along the many paths while passing by espaliered orchards and the old apiary.

Pont Alexandre III Bridge is one of the most historic monuments of France and one of the most extravagant bridges in the city. It's been featured in numerous movies, including Ronin with my all-time favourite actor, Robert de Niro. The four massive columns, on either side of the bridge, are crowned by "gold" statues in bronze of Pegasus. The elegant, grandiose and sumptuous bridge is more than just a river crossing. With its dressed up exquisite art and crowned pillars, it's one of the most beautiful bridges in the world.

You can't come to Paris without immersing yourself into an enchanting and alluring universe. Crazy Horse is the ultimate cabaret show, a little sultry, a little seductive and incredibly sexy. Although the show is quite provocative in nature, and there's quite a bit of nudity, it's so inspirational and artistic, it doesn't seem to feel as racy as one might think. Want to learn more, head to my Crazy Horse blog post to find out more.

If a burlesque show is too spicy for you, or you're looking for something more PG, try I Love Piaf at the Theatre in Paris. Although the entire play is in French, no worries if you don't speak French, you'll still be able to follow along thanks to the English subtitles. Honestly the entire play is so well performed, you can still understand what's going on without reading the subtitles. The entire play is based around Piaf and her love and loss of music in Paris. This intimate musical tells the story of this world-wide, iconic superstar with her girly spirit and who wasn't afraid to take chances. Another must-see while you're in the city of love. Come hear my thoughts on I Love Piaf here.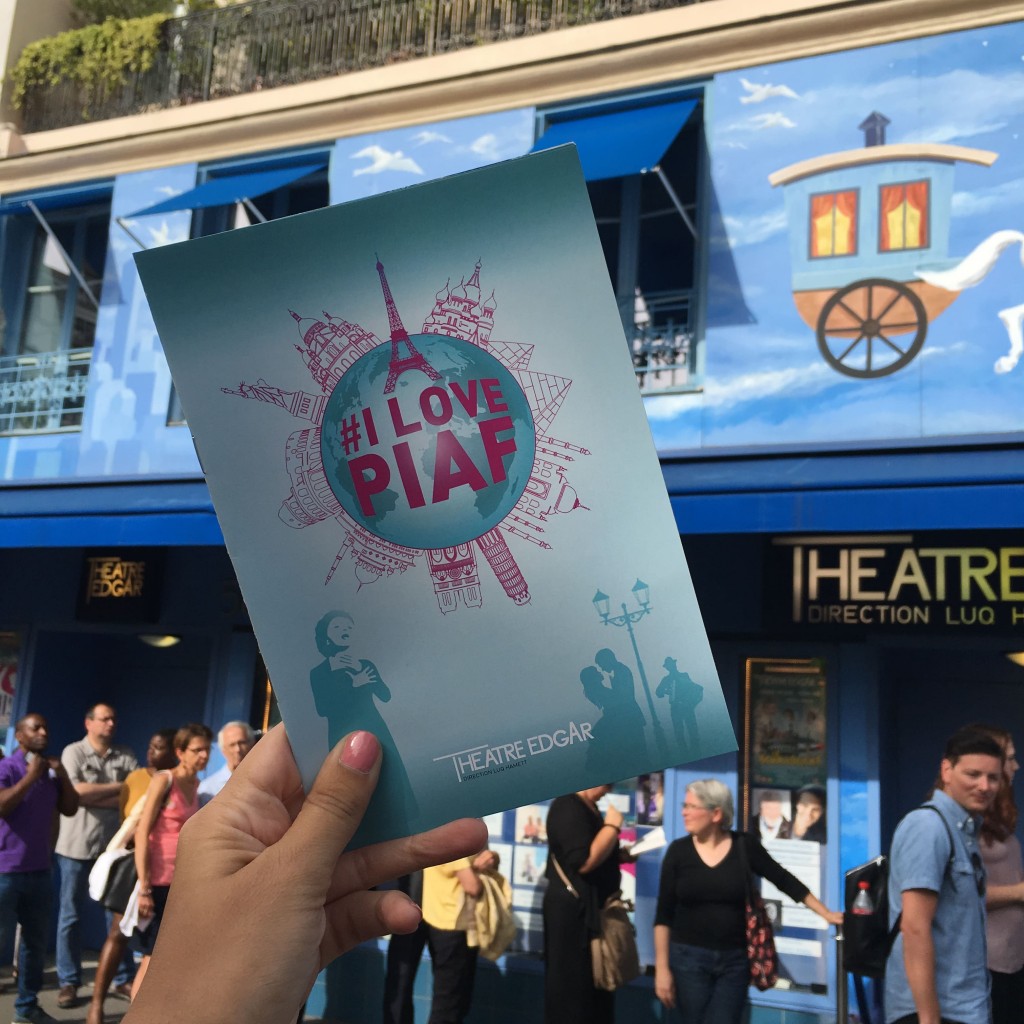 I can't wait to go back to the city of love!