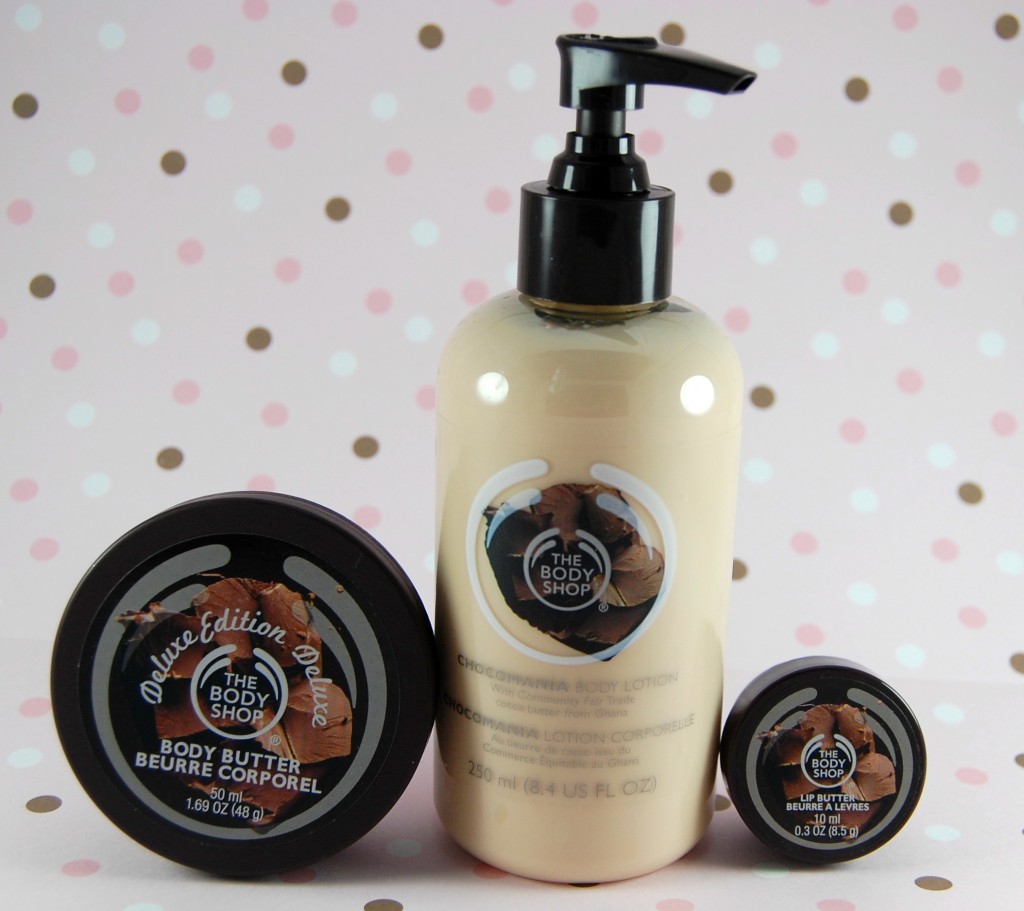 Valentine's Day is just around the corner and I can still remember back in elementary school we would dress up a plain brown paper bag with cute stickers, buttons and ribbons; then place them on the back of our chairs to be filled with Valentine's.  I then remember in high school that the boys got to buy one red rose to be delivered to their Valentine during school hours, sometimes with a note asking them to the Valentine's Day Dance, it doesn't get any cuter than that.
As I get older I don't know if I really buy into Valentine's Day? I think it's just a way for single people to feel left out, for the men to go crazy trying to plan a perfect evening and find that perfect gift when in fact everyday should be Valentine's Day…. Why do we need a holiday to express to the ones we love how much we care about them? I do however love that everything's pink, red and white and that the stores target items towards women which means everything is super girly and cute. After saying all that, I still want the hubby to remember Valentine's Day (which is pretty hard for him to forget) as my Charity hosts an annual Valentine's Day dance which we obviously attend.  A gift is always an extra bonus, I do love a good box of chocolates, but my only problem is I end up eating the entire box that evening and then feel sick… I don't know how to have just one. Luckily for me this year I found some chocolates with no calories at all…. Yes you heard me correct, no calories which means you can have as much of this as you like and not gain weight, yippee!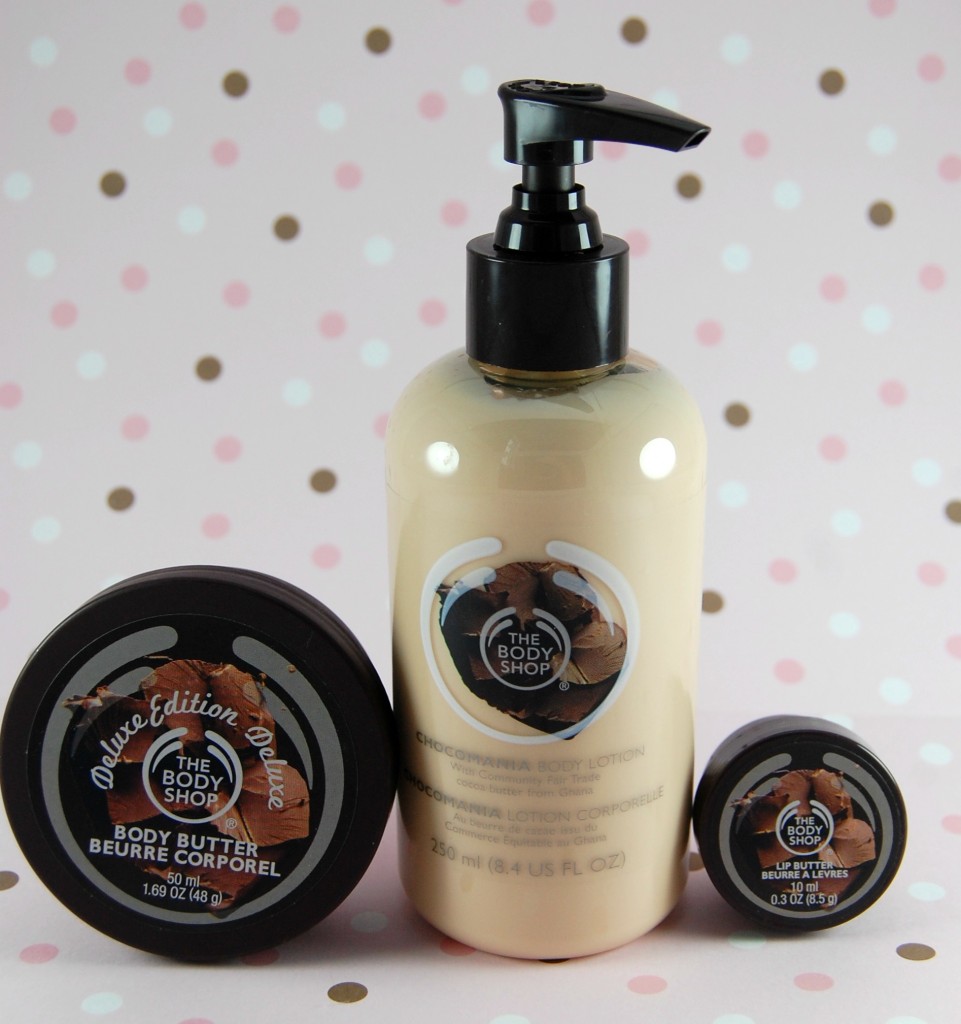 It's The Body Shop new 'Deluxe Chocomania' Collection; with no extra calories added. This collection has their ever so famous Body Butter, Shower Cream, Hand Soap, Chocomania Beautifying Oil, Bag of Heart Soaps, Body Scrub, Body Lotion and Lip Butter; a little something for everyone.
I was lucky enough to test out 3 different products from this collection, each one better than the next. You know it's a good collection when your husband is right in there after you finish taking your pictures; that's right Derek couldn't wait to get his hands on the body butter cause he said it smelled so good!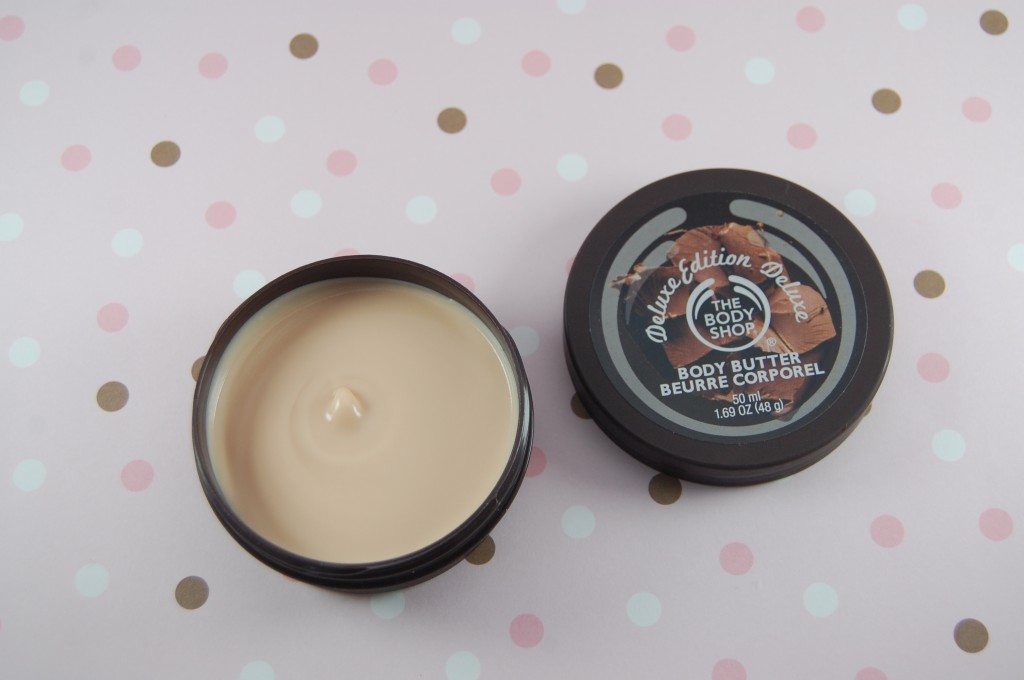 The Body ShopChocomania Body Buttercontains 13 Community Fair Trade ingredients, the most The Body Shop has ever put into a product. It not only keeps your skin hydrated all day long but you can know you're supporting other countries when you purchase this item. Ingredients include soya beans, Brazil nut, sugar cane, cocoa beans, coconut, olive, shea nuts and so much more. This body butter is amazingly rich and moisturizing which is perfect for these cold winter months here in Canada.  The texture is very creamy and smooth, like "butter". It absorbed into my skin within a few minutes and seems to last all day. A little trick I do is I apply this body butter right after I get out of the bath/shower when my skin is still a little damp, it really seems to soak it up nicely this way. I'm so loving this packaging, I wish all lotions came this way as it minimizes waste trying to get the last drop of product out of your tubes/ bottles. For only $6 for 50ml or $20 for 250ml, I think this would be a perfect gift for your Valentine?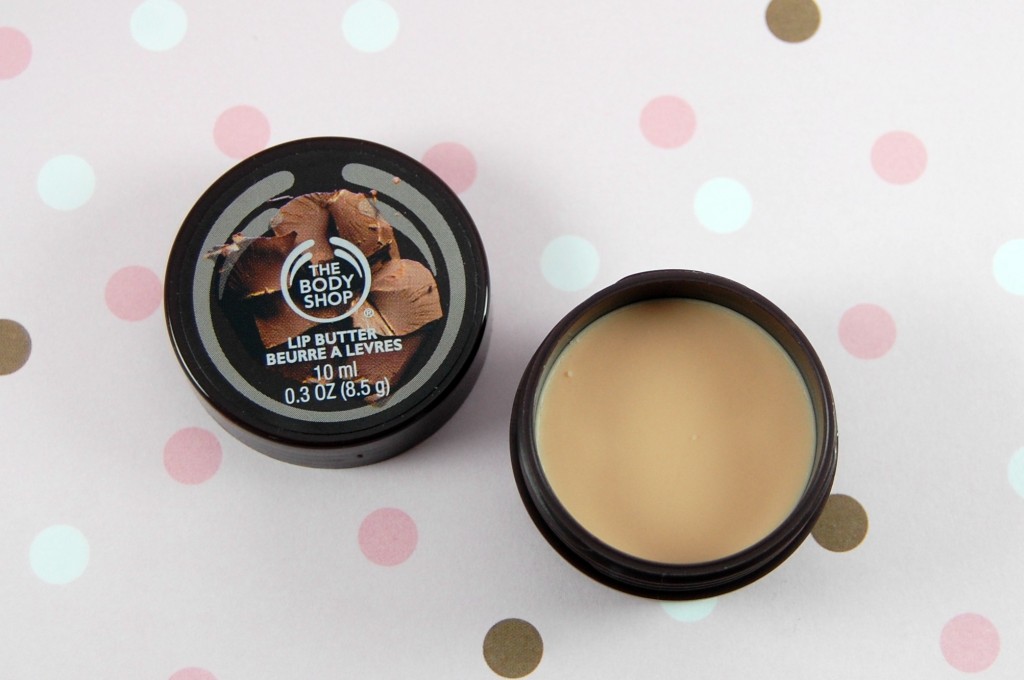 The Body Shop Chocomania Lip Butter' is formulated exactly like the body butter but for your lips! It's a creamy, milky formula that glides onto your lips leaving behind a high shine and the taste of chocolate. It's infused with real cocoa butter and has a butter-like texture that feels incredible on my dry, chapped lips. It conditions them, leaves them soft, smooth and oh so kissable. I've been keeping this by my bed and applying it each night and waking up to super soft lips in the morning. For only $10 I would suggest picking up a few of them, cause if your man is anything like mine you won't see it for long.
The Body Shop Chocomania Body Lotionis a little less thicker than the body butters, but still gives you that hydration we're all looking for in these cold winter months. It's no-greasy, easy to apply, blends in nicely within minutes and leaves your skin baby soft all day long. Because of the nice pump like bottle its perfect to have on display in your guest bathroom for all your visitors to use when they come over. Who doesn't like the smell of chocolate? For only $12 a bottle (250ml) this is one product you're going to want to share with family and friends.
Be sure to check out The Body Shop in stores and on line to stock up on the Chocomania Collection before its all gone, your skin will thank you!