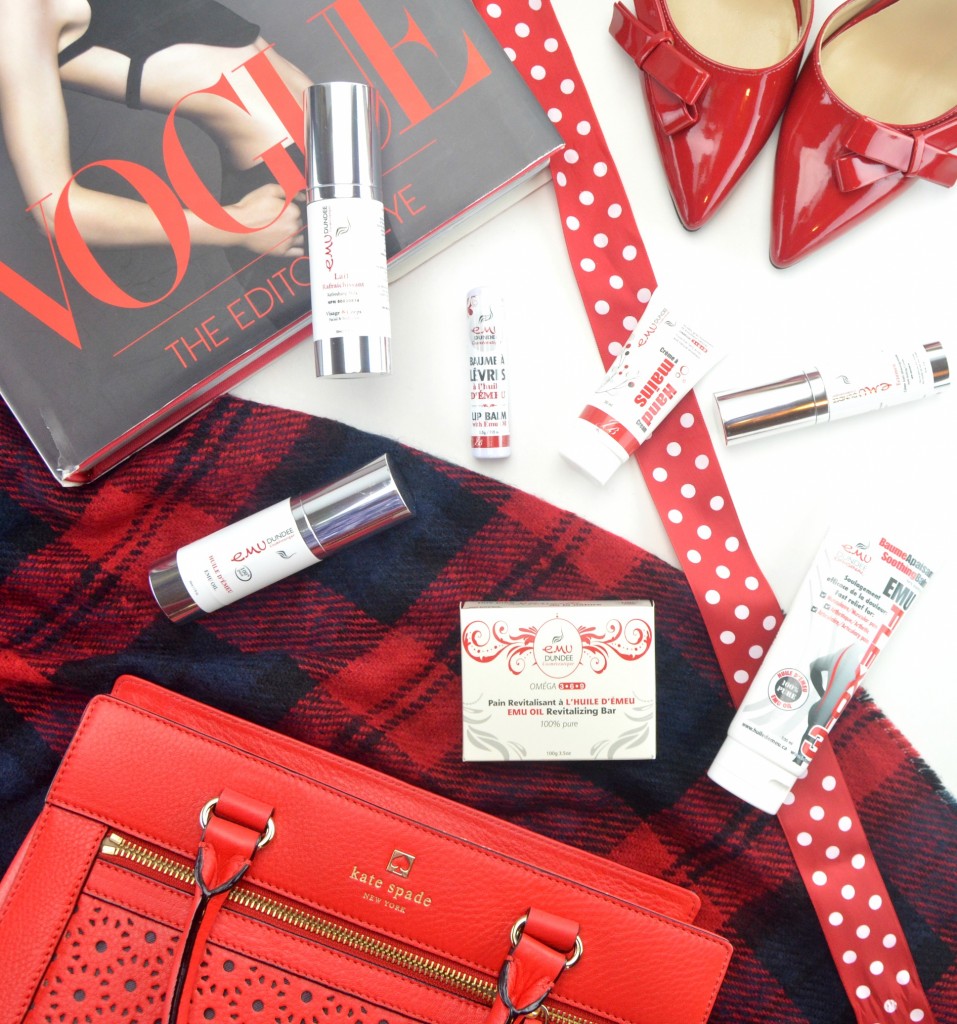 We all know the importance and how beneficial essential oils are to our daily skincare routine, but have you heard of emu oil? It contains essential fatty acids, along with omega 3, 6 and 9, that instantly help to promote healing and enhance cell growth for a more radiant, youthful and healthy appearance. Gabriel Melançon and Jocelyne Brisson set out in 1997 to create a company, Emu Dundee, to help bring out the beauty in everyone. The brand features an array of emu oil infused skincare products that are based right out of Montreal. I've been testing out a handful of products over these past few weeks and I'm already loving the results.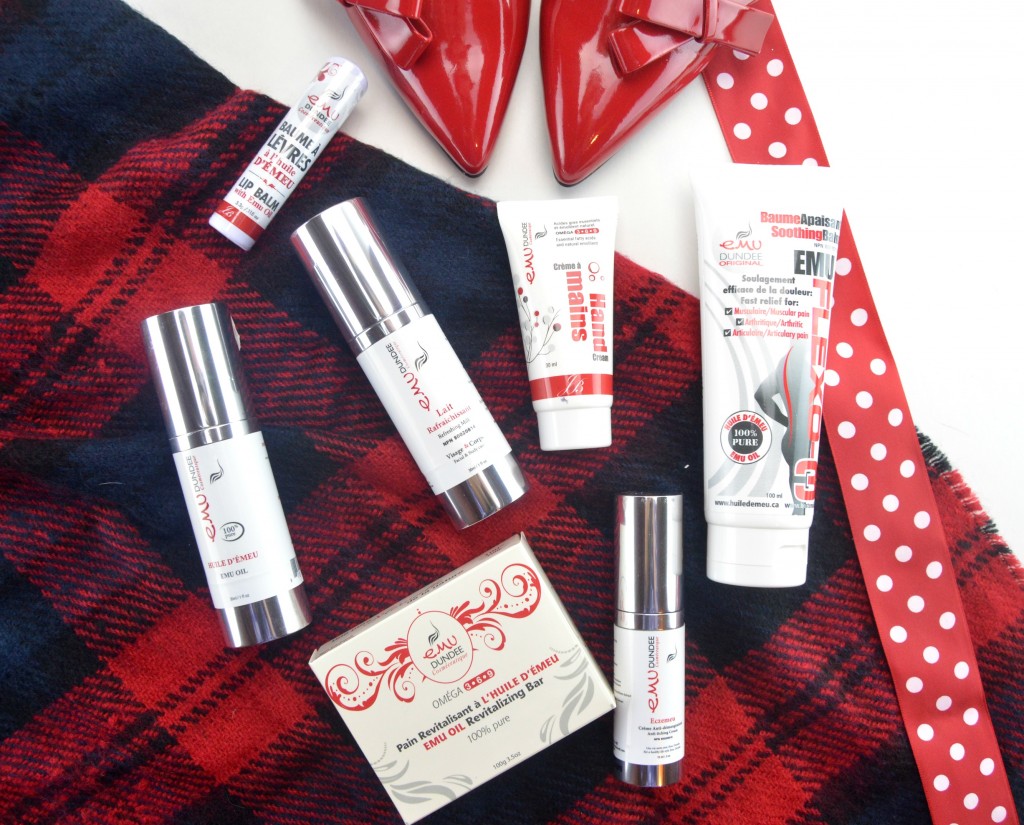 Let's start off with the product I've been loving the most and one that I highly suggest checking out. If you're looking to start experimenting with this brand, the Emu Dundee Emu Oil is a safe bet, it does it all. This 100% pure oil helps to heal anything from sunburns to brittle hair, eczema, itching and swelling, bruises, bed sores, chapped hands and lips, athlete's foot, ingrown nails, plantar warts and even headaches and migraines.
Emu Dundee Emu Oil can be applied anywhere on the skin that you are experiencing pain or irritation. It has a thin, clear, gel-like consistency that's pretty much completely fragrance free. It's gentle enough for even the most sensitive of skin and it helps to soften, smooth and hydrate the skin. It also helps to tone and firm the skin, making it the perfect ingredient to add to your daily moisturizers, to help smooth wrinkles and have an anti-aging effect on the skin. Battling a cold, place a small amount inside your nose to help treat running nose and redness. Suffering from a headache or migraine, place a small drop onto your temples and rub in circular motions. Bug bite or mosquito bite, apply to bitten area to reduce inflammation, irritation and itchiness. Tired and sore muscles, simply rub into skin to reduce pain within minutes. Too much time in the sun, sauna or spa, apply a small amount to help hydrate the skin for a fresher, younger appearance. It also helps to soften calluses, soothe skin after waxing and can help reduce the appearance of age spots. The possibilities are endless. It retails for $18.45 for 30ml, $26.55 for 50ml and $39.65 for 100ml.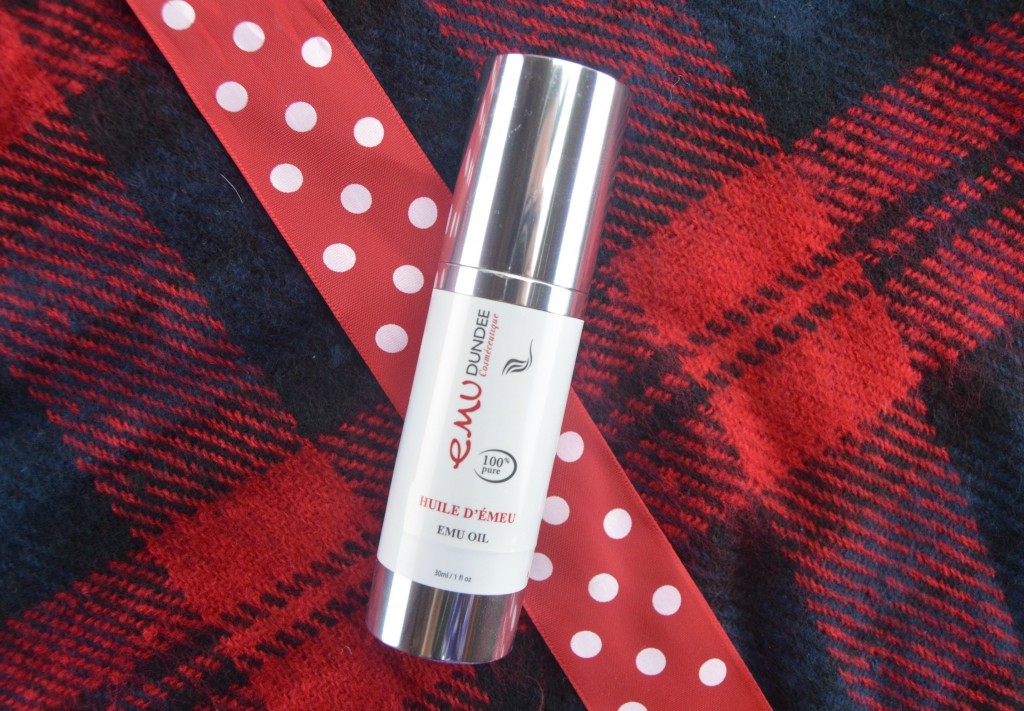 If you're looking for a product that helps heal minor skin irritation caused by cuts, scrapes and burns, let me suggest Emu Dundee Eczemeu. This unique emu oil and 100% pure allantoin formula not only penetrates deep down into the skin cells for all day moisturization, it helps to stimulate skin renewal for faster healing. It's also formulated with glycerin that provides a slight cooling effect on irritated or parched skin, perfect for summertime use.
Although I haven't really used a lot of the Emu Dundee Eczemeu I can see this being a staple in my purse for the up-coming summer months. I swear bugs are attracted to me, and since this prevents itching, I'll be applying it to all my bites this season. It also helps with inflammation, which again, will be perfect for all those insect bites and irritation. It retails for $24.55 for 30ml and $29.95 for 50ml.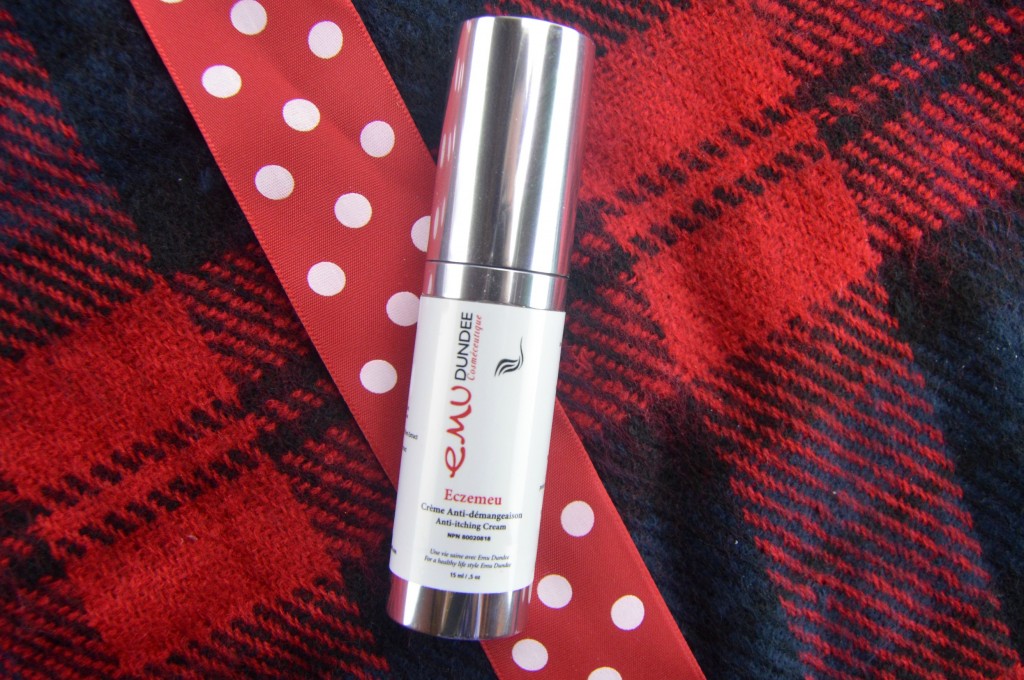 Emu Dundee Refreshing Milk is perfect for those with oily, acne-prone or sensitive skin, like myself. This incredibly lightweight, yet rich and creamy milk, can be used on both the face and body to help calm, soothe and refresh the skin. It's formulated with emu oil, bisabolol, allantoine and aloe left juice that helps to stimulate collagen product, while moisturizing and rejuvenating the skin.
In the summer I tend to use a slightly lighter day and night cream, as my skin tends to be less dry than in the cold, winter months and this Emu Dundee Refreshing Milk is the perfect moisturizer for both day and night. It's non-greasy and fragrance free formula is perfect for applying under my makeup, as it doesn't leave a sticky or tacky residue and absorbs into the skin within seconds. It's also the perfect cream for applying after a long day in the sun or after a hot, steamy bath as it instantly helps to calm and soothe the skin. It immediately eliminates the burning effect of sun exposure and reduces any redness or blotchiness. It hydrates my skin leaving it feeling soft, smooth and ready to take on the day. It retails for $20.45 for 100ml.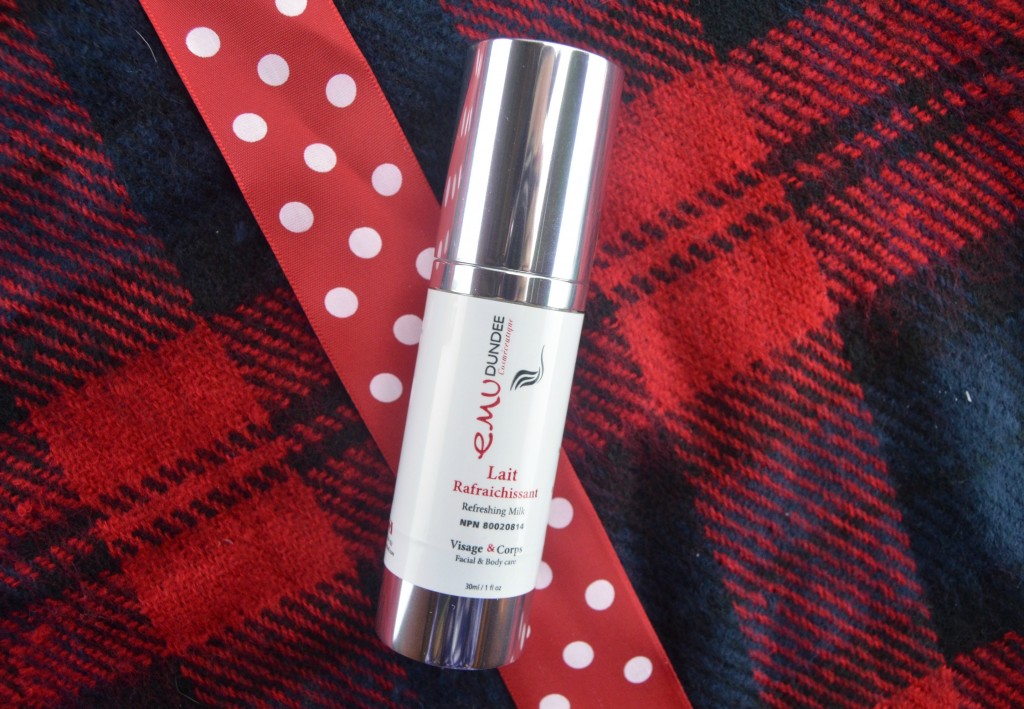 Emu Dundee Flexo-3 is the one product that Derek's been absolutely loving. It's unique and innovated formula contains 12 medical plants and flowers that feature inflammatory, calming and antispasmodic benefits. Derek does a lot of walking and is on his feet for upwards of 12 hours a day, which takes a toll on his leg muscles and feet. By applying a small amount of this lightweight cream, it almost instantly helps to relieve sore, tired muscles. It provides fast relief and gives an almost soothing and cooling effect to the skin, perfect after a long and stressful day. Think Deep Cold, only better. It retails for $18.35 for 100ml.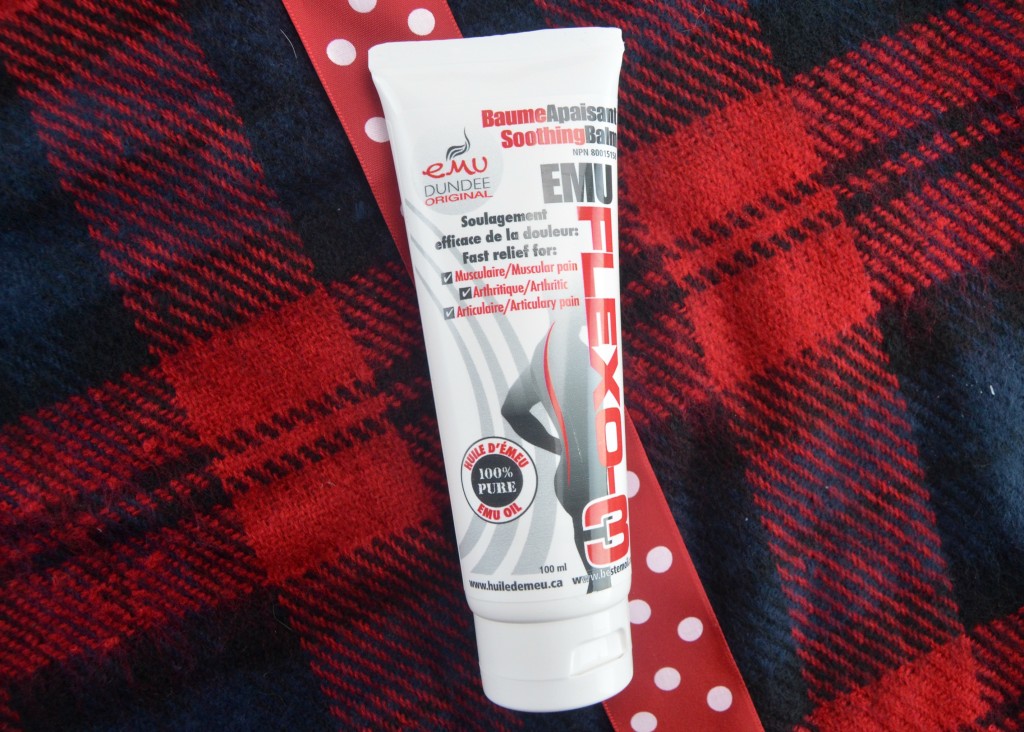 I've never been one for bar soap, but I'm actually quite enjoying the Emu Dundee Revitalizing Bar. It's made with all natural ingredients like vegetable oils, coconut oil, sunflower pol, emu oil, cocoa butter, goat milk and beeswax that's surprisingly not drying at all. It also doesn't leave behind that traditional soapy residue, yet cleanses the skin and washes away all traces of dirt and daily grime. Would I continue to use this daily, absolutely not, but it's an excellent alternative to body washes and harsh soaps. It retails for $7.77.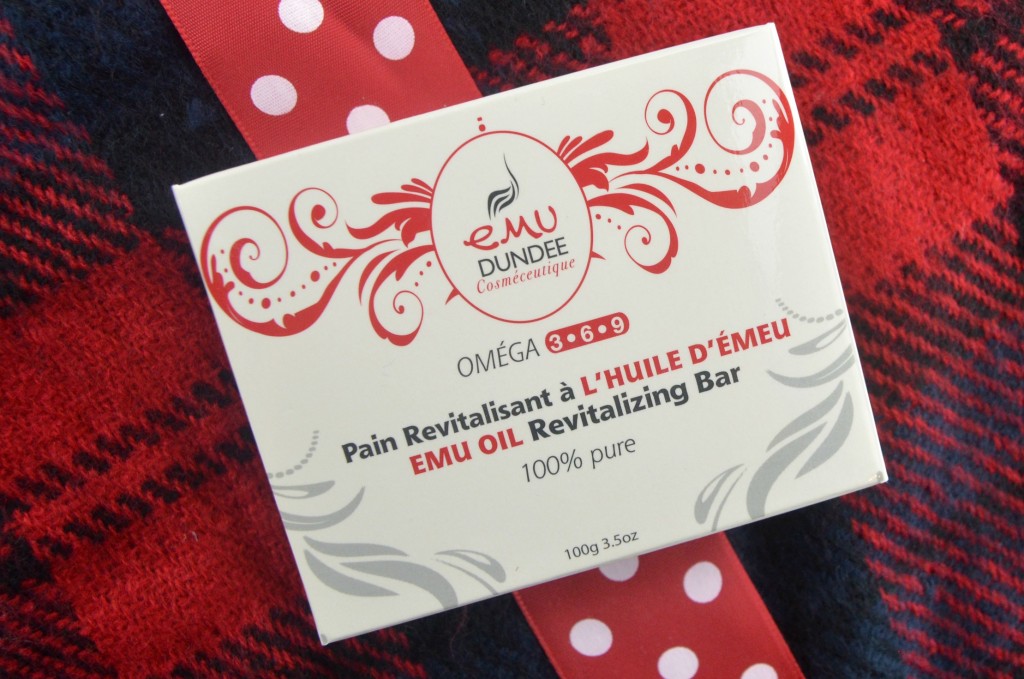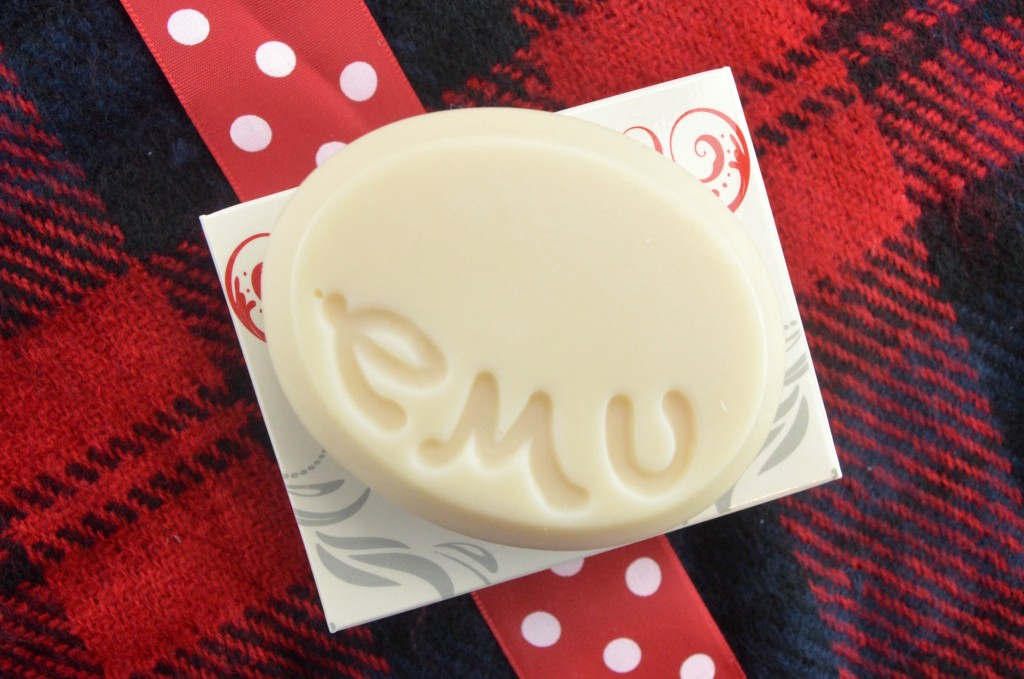 Last, but not least, Emu Dundee Lip Balm. It's formulated with essentials fatty acids to help moisturize and prevent dryness and chapped lips throughout the day. It has a clear, creamy, almost silky-like texture that glides onto the lips like butter, without pulling or tugging on delicate skin. It helps to instantly add hydration back into dry, irritated lips and unlike other traditional lip balms, it actually seems to fully absorb deep down into the skin after. It provides all day comfort and hydration for only $7.75.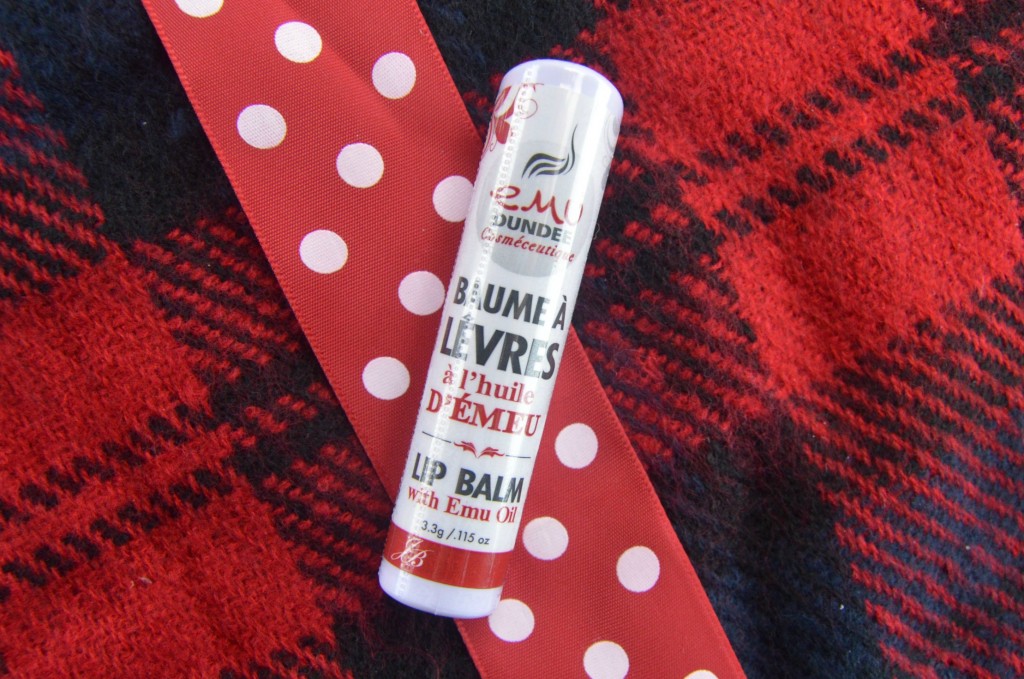 Although I've only been using these Emu Dundee products for a few short weeks, I have already noticed a difference in my skin's hydration level and overall redness. Since emu oil is very similar in composition to the fats I already have in my skin, each product seems to absorb quickly, penetrate deep down into my skin and soak in almost immediately. When applying these products in the morning, I can continue on with daily routine and foundation without having to wait for it to fully absorb into the skin. When applying in the evening, no need to wait for it to soak in before hitting my head on the pillow. The combination of each product does a wonderful job at keeping my skin extremely moisturized throughout the entire day and well into the evening. It helps to reduce any dryness, flakiness and itchiness I may be experiencing at that moment and keeps my skin hydrated for days to come. The redness, caused by inflammatory seems to be under control and I've actually noticed less breakouts and blemishes these past few weeks. Each product is available online, along with over 28 stores across Canada, including Wal-Mart, Sobeys, Jean Coutu, McMahon.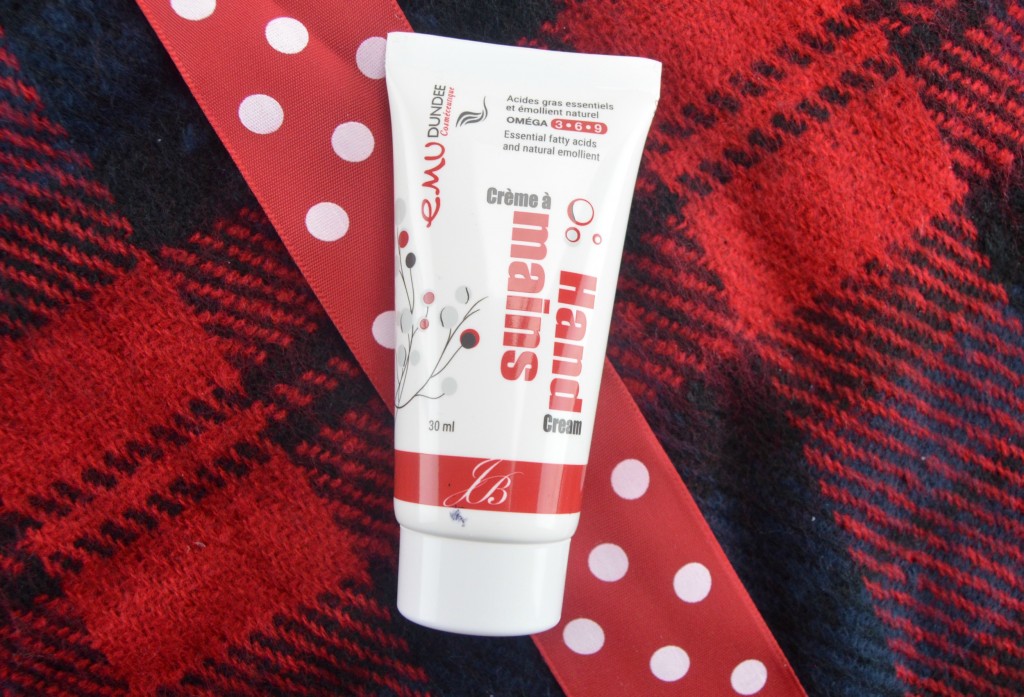 "Disclosure: This post was sponsored by Emu Dundee, but all opinions on this blog are my own. I also want to thank you for supporting the brands that support my blog."