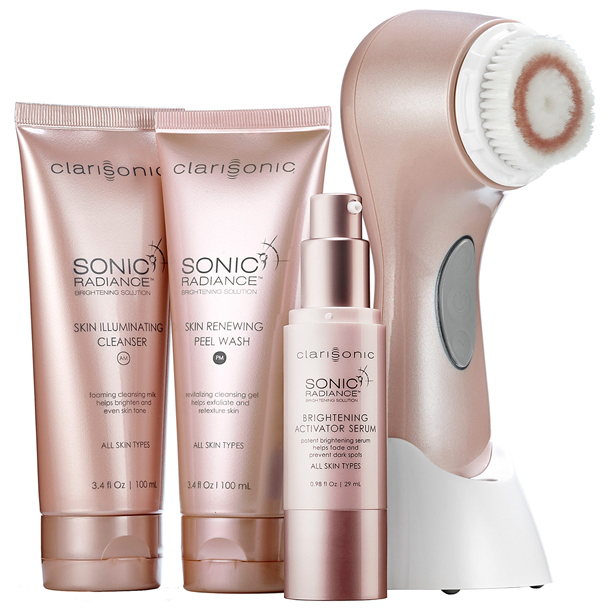 Bye Bye Hyperpigmentation
I hardly ever do this, in fact in the 5 years that I've been blogging, I think I've only done it once or twice. What is that you may ask? Share a press-release without testing out the product. Sure I get a ton of them daily, but how can I blog about something I haven't personally tried/ love? That being said, I'm too excited about this not to share. What is it? The new Clarisonic Sonic Radiance Brightening Solution. You know how much I love my Clarisonic, the days when I don't use it, my face just doesn't feel the same. It doesn't have that squeaky clean feeling that I get immediately after using my Clarisonic. 
So what makes this new Clarisonic Sonic Radiance Brightening Solution so much different and why am I so excited, it promises to reduce hyperpigmentation 10x more effectively than manual treatments in as little as 2 weeks. This new device is the key to unlocking your brightest complexion and I can't wait to get my hands on one. It helps to slow down excess melanin which will give the appearance of a more radiant, brighter, more even complexion. It will significantly reduce the number of dark spots, and dark spot intensity, while combating future dark spot formation, along with exfoliating existing pigment clusters at the skin's surface.
Each Clarisonic Sonic Radiance Brightening Solution kit contains an Aria Advanced Facial Sonic Cleansing device that features 3 speed cleansing technology, to ensure even and thorough cleaning, along with the Radiance Brush Head which is specifically designed to deliver a comfortable, yet highly effective cleansing experience. It also comes with a Skin Illuminating Cleanser that helps transform the appearance of dull, uneven complexion. It helps to not only remove impurities, but helps brighten and even out the skin tone. The Brightening Activator Serum will help combat dark spots, age spots and acne-induced discoloration for a smoother, brighter complexion. Finally the Skin Renewing Peel Wash that's formulated with LHA that gently and evenly retextures skin for visibly radiant results. It also exfoliates dead skin cells for smoother, softer skin. 
Like I said, I haven't actually tested this product out, but you know I've been trying anything and everything, even IPL, to try and lighten my dark spots, so I'm super excited to share my results with you soon. Clarisonic Sonic Radiance Brightening Solution kit retails for $265.