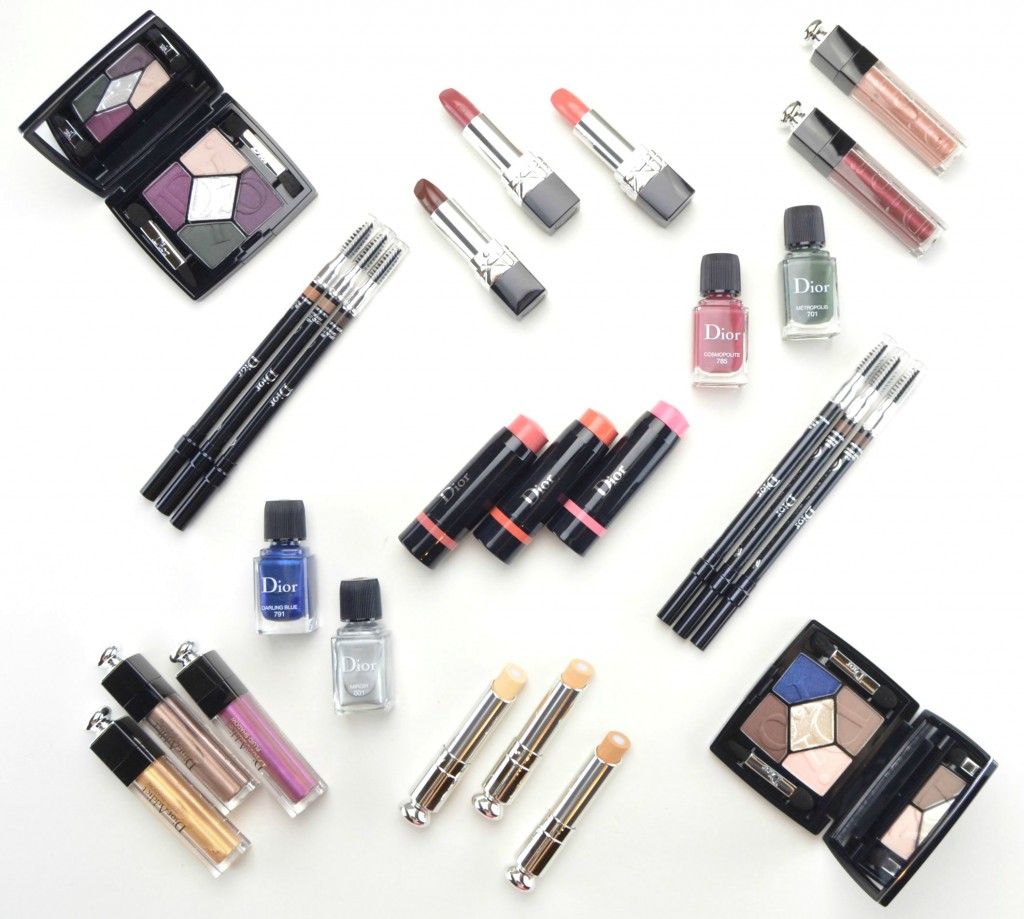 strong graphic look
Grab a coffee ladies, Dior's latest Fall collection hits stores Saturday, August 1st and it features at ton of new products. Dior Cosmopolite Fall 2015 Collection helps you unleash your creativity and experiment with gorgeous metallic eyes, vibrant shades for the lips and cheeks and natural shades on the nails. This collection features endless possibilities to be bold, classic and a little couture from the most natural to the most sophisticated makeup look this season.
"I wanted to instantly draw attention to the eyes by creating a very strong graphic look. It's a very controlled, very catwalk look. This very dense and polished look contrasts with a soft, luminous complexion. It's a combination of a rather feminine subtlety, and clear, distinct line. This association reflects the spirit of the collection, which lies between the expression of fluid femininity and an accentuated graphic statement." -Peter Philips, Creative and Image Director for Dior Makeup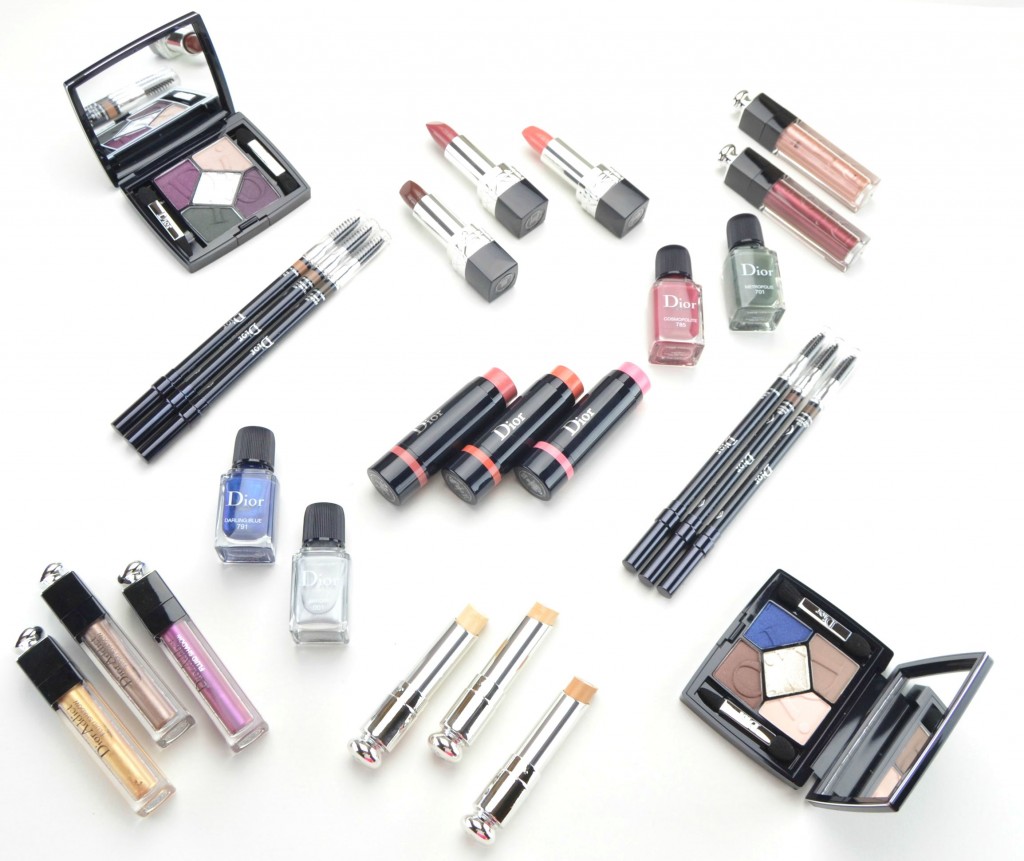 Like all Dior 5 Couleurs, these 2 new Dior Couleurs Cosmopolite palettes are based around the centre shade, which is a bold metallic with almost a foil finish in either gold or silver. This allows you to effortlessly achieve a multitude of warm Fall looks, depending on which shades you use together. If you're looking for a natural daytime look, combine the two upper shades, along with the middle colour, for a subtle office look, or amplify and darken your look for a more dramatic and nighttime effect by pairing the two bottom shades with the centre. These two limited edition creations will flatter all eye colours and skin tones, whether you're looking for a light or dark look.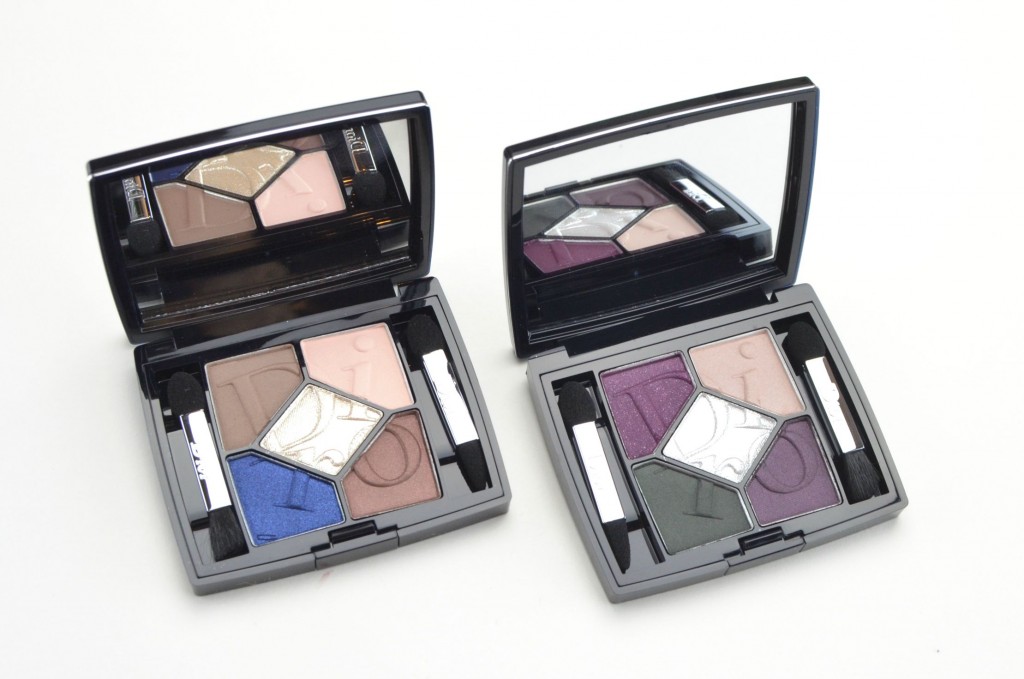 Dior Couleurs Cosmopolite comes in your standard Dior palette with a rich and creamy texture that's pigmented and truly opaque. Its velvety formula provides strong colour payoff in an array of satin, matte, metallic and shimmery finishes. Like most darker shades in the Dior collection, it can be a bit patchy with a little fallout, but nothing you can't work with and the end results are always beautiful. Each shade blends beautifully, stays put the entire day when paired with a primer and creates a ton of different looks. It comes in 2 new limited edition palettes and retails for $70 each.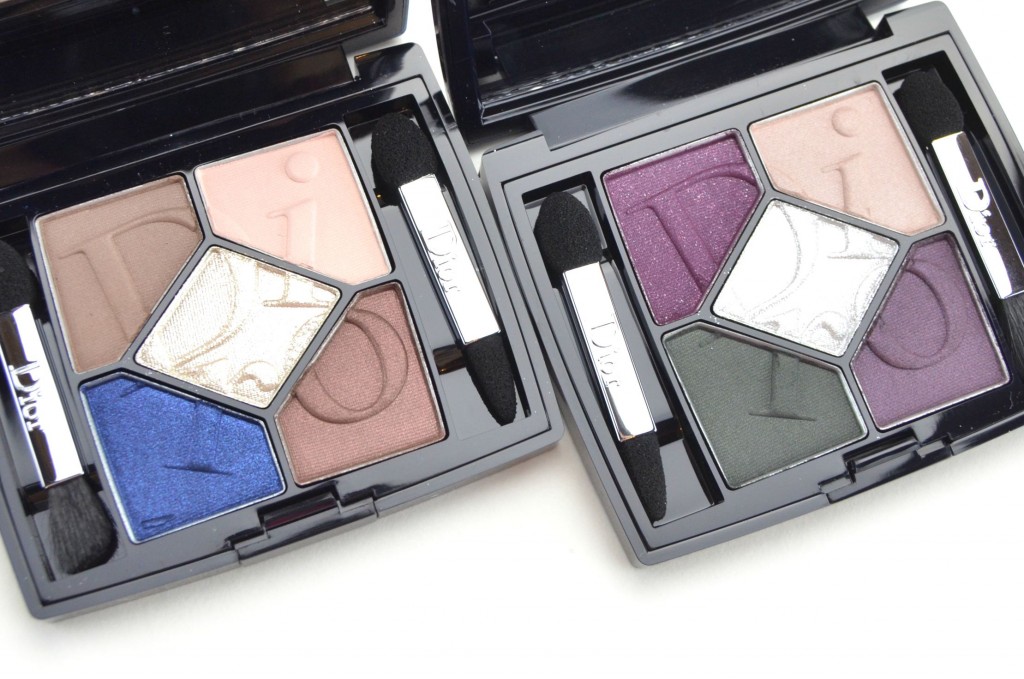 Dior Couleurs Cosmopolite in Exuberante is a slightly warmer palette with a beautiful harmony of brown, beige and gold, contrasted with denim blue. It features a creamy, milky chocolate brown with a satin finish, a pale peachy pink with a slightly iridescent finish, a white gold with a ton of glitter, an intense and bold denim blue with slight sparkle and a dark brown with a burgundy sheen.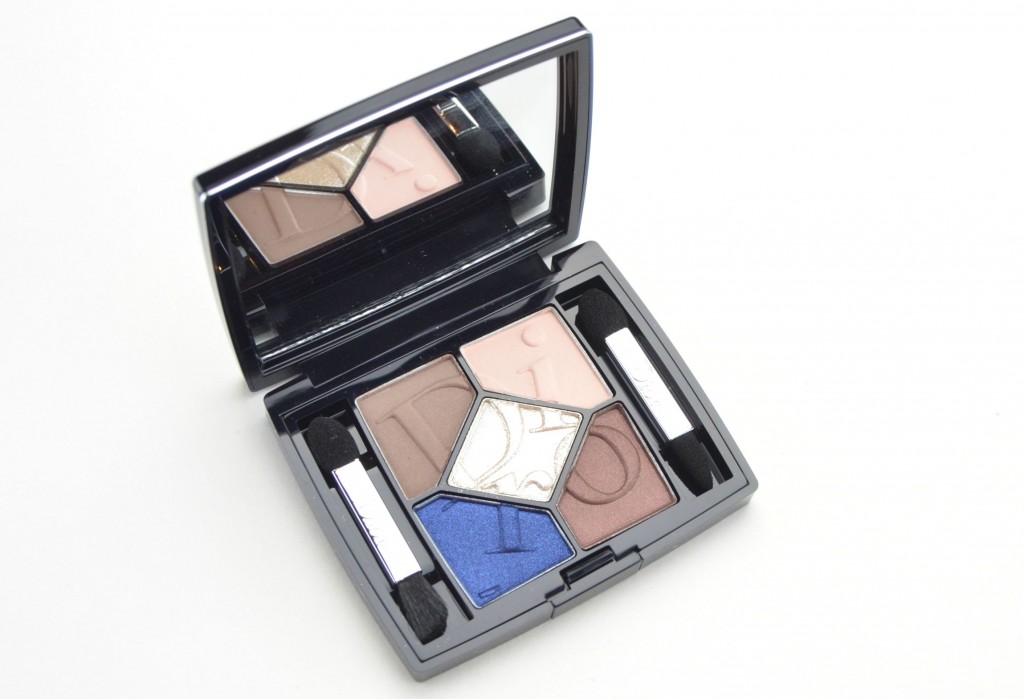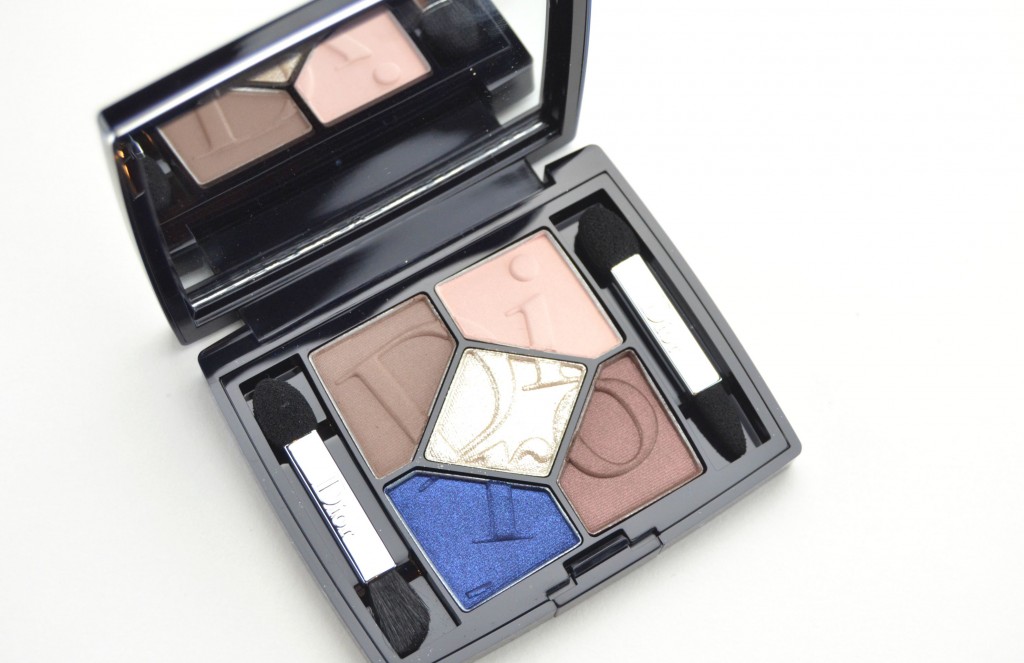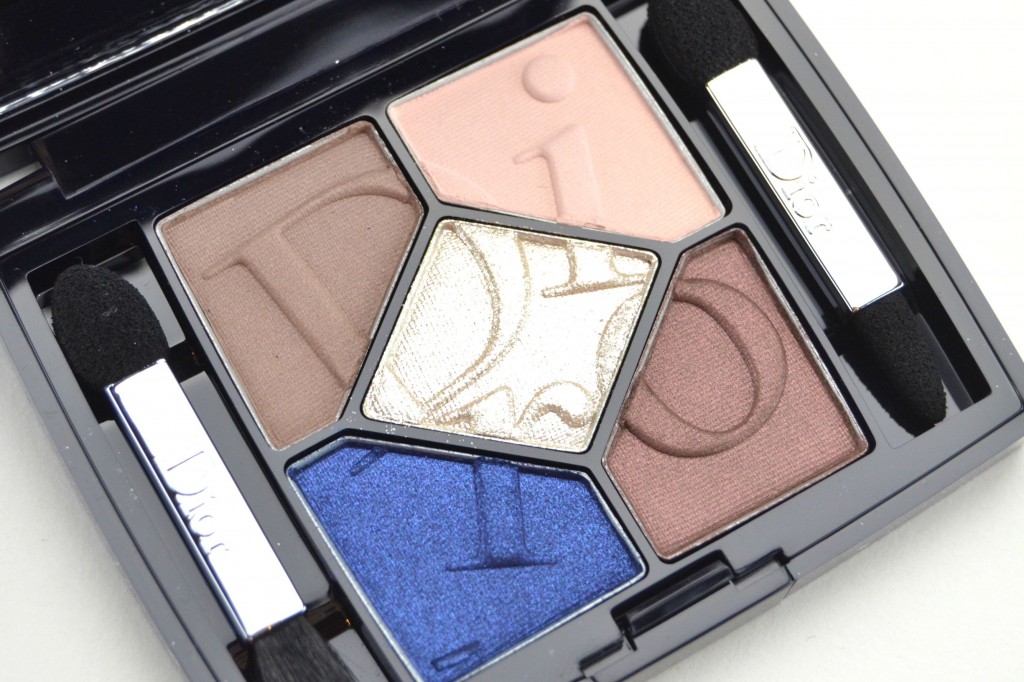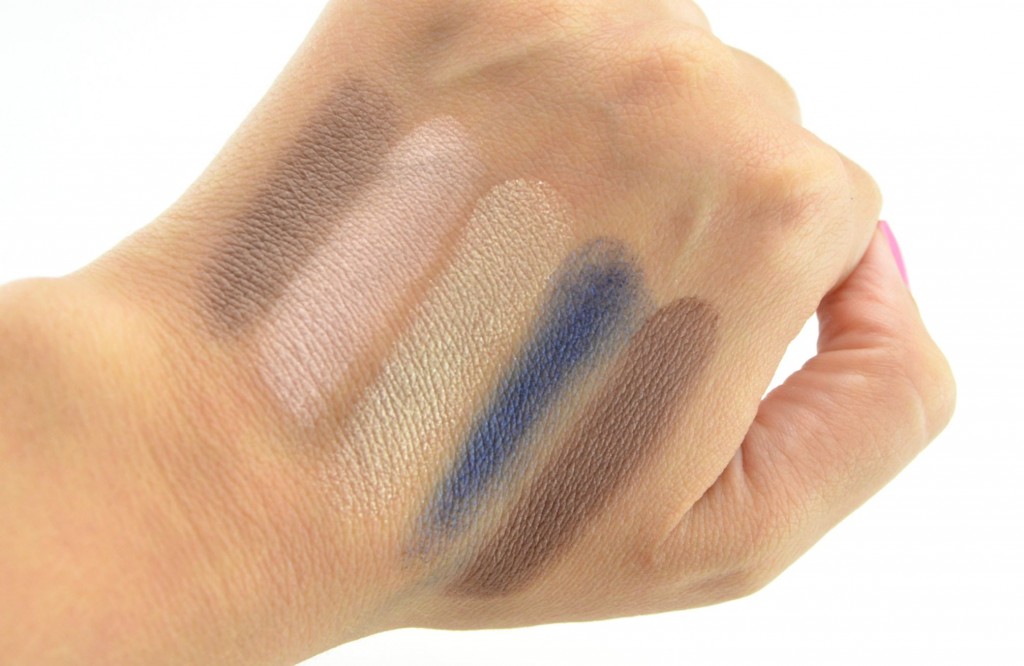 Dior Couleurs Cosmopolite in Eclectic is a slightly cooler palette with an accord of silver, mauve and burgundy set against a moss green. It features an incredibly rich and intense purplish burgundy with a slight sparkle, a light almost greyish pink with a shimmer finish, a metallic silver with a sparkle finish, a dark eggplant with a shimmer finish and a bold and dark moss green with a satin finish.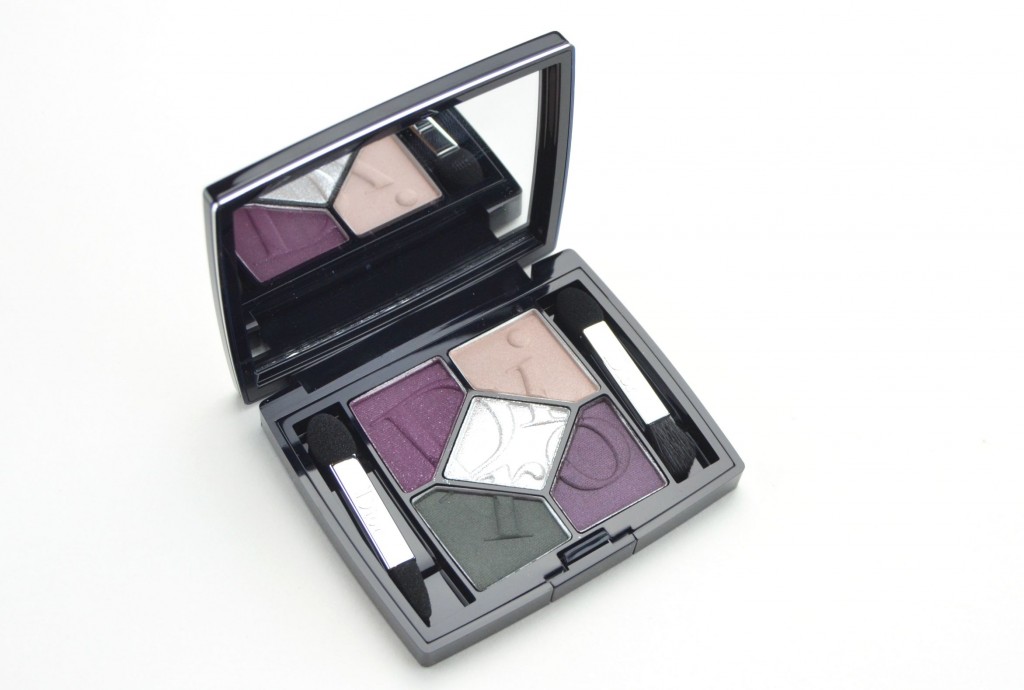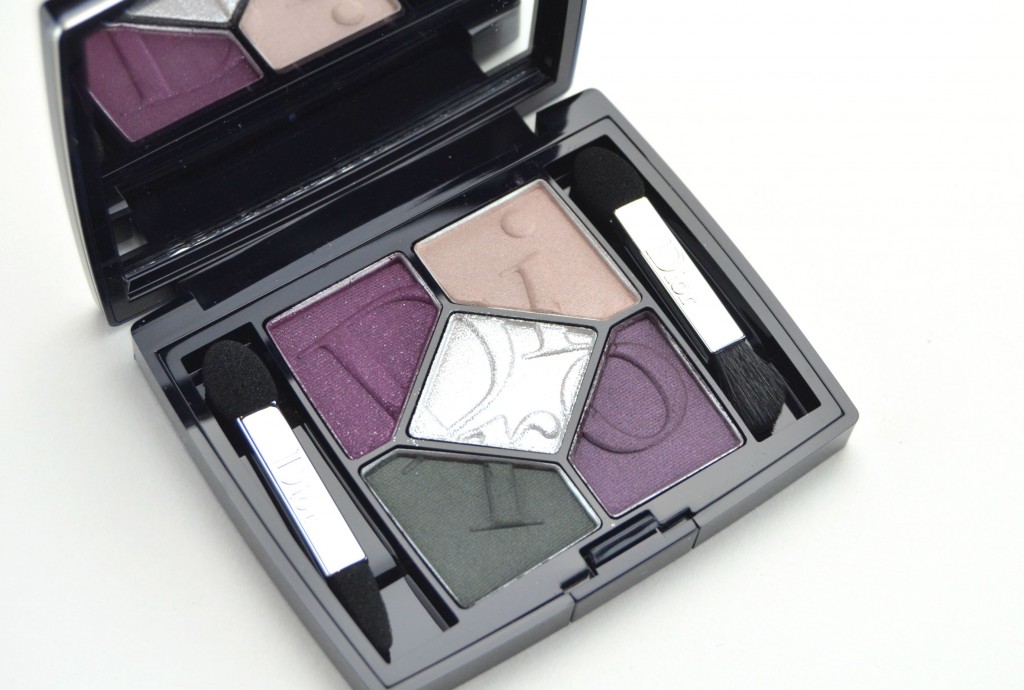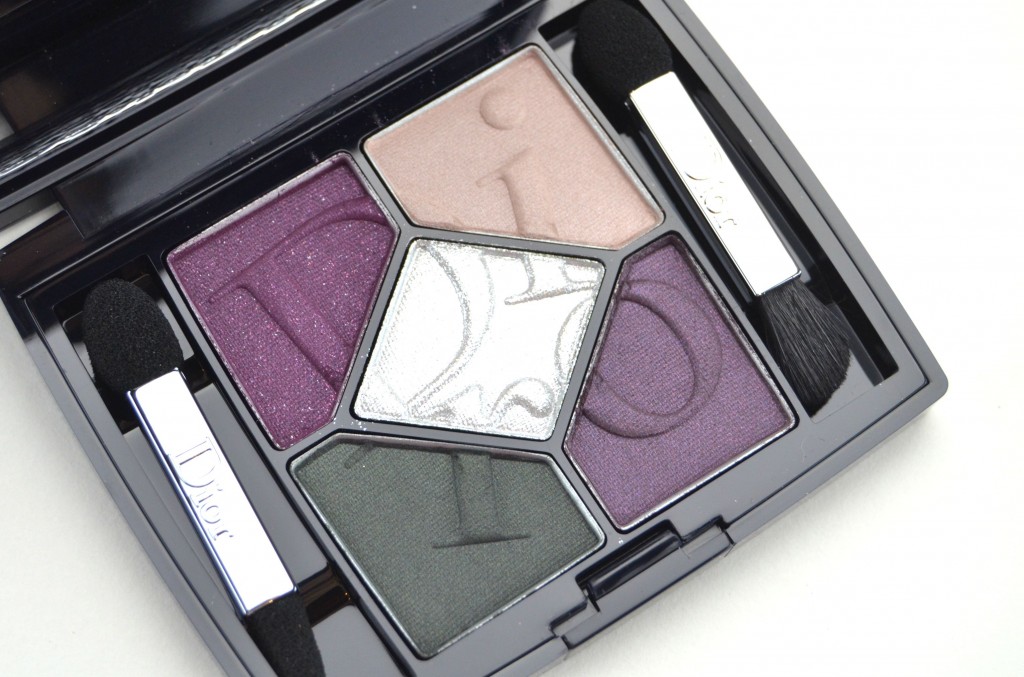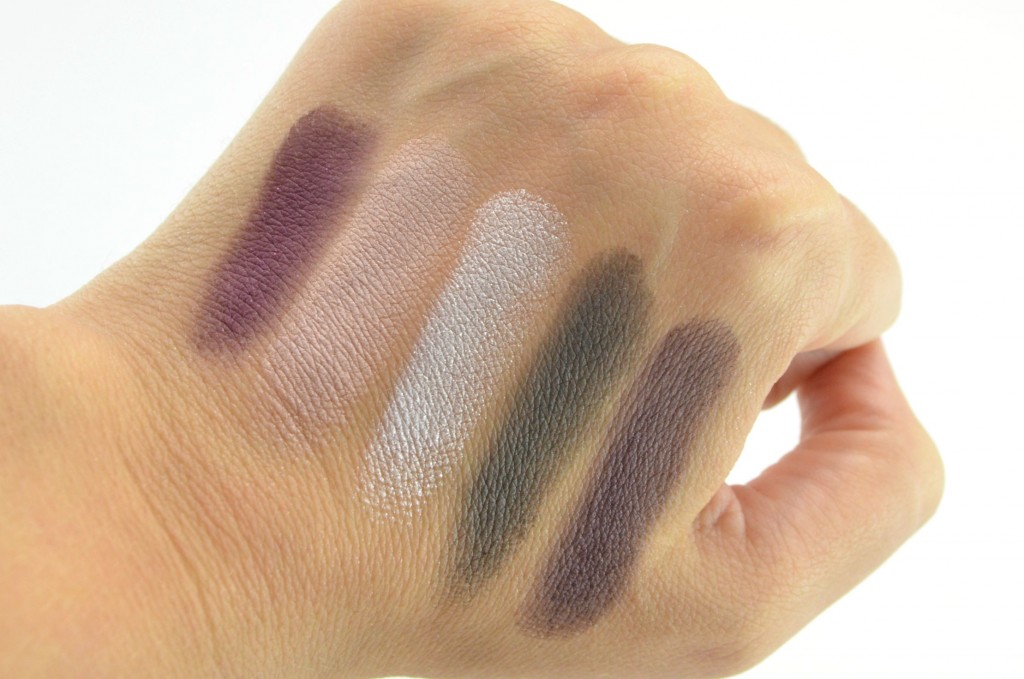 Dior Fluid Shadow is a long-wearing fluid shadow that provides a high metallic sheen with a ton of shine. It creates a mirror effect with a magnetic shimmer that gives the eyelid a lacquer-like shine of a screen of light in a single stroke of the brush. It's refine, lightweight texture is extremely pigmented and dries within a few seconds to a high lustres finish. It has a slight cooling effect once applied to the lid and blends into the skin for a smooth and seamless look. You can use the brush applicator to apply to the lid and then just blend out with your fingers. It gives a bold and intense look, what you see in the tube, is what's applied to the eyes. It's comfortable to wear the entire day, without feeling tight, dry or stiff, nor does it crack, crease or fade.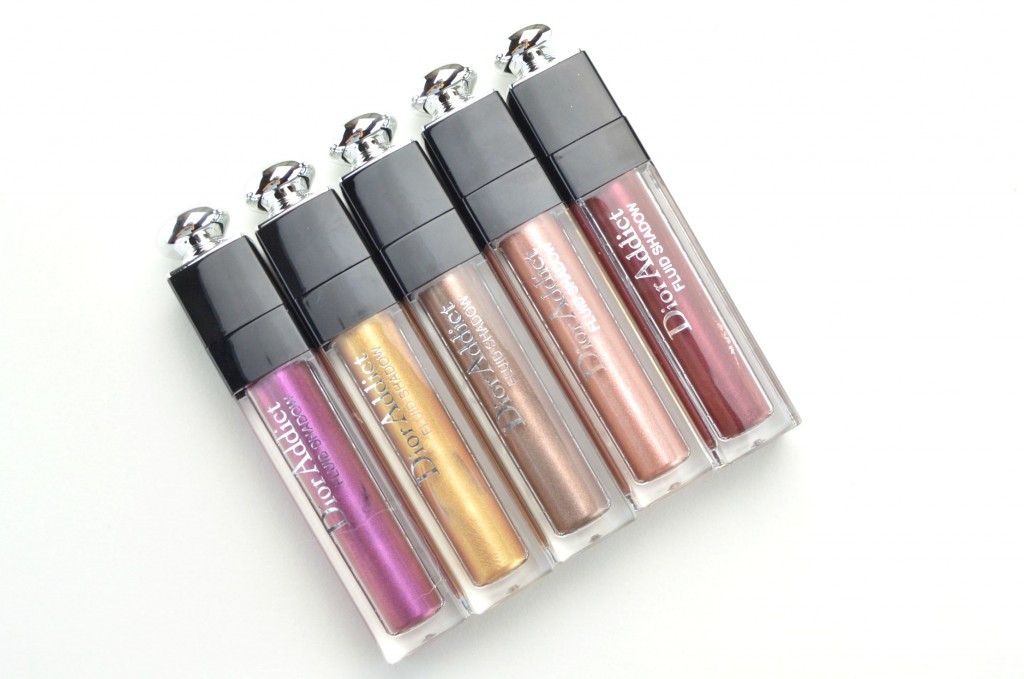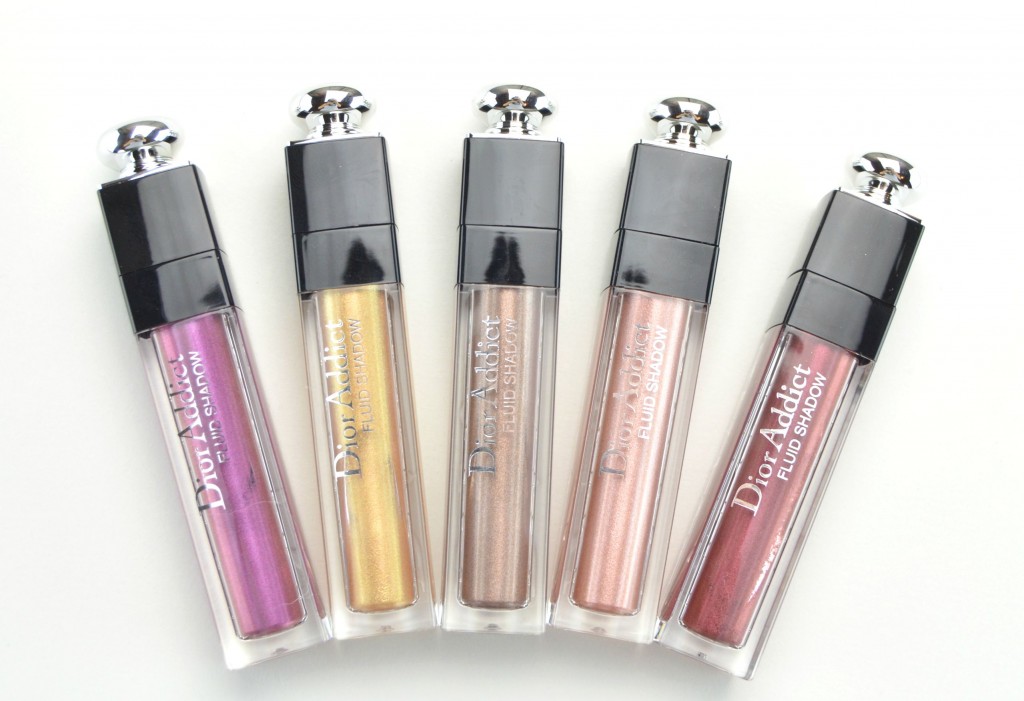 At first, I thought these Dior Fluid Shadow were shades of the Dior Addict Fluid Sticks, as they come in the same packaging with the same brush applicator, but these are actually a liquid-cream eyeshadow. It's a pretty finicky product to work with and it will take some time to perfect, but once applied to the eyes, it's absolutely beautiful and worth the hassle. Although Dior suggests patting in with your finger, I found it quite messy and ended up with more on my finger than my lid. I quickly switched to a synthetic eyeshadow brush and patted the product on, works so much better.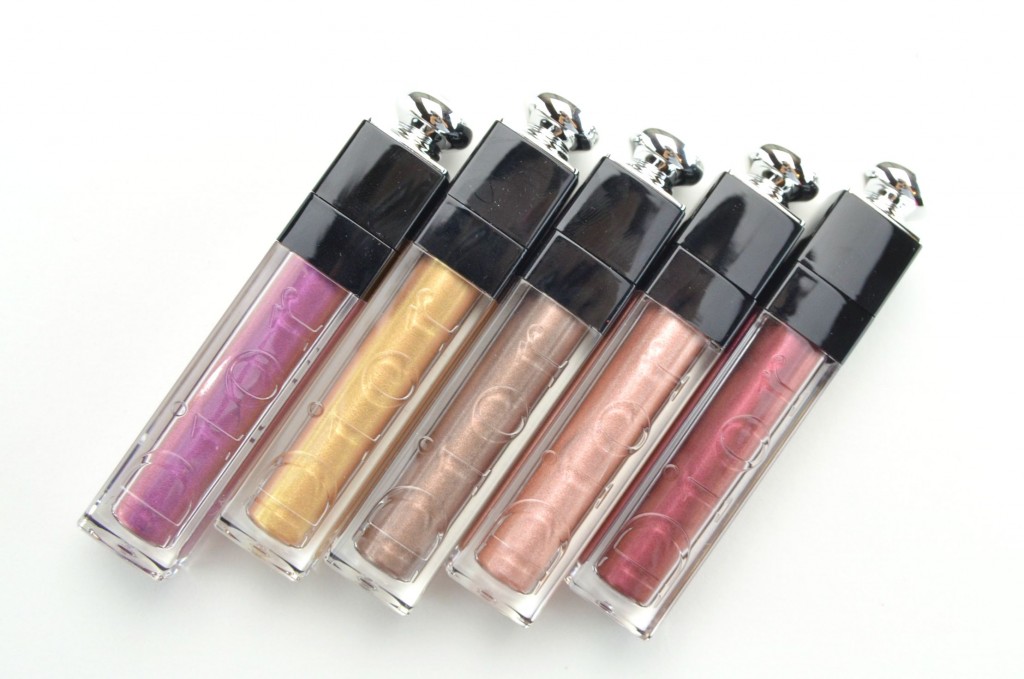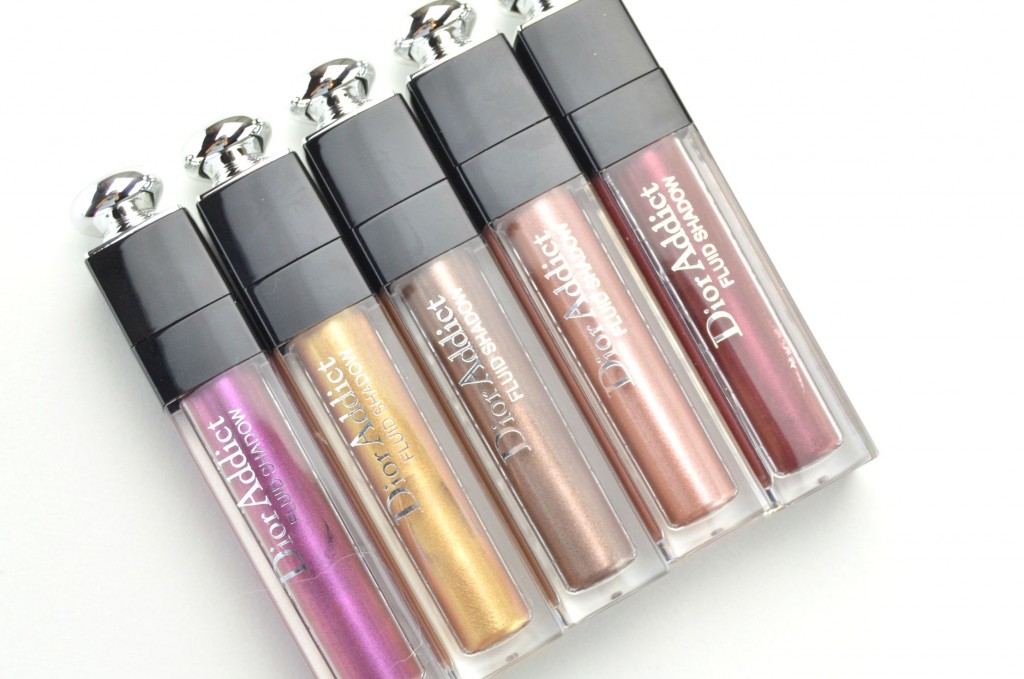 The metallic colour on these Dior Fluid Shadows does sheer out a little and can be a little patchy, but once it sets and dried, you're left with a stunning wash of shimmery colour. Although it claims to be long-wearing, it isn't waterproof, so I suggest pairing it with a primer. Once it sets, within a few short seconds, it isn't budging the entire day. I kinda love the fine brush applicator, it provides precise brush strokes, allowing it to double as an eyeliner on both the upper and lower lash line. It comes in addictive shades to help light up the eyes this Fall, ranging from metallic silver to golden beige and universal browns. It retails for $36 in shades of Cosmic which is a beautiful purple with a slight blue and burgundy tint, Phénix is a gorgeous golden beige, Univers is your everyday basic taupey brown, Aurora is this season's hottest rose gold with a slight pink tint, Destinée is an extremely rich and creamy burgundy and Magnetic, not shown, is a stunning silver.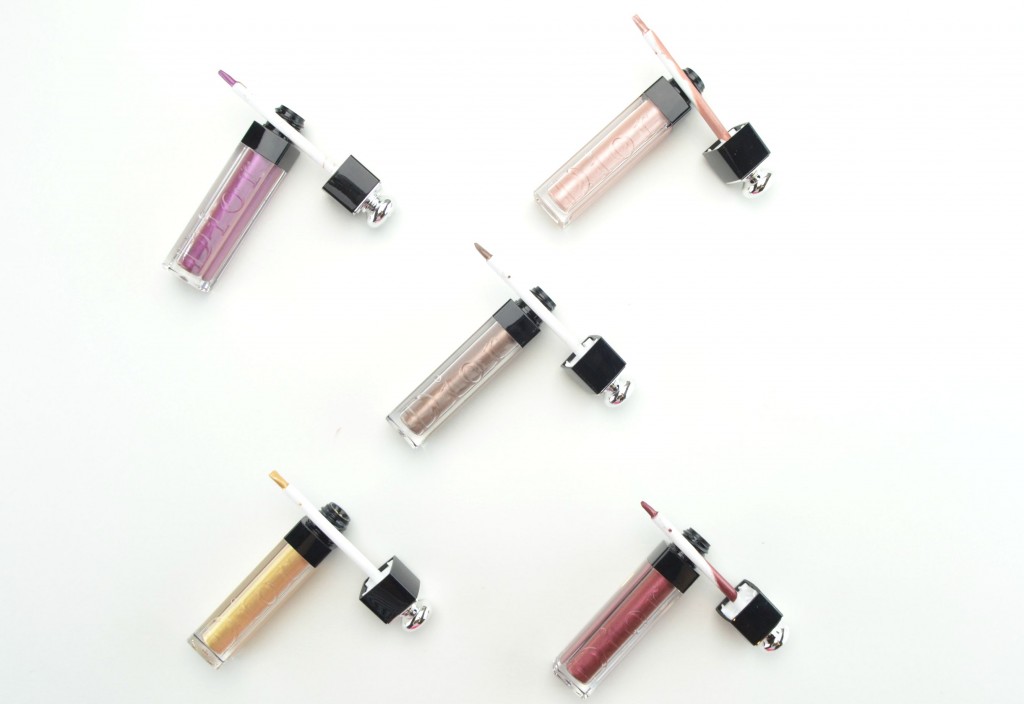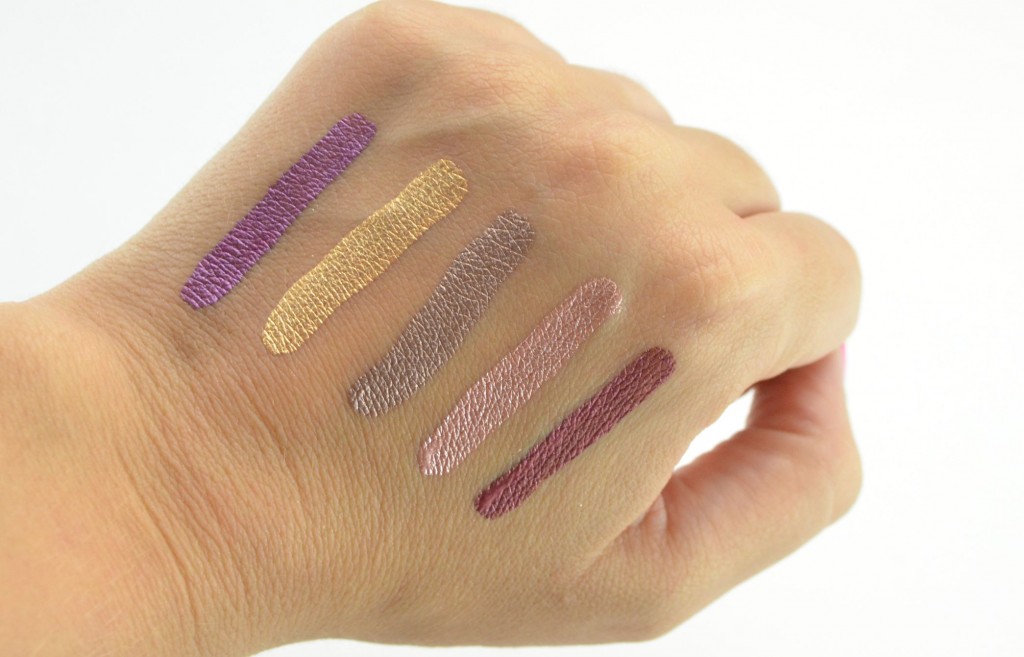 Dior Sourcils Poudre is an automatic, twist-up brow pencil with a thin brush applicator and easy to use formula that helps achieve realistic eyebrow definition. It combines the definition of a wax with the finish of a powder. It has a soft powder texture that easily fills in brows without looking too heavy or fake looking. It helps to fill in any sparse areas, while sculpting the brow to create shape and definition. The opposite end features a spoolie brush to help soften the look and brush hairs in place.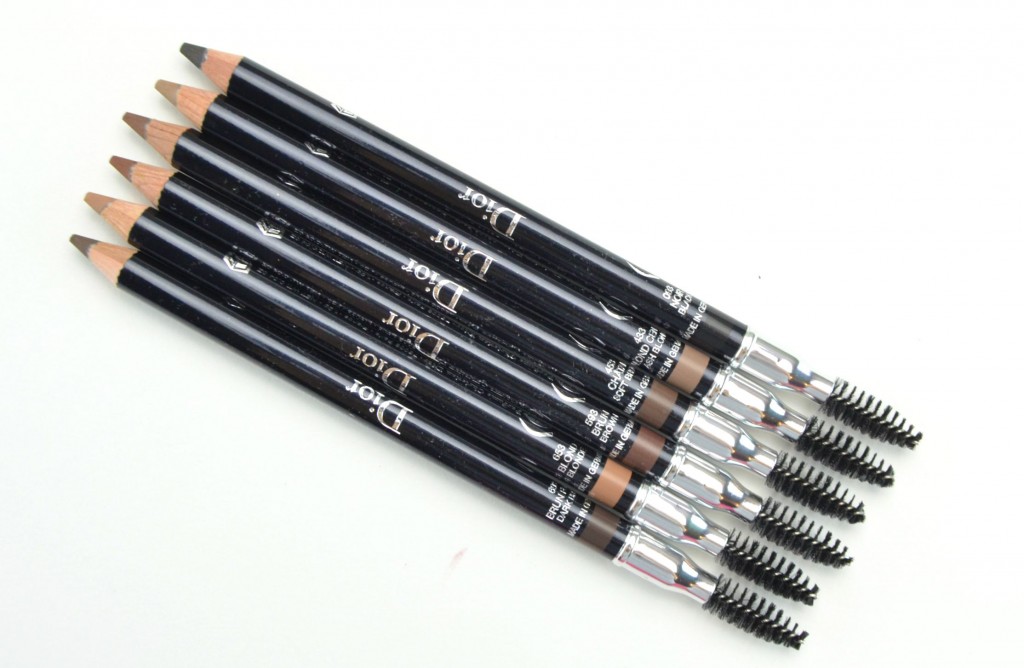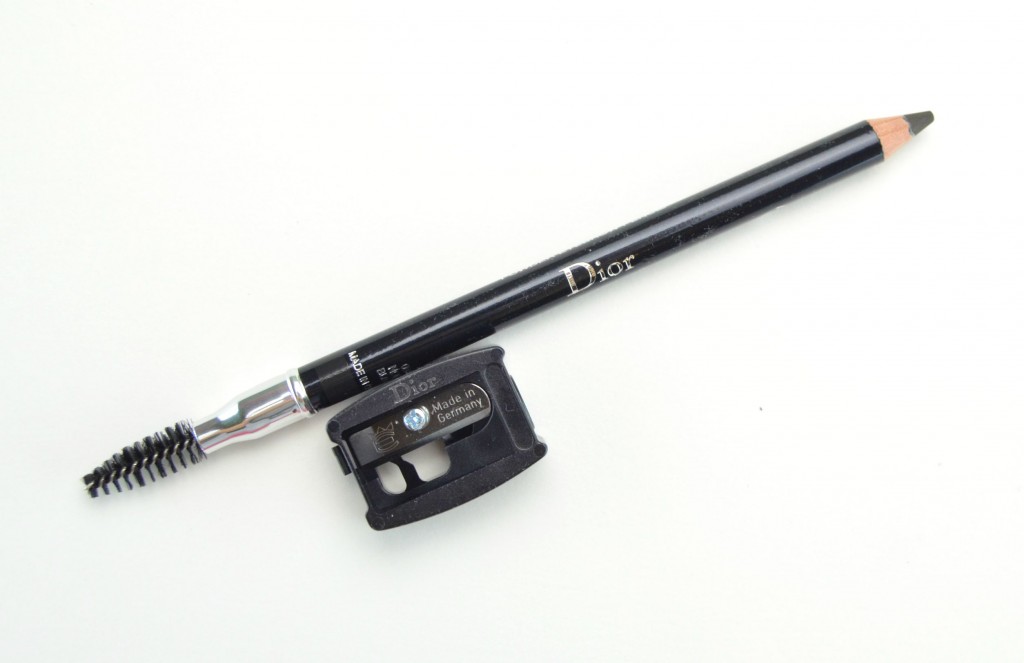 Thick, bold and dramatic brows have been the focal point of the face for the past few seasons, but no other brand does it quite like Dior. Dior Sourcils Poudre is the one accessory you won't be able to live without this season, when looking for beautifully defined brows. This fantastic eyebrow pencil instantly creates a flawless bow arch and gives the illusion of fullness and thickness for extremely well-groomed results. The unique powder formula sticks to each hair of the eyebrow to give the illusion of highly pigmented hairs with a ton of volume. Because the powder adheres to the hairs, it stays put the entire day, without fading. This season its added two new shades to the already existing 4 popular shades, which means finding the perfect shade will be a breeze. It retails for $33 in shades of Noir a rich black, Blond Cendre an ash brown, Chatain a soft brown, Brun the perfect brown, Blond which is, of course, a blonde and Brun Fonce a dark brown.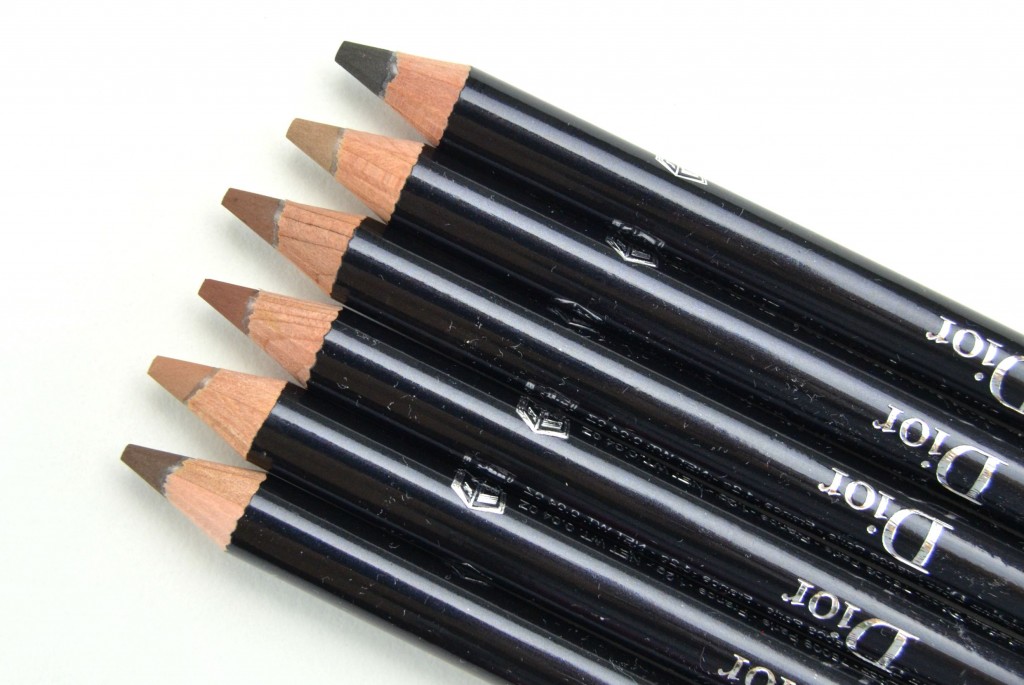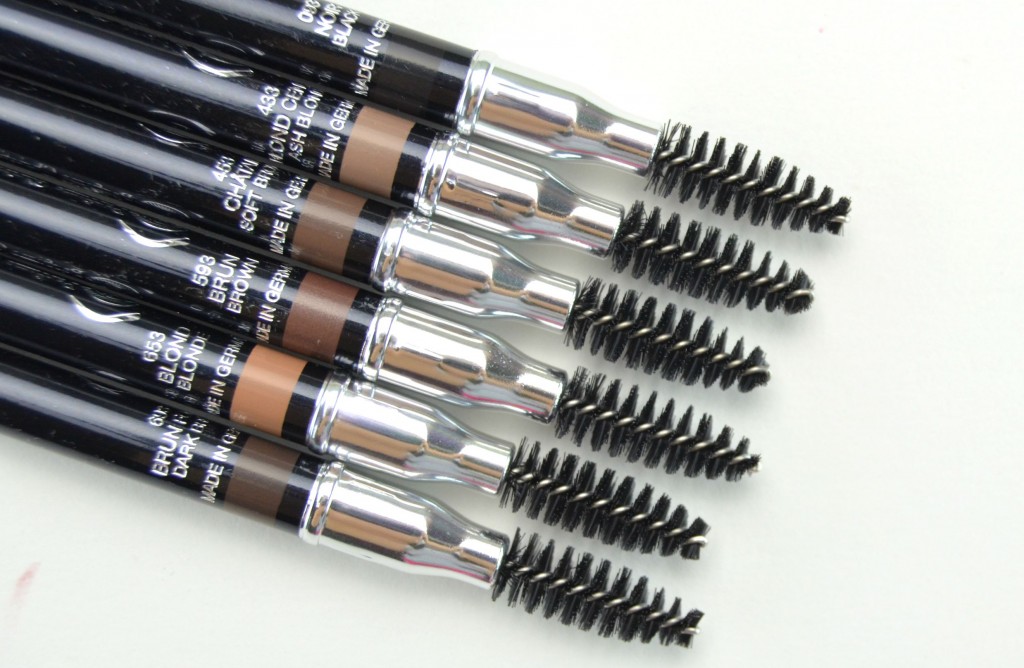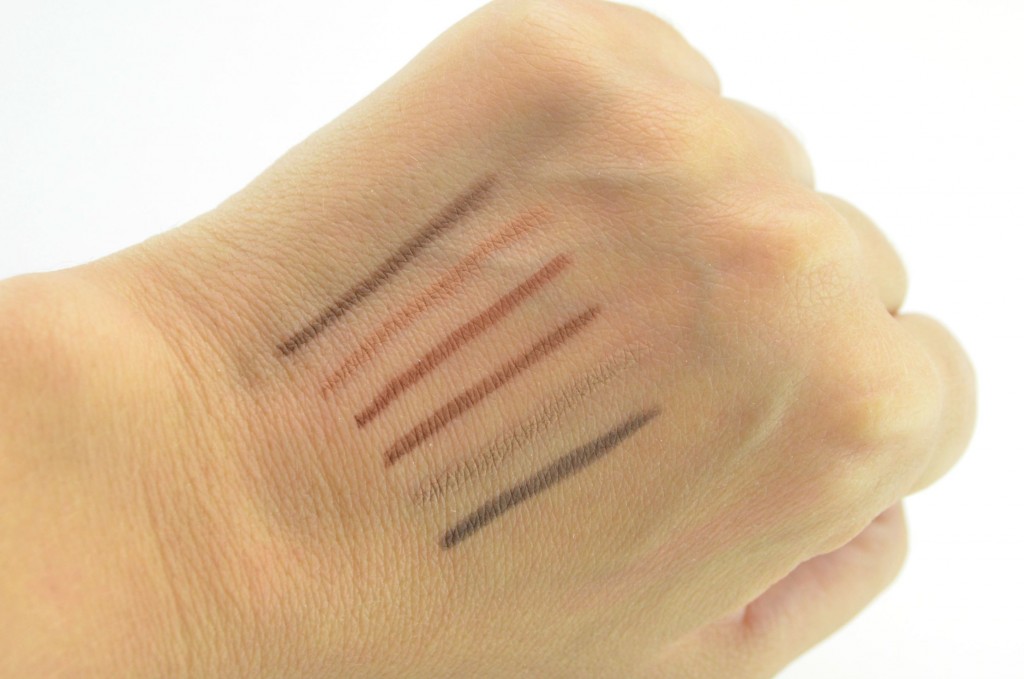 Diorblush Cheek Stick features a swivel up design with a dome shape head that never needs to be sharpened. It has an extremely soft and creamy texture, same consistency as a buttery smooth lipstick that brings out a deep or fleeting glow, depending on how much you apply. It glides across the checks with ease thanks to its creamy and satin like consistency. It's fairly pigmented, providing excellent colour payoff in a single swipe. Although it applies like a cream blush, it sets to almost a powder like finish, that doesn't cling to dry areas. It's easy to blend for a smooth and seamless finish and can be built up to more opaque coverage, depending on your desired look. It stays put the entire day, a solid 8+ hours, before slowing starting to fade. It provides a healthy and glowing finish to the cheeks without emphasising fine lines or pores.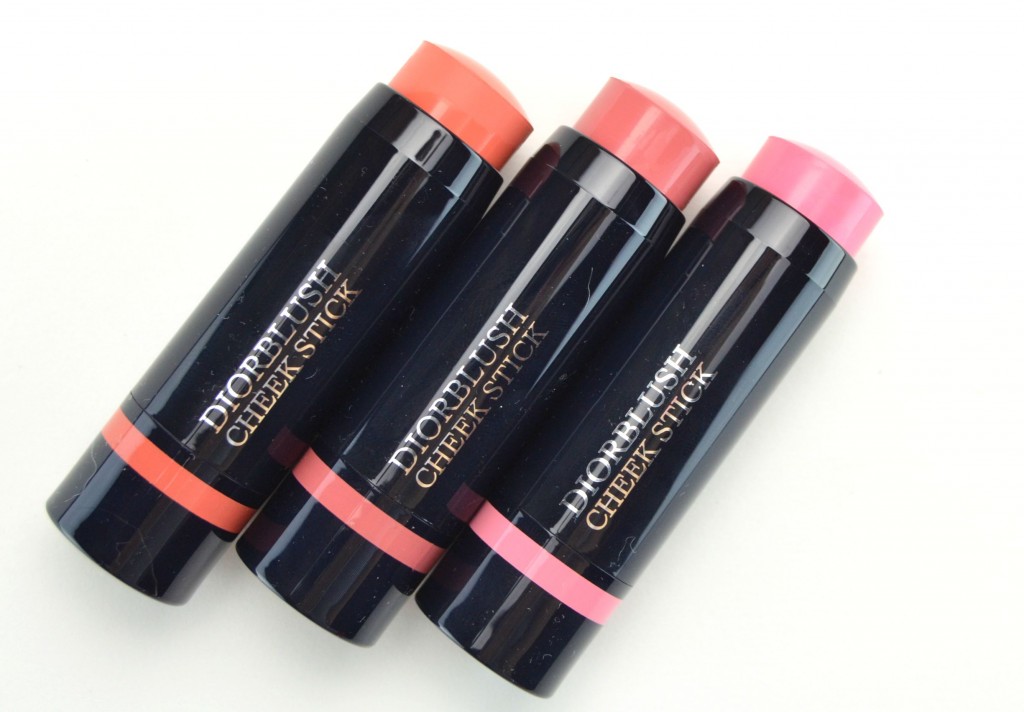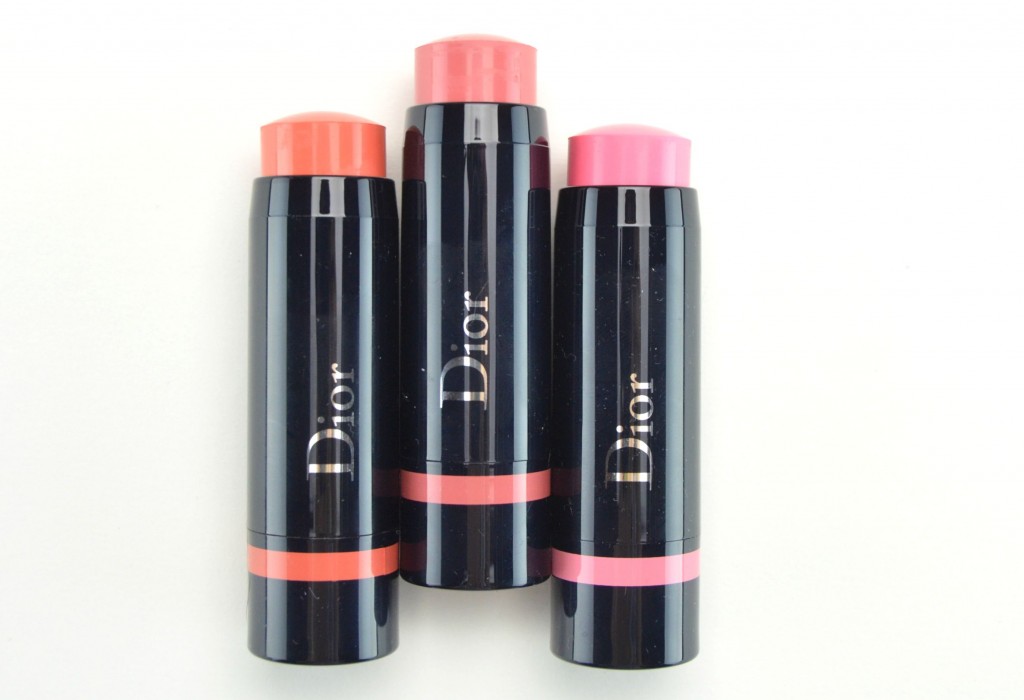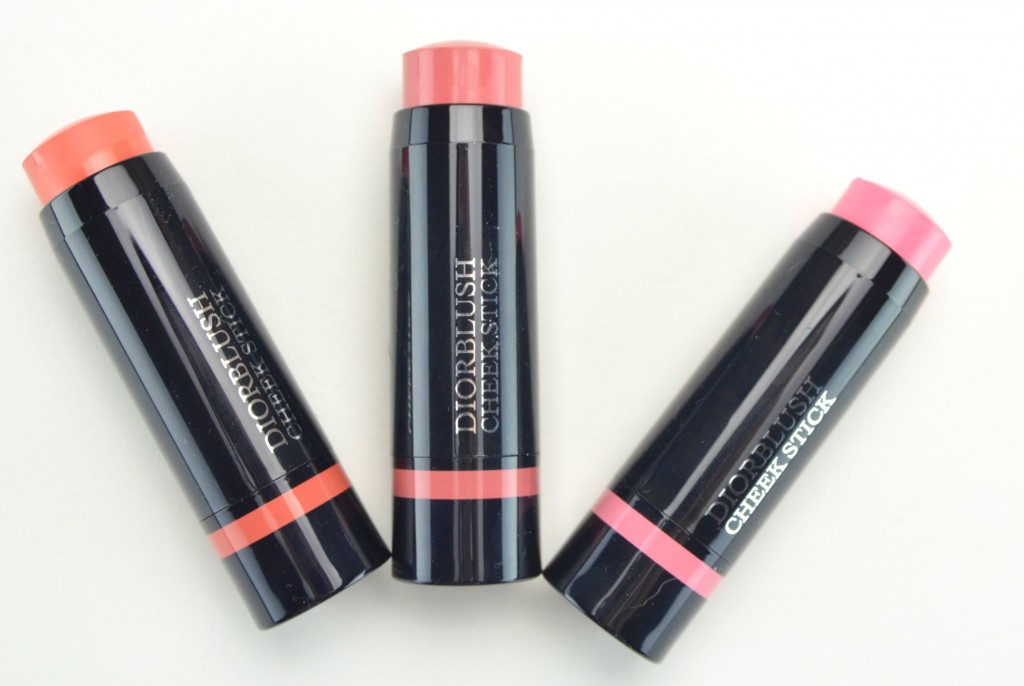 If there's one product I was most excited about it, it would have to be the new Diorblush Cheek Stick. For someone who battles with dry skin on a daily basis, a cream blush is the way to go. As you can see from the swatches, these are incredibly pigmented and truly opaque, some of the boldest blushes I've used to date. I recommend dotting onto the skin, instead of swiping, so you don't apply too much product and end up looking like you're in a high school musical. You can then just blend out with your fingertips or a brush for a soft, sheer wash of colour. I love that I can achieve an array of personalized results, depending on my mood. Used delicately as a highlight on the cheekbones, a stunning sculpting effect in the hollows of my cheeks or an added pop of colour on the apples of my cheeks, the possibilities are endless. It comes in 3 velvety and flattering finishes, Cosmopolite Coral which is an apricot orange, Cosmopolite Rosewood a rosy pinky nude, Cosmopolite Pink a fresh Barbie pink and retails for $41.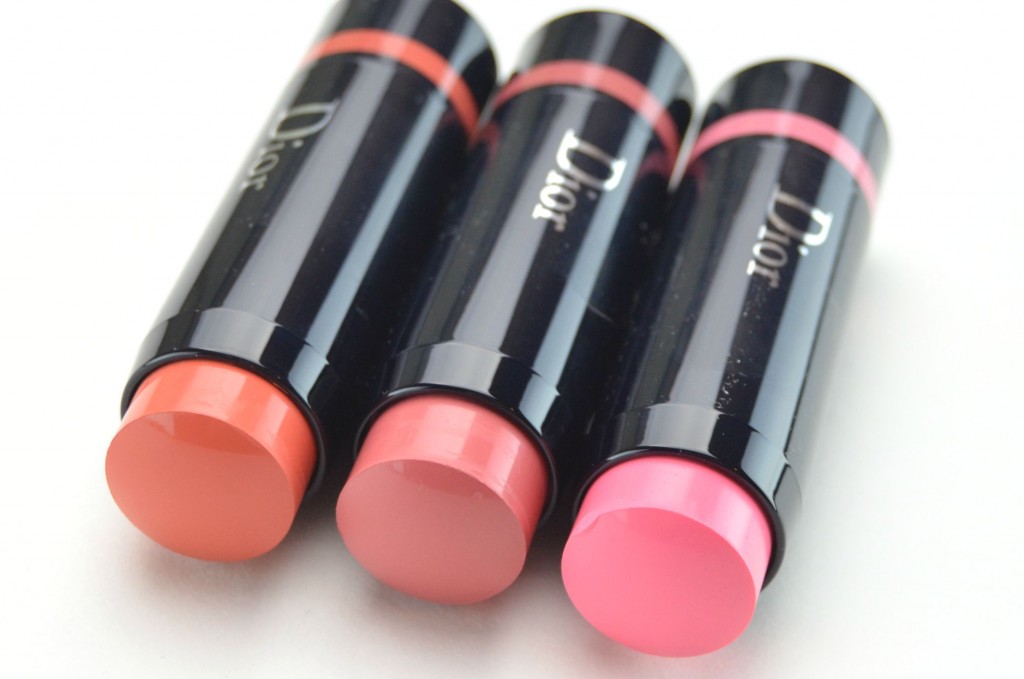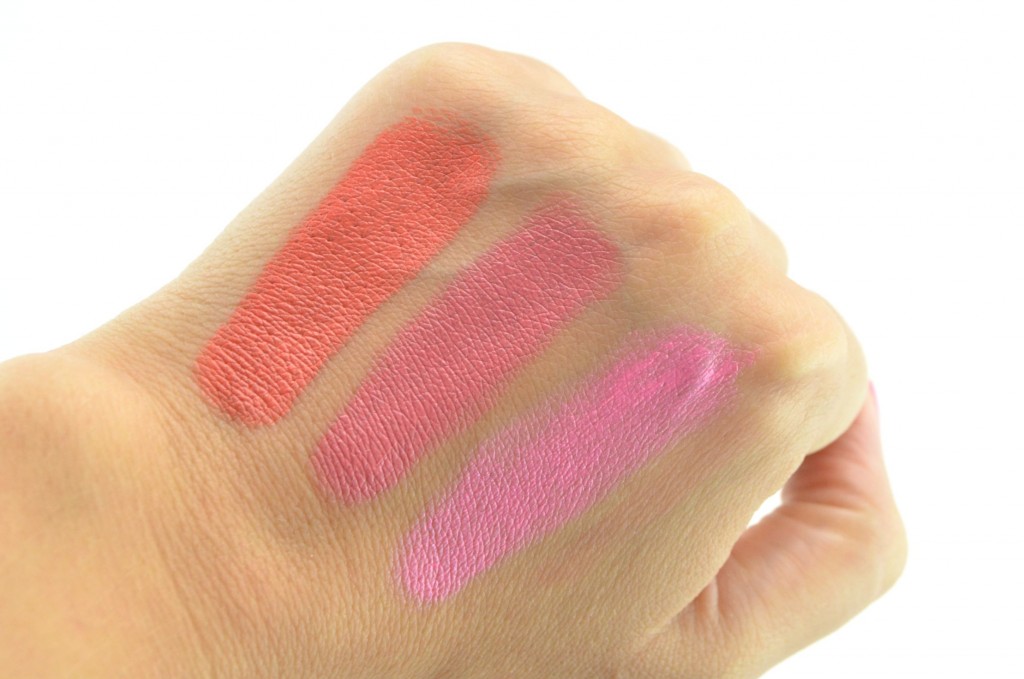 This season Dior wants to brighten the lips without taking attention away from the eyes with 3 new shades of their oh so famous Dior Rouge Dior Lipsticks. This trio of limited edition colours has the perfect shade for everyone, may that be an everyday peach pink nude, rose or red. It comes with the same rich, creamy and smooth texture that you'd expect from Dior in 3 must-have shades of the season. It's pigmented, opaque and true to colour formula provides the lip with a bold pop of colour that stays put the entire day. It's extremely comfortable to wear and doesn't fade, smudge or feather outside of the lines. It's also fairly moisturizing thanks to its buttery smooth formula. It glides across the lips with ease and provides full colour payoff in one easy swipe.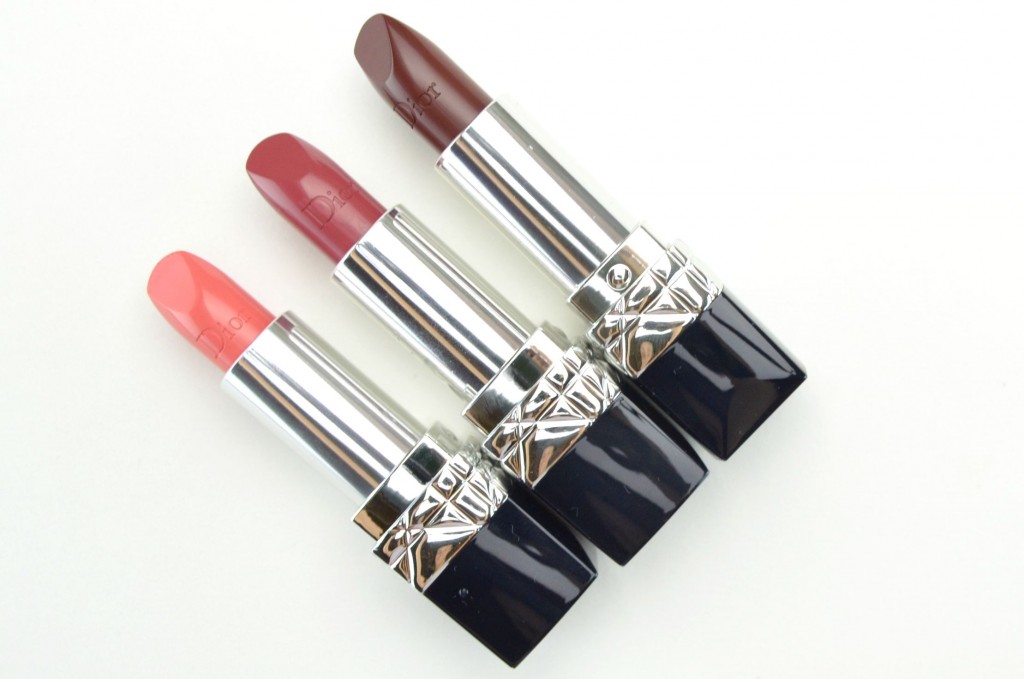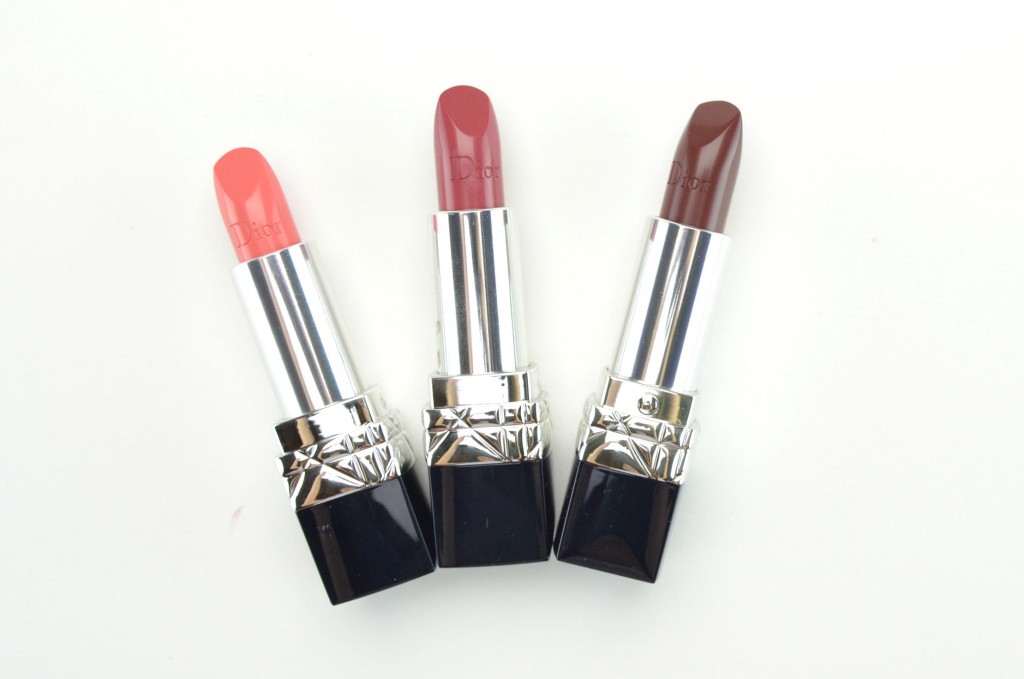 Dior Rouge Dior Lipstick in Nouvelle Femme, a pale peachy pink that helps you achieve a "your lips, but better" look, Continental is a rosy red that will look beautiful on all skin tones and although Unique may look brown in the tube,  once applied, it actually turns into a gorgeous dark, vamp red that just screams Fall. It retails for $42 each.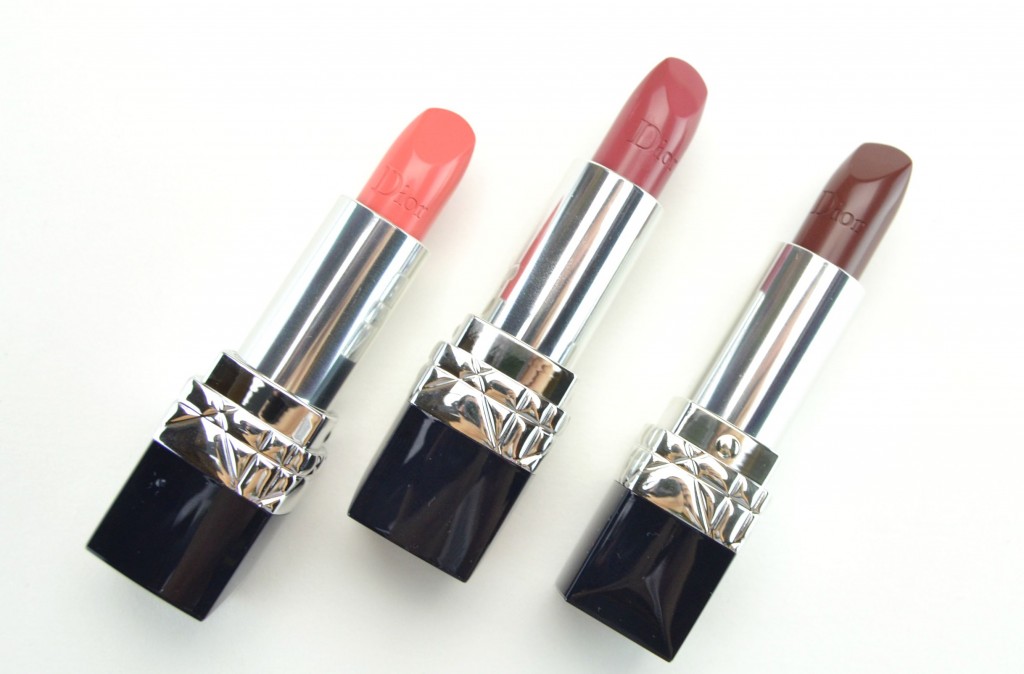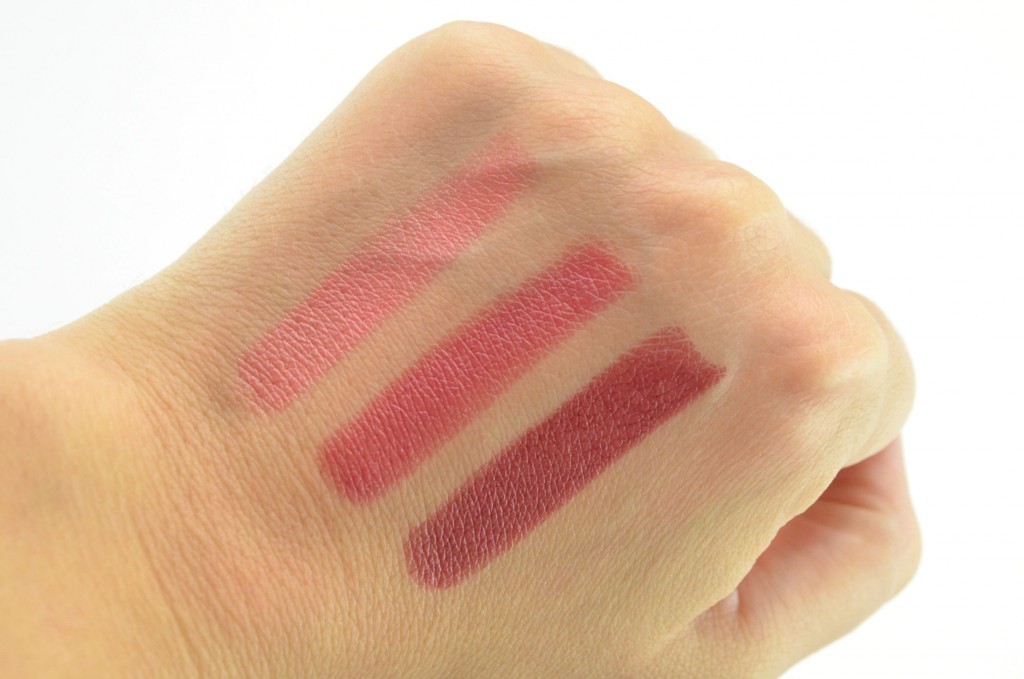 No collection would be complete without a few new nail polish shades and this season Dior wants you to make an elegant and clear statement with your nails. With 5 new Dior Vernis colours that are strong and sophisticated, you'll easily be able to make a playful and chic statement this Fall. It comes in your standard square glass bottle with mirrored pull off lid and then a black twist off lid underneath. It has a wide, rounded brush for easy application and delivers a high shine finish with Dior's secret shimmer formula, that when the light catches the nail, provides a stunning shimmer. It has a quick-drying formula that's streak-free, chip resistance and doesn't seem to fade.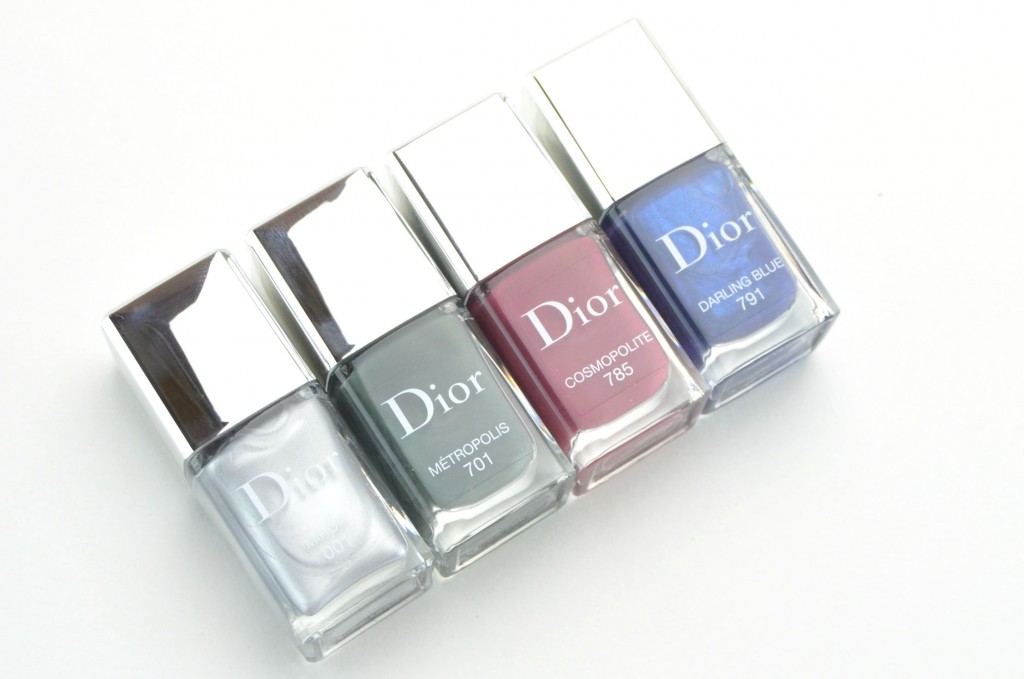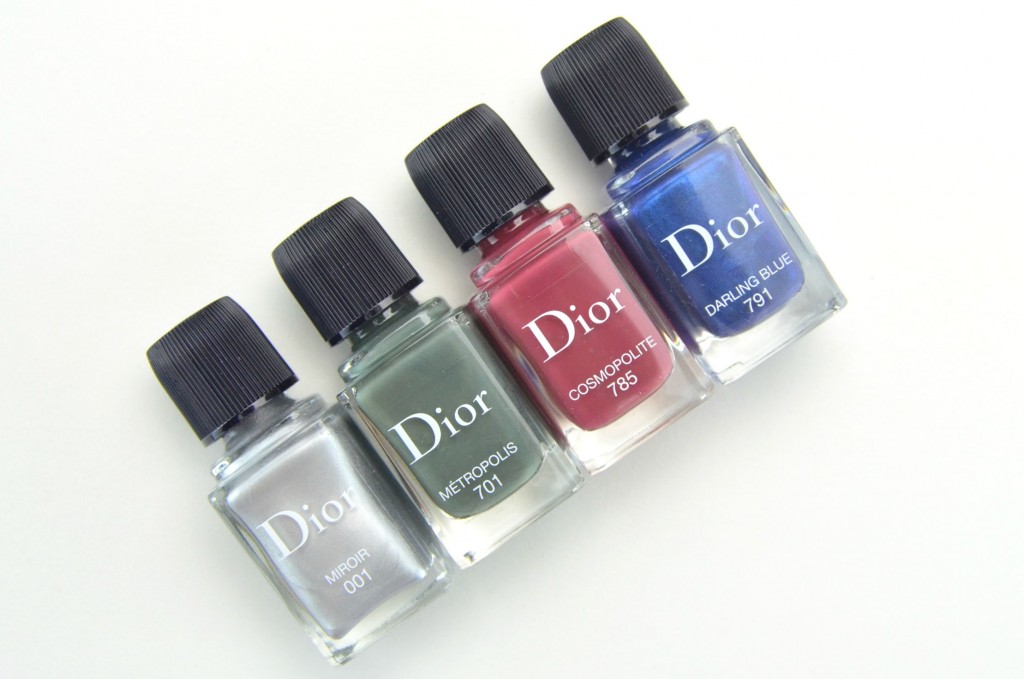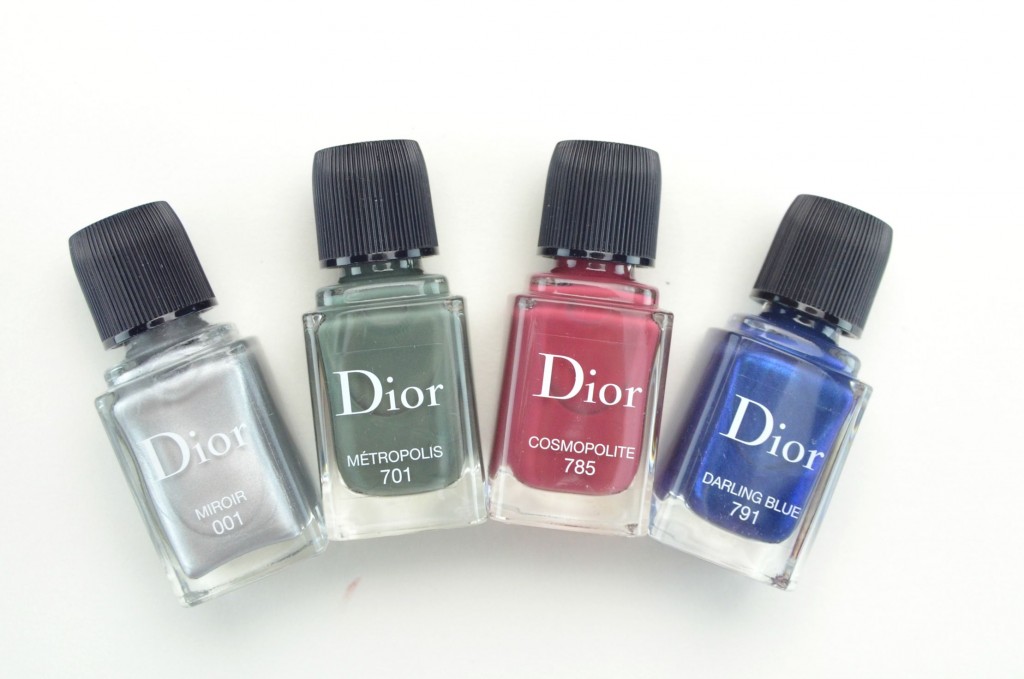 Dior Vernis in Mirror is a unique silver that gives an almost mirror-like shine to the nails, Metropolis is a gorgeous khaki, Cosmopolite is a beautiful dusty rose, Darling Blue is a metallic navy with a slight shimmer and also Black Out, not shown. It retails for $31.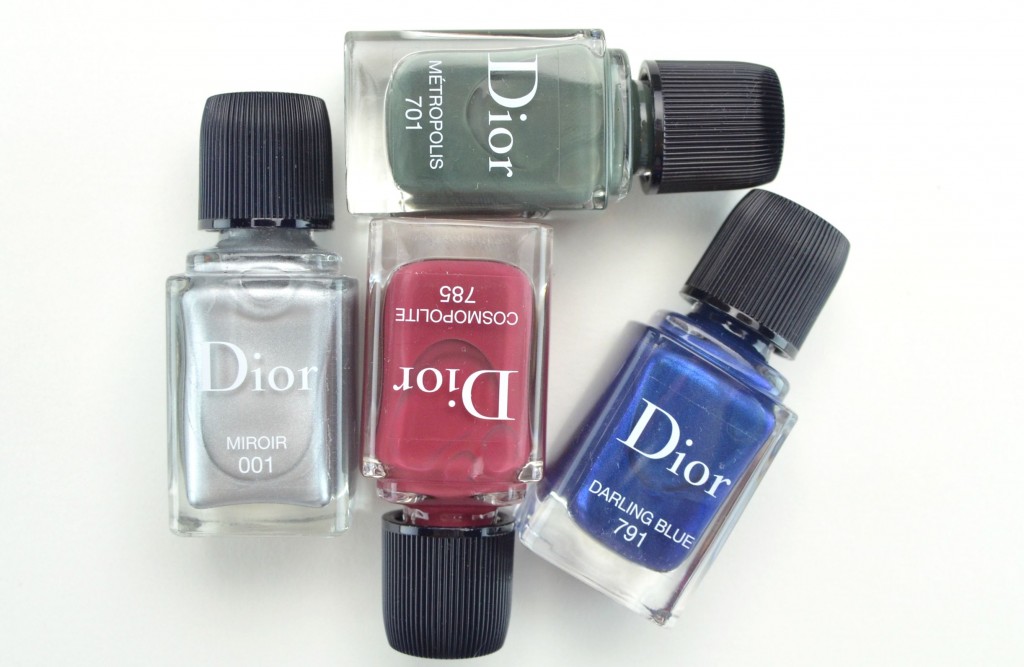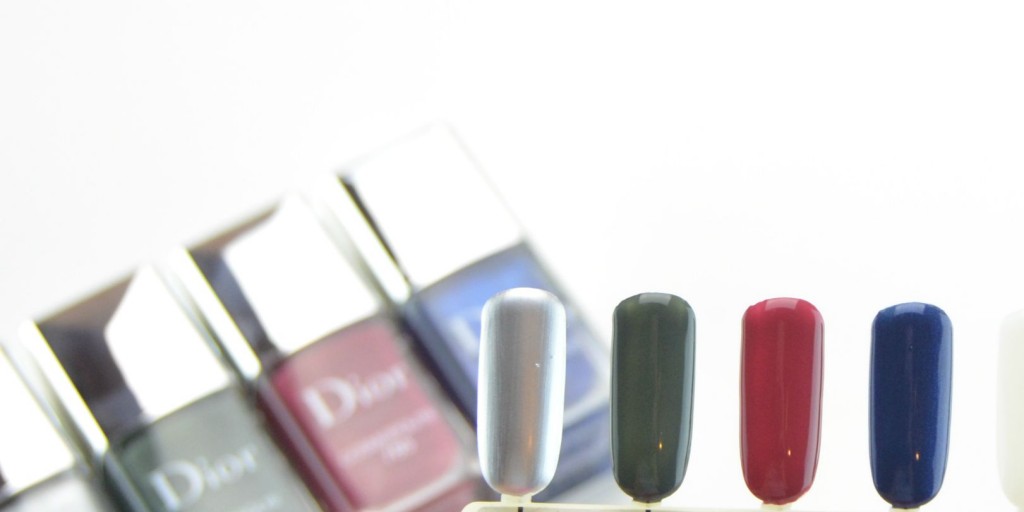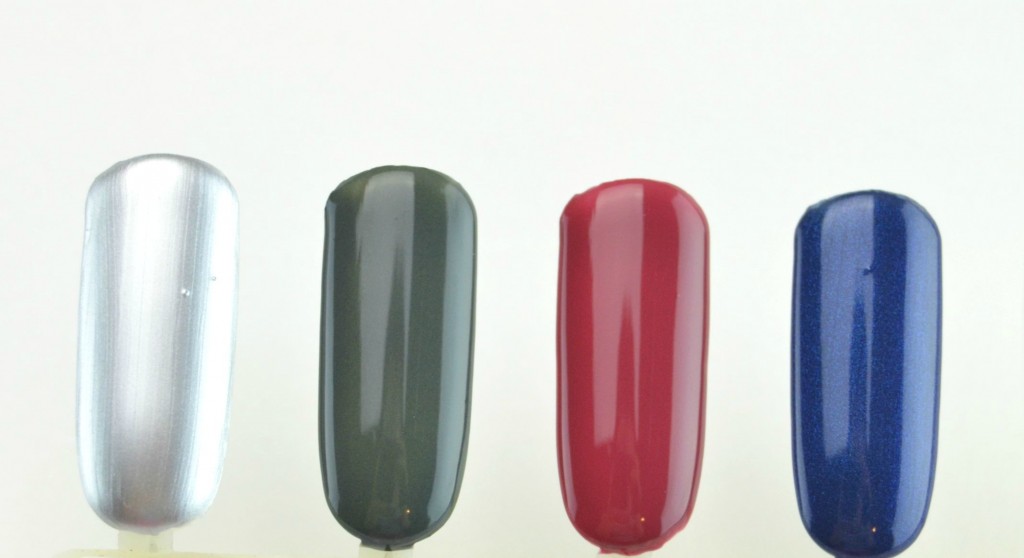 Last, but not least, Dior Fix It (which is the only product in the collection not being released till September) is a handy concealer for both eyes, lips and face. It will help correct the skin, illuminate the eyes and perfect the lips. This multipurpose concealer will help erase pores, fill in wrinkles and correct pigment imperfections like sunspots, hyperpigmentation, and minor red for a high-definition complexion. It will also help fade dark circles around the eyes and smooth skin texture for a more restful look. Finally, it will help fill in grooves and smooth the lips, while evening out the colour, priming the lips for lipstick application. This baby can do it all.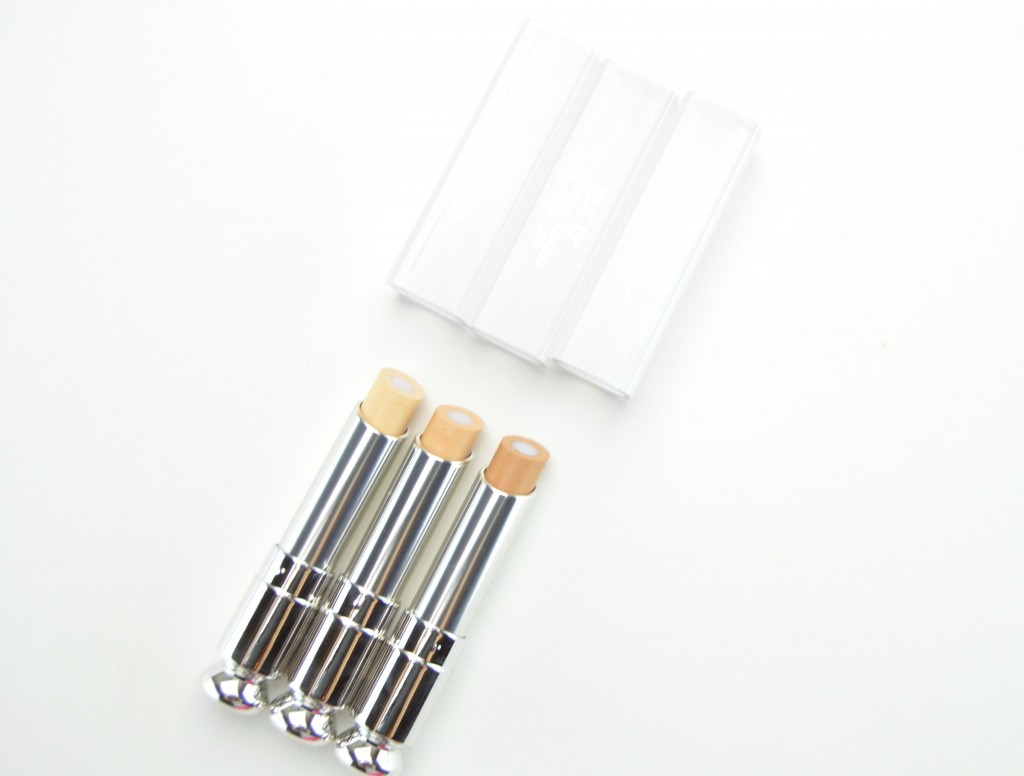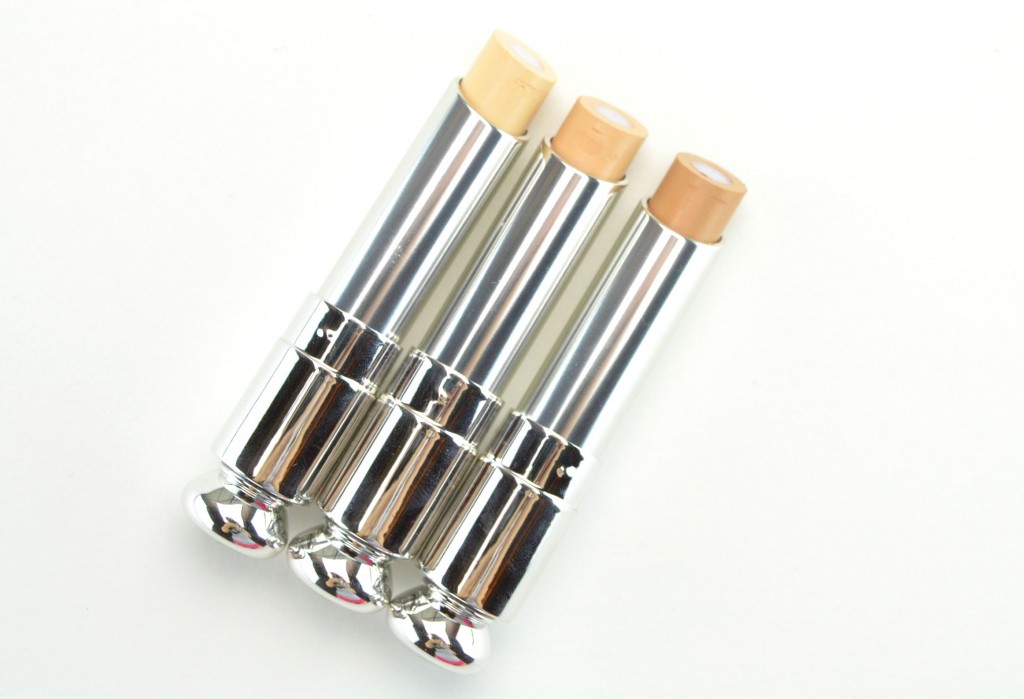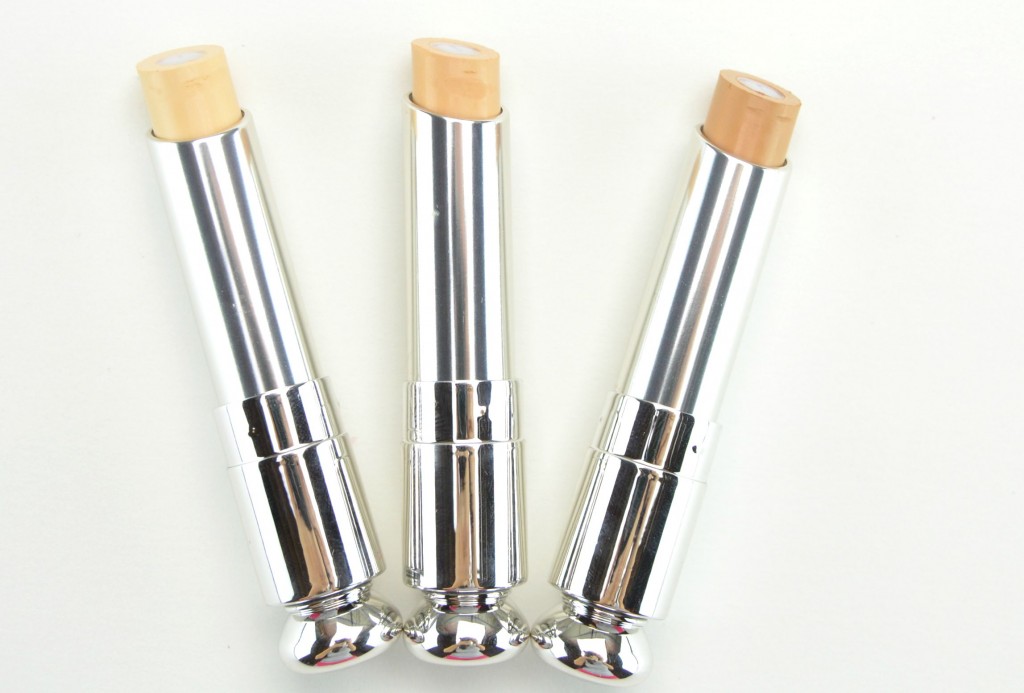 Dior Fix It has an incredibly lightweight, creamy texture that is pigmented enough to provide full, opaque on both the skin and lips. It has a built-in primer ensuring the concealer stays in place the entire day without budging. It's totally weightless once applied, you'll barley notice you're wearing anything. It does an excellent job at reducing redness around the nose, concealing any minor breakouts, as well as filling in enlarged pores and smoothing out fine lines. It also helps to make any shade of lipstick, I apply overtop, a little more bold and intense, while prolonging the wear time. This is also great for touch-ups on the go, apply a small amount under the eyes to help fade dark circles and help brighten up the under eye for a well-rested effect. It comes in three shades, Light, Medium and Dark and retails for $36.