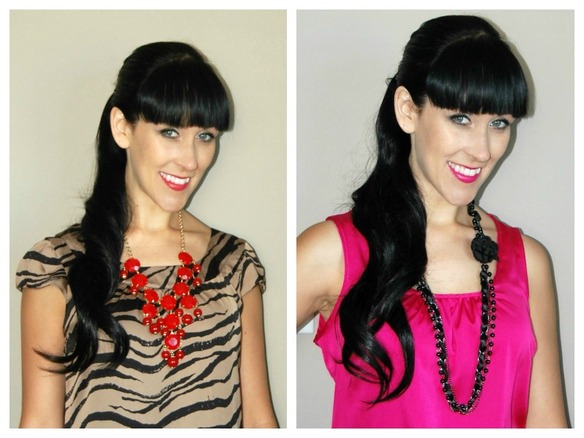 And the winner of the HairDo Hair Extensions by Jessica Simpson from Fabove is…… Lora Angus! Lora left a comment saying she "would love one because I have never had long hair in my life, and I've been dying to know what it feels/looks like! My hair likes to stop growing when it starts to almost touch my shoulders"
 Hairdo understands that the difference between boring hair and fabulous hair is only a few hairpieces apart! That is why celebrity stylist, Ken Paves, teamed up with Hairuwear to create Hairdo, a brand originally inspired by Jessica Simpson to create salon quality clip-in hair extensions and hairpieces. 
I teamed up with Fabove to showcase you Hairdo 23″ Wavy Wrap Around Pony. This is 23 inches of heat-friendly synthetic hair with a long strip that just wraps around hair and securely connects with a velcro attachment. You will be able to create a show-stopping ponytail by adding in length, body and shine by simply wrapping Hairdo's wavy 23″ wrap around ponytail to your own hair! 
I couldn't believe how easy it was, even with my short hair; it's totally do-it-yourself. It's also heat friendly which means I will be able to style it anyway I want with heat tools up to 350 degrees; straight one day, curly the next…. the possibilities are endless! This pony feels exactly like my own hair, the colour matched perfectly and its super lightweight. 
So easy to use, all you have to do is gather your hair into a ponytail, even a teeny tiny one like mine works, clip in the pony extension to your hair and wrap around the long strip and secure it with the velcoro. Take about 5 second's total, no joke! 
I teamed up with Fabove to showcase this amazing pony for 2 days and readers had the chance to win their very own in a colour of their choice by leaving a comment on Facebook and telling me why you want one!