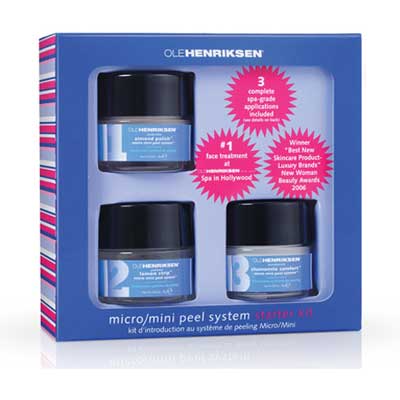 I was honored when I was sent Ole Henriksens Micro/Mini Peel System to test out and do a review on it. It was developed by Ole Henriksen, a Danish-born skin care expert whose day spa has served clients in LA for more than three decades. Ole created this professional grade microdermabrasion and peel system to reveal the youthful luminosity that was previously only attainable with a complexion treatment at the OleHenriksen Spa in Hollywood. You know it's going to be good when it's a Chatelaine Beauty Winner. 
Here's how it works:
Ole Henriksen Micro/Mini Peel System works to renew, comfort, and purify the skin. Ole's three-step system is believed to provide a full spa treatment at home when used once weekly. The kit includes the 3 different components: 
Almond Polish: to cleanse, exfoliate and oxygenate the skin and imitates the effects that you would get with a microdermabrasion treatment. Its ingredients include Almond, Orange Peel, Honey, Bamboo Stem Powder, and Oat Kernel Flour. 
Lemon Strip: this contains lemon and orange extracts combined with glycolic, lactic, and aspartic acids to peel and renew the skin. Ingredients include Aspartic, Lactic, and Glycolic Acids; Orange and Lemon Extracts. 
Chamomile Comfort Crème: this is designed to comfort, calm and neutralize the skin after the more intense portions of the treatment. It also will moisturize the skin Ingredients include Azulene and Chamomile plus Evening Primrose, Borage Seed, and Bisabolol Oils. 
From past reviews you know I'm all about scrubs and peels lately so I was really excited to try this home Micro/Mini Peel System because I've been getting so many emails from all your beauties saying how helpful my reviews have been for you and how I'm saving you money at the spa. Happy to hear so many of you are like me in the fact that I hate having to head to the spa every time I need a good cleansing/peel treatment for my face! Now here's a treatment you can do in the comfort of your own home for a fraction of the cost that offers great results! This kit says it offers 8-10 treatments, but I think you could totally get at least 10-12 treatments out of it. I state below the recommendation of how much to use is too much for me, so you might want to use less? 
My experience:
This system is a 3 step process that takes about 30 minutes total. The first step to this treatment is like any other treatment you may have tried in the past, make sure you start with clean, dry skin. It then says to take the spoon provided to scoop out a small teaspoon amount of the almond polish and blend between your fingers with lightly wet hands. I found this to be way too much, so on my next treatment I just eye-balled it and it was much better (plus you will get way more treatments out of the kit this way). You just massage this into your skin, gently, in circular motions for about 1-2 minutes, and then rinse off with water. You will notice that your skin is pretty red after this step, which is a good thing, keep going! 
Next up is your lemon strip which is applied to peel and renew your skin. Same as the almond polish you can either use the teaspoon provided to scoop a small amount out, or just wing it as I did. You will then also massage the gel using dry hands this time to the face for about 2-3 minutes. You can expect a cool and slightly tingly sensation in this process, feels really nice. 
The last step is to apply the chamomile comfort which will soothe the skin and is applied directly over top of the lemon peel for about 20-25 minutes. You treat this chamomile comfort like a mask treatment and relax with it on, then rinse well with warm water. 
I've used this product twice now and I can definitely feel the difference; my skin feels smoother, softer, more supple, refreshed and refined, but not too red like some harsh peel treatments you get at the spa. By the next morning the redness will have gone down and it will be extra soft to touch. One tip like I said early, I wouldn't use the measuring spoon, you end up taking way more product than you actually need. 
The kit cost only $114 at Sephora, it's really affordable when you consider you can probably get a dozen treatments out of it and going to a spa would set you back at least $100 per visit for something like this.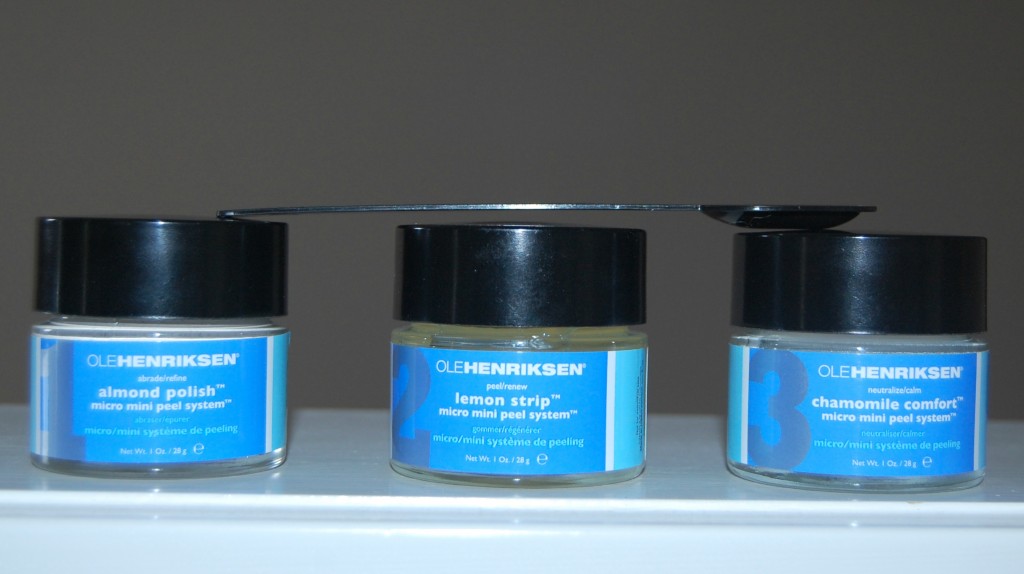 ***Disclosure: product was sent to me for review consideration***