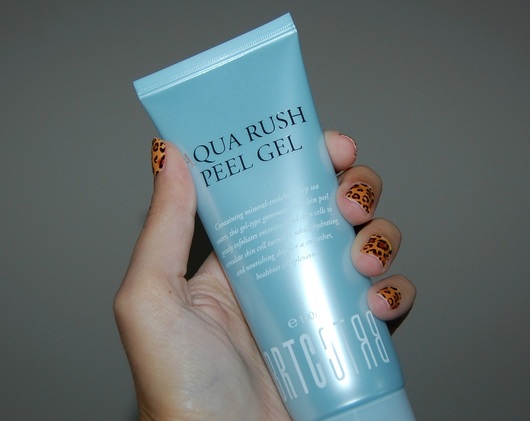 You may all remember my review on BRTC BB Creama few months back, BRTC is well known for their BB Creams (I was in love/ still am), however they do offer skincare options and the new Aqua Rush line is pretty fabulous. I'm happy to share with you my thoughts on their Aqua Rush Peel Gel, perfect for exfoliating and removing unwanted skin cells. 
It's a 3 step process that super easy to do and takes only minutes. You first apply a generous amount of the gel to your face (it's a nice minty scent), you then rub in a circular motion to each section of your face and watch all the dead skin rub off instantly. I really couldn't believe all the dead skin coming off my face, I would recommend standing over your skin while doing this as it leave a lot of dead skin behind. Last step is just to rinse with water to get rid of any leftover gel. This was probably the quickest peel I've ever done with a great turn out, perfect for those that don't have the time to do a full facial but want softer, smoother, younger skin in minutes. I have pretty dry skin, and each time I've done this peel I found I didn't even need moisturizer for at least 2 days after. 
The aqua rush peel has 3 amazing components that work together to naturally and instantly peel and lift dead skin cells, protect existing healthy cells, release toxins and hydrate your skin for a more beautiful complexion. The peel contains mineral-enriched deep sea water, this gel-type gommage plus skin peel gently exfoliates excessive dead skin cells to stimulate skin cell turnover while hydrating and nourishing skin for a smoother, healthier complexion, what more could you ask for? 
Want to try it for yourself? You can buy it online for only $25!