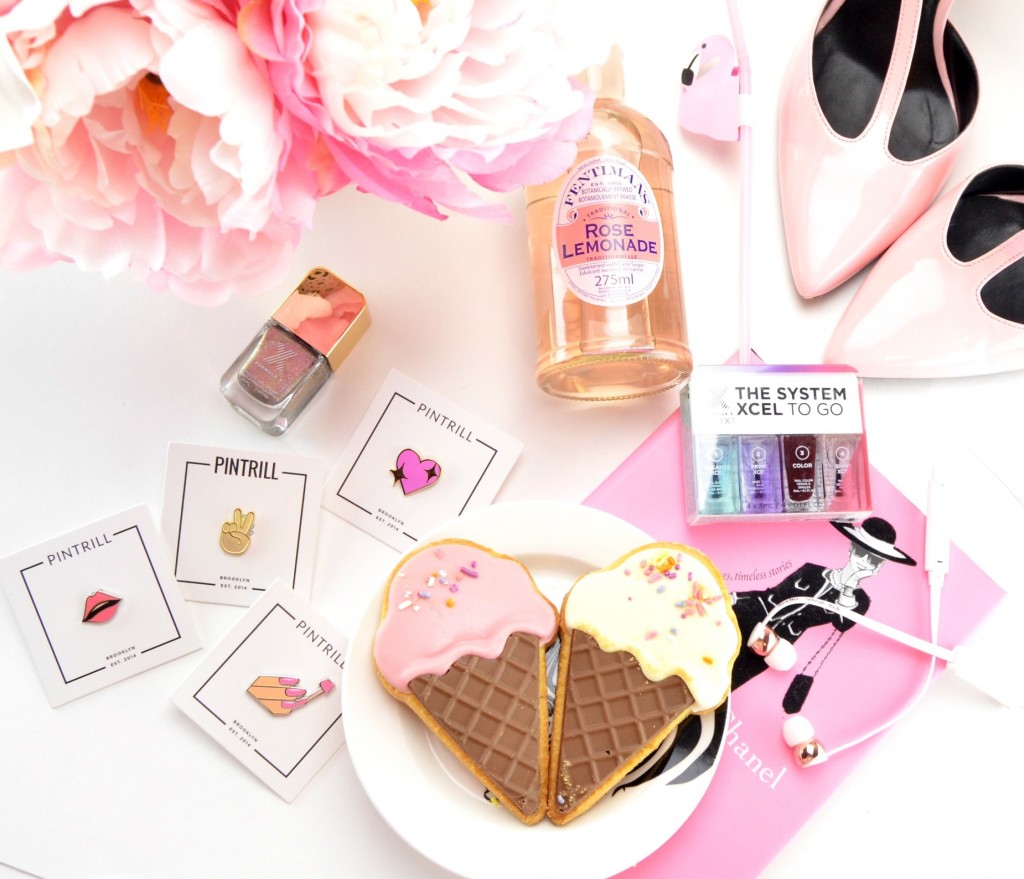 No matter how expensive the brand, how many thin coats I apply or if I prep, prime and seal my polish, it never seems to last more than a few days before chipping. Maybe it's my busy lifestyle, the fact I soak my entire body in a hot, soapy bath every evening or maybe I just have oily nailbeds, either way, my fresh manicures never seem to last. They always end up looking like a hot mess after only a few short days (and trust me) I've tried a lot and featured a lot of polishes on this fashion blog over the years. Normally not a problem, I have no problem painting my nails every few days with a fresh colour, but sometimes (especially when you travel) you need it to last upwards of a week. The new Formula X The System XCEL To Go CLIX! Travel-Sized Gel-Like Nail Polish Set not only comes in mini bottles, perfect for travel, it helps to prolong your colour, for a chip-resistant, gel-like shine that lasts for up to 10 days.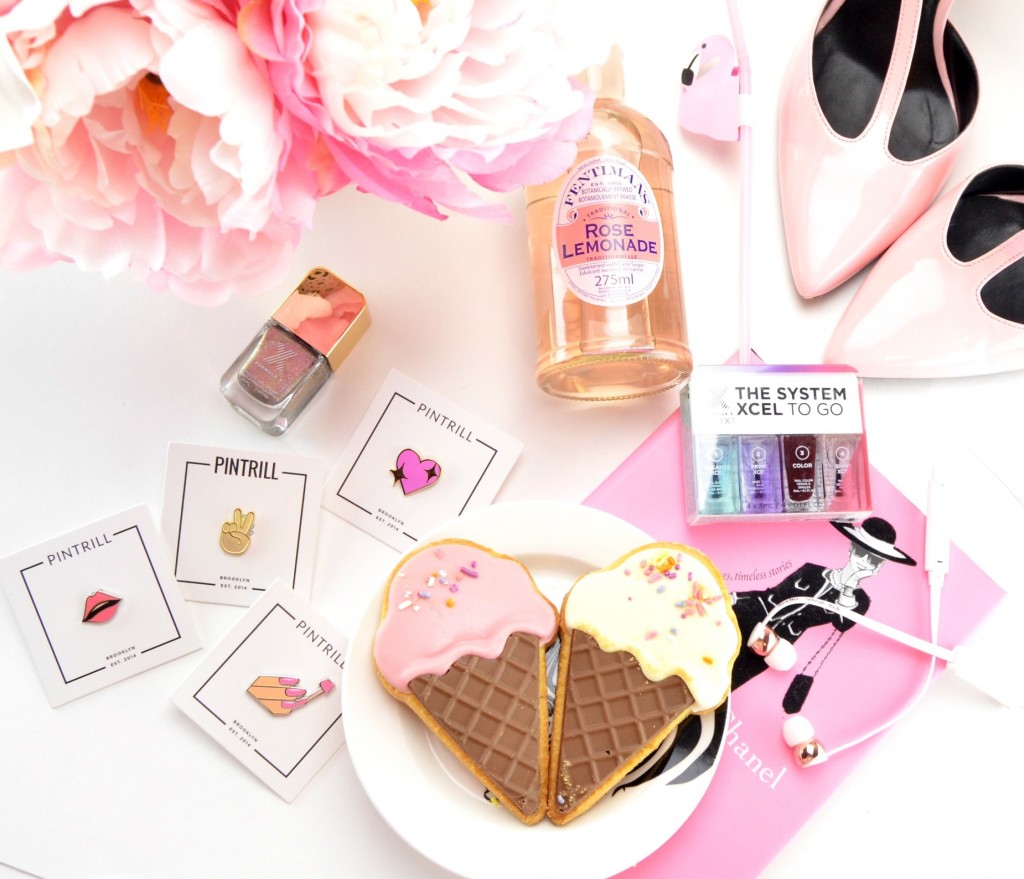 Formula X The System XCEL To Go CLIX! Travel-Sized Gel-Like Nail Polish Set comes with everything you need, including a stunning nail colour, to help to achieve a salon-like manicure at home. It's formulated with advance polish-pluming technology that instantly activates when layered, paired with a unique The System XCEL formula that helps fuse into a voluminous, gel-like finish without a UV lamp. The brush, like the formula, is also unique. It comes with a wide, rounded tip with flexible 440- count bristles that help to hug the natural curve of your cuticle for a more custom glide, in just a few strokes. It provides a faster, smoother, more controlled application for a streak-free finish.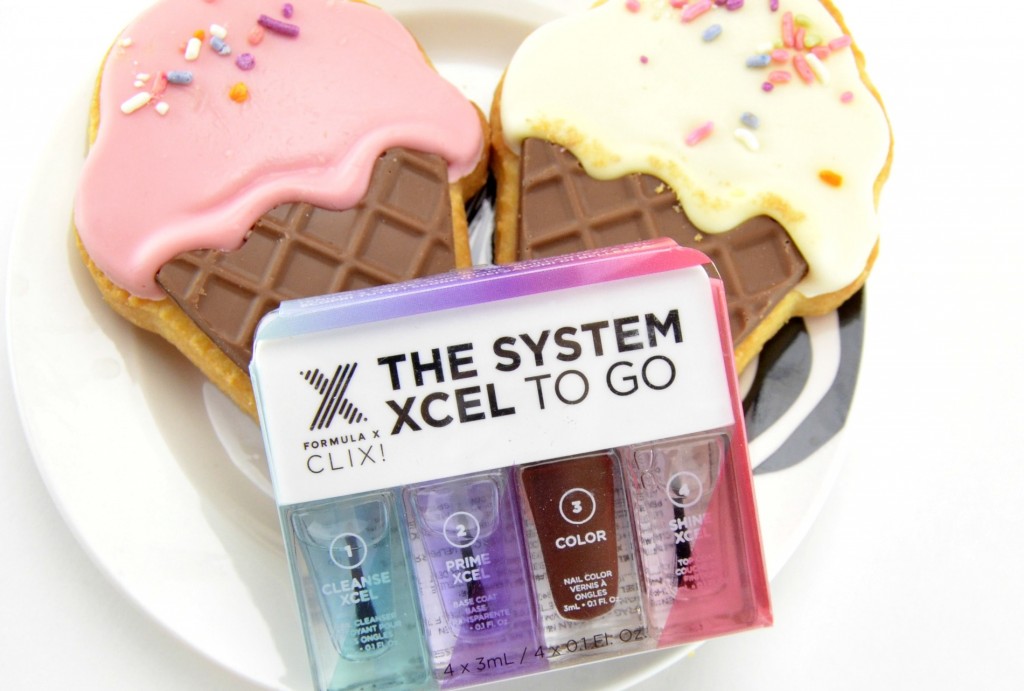 Formula X The System XCEL To Go CLIX! Travel-Sized Gel-Like Nail Polish Set really is a simple, fuss-free, non-damaging 4 piece plumping gel effect system that couldn't be easier to use. A salon secret is to always start with a clean slate, this not only helps the polish to apply smoother, it helps for it to adhere to the nailbed easier. Lightly brush on the CLEANSE XCEL Nail Cleanser that features a unique blend of witch hazel, cucumber extract and safflower oil to help remove natural oils, while conditioning and smoothing at the same time.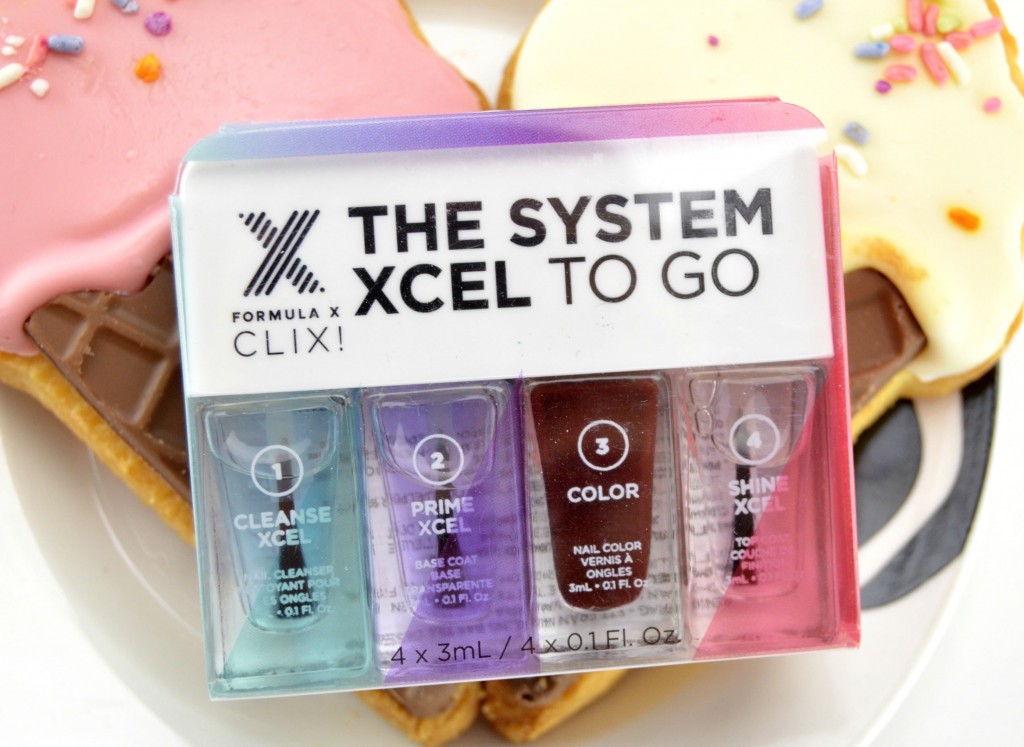 Up next, prep and protect your nails by using the PRIME XCEL Base Coat. This unique flash-dry formula leaves your nails completely dry to the touch in seconds and is ready for the next step. In a single coat, it not only helps the polish stick to your nails, its keratin and cactus extract-infused formula, paired with its advanced bonding agents, also help to nourish and prevent staining, no matter how dark the polish you use.
You're now ready for your favourite FORMULA X nail colour, or simply use the beautiful shade that comes in the kit. Either way, apply 1 to 2 coats and watch as you're instantly left with a high shine, richly pigmented finish.
Final step, using the SHINE XCEL Top Coat to help ensure the colour lasts with a gel-like finish for weeks, Its unique formula helps to ensure the colour stays ultra-vibrant and shiny with a high gloss finish for days and days. It retails for $19.