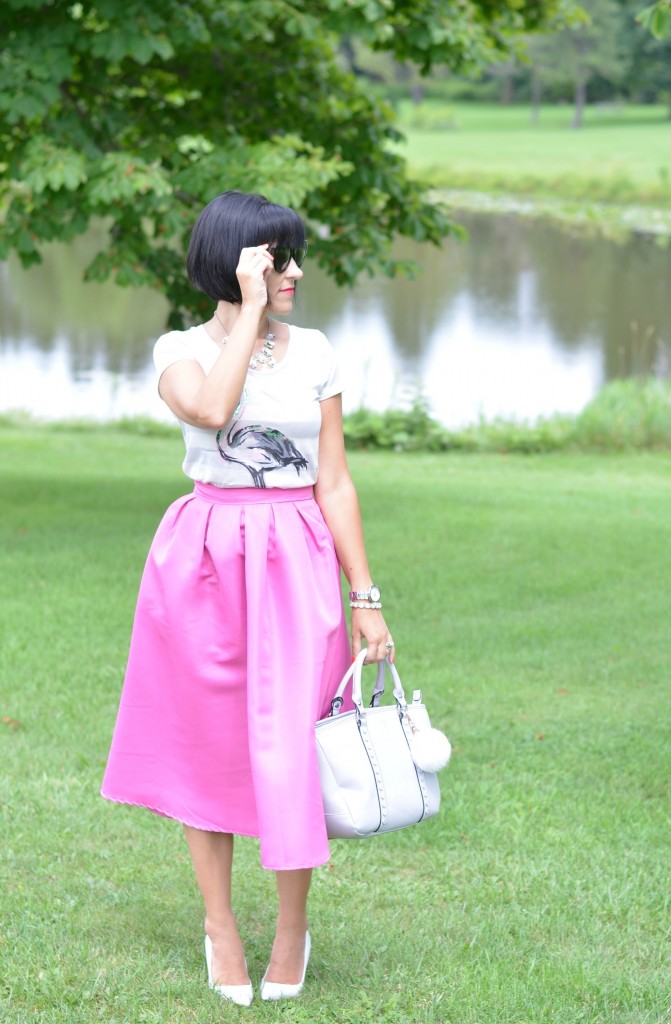 I really can't believe we're nearing the end of August already. Although I hate to say goodbye to summer, you won't find another person who hates winter as much as I do, I am excited for new Fall trends. With that, it's time to toss items we know won't be in style next summer or pieces that we've been holding onto that we know we'll never wear again. As I sat in my closest tossing clothing items, I came up with a quick top 8 items you don't need in your closest right now. Running this fashion blog, its hard for me to toss items, in fear I might need it one day. That being said, I tend to buy cheap clothes when I know its only going to be in style for a season or two, that way I dont have as hard of a timing letting things go when its no long on trend.  
First up, items that don't fit you. This is a given, yet we all tend to hold onto pieces in hopes that it will fit one day.
This also goes hand in hand with items that are physically painful to wear. How many pairs of shoes do you own that give you blisters or are too high to walk in? Toss them girl, life's too short to wear painful clothing items.
Next up, things you haven't worn in forever, or even items that have the tags still on them. My general rule of thumb is, if you haven't worn it in over a year, or you forgot you've even had it, it's time to let it go.
That goes hand in hand with damaged items or items that have stains on it that will just not come out. Chances are you are never going to get these items fixed and if the stains haven't come out after a wash or two, they probably never will.
Also make sure to look for pieces that you have a bad association with or a horrible memory of, chances are you'll never want to wear these pieces again.
Things that are out of style or no longer trendy. Don't hold onto pieces in hopes that it will come back into style one day. This just creates clutter and leaves you feeling stressed.
Items that you received as gifts, that you know are not your style, are okay to let go of. Just because you were a bridesmaid in your best friend's wedding or your grandmas gave you a knitted sweater, doesn't mean you have to keep it forever. There are people in this world less fortunate than us that could benefit from these items.
And finally, we all have those pieces that we think we might wear again, but never do. This is especially hard for me, being a fashion blogger, I always think…"what if I need this for an up-coming style post". This never happens.. toss it.
What I Wore- Tee- Smart Set, Celine Sunglasses- c/o Smart Buy Glasses, Purse- c/o Pinkstix, Necklace- c/o Le Chateau, Watch – c/o Wittnauer, Bracelet- c/o Pearls for Girls, Skirt- c/o Shein, Pumps- Aldo