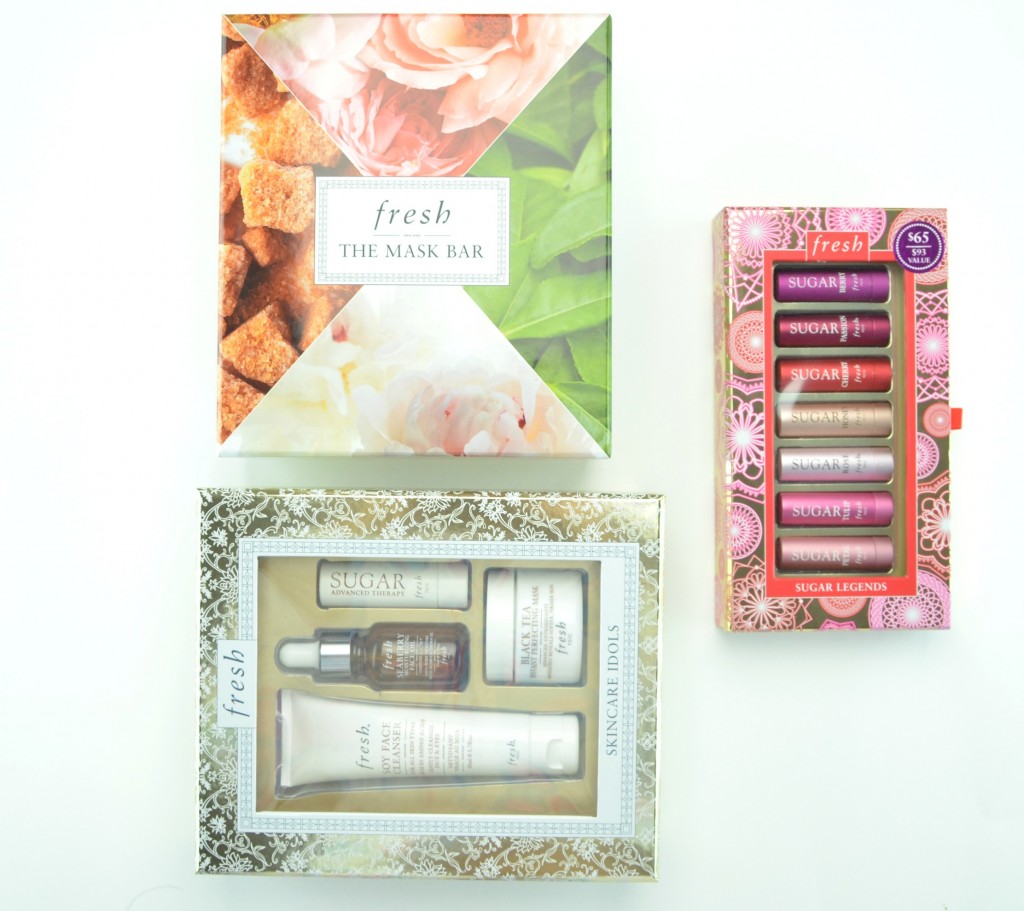 Coveted Gifts of the Season
This season Fresh has a complete lineup of holiday gift sets to help keep your lips kissable soft and supple and your skin hydrated and extremely moisturized. These coveted gifts are the perfect way to experiment with some of Fresh's top selling products in deluxe sized packaging. With so many options to pick from the Fresh Holiday Collection, it was hard to pick favourites.

Fresh The Mask Bar is the perfect kit for creating a spa-like retreat right from the comfort of your own home. This 4 piece collection retails for $103 and features 4 of Fresh's best-selling products that's sure to have your skin glowing by New Years.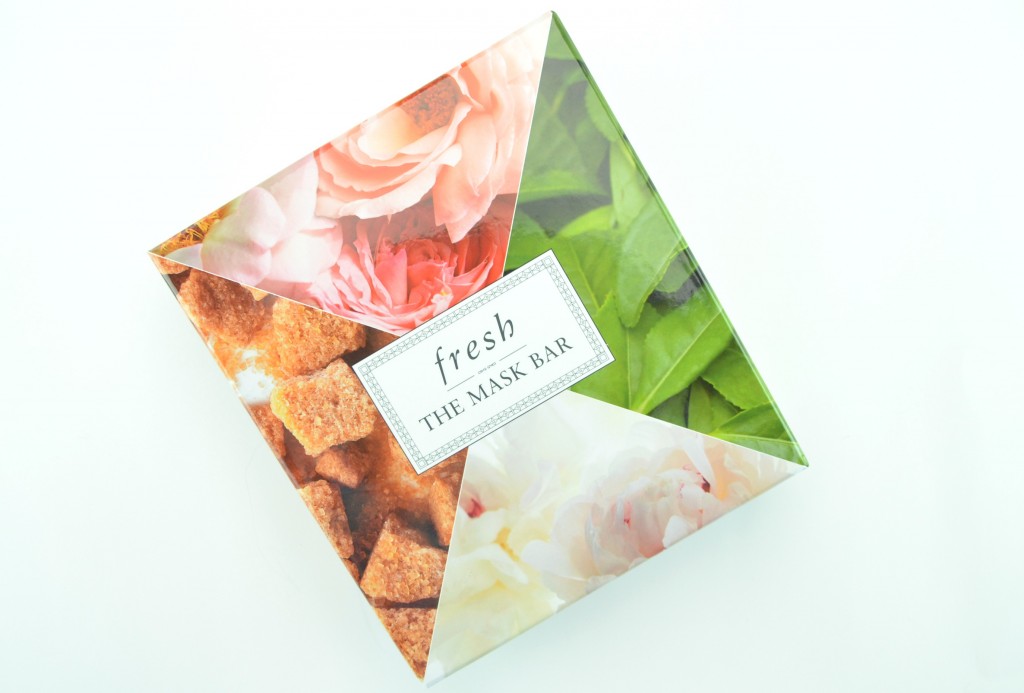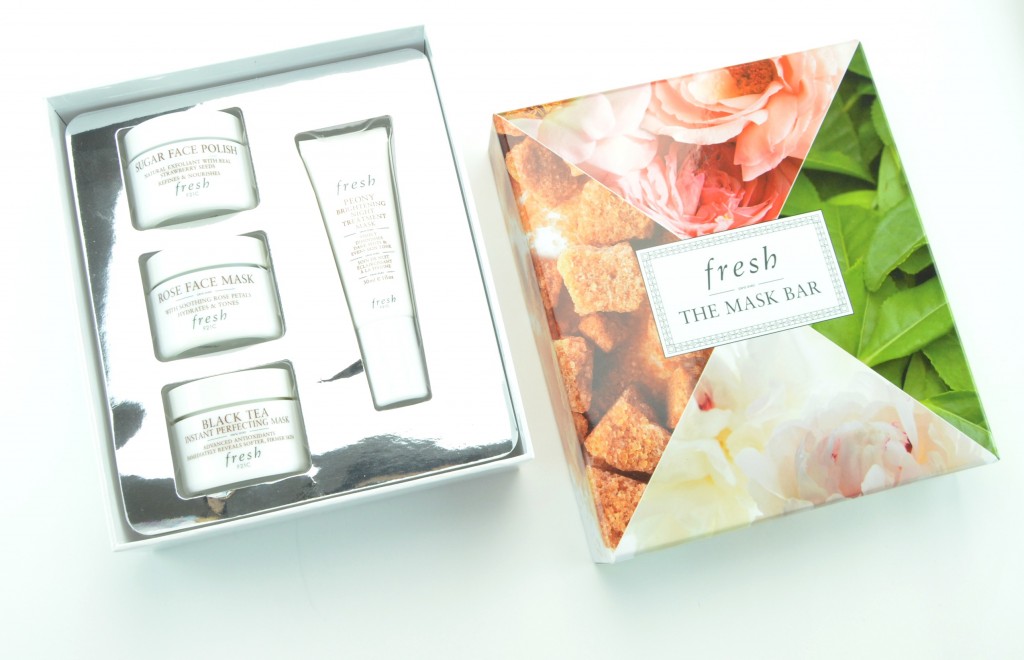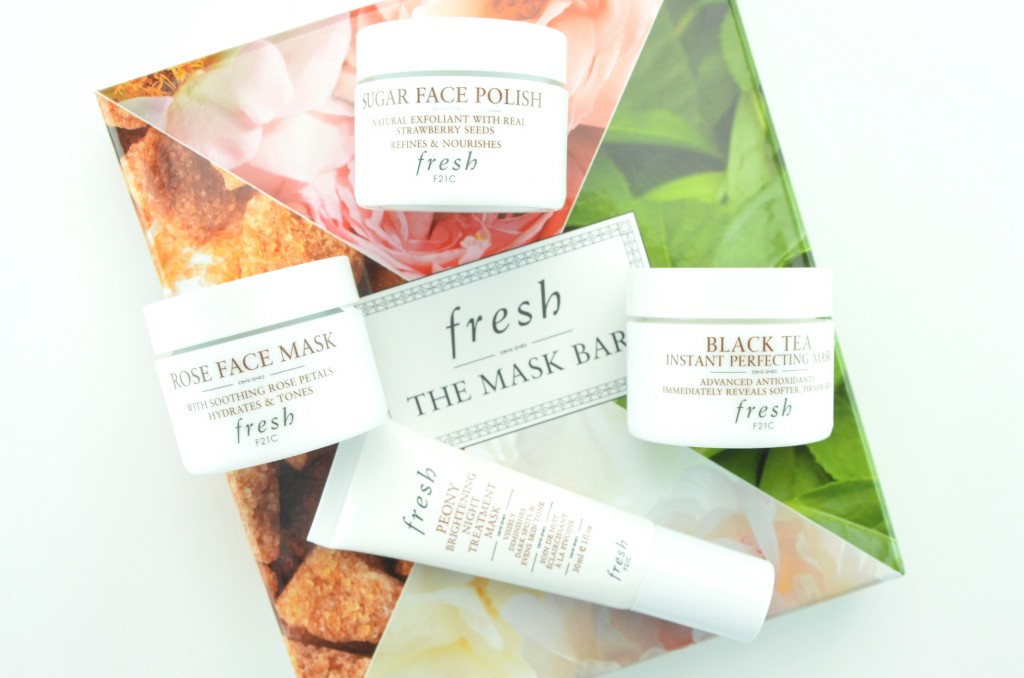 The exfoliating Sugar Face Polish is your first step and not only will it help you buff away any dry, dull patches with its fine brown sugar crystal formula, it also contains strawberry seeds, enlivening natural citrus oils and is infused with plum seed and grapeseed oils to help keep skin extremely hydrated throughout the day. Simply apply a dime size amount of this grainy, yet gentle scrub and let sit for 5 to 10 minutes. It will become dry after a few minutes which is perfect for massaging and scrubbing into the skin before washing away. It helps to smooth and moisturize the skin, giving it a glowing and radiant finish. It also helps to dry up any breakouts, prevent new ones and reduce redness.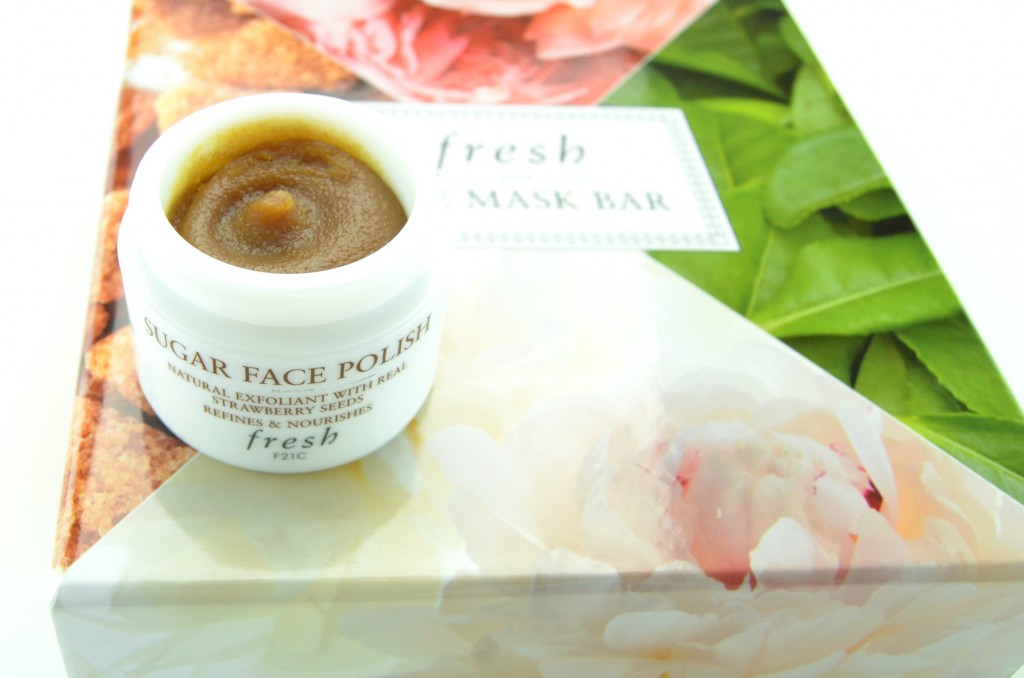 The soothing and hydrating Rose Face Mask contains actual rose petals that melt into the skin to help moisturize and protect, along with pure rosewater that helps to hydrate and tone the skin's complexion. It has a light brown, thin, almost running, gel like formula that once applied to the skin, gives a relaxing and cooling effect. It spreads evenly and easily with the smallest amount and instantly helps to soothe dry skin. Apply a thin layer, sit back and relax for 5 to 10 minutes. It will become somewhat dry, but still tacky to the touch. It does have somewhat of a strong rose scent, which is to be expected since it's infused with roses. Skin is left feeling refreshed, hydrated and super smooth.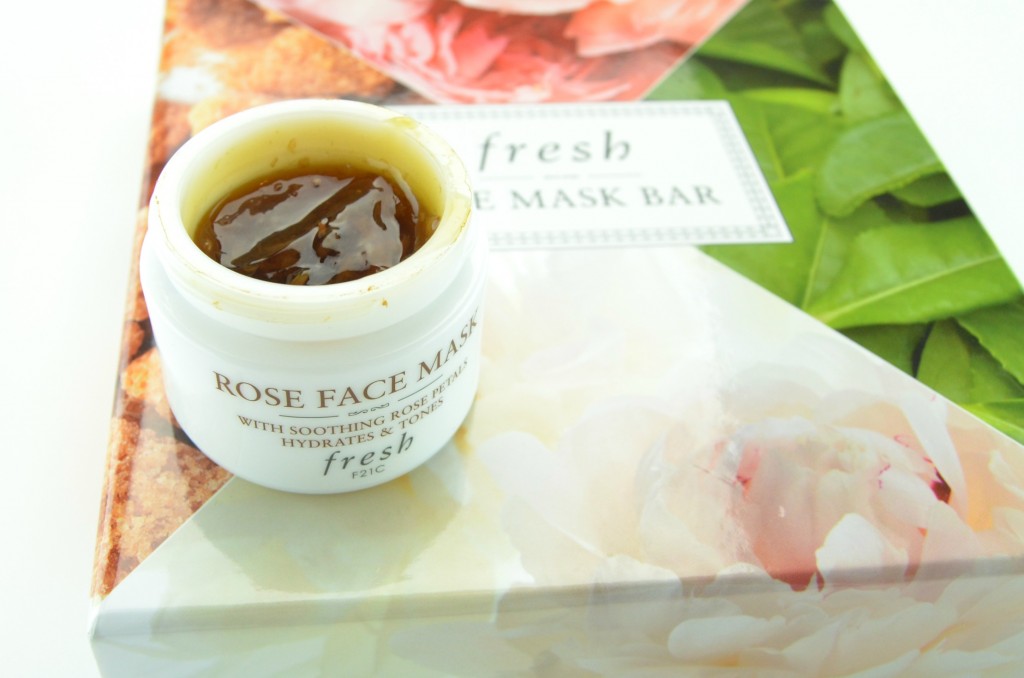 The firming with antioxidant-rich Black Tea Instant Perfecting Mask is formulated with black tea ferment to help defend wrinkles and soften and smooth the skin, lychee seed extract which will help boost collagen, jicma root juice to help hydrate and nourish the skin and finally polysaccharides that will help smooth the skin. It has a thick, white, creamy, almost whipped texture that gives a slight cooling sensation once applied to the skin. You simply apply a thin layer, relax for at least 10 minutes, but no harm on leaving it on even longer, then wipe away any residue that didn't get fully absorbed into the skin. This refreshing face mask rejuvenates the skin with its cooling sensation even after removal and has a fresh, clean scent. It helps to plum up the skin's firmness and kept it smooth, soft and supple.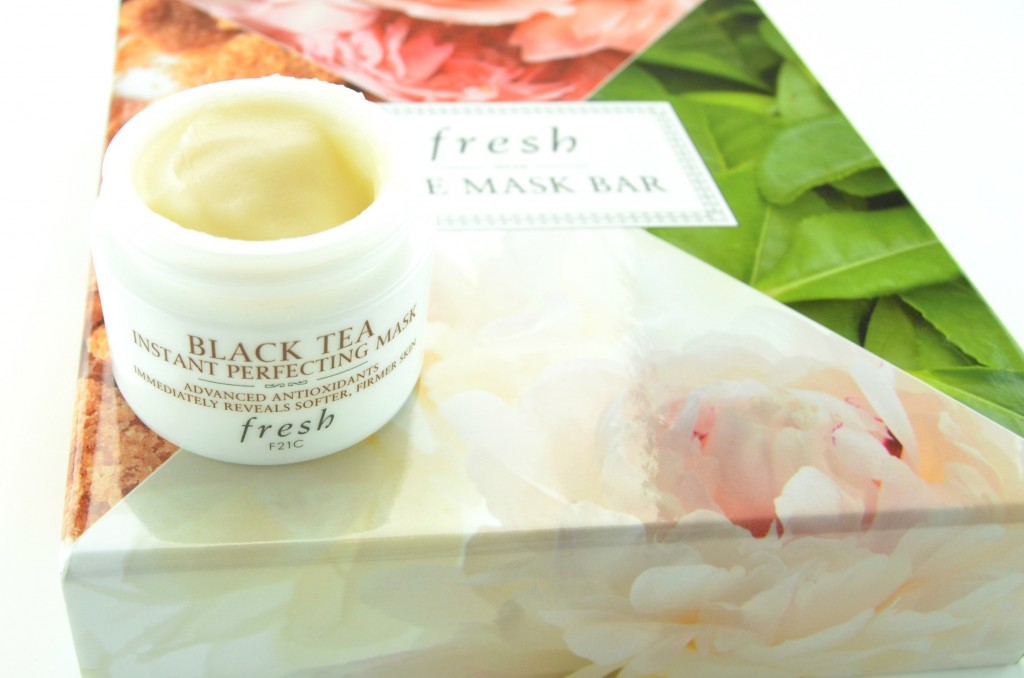 Peony Brightening Night Treatment Mask, which contains licorice root extract and Vitamin C glucoside to help fade brown spots, improves uneven skintone and significantly brighten the skin's complexion. It has a rich and creamy texture that's applied nightly on rotating days, until your skin gets used to the product. It helps to add hydration back into dry, dull skin and keep it replenished and moisturized for up to 24 hours. Skin instantly feels smoother, supple and awake after the very first use. After several weeks, skin tone is more even, is more luminous and with an overall brighter complexion.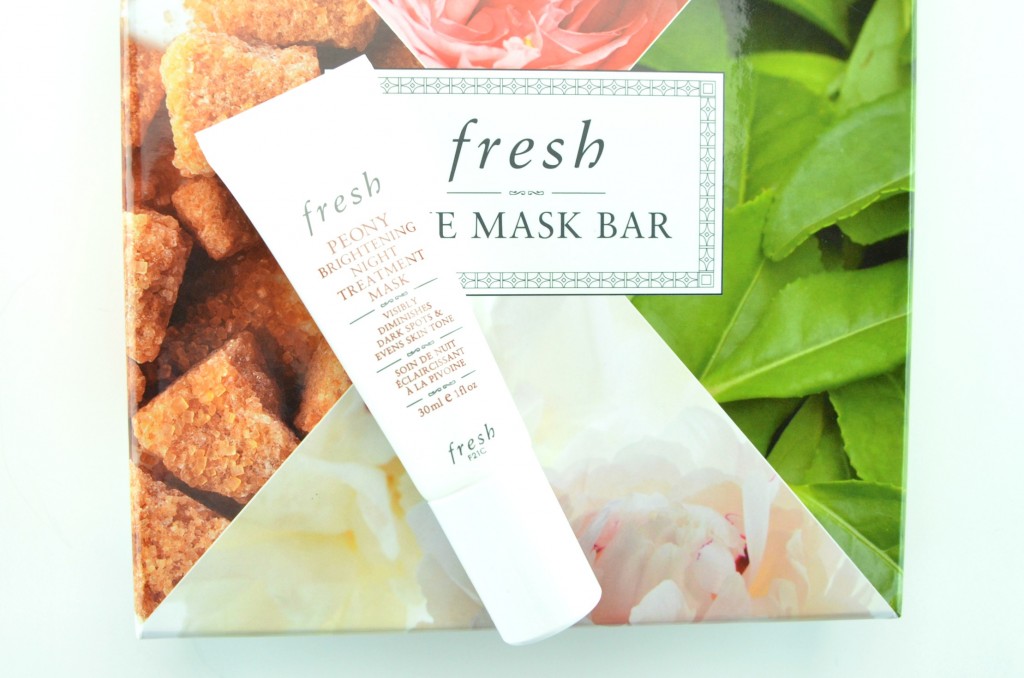 Fresh Skin Idols is the perfect collection for those that suffer with dry, dull skin or are looking for a little extra moisture into their skin care routine during these long, dreary Canadian months. This 4 piece collection retails for $68 and features 4 effective Fresh formulas to have your skin look and feel softer, smoother, supple and extremely healthier, in a few short weeks.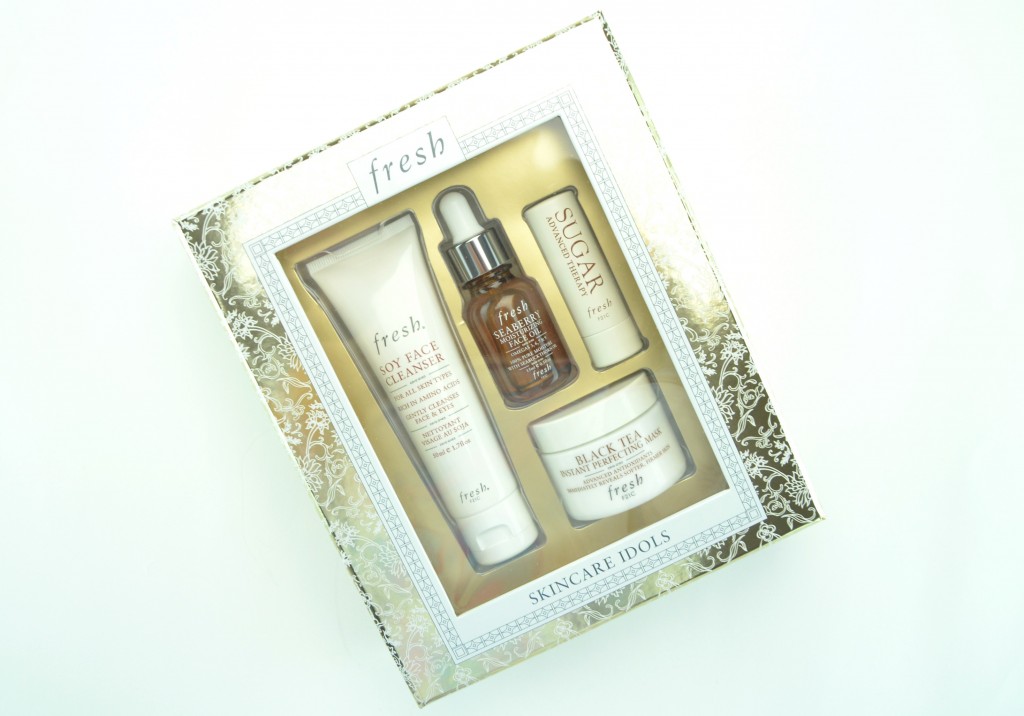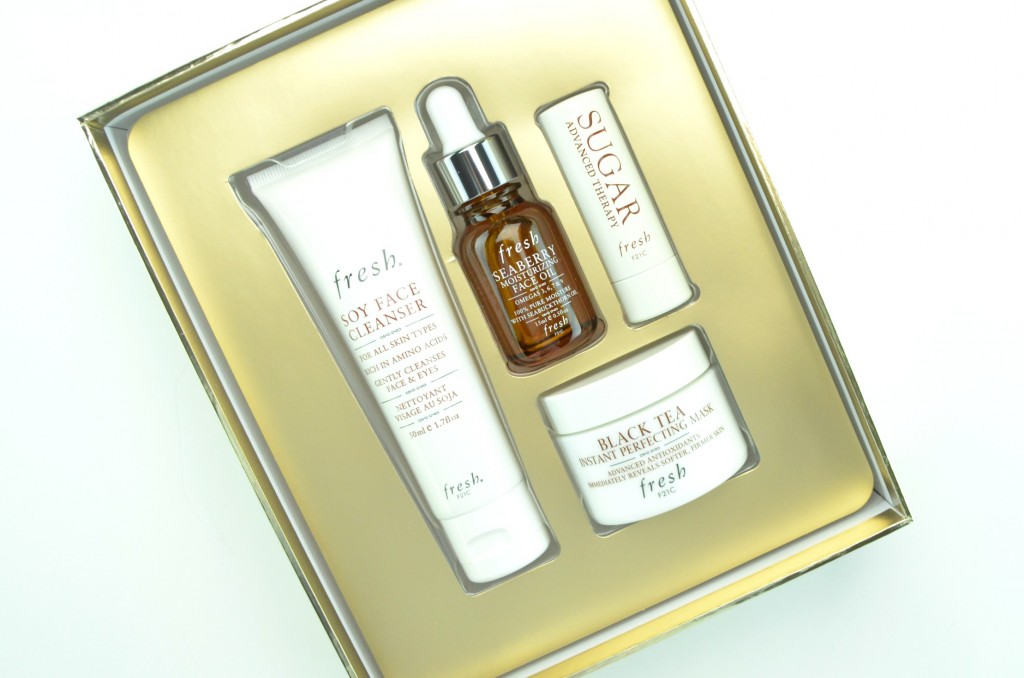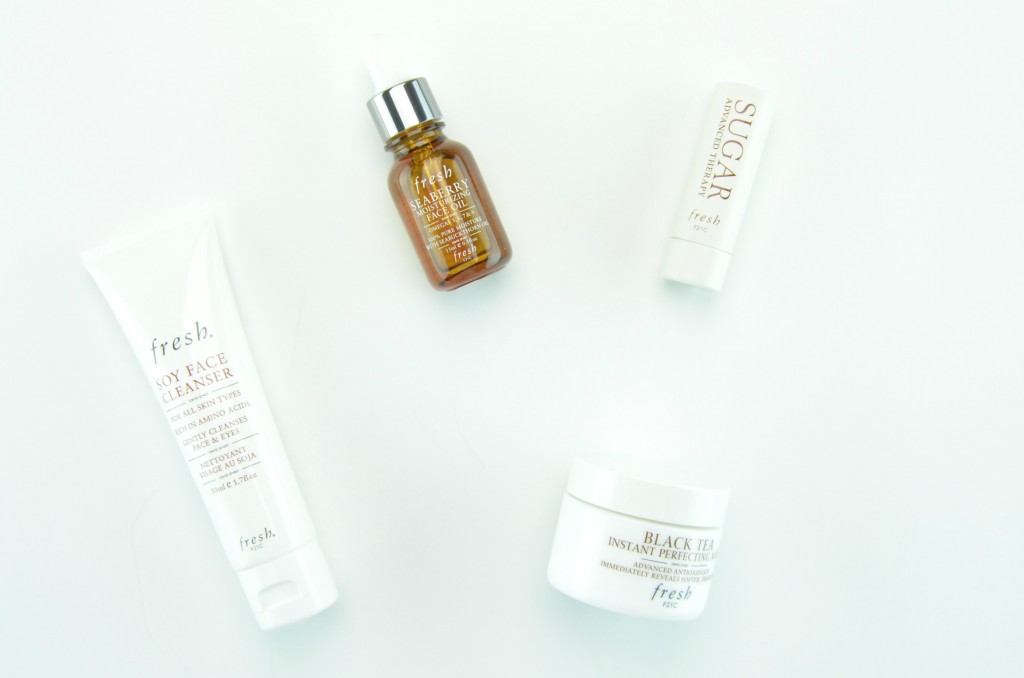 The gentle Soy Face Cleanser is suitable for all skin types and helps to remove impurities and makeup, even water proof mascara, without stripping your skin's natural moisture barrier.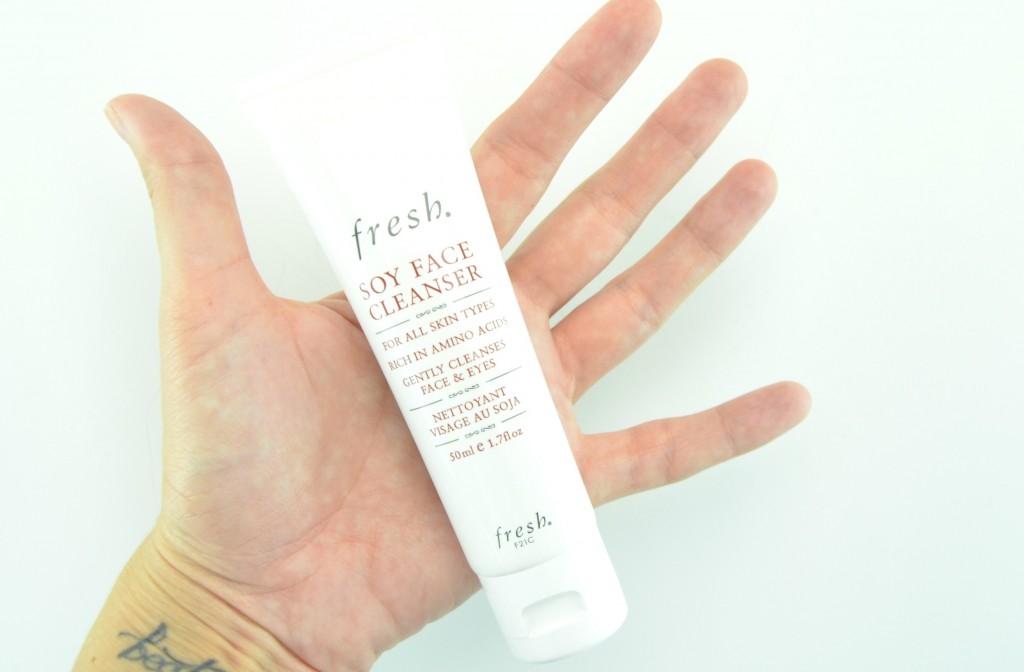 It too comes with the Black Tea Instant Perfecting Mask, same as Fresh The Mask Bar above to help hydrate, firm and soften the skin.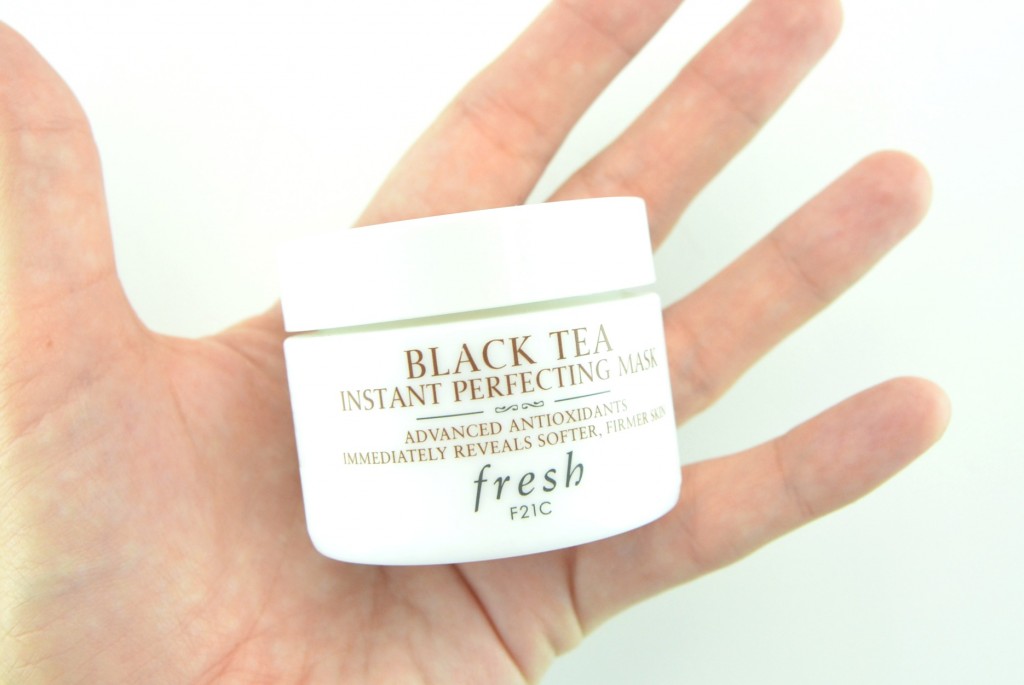 Seaberry Moisturizing Face Oil features a precious blend of pure oils, seaberry, cranberry seed, camellia seed, grapeseed, and sweet almond along with moisturizing omegas 3, 6, 7 and 9 to help preserve a more youthful appearance. It has a lightweight, clear, very thin and runny texture that's best applied using the eye-dropper provided. Although it does absorb fairly quickly, your skin is left looking somewhat greasy/ oily, so it's best applied at night. 3 to 4 drops is needed to completely cover the entire face, but you can also add a few drops to your favourite moisturizer to provide 24 hours of hydration. It does have somewhat of an herbal scent, reminds me a lot of Vicks vapour rub, which I quite enjoy. It instantly nourishes the skin for a vital boost of moisture. It keeps skin moisturized throughout the day and clears up any dry, flaky patches and decreased roughness around the mouth and nose.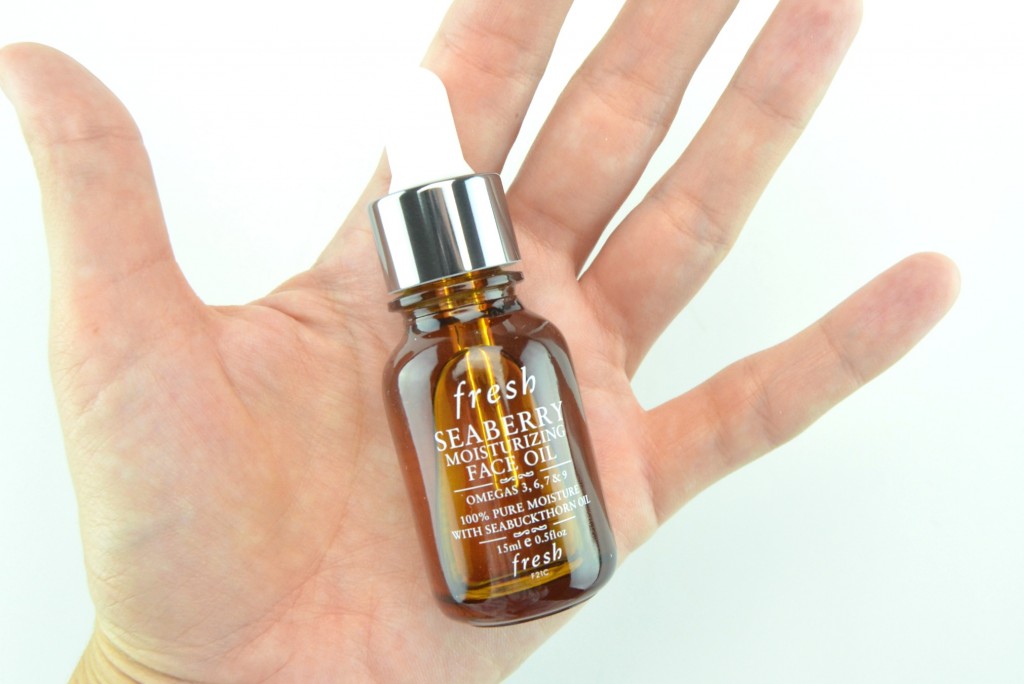 Sugar Lip Treatment Advanced Therapy lip balm is formulated with Sea Fennel to help smooth fine lines and wrinkles, Orange Extract to help protect against free radicals, a nourishing blend of Cupuacu Butter, Plum Seed Oil, and Passionflower Seed Oil to help hydrate, repair, and restore suppleness and Hyaluronic Filling Spheres to help plump up the lips. It has an incredibly soft and creamy texture, that if you're not careful with, can easily breakout and get damaged. It has somewhat of a waxy feel on the lips, so might be best used as a night time treatment? It wears well throughout the night keeping your lips soft and supple right into the next morning. It does an excellent job at boosting moisturize level and enhances volume, but I didn't see much of a plumping effect, which I'm okay with. This really is one of my fave lip balms of all time, so rich and creamy and keeps lips incredibly kissable smooth.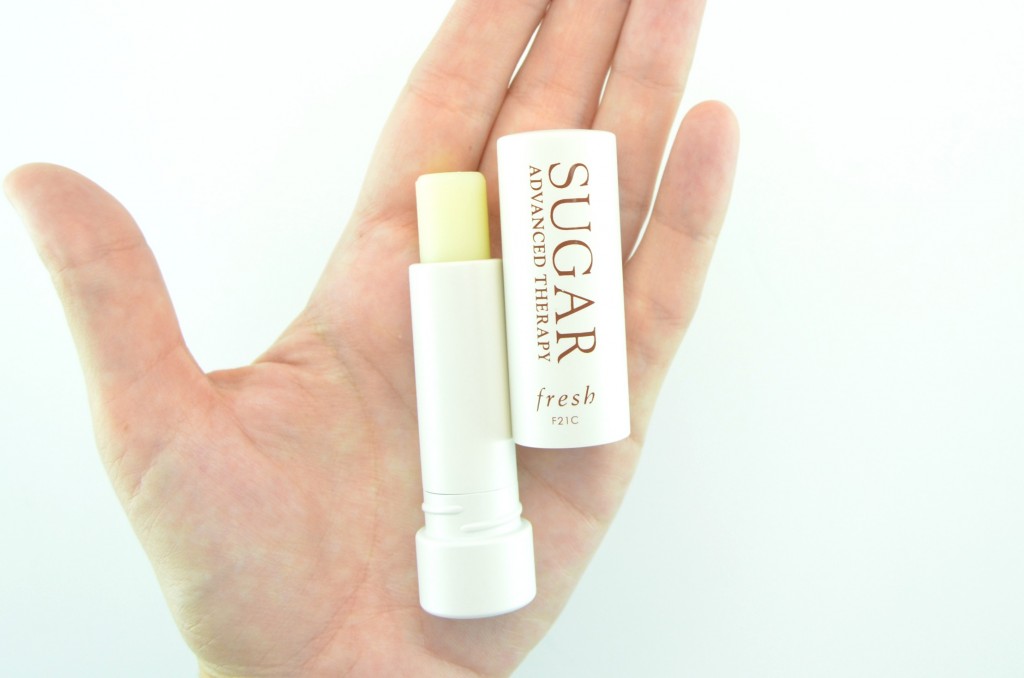 Fresh Sugar Legends is a sweet treat that you may just want to keep for yourself. This collection consists of 7 mini (2 grams compared to the 4.25 grams of the full size balm) Fresh Sugar Lip Treatment balms, one for each day of the week. It comes beautifully packaged in a festive cardboard box with 7 matte aluminum lip balm tube with twist off cap within. Each balm has an incredible soft and creamy texture that's infused with sugar, oil, and waxes, along with black currant oil, grapeseed polyphenols, and vitamins to help retain lips natural moisture barrier while keeping them plump and healthy. It provides a sheer wash of colour in several different shades that's fairly buildable for more pigmented colour payoff. You have your pick of Sugar Berry, a flirty berry, Sugar Passion, a sheer, yet vibrant rouge, Sugar Cherry, a sheer sunny red, Sugar Honey, a warm nude, Sugar Rosé, a sheer rose, Sugar Tuliip, a sheer hot pink and Sugar Petal, a pink blossom. This is the perfect gift set to split up and share with friends or for anyone that wanted to test out these fabulous lip treatments, but wasn't sure of which shade to pick. It retails for $65.