Guide to Hosting the Ultimate Boho Picnic
It's safe to say it's been a difficult year for everyone. I wanted to do something special for my gals, while keeping them safe. I truly believe finding time to spend with friends and creating beautiful memories is a form of self-love. There's something about being surrounded by good friends, delicious food and mouth-watering beverages, that can cure all. I wanted to share my appreciation for all their love and support over the years by hosting a fun get together.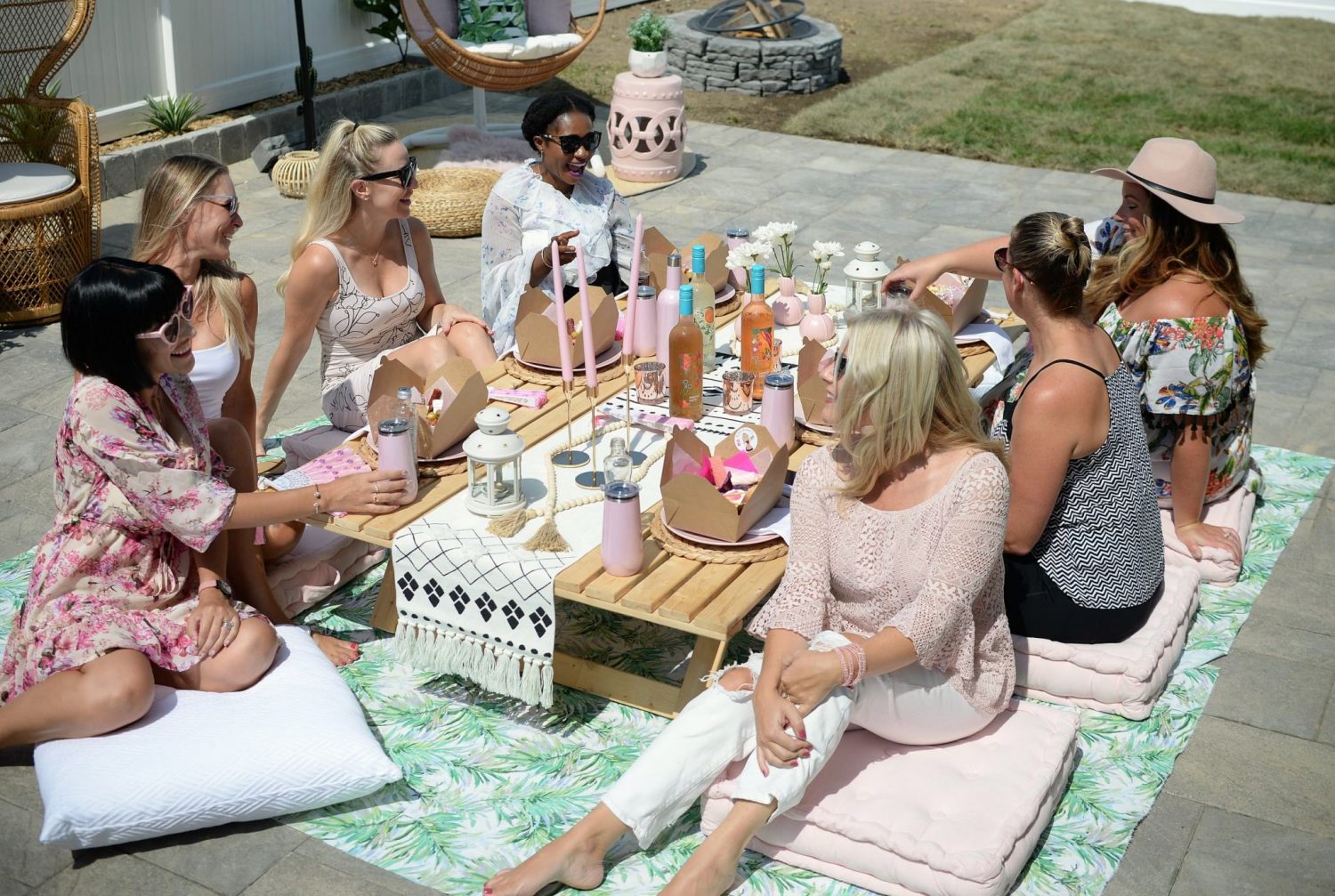 You first need to think of a theme. Since we're in the middle of summer, and the pandemic has us missing Coachella, I thought why not host the ultimate boho picnic. I wanted my guests to get in touch with nature by using florals, rustic wood and as much natural materials as possible. My original plan was to make flower crowns, but I thought that was too much of a cliché.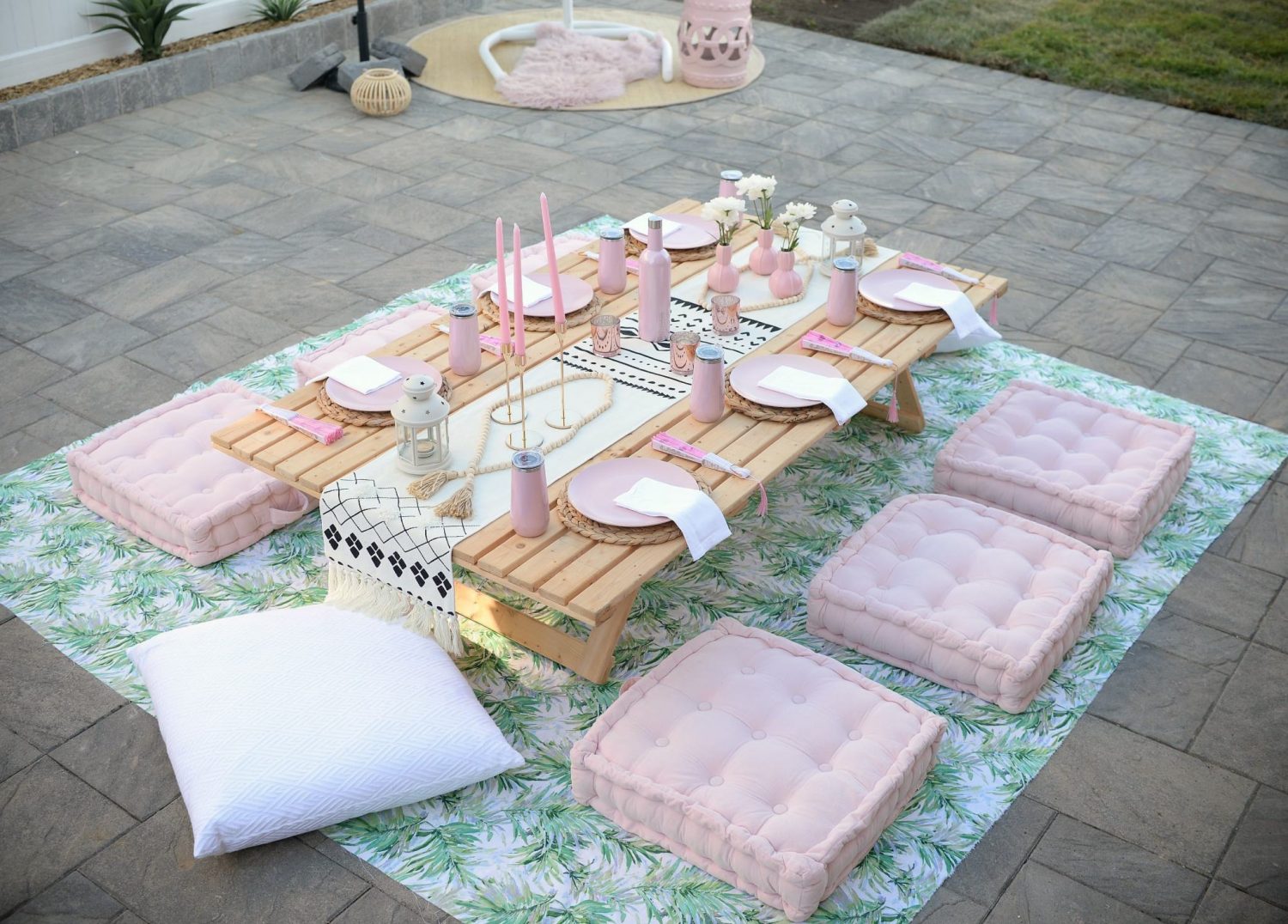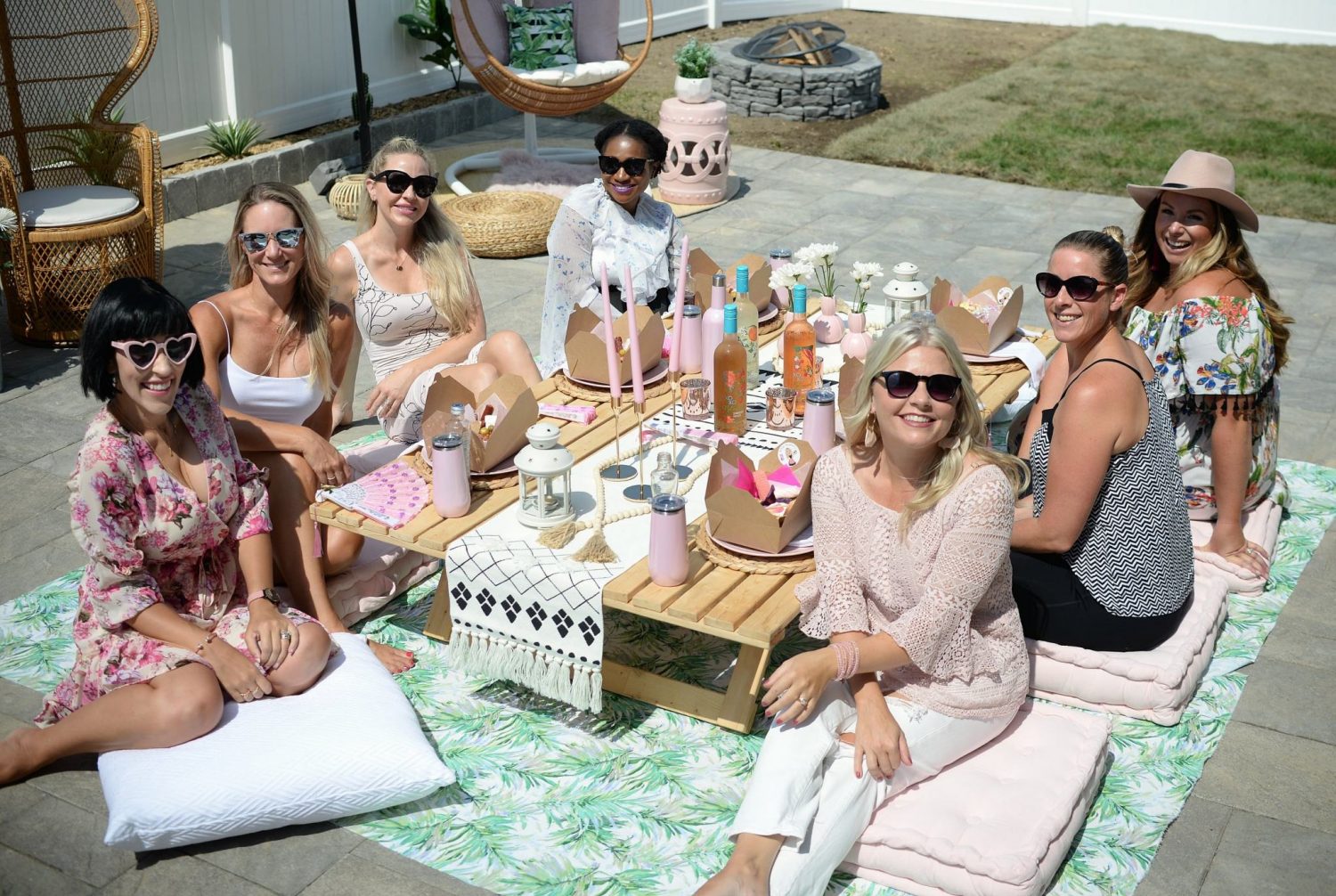 Next was finding that perfect location. My original thought was to find somewhere tropical or sandy, like the beach, park or garden, but with social distancing still in play, I didn't feel comfortable with a public place. Since my backyard was recently renovated, I knew it was the perfect space to host the picnic. It was super convenient to set up ahead of time, and I didn't have to trek food, drinks and décor to and from the car.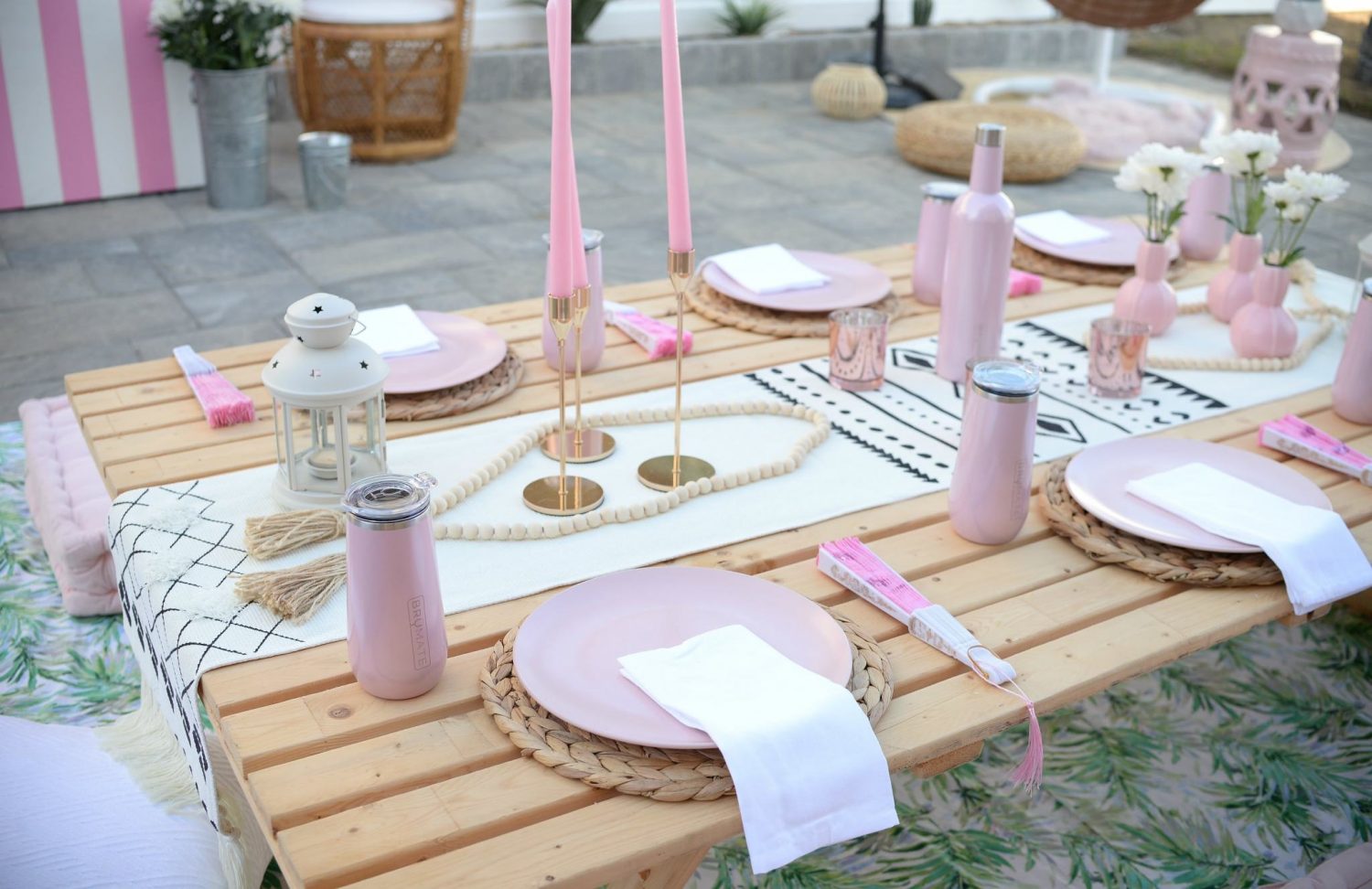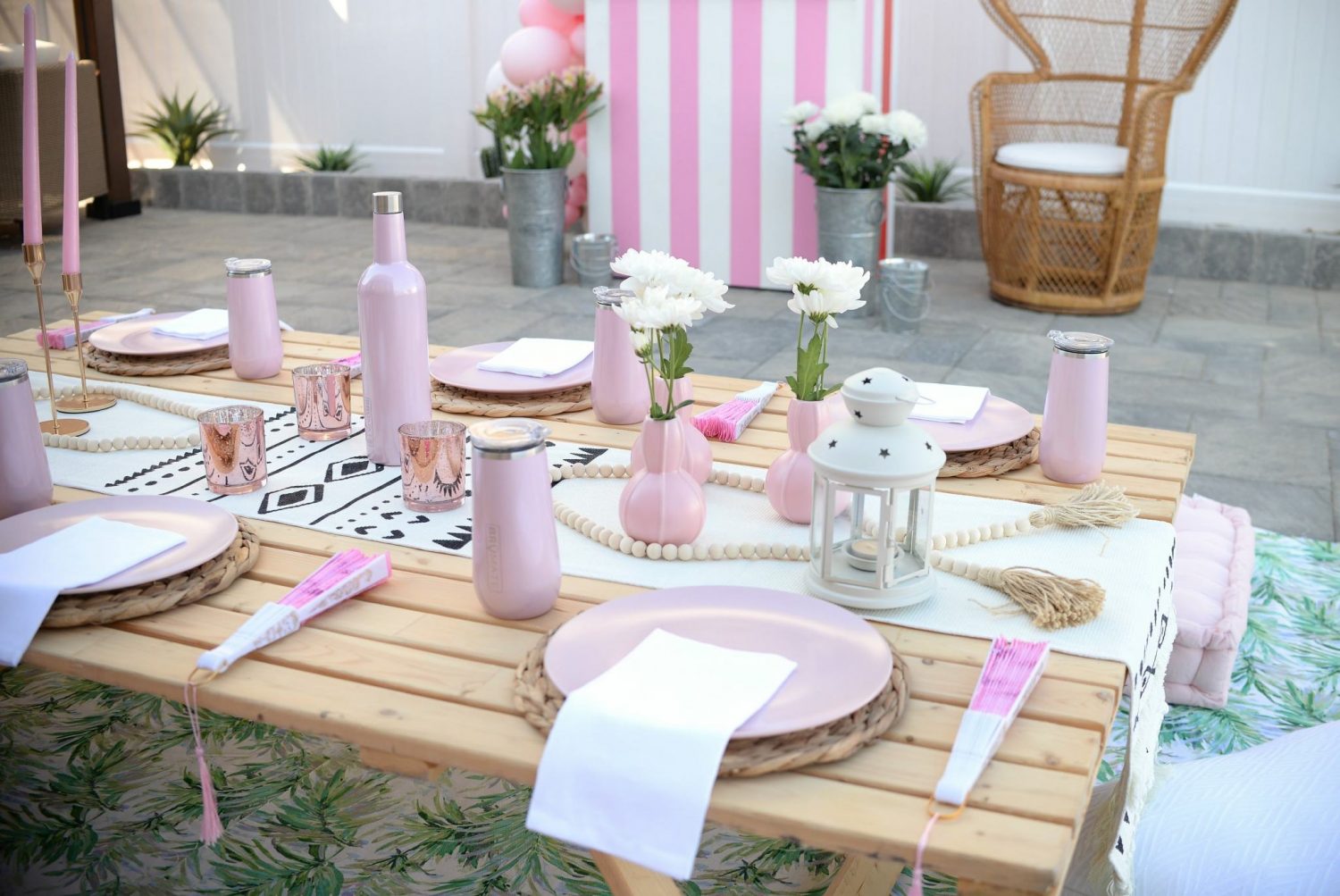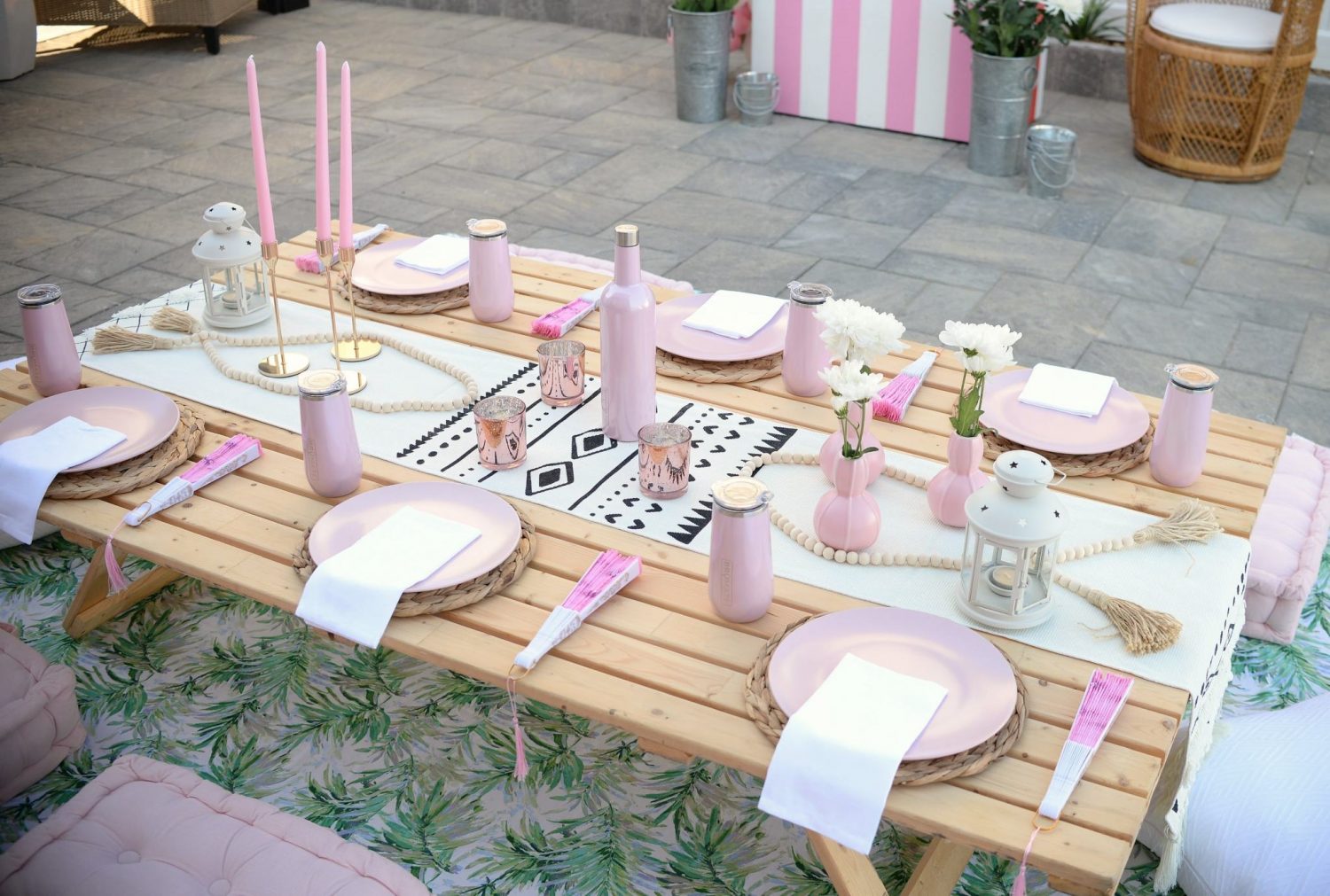 You then need to lay your foundation. Gather as many mats, rugs, bed quilts, or in my case, fabric as you can. Depending on the size of your picnic, you may need to layer several smaller rugs. Make sure there is sufficient room for the table and seating to easily fit on the rugs. As for the table, you can use anything from low tables to coffee tables, but a personal favourite is either stacked wooden palettes or a rustic  low profile table like this one from Party Girls & Co. Comfort is key and there is never enough pillows. The primary element in creating an enjoyable experience for your guests is to make sure they are relaxed and comfortable. Anything from oversized pillows, poufs, floor pillows or even dog begs make the perfect seating.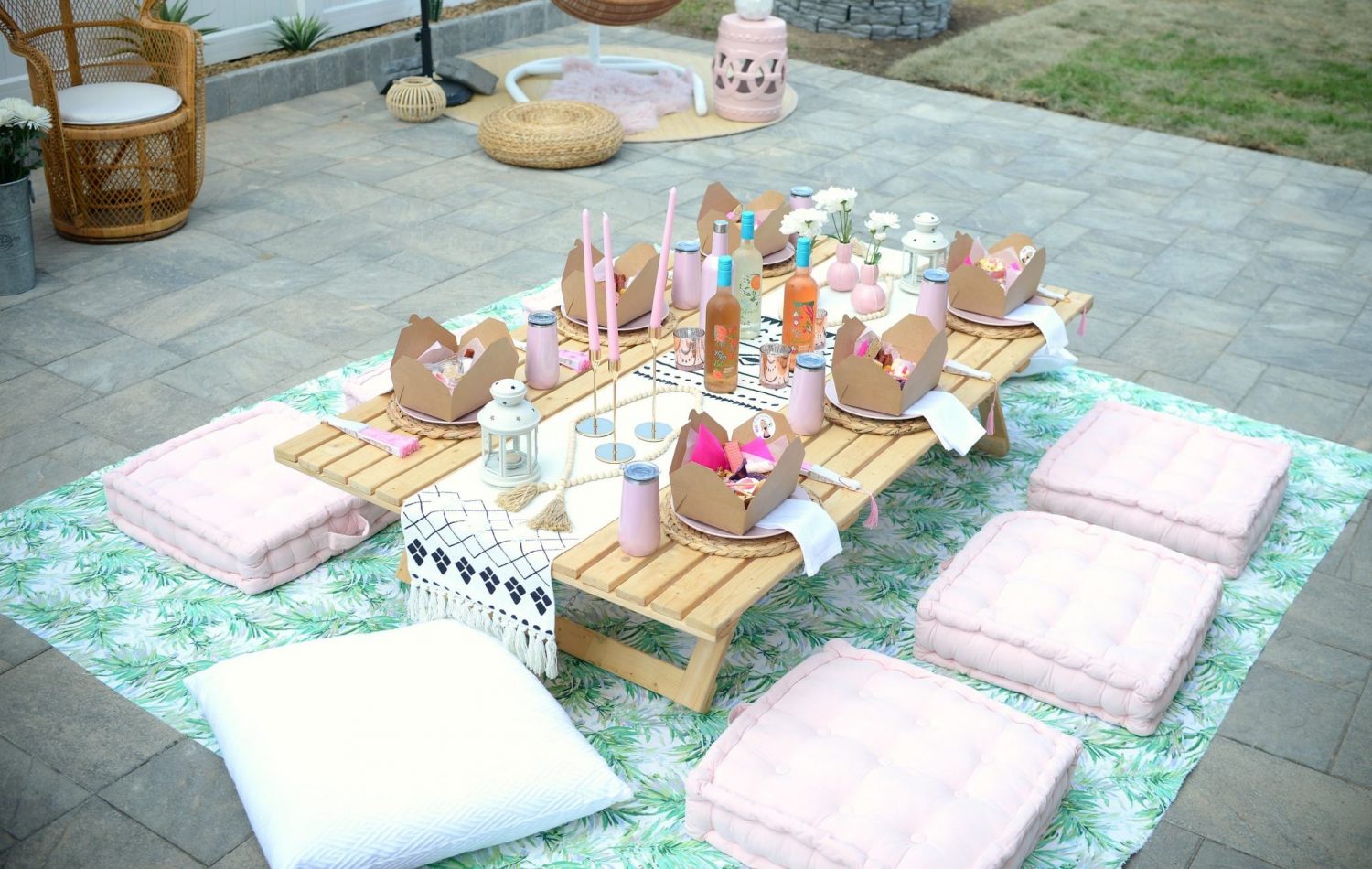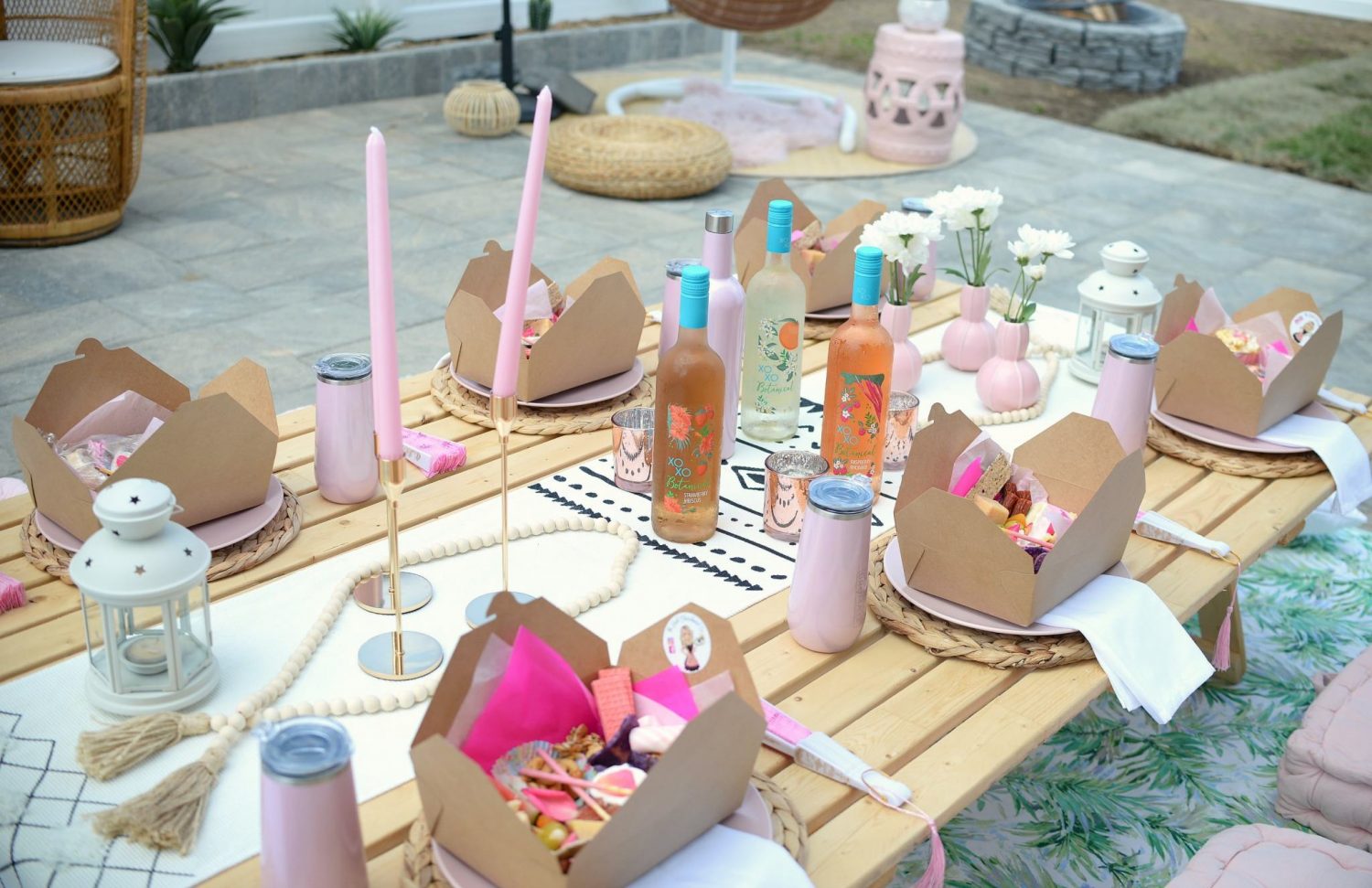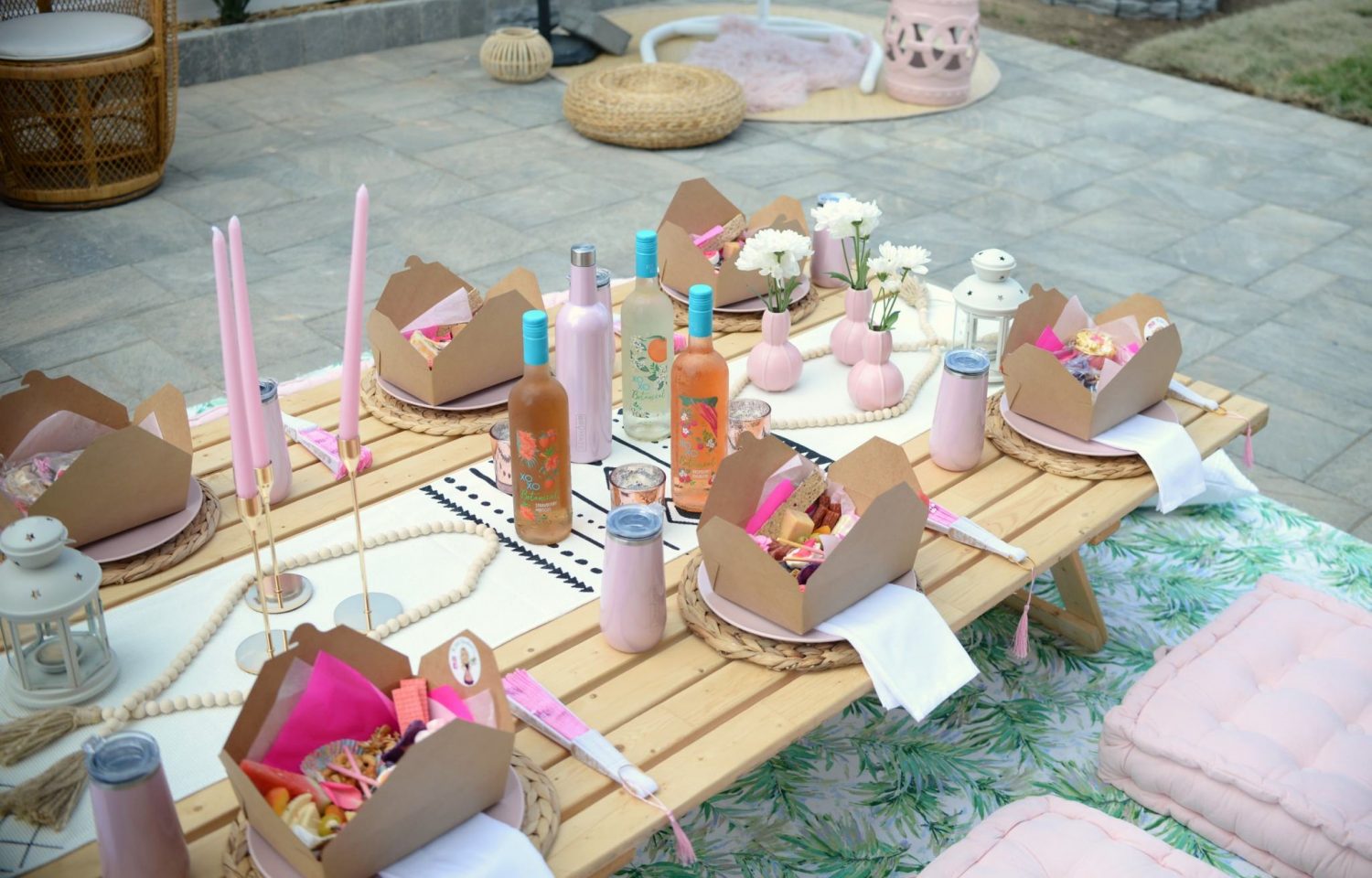 As for the décor, don't' be afraid to play with textures and tones. Using a variety of colours, prints, patterns and sizes adds an eclectic element that compliments the bohemian vibe. Of course, you can stick to a more cohesive colour theme, like I did here with the pinks, whites and golds, but playing with different shades and patterns allows you to pull items from your home more easily. Create an eclectic tablespace with layered fabrics and macramé runners with a mixture of assorted dishware. Wooden or woven charger plates help anchor the table, while fun pops of colour in the dishes adds a touch of elegance and charm to the table. Have fun adding in your own touches like candles, flowers and even personal fans. My friends at BrüMate treated all my guest to a pink Champagne Flute to help keep all their beverages cold throughout the day. With its flip-top lid and BevGuard technology, it helps to ensure their drinks stay cold and carbonated for the entire party.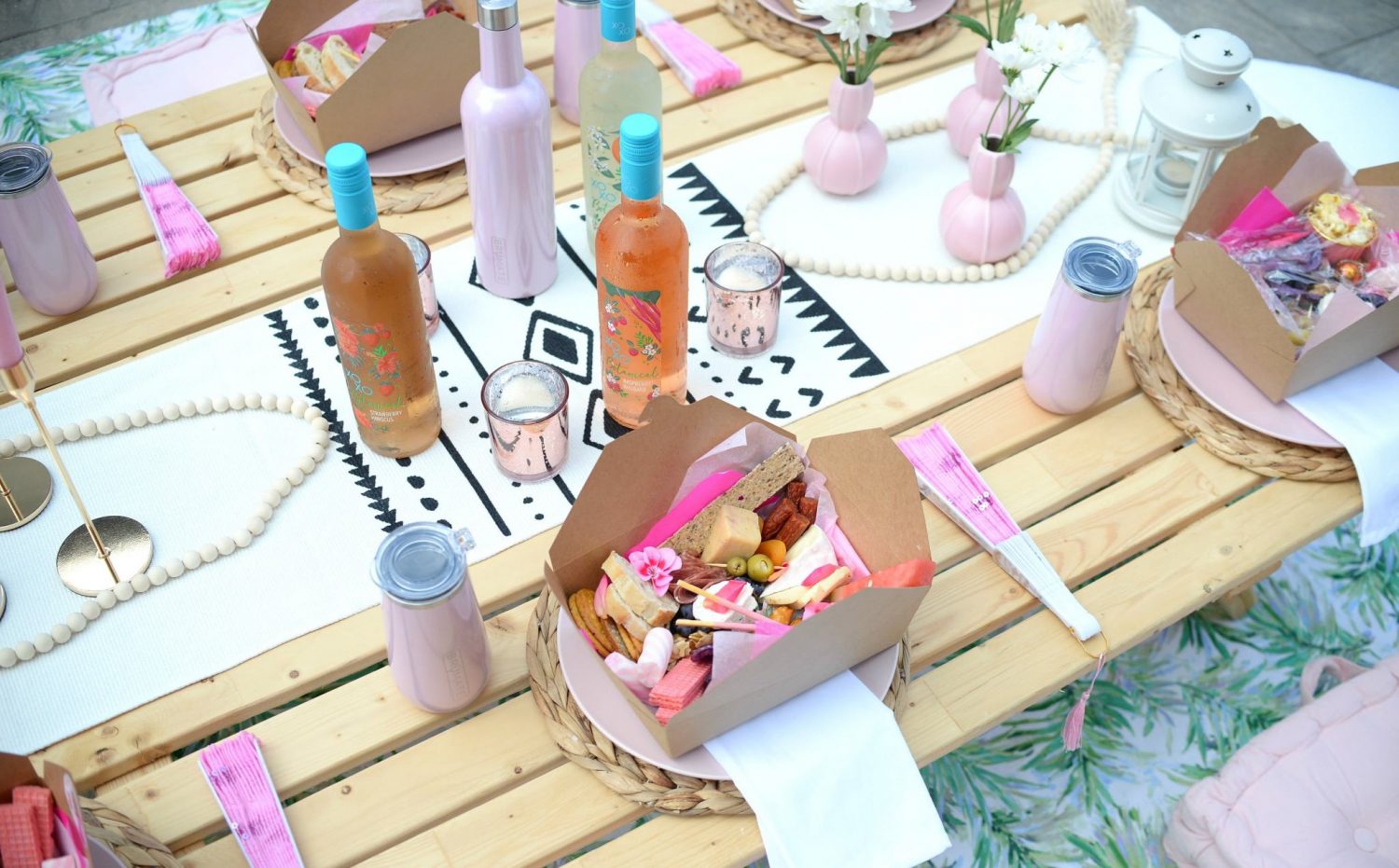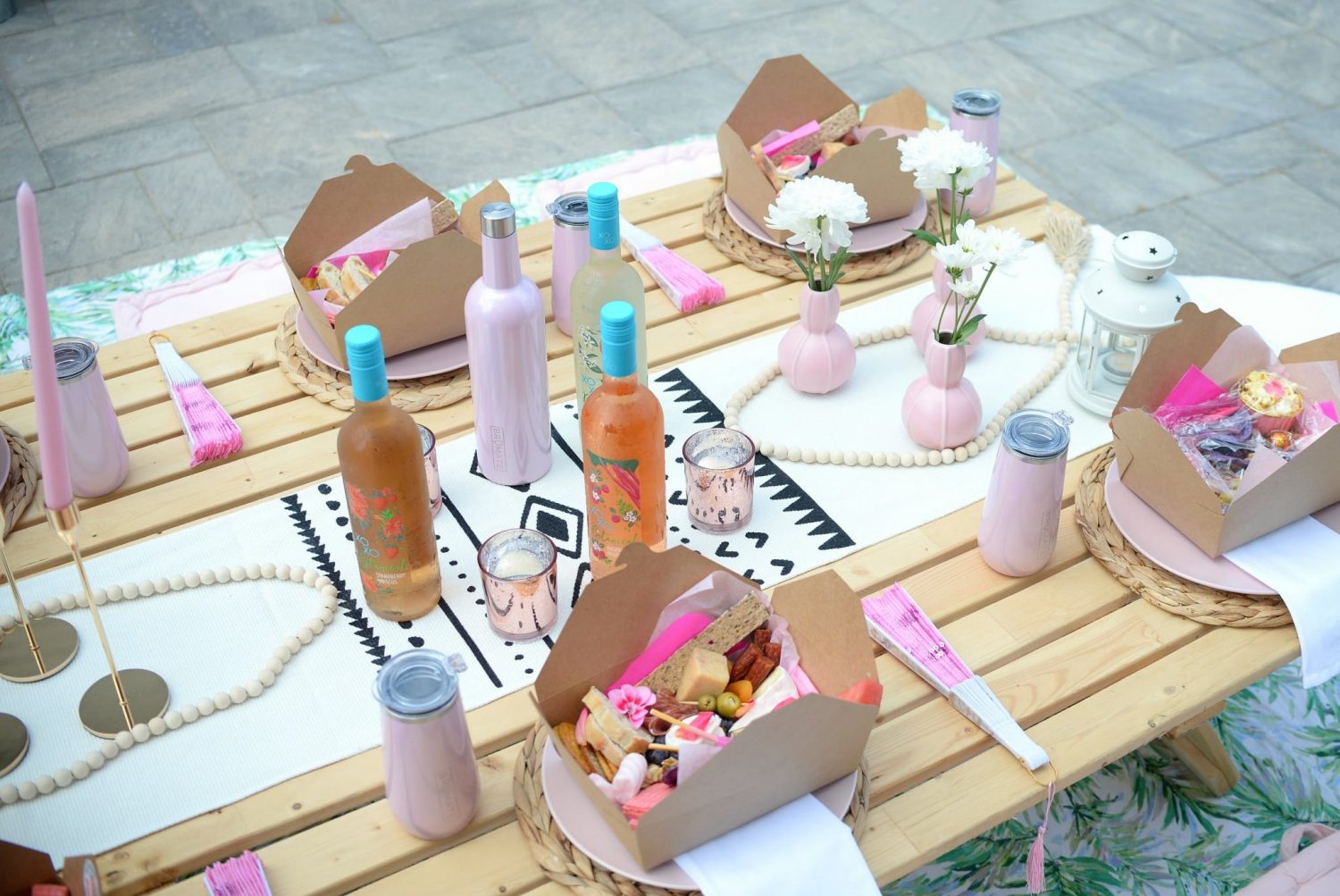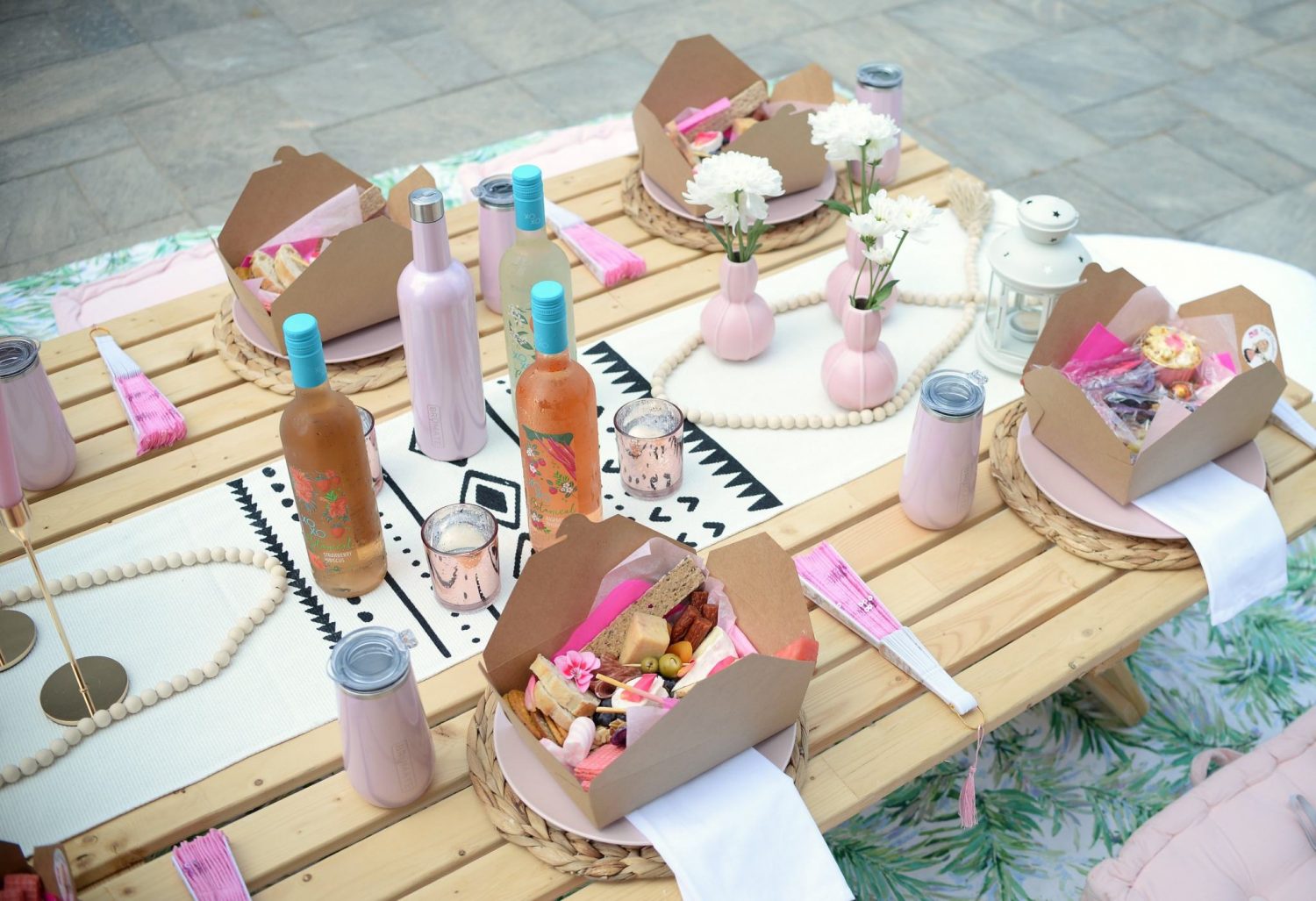 Like I mentioned earlier, my original goal was to have a DIY flower crown station. The more I thought about it, the more I realized, it wasn't practical nor was there space for it. I didn't want to take away from the table setting (it would be too crowed on the table), and I also found out the crowns only last a day or two. I then got the genius idea to host a DIY flower bar. Each guest could come up on her own and arrange her own personal bouquet. I used a variety of galvanized pots, pails and vases, with an array of flowers and blooms from Hart Floral Company to create the setup. Guests were able to easily pick and choose which florals they thought looked best in their bouquet and had something to remind them of the celebration.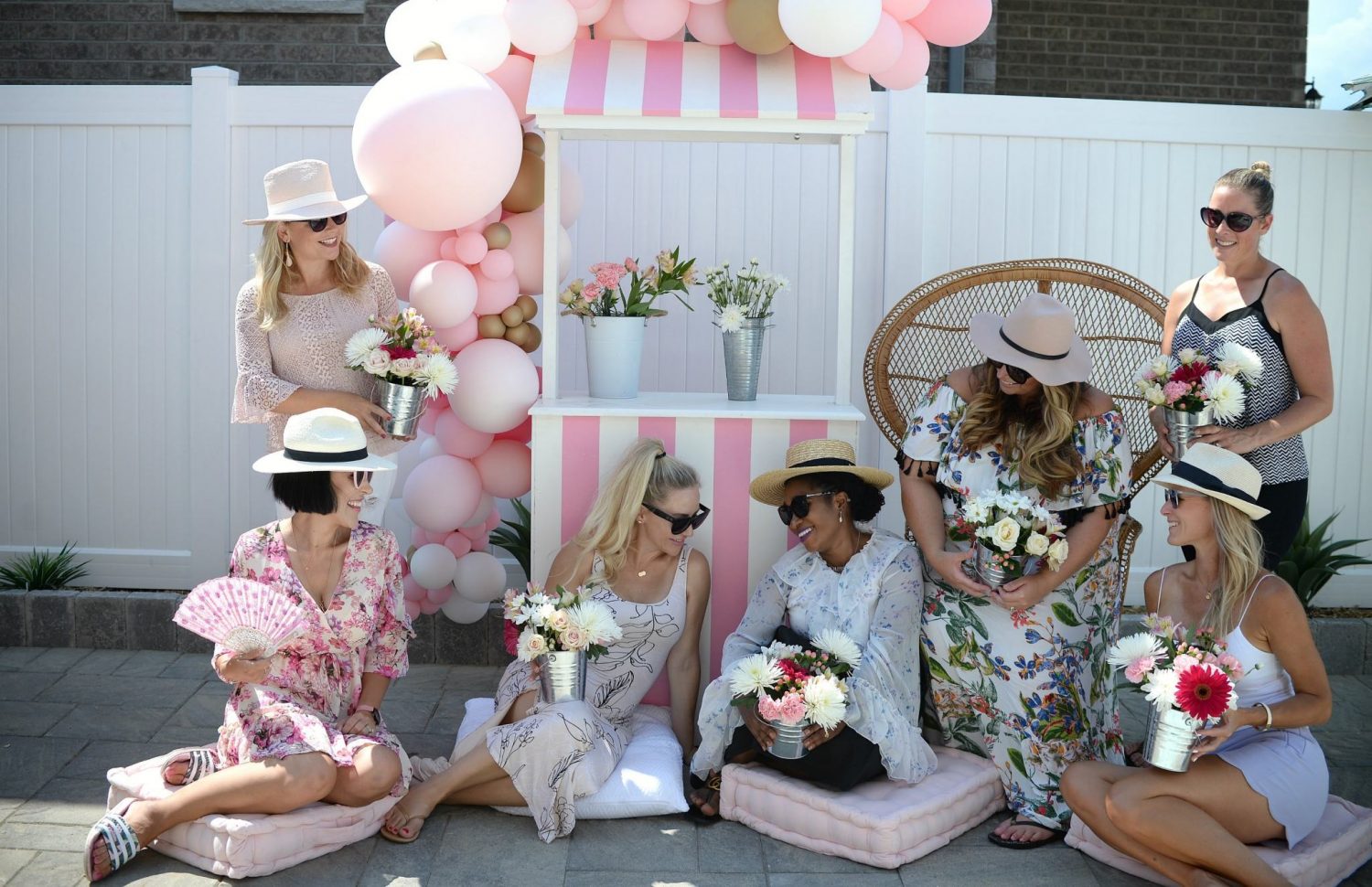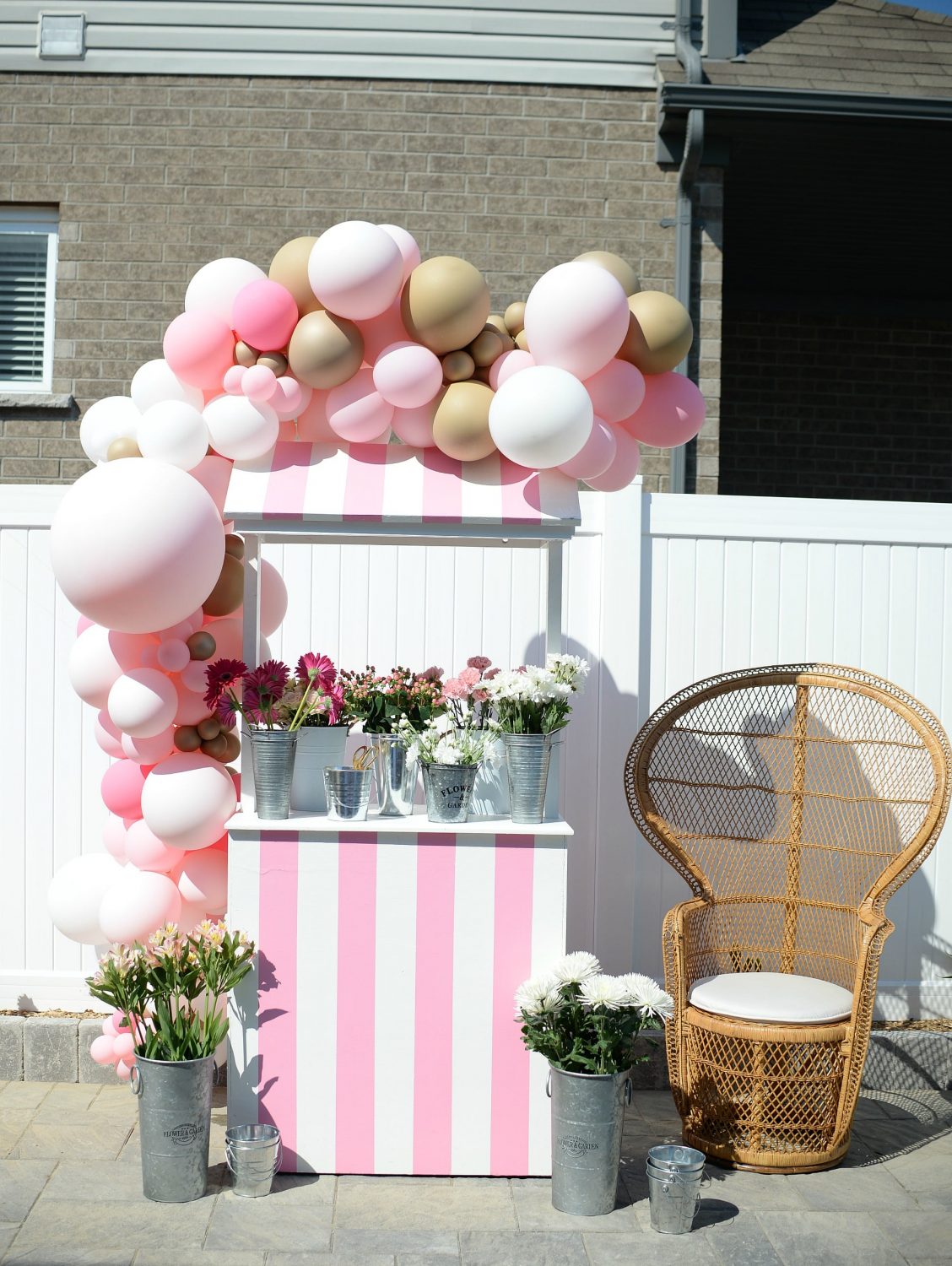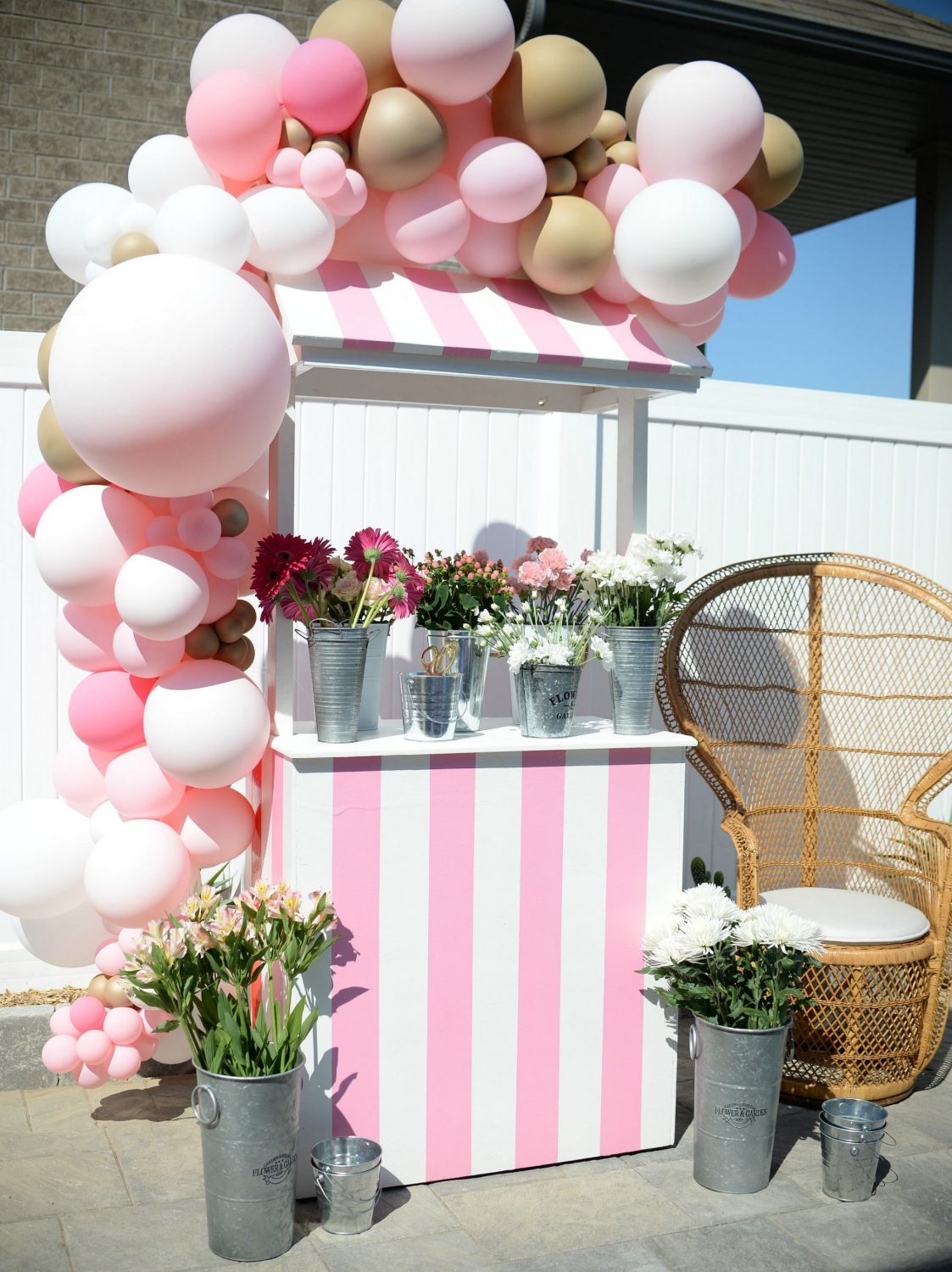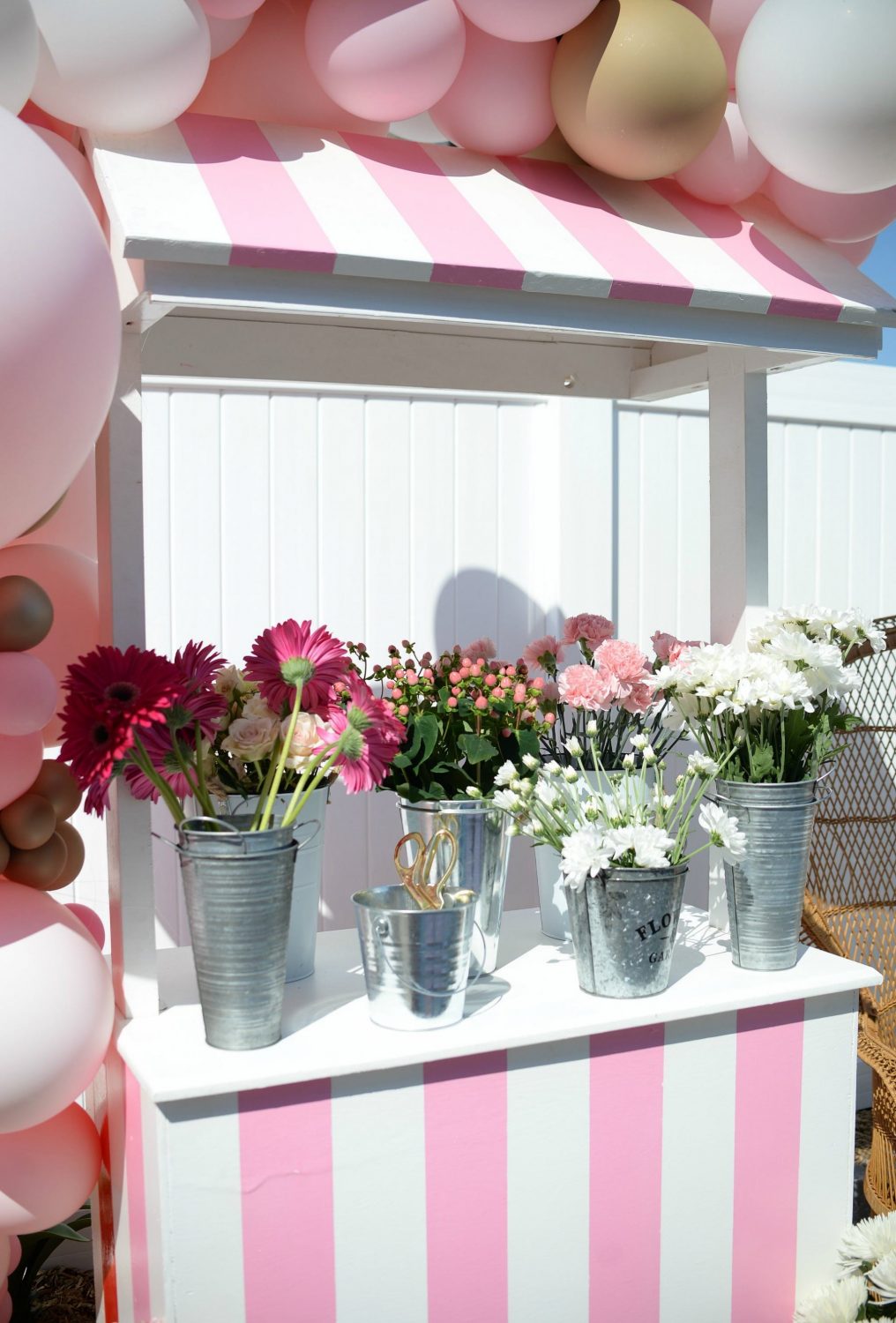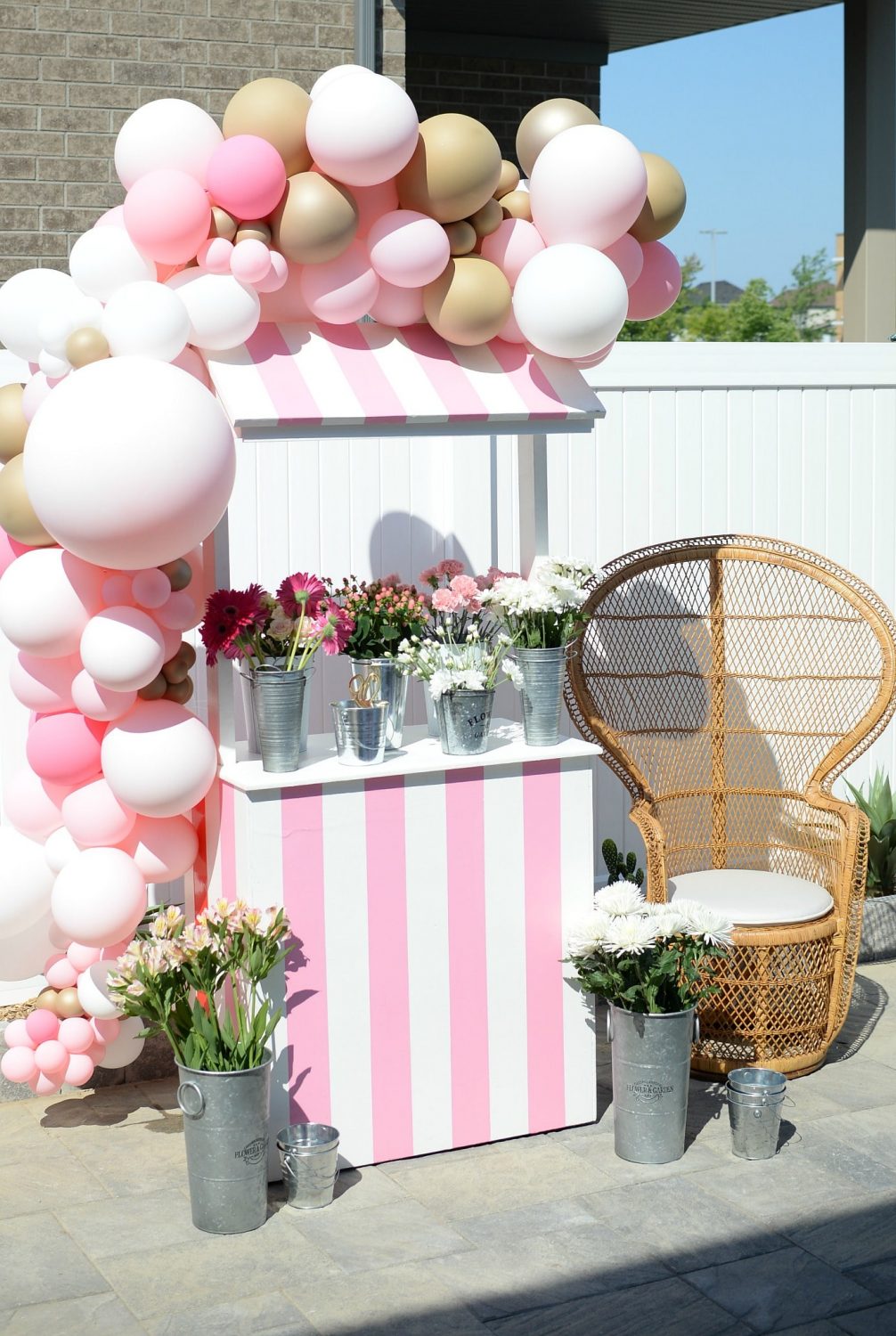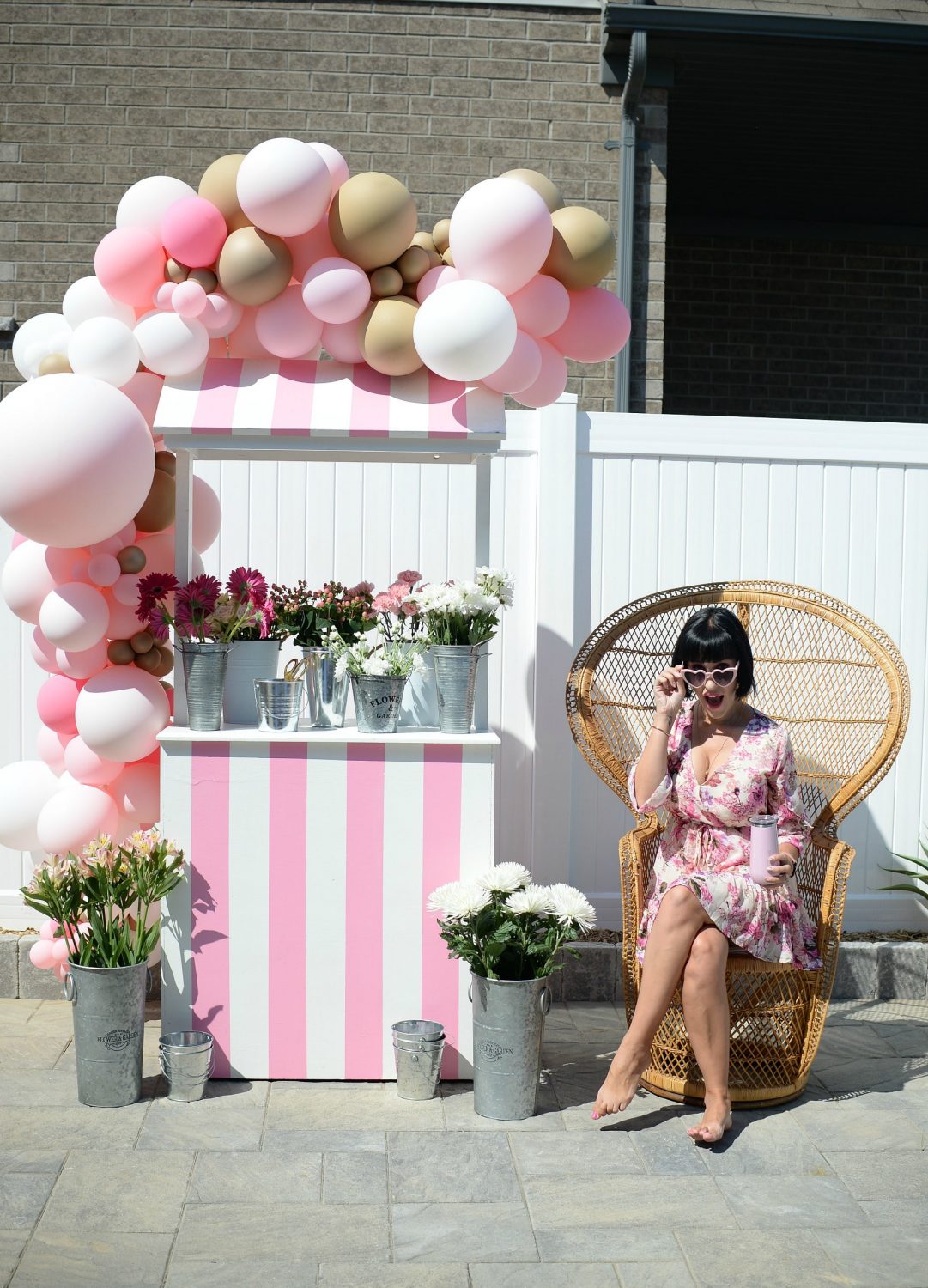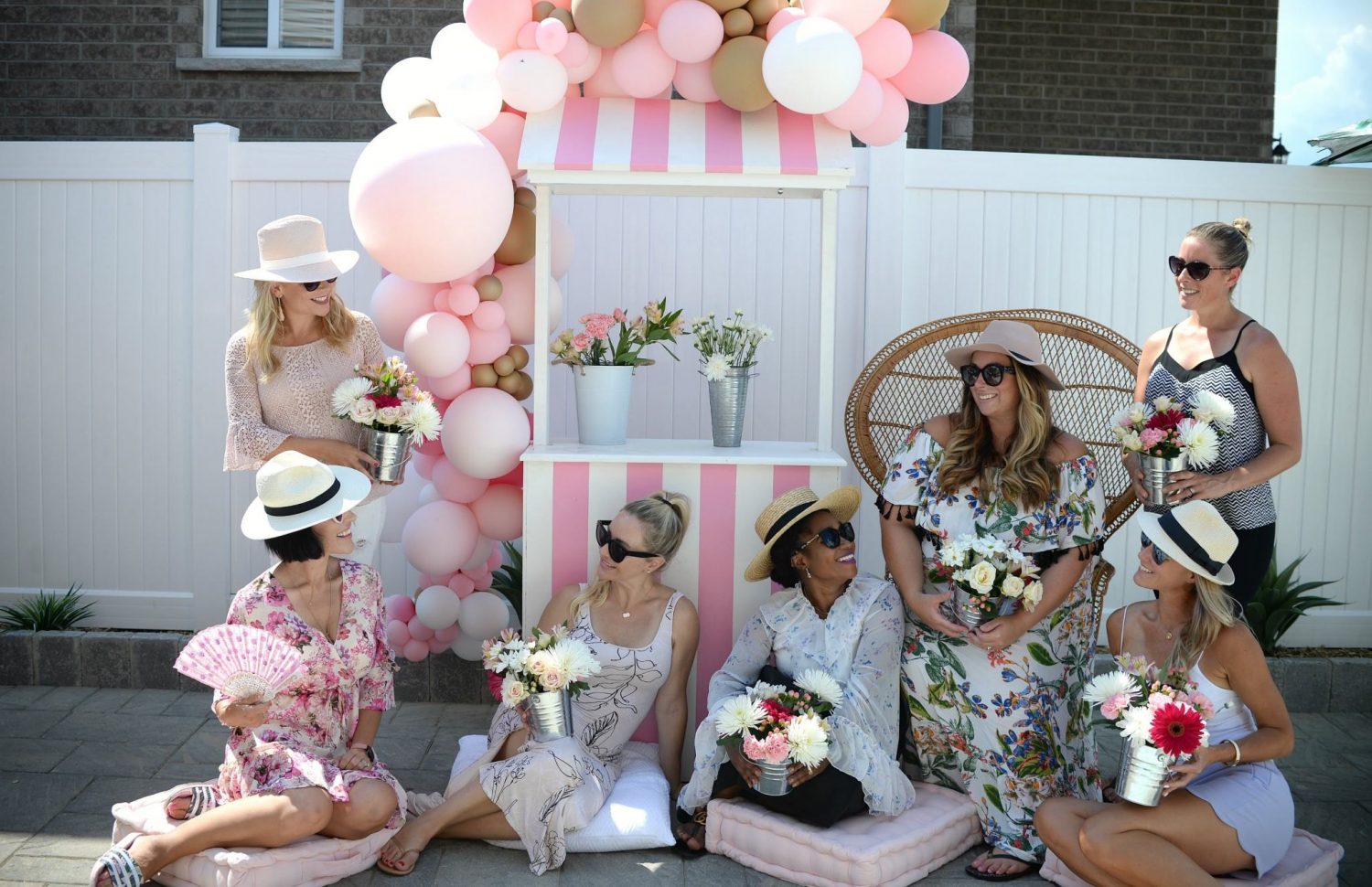 Since you want to spend as much time with your guests as possible, keep the food simple. I highly suggest outsourcing, so you don't spend the entire day in the kitchen. A grazing platter or charcuterie board is an excellent option, but with Covid and wanting to keep my guests safe, I opted for individual boxes from The Posh Cheese Board Co. Each box can be personalized for each guests' special wants, needs and requests. From gluten-free, vegetarian, vegan, nut allergies, and beyond, Penny will ensure all your friends leave with a full belly. You can even let her know a colour scheme or theme you have in mind. Each grazing box comes with an array of cheeses, meats, nuts, fresh fruit and vegies, along with crackers, artisan breads and sweet treats.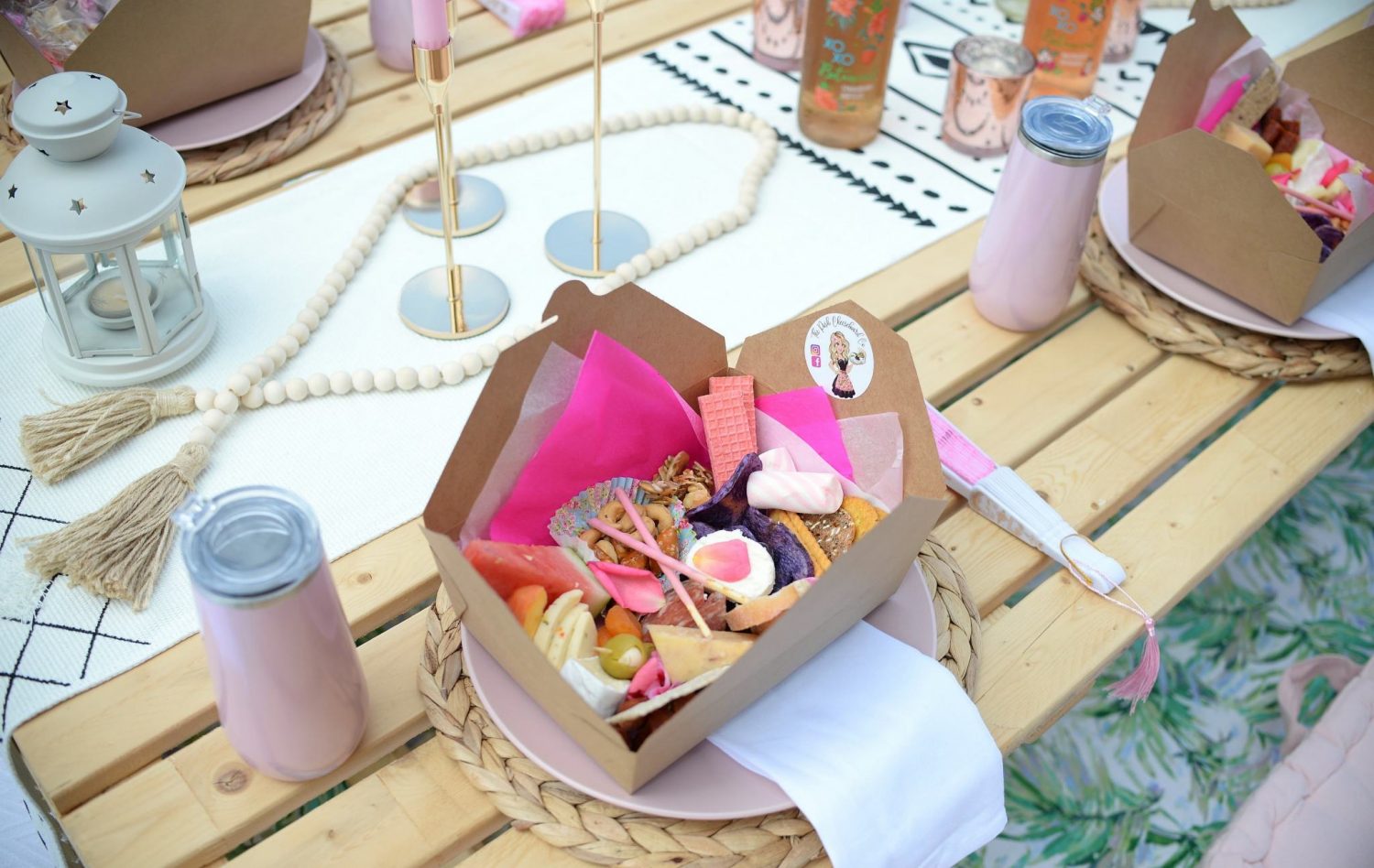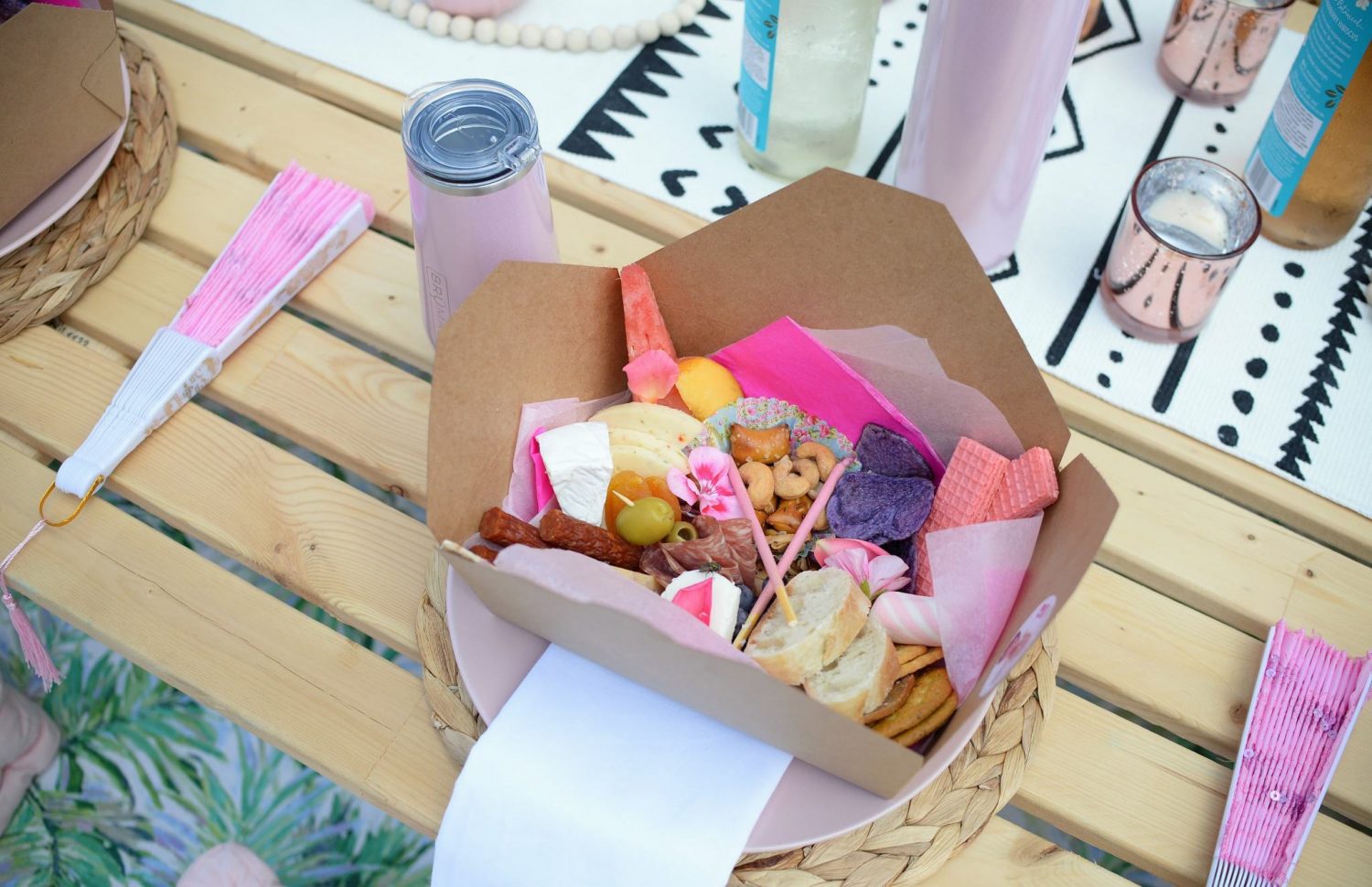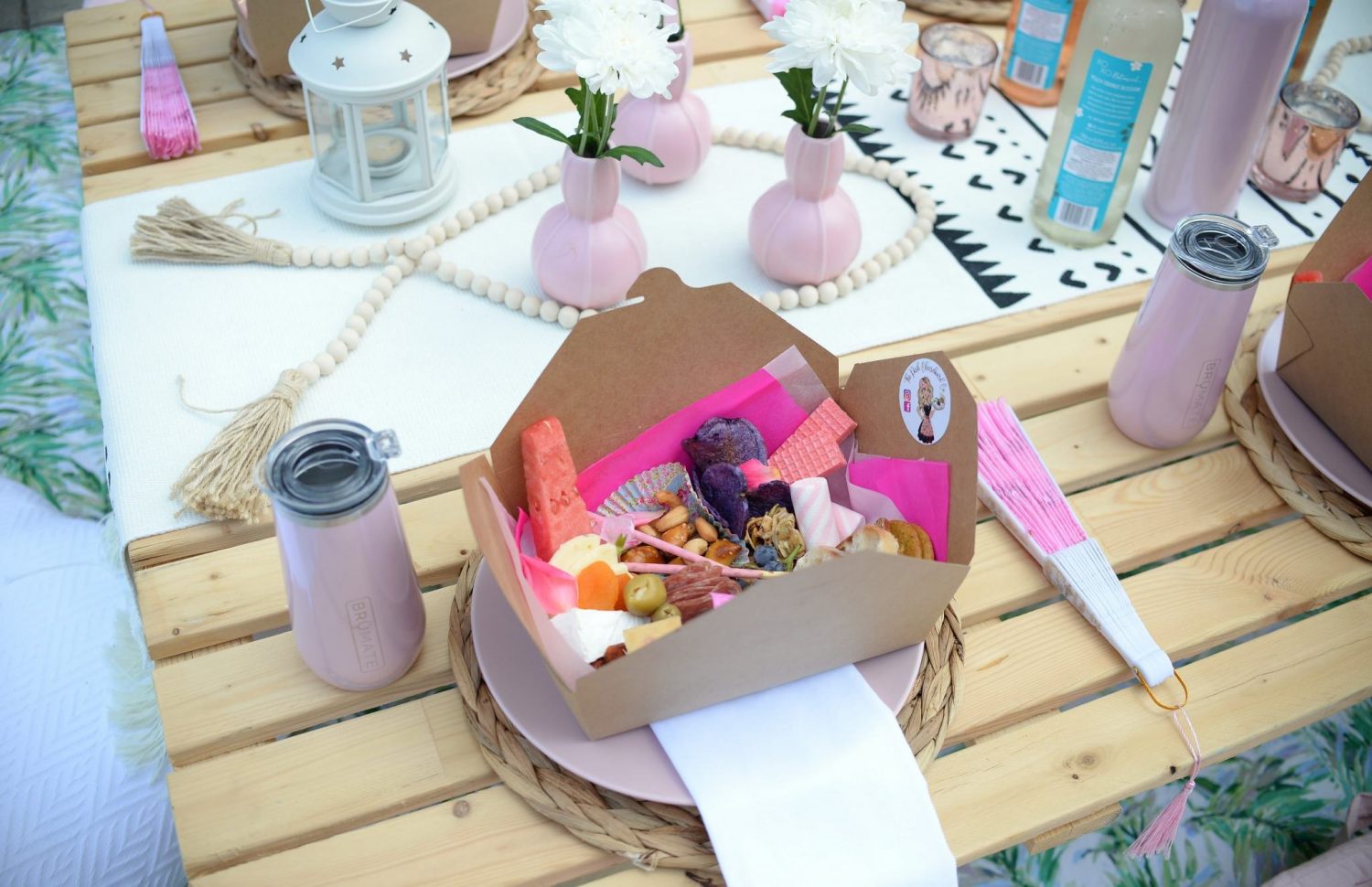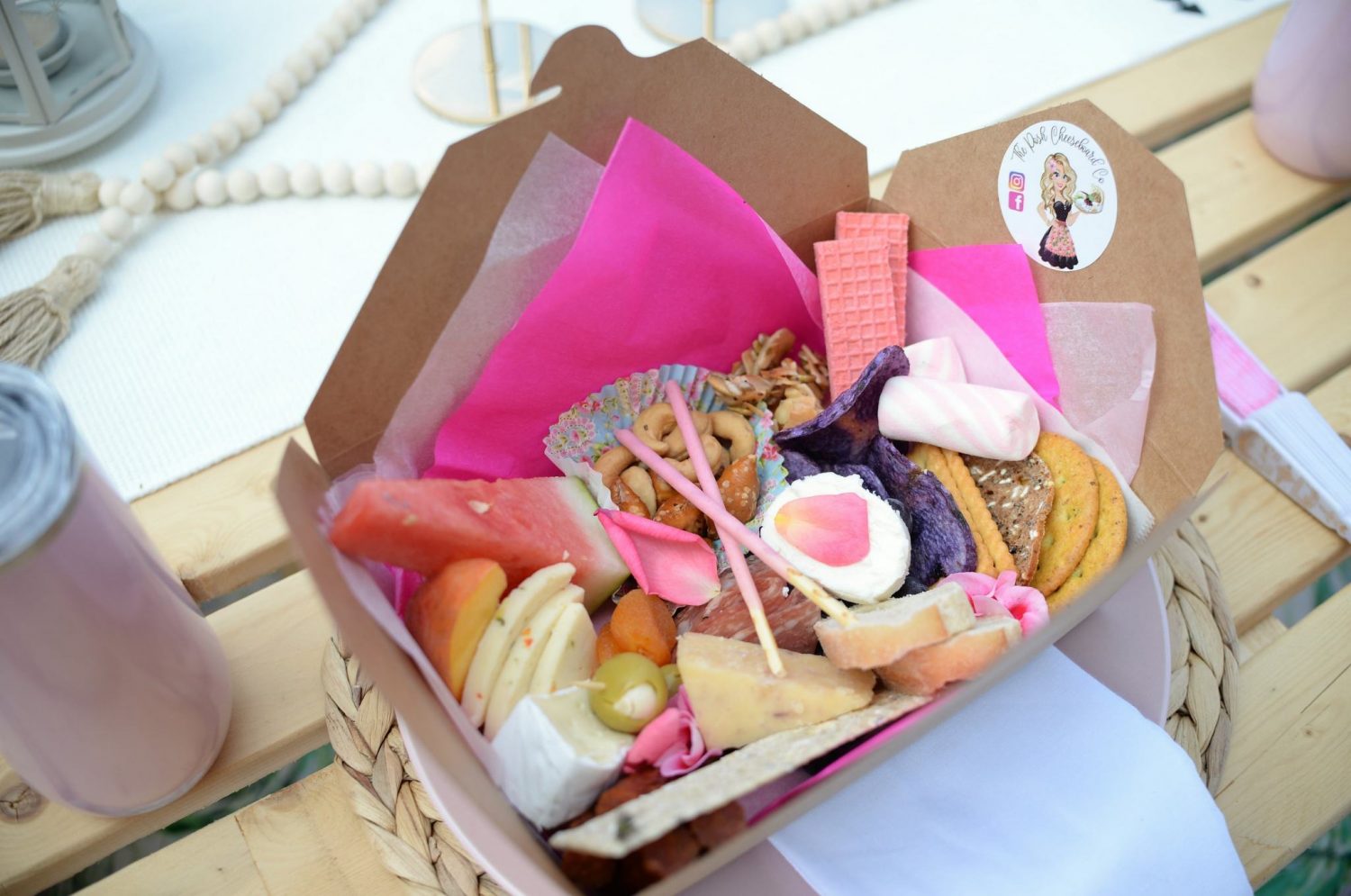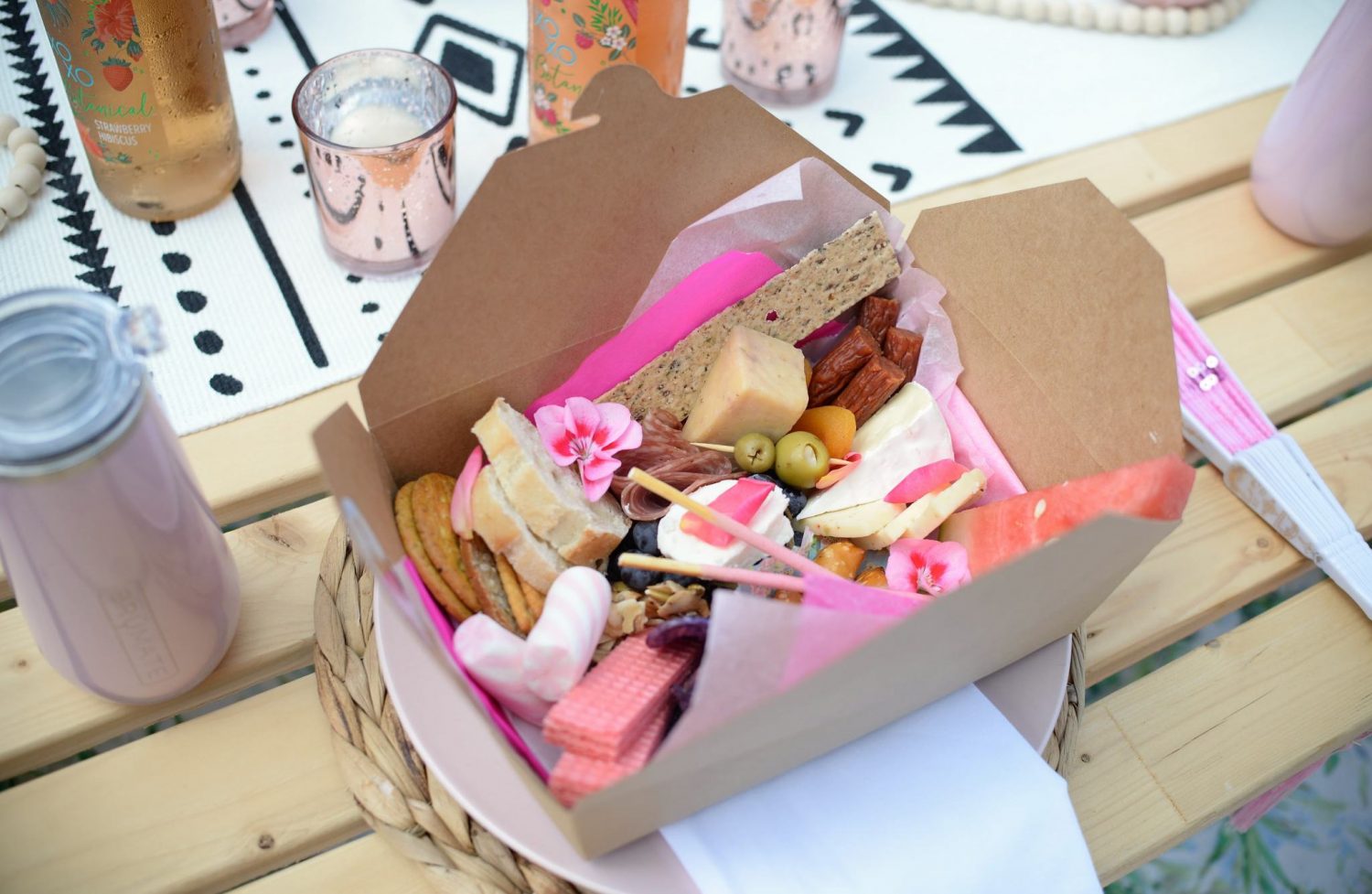 Having a full-service bar is a good idea in theory, you may prefer to have something quick and easy. You don't want your guests spending too much time mixing up fancy cocktails or having to leave the table mid-conversation. Make it easy by choosing a signature drink, or better yet, a few bottles of wine (so there are options to choose from). Nothing is classier and more sophisticated than a glass of wine. Since wine goes hand-in-hand with grazing boxes, my friends got to sip on the brand-new lineup of Botanical wines from XOXO. The Strawberry Hibiscus combines luscious strawberries and hibiscus to create the ultimate refreshing summer spritz. The Raspberry Rhubarb on the other hand is a little tarter, while the Peach Orange Blossom has its own uniqueness that's unlike any other wine I've tired. All 3 are made from natural flavours and contain over 6% alcohol. It's fun, flavourful and refreshing.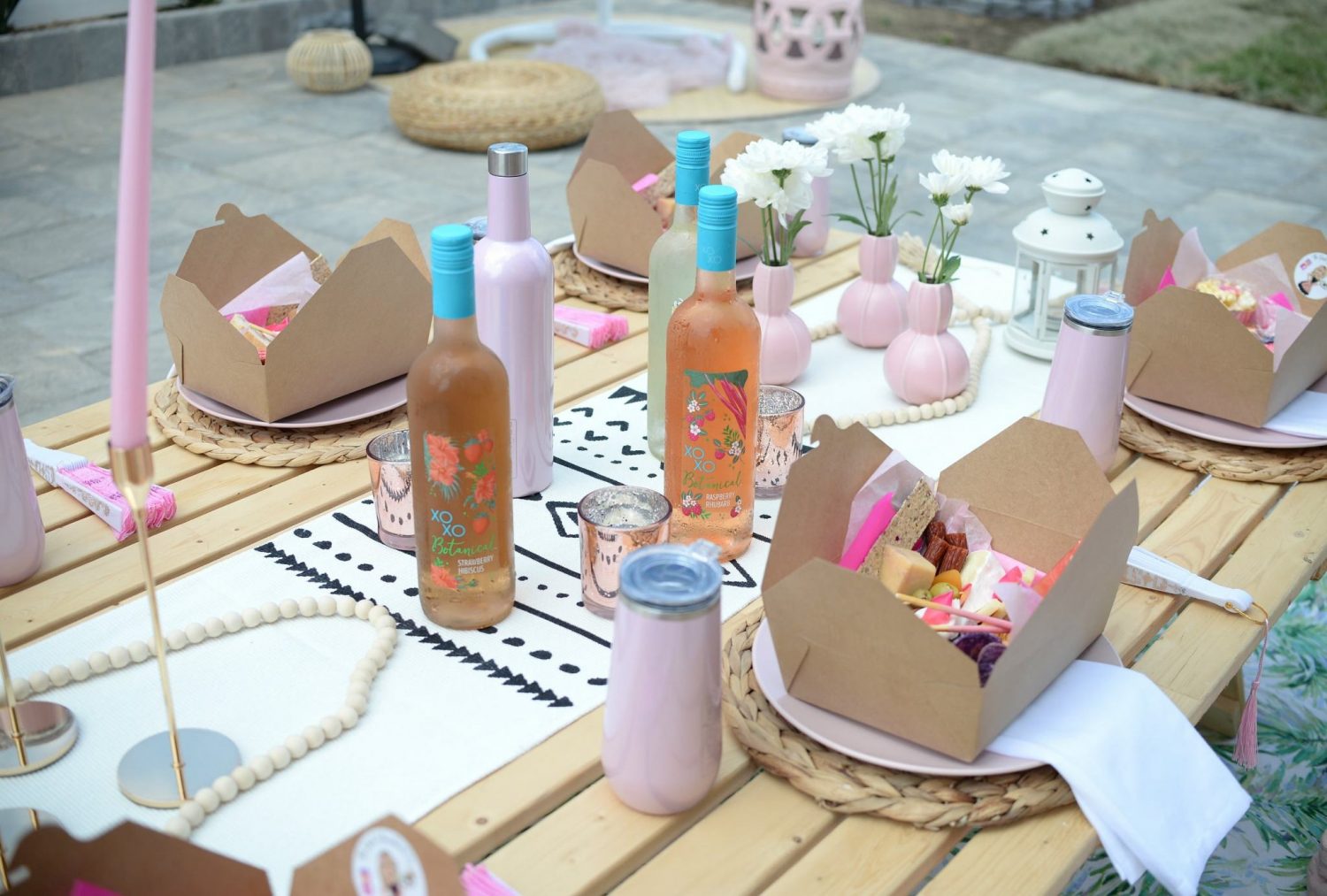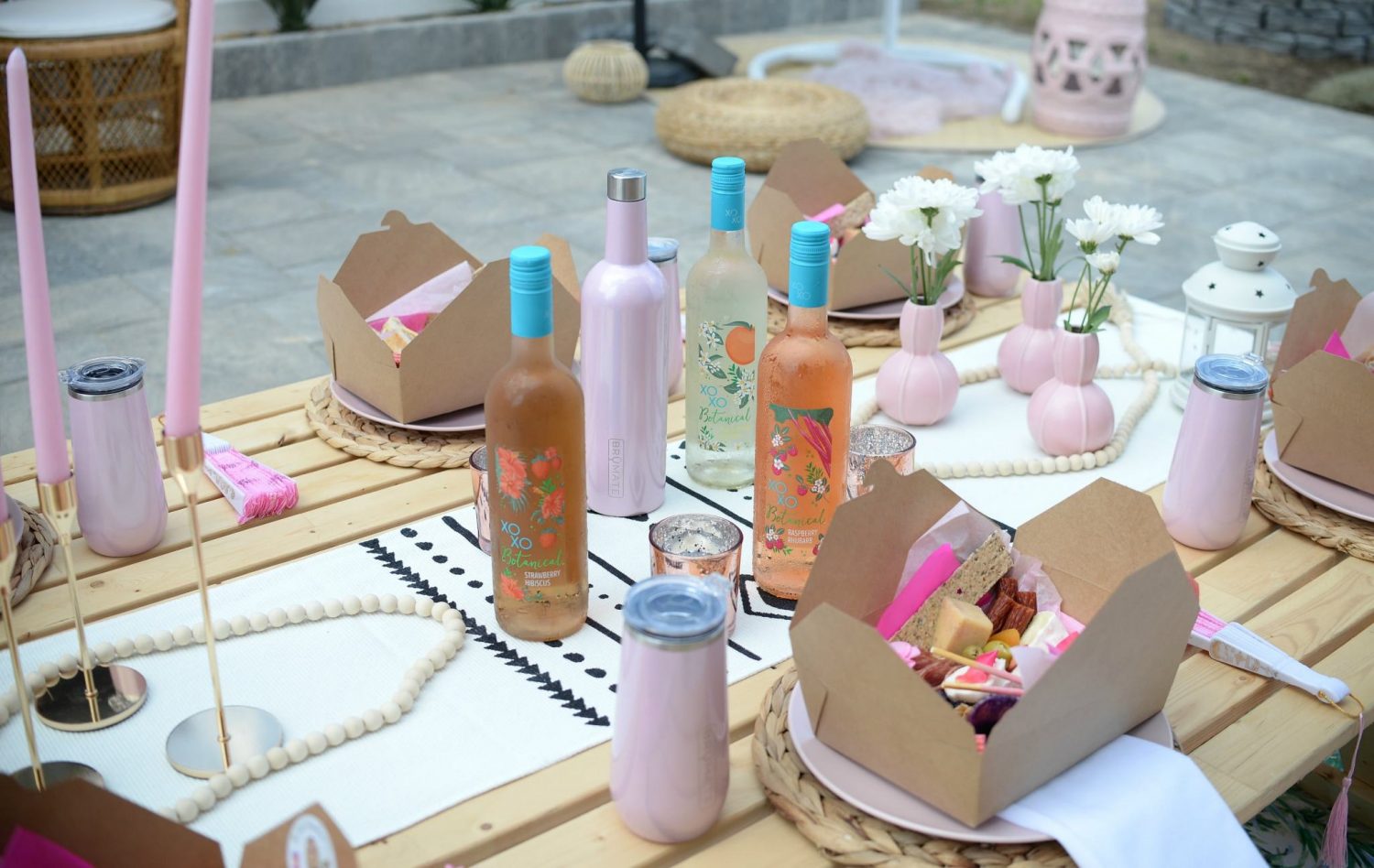 You always need a sweet treat to end the party with. Again, you don't need to spend hours in the kitchen whipping up some fancy dessert, I highly suggest outsourcing that as well. Sticks and Scones bakes everything to order, with fresh ingredients and creates true masterpieces when it comes to baking. You've probably seen her creations several times on my social media, and she's the mastermind behind these delicious cupcakes and cookies. Again, because of Covid, I wanted individual treats, while craving everyone's sweet tooth.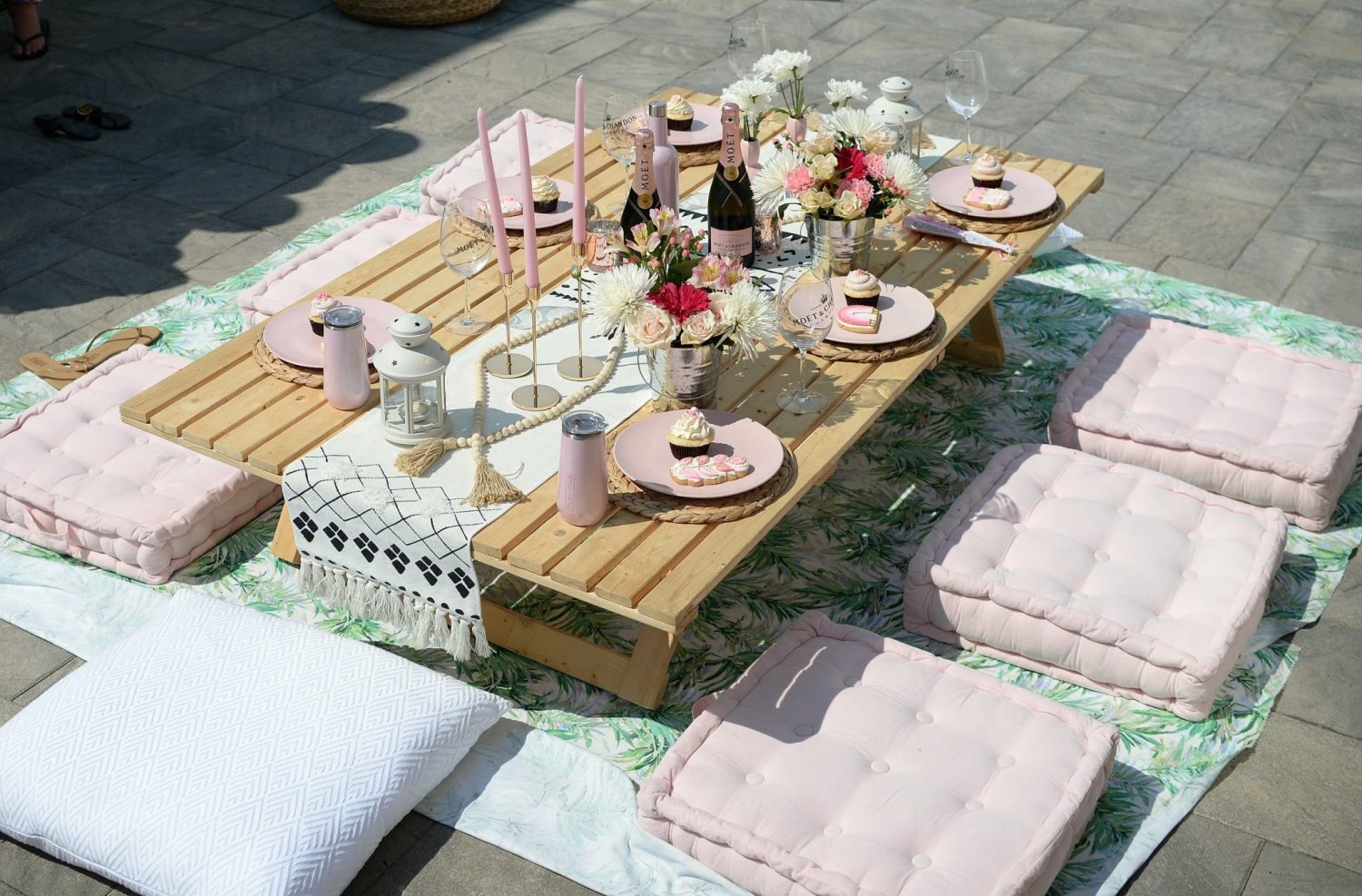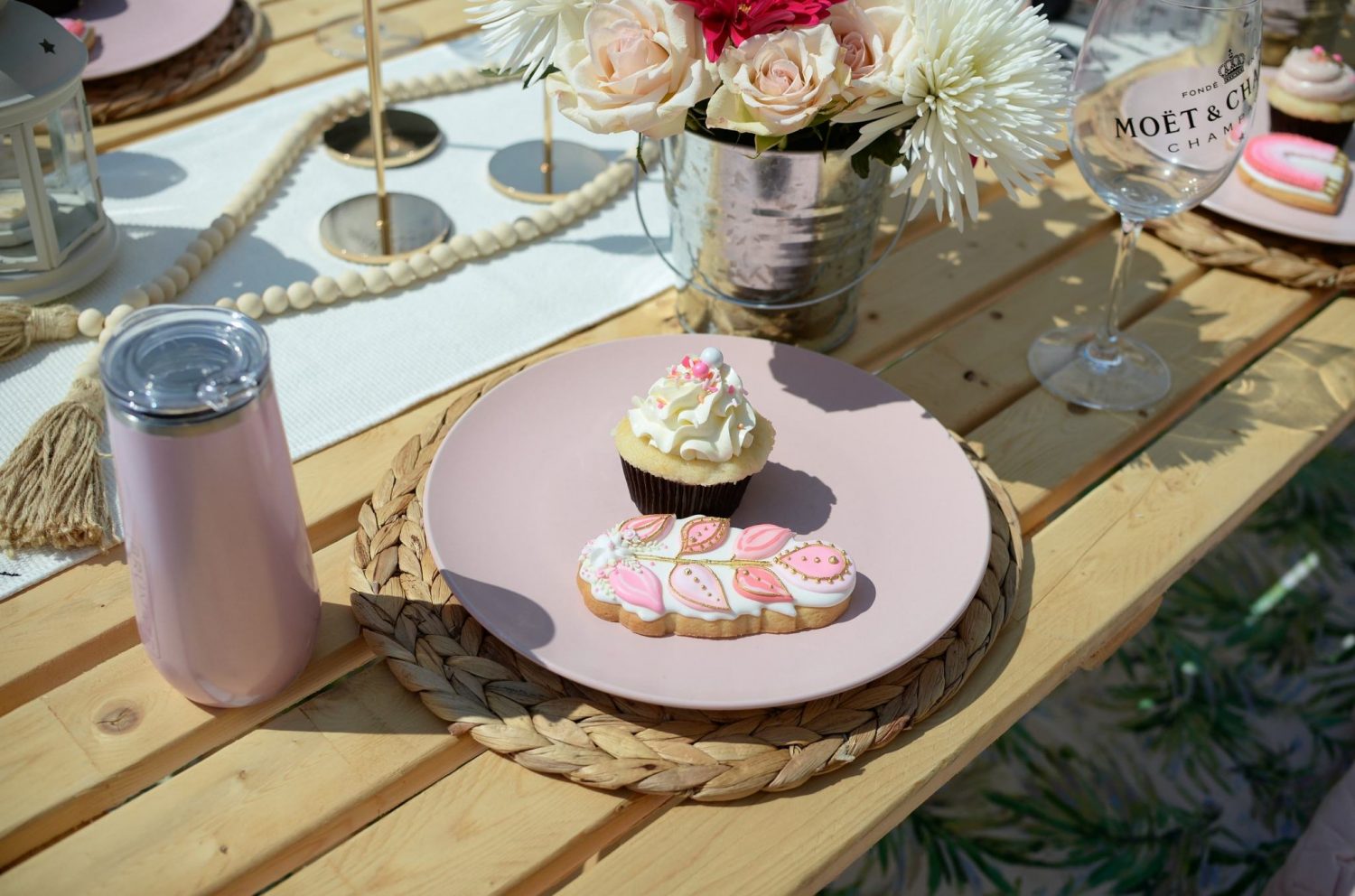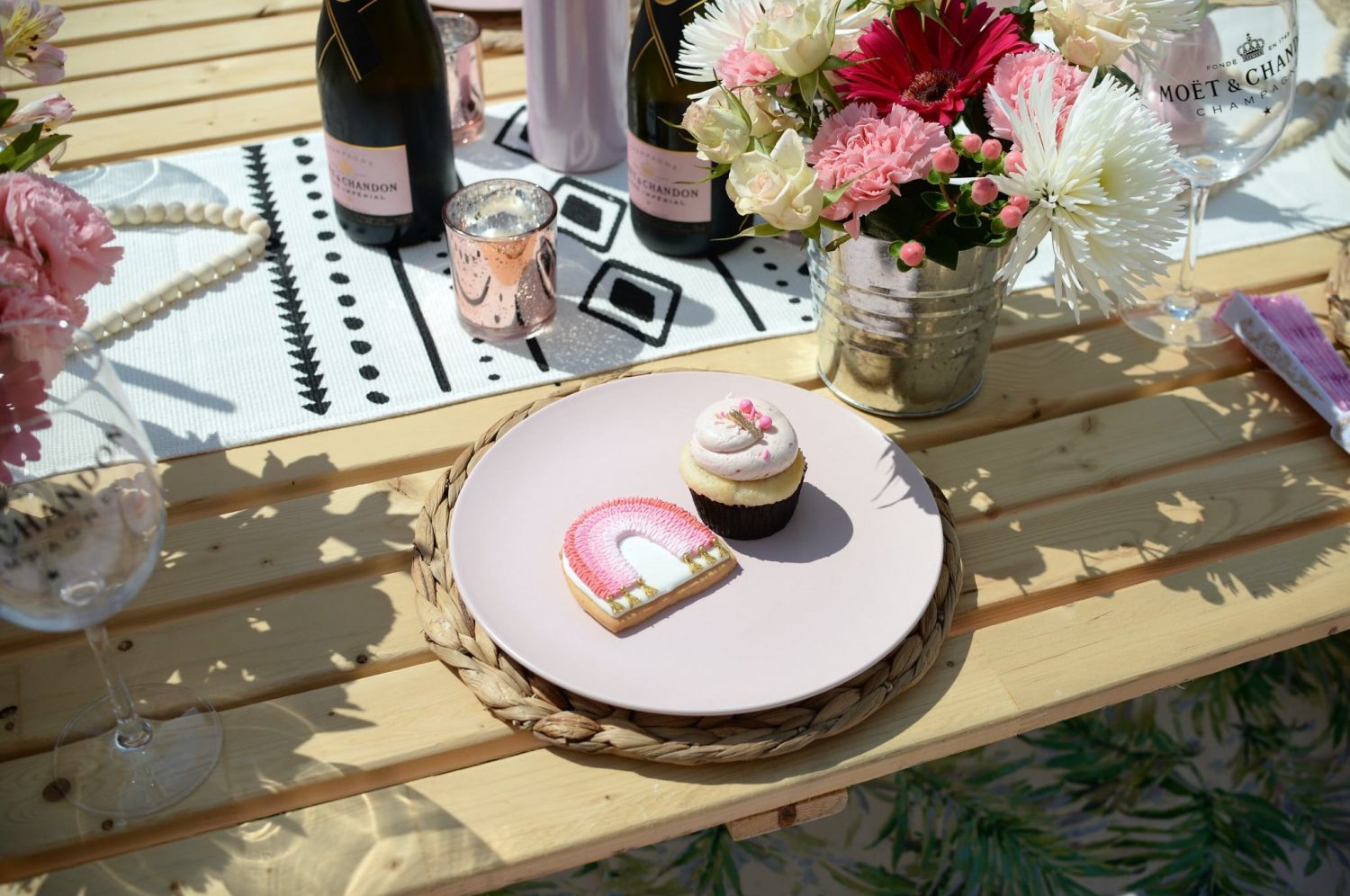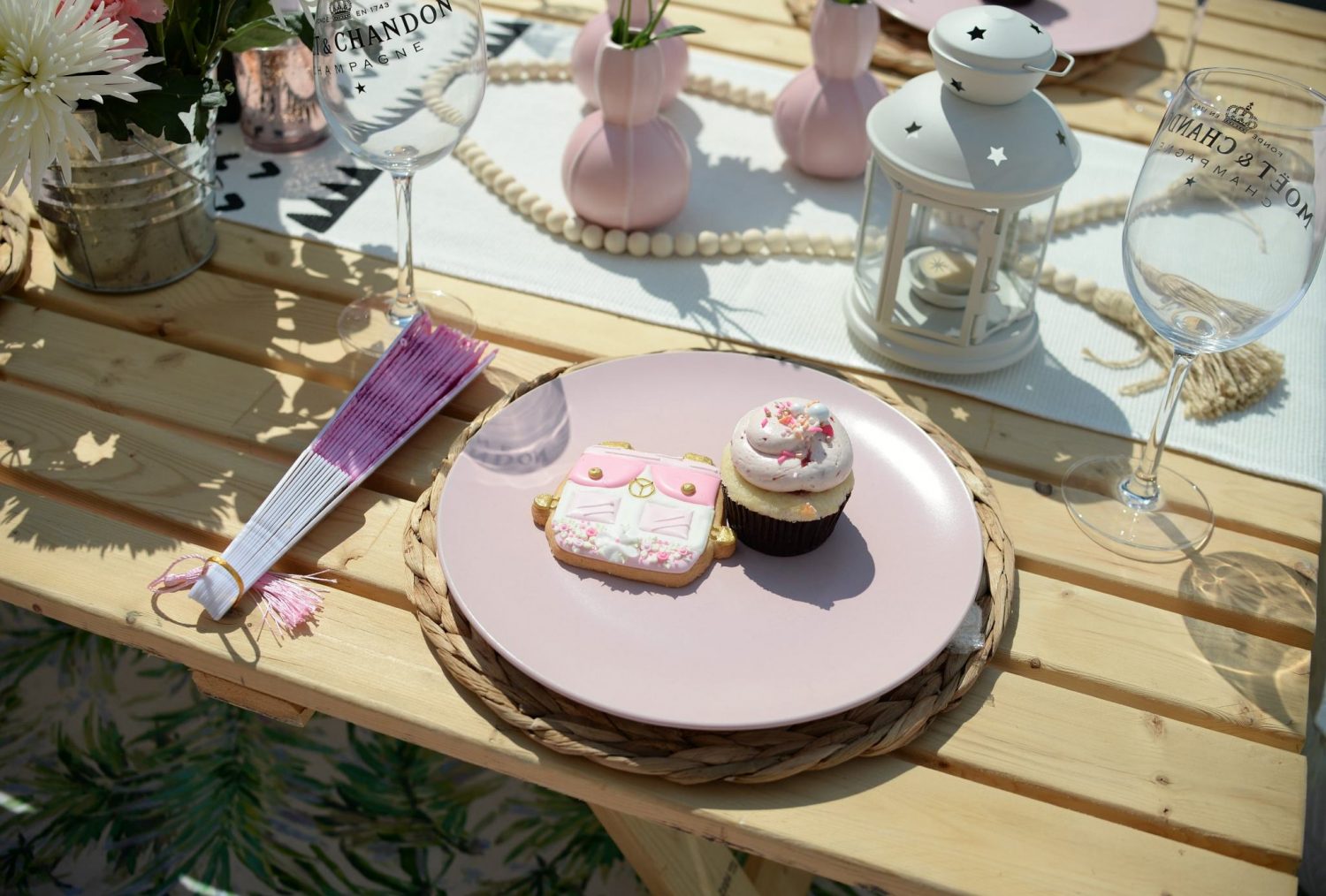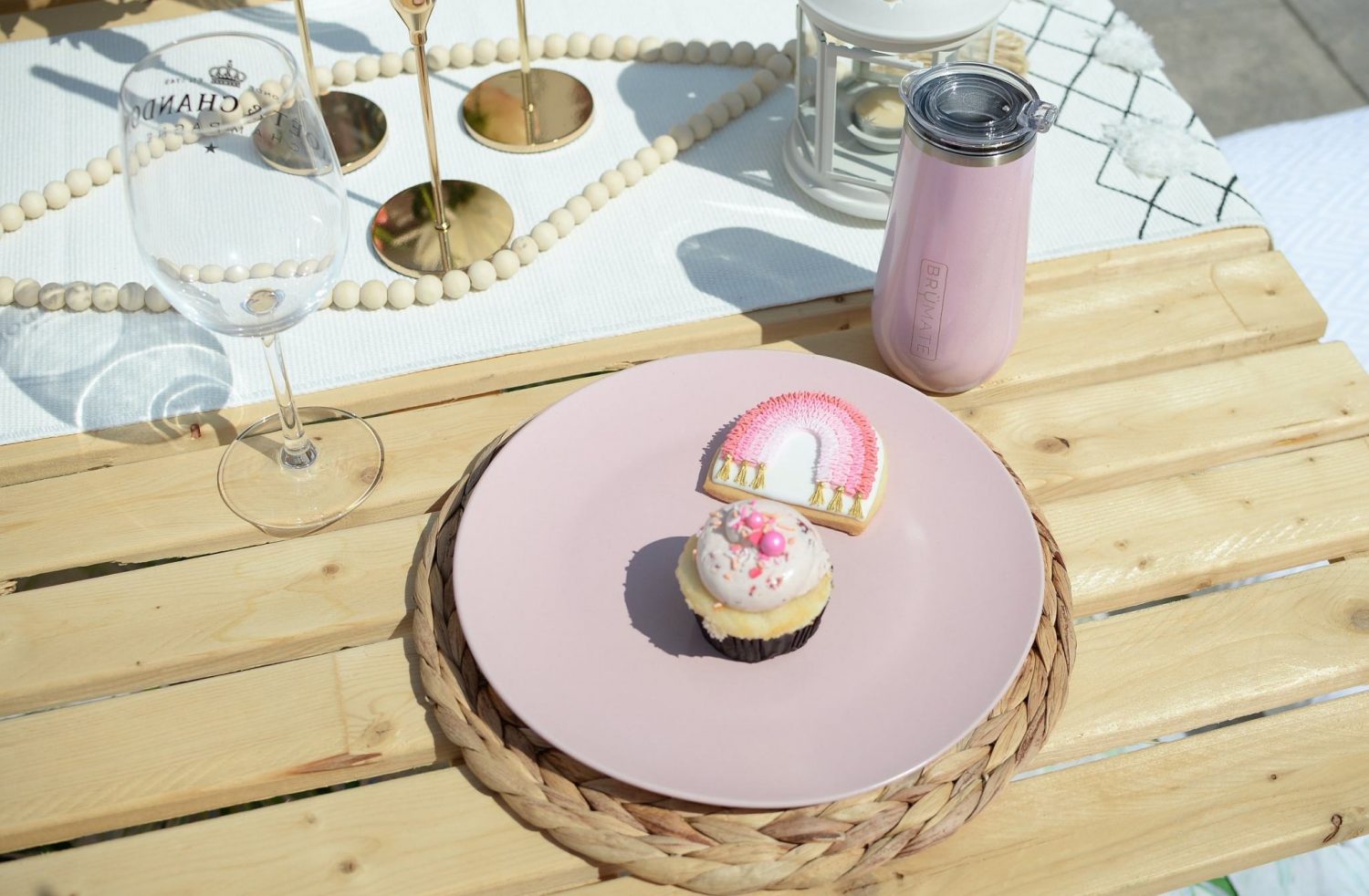 To finish off the day, pop some bubbly. There's something about popping a bottle of champagne that's a celebration on its own. Love is sweet, and so is pink champagne. A fizzy and bubbly glass of Moët is the perfect alcoholic beverage to celebrate with. A bottle of rosé champagne pairs beautifully with sweet treats and almost acts as a dessert on its own.