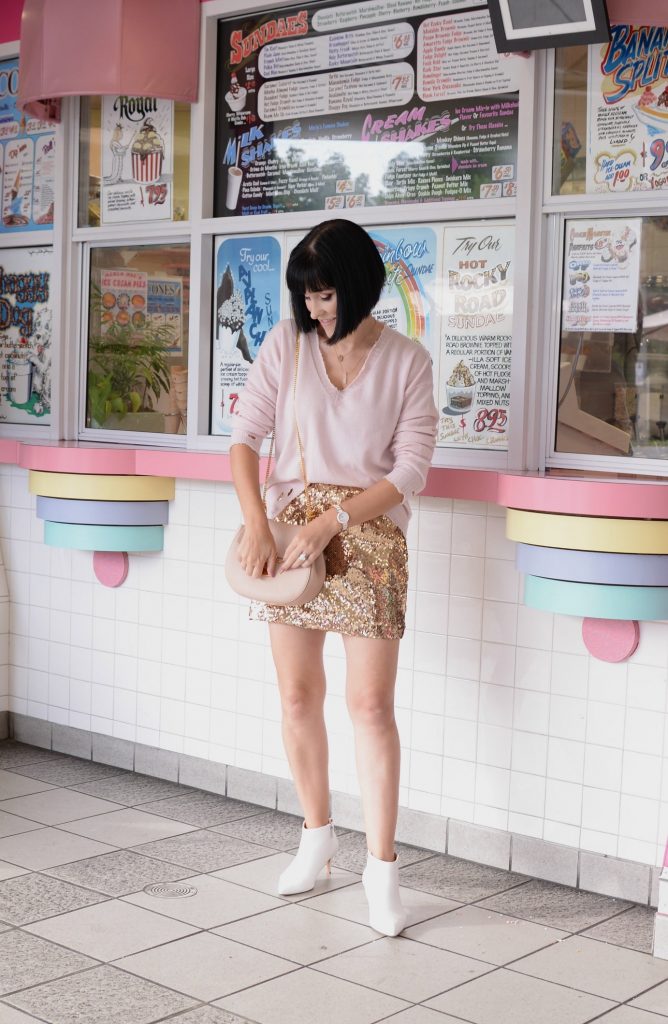 "I'm just trying to change the world, one sequin at a time". I couldn't agree more, Gaga. Although sparkles, sequins and shine aren't for everyone, December is the perfect month to have fun with your outfits. Nothing screams holiday, like a little shimmer. Head to toe sequin, might be a little too extra, so try picking up a sequin skirt or pant. This allows you to have a little twinkle in your look, while still keeping it chic and sophisticate. You can also pair "simpler" pieces, like a cashmere oversize sweater or a faux leather jacket to help balance out the femininity of it and make it more wearable for every day life.
I also suggest keeping your accessory and shoes fairly streamlined and understated. Let the sequin piece be the statement and the rest of your items to tie the look together. This is also perfect for those that don't want to fuss with chunky necklaces or annoying heavy earrings. As you can see from todays look, I kept my accessories to a minim and let the skirt do the talking. Its still a bold and festive look, without looking overdone or too in your face.
A chic sequin skirt, like this Milly one is not only perfect for the holidays and New Years, it could be equally as fun for bachelorette parties or Birthdays. Try incorporating causal pieces from your current wardrobe to transition it into your everyday style. Sequin skirts can look extremely chic when styled in a modern way. The secret to not looking like an 80's disco ball is to keep the top and accessories more casual. For an even more relaxed and weekend look, rock them with a basic tee, oversized cable knit sweater and white kicks.
What I Wore- Current/Elliott Cashmere Sweater- c/o Saffron Road, Necklace- TJ Maxx, Watch- c/o Bulova, Purse- Chloe, Milly Sequin Skirt- c/o Saffron Road, White Booties- Target