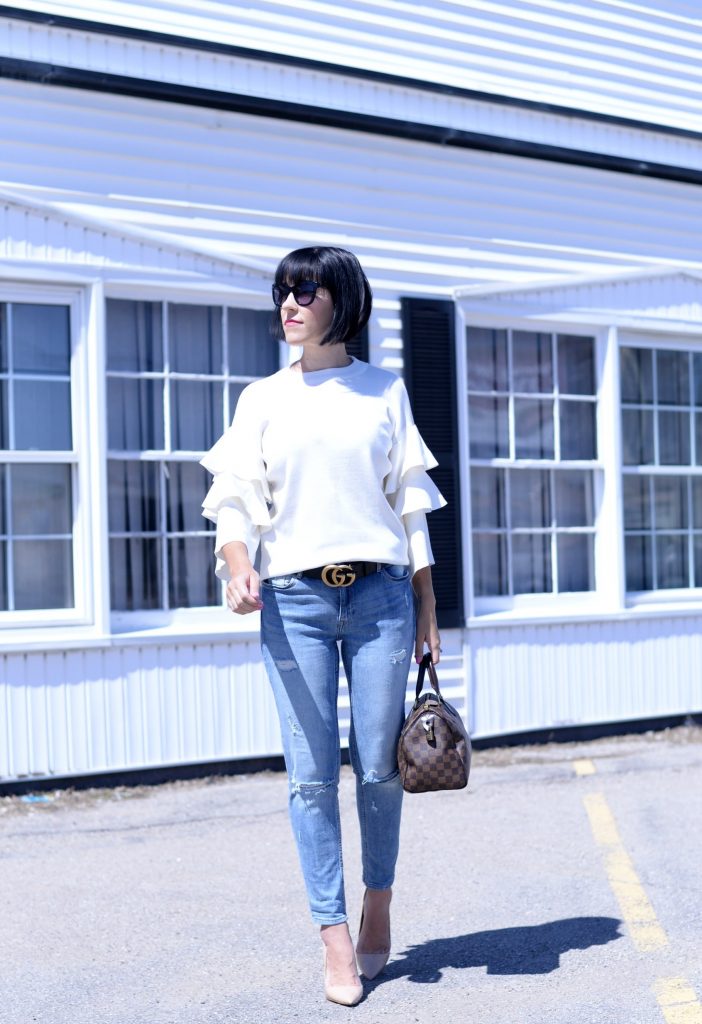 Chicwish Ruffle Sweater
It's Official! Everyone is wearing a statement sleeve. It's no secret that I love anything that can make an outfit visibly more interesting and appealing, and this season it's the statement sleeve. At first you may think its too trendy, but this whimsical and playful top is here to stay. Whether it's an oversize bell sleeve, ruffles, cut-outs or embellishments, this dimensional look will instantly update any look.
 Nothing screams a statement sleeve quite like a ruffle. This Chicwish sweater is loud, fun and attention grabbing. The ruffle sleeve has been spotted on all your favourite street style influencers, models and on the runway. You can easily pick a few ruffles for a subtle look or go crazy with the layering like in today's look. Whether you choose ruffles that completely cover the entire sleeve or ones that start at the elbows, these sleeves are sure to make a statement. Look for a blouse or sweater in a solid colour, like a minimal black or white hue, to ensure the sleeve makes the statement and not the colour, print or pattern.
You can pair your statement top with pretty much anything, cropped pants, skinny jeans, trouser or even skirts. This fashion-forward look will keep you super stylish, chic and right on trend.
What I Wore- Statment Sleeve Sweater- Chicwish, Gucci Belt, LV Purse- Luxe Touch Consignment, Jeans- H&M, Pumps- DSW