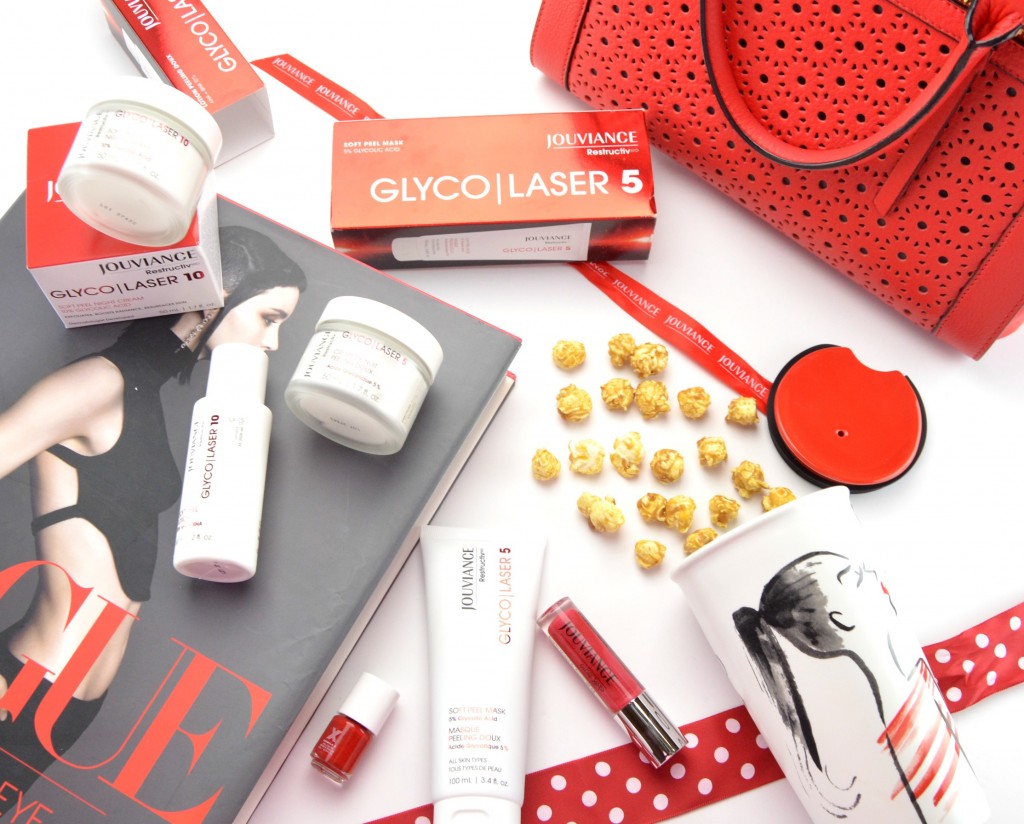 Peel away the years
A few months ago, I was invited to a private dinner with the president and founder of Jouviance. I had the pleasure of chatting about the newest and latest invention from the brand, the Glyco/Laser collection. It's an entire line dedicated to helping you achieve radiant, younger-looking skin through its revolutionary formulas that use glycolic acid to allow you to do soft peels at home. It's not too often I get this excited about a new skincare line, but after talking with Roger about how this new collection will go hand in hand with my monthly chemical peels and current skincare routine, I couldn't wait to try it for myself.
The number one problem I have with using glycolic acid in my daily routine, is how dry it leaves my skin afterwards. I already suffer with extremely dry, dehydrated skin, so when I use anything with AHA, it makes its almost unbearable. That being said, when followed up with an intense moisturizer and hydrating serum, it's an excellent way to improve the skin's appearance and texture. Jouviance has solved the problem of dry skin immediately after using glycolic acid, with its slow-release system. This not only allows for active molecules to penetrate deep down into the basal layer of the skin, but its paired with a combination of moisturizing agents to help balance the skin's dryness. This not only helps to provide long-term anti-aging skincare benefits, but it helps to keep skin hydrated. Its unique hydrating formula ensures your skin is never left feeling dry, itchy or irritated.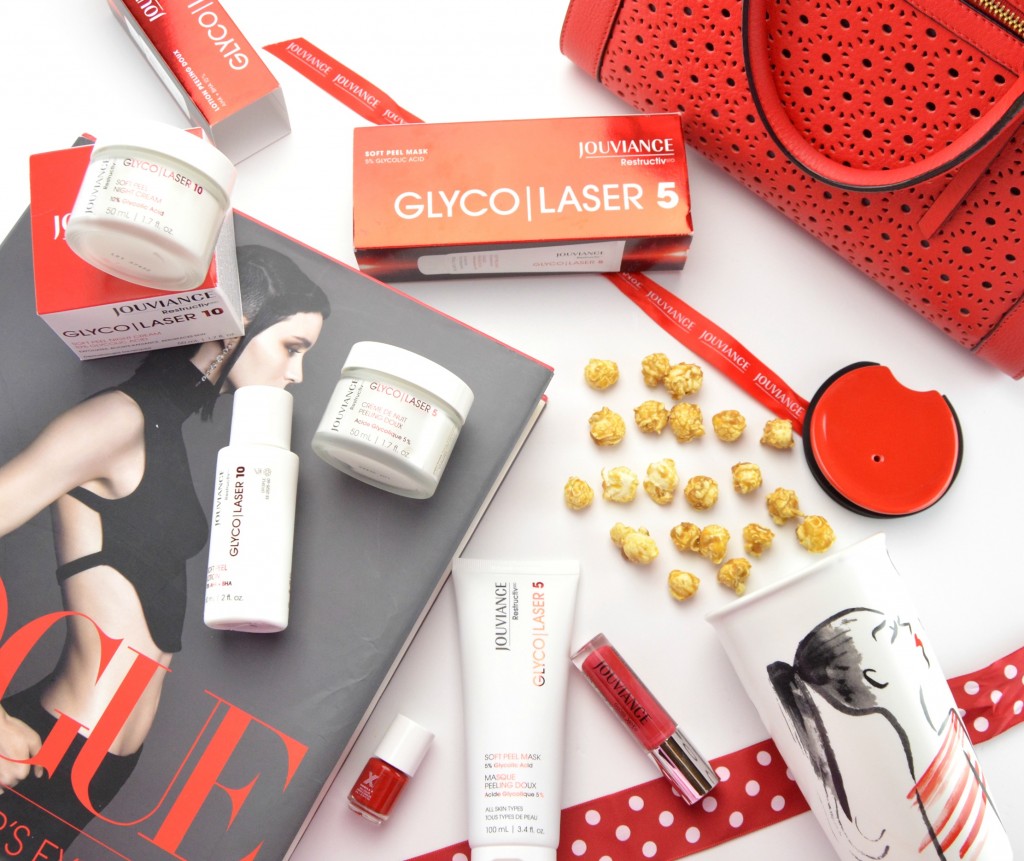 Jouviance Glyco/Laser Collection is formulated with calmosensine to help stimulate endorphins to provide a calming effect that helps reduce tension and inhibits muscle contractions which can cause wrinkles and expression lines, allantoin that helps to stimulate cell regeneration, along with bisabolol that provides an anti-inflammatory and antibacterial effect while promoting skin healing. It's also formulated with hyaluronic acid and jojoba seed oil to hydrate and plump up the skin, aloe and vitamin E to provide anti-inflammatory and antioxidant protection, along with shea butter to help restore skin's moisture balance.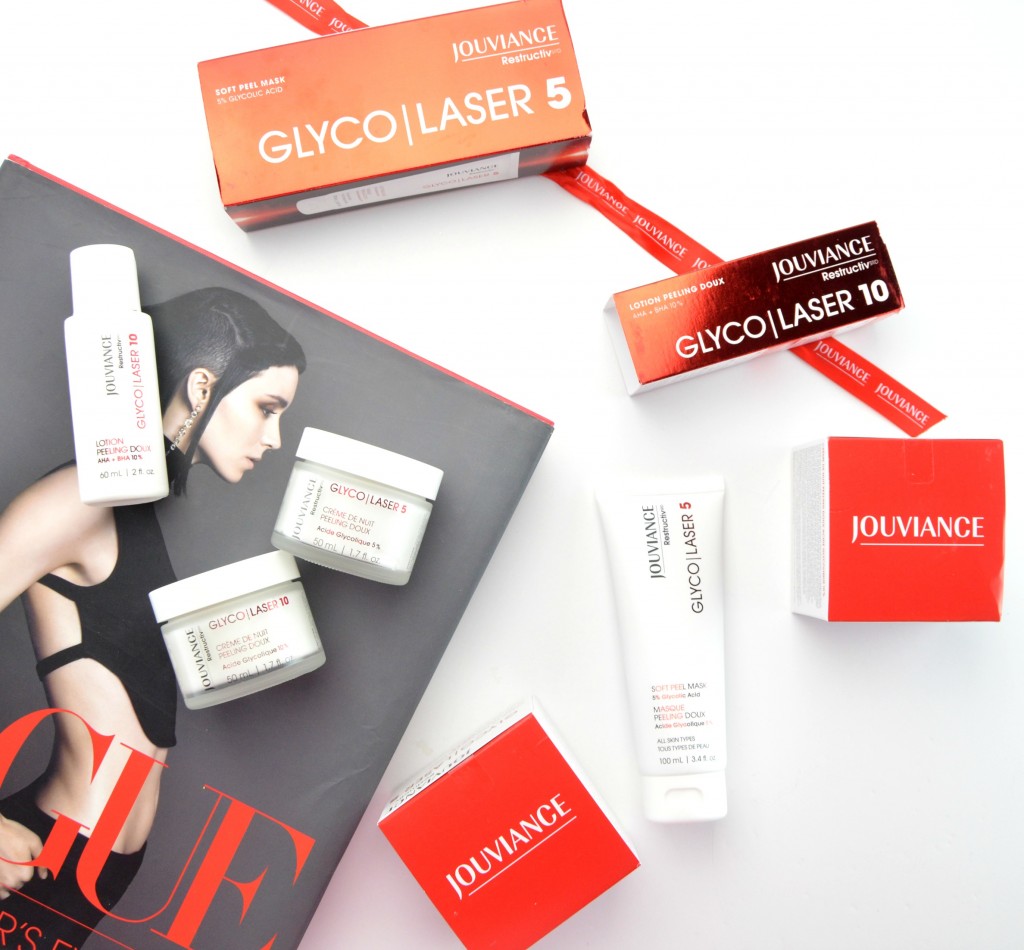 Since the Jouviance Glyco/Laser Collection features a high amount of AHA in all products, its best saved for evening when the skin naturally regenerates itself. Ideally it's also best used in the winter months, when your skin isn't exposed to as much sunlight as it is during the summer months. It's highly important to wear SPF and try to limited yourself to as little sunlight as you can, as your skin is more sensitive and sustainable to light. This can actually cause future damage if not protected correctly.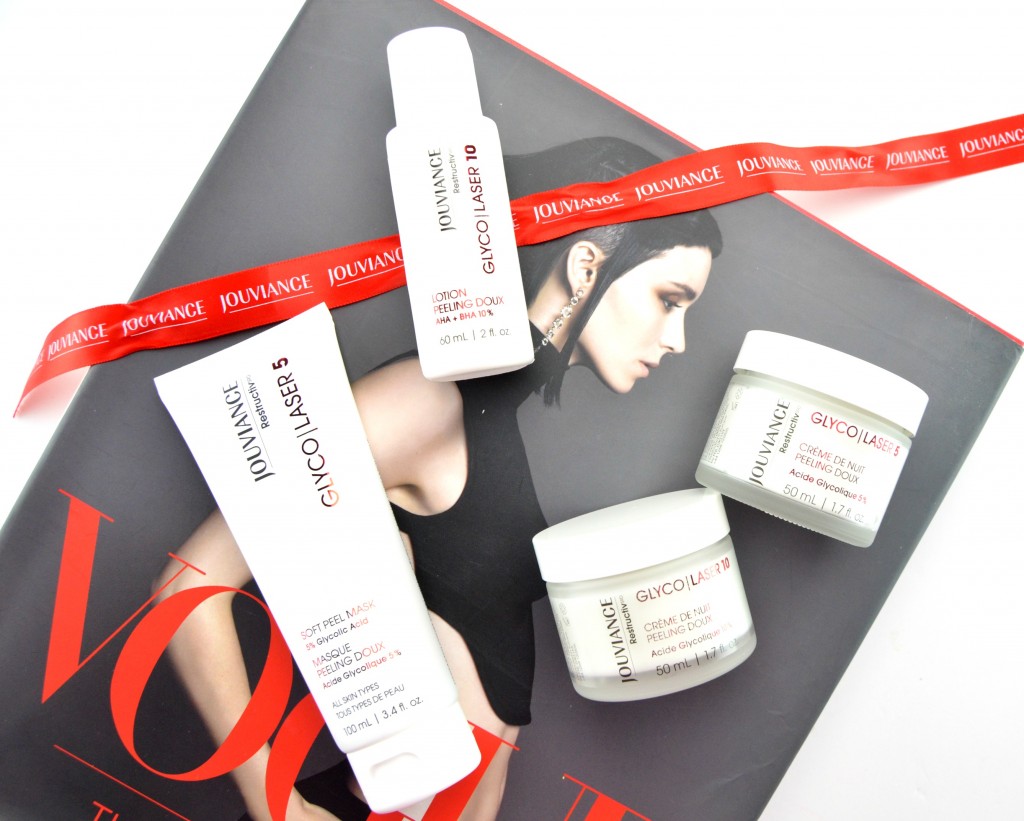 Jouviance Glyco/Laser Soft Peel Lotion 10% AHA + BHA is an intense dual-action skin resurfacing lotion that contains a 10% hydroxy acid complex made up of 8% AHA and 2% BHA to help detoxify and hydrate the skin. It helps to diminish the size of pores, improve wrinkles, reduce hyperpigmentation and clear up breakouts and acne. It leaves your skin visibly smoother, soft and with a radiant finish.
I've been using Jouviance Glyco/Laser Soft Peel Lotion 10% AHA + BHA in the evening after my daily cleanser and toner. It has an incredibly lightweight, invisible texture that instantly goes to work by gently exfoliating the skin. Not only does it apply evenly and smoothly, it helps to improve collagen, which helps to firm the skin, while reducing and fading the signs of sun damage. In the few short months that I've been using it, along with my monthly chemical peels, I've already noticed a huge improvement in the brightness and smoothness of my skin. It really does an amazing job at correcting the unevenness of my skin tone. It retails for $40 for 60ml.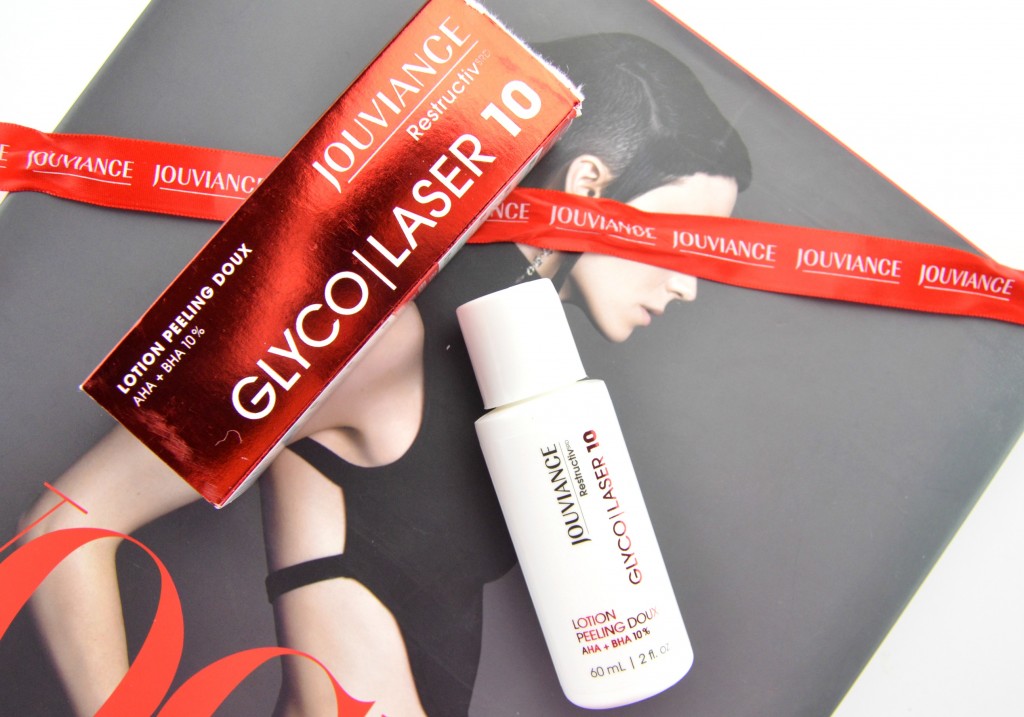 Jouviance Glyco/Laser Soft Peel Mask 5% Glycolic Acid features both AHA and BHA, along with 2 earth clays to help deliver a superior multi-action exfoliation. Its non-drying formula helps to hydrate and smooth the skin without being irritating. It too helps to diminish the size of pores, reduces hyperpigmentation and sun spots, clear up breakouts and acne, while providing visibly smoother, softer, radiant skin.
Since I have a pretty high tolerance of peels, I've been using Jouviance Glyco/Laser Soft Peel Mask 5% Glycolic Acid 3 times a week. I highly suggest starting off with once a week and working your way up. This is the perfect add-on to my chemical peel treatments as it gently exfoliates and refines the skin. I apply it evenly to the skin, leave it on for 10 minutes, before washing it clean away. It gently sloughs away all dead skin cells for an instant fresher complexion. If you have a dry, dull complexion, not only will this help brighten your skin tone, it leaves it feeling baby smooth and soft. It also helps to fight against future breakouts without leaving the skin feeling parched, dry or irritated. Over time I can see this helping with dark spots and hyperpigmentation, as my skin is already looking more youthful and with a radiant glow. It retails for $40 for 100ml.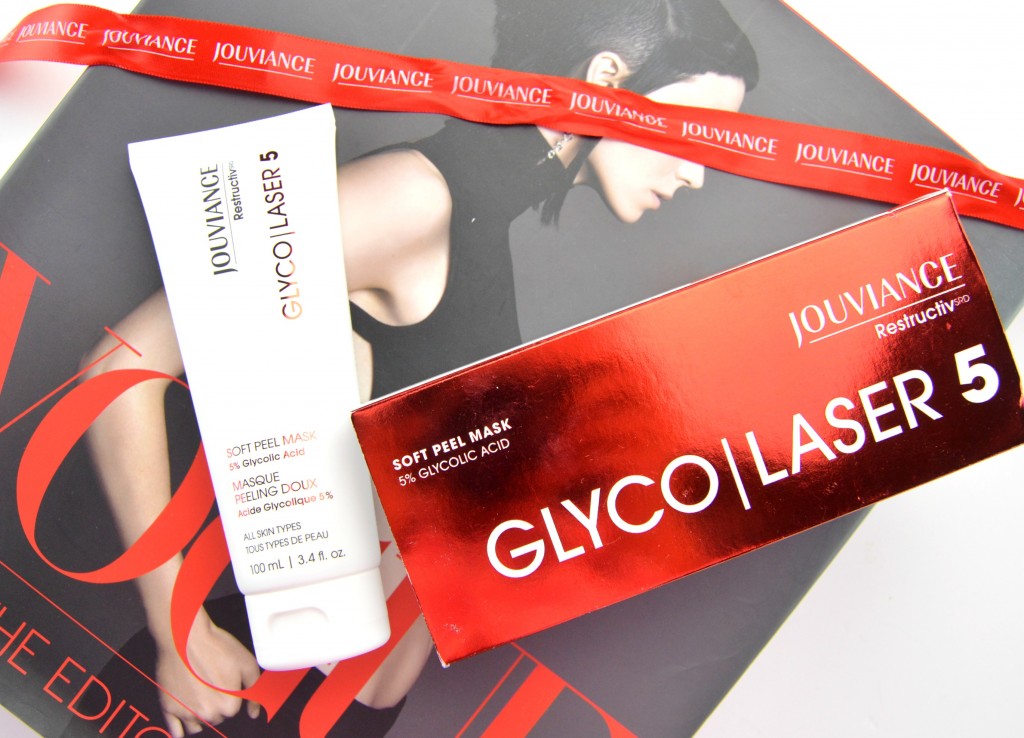 Jouviance Glyco/Laser Soft Peel Night Cream is a nightly cream that helps to hydrate and firm the skin while you sleep. It helps to instantly remove dead surface skin cells to visibly diminish the look of wrinkles, pores and hyperpigmentation overnight. It will help to promote a more radiant, even skin tone by the morning. The 5% Glycolic Acid formula is perfect for those just getting started and want to slowly introduce glycolic acid into their daily beauty routine, whereas the 10% Glycolic Acid formula is designed for those, like myself, who are already familiar and have been using glycolic acid for a while.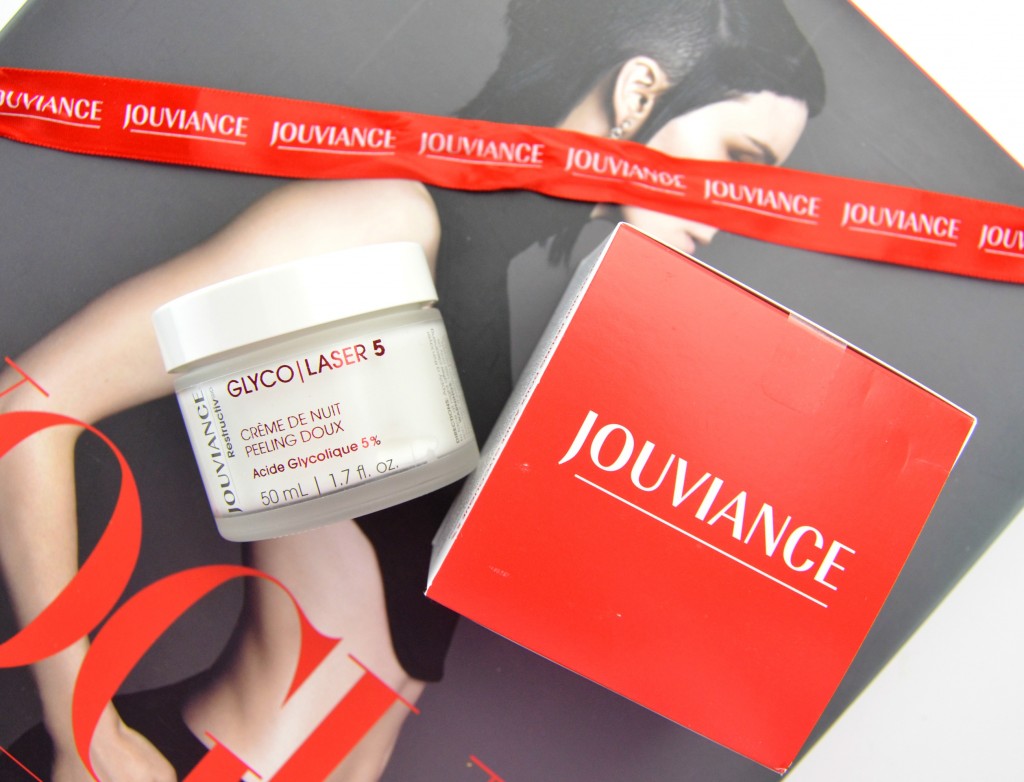 Jouviance Glyco/Laser Soft Peel Night Cream is the best of both worlds, an exfoliator and night cream in one. This is perfect for those that don't want to fuss with two different products, but still looking for an effective at-home option. It's lightweight, yet highly hydrating formula helps to even out skin tone, while keeping skin extremely moisturized. It's unlike any other product I've tried before, and the one I'm most excited about. Out of the entire collection, and if you were going to try only one, this would be the one I recommend. Whether you try the 5% or 10%, both have wonderful benefits for younger looking skin in just weeks. It retails for $40 for 50ml.