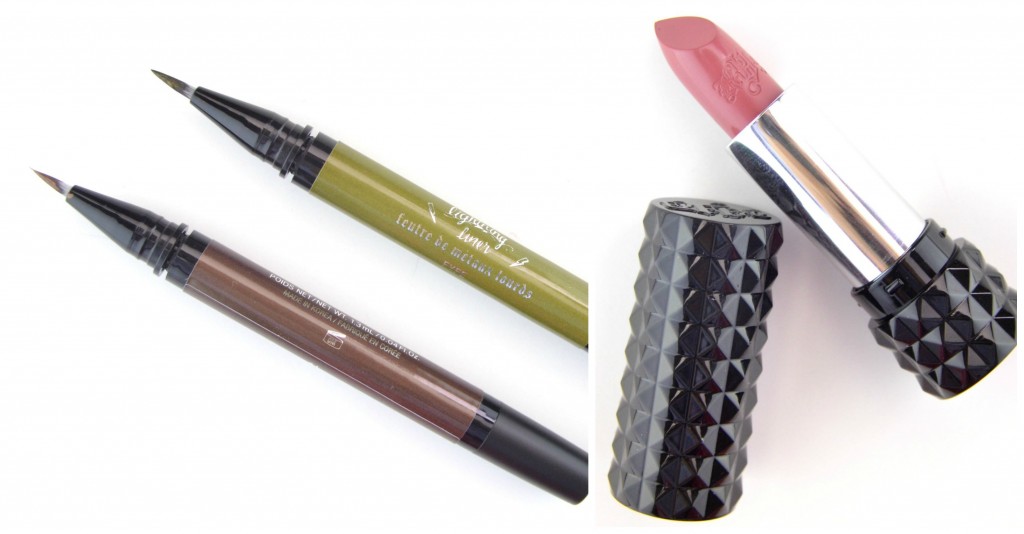 Kat Von D Fall 2014
Kat Von D Lightning Liner is a richly pigmented liquid metallic liner with a precision brush tip to help define the eyes with intense shimmering colour for unforgettably bold eyes this season. The exclusive design helps deliver sparkling colour, for a stunning metallic effect that you've never seen in any other liquid liner pen before. Kat Von D Lightning Liner has a click-activated pen dispenser that helps provide the perfect amount of product onto the attached brush for easy application and lining control. The ultra-fine, flexible, slightly blendable, bristles come to a fine point for precise and easy control. Its creamy, somewhat drier texture glides across the eyelid with ease to create a smooth, even line each and every time. It doesn't pull or tug making it effortless in contouring to every eye shape. to deliver multiple looks. You can easily achieve a thin, barley there look to an intense, bold and dramatic line. It dries fairly quickly, but allows you enough time in between layers to apply a second coat for stronger colour payoff. It's highly pigmented, with true opaque colour, with a metallic finish. Its long lasting formula provides smudge-proof and budge-proof looks that last throughout the day without fading or cracking.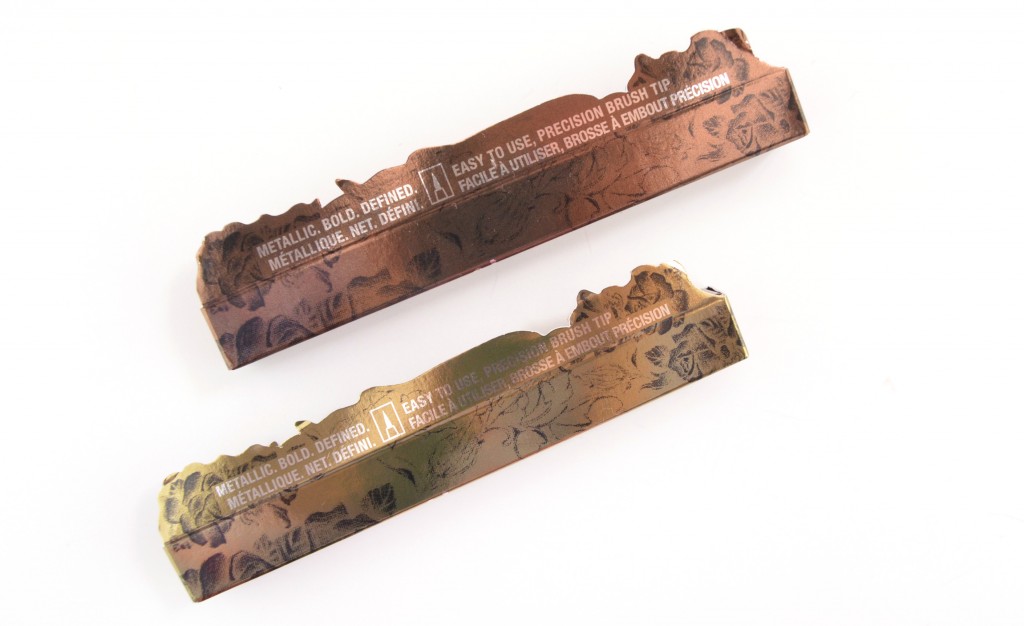 Upon opening Kat Von D Lightning Liner, it's important to read the directions on how to put it together and activate it for the first time. Although not very difficult, it is, unlike any other product I've tried before, so I wanted to make sure it was opened correctly. You first must remove the protector ring between the body and cap, then turn it upside down and push the cap into the body until it "clicks" into place. When going to use it, simply open the cap, twist it a few times until you see the colour appear on the brush and apply as normal. When closing the cap, make sure you hear it "click", to help prevent it from drying out.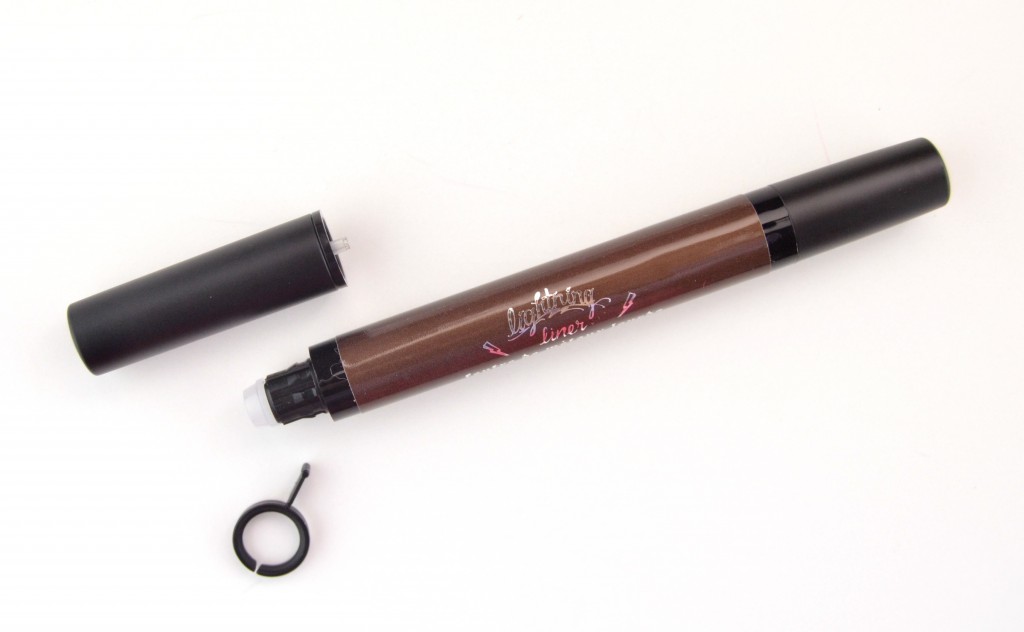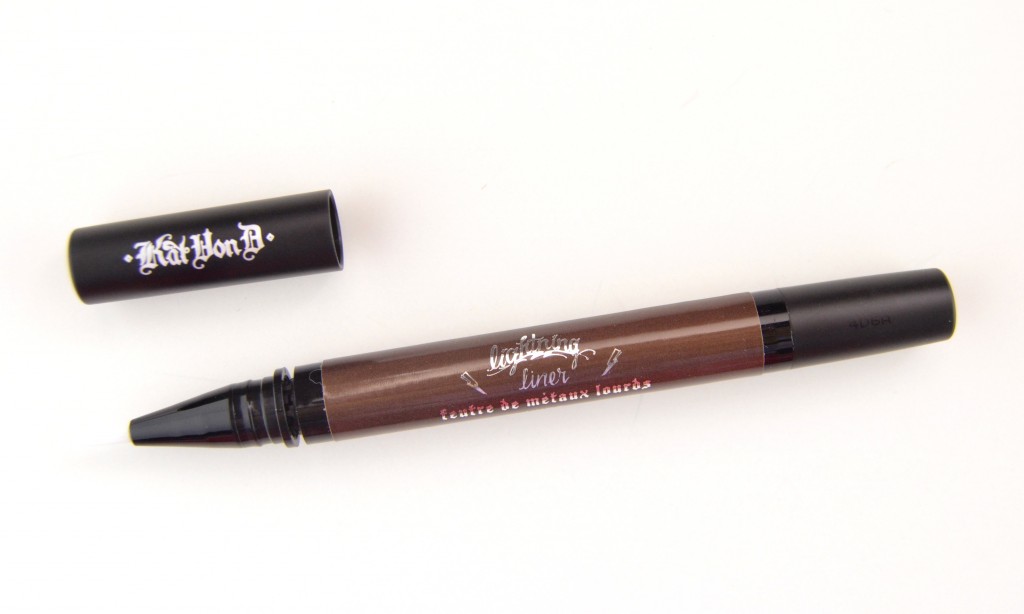 I often find that liquid pens don't give the true opaque colour that I'm looking for, but after I got used to the packaging and application process, the Kat Von D Lightning Liner was a breeze to work with and the pigmentation is what I look for in a good eyeliner. Another thing I dislike about liquid pens is how quickly they dry out, I've been using this liner for a solid month and it's as good as the day I opened it. I love that you only need to twist the cap once to bring enough product up onto the brush. It's smooth, creamy, easy to apply and the pigmentation is truly out of this world. It is a wear all day liner, it doesn't smear, fade or budge for a solid 12 hours.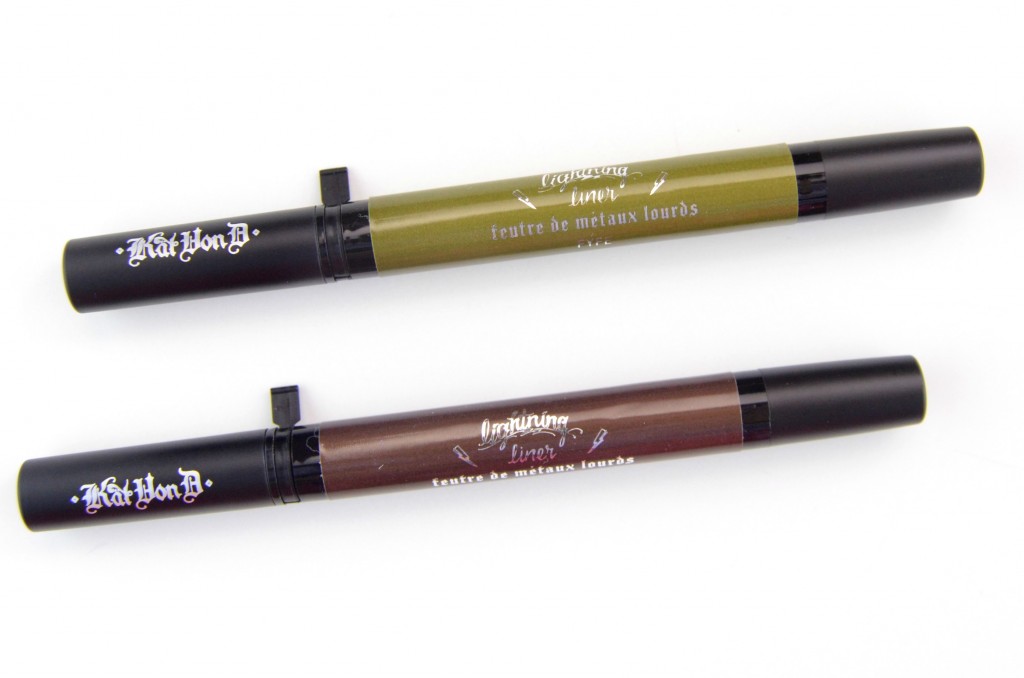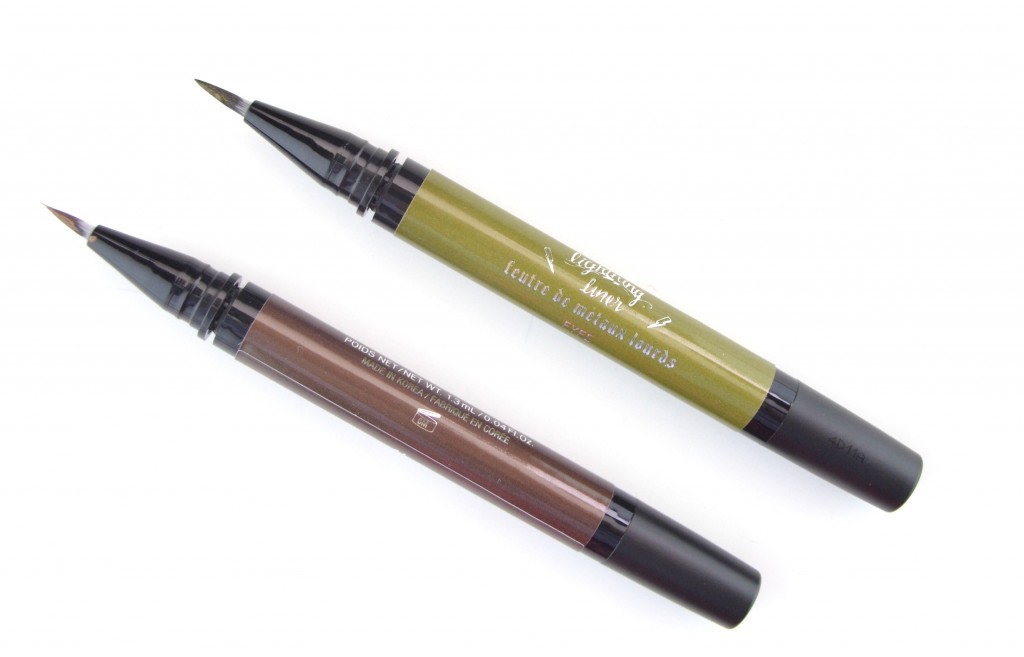 Kat Von D Lightning Liner in Hyde is a metallic deep brown with bronze shimmer throughout it.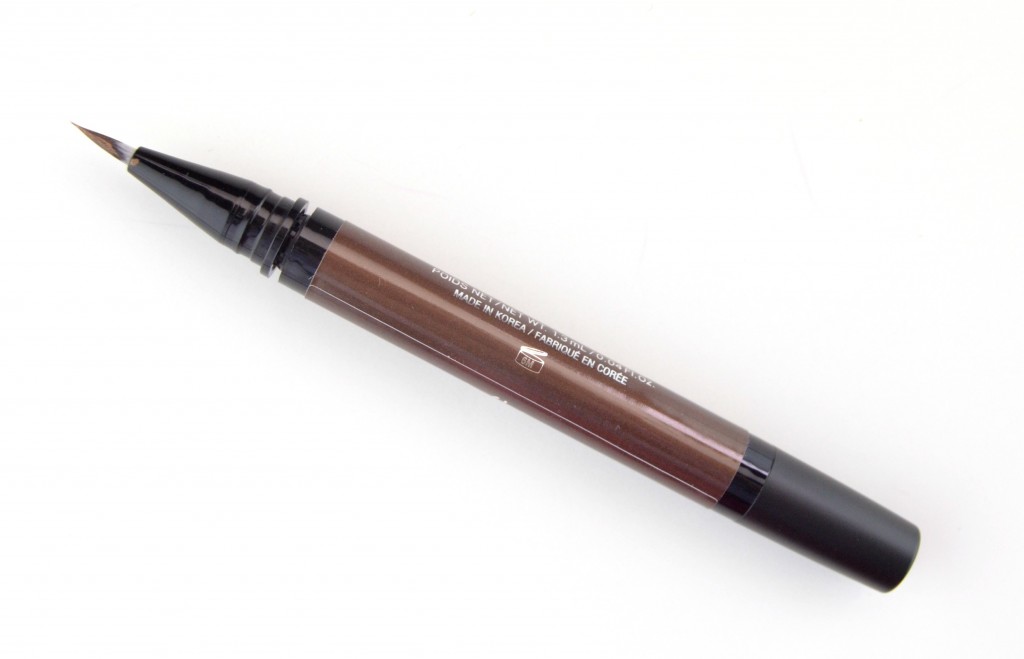 Kat Von D Lightning Liner in Fyfe is a metallic khaki green with gold shimmer.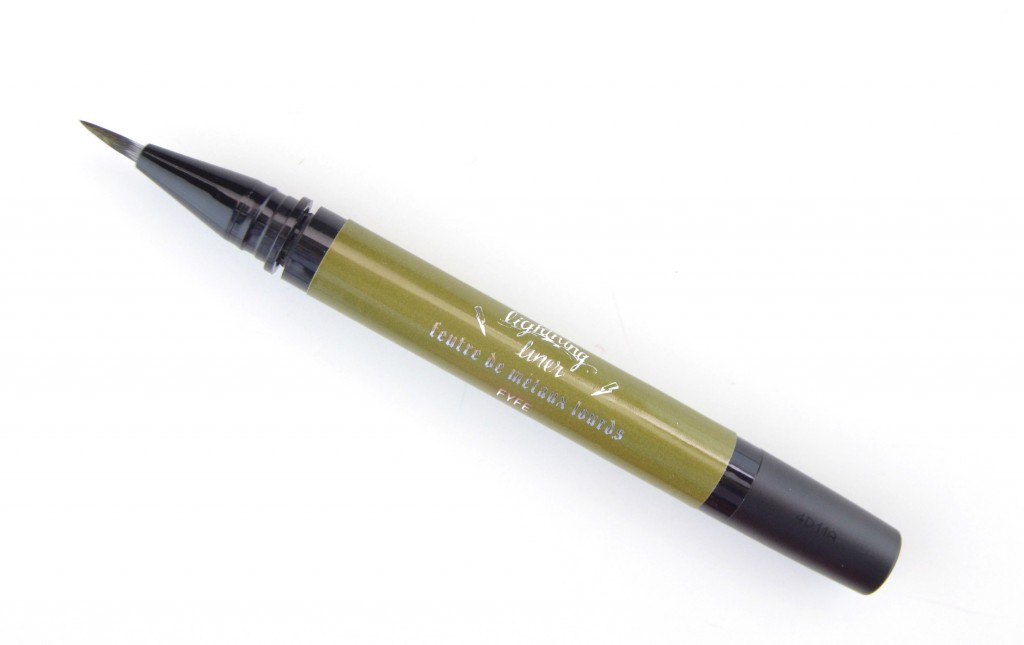 Also in the collection is Kat Von D Lightning Liner in Color Poe (metallic purple with violet shimmer), Jett (metallic black with silver shimmer), Hex (metallic deep burgundy with plum shimmer) and Juno (metallic forest green with emerald shimmer) and retails for $25.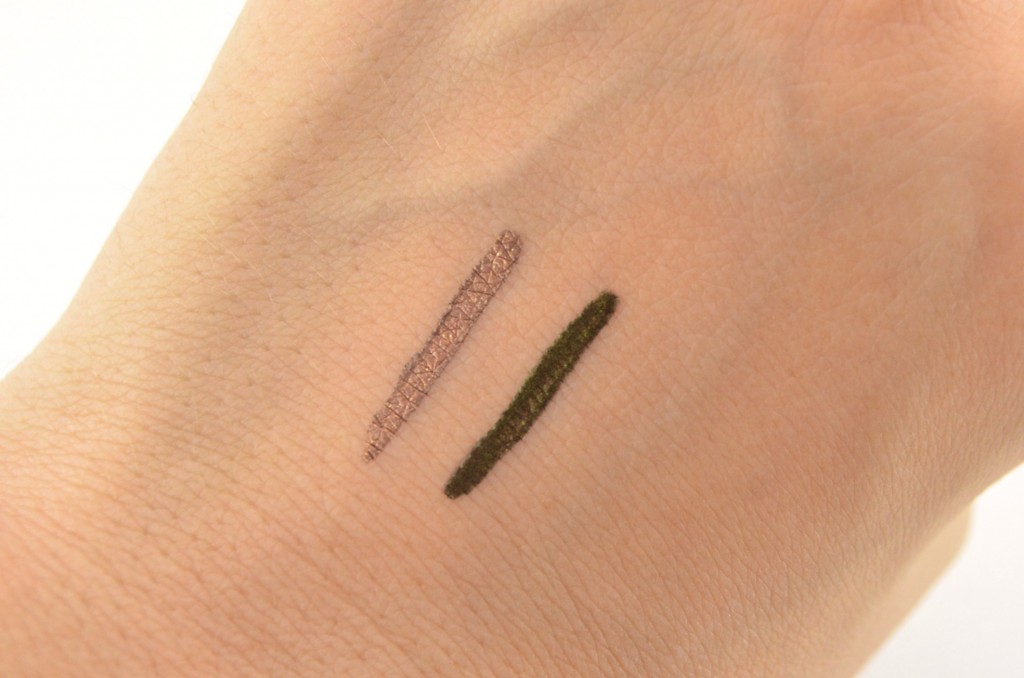 Kat Von D Studded Kiss Lipstick is an innovated product that delivers high performance, bold punches of colour with a luxe comfort with longwearing formula. This hybrid lipstick is not only formulated with Color Cushion Technology that helps provide 10 hours of budge-proof wear with vibrant colour, it's also infused with vitamins A, C, and E to help keep lips soft, smooth and moisturized. Its large colour spectrum, a total of 30 new shades, is perfect for all skin tones and done in an array of shades from your classic everyday neutrals to bright, bold pops of colour.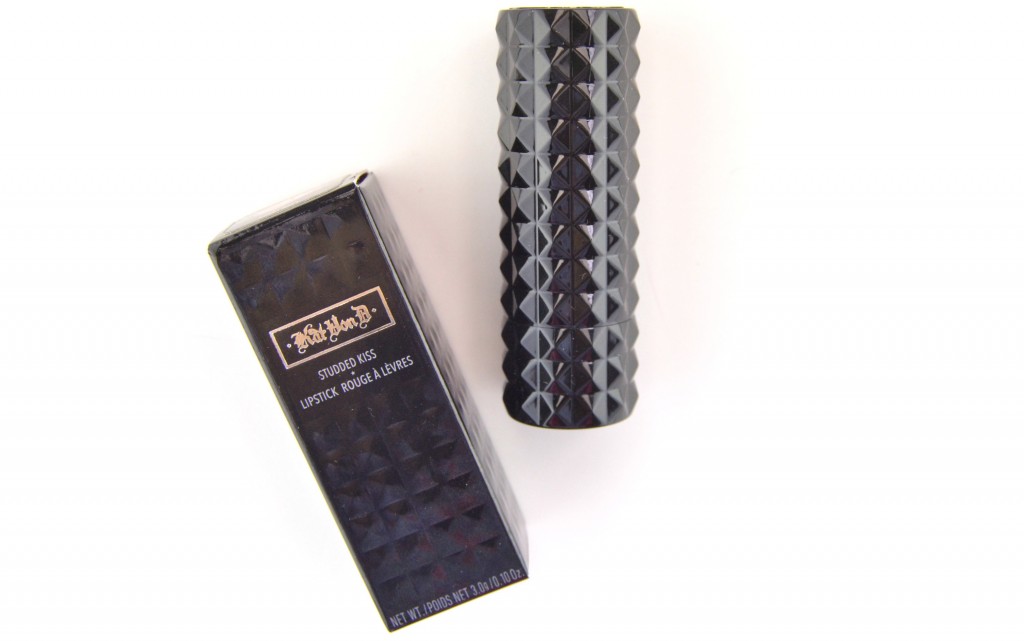 Kat Von D Studded Kiss Lipstick comes packaged in a studded black case that's inspired by Kat's very own, favourite bracelet, and it truly reflects her signature style. Its monochromatic casing is also studded and topped with KVD monogram on the outer crown and bullet. It has a lightweight, creamy texture that almost glides and melts onto the lips. It doesn't cling, pull or tug on the lips and applies with an even, opaque colour in a few easy swipes. It's velvety smooth, extremely comfortable and has a crème brûlée scent that provides a subtle and sweet experience every time you apply it. It lasts throughout the day and well into the evening without bleeding into fine lines, smudging or budging.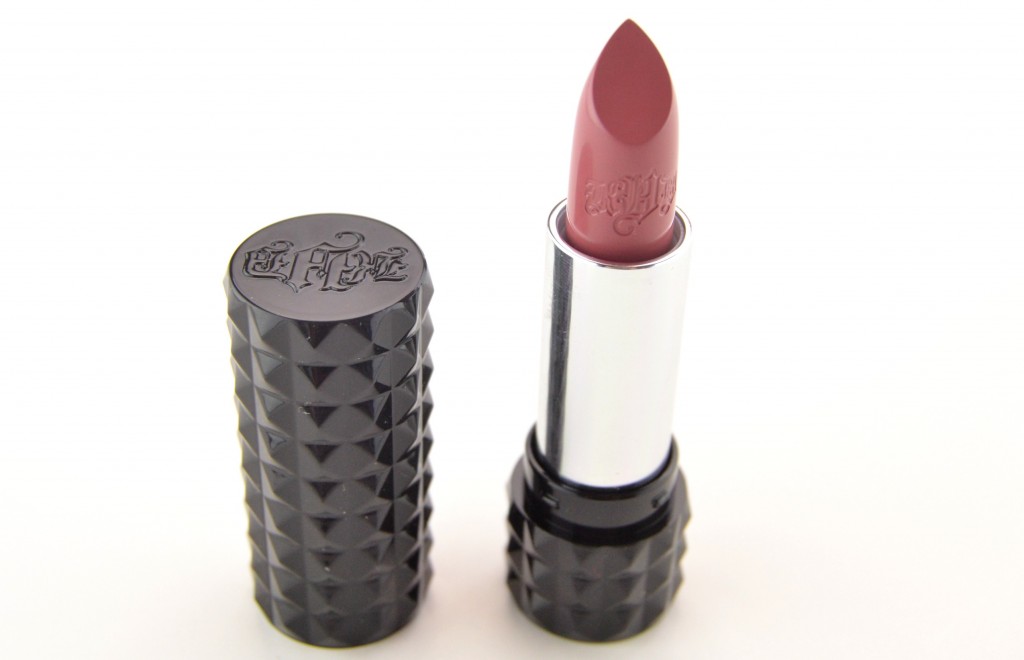 I love the unique and wide variety of the Kat Von D Studded Kiss Lipstick collection. Although all shades provide a matte finish, it has a wide variety of finishes. It has a crème matte finish with no shimmer or glitter, a metallic with a shimmery finish, a metallic duo-chrome finish, along with a shimmery, glitter finish all over matte finish. Its rich, highly pigmented colour coverage provides 12 hours' worth of wear time, no matter how much I drink or eat. It felt comfortable throughout the day without feeling heavy, dry or cakey. It comes in 30 new shades and retails for $26.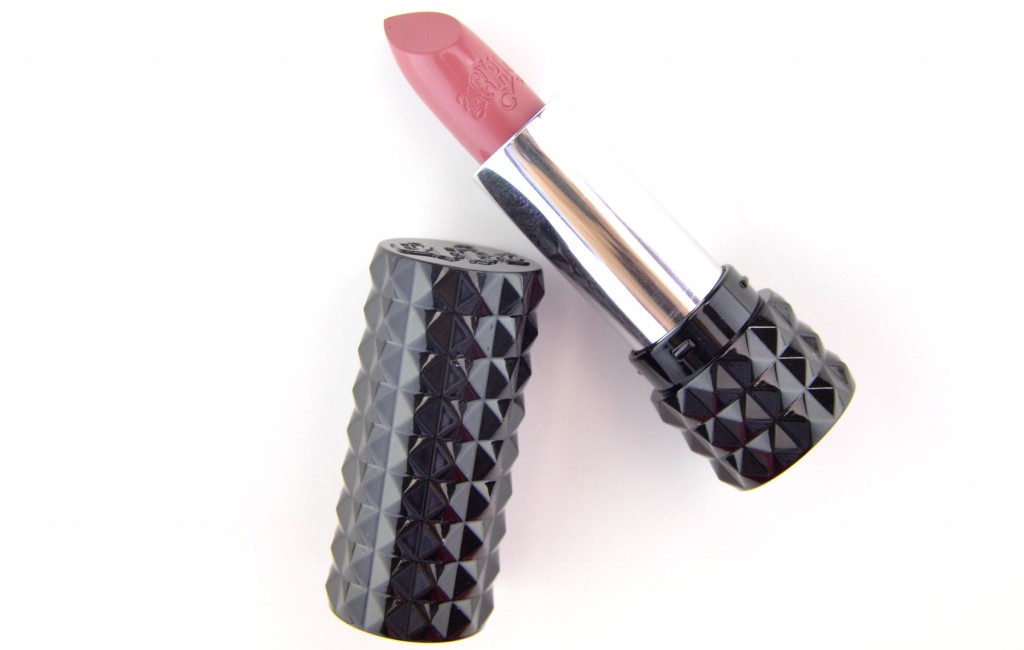 Kat Von D Studded Kiss Lipstick in Lovecraft is a matte pink with a mauve undertone.