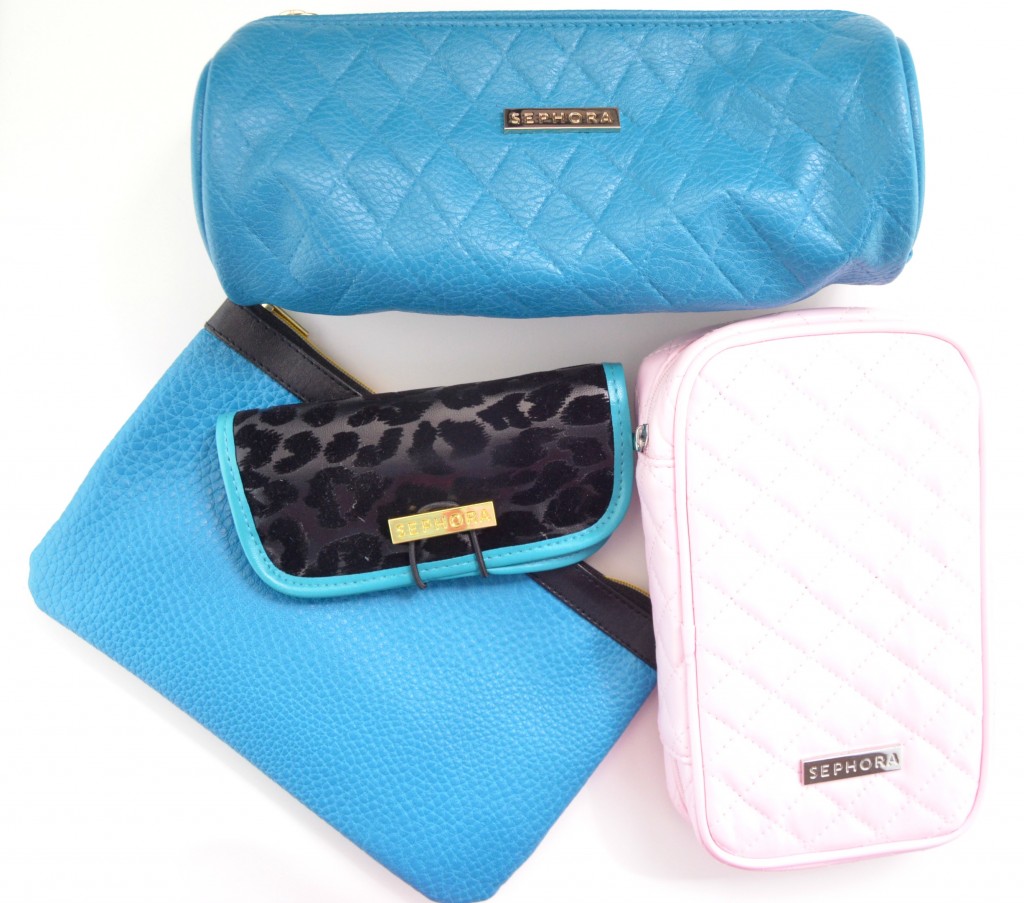 Embrace your bold style
A few months ago, I shared with you my top picks from the Sephora Collection Tools And Accessories for Summer 2014 and now I'm here to give you a sneak peek of the Sephora Collection Makeup Brushes, Tools And Accessories for Fall 2014. With over 14,000 unique products in both makeup, skincare, perfume, haircare, body and professional tools, it's hard to pick favourites, but I think I've done it. These accessories will help you switch up your current summer beauty routine, embrace your bold style with on trend colours, unexpected shapes and chic details that will carry you straight into Fall.

Every season I switch up three of my most used beauty accessories, as they usually tend to either stop working or look dingy and gross. I like to replace all my refillable bottles, my pencil sharpener and my makeup case.

We all have endless amounts of refillable jars laying around our bathroom and we're always putting them to good use. I use them for anything from tester products I get at Sephora, to help them from drying out, along with shampoo, conditioner and body lotions. I hate the look of cheap plastic ones, as they usually end up on my countertops, but with these chic Travel Light Refillable Bottles and Jar, I get the practicality I need with style. These are an inexpensive way to store samples and are also travel ready. It's available in 25ml jars along with 50ml and 100ml bottles for $4 to $5.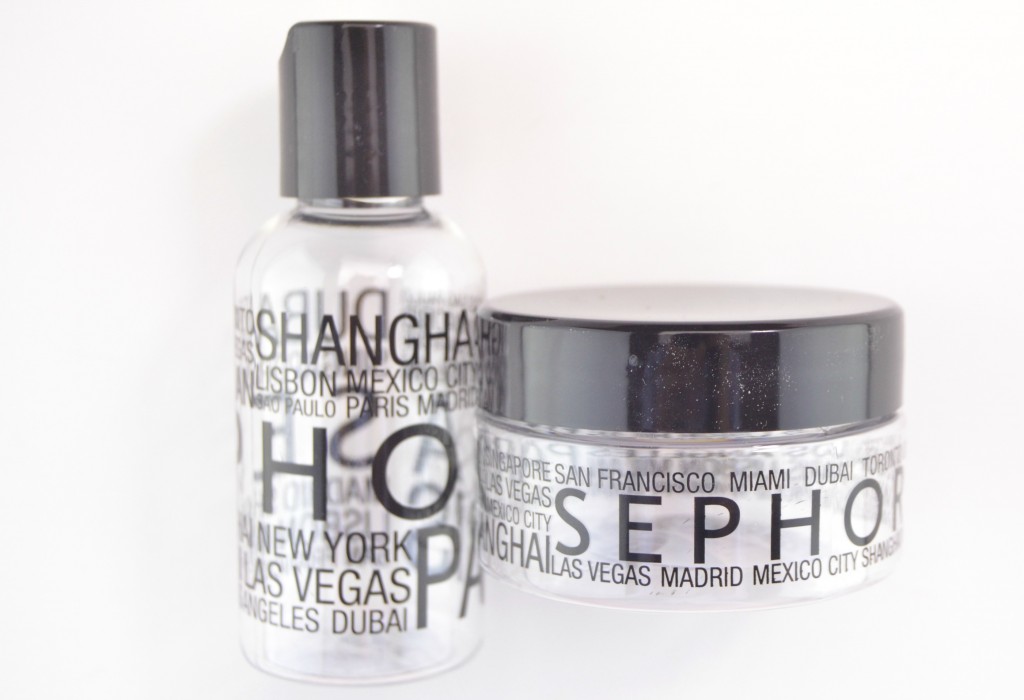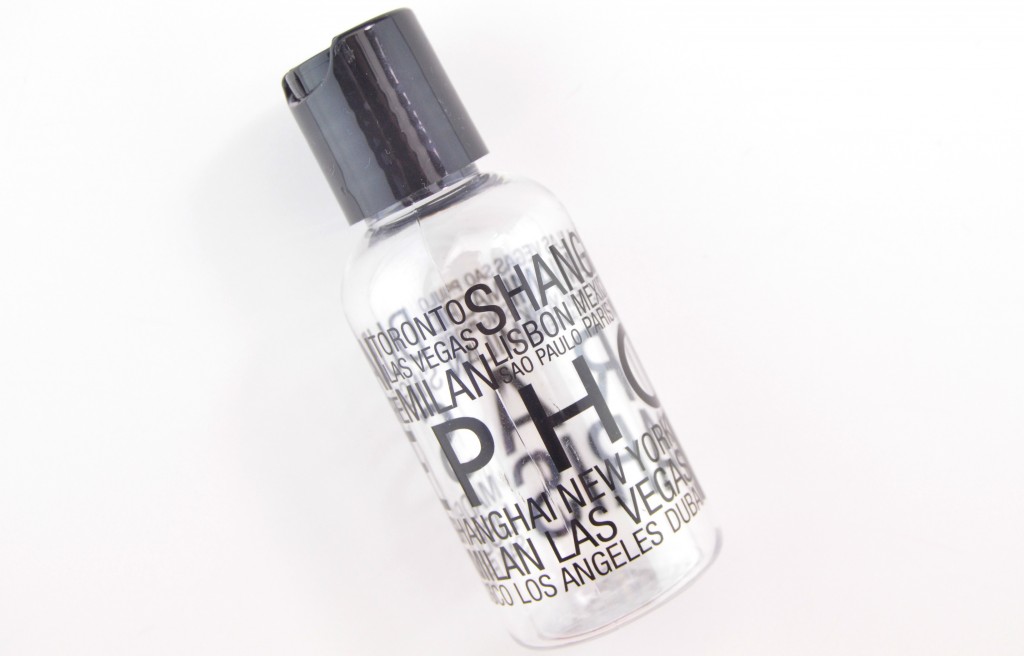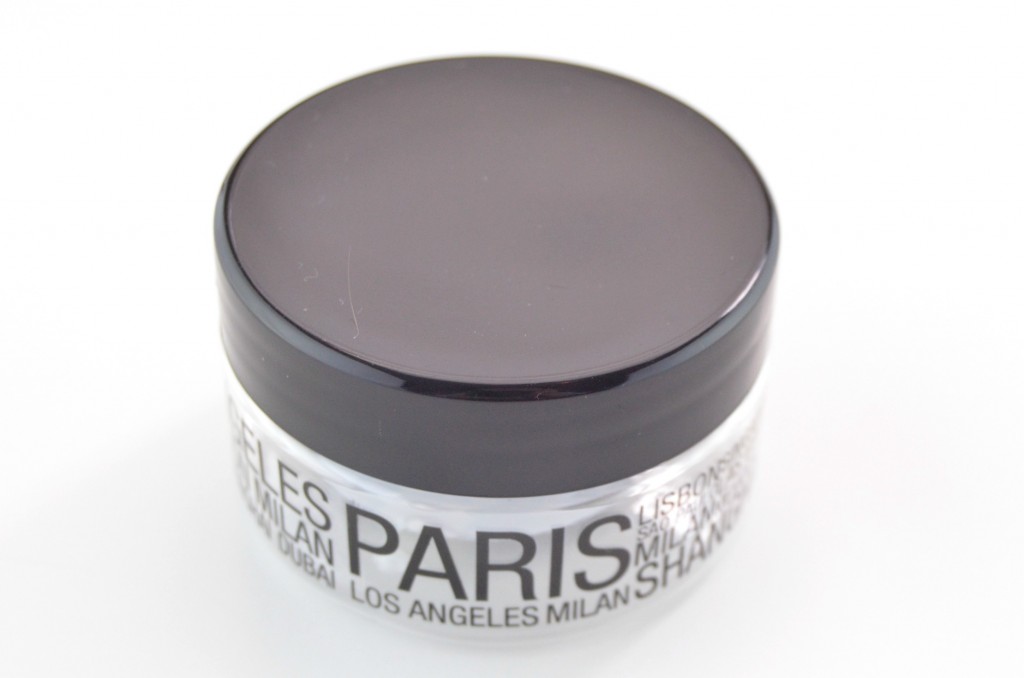 Another item I like to replace quarterly is my pencil sharpener. It starts to lose it sharpening ability and usually always ends up looking a lot older than it really is. Sephora Collection Look Sharp Pencil Sharpener is a superior grade sharpener and features a stainless steel blade that gives it a foolproof finish no matter what style pencil. I've used it on my soft pencils to extremely hard ones, with no problems. It's perfect for every size pencil, as it has a removable adapter to accommodate pencils 12mm in diameter. Its tight fitting case helps to capture shaving and reduce mess. Also it doesn't hurt that it's bright pink. It retails for $7.50.
My final replacement, my makeup bag. This season it's all about teal, and Sephora has played into the hottest colour with their new Sephora Collection Teal Quilted Bags. Whether you're a minimalist or like to pack the "kitchen sink" like I do, the collection features 4 different sized bags and cases to help you with all your organization needs. The Seeker is a teal cosmetic bag that's shaped like a pencil case. It's perfect for storing all my brushes, lipliners, lipsticks, eyeliners and other small items when I'm on the go. It retails for $25. Also in the collection is The Escapader, The Voyager and The Vacationer, ranging from $22 to $53.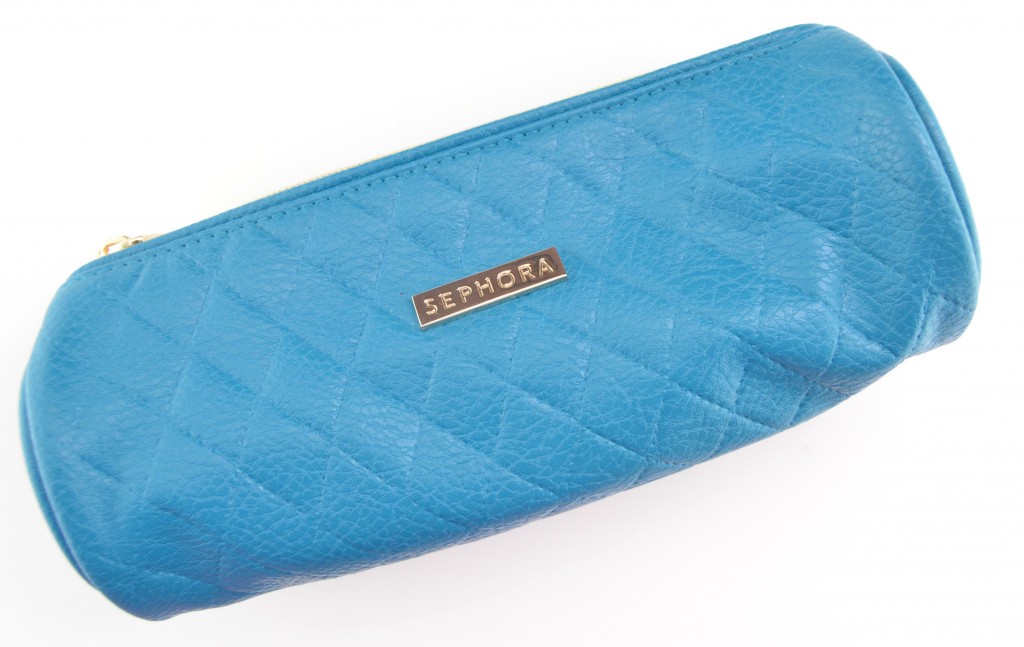 I'm exploring my wild side with a few of the limited edition brushes with accents of teal and snow leopard. The Sephora Collection Gold Den Brush Set is a four-piece, super soft brush set with black and gold leopard-print handles in a teal, faux leather pouch. It features a powder, angled, all-over eyeshadow and smudge brush that helps to create a flawless makeup look. The soft brushes are made of high quality synthetic and goat hair for the best application possible. It retails for $65.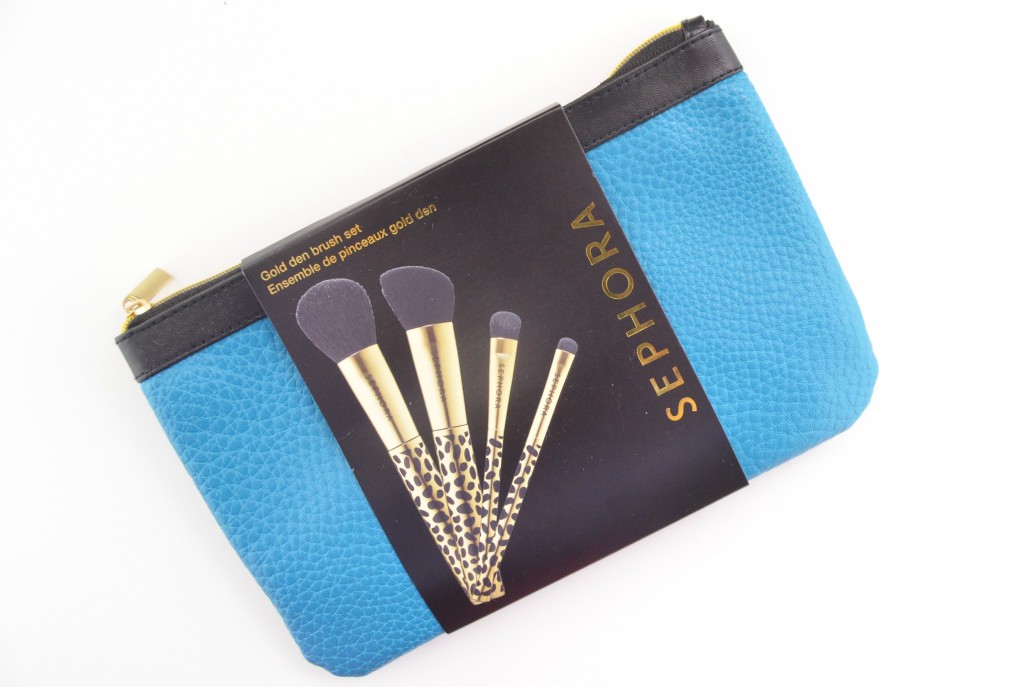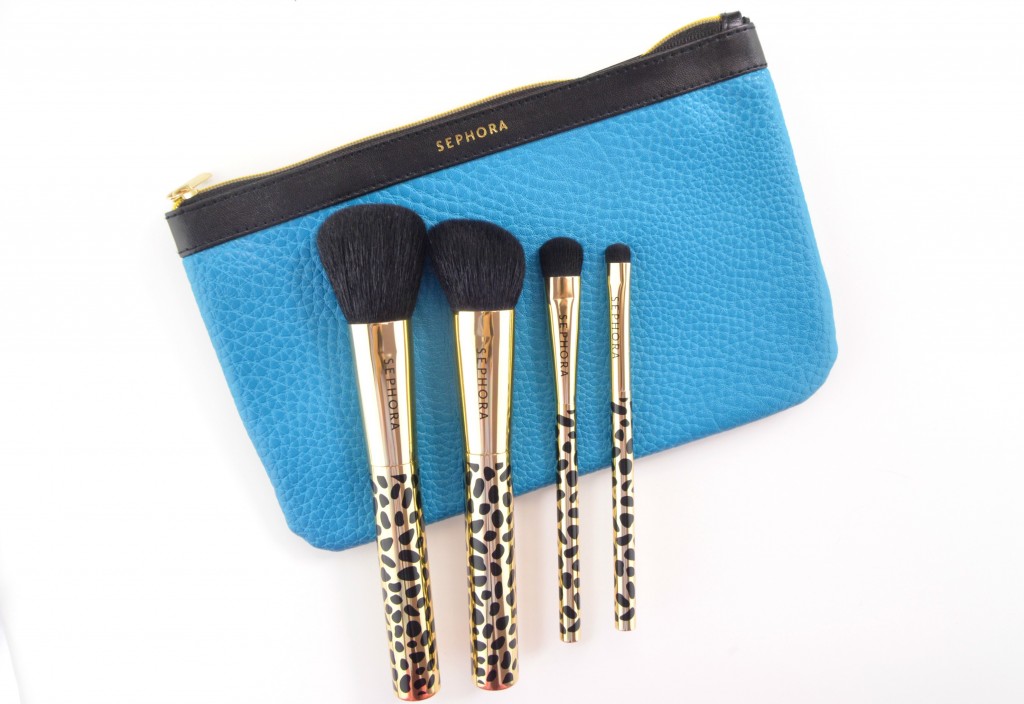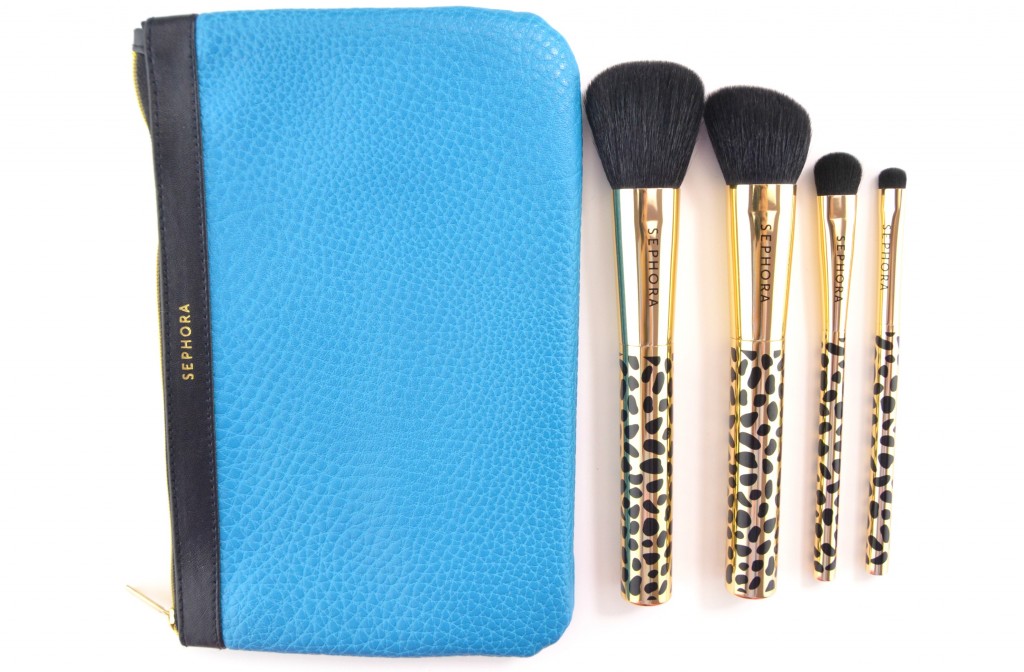 Keeping with the teal and leopard theme is the Sephora Collection Rare Find Travel Brush Set that's perfect for those days when you don't want to carry about a full-size brush set, but still need beauty touch-ups on the go. It too has the same teal, black and gold accents with snow leopard print and matching black and teal, faux fur pouch. This four-piece mini set features a synthetic blush, concealer, blending and angled liner brush, all packaged in a chic pouch with elastic closure to help keep the brushes clean and secure. This makes the perfect set for the office, your purse, the gym and is also perfect for travelling. It retails for $27.50.
You know I'm a sucker for anything limited edition, exclusive and pink, so it's only natural I would have to have this Sephora Collection Pink Brush Set that's exclusively available on Sephora.com. This 9 piece brush set contains brushes for the face, eyes, and lips, everything you need for a flawless face this season. It comes beautifully packaged in a chic, quilted makeup bag with zipper closure. It features aluminum ferrules with recycled content allowing you to have the perfect grip when applying your makeup. It also has a mixture of soft, high-quality natural and synthetic fiber brushes.
The set includes a powder brush that's perfect for applying powder and mineral foundation, but is also small enough to use with bronzers and blushes. The angled blush brush is flat, angled, with versatile sizes that's ideal for creating multi-dimentional looks. It isn't too dense, yet picks up enough product to help create the perfect highlight on cheekbones, helps sculpt the hollows of the cheeks or makes it easy for applying your favourite blush. The all-over shadow brush is the mini version of the angled blush brush, with the same flat, angle that is just large enough to cover your eyelid within one easy stroke. It really helps to pack on the shadow for intense pigmentation, but also works great for blending out your shadow. The medium shadow brush is thick and dense and picks up just the right amount of shadow for even distribution all over the lid with little to no fall out. The smudge brush is flat and dense which allows you to create opaque looks, blend out all types of eyeshadows, along with smudging out any pencil lines. The blending brush is small, dense and firm, yet soft enough that it doesn't tug on the eye, making it easy to blend into the crease and also perfect to blend shadow under the waterline. The brow brush is a brow comb/ brow brush combo that features a comb on one side and a brush on other. The eyebrow brush has medium soft bristles to help keep your eyebrows in place, while the comb helps to comb and separate the hairs. It can also double as an eyelash separator. This is a must-have for taming those thick and full brows this Fall. The angled liner brush helps create sharp, featured brows, in a few easy swipes. It also can double as an eyeshadow brush for distributing eyeshadow along the lower lash line. The lip brush is tiny, dense and small enough to get precise application of lipstick and lip line. It can also act as a small concealer brush. It retails for $85.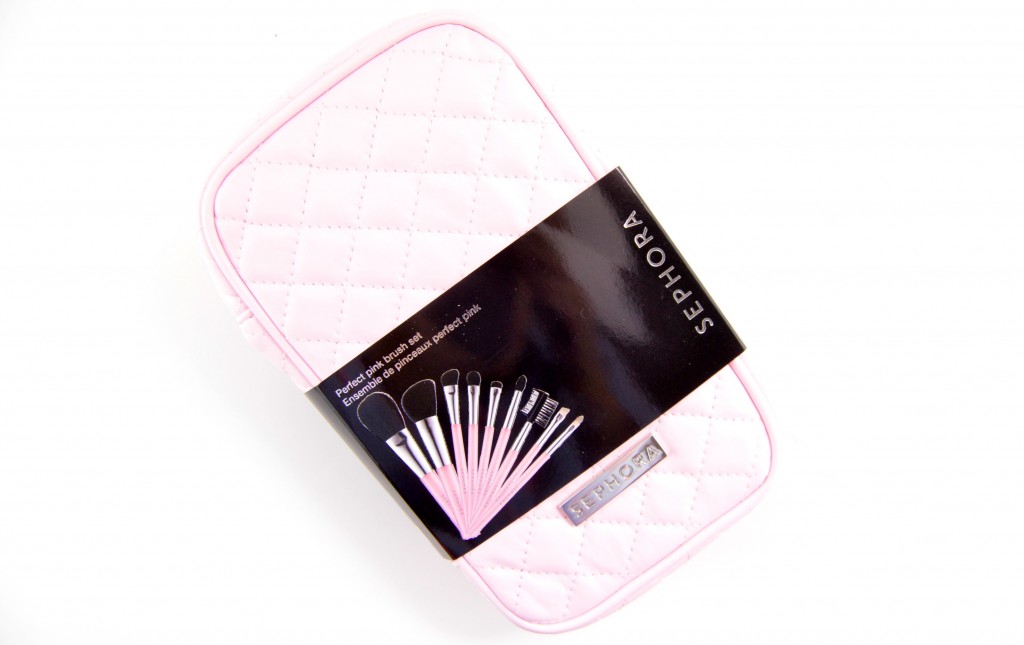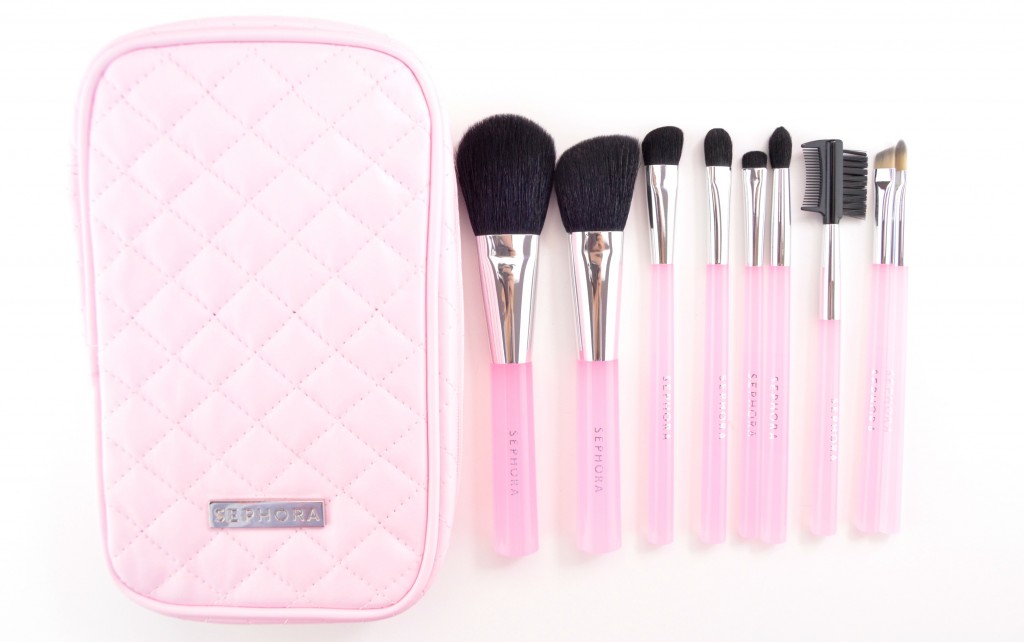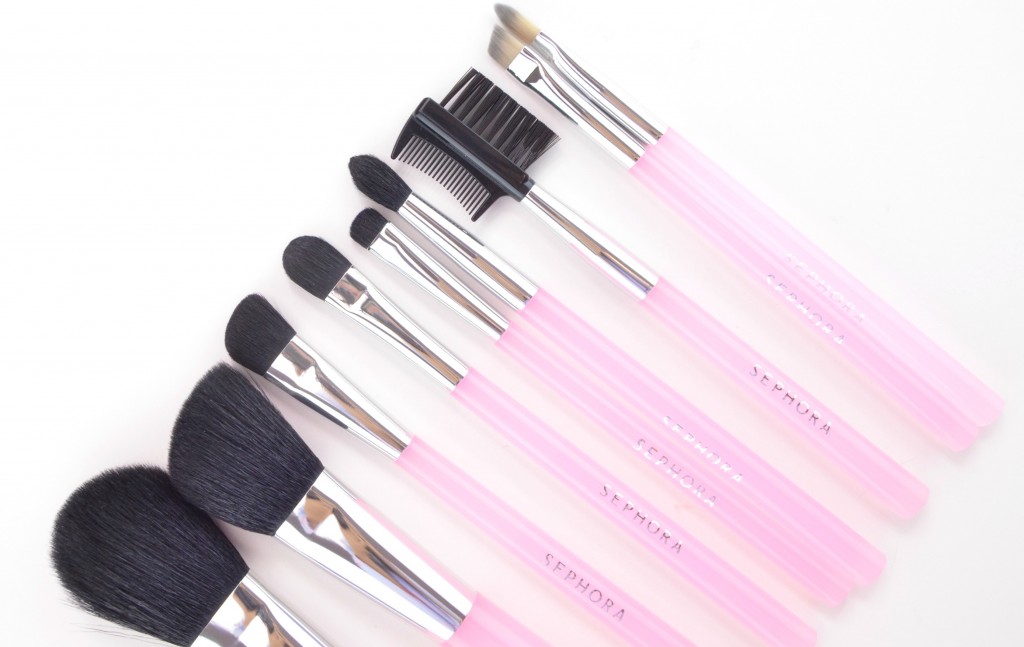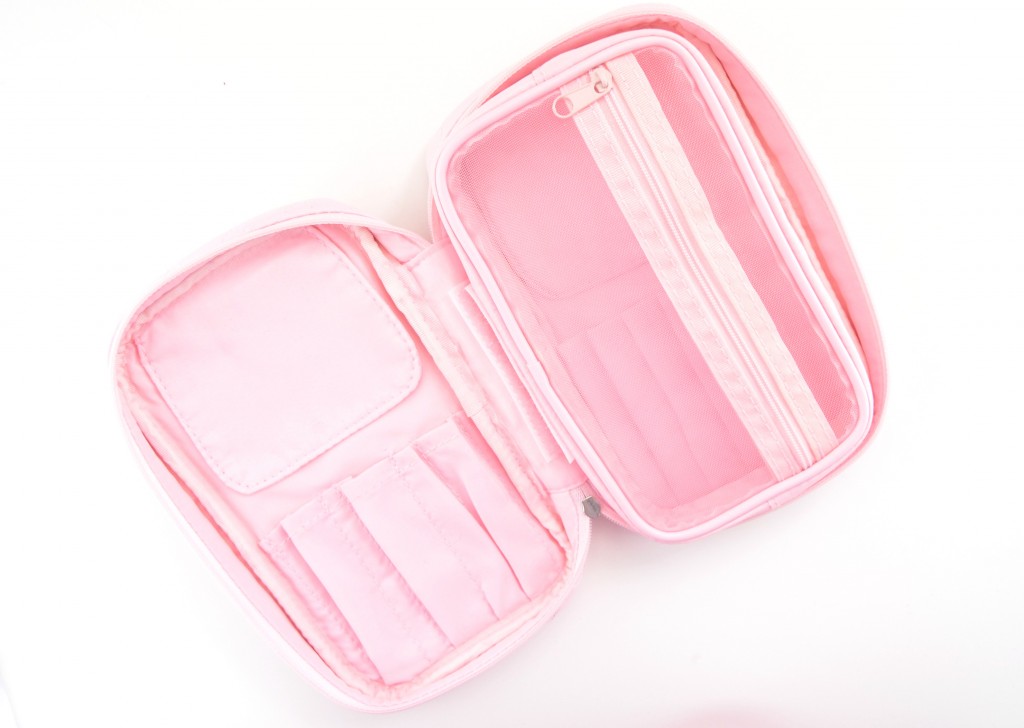 If you like this Sephora Collection Makeup Brushes, Tools And Accessories for Fall 2014, you might also like MYTAGALONGS