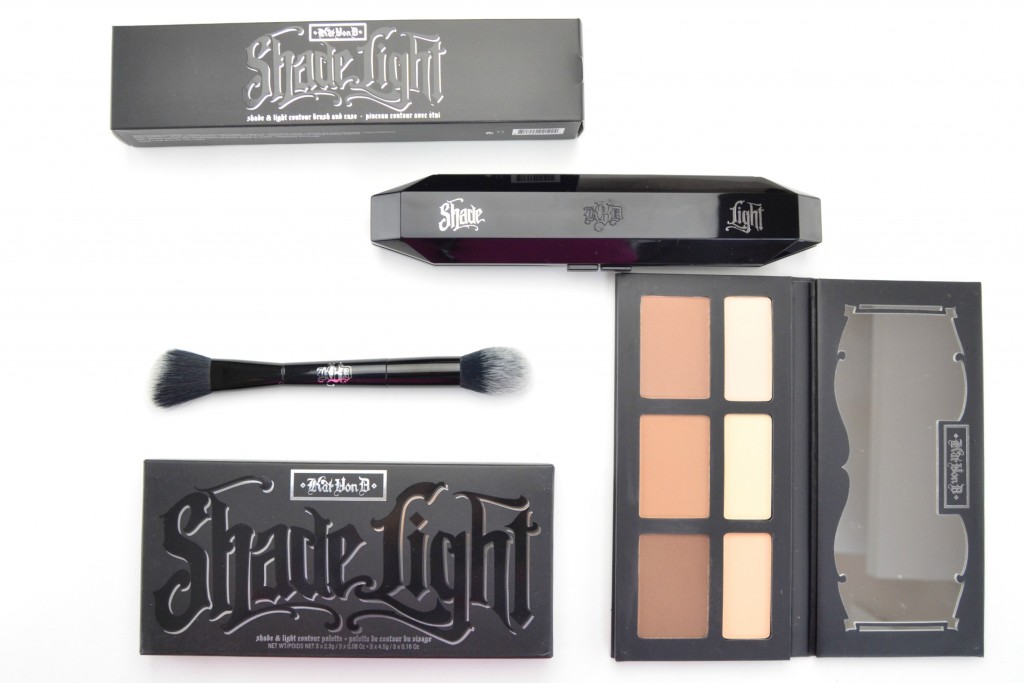 Ultimate contouring
Although Kat Von D is best known for her stunning tattoo designs, her real talent as an artist is what inspired her to create her newest collection. Kat Von D Spring 2015 Shade & Light used elements of light and dark to shape her illustrations and bring her canvases to life. Now use the power of ultimate contouring in the palm of your hand. Kat Von D Shade & Light Contour Palette is the ultimate contouring palette that features 3 contouring shades and 3 highlighting shades to help you shape and define your facial features to create a look of authentic dimensionality. Effortlessly sculpt, chisel, shape and slenderize your features for enhanced definition in a few easy steps. It comes loaded with a versatile selection of matte shades that help capture the true hues of both shadow and light. The 3 contour shades help create realistic shadows to recede facial feature, while the 3 lighter shades help to create a soft, luminosity to amplify dimension.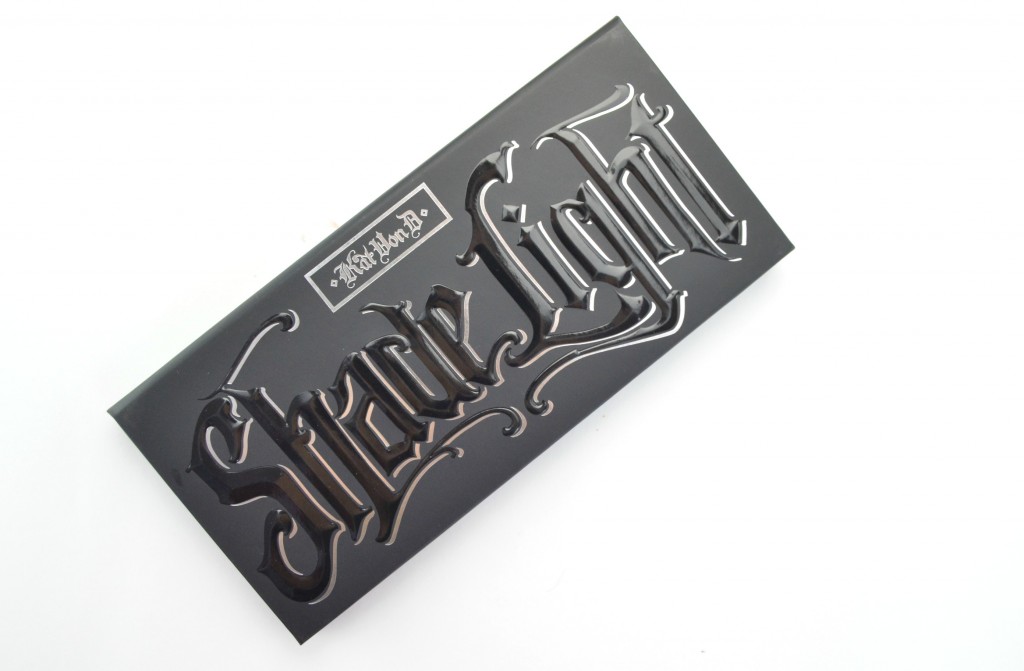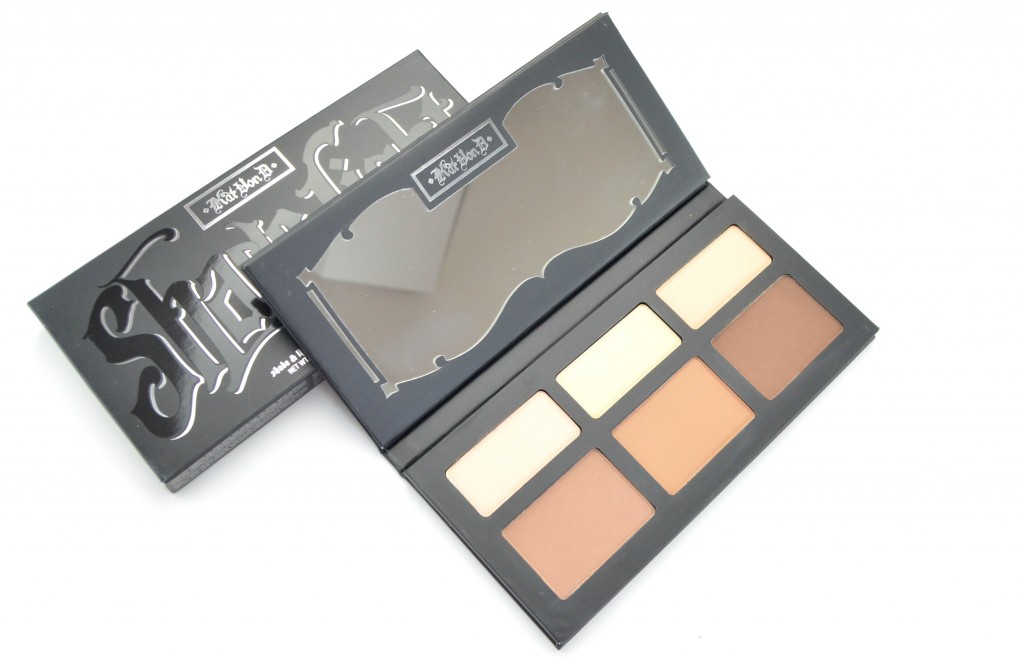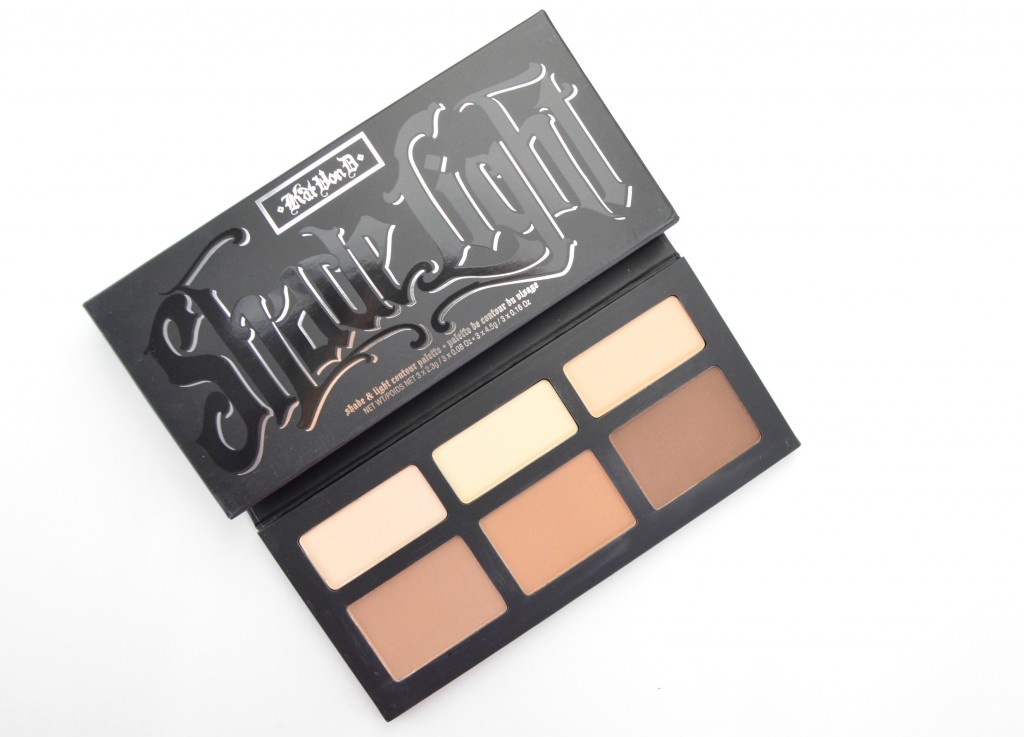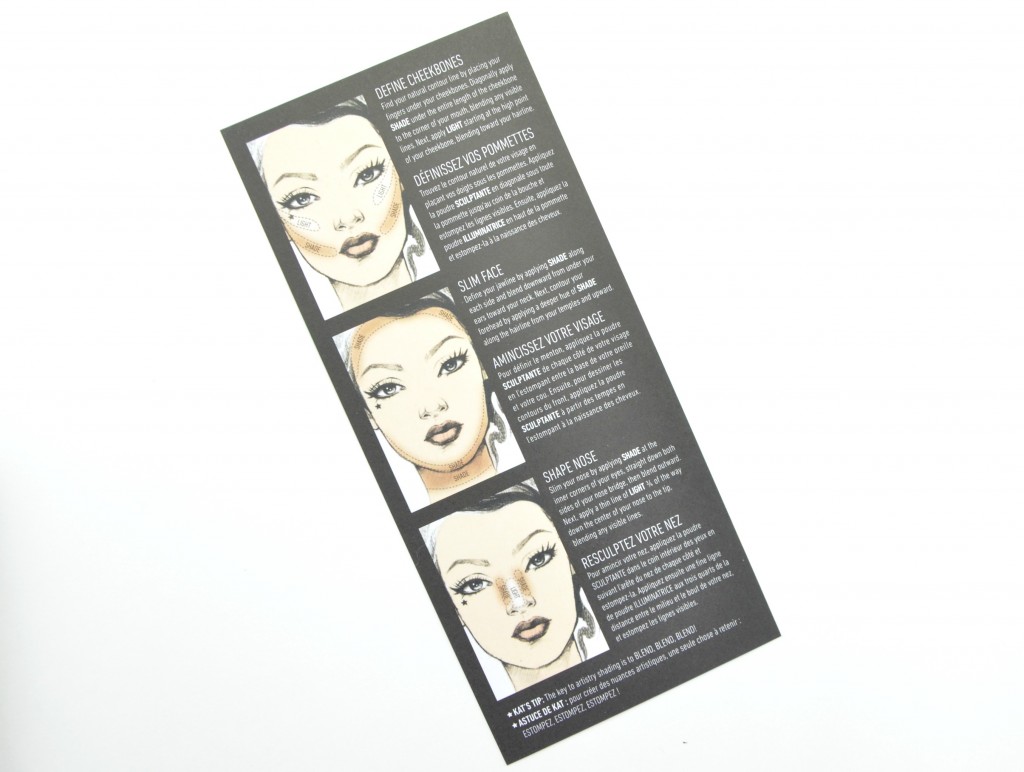 Kat Von D Shade & Light Contour Palette comes in a sleek, rectangular compact that's made of some sort of heavy and durable cardboard. It has a magnetic snap closer to ensure the lid stays closed when not in sure. It also has a full size mirror on the inside lid. The palette is divided into two sections, lighter highlighting shades on top and dark contouring shades on the bottom. Each shade has a soft and silky texture that blends effortlessly into the skin for a natural, flawless look. Each shade is buildable, extremely lightweight and highly pigmented, although a few shades can be a little powdery. Although all 6 shades tend to lean on the warmer side of things, it seems to work well and to be flattering on every skin tone, complexion and face shape. Each shade is incredibly easy to work with and buff into the skin effortlessly. It comes with a fade-proof formula to ensure your colour lasts throughout the day.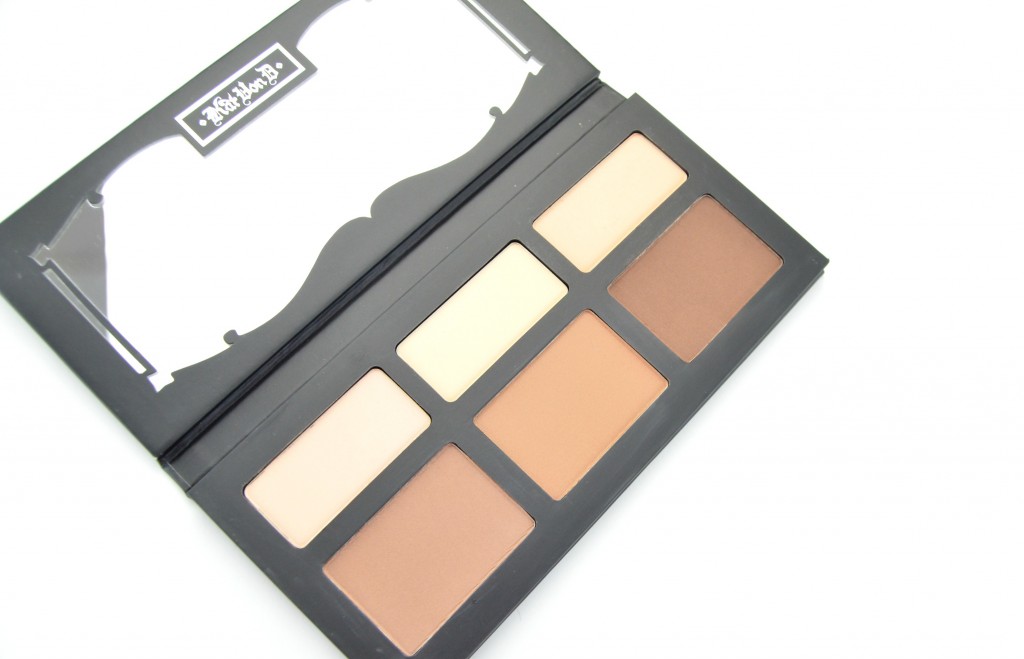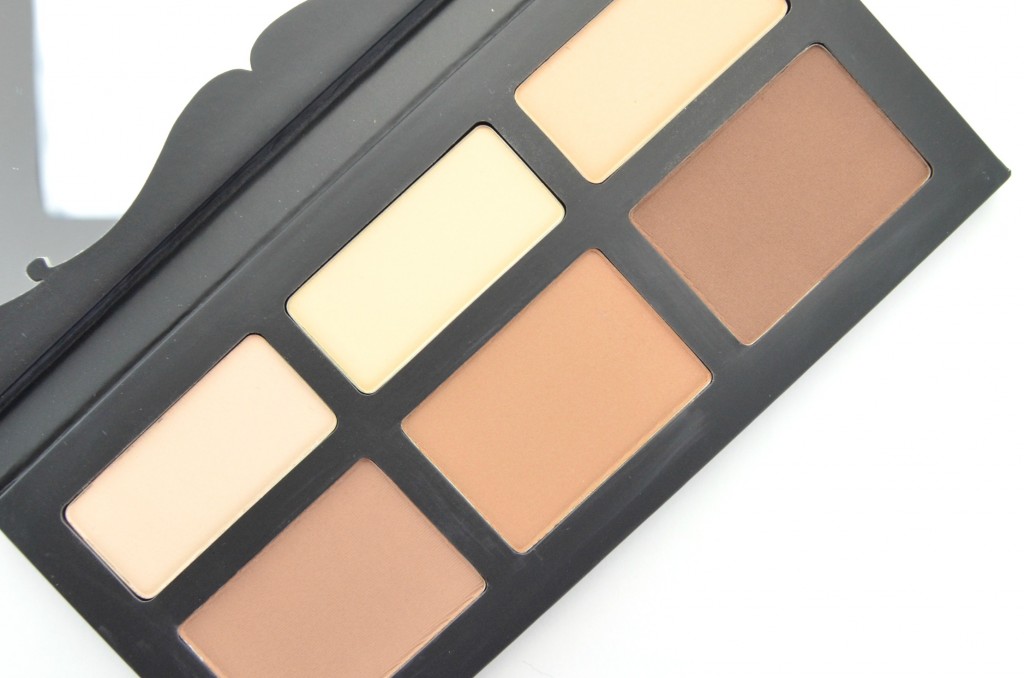 Lucid is a brightened pinkish nude with a matte finish. Although quite silky smooth, it is a slight powdery, but blends into the skin beautifully. Sombre is a medium true taupe with a satin-matte finish. It has amazing colour payoff that's easy to work with. Lyric is a brightened yellow beige with a satin-matte finish. It's truly opaque, but also can be a little powdery. Shadowplay is a medium soft brown with a satin finish. It's a little sheerer than the other shades, but it's blendable and extremely easy to work with. Levitation is a soft peach with a satin finish. It's finely milled, incredibly soft and provides rich and true colour payoff. Finally, Subconscious is a rich, deep brown with a satin finish. It's highly pigmented that's extremely buildable and blendable and super easy to work with.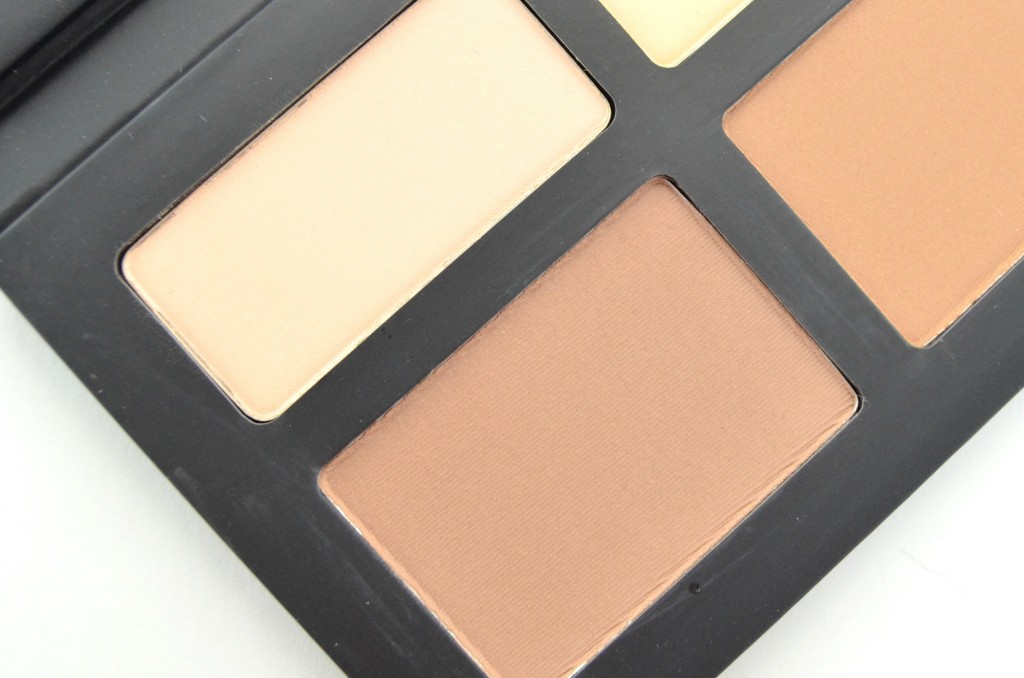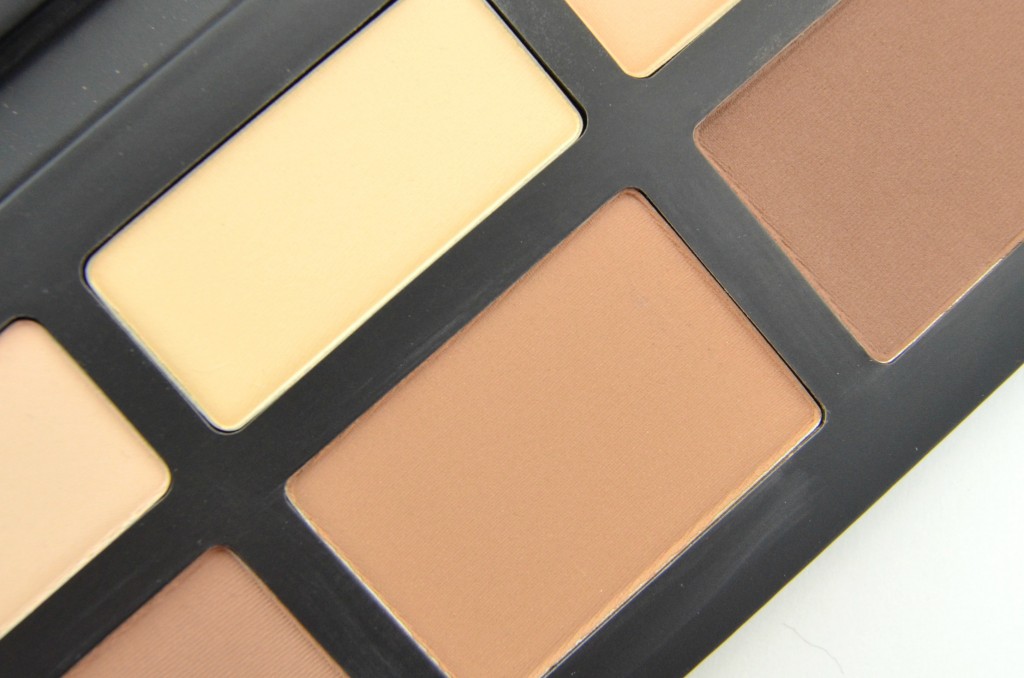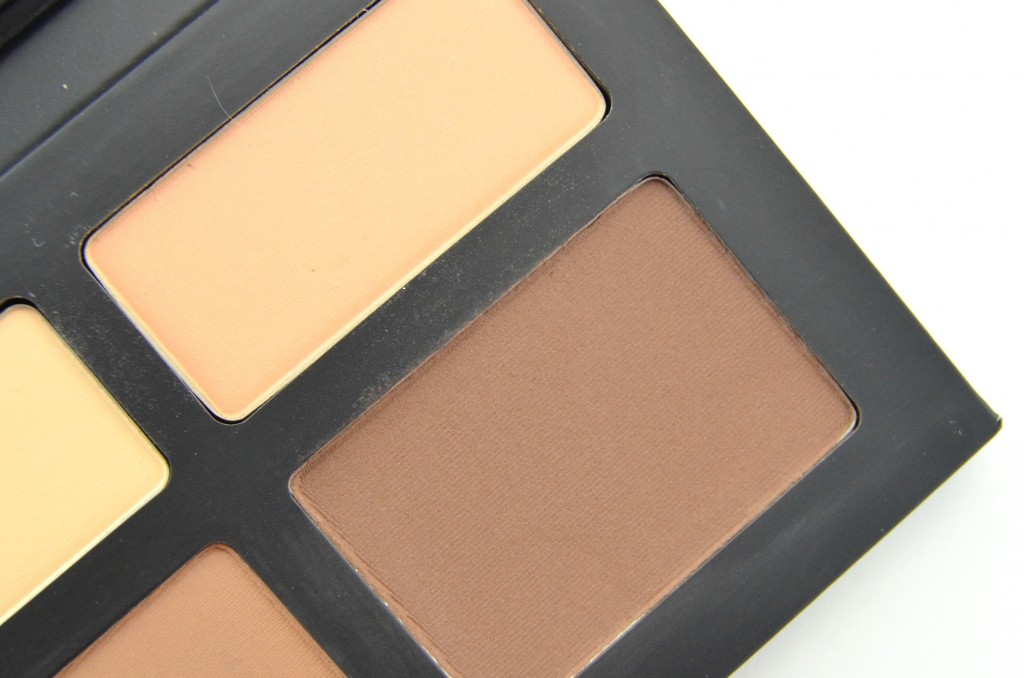 Kat Von D Shade & Light Contour Palette surprisingly worked well with my pale/ fair skin tone. I could easy blend each shade into the skin for a subtle contour that doesn't look overdone or fake. Each shade is fairly forgiving, I could control the intensity of each shade and even with a heavy hand, I could easily sheer out each shade. I love that the 3 lighter shades are smaller than the contouring shades, as I tend to use more product when I'm contouring and bronzing. Also love that the lighter shades actually show up on the skin, I've tried other highlighters that look nothing more than a translucent powder. It brings light to the face for a natural, radiant glow. The contouring shades are extremely natural looking and can be used for both bronzing, contouring and chiseling, depending on which shade you use. This is an excellent palette and provides you with endless amounts of possibilities. It retails for $55.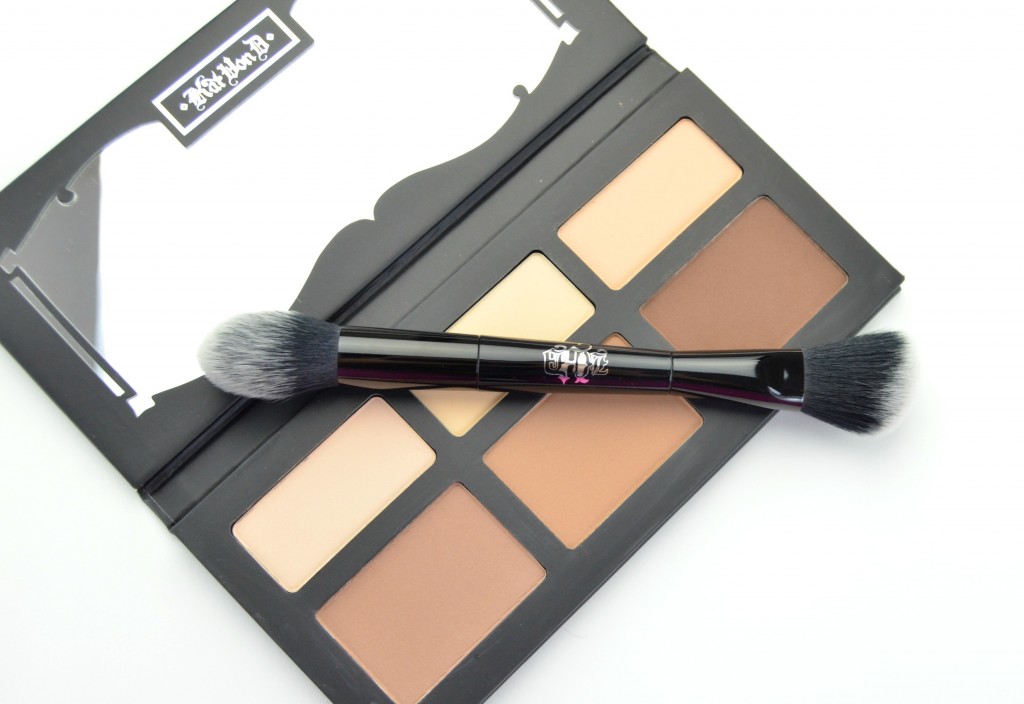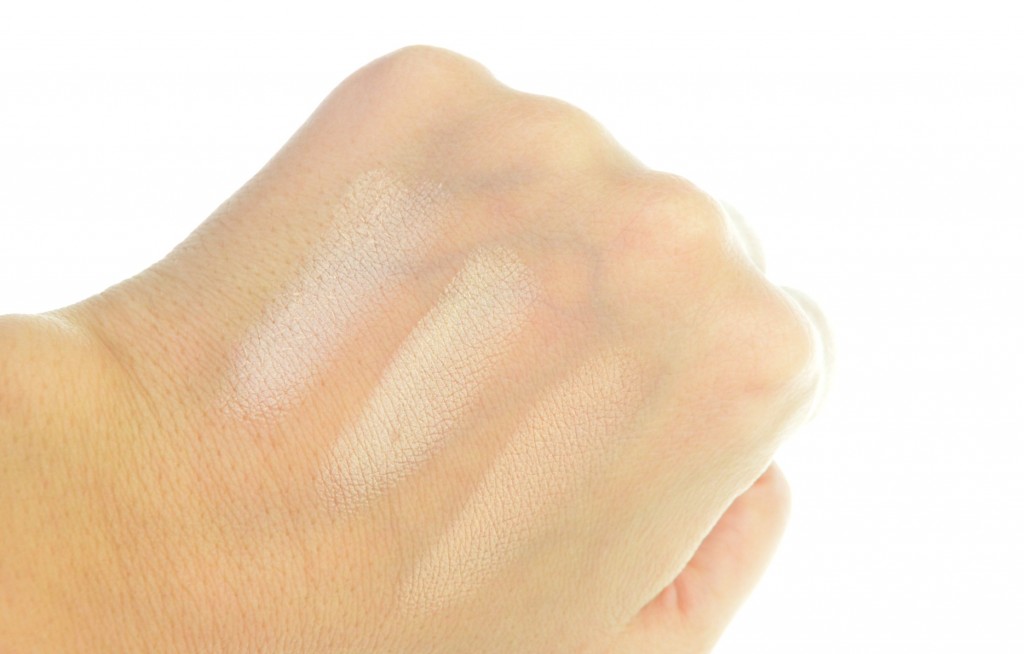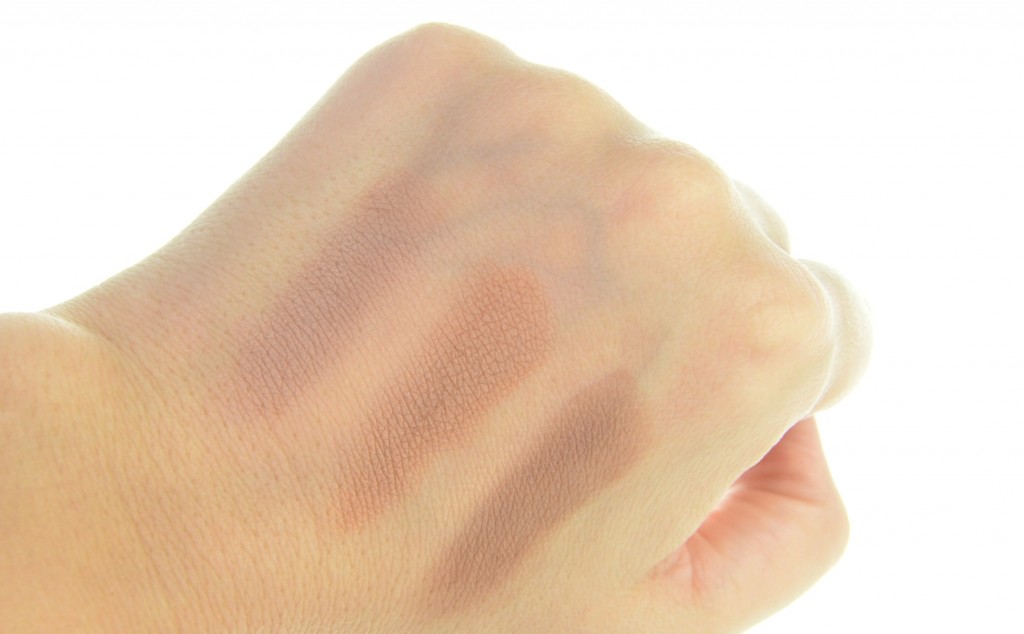 Kat Von D Shade & Light Contour Palette is specially designed to be used with the Kat Von D Shade + Light Contour Brush. It's dual-ended, ergonomically design features an angled end for easy contouring and a tapered dome end for highlighting. Simply glide the angle end along the hollows of your cheeks and temples for effortless sculpting and glide the tapered dome end along the desired areas to enhance and illuminate high points of the face. This 2 in 1 brush delivers the ultimate precision and versatility you'd expect in a higher end brush.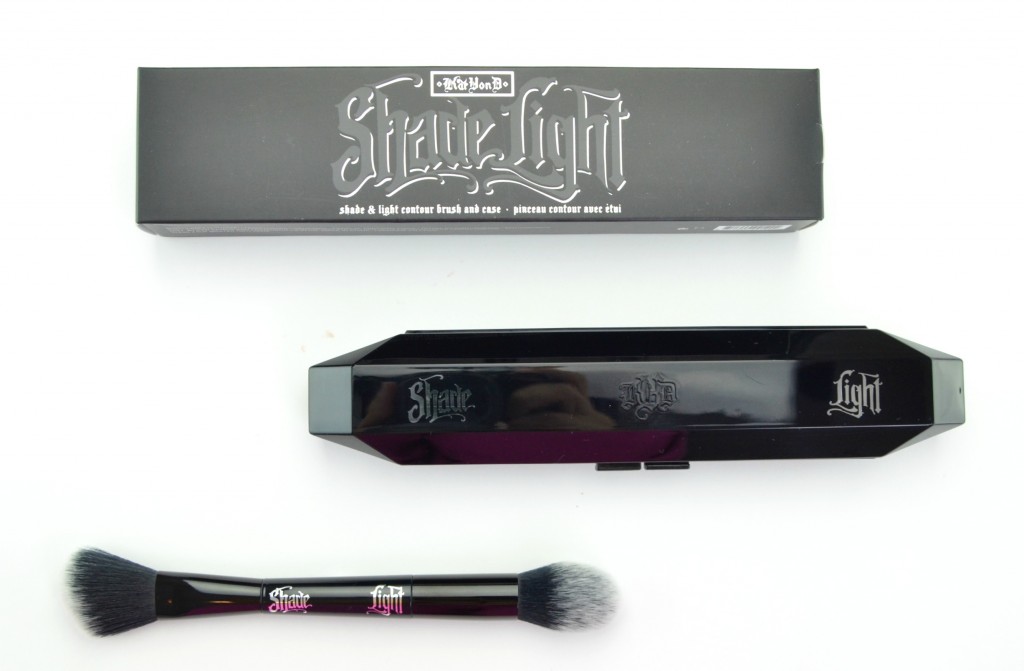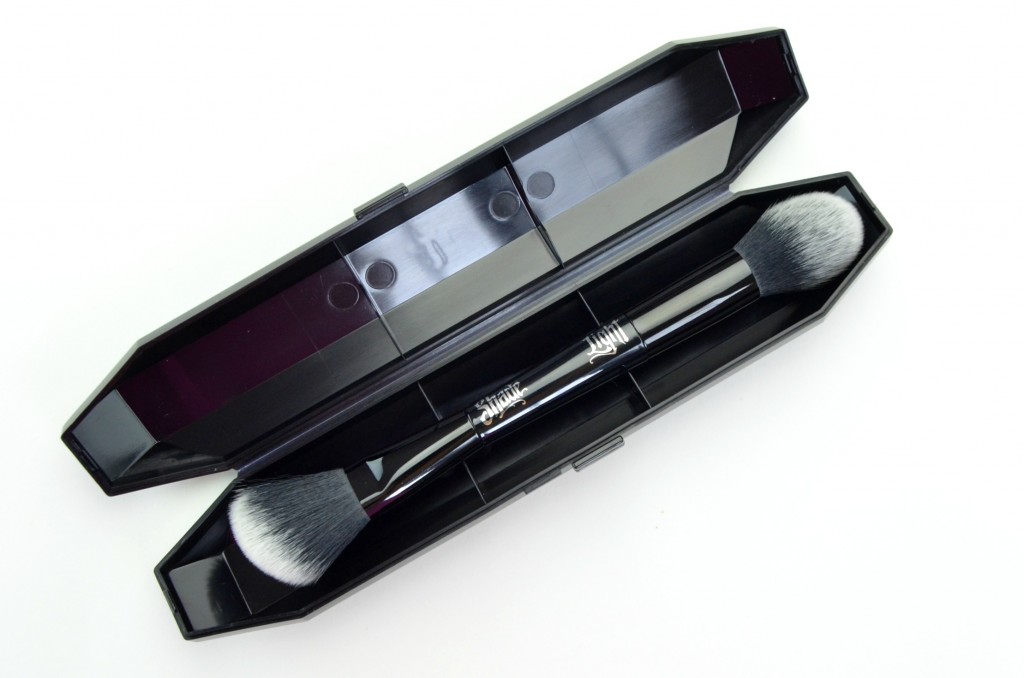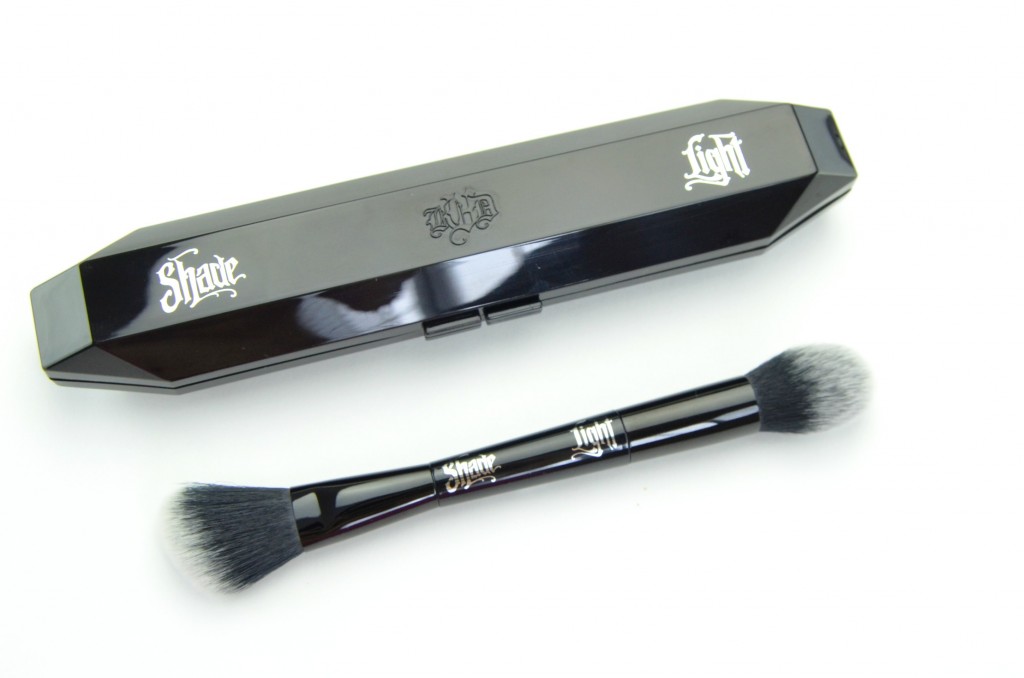 Kat Von D Shade + Light Contour Brush comes encased in a sleek, coffin like, protective case. It features a super soft, white-tipped synthetic bristles on both ends with gradient brush hairs and a sleek reflective black handle. It effortlessly picks up and diffuses high-pigment powders for seamless blending. The semi narrow, domed side is the perfect brush for applying your highlighter to the top of your cheekbones, but works just as seamlessly for setting your under-eye area. The narrow and angle side is the perfect shape and size to contour and then blend out, so you're not left with any harsh lines. Although it may seem high for a brush, retailing at $43, you're actually getting two brushes in one, so I don't think it's that bad?