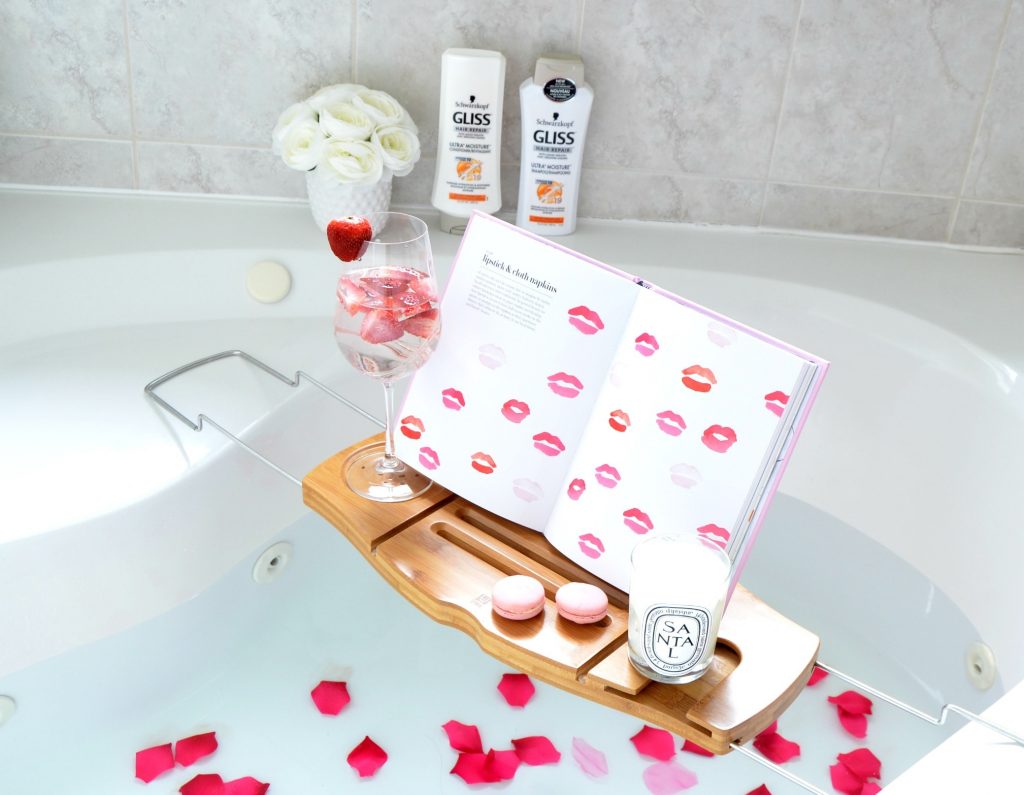 GLISS Hair Repair by Schwarzkopf
We all know how beneficial protein is for our diet, but did you know it's also valuable to your hair? We've seen a lot of hype in the media over the past few years about the advantage of using keratin care products, but does it really work? Heat styling, colouring and even environmental damage from the sun and pollution, weakens the hair structure and needs help restoring it back to its healthy, shiny state. The philosophy behind keratin shampoos and conditioners is that it will help to strengthen and repair damaged hair. Keratin is a protein that's naturally found in flat cells of our hair, which help to keep it strong and healthy. Every day it slowly diminishes, leaving our hair with breakage, split ends, brittleness and dryness. Looking for hair care products with keratin can help combat these problems.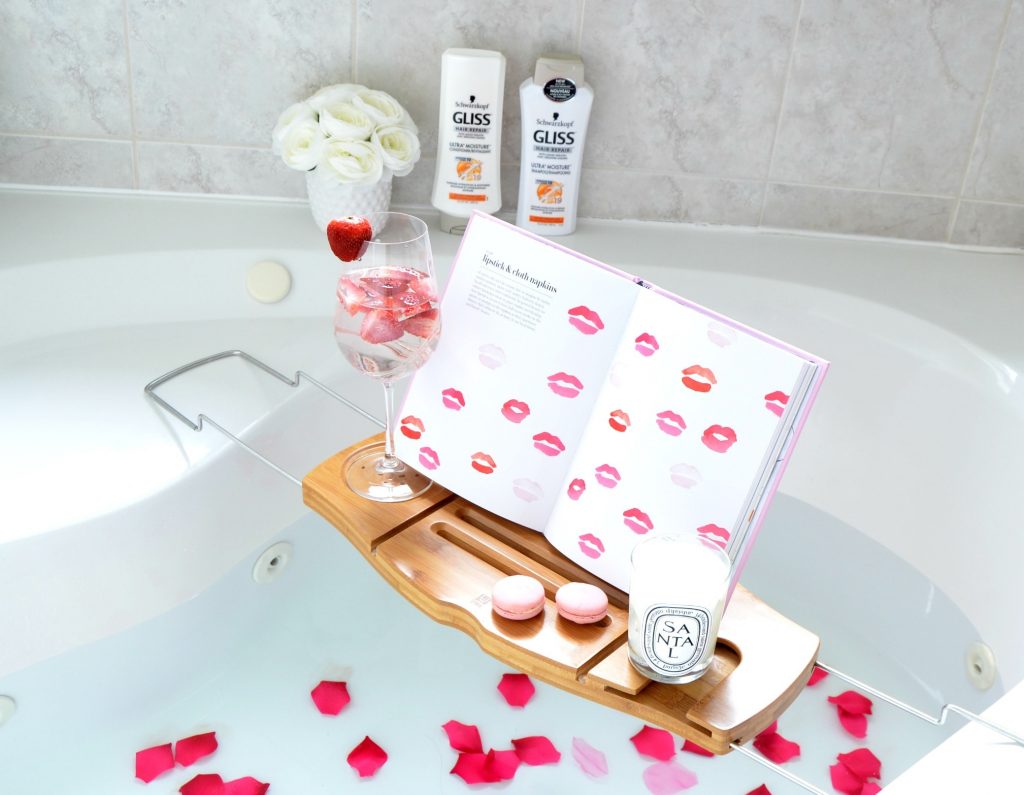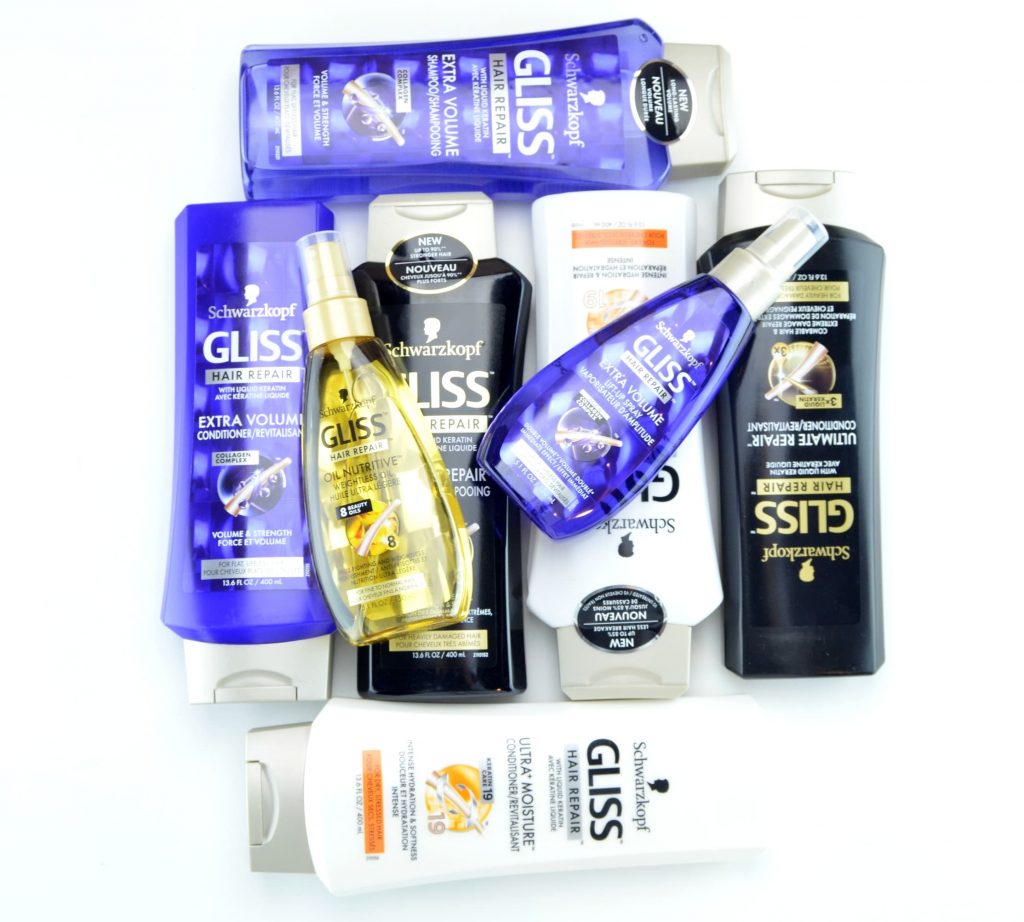 Keratin treatments have been available in salons for years, but GLISS Hair Repair by Schwarzkopf features a full line of products designed to address hair repair, in addition to other needs, such as colour protection and volume. Its unique liquid keratin formula will help retain colour, visibly reduce breakage, add volume, strengthen each strand, provide softness and shine, while leaving it manageable and healthy. By using the products consistently, it will help to build up protein levels in your hair, making it stronger and sleeker. Although you may not see results immediately, over time, you'll start to feel your hair getting softer, smoother and with less split ends.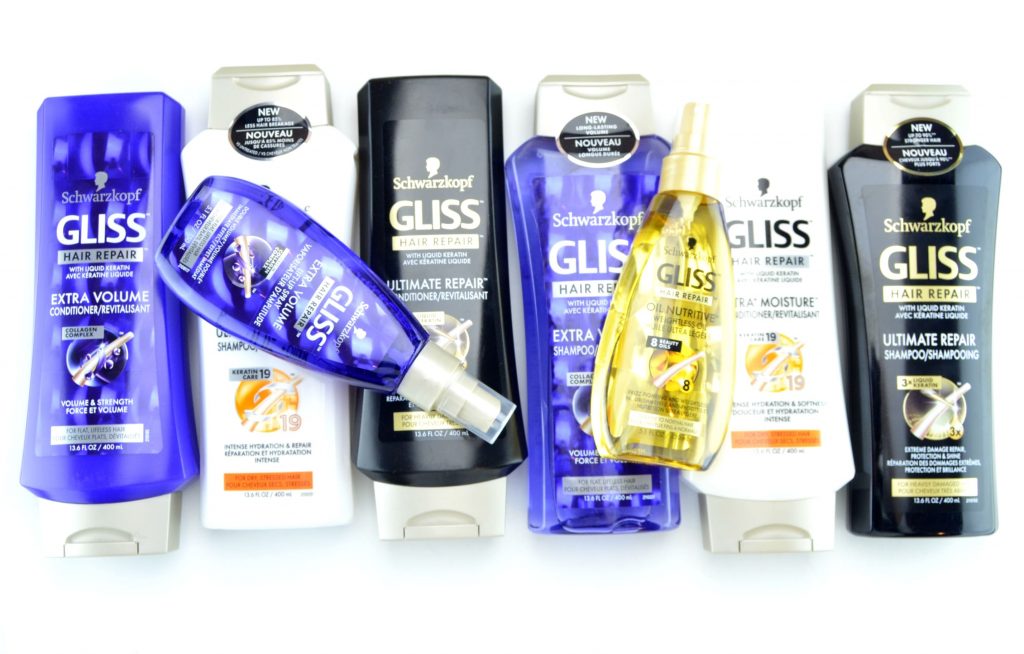 GLISS Hair Repair by Schwarzkopf is broken up into 5 solution-based hair repair formulas. Ultimate Repair for those with heavily damaged hair, Ultra Moisture for those with dry, stressed out hair, Color Guard for those with coloured or highlighted hair, Oil Nutritive for those with long, prone to split end hair and Extra Volume for those with flat, lifeless hair.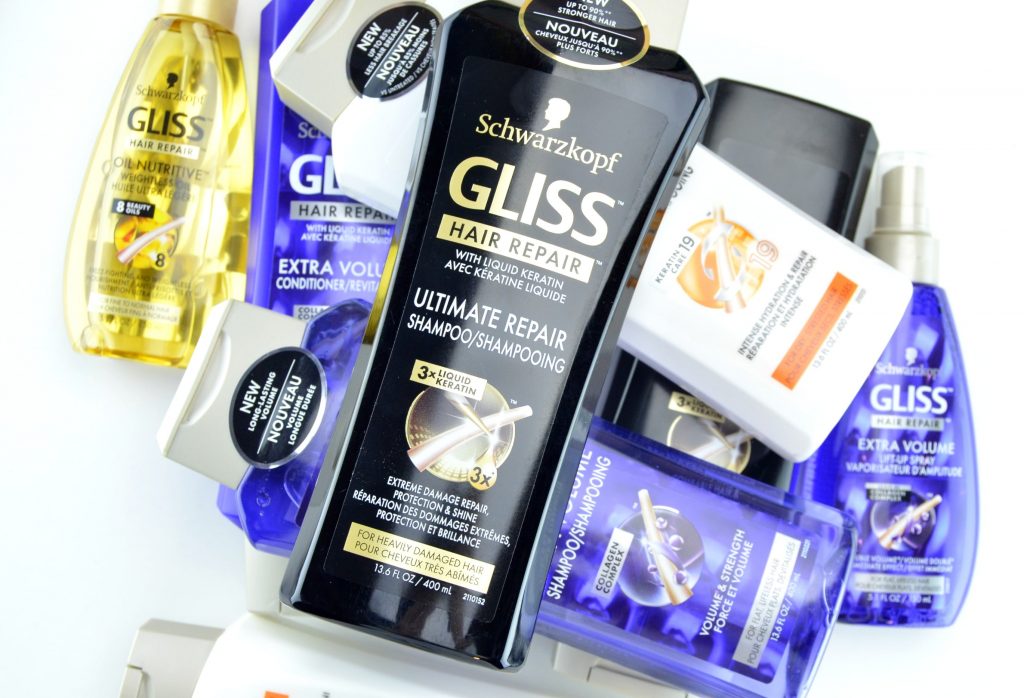 I've been in love with GLISS Ultimate Repair Shampoo. Its designed with 3x more liquid keratin to instantly repair extreme hair damage up to 10 layers deep. It also helps to replace loss protein. It features an incredibly silky and somewhat slippery texture that feels lightweight, yet nourishing. The shampoo immediately revitalizes my hair and provides pure hydration that helps to cure my dry, slightly damaged strands. It also seems to help repair moisture loss, leaving it soft, supple and smooth. The formula gently, yet thoroughly cleanses my hair, without stripping it of its natural oil or colour. It does an amazing job at removing all product buildup, dirt and oil, yet washes clean away. Hair is left feeling silky, shiny and incredibly healthy after only a few washes. It retails for $9.99 for 400ml at Shoppers and Pharmaprix. 
GLISS Ultimate Repair Conditioner on the other hand, is slightly thicker and creamier in consistency. Only a small amount is needed to leave hair super soft and controllable. It helps to calm frizzies and straighten hair as promised, yet leaves hair feeling fresh and clean. It provides a super-glossy finish in addition to its smoothing effects of keratin. My hair is left feeling silky smooth with a ton of volume and lift. Although some keratin hair care products can leave the hair feeling tight and dry, this formula seems to boost moisture and provide hydration. It rinses out easily, ensuring it never looks greasy or oily. The conditioner helps to leave hair clean, easy to manage and knot-free. It retails for $9.99 for 400ml at Shoppers and Pharmaprix.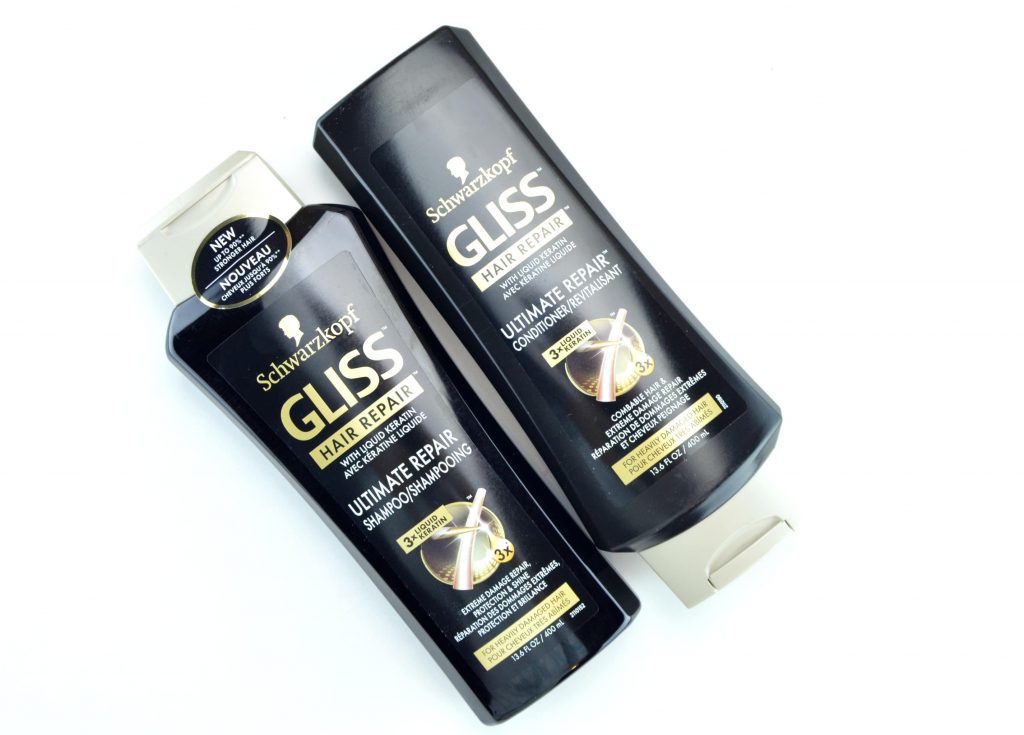 Derek's been loving the GLISS Ultra+ Moisture Collection, designed to intensely hydrate the hair from the inside out. It's formulated with a unique complex that provides essential moisture for dry, stressed out hair. It helps to deeply repair hair in a few short weeks. It's the perfect lightweight hair duo for me. Both products seem to wash away all product build-up, yet leaves his hair silky smooth, hydrated and healthy. All this without being weighed down or looking greasy. It also provides mega shine, prevents future breakouts and controls dandruff.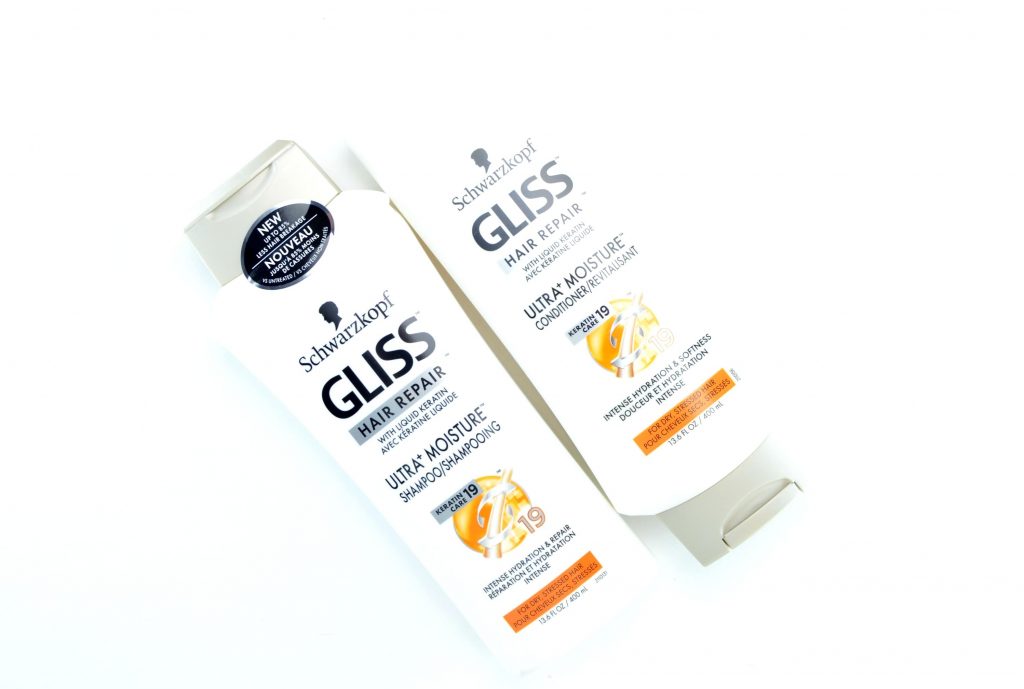 I'm also excited to test out GLISS Extra Volume, cause we could all use a little extra volume.