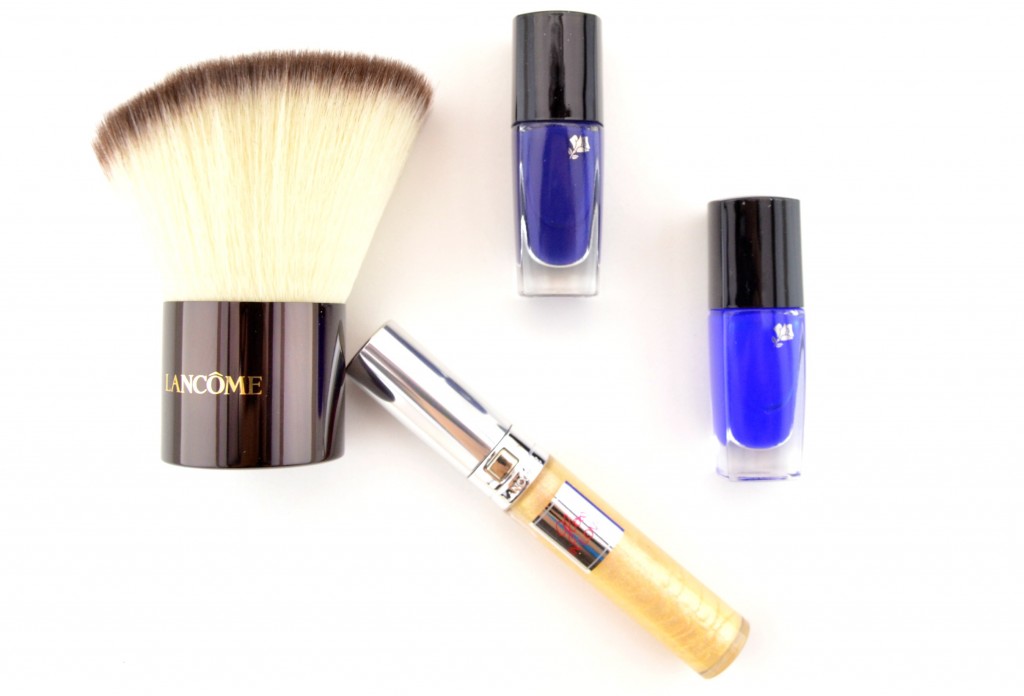 As the warmer weather approaches, we're all looking for a natural looking tan with a radiant glow. For those, myself included, that don't want the damaging and harmful effects of the sun, we need a few products to help us fake it. Lancôme Golden Riviera Summer 2014 Collection features 6 limited edition pieces, a bronze highlighter, a bronzer brush, a gloss in love lip gloss and 3 vernis in love nail polishes.
Lancôme Star Bronzer Brush is unlike anything I've ever owned. This huge, bevel-cut synthetic bristle brush is incredibly soft and supple and allows for the perfect amount of powder to be applied to both the face and neck. The brush glides across the skin with ease, is effortless to achieve a natural bronze look, without packing on too much product, giving you a very natural finish to the face. It's short, round handle fits nicely in your hand and is easy to work with. This brush is ideal for a precious and luminous sun-kissed look that almost looks airbrushed. It retails for $58.
Lancôme Gloss in Love in shade #102 Golden Riviera features a click top button that releases the gloss within, so there's no chance of wasting the product or the gloss leaking. It has a unique arrow shaped applicator that allows for precise application along with the perfect amount of product on the wand. It has a lightweight, non-sticky, glossy texture that keeps lips moisturized for up to 6 hours. It gives a sheer pale gold with pink shimmer to the lips with incredible shine. It's sheer enough that your natural lip colour shines through and would also look beautiful overtop of your favourite lipstick. It wears for about 3 hours before fading. It retails for $29.
Lancôme Vernis in Love comes in a mini glass bottle with black lacquered lid with a unique formula that gives an ultra-glossy, streak-free finish. It has the perfect consistency that applies effortlessly, it is truly opaque in 2 easy coats and dries within minutes. It provides 5 days of wear before showing signs of chipping and comes in 3 new limited edition shades and retail for $16 each.

Lancôme Vernis in Love #340 Nuit d'Azur is a beautiful, almost neon, cobalt blue, #555 Marine Chic is a stunning deep dusky blue and #340 Golden Riviera a shimmery light gold.
Lancôme Vernis in Love #340 Nuit d'Azur


Also in the collection is Lancôme Star Bronzer Highlighter that gives a sheer and radiant glow to the complexion. I have yet to try it, but from the press photo below, it looks pretty darn perfect. It retails for $52.