Insider's guide to Hair Oils

Summer is all about no-muss, no-fuss when it comes to fashion, beauty and hair, but that doesn't mean we want to stop using all beauty essentials. Hair oils are a must for summer, and Live Clean Oil Treatments are some of the best around. You have your pick of 3 different oils, each with their very own unique benefits to smoother, healthier hair this season. These hair oils are lightweight, quite runny in substance and glide through the hair with the greatest of ease. It features a sweet and pleasant smell that gives hair a silky weightless feel. Although they each have their specific use, you can use each before you shampoo to add moisture, before you blow-dry to help protect against heat damage, after you blow-dry to smooth and enhance shine, or add a few drops at night to soften and recondition. Each oil retails for $11.99 for 100ml.
Live Clean Exotic Vitality Monoi Oil Leave-In Treatment helps prevent breakage, increases resilience, elasticity and overall strength to the hair. It's enriched with the naturally concentrated emollients of Monoi of Tahiti that helps penetrate easily and shield against external damage and infused with Jojoba Oil and Bamboo extracts to hydrate and add moisture back into each strand. This is used as either a styling or finishing product by dropping a small amount into the palm of hands and evenly distributing from roots to ends. Use during styling or as a finishing product to add moisture, keep frizz at bay and protect against environmental damage. Hair is instantly stronger, shinier and healthier looking.

Live Clean Age Resist Miracle Nutrition Oil, in which I've already talked about in a previous post, is a pre-shampoo treatment that increases sheen, luster and density for thicker, fuller looking hair. It combines Wheat Protein that attaches to the hair shaft to thicken it, Jojoba Oil that helps smooth, add shine and manageability to each strand, along with rosehip and avocado oil for a natural alternative to silicone. This rescue treatment must be activated by shaking before dropping a small amount into the palm of your hands and working the oil throughout the hair. It's applied to the hair before shampooing and left on for about 5 to 10 minutes. Not only will it add extra moisture and hydration back into the hair, it adds extra nourishment and shine that dry, damaged, over heated hair so desperately needs.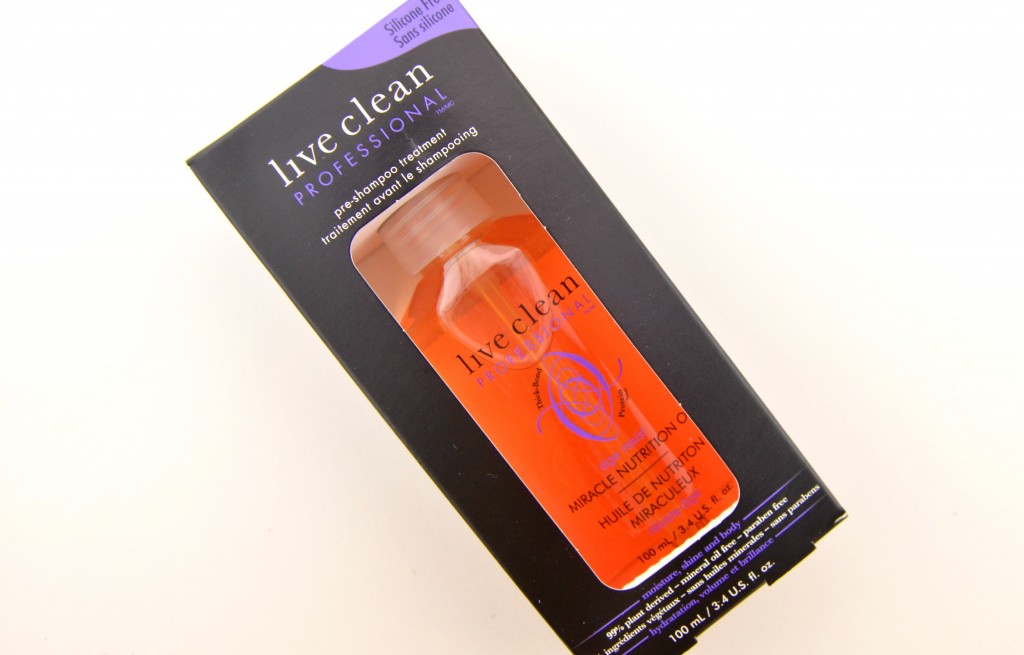 Finally, Live Clean Exotic Silk Keratin Oil Leave-in Treatment helps protect hair health while revealing beautiful shine. It's infused with exclusive Phyto-Keratin and Buriti Oil that help to increase strength along with precious Macadamia Nut Oil and Wild Flower Honey that help to lock in moisture and reduce frizz. It can be used before shampoo or as a leave-in treatment by applying a small amount to damp or dry hair. It penetrates fairly quickly to combat damage and dryness for healthier looking hair within seconds.


Hopefully these Live Clean Oil Treatment Reviews were informative and don'g forget to enter my latest giveaways