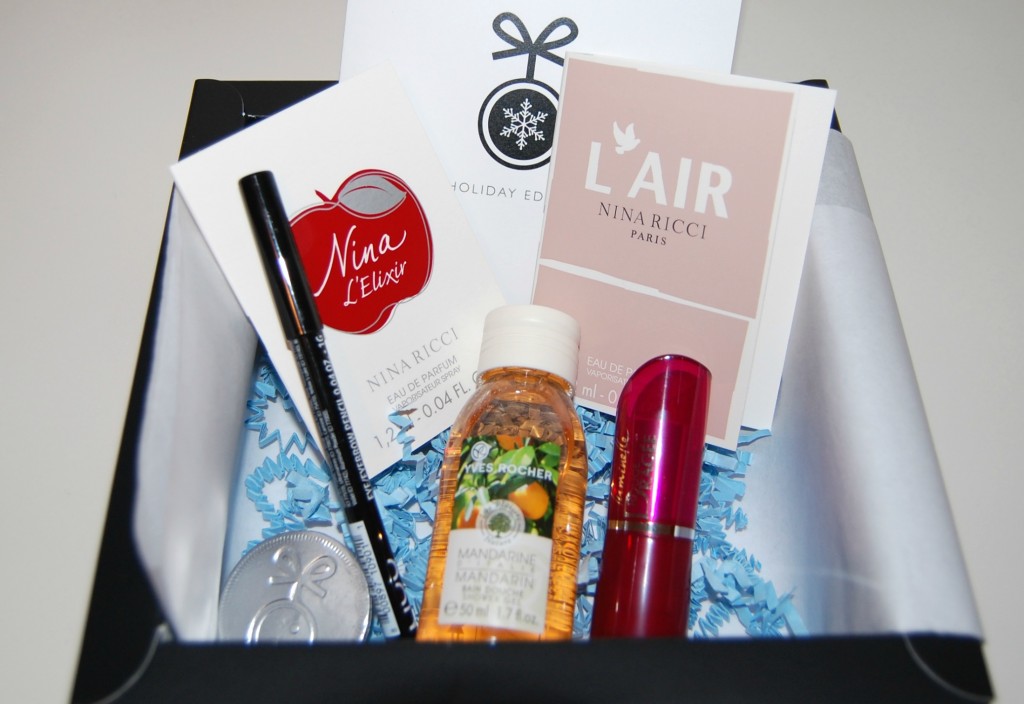 Got my December Luxe Box in the mail today and I was kind of disappointed, I thought being Christmas and all they would do something extra special for their customers- although I did get 2 full size products (but nothing Luxe about them). 
First up is Yves Rocher Lipstick in a pretty pink colour- although I would say it's more of a lip stain/ lip gloss than anything- the colour is not super bright.
It's a full size and retails for $5. 
Second item is NYX Slim Eye Pencil- since I know this brand is on the lower end of cosmetic I thought it was going to be cheap and not go one well at all, to my surprise its actually pretty good, it glides on easy and the colour is very vibrant.
It's a full size also and retails for $4. 
Third up is Yves Rocher Mandarin Shower Gel- to be honest it smells really cheap- you can smell the mandarin, but the smell of vodka/ alcohol really takes over, don't think I will be showering with this one. And for the full size bottle of it, it cost $12 for 400ml- when you can shop Bath & Body Works for half that and it smells amazing.
My sample size is 50ml and full size is $12 for 400ml, put a value on mine at $1.50. 
Those where my 3 Luxe Samples this month valued at $10.50- which is about $3 less than what I paid, so this month I feel like it was not the best of boxes, which is weird being the holiday season and all??? 
I did get 2 sample sizes (1.2ml) of Nina Ricci perfume which you can pick up for free at any Shoppers, The Bay or Sears, so really I would never put a value on this. Also each sample was more than half gone, it's like they were already used or something??? 
As a cute little bonus I did also get a cute yummy chocolate coin with the Loose Button logo on it. 
What did everyone else think of their box this month?