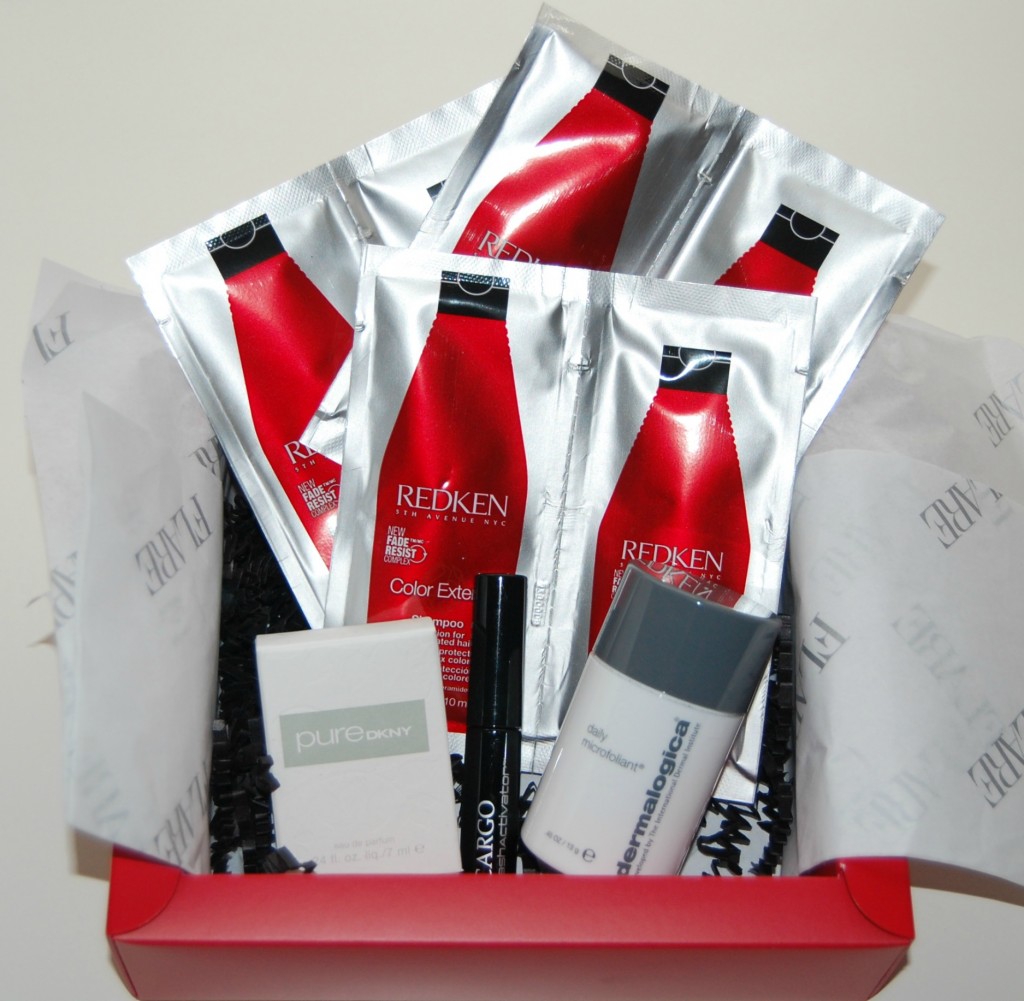 Here is my February's Luxe box review and I was happy to say, I think this was my favourite box so far (out of 4), as I already own 2 out of the 4 products (which means I must really like em)? 
First up, Pure by DKNY- this is my favourite perfume right now. I have the full size bottle in my personal collection, my husband really enjoys it, I get a lot compliments on it and I think it's a fresh scent for summer. Pure is made with basil, and although an herb, it has a citrus, lemon like quality to it. I will save this little bottle for when I travel, as I'm always scared my full size one is going to break. 
My sample size is 7ml & the full size bottle is $80 for 50 ml, so I'd put a value on this at $11.20 
Next up, Redken Color Extend Shampoo & Conditioner, I've talked about this many times, I've been using this shampoo and conditioner for as long as I can remember (maybe 10+ years). Although people seem to say it's on the higher end, I beg to differ. I spend so much money colouring my hair each month, I find this brand really does hold the colour, it smells amazing and a full size bottle (I buy the 1 liter) last me over 6 months. 
They say it retails for $15-$17 for 250ml to 300ml, you would be better off buying the 1 liter for about $26-$30. I got 3 packs of each at 10ml each, making this value at around $3.50 
Third up is Cargo Lash Activator, it says it will rev up circulation and encourage growth and it will also strengthen roots so lashes are less likely to fall out. I don't know about that, as I think it's a natural process for your lashes to fall out, but I'll give it a try. 
My sample size I think it about half, the full size retails for $35, making mine about $17 
Last up is Dermalogica Microfoliant and it was rated InStyle's Best Beauty Buys. It's a rice based enzyme powder that helps to exfoliate the skin by removing debris, leaving the skin smoother and brighter. I did test this out, I found it was difficult to make the paste and used about 3 times what it called for? It says you only need a half a teaspoon to wet hands, rub them together to create the paste and the massage in a circular motion to your face. Once I got the paste going, I found it even harder to apply to the face, it didn't spread out easily and the smell, oh gosh the smell, it was awful. Would I use it again…. Ya I would, cause although I did use a lot more than called for (I bet in time I will be using less), and the smell was awful (only on your skin for 1 min), my skin did feel amazing afterwards, probably the smoothest I've felt using any product besides getting a professional microdermabrasion done. Only thing that scares me is the price. Then again a full microdermabrasion cost me $200 a session. 
My sample size is 13g, full size is 75g for $72 making mine about $12.50 
Grand total on this package is $44- wow!