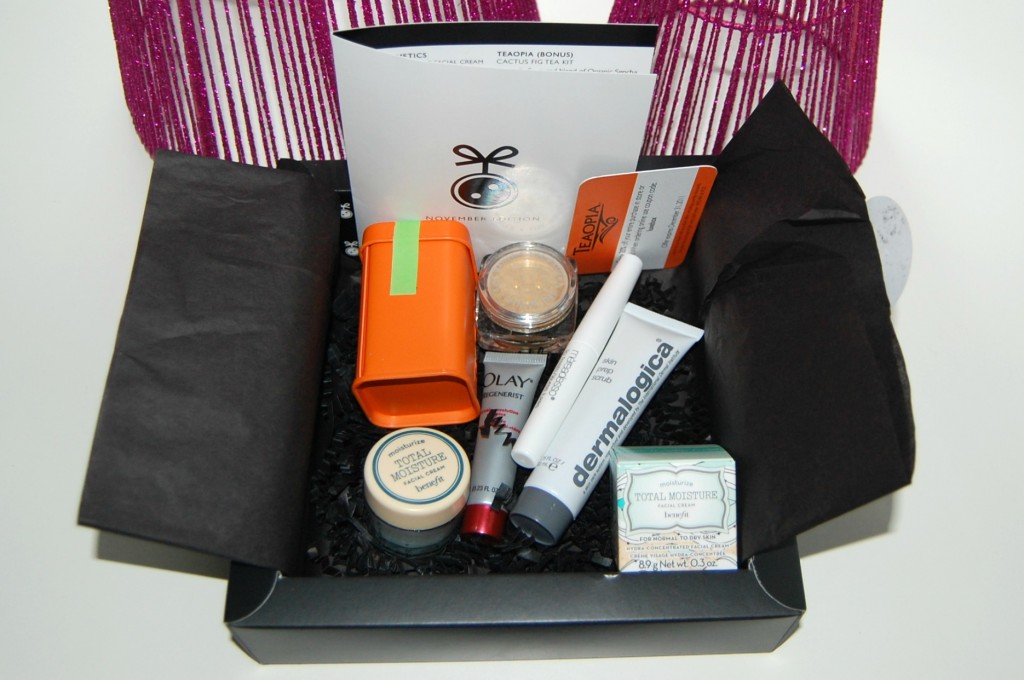 I have teamed up with Loose Button to do a review on their November's Luxe Box, and I am super impressed. You can sign up for $12 a month ($13.56 with tax) and you can cancel anytime with no cancelation fees (I love that). They will deliver 4 to 5 deluxe-sized beauty samples right to your door in a chic box each month. The samples range from skincare to makeup to fragrance to body & haircare. What more could a girl ask for? 
I received my November Luxe Box in the mail toady and I could not wait to open it. As soon as I opened the main black box I was happily surprised to see a black sticker that says "Made for Amber", I thought that was a very cool personal touch? 
Why I think this is such a cool idea is that if you're anything like me I hate buying full sized products without testing them out first. Every few months I clean out my bathroom draws to find a handful of beauty products that I bought and thought was a good idea at the time (those darn commercials really get me sometimes) and then it turns out I hate most of them (waste of my hard earned money). Now I will be able to test out at least 4 new products each month and I can then decide if I want to buy the full sized bottles. 
Okay so you probably just want to know what I got this month (what you would be spending $12 on)- so here is the breakdown. Also I just want to point out that I love that each Luxe Box comes with a little greeting card telling you what each product is, how to use it & the cost for the full size bottle. 
First up is Dermalogica Skin Prep Scrub- it's a scrub with natural corn cob meal that leaves your skin looking smooth, granting your wish of a healthy complexion. I've always wanted to test out Dermalogica line but with the hefty price tag I always stayed away (so this is my chance to test it out first)- yippee!
My sample size is 22ml & the full size is 75ml costing $32, so I'd put a value on mine at $9. 
Next up is a Lise Watier mineral loose powder eyeshadow in a cool goldish colour. I think this would be perfect for the holiday season although I'm not a huge fan of loose powder on the eyes, I'll give it a try. Again Lise Watier is such a great brand it might be okay?
My sample size is 1g & the full size is 2g costing $18, so I'd put a value on mine at $9. 
Third up is Mereadesso lip treats- it's a lush blend of evening primrose, grape seed, coconut & sunflower oils, enhanced by the added benefits of Vitamins A, C & E. It's a perfect primer for any lipstick, gloss or lip liner, they say you get double wear time of any lip product?? Now I have not heard of this brand, so I had to try it right away…. Its amazing. It smells amazing (like fresh fruit) and it left my lips kissable within minutes. I think this is going to be a favourite of mine already???
My sample size is 1.2g and the full size is 2 x 1.5g costing $28, so I'd put a value on mine at $11. 
Fourth up is Benefit Cosmetics B. Right! Total moisture facial cream- its promise is to say goodbye to dry skin with its mango butter, a natural plant-based emollient know to provide moisture. If you have not heard of Benefit before it's a super fun line that you can get at Shoppers- I have some of their cosmetics and am very happy with them.
My sample size is 8.9g and the full size is 42.8g costing $38, so I'd put a value on mine at $8. 
Those were my 4 deluxe size samples I got this month & I'd put a value on all 4 of those at $37 based on the full size bottle price- pretty amazing for only $12! 
I got 2 bonus gifts this month which were:
Olay Regenerist Wrinkle Cream- 7ml- which I think they hand out at Shoppers sometimes- so this is why its only a bonus.
Also got a cute little tin of Teaopia in Cactus Fig with a card that offers me 20% off my entire purchase in stores and online that expires Dec 31, 2011. 
All in all I think Luxe Box is a great idea for those ladies that want to test new beauty products out each month for one very low fee of $12. I have seen some past boxes and ladies have been getting full sized nail polish, full size lip sticks, lip glosses, and eyeshadows- those alone pay for your fee with only 1 item. 
I'm booked in & looking forward to December's box already! 
One lucky reader had the chance to win their very own Luxe Box by leaving a comment on Facebook , it was just in time for Christmas- these boxes also made a wonderful Christmas gift! And the winner for the Luxe Box for December is Kel M Grant!