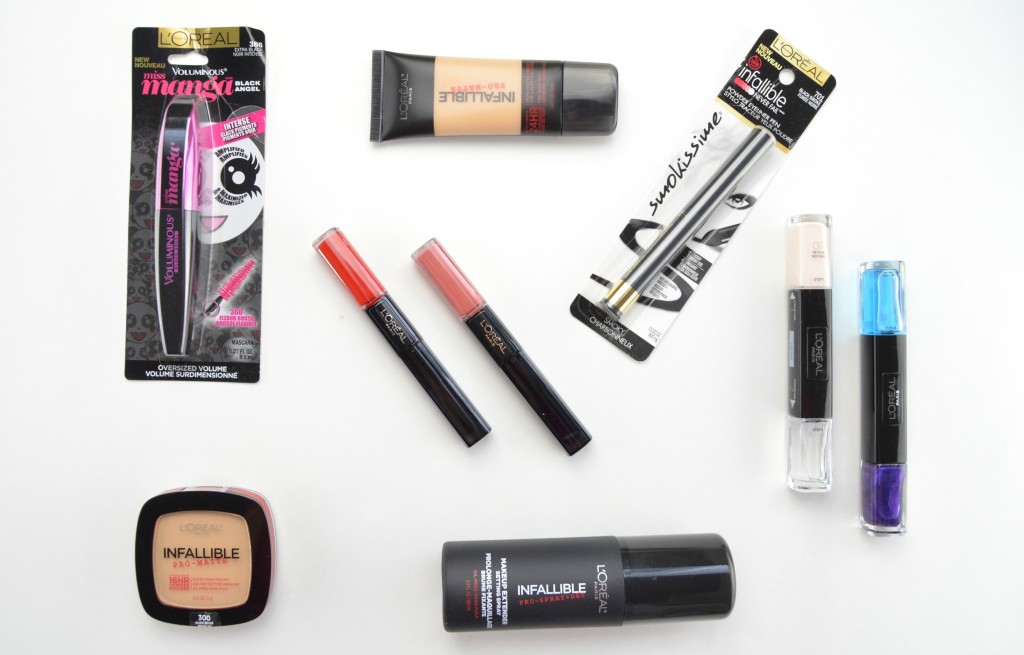 Irresistible Indulgent

I can't even tell you how excited I am about the new the L'Oreal Infallible Spring 2015 collection. Everything you love about the Infallible line with fun new lippies, nail polishes, a drugstore setting spray, new foundation and powder, mascara and so much more.

L'Oreal Infallible Makeup Extender Setting Spray is to be used after your makeup application, to extend the wear time of your makeup and give it a long lasting finish. It will help keep your makeup locked in place all day and night without the use of a powder or touch ups. Thanks to its lightweight, oil-free, patented transparent protective shield veil, it helps to protect against external factors like temperature change and harsh lights for a flawless finish that lasts.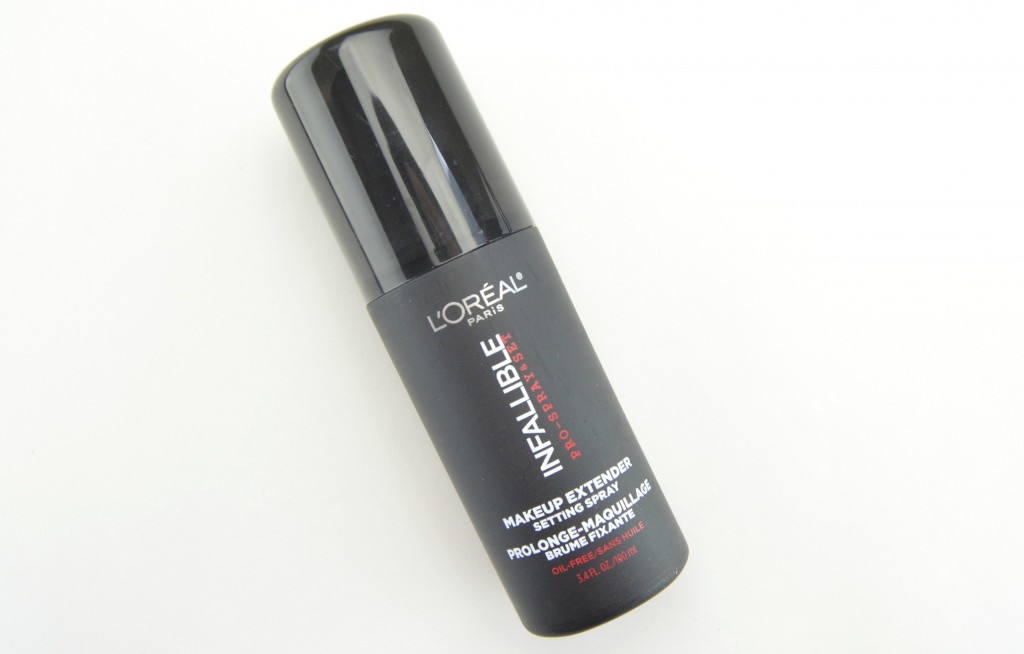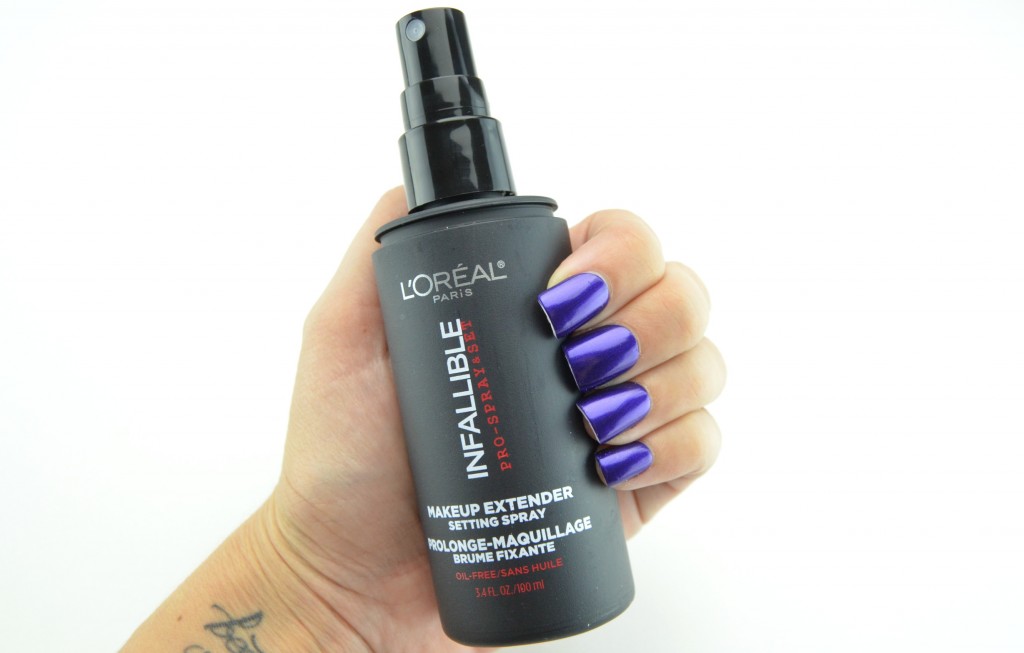 Since L'Oreal owns Urban Decay, I had high hopes for the L'Oreal Infallible Makeup Extender Setting Spray. I was hoping for a more affordable dupe for the famous Urban Decay All Nighter Setting Spray, and you bet they delivered. It comes in a large 3.4oz black rubberized bottle that's extremely easy to grip for effortless application. You'll never have to worry about it slipping out of your hands while spraying it. It does come with a pump style applicator, rather than the aerosol spray, which I actually prefer, as you have more control this way. It has a micro-fine mist that is shaken before holding 8" away from your face and spraying it 4 to 6 times in an X and T motion. It's not continuous, so you will have wetter areas than others, but absorbs within seconds. It does an excellent job at keeping my makeup looking fresh and beautiful the entire day. The only difference I see between this and the All Nighter, besides the lower price tag, is it does feel somewhat tackier mid-way through the day. It retails for $16.99.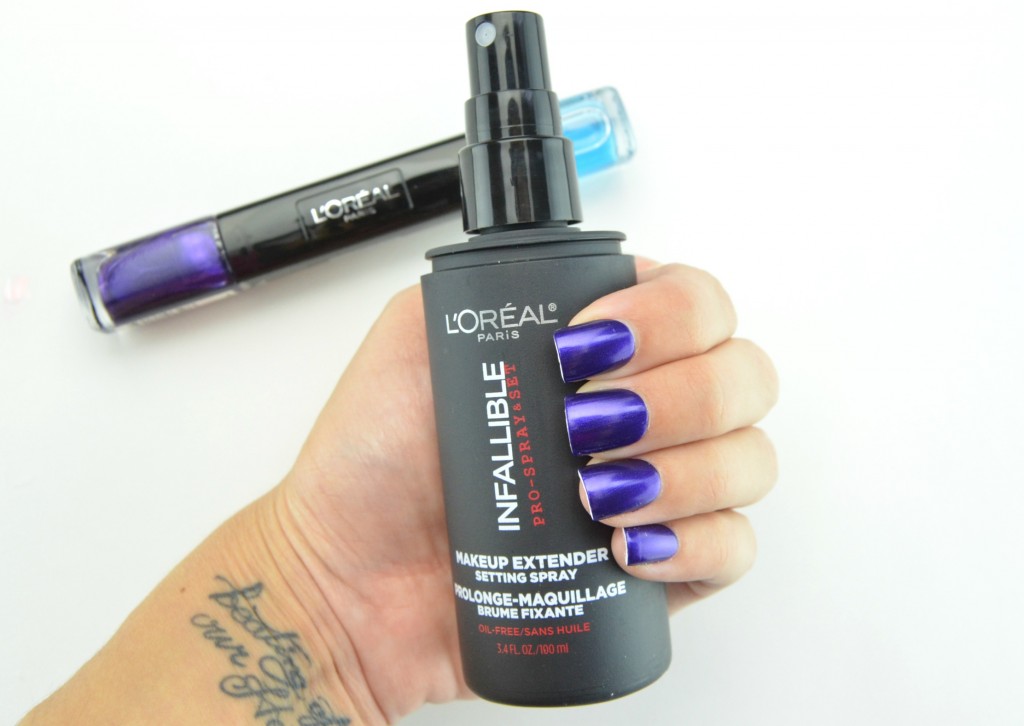 L'Oreal Infallible Pro-Matte Foundation is a lightweight, 24 hour, medium coverage foundation that leaves skin with a flawless, shine-free, semi-matte finish. Its unique micro-sponge technology helps to absorb oil, while its infallible polymers help to recreate a smooth finish. It has a liquid cream texture that's somewhat of a thinner consistency. With one thin layer, it provides a light coverage, but can easily be built up to a medium coverage. It does dry and set almost immediately, so you're going to want to move quickly. The more layers you apply, the cakier it will start to become, although it does blend out fairly easily. It doesn't cover up minor breakouts, dark circles, hyperpigmentation or redness, but gives a nice semi-matte finish. Although it claims to never look dry or flaky, it does cling to my dry patches and settle into fine lines and pores, if I don't wear a good primer with it. I haven't actually had it on for 24 hours, but it lasted a solid 12 without transferring, oxidizing or fading. I think this would be better for people with oily to normal skin, as it can be a bit drying. It comes in 12 shades and retails for $19.99.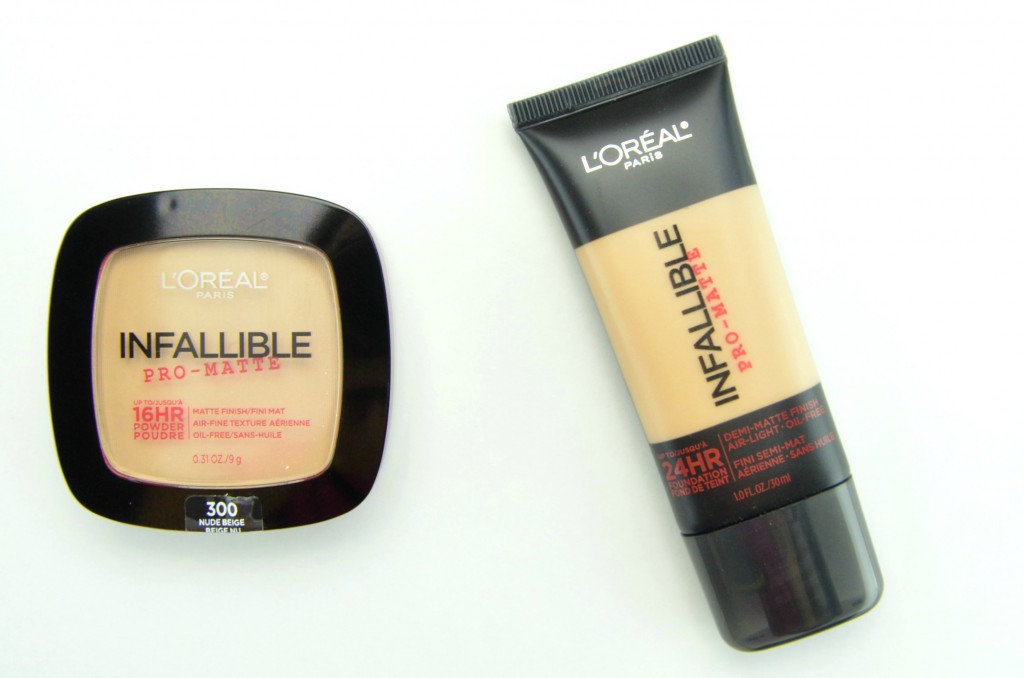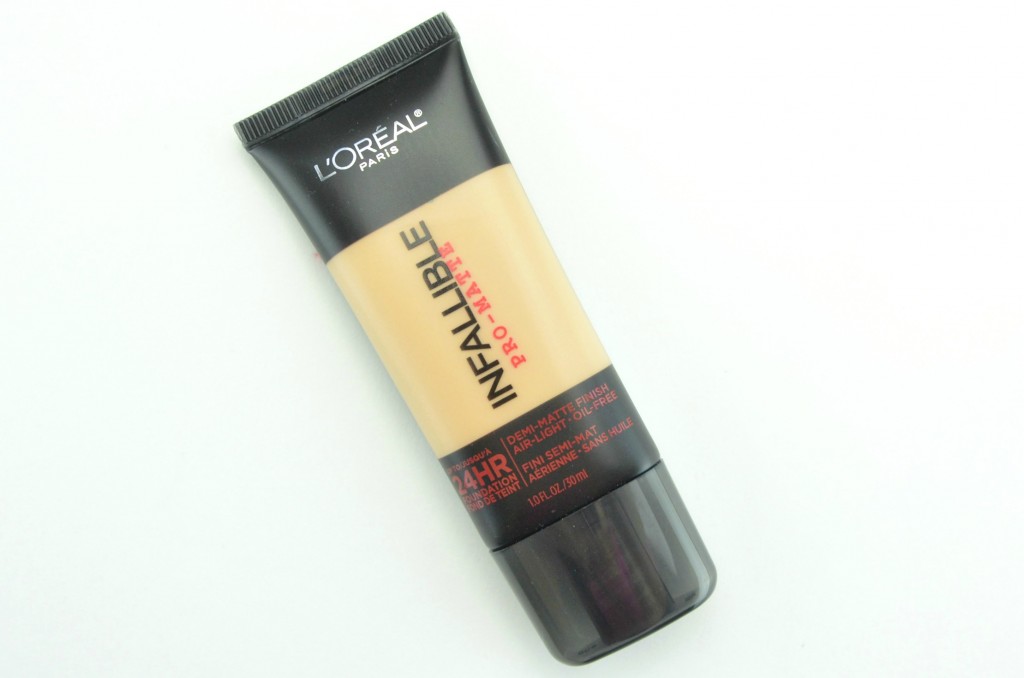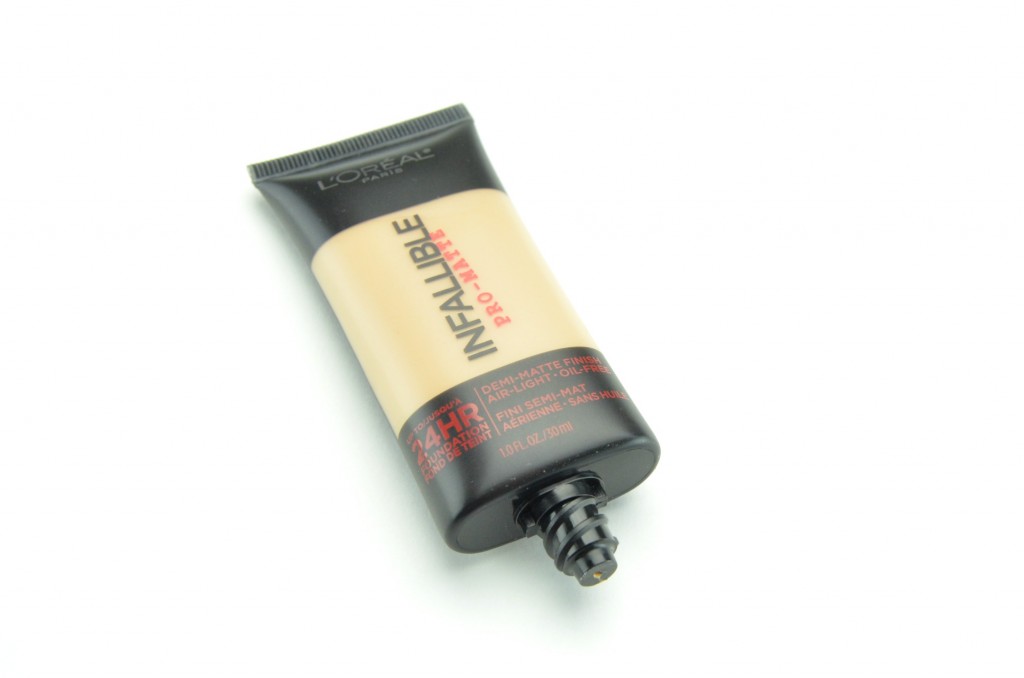 L'Oreal Infallible Pro-Matte Powder is a lightweight, 16 hour, medium coverage powder that provides a flawless, shine-free, matte finish. It too has unique micro-sponge technology that helps to absorb oil, while its infallible polymers help to recreate a smooth finish. It has a weightless, smooth and creamy texture, but does have a lot of fall out and can be a bit powdery. This is one powder that you're not going to want to use to set your foundation with. Even with a light hand, it looks extremely cakey and dry and you can totally tell you're wearing a powder. I think this would be best used on its own for a light to medium coverage. It comes in 8 shades and retails for $16.99.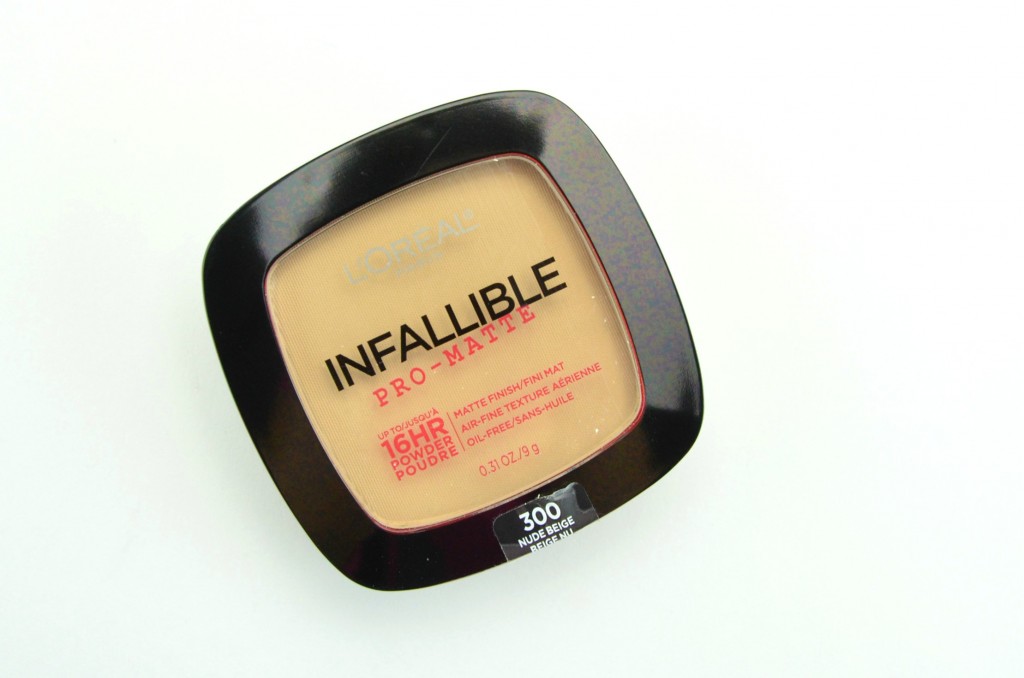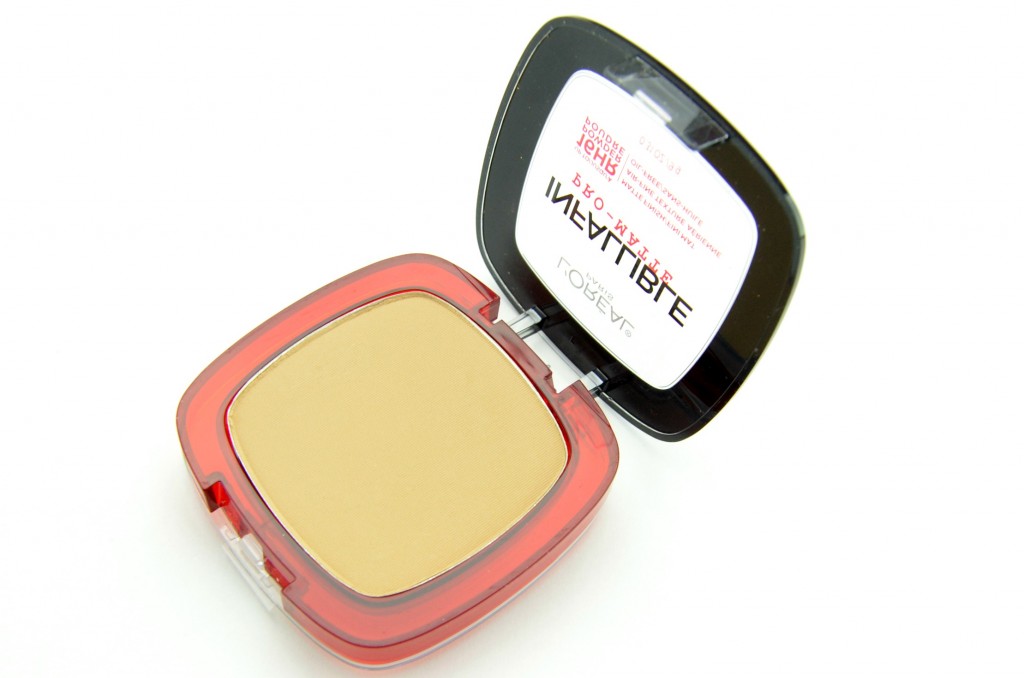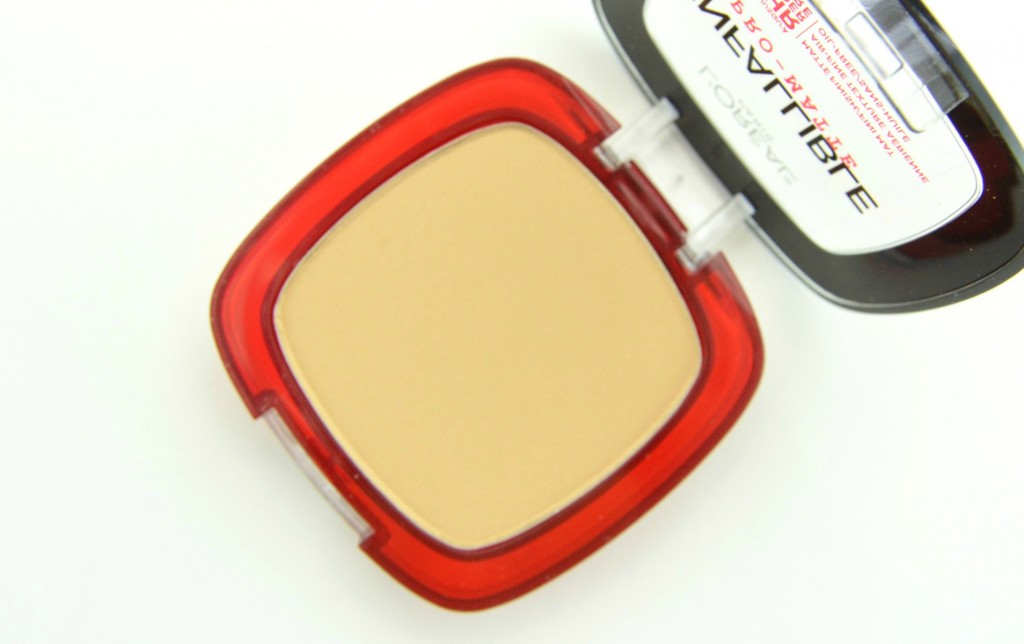 L'Oreal Infallible 2 Step Lipcolour is a 24 hour, intensely pigmented, extremely hydrating and comfortable liquid lip colour. Its duo-ended packaging features a lip colour with doe-foot applicator for easy application on one side and a twist up moisturizing balm on the other. The coloured side has a lightweight, full coverage, highly opaque, 3D prism mechanism technology that delivers an even coverage in a single stroke. It glides on effortlessly without any patchiness, stays put the entire day and is fast-drying. It does feel a little drying on the lips at first, but as soon as you apply the moisturizing lip balm, it feels quite hydrating. Tip, keep the balm handy throughout the day (or be prepared to apply another lip balm), as it can be a little drying after the balm wears off. I wouldn't say it's a 24 hour lip colour, but it did seem to last on the lips a solid 6 hours without transferring, even after eating and drinking. You'll need a good cleansing oil to remove these. It comes in 14 new shades ranging from classic reds to pretty pinks and timeless nudes for $13.99.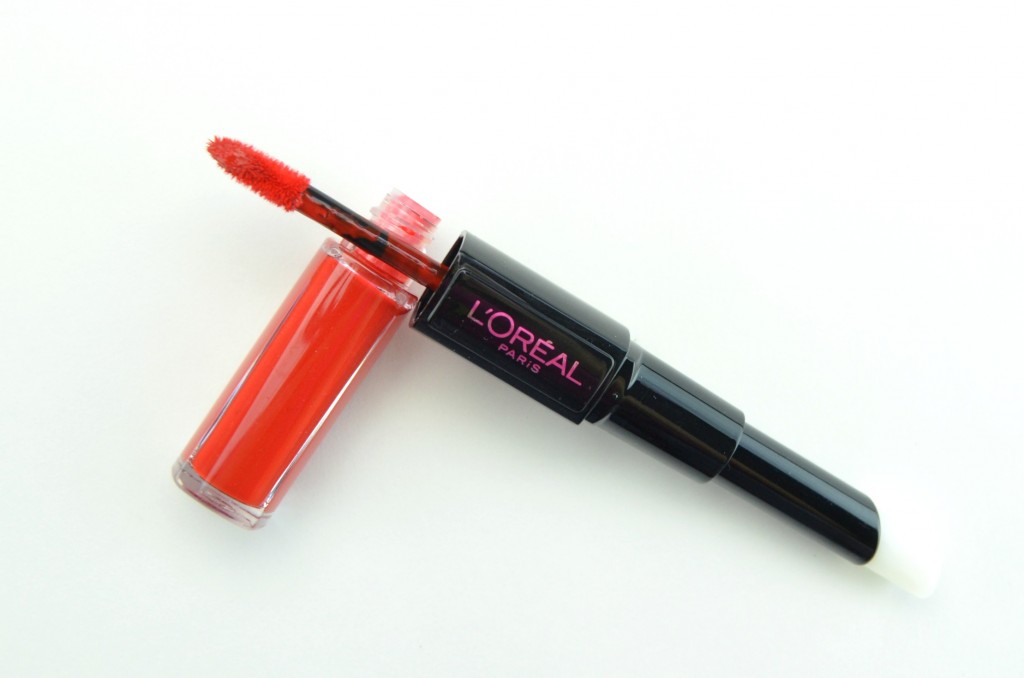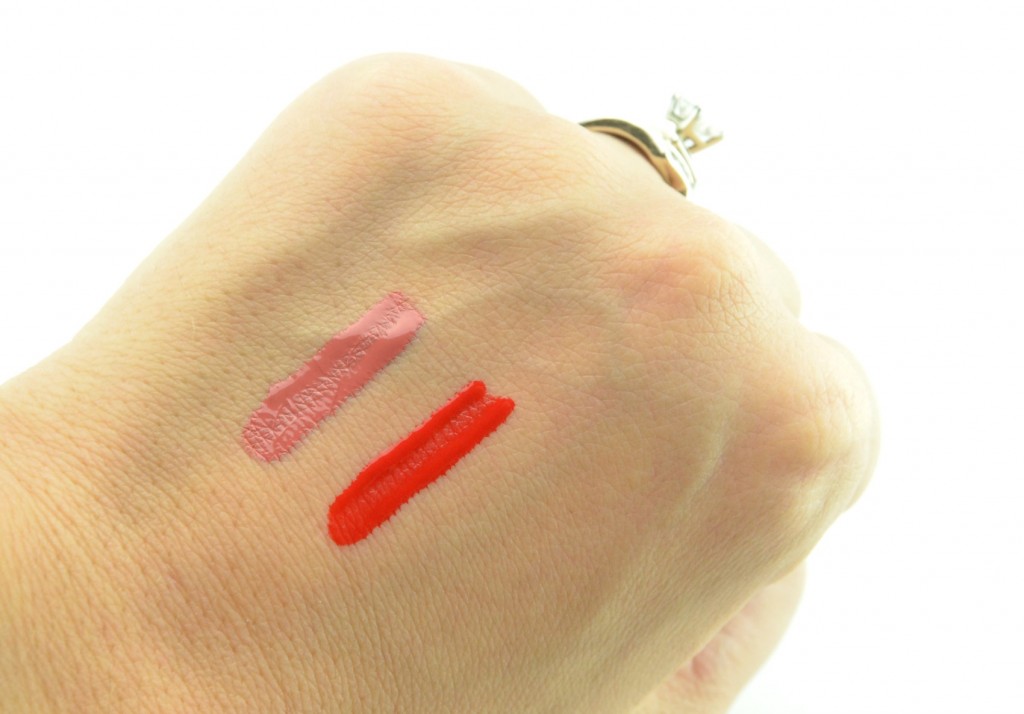 L'Oreal Infallible 2 Step Nailcolour is a hybrid gel-lacquer that provides up to 12 days of high shine, opaque colour, without the use of a UV lamp. Its silicone and flex-resin formula helps with wear time for no fading, chip resisting finish. It's much like the L'Oreal Infallible 2 Step Lipcolour with its duo-ended colour on one side and coordination colour top coat on the other. These two ends are designed to work together to help prolong the longevity and wear time and can be mixed and matched with other Infallible 2 Step base colours to create your own personal, unique look. It has a gel like texture that's fairly easy to apply, but does require at least 2 coats to get true opaque coverage. It covers nails in 2 to 3 strokes with a streak free finish. It does take a lot longer than traditional nail polish to set and dry, even after 20 minutes the first layer is still somewhat tacky. I went ahead with the second layer, but my entire manicure took about an hour. I guess it's better than going to the salon and since the longevity of these are noticeably longer than ordinary polish, you'll have to paint your nails less. Although I didn't get the chance to wear these for an entire 12 days, on day 5, my nails were still looking shiny and chip free. I love a good double-sided nail polish, since I can never find my top or base coat, but I hate storing them. I find they take up too much space and dry out a lot quicker, as you're forced to place them on their side. I guess you take the good with the bad? It comes in 12, fashion-forward and on trend shades and retail for $10.99.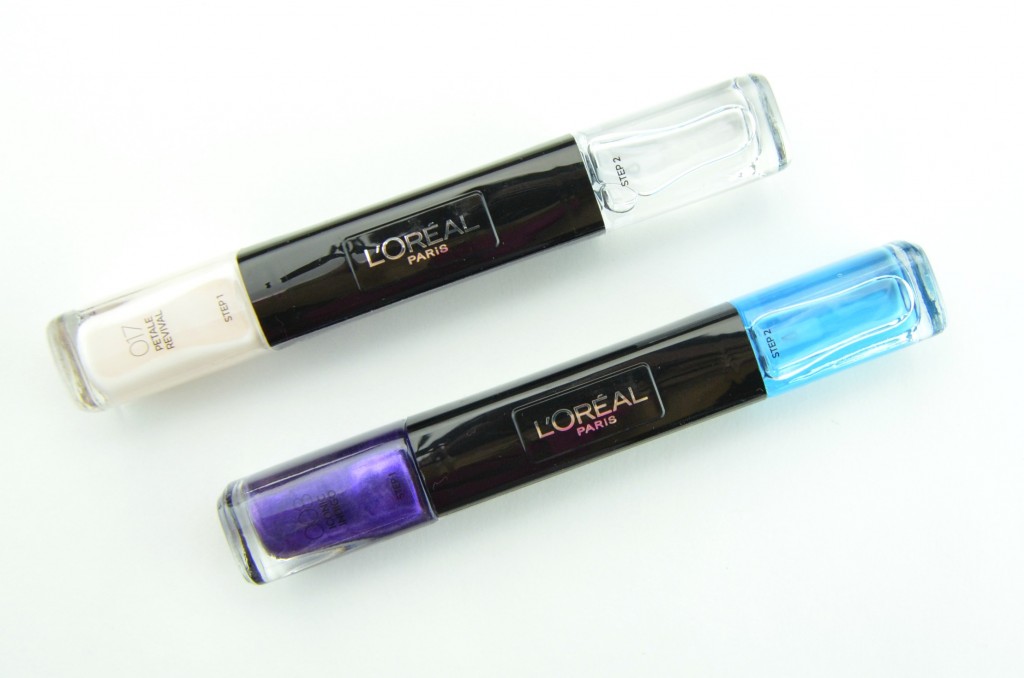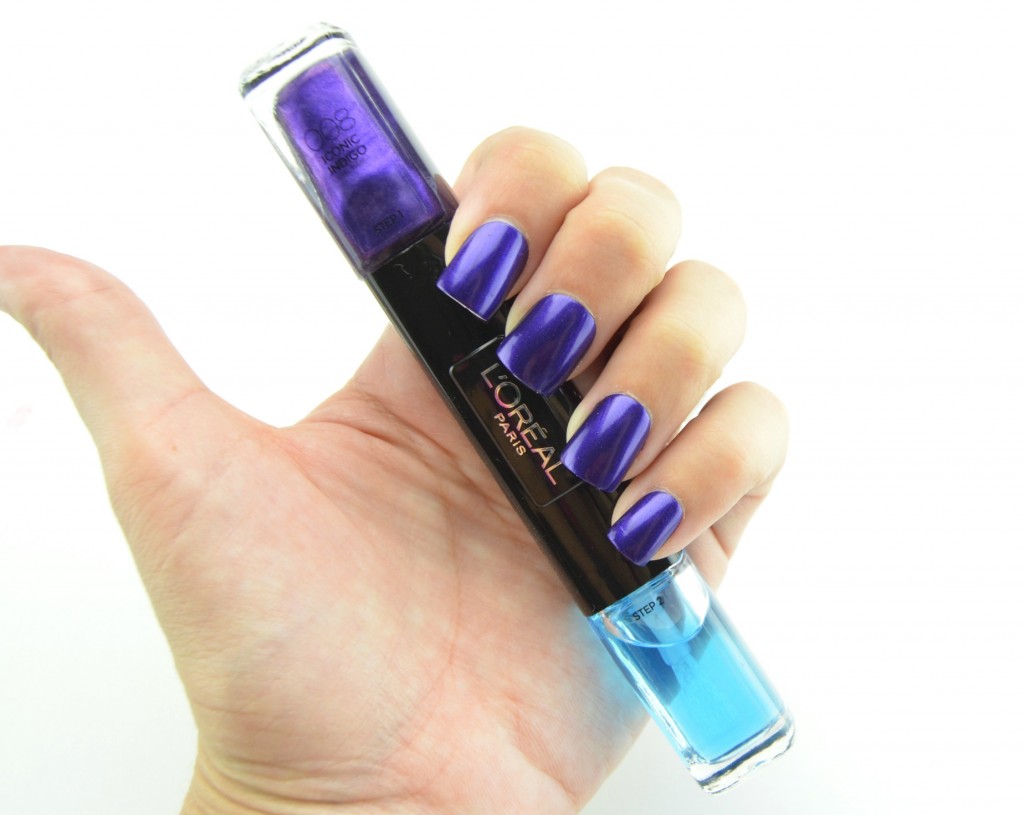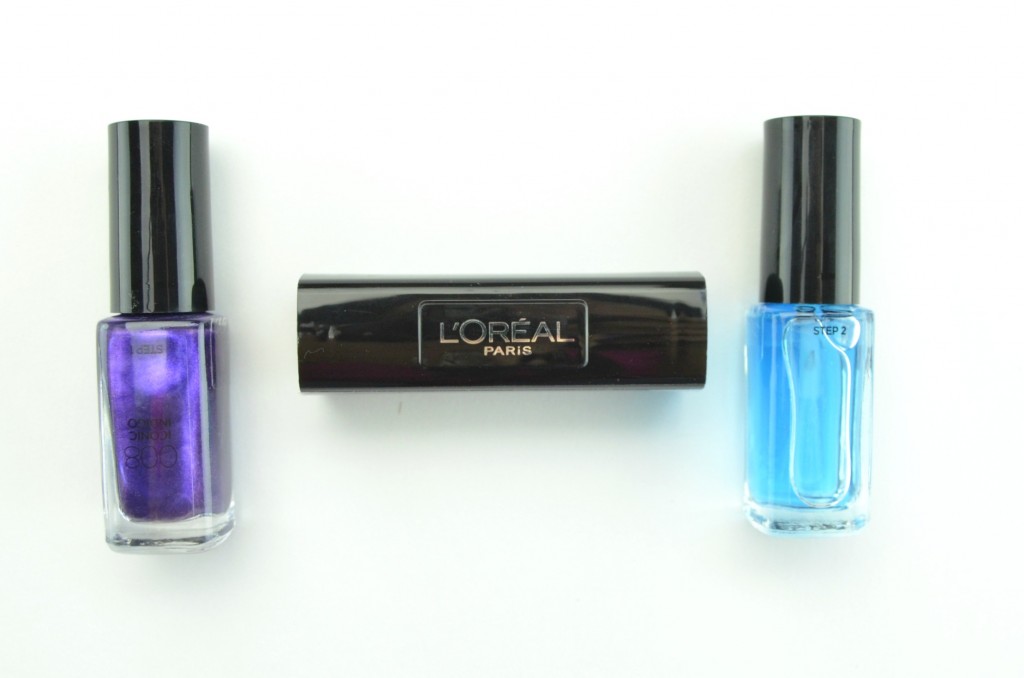 L'Oreal Infallible Smokissime Powder Eyeliner Pen is a hybrid, smoky eye pencil with built-in loose pigments in a wax-free formula that helps to resist melting and smudging for a deep, dark look. Its precise sponge tip applicator comes in a chubby pen style packaging with an eyeliner powder located in the inside cap. Once the cap is replaced, the sponge becomes saturated in the gel-like powder and is ready to be applied. Simply swipe the sponge along your lash line, be careful, as it can drag and skip a little, but can easily be blended out using the sponge, your finger or a brush. Although it claims to be no mess, I did experience a little fall out during application, but cleanup was a breeze. This is the easiest way to achieve a smoky eye, simple swipe, blend and go. It provides a bold, intensely pigmented shade on the lash line, with a slightly softer shade as you blend your way onto the lid. It's highly pigmented on first application and is easily buildable without looking cakey, although 1 layer is probably suffice. It also claims to wear for 14 hours, again, I haven't actually had it on for that long, but I see no problem getting at least 10 hours when used with a primer. It comes in 4 shades and retails for $12.99.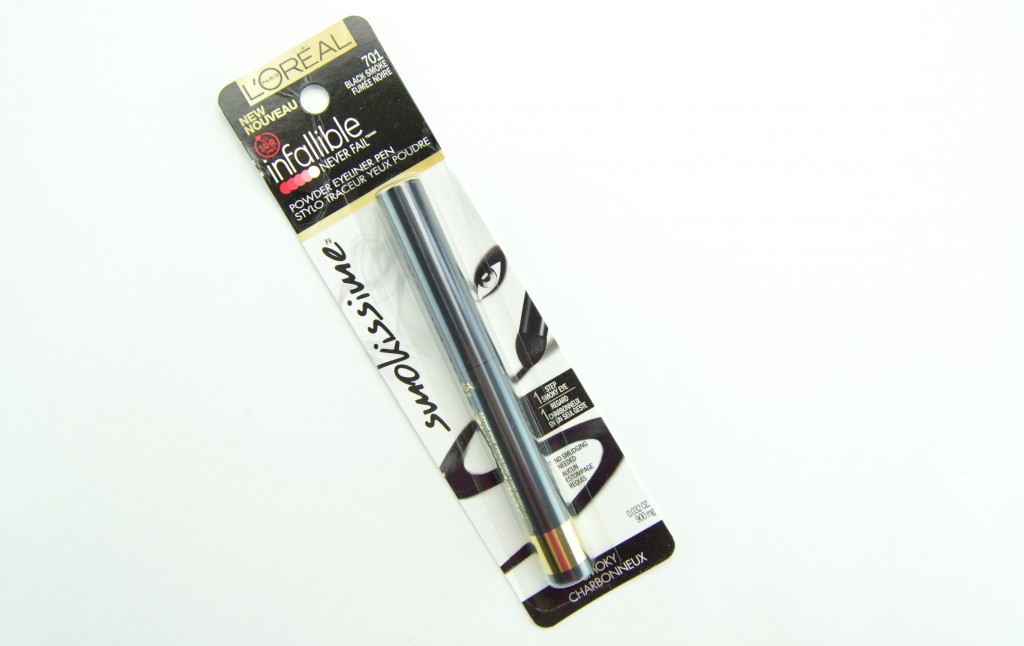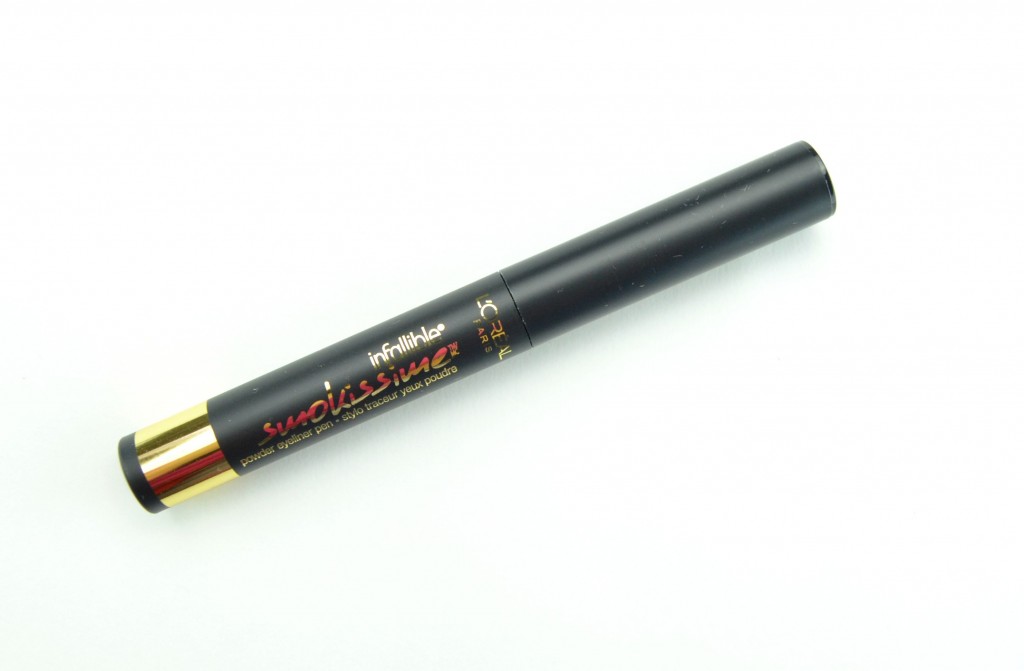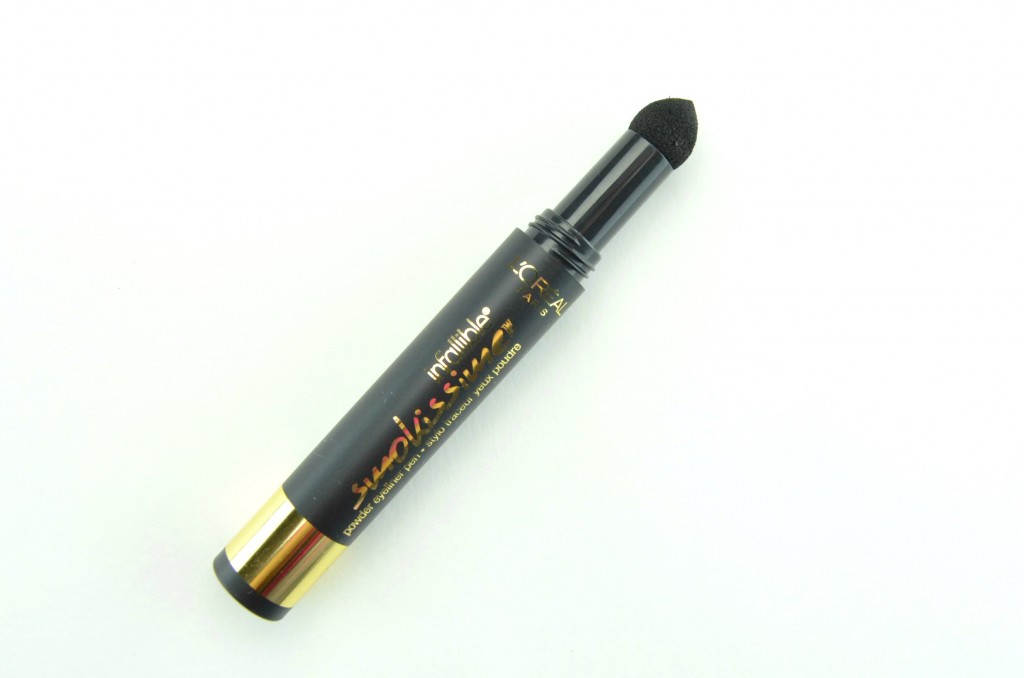 L'Oreal Voluminous Miss Manga Black Angel Mascara is much like the original L'Oreal Miss Manga Mascara, but with neo-black pigments to help create an intensely black lash effect from top to bottom. It has the same amazing 360 degree angle brush that helps grab onto every single lash for a lush, oversized volume lash look. You can see full review here, as it has the same great brush, same drier formula with the same, dramatic results. It retails for $10.99.