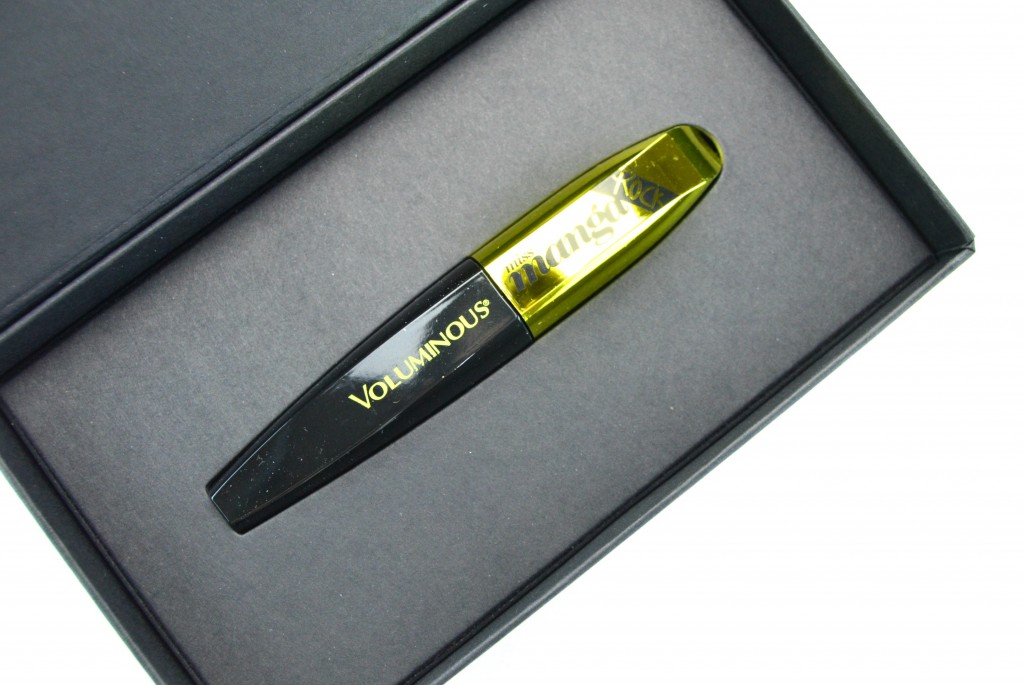 Rock n Roll
Unleash your inner rocker this season with the newest member of the Miss Manga family, the L'Oreal Miss Manga Rock by Voluminous Mascara. This new mascara promises to give you "spiked overloaded volume" with a 360 degree spiked brush. It's the first texturizing mascara that intensely styles your lashes for a daring rock n roll look.
L'Oreal Miss Manga Rock packaging is exactly the same as the original Miss Manga mascara, but done in yellow instead of pink. The unique and innovated brush is a slim cone shaped brush that features short little spikes around the entire wand with wide gaps in between the bristles. It has an extremely wet formula that dries fairly quickly. You'll want to work quickly combing through each lash. Use the pointed tip of the brush to comb vertically to create points and watch as its texturizing formula provides major volume at the root and length by stretching and grabbing each lash. It glides on pretty effortlessly and the tiny spikes do an excellent job at coating each lash, giving an almost false lash effect in a single coat. It has a lightweight, extremely intense black formula that doesn't smudge, budge or flake the entire day.

I'm not going to lie, when I first saw the photos of the model wearing this new L'Oreal Miss Manga Rock Mascara, I instantly thought, why would anyone want to buy this mascara? I thought the whole point of apply mascara was avoiding looking like you had spidery or clumpy lashes? Because of the large gaps, the brush picks up a ton of product and saturates your lashes with a ton of mascara, instantly clumping them together. For a girl who hates to apply false lashes, but still wants that oh so trendy pointed lash effect, this mascara is perfect. It doesn't actually curl your lashes, instead it provides incredibly dramatic volume.

I find the best way to apply L'Oreal Miss Manga Rock Mascara is to turn the wand vertically and use quickly back and forth movements at the root of the lash, pulling upwards. You'll have to move fairly quickly as you want to try and separate some of the clumps, although the whole idea behind this mascara is the more spidery the better. Although it's buildable, this is really just a one coat formula, I really can't imagine going in with a second coat. I've actually had fun recreating a more punk and edgy look with mascara. It may not be suitable for every day wear, but it's fun when you want a more dramatic, spiky, badass look. It comes in black and blackest black along with a waterproof version and retails for $11.99.