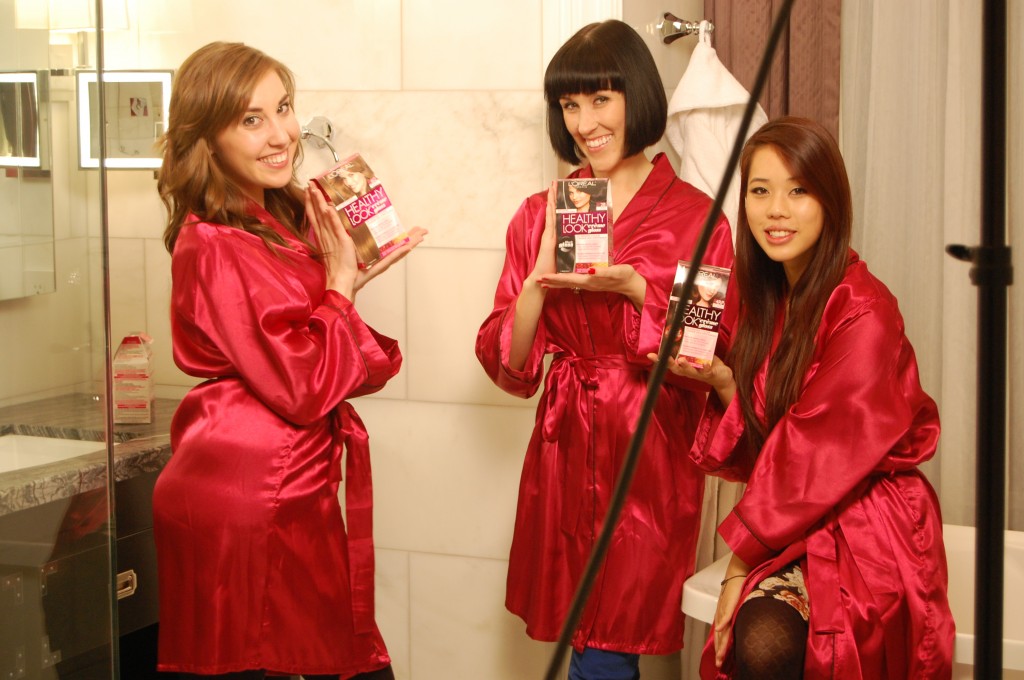 L'Oréal Paris hosted its own Healthy Look Hair Colour Party with myself, two other amazing, beautiful and talented beauty bloggers, Jessica from Beautzine and Michele from Rubanxrose and the ever so dashing Eric Del Monaco, Official Hair Stylist and Colourist for L'Oréal Paris. We had so much fun at our Chocolate Themed Party, acting silly, being girly and dying each other's hair, I couldn't ask for a better night.
.
.
As a special treat to my followers, L'Oreal Paris gave one of my lucky readers a L'Oreal Paris Healthy Look Gift Basket worth $150 full of makeup, hair care and skin care and  the big winner was Juila!  
You now also have the opportunity to host your very own Healthy Look At Home Hair Colour Party with friends and family for a chance to win a trip to TIFF (Toronto International Film Festival) and VIP treatment by L'Oréal Paris, Official TIFF Sponsor. L'Oreal Paris is giving you up to five $4 off coupons for a box of hair colour of your choice to get your party started. They then invite all of you to share photos of your party via Instagram, Twitter and emails and the person who hosts the best hair colour party will win.

.
Here are the 5 easy steps to get started:
1. Head on over to L'Oreal Paris Facebook Page & watch the 1 minute video featuring yours truly to get the feel of the hair color party you're going to be hosting
2. Download the HEALTHY LOOK DIGITAL PARTY KIT containing a link to access up to five $4 off coupons for you and your friends, a guide to help choose your shades, and some helpful party tips! 
3. Set a date for your party after everyone attending has purchased their new Healthy Look shade
4. Host your party to colour each other's hair
5. Submit a before and after photo of you and at least one other friend with the haircolor shade you used and the Hashtag #ColourCrush to Instagram (LOrealParisCAN), Twitter (LOrealParisCAN) with the hashtag #ColourCrush or email it to lorealpariscan@gmail.com with #ColourCrush in the subject line.
.
There is 1 grand prize consisting of a VIP trip for two to the Toronto International Film Festival (TIFF) valued at $5000CAD. This amazing trip includes a round trip economy air transportation for the winner and guest with transportation from airport to hotel at time of arrival and departure. A standard accommodation in a double occupancy hotel for two nights and some pocket money for meals equal to $200CAD per person per day, but best of all tickets and VIP access to the Toronto International Film Festival (TIFF). You must be able to travel on September 7th to 9th, 2013.
The contest is open to residents of Canada and starts today March 13th, 2013 at 10:00am (ET) and closes on April 28th, 2013 at 11:59 pm (ET).
What are you waiting for, head on over to Facebook to get started… think about having a theme for your hair color party… maybe a Chocolate Factory like ours, an 80's Retro night, a Chic and the City, anything goes but most of all just have fun!
Here are some of the pictures of our Healthy Look Hair Colour Party for inspiration!