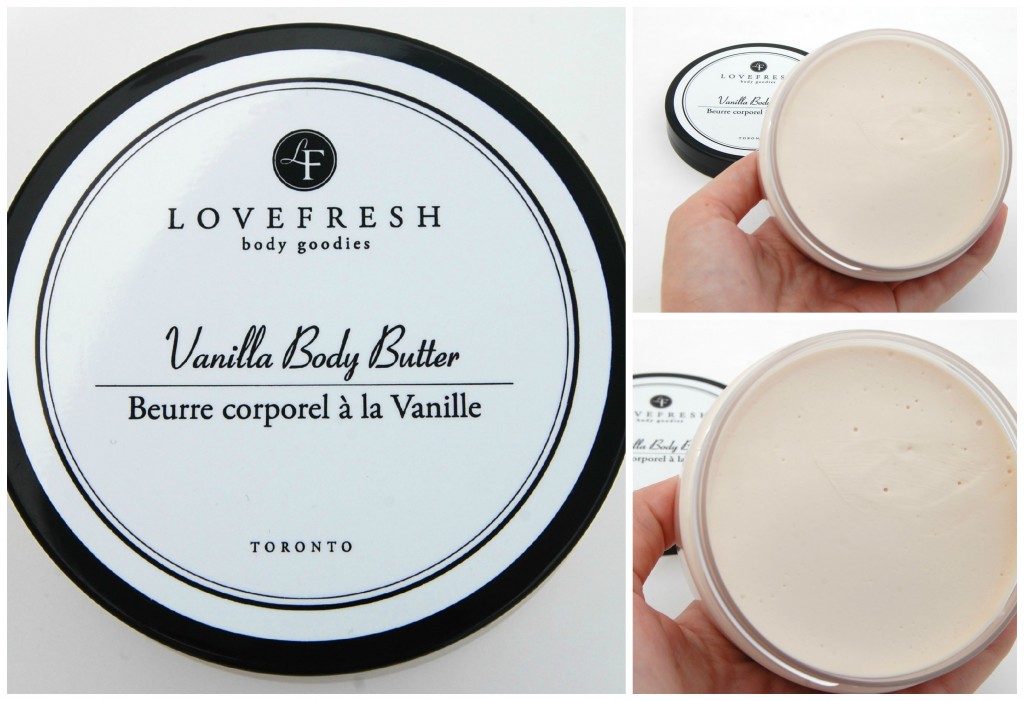 Just because summer is coming doesn't mean you have to stop moisturizing, in fact you may need to bump it up a little because you'll be wearing more dresses, skirts and sandals, and no one wants dry looking legs or feet.
Lovefresh is a Canadian brand that prides itself in luxurious, delicious-smelling skincare that uses all-natural products formulated with only the best ingredients from local and global sources, including layered notes of beautiful, fresh-smelling scents. Lovefresh makes body butter, body wash, lip balm, body lotion, soap and sugar scrubs that are petroleum, paraben and sodium lauryl sulfate free. Lovefresh has 9 different fragrances to pick from; a little something for everyone. You have your pick of lavender, pear, water lily, vanilla, pink grapefruit & tangerine, lemon verbena, pomegranate, key lime coconut or vanilla bean.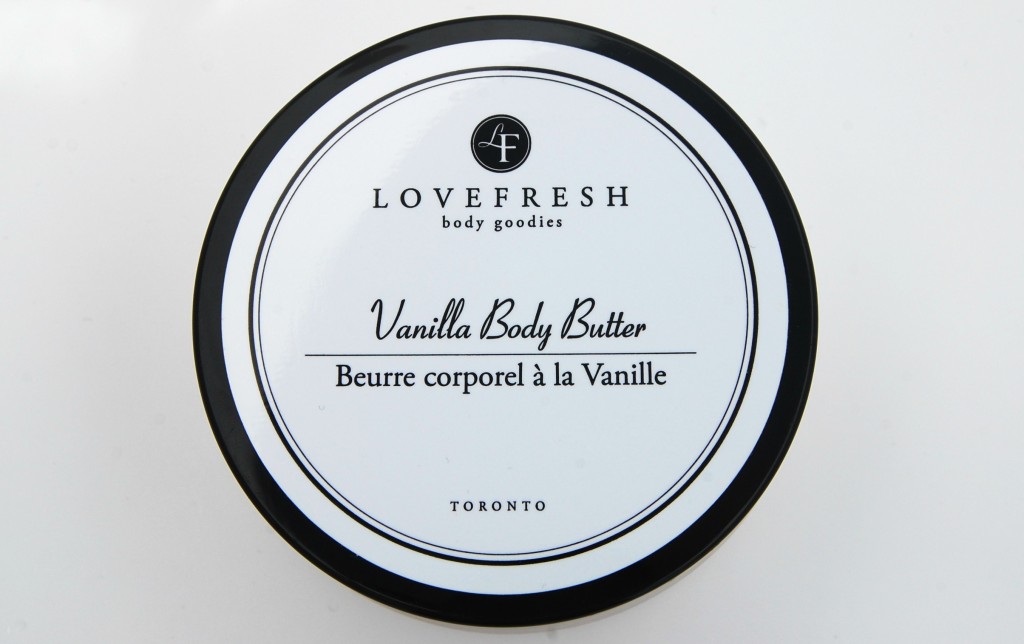 I was sent Lovefresh Body Butter & Lotion to test and I'm in love with both. Love the packaging of these body butters, sleek, simple label, easily stackable for smaller spaces, made of plastic in case you drop it and has a twist off lid. I wish all lotions came in these huge round tub containers, it helps minimize waste as you can get every last drop of product from the bottom of it.
I picked Lovefresh Vanilla Body Butter which is a yummy vanilla based scent with a rich, creamy yet thick texture that moisturizes my skin on contact. It spreads onto my skin very smoothly, just like butter and melts into my skin, and gets absorbed within a few seconds, leaving my rough elbows, knees, and legs super soft after every single use. The body butter has a thick consistency, and is the same off-white colour that's shown through the tub. It leaves behind a delicate vanilla scent that lingers in the background for a good few hours after applied.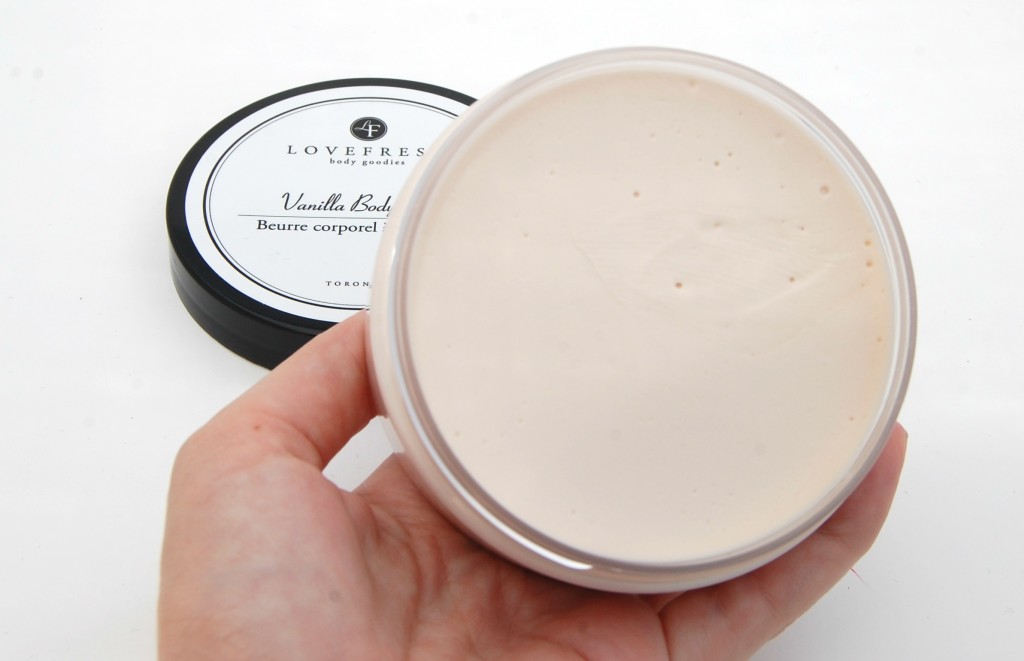 Lovefresh Vanilla Body Butter is formulated with Aloe Vera, Chamomile, White Willow bark and Calendula extracts that will leave your skin feeling hydrated with a delightful hint of vanilla left on the skin. Each body butter is 240ml in size which is plenty considering how rich and creamy they are. They retail for $24 and can be bought online at LoveFresh and speciality retails across Ontario.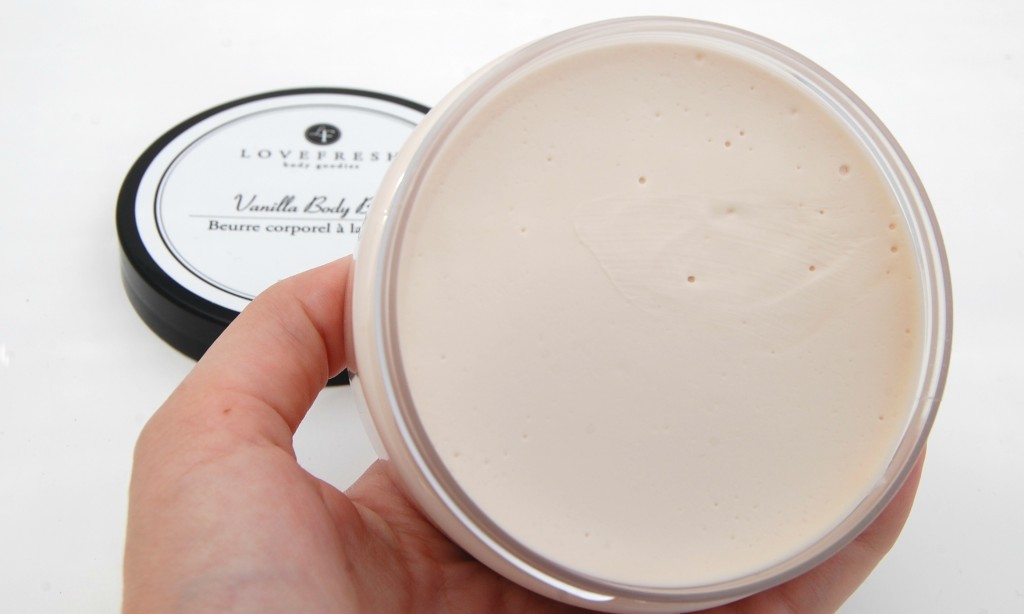 Overall after using Lovefresh Vanilla Body Butter for the past month my skin feels moisturized and soft to the touch; it stays soft until my next shower. It's easily spreadable and gets absorbed into the skin within seconds, no downtime. If you're a girl who loves the scent of vanilla, you're going to love this body butter for sure.