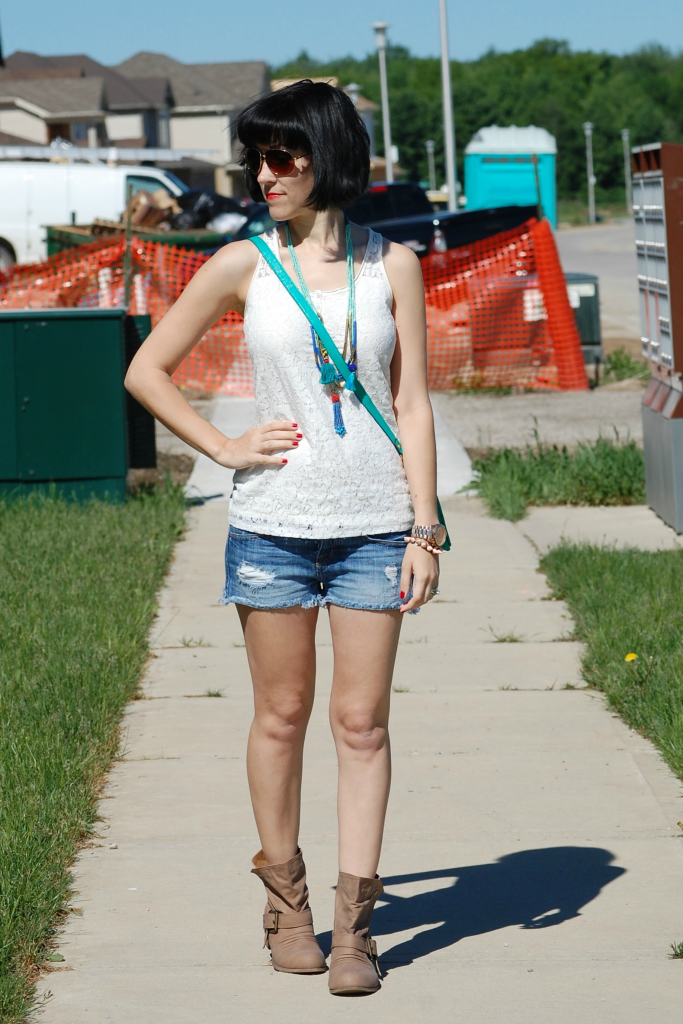 Fashion Magazine Style Panel Question this week is how to channel the festival look for every day life; when talking festival style we think crop tops, boho, fringed tops, maxi dresses, cowboy boots and flowered headbands; not really practical for everyday life when paired all together? I would try to incorporate one or two of these pieces and pair more classic items with it. I started with a cute pair of low motorcycle boots in a tan colour, still light enough for summer but you get that cowboy feel to it. I paired cut-off shorts with a lace tank top to keep it girly. To get that boho feel, I wore a beaded necklace, but it doesn't look overdone. I topped it off with a pop of colour in a small cross-body handbag and some fun "arm candy".

Top- Smart Set- $26- March 2013
Necklace- CC/ The Loft
Watch- Aldo- Gift from hubby
Bracelet- The Bay- $7 (on sale)- April 2013
Purse- Target- $30- $30- March 2013
Shorts- American Eagle- $39- July 2010
Boots- Urban Originals- $25- Oct 2013

Unfortunately due to the construction in the background, Fashion Magazine could not post my picture on their online gallery this week, it was still fun to take part in this challenge so I thought it was worth posting on my blog?