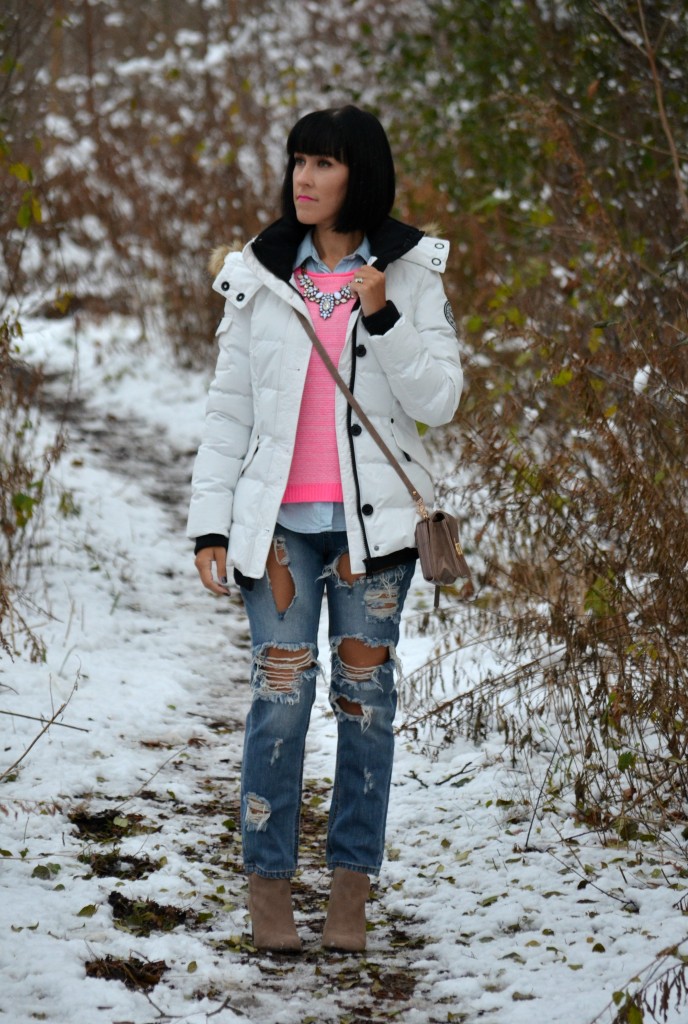 With the weather finally starting to feel like a true Canadian winter, and playing off the success of my 7 days of Hush Puppies showcase, I thought this would be the perfect week to start coat week. Over the next 5 days I'll be sharing with you my must-have jackets of the season. These will be sure to not only keep you warm this winter, but stylish too.
First up, this beautiful jacket from Noize. Noize, designed right here in Canada, focuses on creating high quality faux fur and faux leather accents at a price that's extremely adorable. Noize brings a fresh perspective to winter outerwear and leaves you dreaming of cooler weather ahead. Each piece is not only stylish and fashionable, it's a true statement piece that will keep you incredibly warm this season.
Don't be afraid of white this winter, nothing looks fresher than a crisp white jacket in the dead of winter. This Noize Aspen coat is not only chic and stylish, it is machine washable, allowing you to get a little dirty this winter. It features a center front zipper with oversized buttons, an inside braded collar to keep the cold out, removable polar fleece lined hood with faux fur trim and ribbed cuffs and hem. I have to admit, I wasn't sure how warm it was actually going to be, cause it is light as a feather, but it's unbelievably warm. Almost too warm for today. It did a wonderful job at keeping the wind out, even though it was incredibly breezy in the forest.
What I Wore, Sweater- The Gap, Denim Shirt, Smart Set, Jacket- c/o Noize, Purse- c/o Pinkstix, Watch- c/o Wittnauer, Jeans- One Teaspoon, Booties- c/o Hush Puppies