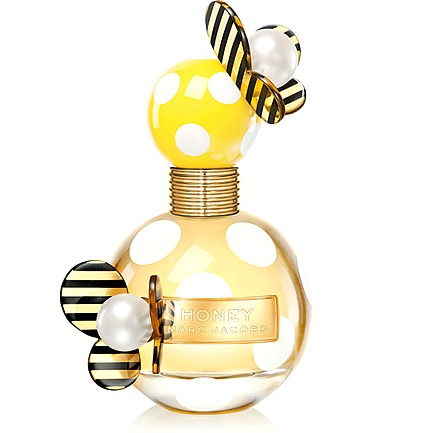 If you're looking for a Fall fragrance that's vibrant, bold and spontaneous then the new Marc Jacobs Honey Perfume for Fall 2013 might be for you. If you loved the whimsical ladybug bottle from Marc Jacobs Dot, you'll fall head over heels for Honey which is housed in a fun, yet elegant and modern polished glass yellow bottle that reveals the golden hue of the fragrance inside. A mix of dots, pearls, stripes in yellow, black and white and designs that resemble little butterflies buzzing around flowers are featured on the bottle. It also has a stunning gold face plate on the front that showcases the name, Honey and Marc Jacob.
Marc Jacobs Honey was created by perfumer Annie Buzantian, who is also responsible for Dot, opens with a cocktail of fruit notes like pear, fruity punch and juicy mandarin giving it a crisp, sweet and dewy scent at first. As it settles on the skin, after about 30 minutes, the heart notes of orange blossom, honeysuckle and peach nectar take over. In the base we have honey, golden vanilla and smooth woods, but the vanilla really shines near the end, mixing perfectly with the fruits and musk of the top notes.
Once again, Marc Jacobs has delivered another stunningly presented bottle that will look beautiful on my dresser. I was expecting a strong honey scent, but it turned out to be a wonderful, sweet mix of all of my favourite scents, a little floral and citrus with a hint of honey and vanilla. It lasts about 6 hours before I feel the need for another squirt.
Honey is available at The Bay, Sears, Holts, Shoppers and Sephora and retails for $80 for 50ml or $105 for 100ml. You can also pick up the Honey Radiant Body Lotion which is a lightweight lotion that soothes, softens and moisturizes the skin for $49 for 150ml.