L'Oreal's Infallible Lip Paints
Spring's biggest beauty statement is going to be all about a rich, vibrant lip. Whether you gravitate towards saturated brilliant reds, steamy vivid purples or dazzling bright pinks, it's the perfect way to add some edge to any look. Sure, we've seen those barely there, "I woke up like this" nude makeup trends for months, but this season it's all about being bold. What better way to add some pizzazz to your tried-and-true makeup look than with a daring and bright pop of colour on your lips?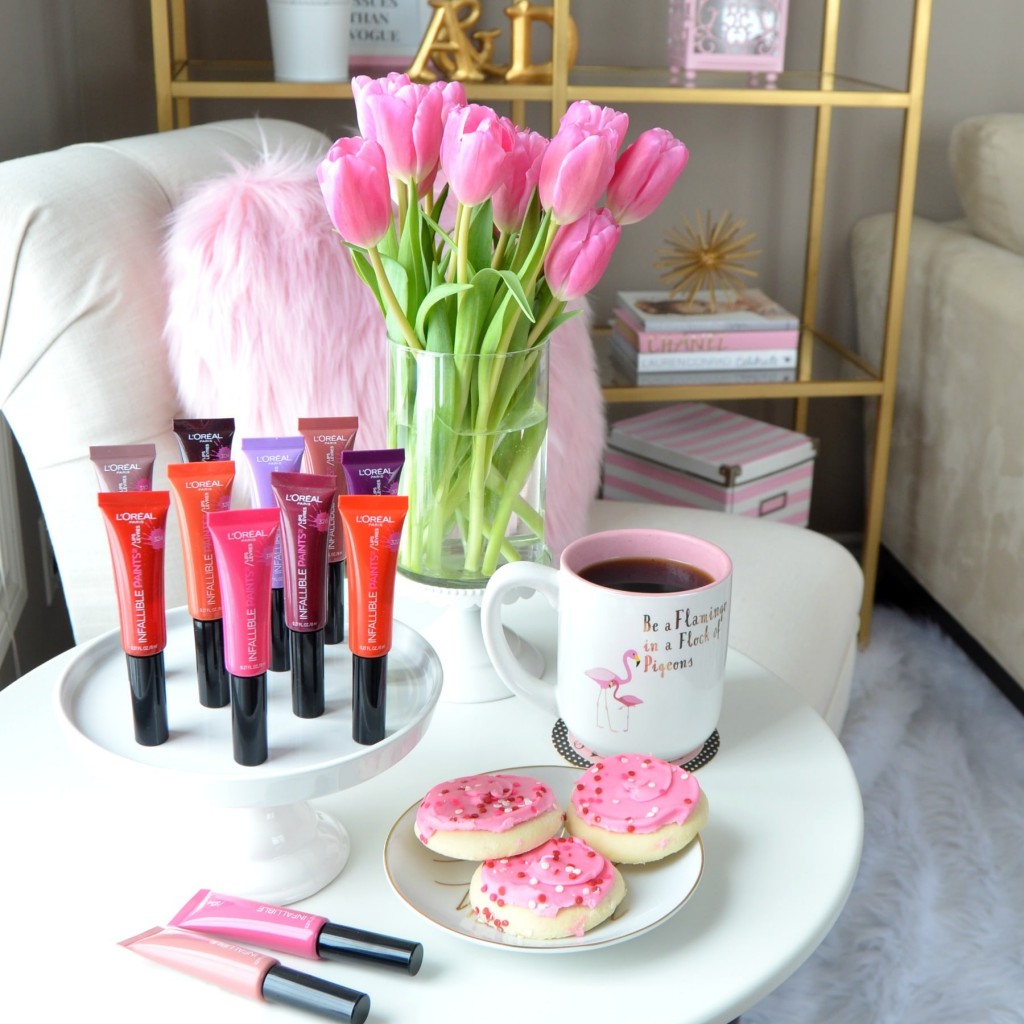 The key to achieving a bold lip, outside of the colour, is hydration. It's incredibly important that your lips are in perfect condition before you start. Make sure to exfoliate your lips before every lipstick application. This helps to eliminate dry flakes and keep lips kissably soft. Moisturize the lips to help prevent cracking, while ensuring your lipstick colour stays in place all day. Either invest in a daily lip exfoliator or apply a little lip balm to your lips and gently rub with a clean toothbrush. This will instantly remove all dead skin and keep lips hydrated and smooth.
Lining the lips is just as important. You don't want your bold colour bleeding or feathering outside of the line. A liner in either a clear or colour co-ordinating shade will help the lipstick shade adhere to the skin better. This also helps to prolong the wear time. Start in the centre and work your wary outwards. You can also fully fill in your entire lip, so as the colour starts to fade, you won't be left with a tell-tale ring of lipstick around your mouth.
You're then ready to apply your lipstick. The new L'Oreal's Infallible Lip Paint is a bold lip lacquer that features a smudge-proof and waterproof formula. It's saturated with intense pigments to provide a high colour impact in a single swipe. Its unique designer applicator effortlessly provides precision and lays down just the right amount of product.  It's extremely full-coverage, opaque and with a high-gloss shine. If you're looking to mattify any lipstick or even lock your lip colour in place all day, reach for a tissue. Place it directly over your mouth and dust on a thin layer of translucent powder. This will help set your lipstick and ensure it stays put all day.

L'Oreal's Infallible Lip Paint comes with a doe-foot applicator for easy application. Its unique shape really hugs the curve of your lips, allowing for you to get crisp, clean lines. It helps to effortlessly distribute the product quickly and easily. It comes with a lightweight formula that's almost a cross between a lipstick and lipgloss. It's the perfect compromise, pigmentation of a lipstick with the shine of a gloss.

Unlike the Maybelline Color Jolt Intense Lip Paint or Too Faced Melted Lipsticks, it comes with an applicator. I find it easier to work with and it helps to create a seamless, flawless appearance instead of applying it directly from the squeeze tube. Also, unlike the other lip paints, L'Oreal's Infallible Lip Paints has a sweet, raspberry, almost tropical scent that's quite enjoyable. It has a slightly thick, almost wet, silky consistency that glides across the lips with ease. It saturates your lips in high pigments for a truly opaque look in a swipe or two. You can easily build up the intensity for even stronger colour payoff by adding a second layer. No fear of it becoming goopy, caky or sticky.

Although it claims to be completely smudge-proof and waterproof, I'd have to disagree. Because of its high-shine, glossy finish, it does have a tendency to bleed and feather outside of the line. It's extremely important to line the lips ahead of time before applying. This not only helps to prolong the wear time, it helps to ensure the paints stay within the line. Speaking of longevity, it's not the longest wearing lipstick out there, but it's incredibly comfortable. It has a slight hydrating, almost nourishing formula that helps to keep lips moisturized throughout the entire day. These wear beautifully for a solid 4+ hours, in which they slowing start to fade. As the colour starts to weaken, it fades evenly and seamlessly into a gorgeous stain without looking flaky or patchy.

L'Oreal's Infallible Lip Paints will instantly give you that bold, intense, vivid lip colour that's going to be super trendy this season. The colour payoff is incredible, especially for being drugstore. It never looks flat or dull, just plump and juicy. Its creamy formula is comfortable to wear the entire day and no matter how many times you re-apply it, it's always flawless. It comes in 13 fashion-forward shades in both bold, bright, vampy and nude hues. It retails for $13.99 each.

L'Oreal's Infallible Lip Paint in Lilac Lust, Violet Twist, Bewitching Bordeaux, Taupeless, Nude Star and Spicy Star.

L'Oreal's Infallible Lip Paint in Wild Rose, Fearless Fuchsia, Cool Coral, Orange Envy, DIY Red and Sultry Sangria.

Now that you've master a bold lip, don't forget to get the rest of your face minimal and modern. You want to balance out a rich lip with more neutral and subtle makeup.