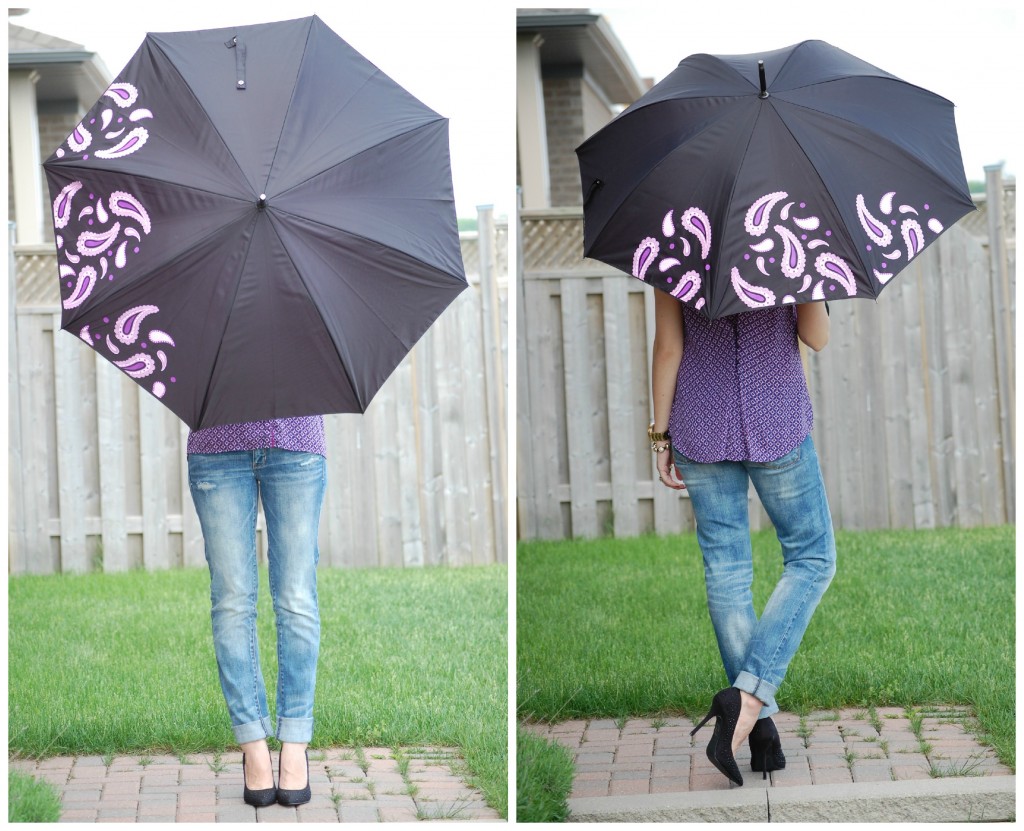 Without getting into too much detail, I met the owner Jen, of Cheeky Umbrella's grandma while visiting my grandma in the hospital. Being that I'm so chatty and the fact that my grandma couldn't really talk at the time and also being the proud grandma that she is, we instantly got chatting about her beautiful granddaughter's business in Vancouver. She told me that Jen is the hardest worker she knows, she's dedicated to her business and is enjoying life out on the sunny West Coast. I learned that her family lived only a few miles from my grandma in Grand Bend and that Jen never needed/ owned an umbrella until she moved to the rainy city of Van. After owning a few boring and cheaply made umbrellas Jen was inspired to create something more unique and higher quality; Cheeky Umbrella was born.
Jen is dedicated to creating designer umbrellas that are not only stunning and beautiful to look at, but are durable and reliable when the weather isn't. I can't tell you how many times my umbrellas have let me down; out in the pouring rain, little bit of wind picks up and the next thing you know my umbrella is inside out, wires poking every which way and me standing there soaked. I often thought, why do I even bother; my drowned rat days are over thanks to my new Cheeky Umbrella that is made with the most durable materials available. I had it out today in the windy rain and both the hubby and I could fit under it without getting wet. Cheeky Umbrella's also offer a 1-Year Frame Warranty that covers damage to the handle, shaft, ribs and/or functional mechanism to the umbrella that occurs during proper use. Can your umbrella guarantee that?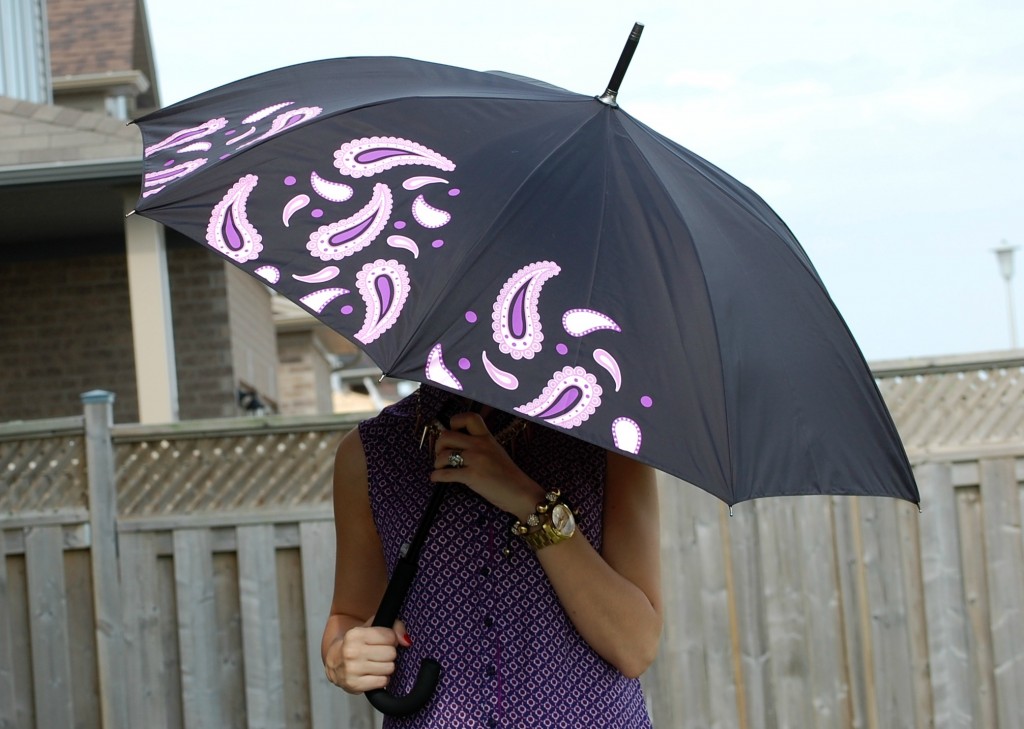 An umbrella is a necessity in most people's lives, it can help express your own personality and style as much as a pair of shoes or purse can. Why carry a boring umbrella when you can rock a unique, bold, colourful, printed Cheeky Umbrella instead? With so many designs and styles (over 65 online) and retailing for only $20-$42, you'll be sure to find that perfect umbrella that suits your own personality. If you can't find what you're looking for online, Cheeky Umbrella will be more than happy to create a custom one of a kind umbrella that will meet your needs.
As if picking a style and colour wasn't hard enough, I then had to decide whether I wanted a compact or long umbrella? After a little research I found out that while the compact umbrellas are handy and convenient for everyday use, as it's small enough to fit into your purse, due to the folding parts it's not as durable as the long. I then asked myself what am I going to be using this umbrella for, besides the obvious reason of not getting wet, what's my weather conditions like where I live, and since I haven't had the best of luck with compact umbrellas in the past, I opted for the long umbrella.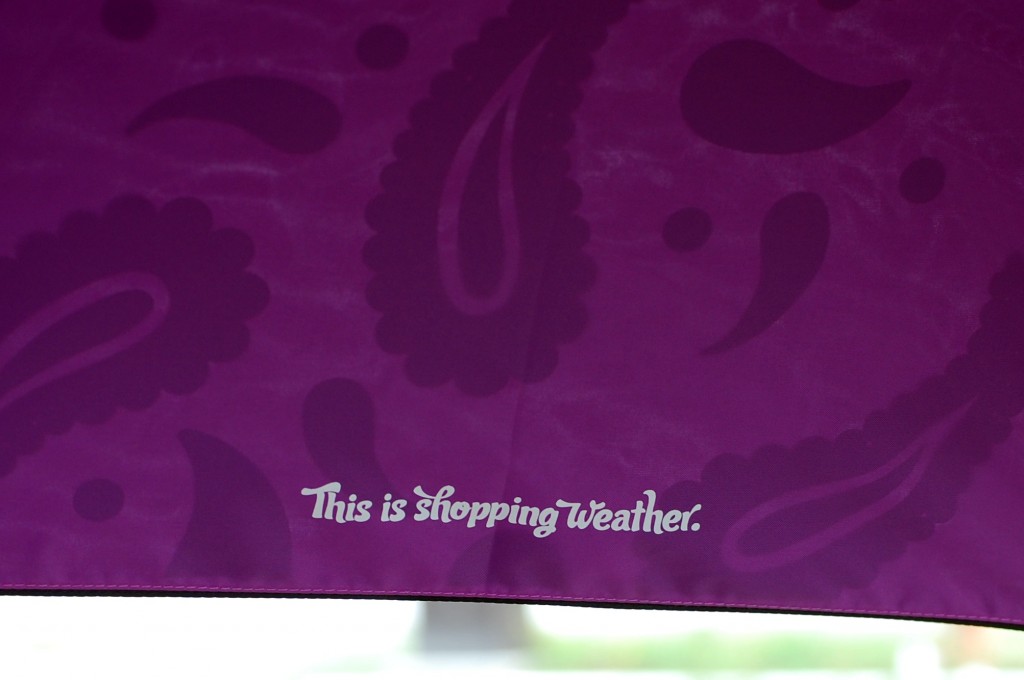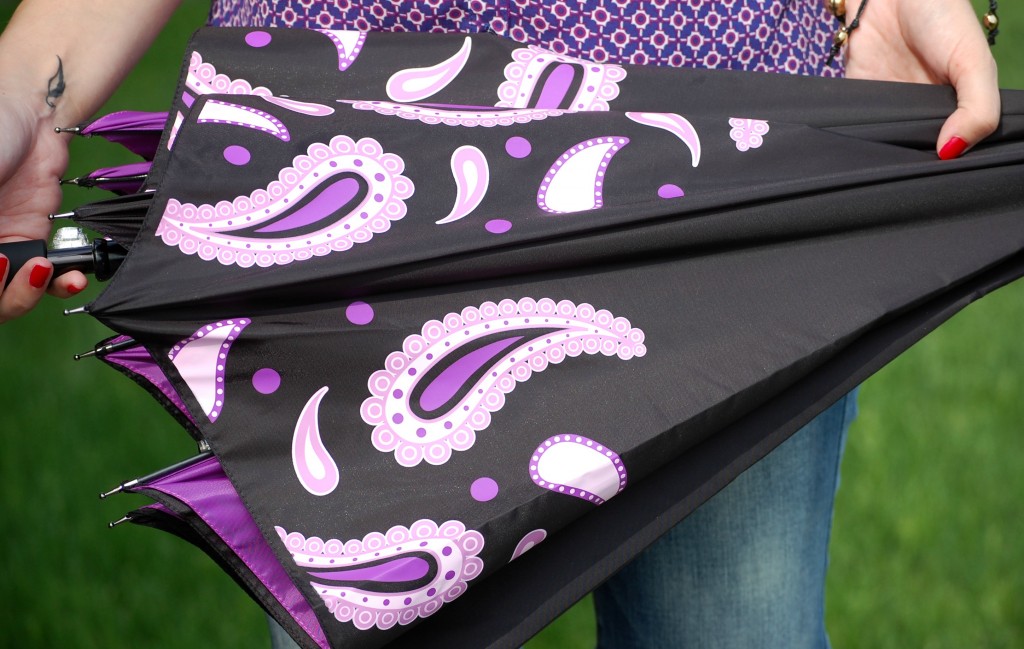 I went with Cheeky Umbrella Shopping Weather Classic Long Umbrella which was designed for shopaholics in all of us. On the inside is purple fabric with "This is shopping weather" written in white along the bottom edge of four alternating panels, cause really is a little bit of rain going to slow my shopping down? The outside is black fabric with a beautiful paisley design on three panels. It's lightweight, has fiberglass ribs that are strong yet flexible for wind-resistance, its stain & mildew-resistant and is made out of quick-drying nylon fabric. It has an easy automatic opening and is about 40" in diameter when open.
Cheeky Umbrella's will ship all over the world, all you have to do is ask. Within Canada and the US it's only $10 for 1 umbrella, $5 if you buy 2 and free when you buy 3. It's shipped Fed Ex so you know it will be safe and fast.
I want to say a special thanks to Jen for sending me this umbrella free of charge, it wont be my last, already eyeing a few of them.
Tell me, which Cheeky Umbrella interests you the most?