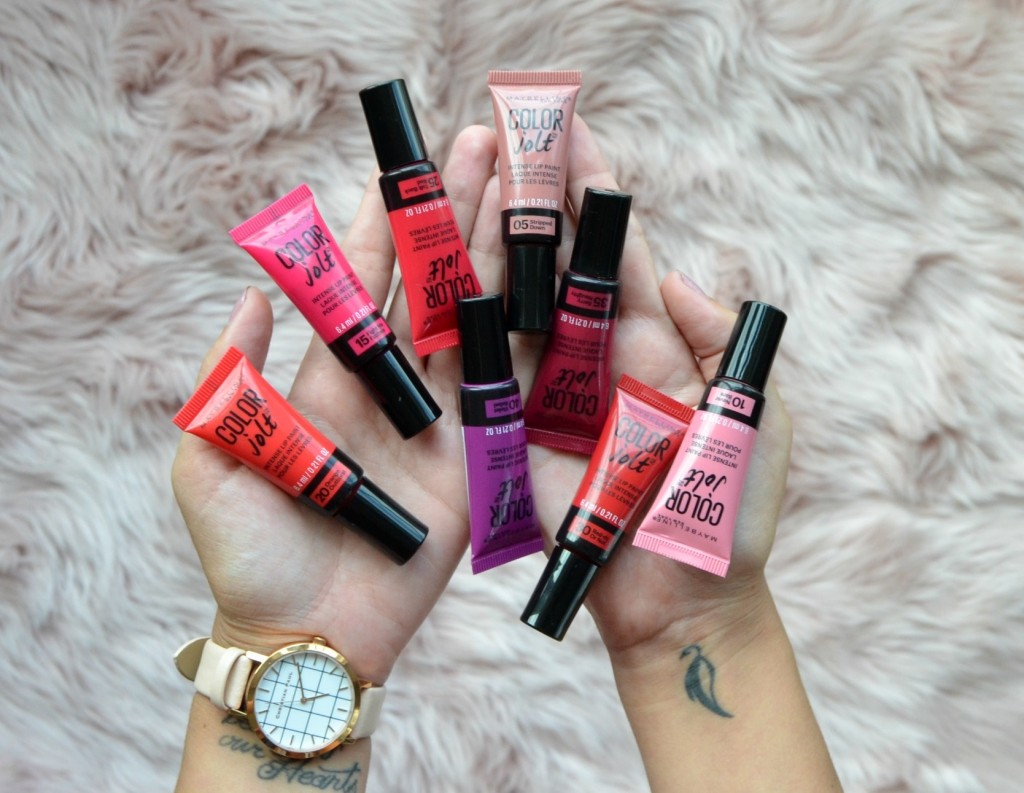 Maybelline wants you to stand out in the crowd this summer by allowing your lips to take centre stage thanks to the new Maybelline Color Jolt Intense Lip Paints. These shiny lip paints offer an explosion of intense lip colour with a glossy finish thanks to its powerful 8x more pigmented formula. These lip paints are richly opaque, truly comfortable, stay put for hours on end and leave your lips totally kissable. It's the perfect compromise of a lipstick and a gloss, the pigmentation of a lipstick combined with glossiness of a lip gloss. In 8 electrifying shades that are offered in a wide variety of both bold, bright and vampy shades, these lip paints can easily take you from day to night, work to play, which is just one of the many reasons why I had to feature them on this fashion blog.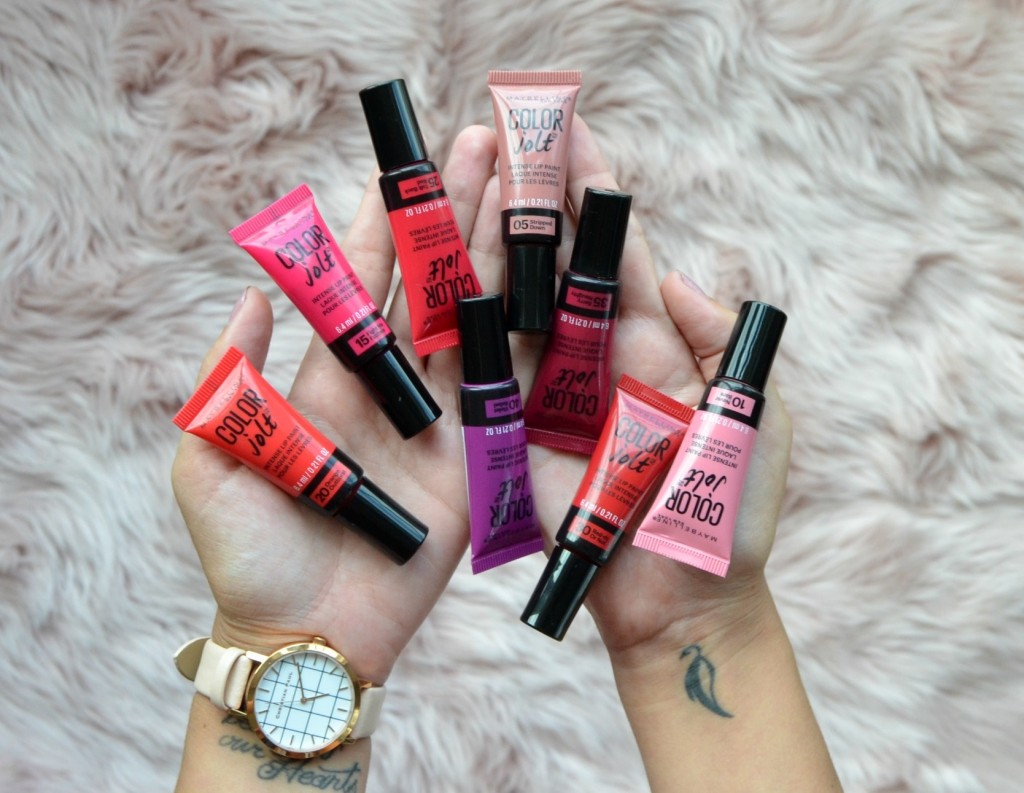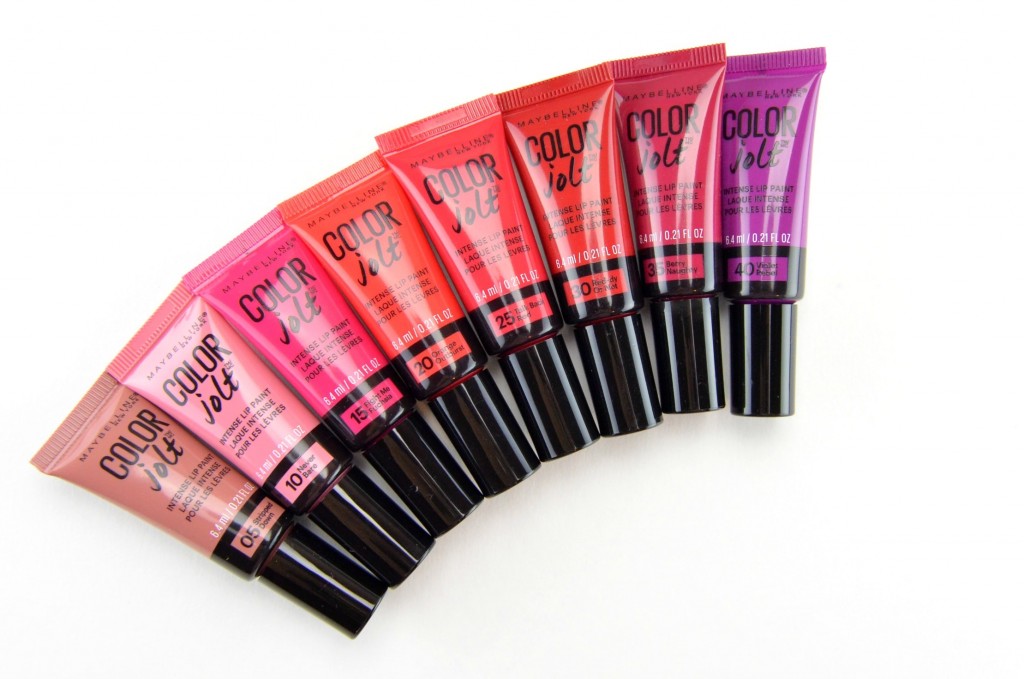 Maybelline Color Jolt Intense Lip Paint comes in a convenient mini squeeze tube with a sponge tip applicator for easy application. Not only does the squishy applicator apply the perfect amount of product, it applies it smoothly, evenly and effortlessly. It has a slightly thicker consistency, yet glides onto the lips much like a silky gloss and is completely weightless. It's creamy, slightly hydrating formula fully saturates your lips in high pigmented colour that's truly opaque in a single swipe. You can, of course, build up the intensity, by applying another coat or two for an even bolder look without the fear of it becoming caky or sticky. As for the longevity, these wear beautifully for a solid 5+ hours before they start fading. As they do start to wear off, it fades evenly and seamlessly into the skin without looking patchy or flaky.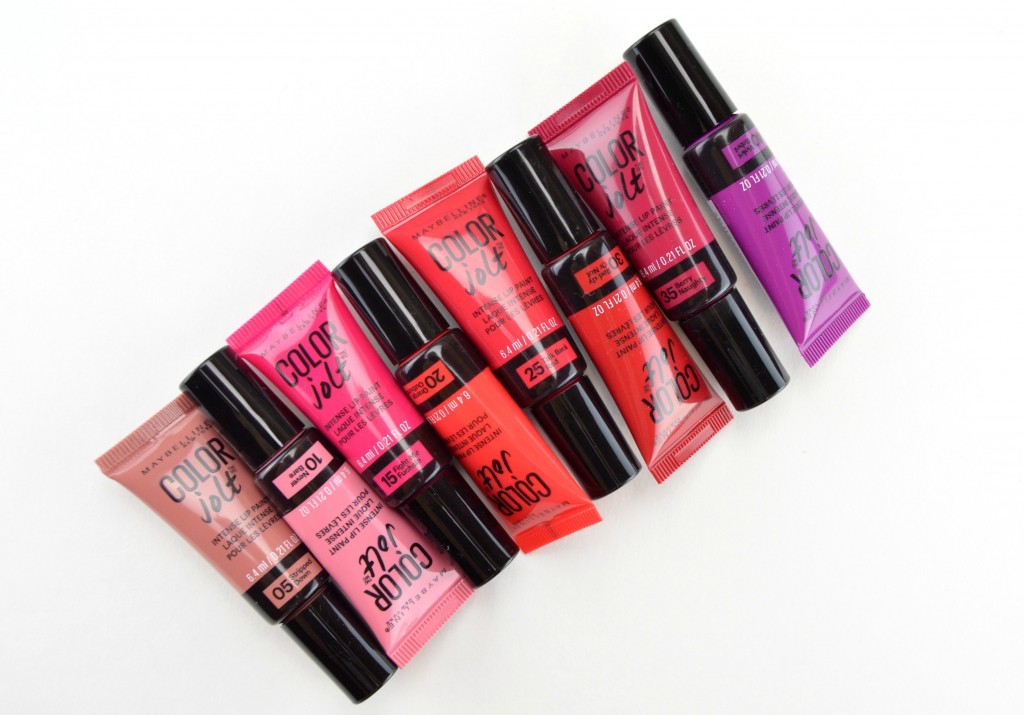 The new Maybelline Color Jolt Intense Lip Paints really do provide a burst of intense, vivid colour that never seems to look flat or dull, no matter the shade selection. Not only is it pleasant and comfortable to wear, for hours on end, it never seems to migrate outside of the line (whether I pair it with a lip liner or not). The entire wear time, upwards of 6 hours, it always seems to look smooth and even, from the moment I apply it, well into the day. It's creamy, almost satin finish is perfect for every day wear, but the bolder, richer shades can easily take you into evening wear. Added bonus, it has somewhat of a slightly fruity, almost watermelon scent, that brings me back to my childhood of chewing on Hubba Bubba gum.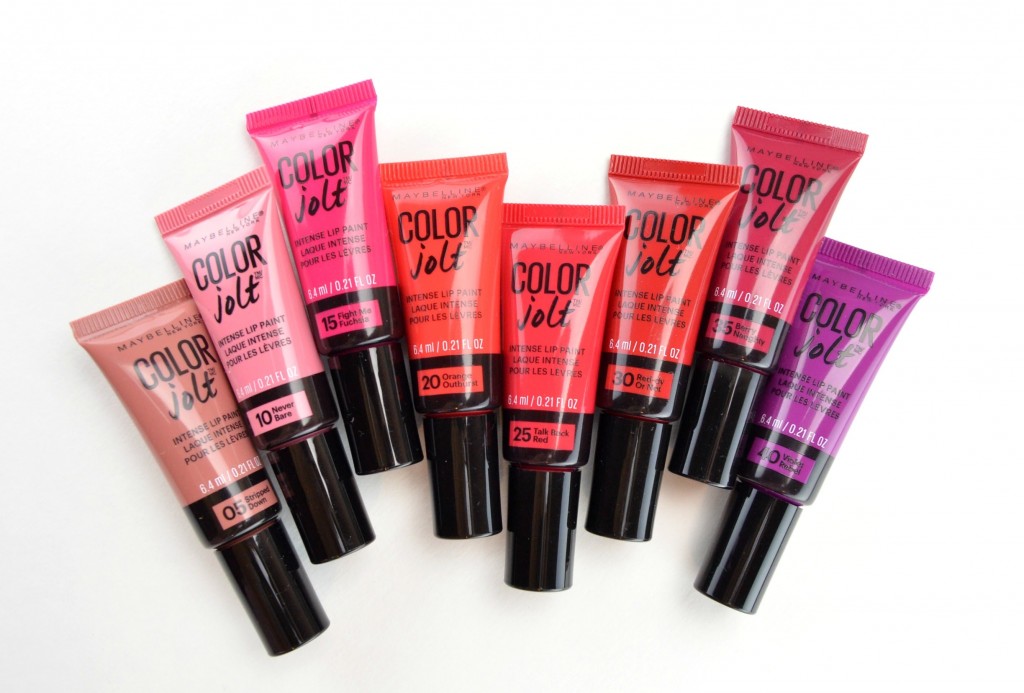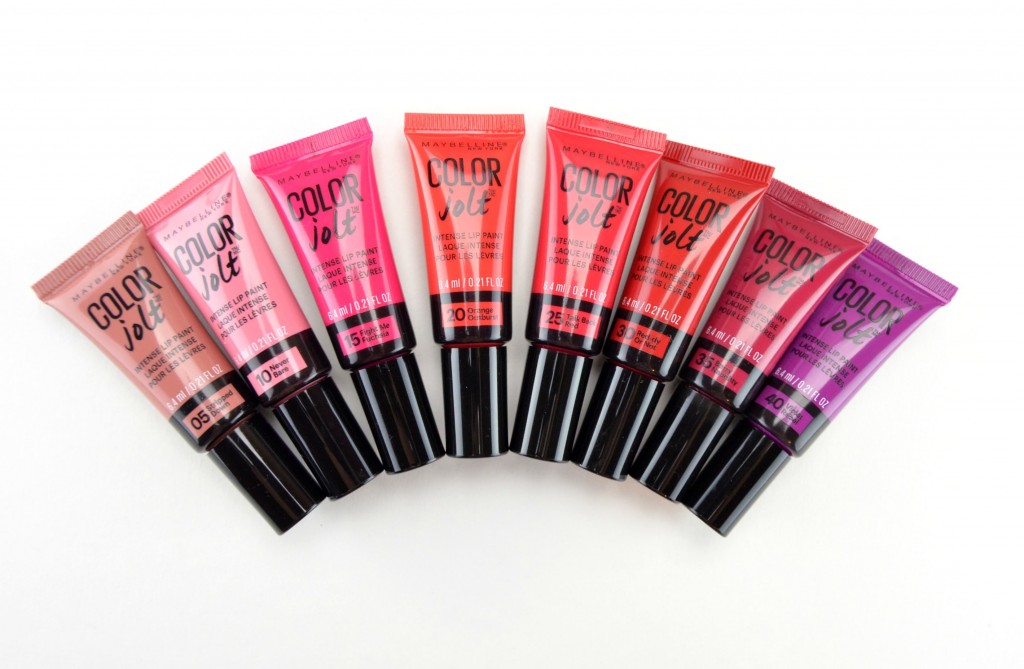 When I first saw these, I instantly thought, Obsessive Compulsive Cosmetics Lip Tar. I'm not a huge fan of these overly drying liquid lipsticks, so my expectations for the Maybelline Color Jolt Intense Lip Paint were extremely low. As much as I love the colour payoff of OCC Lip Tars, I find the formula too thick and too drying, and each shade seems to always migrate outside of the line? Maybelline seemed to take the opaque coverage of a Lip Tar, but in a thinner, more easy to use formula that applies seamlessly and always seems to stay within the lines, no matter how much product you apply. Although not the longest wearing liquid lipstick I've tried, each shade seems to manage to stay on my lips for a decent amount of time, even through eating and drinking. Like all liquid lipsticks, the key is to apply in thin layers. Although you might be totally comfortable with a single coat, if you are looking to layer, always remember to start off sheer and build up the intensity. Not only will these help ensure it never looks patchy, choppy or streaky, it will guarantee a flawless finish. Another insider tip, make sure your lips are moisturized and exfoliated, this will help the lippie to glide on easier and more smooth. It retails for $9.99.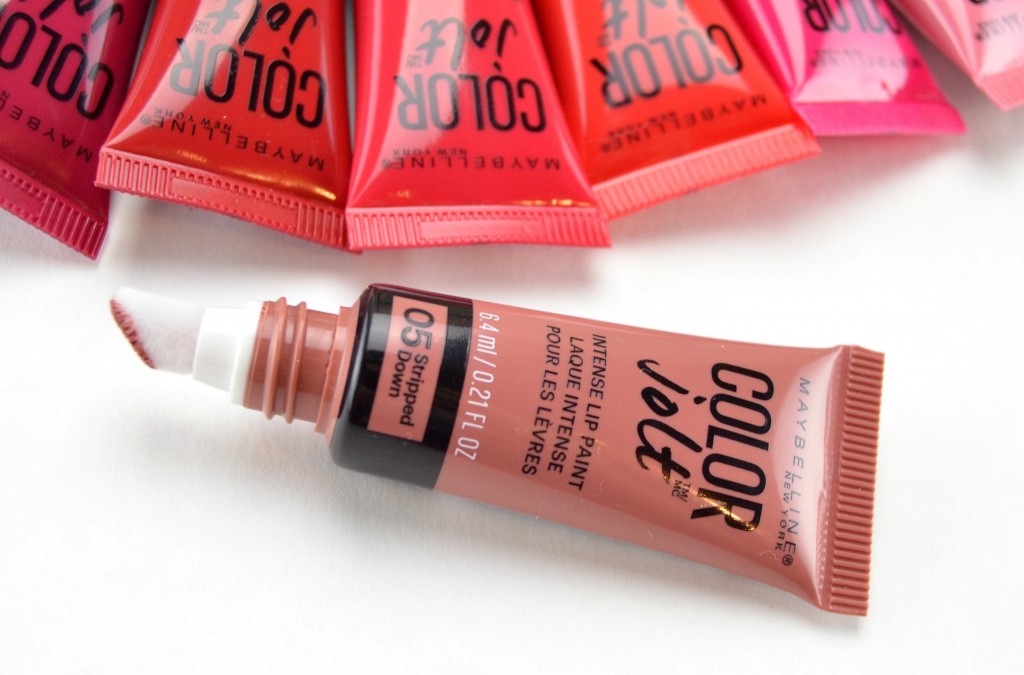 Maybelline Color Jolt Intense Lip Paint in Stripped Down, Never Bare, Fight Me Fuchsia and Orange Outburst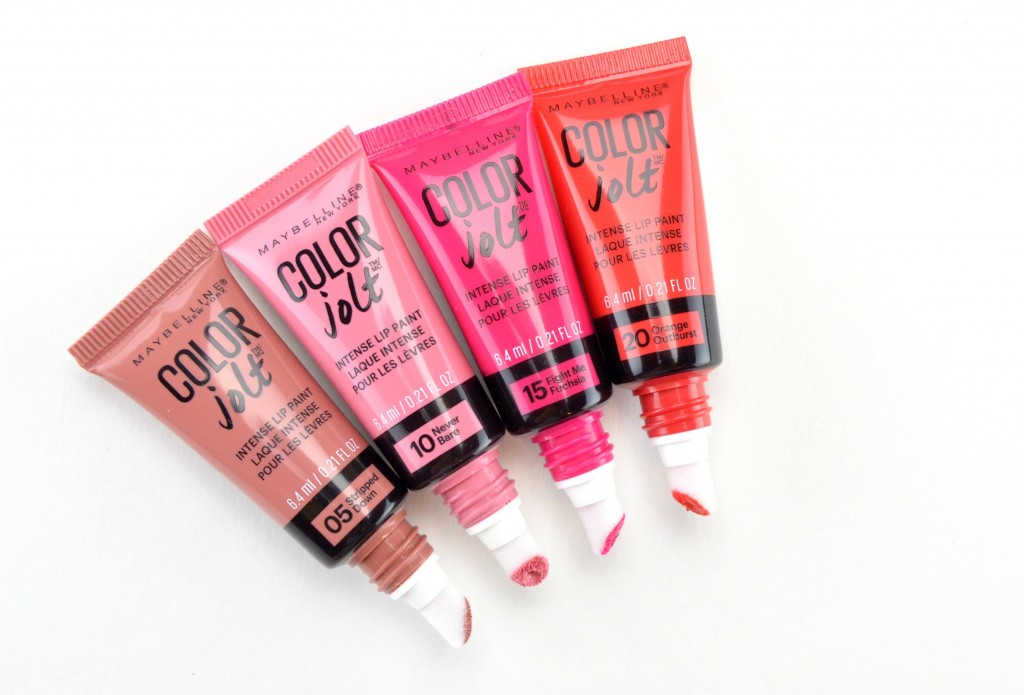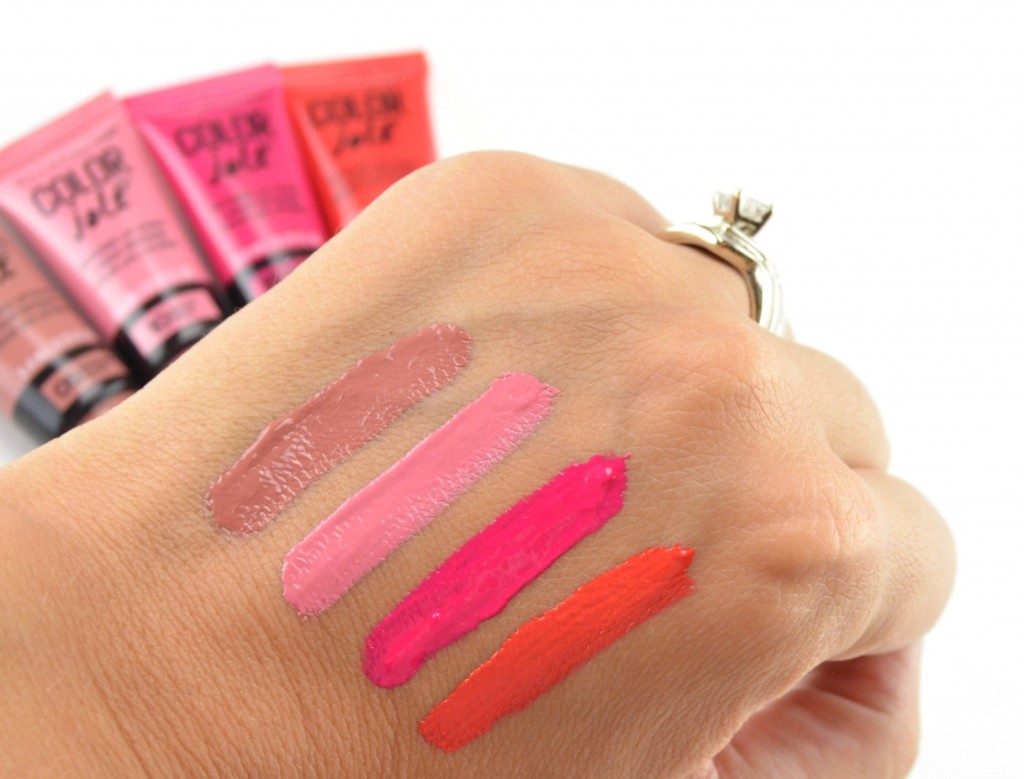 Maybelline Color Jolt Intense Lip Paint in Talk Back Red, Red-dy or Not, Berry Naughty and Violet Rebel