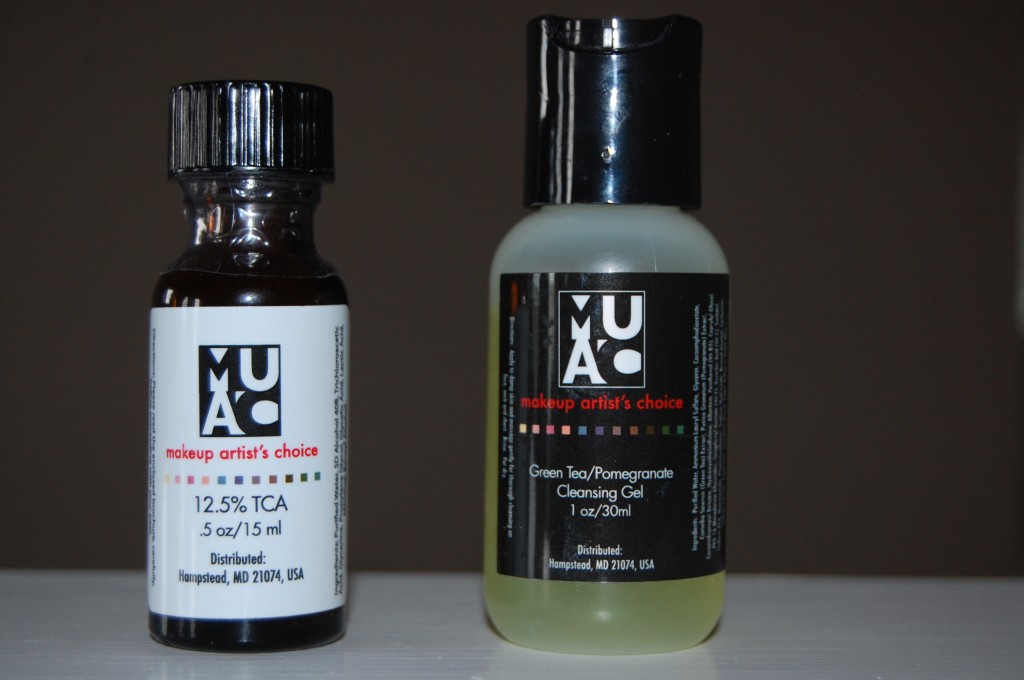 For those of you who have been following my page for some time now know I've talked about microdermabrasion before and how I was going for treatments once a month (at $75 a pop) to try to clear up my skin (I did this for over a year) with only little results. I've also tried IPL (which cost me $1500 for one treatment) to try and clear up the hyperpigmentation on my face. That ended up leaving dark spots on my face (worst than when I went in for the treatment) which is why I didn't go back for a second or third treatment. My last effort was chemical peels (costing me $75 a peel) and after 3 peels I saw no results. Ever since then I've tried everything on the market to get rid of the "sun spot" or "age spots" that the IPL left on my face and nothing seemed to work. I spent a lot of money testing products in hopes I would find something that worked. When I came across MUAC and saw they had a number of products that "claimed" to help with sun damaged I was a little skeptical, that is until I checked out their testimonials and saw amazing results from real women. I contacted them to see if they had any recommendations for sun damaged skin, told them I've already done micro, IPL and chemical peels and that my skin is pretty tough and can handle a lot. Wendy with their customer care department sent me a few products to test out and do a review on my blog; I could hardly wait to see what she was sending out. 
I started with a 12.5% TCA Peel (this is light peel) you can also get a 15% (which I'm going to try next), then an 18% and a 21%. TCA Home Peels are excellent for softening deeper wrinkling, reducing/removing less severe facial lines, improving sun damage, fading hyperpigmentation, reducing scars, improves skin colouration/ brightness after peeling, with a fresh, more refined texture to the skin. 
Anyone can apply the peel right from the comfort of your own home, I looked into TCA peels in the spa and they charge over $250 per treatment, you can buy a ½ oz kit for only $25 (they say you will get about 10 peels out of it), I've done 5 peels already and should have enough for at least another 3 treatments, so min. of 8 (maybe I'm using too much product at a time)? 
All you have to do is apply Vaseline around your eyes, nostrils, on your lips and corner of your mouth (make sure you are working with a clean, dry skin first). Put on latex gloves (which they give you in your kit) to keep your fingers from peeling and begin applying the acid to your face. I used 2 cotton balls for my entire face, I applied the TCA to the skin with a back and forth motion beginning with my forehead and moving down my face. I left the serum on my skin for 5 minutes, after about 3 minutes I started to feel a little warm, a little red, kinda like a burning feeling, but nothing too crazy, nothing I couldn't handle. After 5 minutes I had to "neutralize"my skin, which is really just baking soda and water. They also give you green tea cleanser to use after, just to make sure all the acid is gone from your skin. They say after your skin is dry to apply anti-bacterial cream, but I found that after I rinsed my face with cold water I was in no pain and didn't need the cream. I did however use lots of Vaseline on my skin for the next week just to make sure my skin was nice and moistened. 
Now the downfall, like any peel you're going to be a little red, I was okay by the next morning, but by the 4th day, when your skin starts to peel, that's when it's not fun. My face looked really really dry, make-up looks awful on me and I just wanted to peeling process to hurry up and be done with. I took really hot showers every morning and let the hot water run down my face for about 5 minutes at a time; this seemed to help the peeling process. By the 10th day or so, the peeling is done and you start to have new cell growth. I did a total of 5 peels so far, spaced 3 weeks apart (that took a total of 3 months) and I can't believe the difference in my skin. I had one really dark spot on my cheek and by the second treatment is way really faded, by the fourth treatment is was almost gone, and now (just after my firth treatment) I can barely see it. I want to say one more treatment and it will be gone altogether.
After all the money I spent trying other services, it makes me really mad that I didn't know about them sooner. I really can't believe something so cheap can work this well. It's not only helped with that dark sun spot, but my over all face is looking a lot brighter, my acne is cleared up completely, I know only break-out during my period (and it's a lot less than it's ever been), and it's fading my hyperpigmentation around my nose and forehead. I'm so looking forward to trying out the 15%, I'm thinking within another few treatments I'll have perfect skin and will finally be able to leave the house without make-up, yippee! I'm sorry I didn't take before and after shots, but to tell you the truth I did not think you would see this great of results on something that cost so little.
***Disclosure: product was sent to me for review consideration***