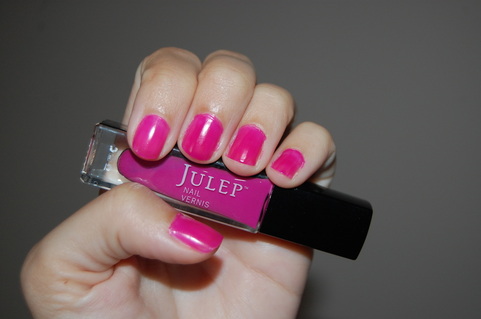 And the winner of the free month of Julep Nail Parlor is……. Lyndsay Ann Connell. Lyndsay left a comment saying she would like to test out "LILY FOR SURE!!! Beauty color!!! All sound unique and fab :)"  
Julep maven is a subscription service and for only $19.99 you will get at least $40 worth of product every month shipped right to your door. Each month they will hand-pick trendsetting new nail colors, cult faves and cutting-edge beauty products that are just right for you. You start off by taking a short quiz (about 10 questions) to find out your person style, this will help them pick the colours that are just perfect for you.  
Julep Nail Color doesn't contain formaldehyde, formaldehyde resin, toluene, or DBP. They're chip-resistant and comes with a flat brush made out of micro-frayed brush hairs. I found the nail polish glides on my nails nicely, I also found that after only one application it was really opaque and not streaky at all, you might not even want a second coat (I like my polishes to be really dark) so I did go ahead and add a second layer. Another plus for me was the smell, sometimes when I'm doing my nails (with other nail polishes) the smell starts to give me a headache, Julep has a very faint smell and unless you hold the bottle right up to your nose you won't even smell it that much. I also really enjoyed the bottle, something totally different and unique for sure. It lasted a full 7 days on my nails before I felt the need to take it off.  
You can decide on how often you want to receive your Julep Maven box (example every other month, quarterly, ship whatever month you want, etc) and you can cancel at any time, which is great!  
Julep was nice enough to send me a free month to review for you guys, and here's what I got:  
I received 3 nail polishes in total, Lily which is a nice hot fuchsia colour (you know I love my pink), Daisy which is a super bright yellow and finally Sasha which is a nice cantaloupe melon colour. I'm in love with all 3. Total cost of this package would have been $42, but Julep mavens get it for under $20, yippee.  
Want to sign up for only a penny? Enter this special promo code MAVENINTRO and you will get your first maven box for 1 cent! 
Everyone had the chance to win a free introductory Julep Maven box just for leaving a comment on Facebook with what colour they wanted to test out.