What are your fave pink beauty products?
Blush, bubble gum, petal, pastel… call it whatever you want, but we can all agree that light pink hues have been popping up everywhere lately. Millennial pink is an Instagrammer's dream, this soft, romantic shade is a go-to colour for clothing, shoes and accessories, but we've also been seeing a lot of beauty products adopt this colour as well. Skincare, haircare and makeup brands have been jumping in on this trend and incorporating it into their packaging, shade selections and even fragrances. For a die-hard pink gal myself, I can't believe it's taken me this long to share my fave pink products.

Bioderma Sensibio Mild Cleansing Foaming Gel is one of those cleanser that gently cleanses and purifies the skin of daily grime and makeup, yet leaves it feeling refreshed, cool and moisturized. Unlike other cleansers that strip your skin of its natural oils, this one actually helps to provide added hydration. It instantly reduces redness and calms dry, irritated skin for all day comfort. The advantage of using it daily is it ensures skin stays healthy, and with a touch of a radiant and luminous glow all day. It retails for $19.90.

Another favourite cleansing product is the Origins Original Skin Cleansing Makeup Removing Jelly. Its unique jelly formula transforms into an almost milky consistency once in contact with water. This helps to instantly melt way all traces of makeup, dirt and excess oil, while helping with dullness and uneven skin texture. It's formulated with a unique blend of willowherb to not only leave skin soft and smooth, but it helps to boost skin's natural glow for a lit from within effect after washing. It retails for $29.

On days when you're wearing full-coverage, long-wearing or waterproof makeup, Wet N Wild Makeup Remover will effectively remove stubborn eye and face makeup, while keeping it moisturized. This micellar cleansing water washes away all traces of dirt, oil and daily grime without an oily or greasy residue. Simply shake the bottle to combine the liquid bi-phase formula together and gently swipe over entire face with a cotton round. Even when using over delicate eye area, it never stings or irritates. It retails for $14.99.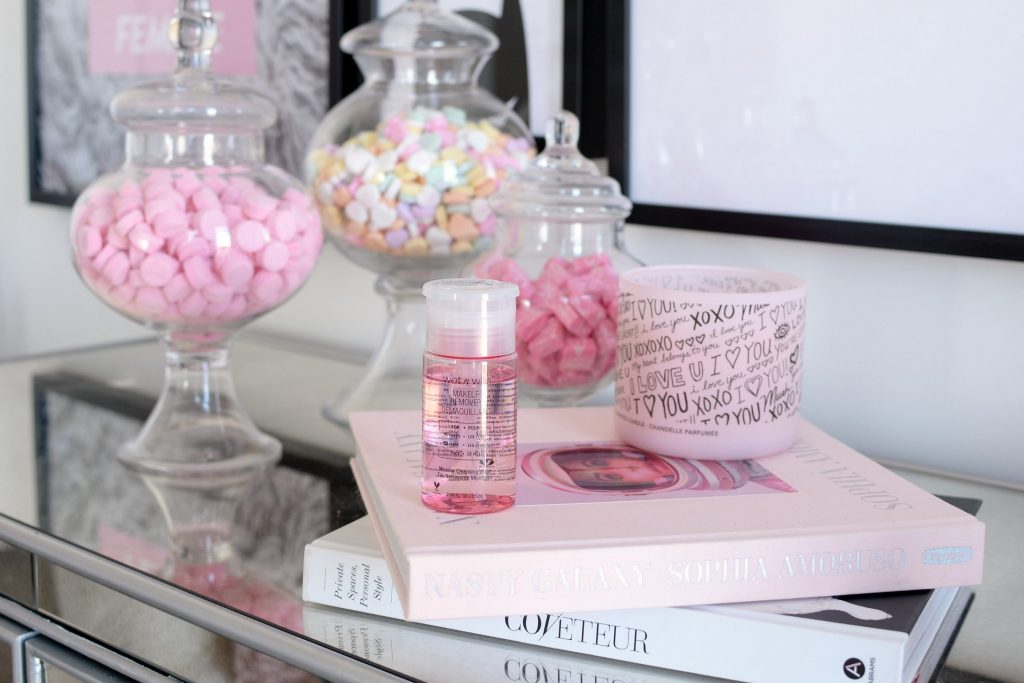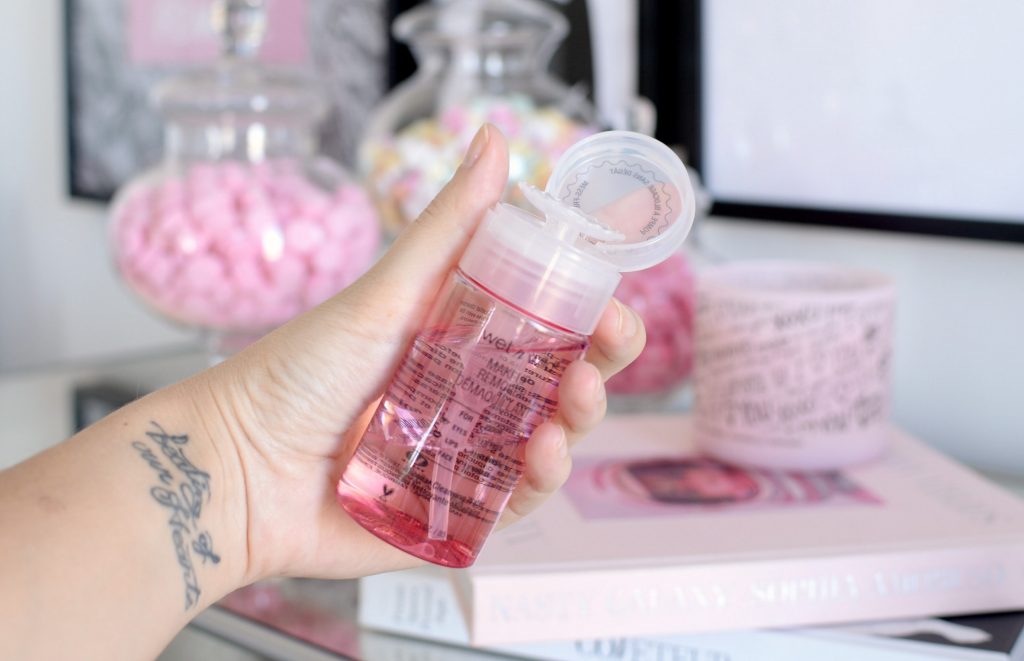 I can't tell you how hooked I am on my Clarisonic. Its unique sonic technology design helps to gently deep clean the skin by removing impurities that traditional methods, like your hands or washcloth leave behind. With several different devices to choose from and 6 different brush head options, effectively cleansing the skin has never been so easy. Whether you're looking to target enlarged pores, brighten uneven skin tone, have sensitive skin, or prone to breakouts, the device can help cleanse skin up to 6x better than your hands alone. The Mia 2 is a personal favourite thanks to its two speeds customization option. It retails for $219.

When my skin is feeling a little dull and dehydrated, I like to treat myself to a facial mask. Life Brand Deep Cleansing Facial Sheet Mask with Rose Oil and Cherry Blossom is the perfect way to achieve a brighter and more youthful appearance in the matter of 15 minutes. Each sheet is infused with botanical ingredients to help remove impurities, while leaving skin feeling refreshed, hydrated and ultra-smooth. Not only does it help create a radiant glow, it actually helps other products you apply overtop penetrate deeper into the skin. All your daily moisturizers and serums seem to just drink it up and soak into the skin quicker. It retails for $1.99.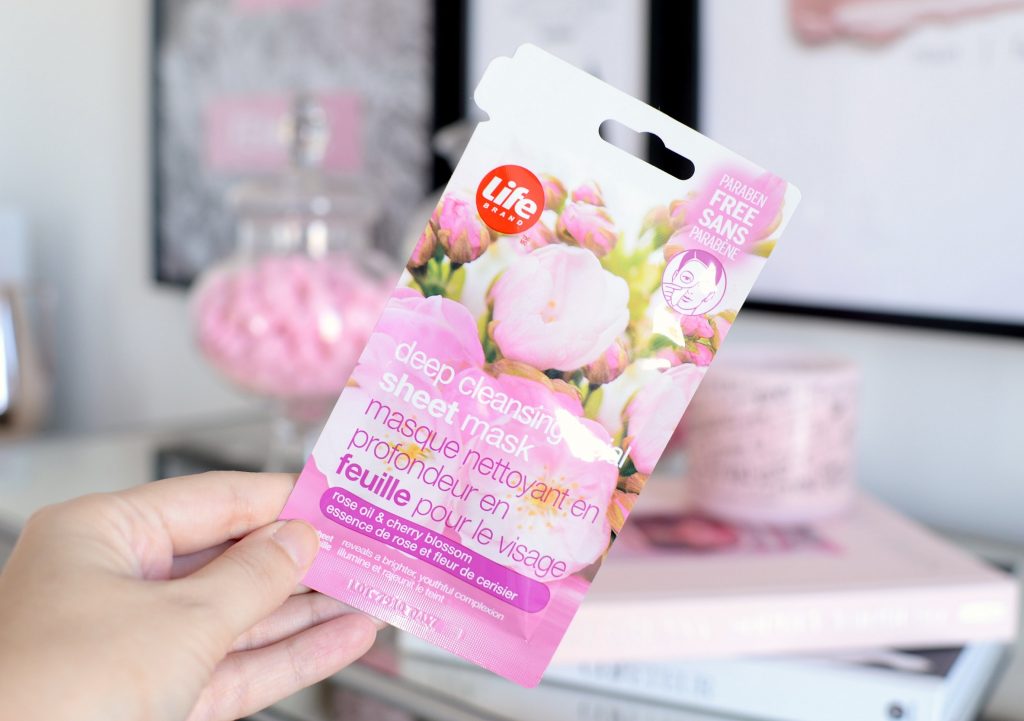 The Pixi by Petra Rose Flash Balm is a unique little product in the sense it's a 3-in-1 product. It can act as a daily moisturizer, a treatment mask or even a primer before your makeup. It instantly helps to boost radiance and diminish the appearance of fatigue; perfect for those early mornings or late nights. It features a special blend of rose water, rose extract and olive leaf extract to help maintain a perfect pH balance, prevent redness by calming the skin and soothing and comforting dry, irritated skin. This no fuss, no muss multitasking skincare product lets your natural beauty shine, while creating a completely flawless finish. It retails for $29.

For shampoo and conditioner, my favourite duo lately has been the Moroccanoil Fleur De Rose. You guys know I'm obsessed with the original scent, I mean, who isn't, but this rose scent is a burst of fresh air. Not only does it gently cleanse my hair of dirt, oil and product buildup, its antioxidant enriched formula helps to keep hair hydrated and conditioned. It also contains vitamins to help provide mega shine and volume for hair that's full of body and bounce. Finally, it's also formulated with coconut oil to help lock in moisture, leaving hair looking and feeling silky smooth, sleek and nourished all-day long. Its delicate, yet luxe rose scent is sensual, sophisticated and oh-so erotic. Each bottle retails for $30.

I'm not sure how we survived without dry shampoo in the past, but there isn't a day that goes by that I don't freshen up my hair. Garnier Whole Blends Oat Delicacy instantly absorbs grease and oil for a fresh clean hair experience without actually having to wash it. Its ultra-fine and lightweight mist helps to not only refresh my hair, it helps to add volume at the roots. Its fresh and clean scent gives a "fresh out of the shower" smell without having to get it wet. I love that it's safe enough to use daily, without stripping my hair of its natural oils, perfect for my colour treated hair. It retails for $9.99.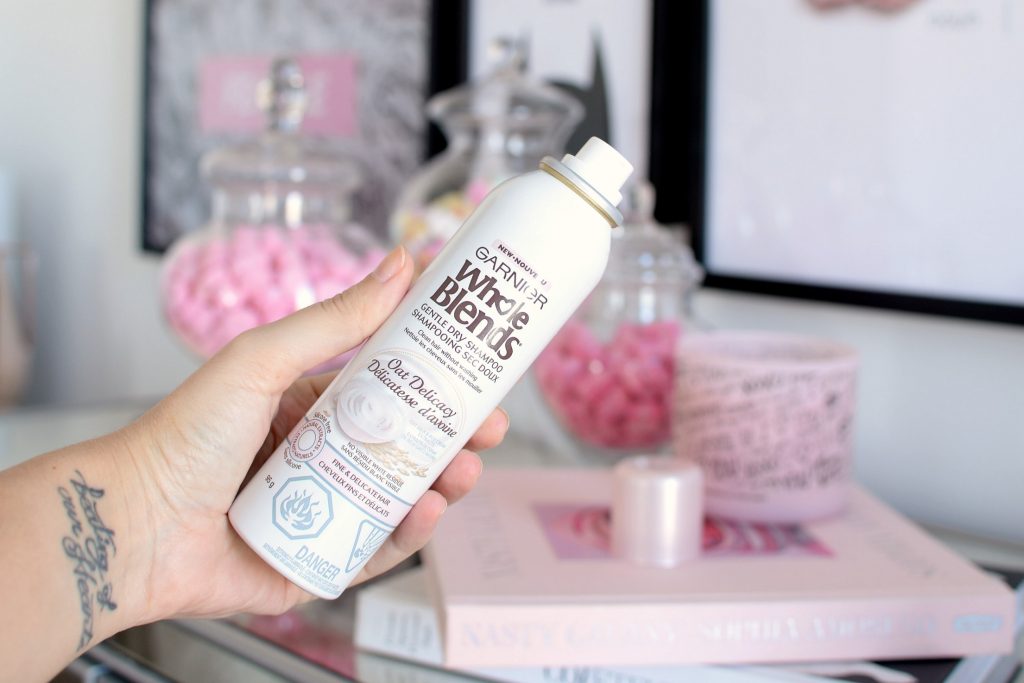 Keeping with the rose scent from the shampoo and conditioner, my bubble bath is also coming up roses. I'm all about that bubble bath life and the Body Shop British Rose Petal Soft Bath Foam has been a favourite of mine for years. It allows me to relax and drift into a bliss thanks to its rich, lush and creamy bubbly formula. A few drops and I instantly escape to a lavish rose garden of bubbles. It helps to calm my senses, mind and soul for a spa-like experience at home. It also helps to leave skin feeling softer and smoother than ever. It retails for $12.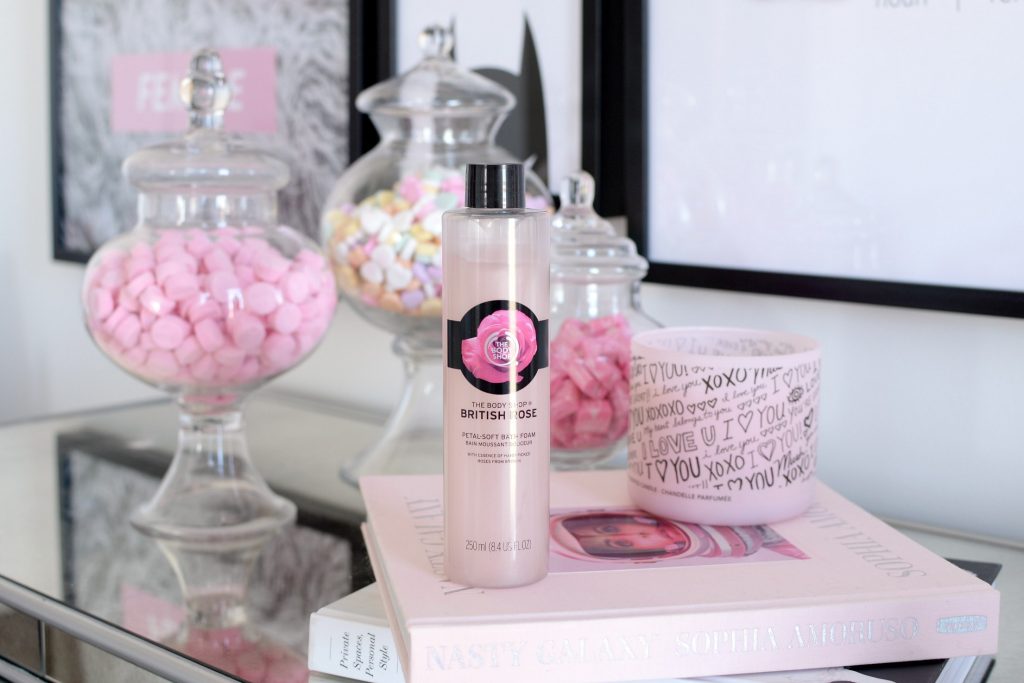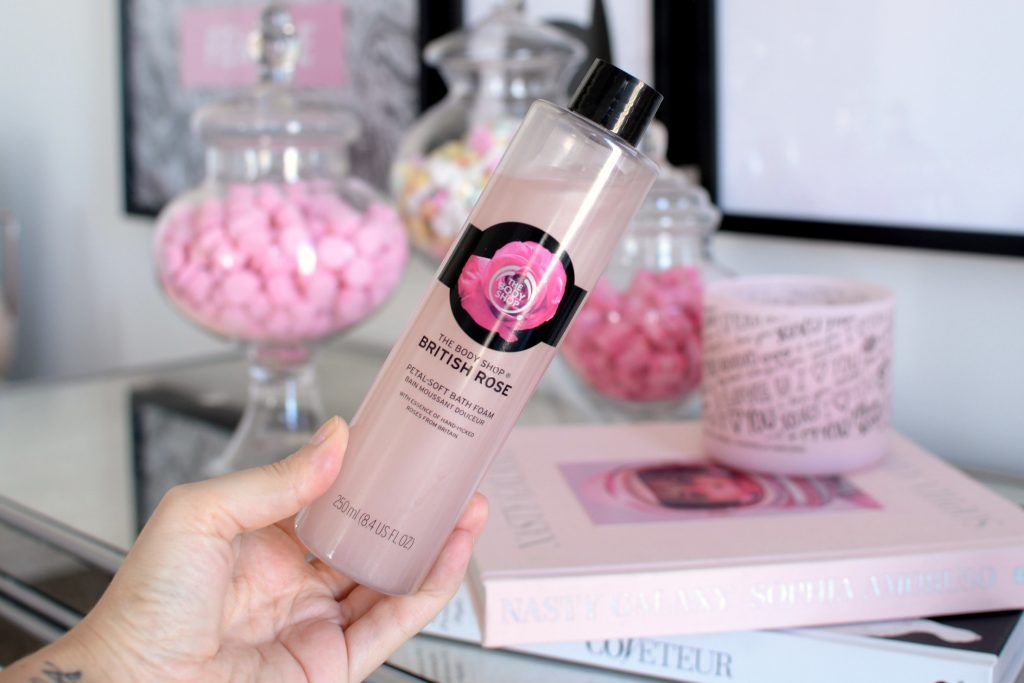 Immediately after getting out of the shower, while my skin is still damp, I apply a generous amount of Moroccanoil Fleur De Rose Body Buff. This intensely rich body butter penetrates deep down into the skin leaving it soft, smooth and hydrated. It soaks into the skin almost instantly, without a greasy or sticky residue and quickly goes to work calming any irritation and clearing up any dry patches. It helps diminish redness and those tiny annoying red bumps that you get from shaving, while leaving the skin silky smooth, radiant and glowing. Deeply nourished skin for upwards of 24 hours. It's no wonder it's a cult favourite. It retails for $58.

eos Berry Blossom Body Lotion is one of those lotions that you apply and forget about. Its incredibly lightweight, yet rich and creamy formula absorbs into the skin instantly yet leaves your entire body extremely moisturized. Skin will be left feeling softer and smoother, with a fresh floral and fruity scent. If you're looking for added hydration, or a lotion that will keep your skin comfortable all day without that greasy, or sticky feeling, this ones for you.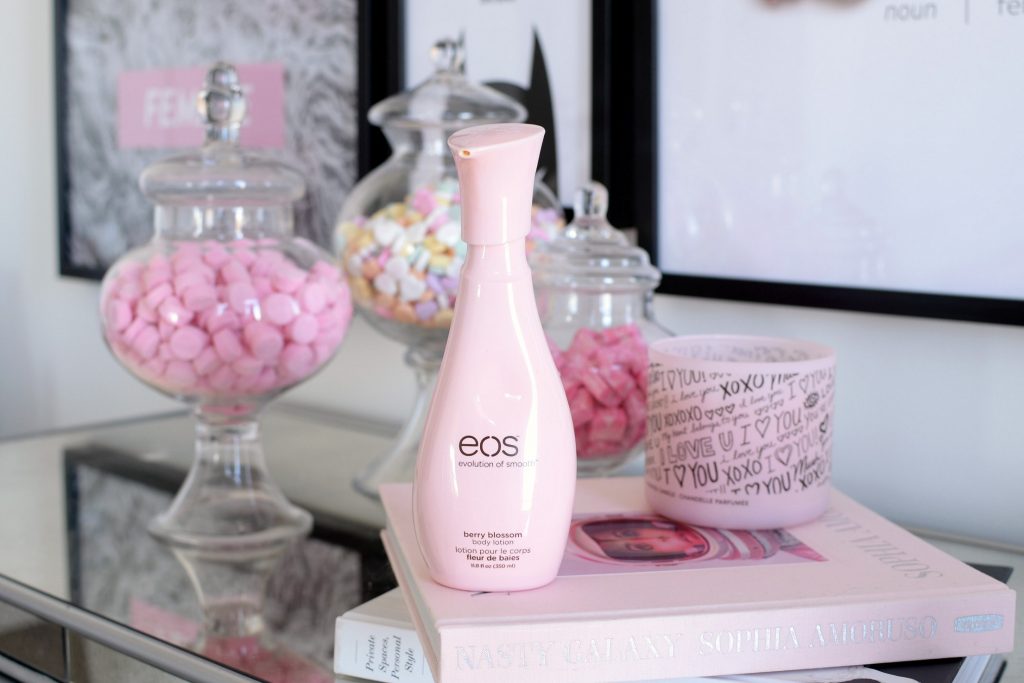 I've lost count on how many tubes of the Too Faced Better Than Sex Mascara I've bought, but until I can find another mascara that can hold a curl, add mega length, create definition and provide unlimited length like this one can, I'll continue to re-buy. Its unique hourglass shaped brush is inspired by the curves of a woman's body and pairs beautifully with its extra stiff bristle to help enhance your lashes. Its carbon-black, collagen-fueled and film-forming polymer formula not only adds volume and length, it also keeps your lashes curled all day and night. A single coat provides dramatically intense lashes, whereas two coats provide award winning performance without smudging or flaking. No matter how many coats you apply, it never looks clumpy or spider-like. It retails for $30.

Speaking of Too Faced, their HangoveRx Replenishing Face Primer is another favourite of mine. I think I'm on my 5th tube of it and loving it. Not only does it help prep my skin for foundation, it keeps it incredibly hydrated throughout the entire day. Its infused with coconut water, so not only does it smell amazing, it instantly helps to refresh, boost radiance and keep skin glowing all day. On days when your skin is feeling dry, dehydrated and dull, this is like a drink of energy that aids in replenishing moisture loss for a healthy, dewy finish. It creates the perfect canvas for any product you place overtop, but also looks amazing on days when you're looking for your natural skin to shine. It retails for $40.
Keeping with that fresh and healthy appearance, lips also need special attention. Biotherm Plump & Glow Aquasource Plumping Lip Balm is unlike those traditional plumping balms that tend to sting, irritate and cause redness to the lips. Upon first application, you'll experience a slight cooling sensation that is quickly absorbed into the lips, leaving them feeling incredibly plump and supple. The active micro-circulations, created by mint leaf, help to provide a visibly fuller, healthier, more beautiful appearance. Within a few short minutes it helps subside lip creases, provide a naturally rosy tint, while leaving lips kissably soft and smooth. It also helps to lock in moisture and keep lips hydrated and conditioned the entire day. It retails for $24.
This season Quo's Face Palette is done in stunning pale pink packaging, and the two pink blushes found within are totally speaking to me. I've always been a fan of the brands 6 pan palette, but GlowMance might be my favourite? It comes alongside 2 highlighters, 2 bronzers and then of course, the 2 stunning blushes. All 6 shades compliment each other beautifully and although on the cooler side, I think it can work with most skin tones. Its soft, creamy and intensely pigmented formula blends out seamlessly, creating a flawless soft and radiant glow on the skin. Its velvety smooth texture sits well on the skin, without looking harsh or patchy. You can easily build up the intensity for evening, although it does wear beautifully throughout the entire day without fading. It retails for $20.
Although Maybelline Master Camo Color Correcting Pens come in an array of colours, to help colour correct anything from dark circles, hyperpigmentation, redness, dullness, and beyond, my favourite would have to be the Pink. This instantly helps to add brightness to areas of the face that tend to be dull. I tend to place a tiny amount around the inner corner of my eyes, around my nose and then maybe a small amount on my upper lip and blend out with my finger. It does a wonderful job at instantly brightening my complexion without having to go in with a thick and heavy concealer. It provides a perfectly matte finish that doesn't interfere with any other product I place overtop, nor does it crease or settle into fine lines. It retails for $13.

Essie Saved by the Belle nail polish is a must. Trust me, you need this soft, pretty, pale pink shade in your collection this spring. It's the perfect tint for any spring wedding, event or brunch date. It pairs beautifully with all your neutral clothing, but also goes brilliantly with your fun bold and bright hues. It complements almost every skin tone, and since it requires only one coat, you can apply it last minute. It retails for $9.99.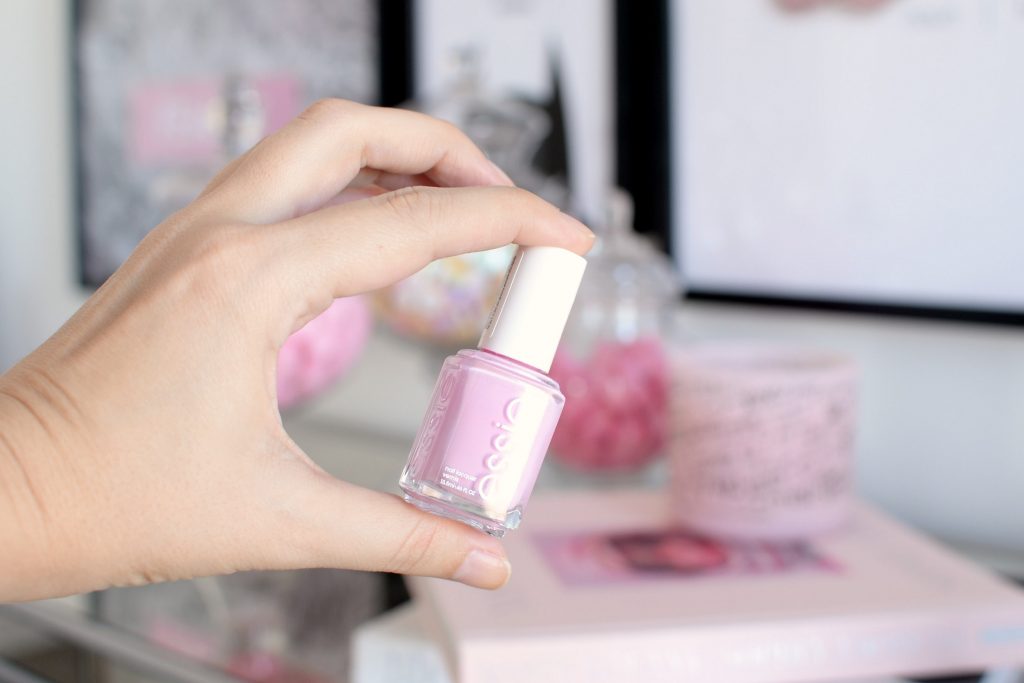 You know I have to toss in my favourite perfume at the moment, and since Juicy Couture always does pink right…here ya go…. the new Viva La Juicy Soiree. Its super fun and playful pink and magenta splatter-painted bottle matches the bright and lively fragrance within. It features top notes of pink kiwi, sparking mandarin and cassis leaves to provide a pop of juicy freshness. The middle notes of Indian sambac, jasmine petals de grasse and waterlily help create a soft and delicate floral aroma that's quite feminine and girly. The base contains notes of musk, Amber and a hint of soft woods to help ground the other notes, while adding a real warmth. This perfume is sure to leave you feeling glamourous, wild and free. It's the perfect fragrance for anyone wanting to feel like a real-life princess and escape reality. It's the perfect balance between fruity, floral and earthy. It retails for $91 for 50ml and $112 for 100ml.