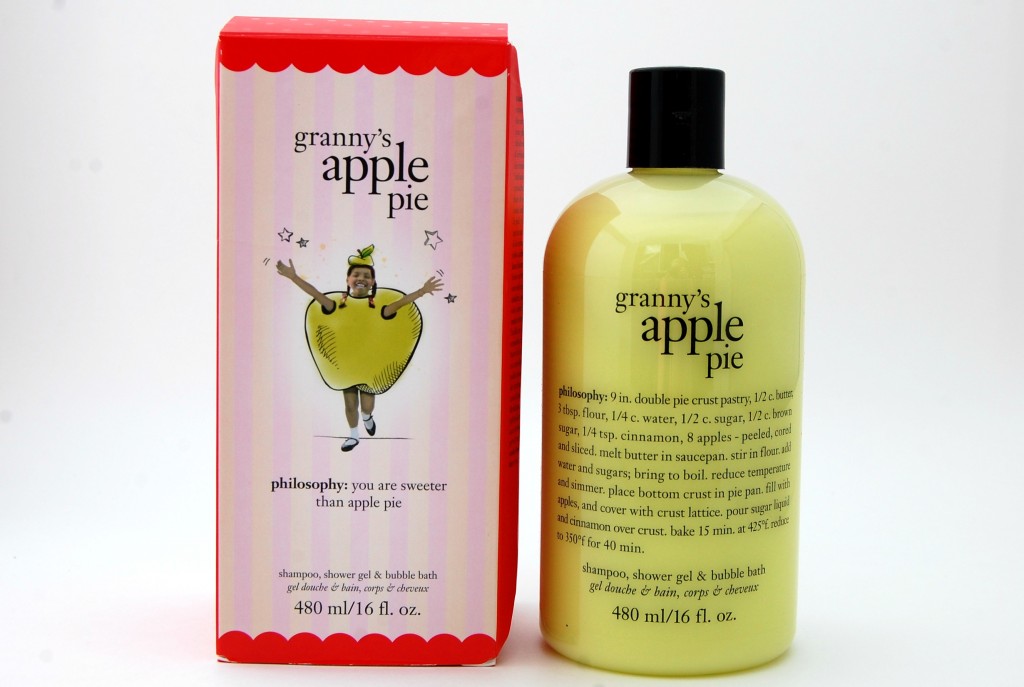 I have to admit, I am kind of a shower gel junky, I like to collect them, so each morning or evening (when taking a bath) I can pick the scent that best describes my mood at the time. One of my all-time favourites would have to be Philosophy 3 in 1 shower gels, that is not only perfect to use as body cleanser but works on your hair and acts as a bubble bath also. When I heard they had 2 new scents for Fall, I knew I had to get at least one of them. As the days get shorter, the nights get cooler and we get closer to the holiday season, all I want to do is cuddle up with the hubby and pups, by the fire, sip hot coco and munch on yummy homemade desserts; now thanks to Philosophy I can enjoy the smells of fresh baked pies straight from the oven with zero calories in their new Philosophy Granny's Homemade Apple Pie and Homemade Pumpkin Pie shower gel.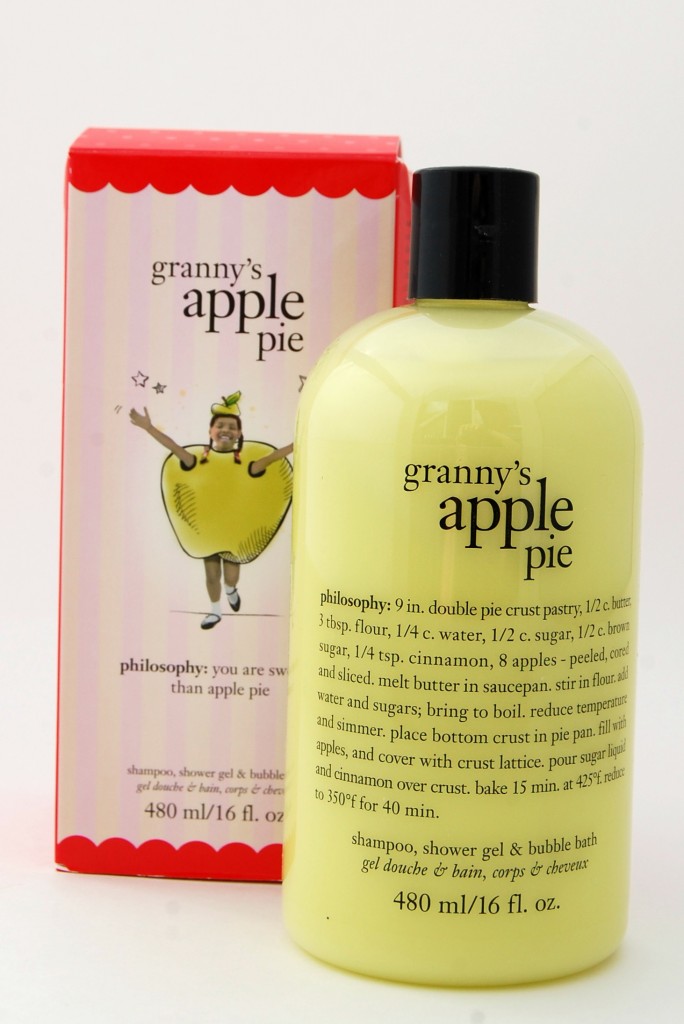 Philosophy's Granny's Apple Pie is a shampoo, shower gel and bubble bath that comes in the standard Philosophy bottle, but comes with instructions on how to bake your own apple pie on the front label, looks easy enough for someone who knows how to bake (that leaves me out). It has a thick, creamy, lime green, silky texture to it that provides a rich, foaming lather that slides onto the skin with ease. When using as a bubble bath, it delivers a ton of bubbles with only one small drop and when used in hair it comes to a nice lather with only a pea size amount. It leaves both hair and skin feeling ultra soft, smooth and hydrated. It has a yummy, straight from the oven, blend of green apples and spice scent to it. It retails for $16.50 for 16oz.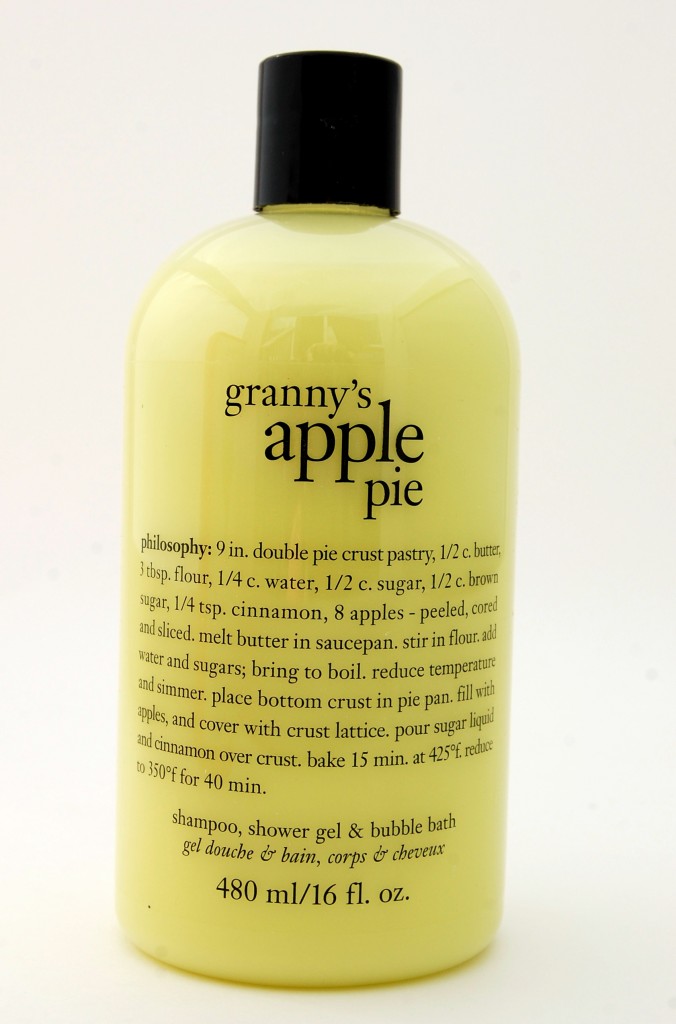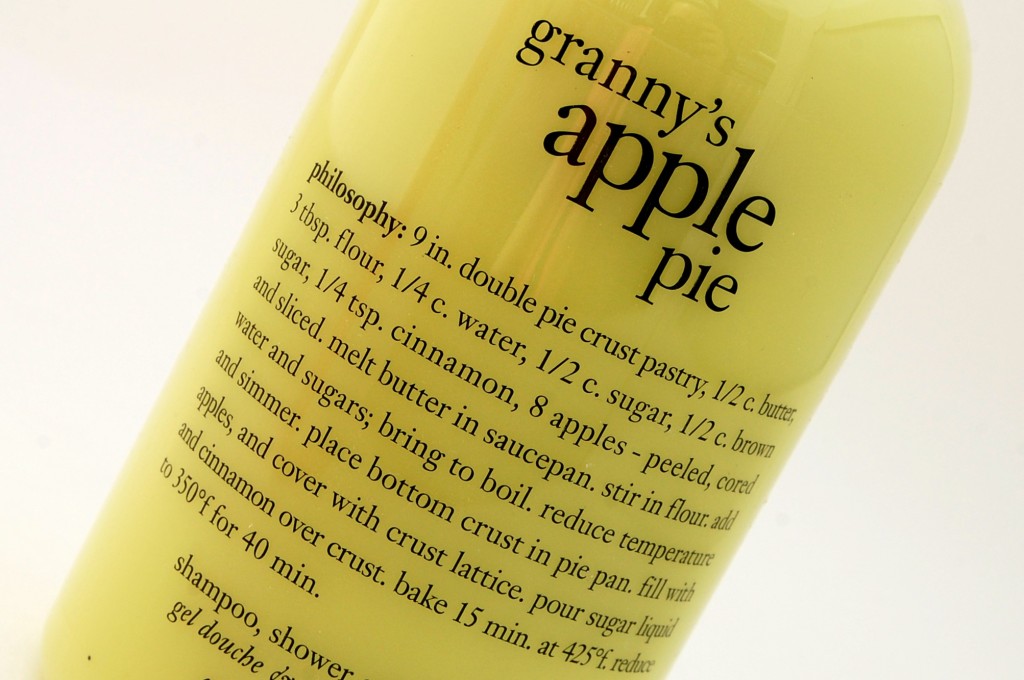 Philosophy's Granny's Apple Pie is wonderful as a shower gel and bubble bath, you sometimes forget you're in the bathroom and think you're in the kitchen baking pies. Like all other Philosophy 3 in 1's, it doesn't provide a long-lasting scent afterwards, which is probably perfect for most people that plan on adding their own perfume after the shower. It lathers up beautifully and leaves the skin feeling clean without any dryness or tightness. As for the shampoo, I've only used it a handful of times, it doesn't lather up quite as nice on the hair as it does on the skin, but is perfect to get your hair clean if you run out of your normal shampoo, or would also be great as a one-time use when travelling and you only want to bring one container. If you're into bubble baths as much as I am, this will be your new go to scent, I really can't say enough good things about it, a little goes a long way and you get an insane amount of bubbles. If you're looking for a new shower gel or bubble bath this season, hands down, pick up Philosophy's Granny's Apple Pie, you won't be disappointed.