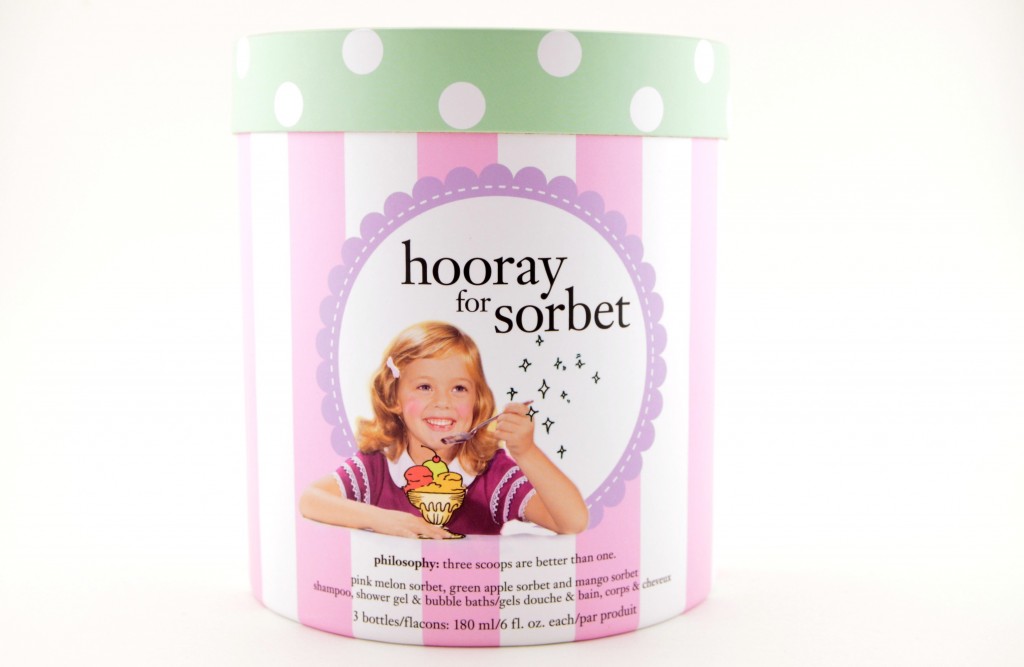 Sweet tooth, without the calories
New season calls for new shower gel in the bathroom. It's no surprise that my current love would be something from Philosophy. Everything about the brand is wonderful and I have yet to find a product I don't instantly fall in love with. The new Philosophy Hooray for Sorbet Collection features a trio of three-in-one foaming formulas of shampoo, shower gel and bubble bath, because 3 scoops of sorbet is always better than one. It's done in sweet, juicy and mouth-watering pink melon sorbet, green apple sorbet and mango sorbet scents.

Like all Philosophy 3-in-1 shampoo, shower gel and bubble bath, each flavor has a thick and creamy, silky texture in shades of soft pink, lime green and bright yellow. When used as a shower gel, it provides a rich, foaming lather that slides onto the skin with ease and washes clean away. As a bubble bath, it delivers a ton of bubbles with only the smallest drop and fills the air with refreshing sorbet scents. Finally, when applied to wet hair as a shampoo, it instantly comes to a creamy lather with only a pea size amount and leaves hair feeling silky smooth. Both body and hair feel ultra-soft, smooth and hydrated that lasts throughout the day with a sweet, fruity scent of melon, apple and mango.
All 3 scents from the Philosophy Hooray for Sorbet Collection are just as good as the next. It's wonderful as a shower gel and bubble bath, and even as a shampoo in a pinch, however, it wouldn't be my daily go-to shampoo. Although it promptly fills the air with summer, fruity scents, it doesn't seem to linger on the skin more than a few minutes, which I know a lot of people love. Skin is left feeling clean without being dry or tight when used as a shower gel and even as a bubble bath. As a shampoo it does cleanse my hair of any product buildup and residue, but by the end of the day, hair is looking a little flat.
Philosophy Pink Melon Sorbet is a refreshing mix of watermelon with just a hint of lime.
Philosophy Green Apple Sorbet smells like freshly picked green apples.

Philosophy Mango Sorbet has an unique scent that's floraly, sweet and sour all at the same time, and might be my favourite scent from the collection?
It is a little expensive, considering the standard 16oz bottle costs only $21 and with this trio you're only getting 3 x 6oz bottles for $31, but the 3 yummy scents are totally worth it.