Eight ultra-chic eye shadows
The secrets out, I'm obsessed with the new Pür Minerals Secret Crush Eye Shadow Palette. If you're tired of the same old neutral palette, but still looking for playful and a stylish natural look, you're gonna love these 8 ultra-chic eye shadows. This palette has a lovely selection of earthly taupe's, rosy pinks and gorgeous rose golds that complement each other beautifully, never competing with one another.

Pür Minerals Secret Crush Eye Shadow Palette comes housed in a trendy, yet sturdy rose gold package that's perfect for the busy girl on the go. It comes with a large fluffy brush that is actually amazing quality and something you're reach for over and over again. It has a full size mirror on the inside lid, which makes touch-ups on the go super easy. It features 8 natural shades that are incredibly silky and smooth. It helps to condition the skin, thanks to its vitamin E infused formula, for a silky soft look and feel. It brings an undeniable element of intrigue to your everyday look with its highly pigmented and truly opaque colour. Each shade applies evenly and smoothly, blends out beautifully and stays put the entire day. When paired with a primer, they won't smudge, budge or crease for a solid 10+ hours.

Pür Minerals Secret Crush Eye Shadow Palette can easily take you from day to night by adding a few of the darker shades for a smoky evening look. For a quick and easy everyday look, apply Lust all over as base and follow up with Admirer to contour the crease area. For a sexy and dramatic evening look, take Rendezvous on the outer corner for definition and concentrate on the lashline for more intense and smoky look. It definitely leans more towards the warm scale, but I can see this looking stunning on all complexions. The quality of these shadows really are outstanding and a must-have for summer. Pigmented, smooth and you can achieve a quick and simple classic eye look with just a few shades. The variety of looks you can create with this palette makes it an incredible deal at only $35, that's only $4 a shade.

Pür Minerals shadow in Whisper is an ivory matte, Lust is a cream matte, Passion is a rose gold with a metallic finish, Muse is a chocolate with a pearl finish, Infatuation is a rich bronze with a pearl finish, Admirer is a golden brown with a pearl finish, Rendezvous is a brown matte and Rumor is a black matte.

The new Pür Minerals Pout Pen is a 2-in-1 lip stain and hydrating lip balm that helps you achieve a naturally flushed lip thanks to its double dose of sheer colour and soothing hydration. It's formulated with vitamin C and nourishing natural extracts to not only provide a beautiful stain on the lips, but helps to keep free-radicals at bay.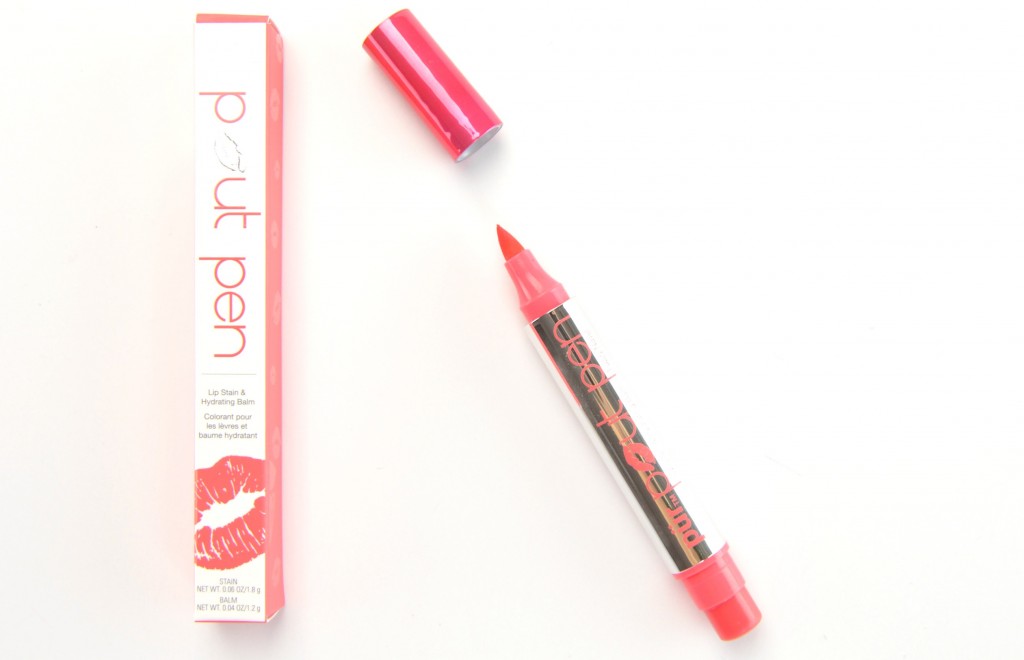 Pür Minerals Pout Pen is a dual ended lip tint and moisturizing balm in one. It features a precision felt tip applicator on one end to provide foolproof colour and a one-of-a-kind, glossy, moisturizing balm on the other end. It glides on smoothly and seamlessly for a lightweight, highly pigmented tint. Its long-wearing formula doesn't feel heavy, uncomfortable or drying throughout the entire day. No need for touch-ups, this colour stays put for 8+ hours without creasing, smudging or fading. You're going to need an oil cleanser or powerful makeup remover to remove it at the end of the day, that's how powerful it is.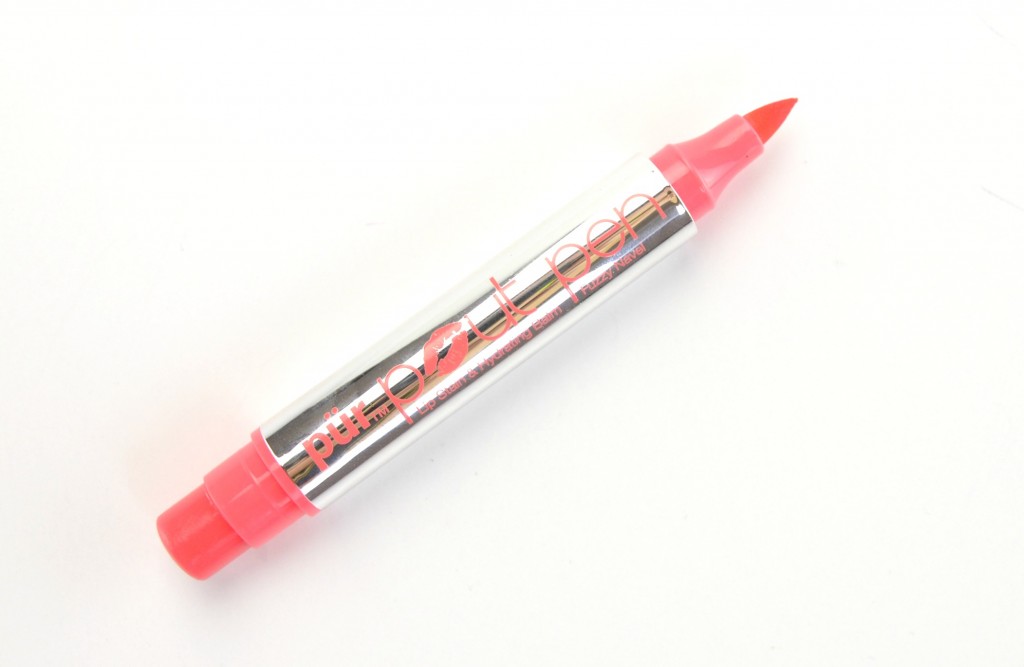 Pür Minerals Pout Pen is an extremely fun and innovated lippie. I'm obsessed with its fruity scent and its sheer, yet extremely long-wearing formula. Although the tint does give somewhat of a glossy, lip balm finish, once you apply the balm overtop, it creates a beautiful summertime glow. I also love that it doubles as a lip liner, preventing the colour from bleeding into fine lines. I simply outline my lips first, then fill it in with the Pout Pen and top with the hydration balm. This allows me to create the perfect pout that lasts and lasts and lasts. I do find myself reaching for the lip balm after a few hours, as my lips felt a little dehydrated, but the colour is still there, without having to reapply. It comes in 4 new shads, Cosmo, Fuzzy Navel, Mai Tai and Sangria for $21 each.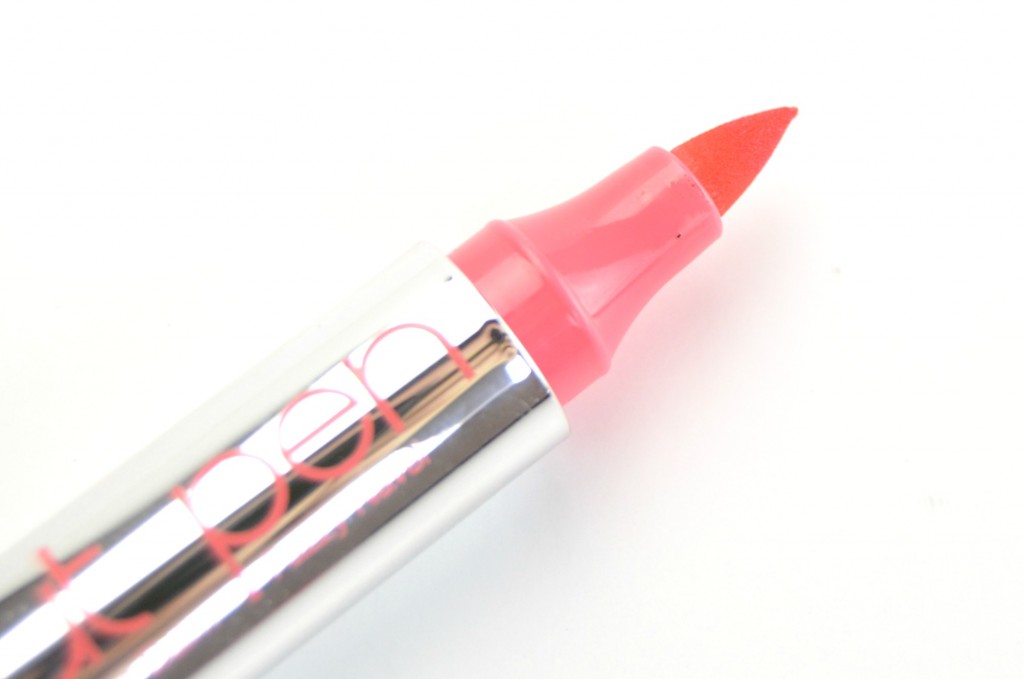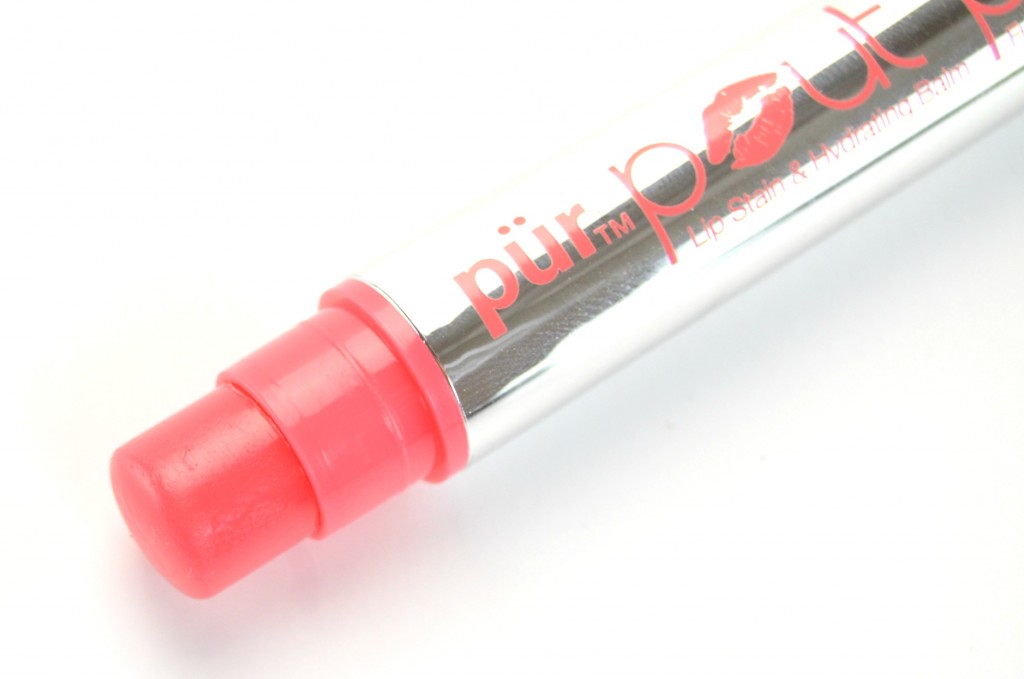 Pür Minerals Pout Pen in Fuzzy Navel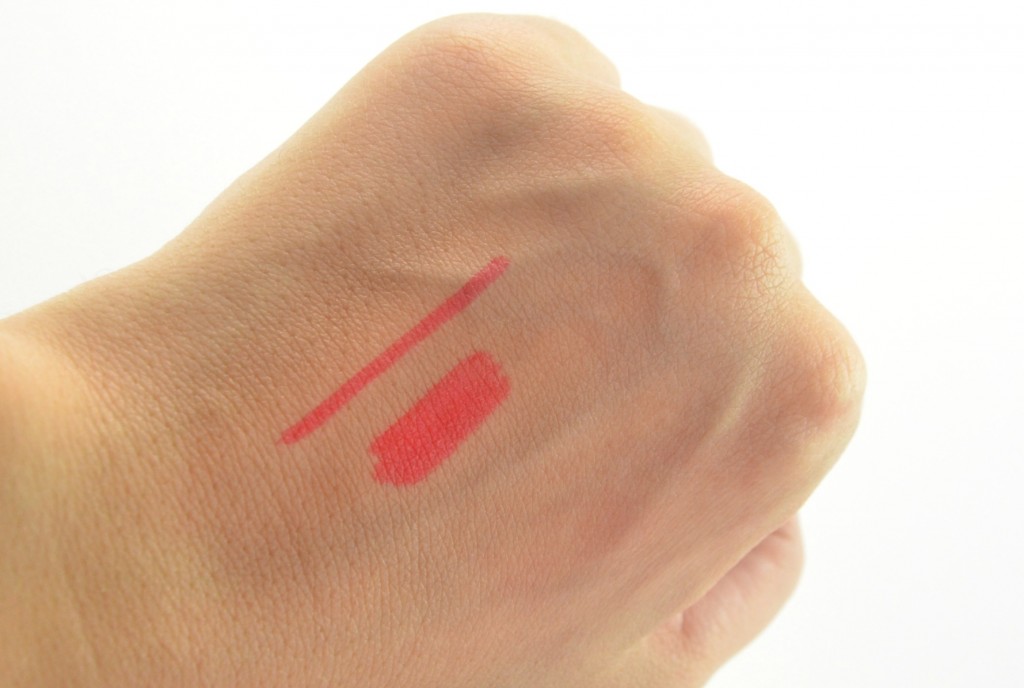 Pür Minerals Volume Vixen is a 4-in-1 full volume mascara with keratin. It helps to provide extreme volume, separating, strength and length that will help give the appearance of false lash volume. It helps infuse lashes with nourishing hydration, thanks to its keratin, vitamin B5, jojoba and ceramides formula, for a visibly thicker and fuller lash from root to tip. High-performance, ultra-light polymers provide maximum build without clumping or weighing your lashes down.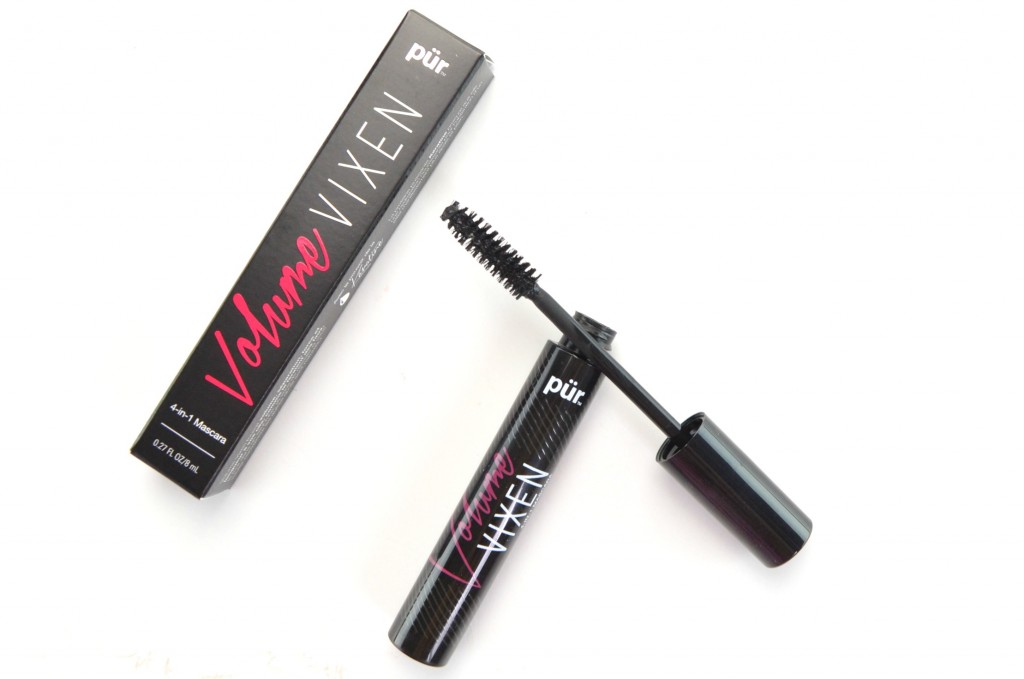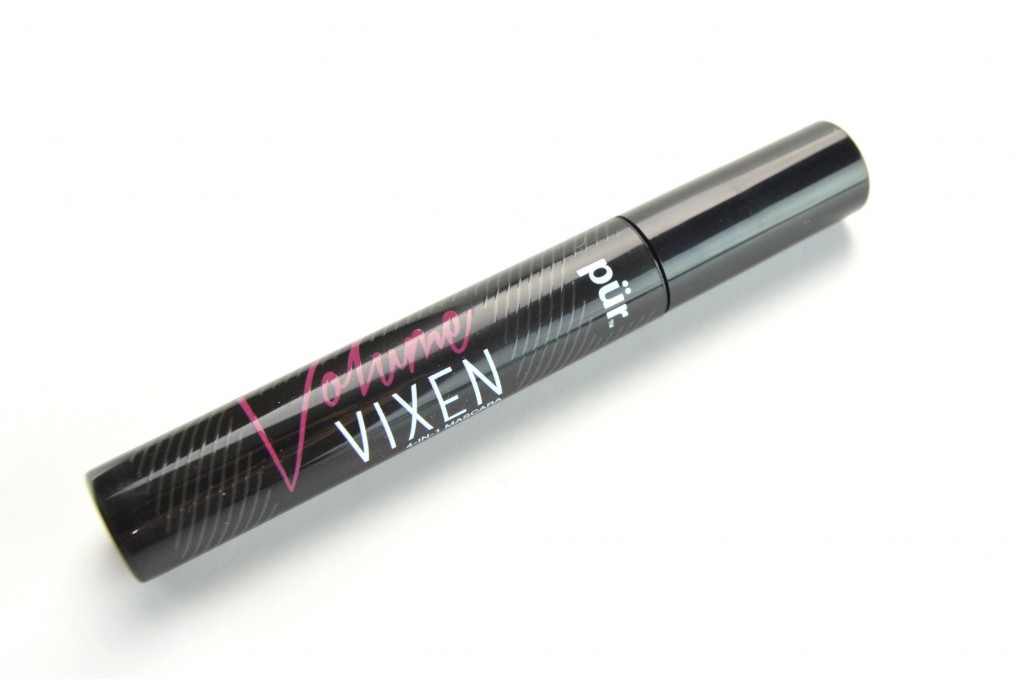 Pür Minerals Volume Vixen Mascara comes in your standard mascara tube with an advanced wand that features reservoirs that stores excess mascara so there's no double dipping. This not only saves you time, but product as well. It has tiny spiky bristles that help to grab each and every single lash, even the smallest of lashes, to help provide a flawless, full of lash volume. It has a slightly thick, wetter formula that applies evenly and requires only one coat. It gives both length and volume, which helps to curl and define the lashes. It's highly pigmented and provides an intense, jet black coverage in a single coat. It's powerful conditioning formula helps to lock in moisture to give lashes a dewy sheen and keeps them soft without looking or feeling crunchy or stiff. It stays put the entire day without fading, budging or smudging.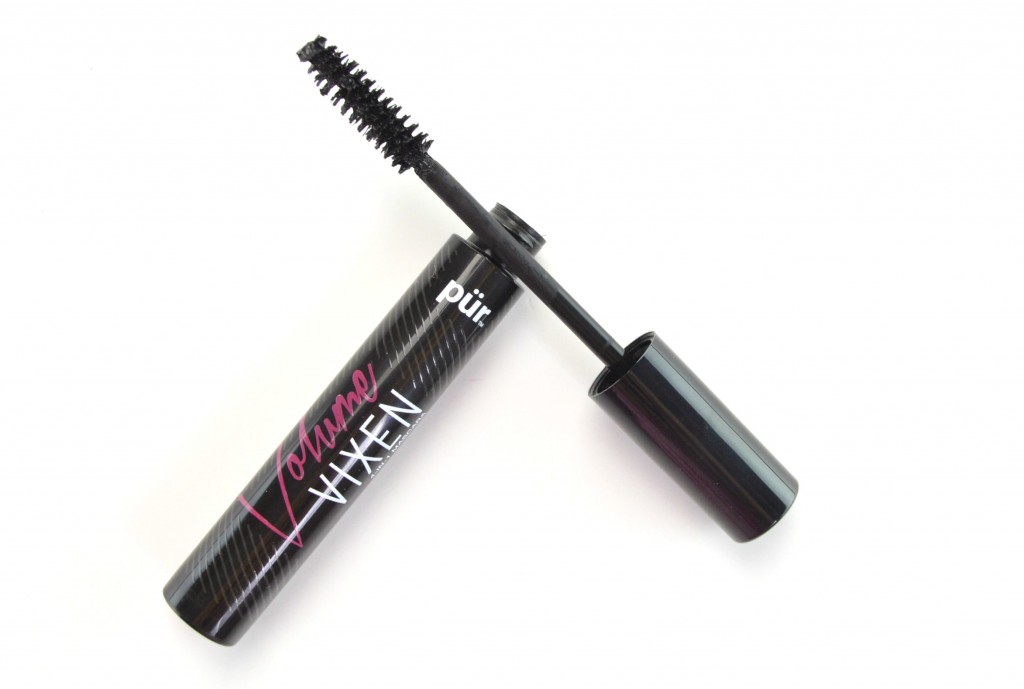 Pür Minerals Volume Vixen Mascara brush is extremely well designed and easy to use. Its formula is lightweight, conditioning and provides a clump-free finish. It is thick enough to add both volume and length, but thin enough to get in between each lash for high separation and fullness. It's truly opaque in a single coat without being hard or crispy. Although it doesn't claim to be waterproof, it didn't smudge under the eyes, nor did it flake throughout the entire day. Since it's not waterproof, it removed fairly easily, without tugging or pulling on the lash line. If you're looking for a triple threat mascara that gives the appearance of thick, bold and beautiful fake lashes, this is the one for you. It retails for $23 and like all Pür Minerals is exclusive to Shoppers Drug Mart.