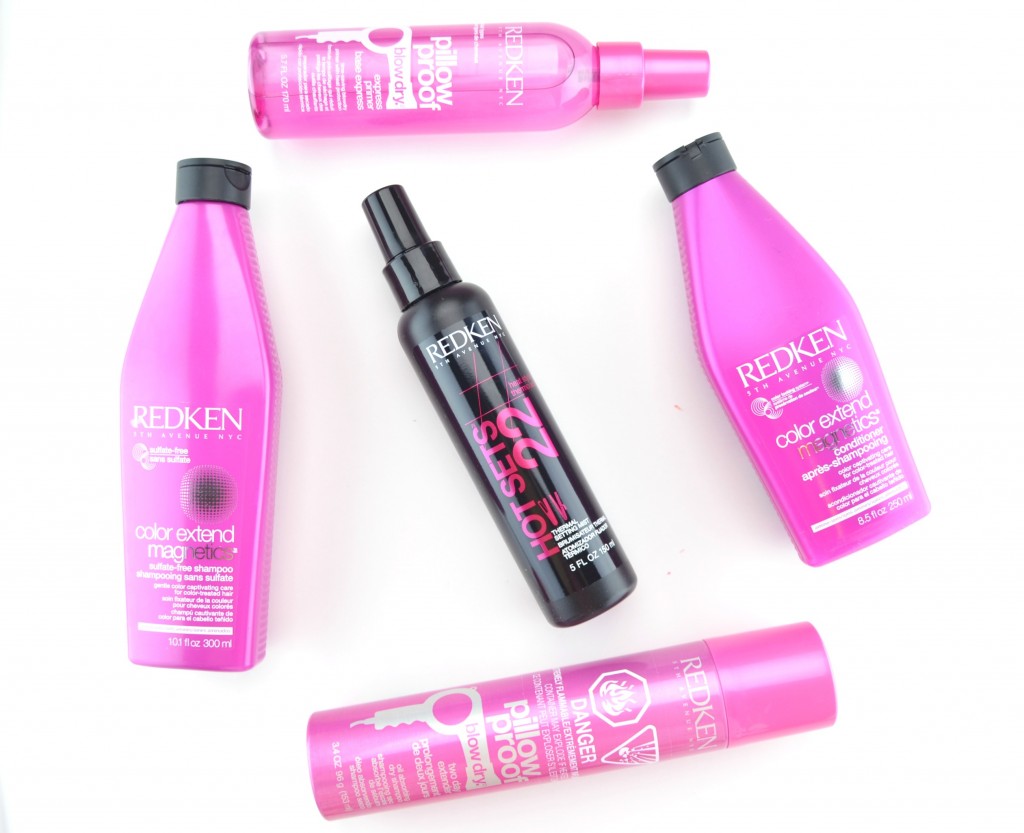 Hair Sponsor for World MasterCard Fashion Week

It wouldn't be World MasterCard Fashion Week without heading backstage to hang out with Redken, the official hair sponsor of all 40 shows, about the hottest trends for Spring/ Summer 2015. I've always enjoy my one-on-one conversation with Jorge Joao, Redken's head hair stylish, each season and this year he gave me insiders' tips on the latest styles and must-have products. Although I didn't have enough time to get my hair styled by one of Jorge's talented team members, he did teach me about a few of the newest products that will have me #RedkenReady on or off the runway.

In as little as 3 steps you can achieve a pillow proof blow dry look that takes these runway looks from the catwalk to the sidewalk in minutes. First off, you're going to want to start with Redken's new Color Extend Magnetics Shampoo and Conditioner to cleanse the hair and have it style ready. You know I've been using Redken Color Extend for 10+ years, so I'm pretty excited to try something new. Let's just talk about how stunning this hot pink packaging is. The new Color Extend Magnetics will capture the salon-fresh vibrancy with its next generation hair colour technology. It features amino-ions that are attracted to the hair fibers that help to seal in colour. It makes sure your hair colour is secured with maximum vibrancy and alluring shine all day long.
Redken Color Extend Magnetics Shampoo is sulfate- free and has the same lightweight formula as the original color extend. It gently cleanses the hair of build-up, dirt and oil while sealing in the colour and strengthening your natural hair fibers from root to tip. It washes clean away without feeling heavy, greasy or oily.

Redken Color Extend Magnetics Conditioner has a thick and creamy texture that helps to provide a smooth finish, repair hair and detangle each strand. It leaves hair instantly smoother, softer and more conditioned and ready to be styled.
Redken Pillow Proof Express Primer is a heat protectant hair primer that helps to cut down on blow dry time. It's sprayed onto damp hair to protect against heat damage up to 450° F. Not only does it cut down on blow drying time, it helps protect hair against future heat damage and helps reduce breakage cause by heat and other environmental factors such as the sun, dry weather and chlorine. It helps to repair hair from the inside out and even adds extra volume.
Redken Hot Sets 22 Thermal Setting Mist will help lock in lasting control, shine and staying power when using heating tools. It helps to provide a crisp hold when styling with a curling iron, hot rollers, straightener or any other styling tool while protecting it from future heat damage. Simply spray on damp hair and continue styling as normal.
For those day when you don't have time to wash your hair, or just need to give your locks are rest, Redken Pillow Proof Two Day Extender will be your new BFF. It will instantly transform dry, oily, day old hair into luscious, full of body hair. The powder will help to absorb oils, extend the life of a blowout and instantly refresh the hair. It will give your worn-out blow dry a refreshed, full of body, matte texture in seconds. Simply spray at the roots, brush the powder throughout the hair to evenly distribute it and refresh the hair. If need be, touch up select sections with a blow dryer or flat iron.
Enter below to win this amazing #RedkenReady Prize Pack