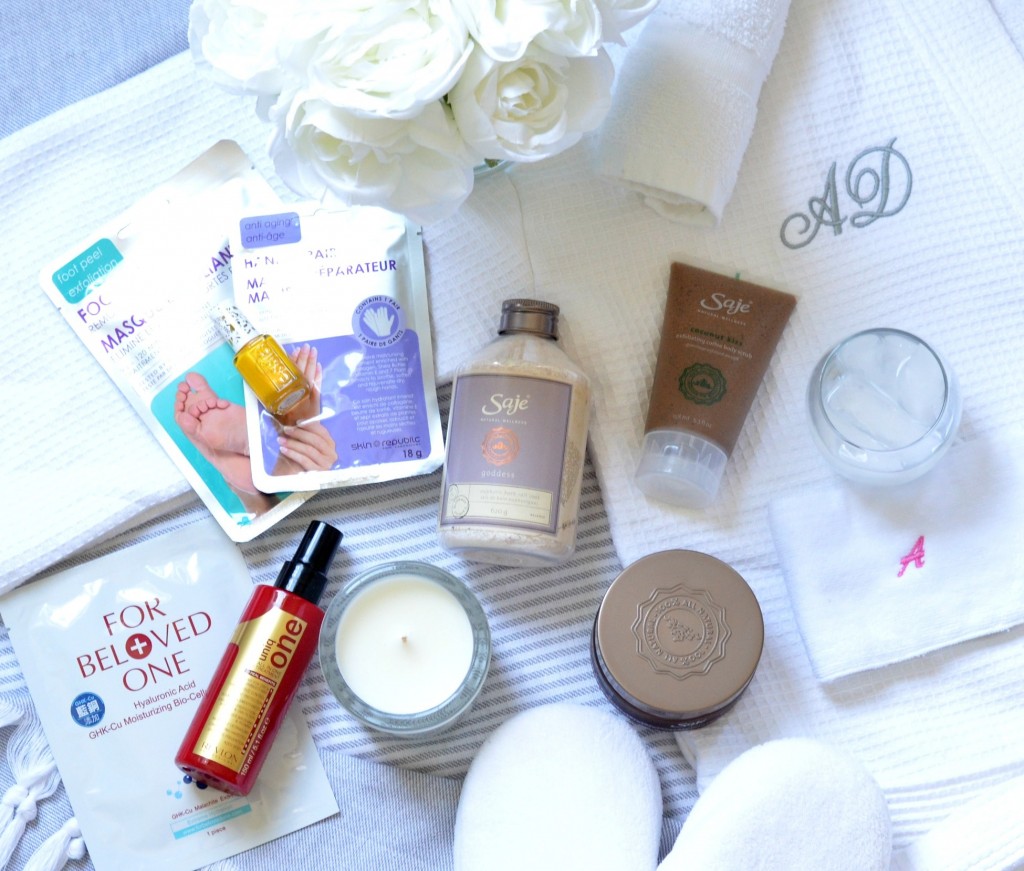 There's nothing like treating yourself to an afternoon at the spa, but if you're anything like me, you either don't have the time or the funds to enjoy this lavish experience weekly (I'd much rather spend my hard earned money shopping for cute summer dresses online). Creating a relaxing spa day at home can be equally as enjoyable as some of the fancy and expensive spas, and just as easy, all you need are the correct products. Saje, a brand I've featured several times on this fashion blog, is my go-to store of choice when I'm looking to spoil myself with new natural, relaxing and soothing treats. I tend to pick a day when I know I'll have no interruptions, i.e. when the hubby is at work, add a few drops of my favourite essential oils to my Saje aromaOm Ultrasonic Nebulizer to help set the scene and mood, then start in with the pampering session.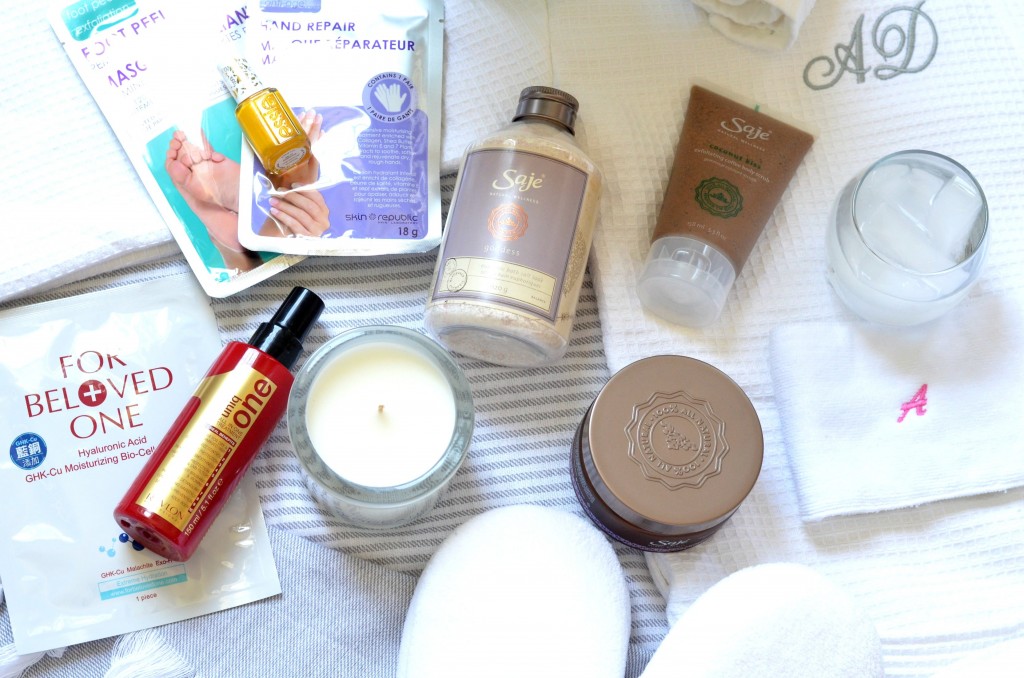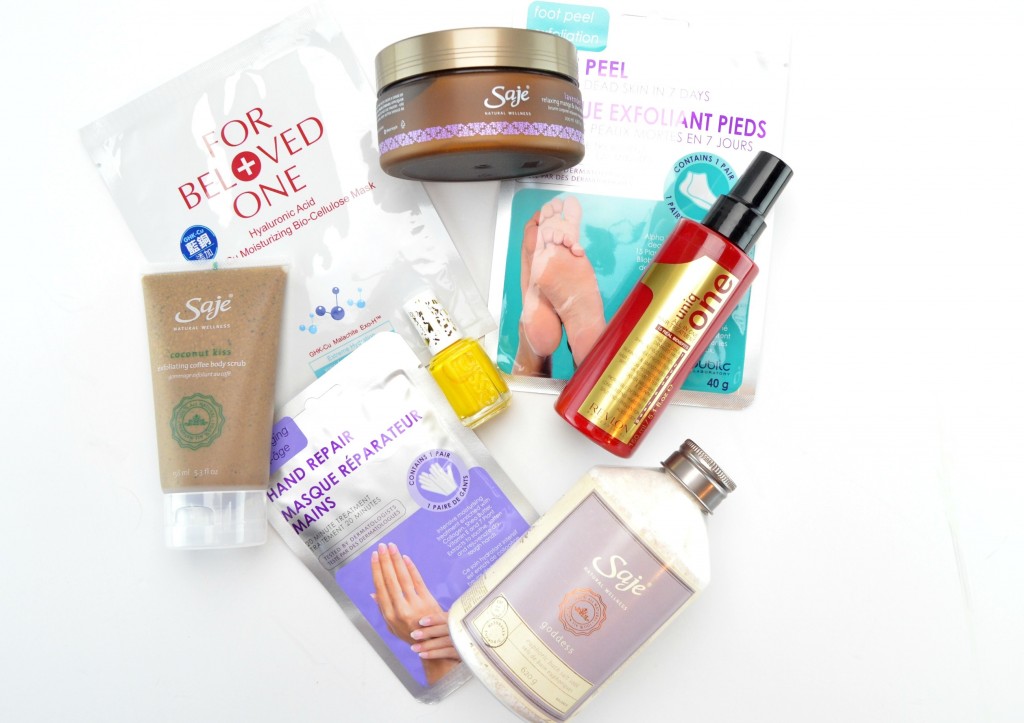 I first draw a hot bubble bath, I tend to like my water extremely hot, to the point of almost burning, as I find it relaxes the muscles without having a massage. While the tub is still filling, I dim the lights, put on my favourite slow jams of the 90's, get my robe ready for after my bath, and pour myself a vodka to enjoy while I soak. Aromatherapy is a great way to enhance your bath, while balancing your emotions and soothing anxiety. You don't have to limit yourself to bath salts, although I find them the most relaxing. I add a few tablespoons of Saje Goddess Bath Salt Soak, as it features essential oils to not only melt away the stress of the day, but it awakens my femininity and helps to balance my hormones. It leaves me feeling confident, comforts my heart and leaves me feeling calm, peaceful and serene. It retails for $24.95.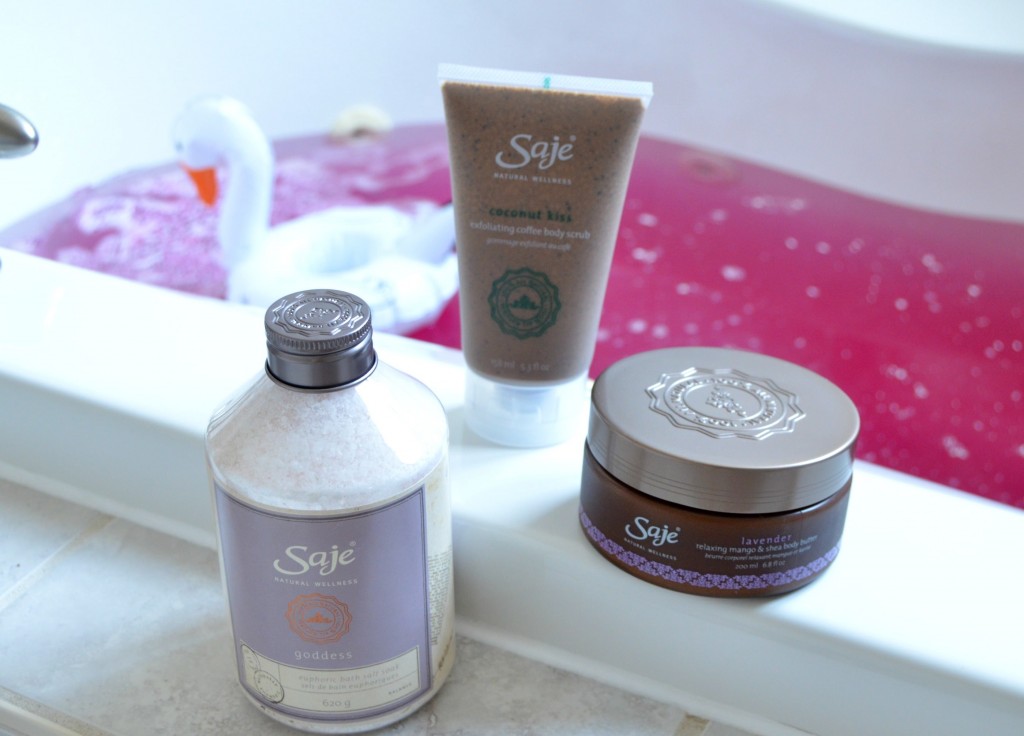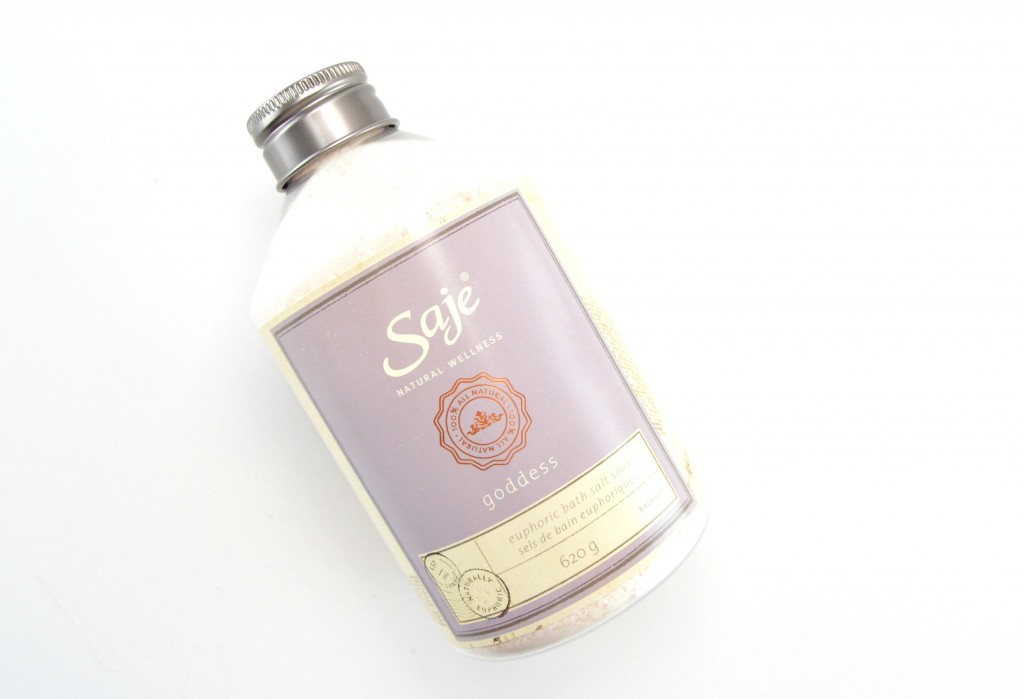 Before stepping into the bath, I like to treat myself to Revlon Uniq One All In One Hair Treatment, a 10-in-1 leave-in hair treatment spray that helps to repair dry damaged hair, adds shine and controls frizz,  acts as an amazing heat protector, creates silky, smooth strands, protects against future colour treatments, as well as UVA and UVB filters, allows for easy brushing, ironing and styling by detangling, adding volume and body which will also help prolong your hairstyle, all while preventing split ends. Talk about a miracle product. This little spray bottle will actually replace up to 10 other products in your hair care routine and can be used on both damp and dry hair. It has a fresh, clean, floral scent that gives the feeling of walking out of the hair salon at home. It retails for $19.95 at Trade Secrets.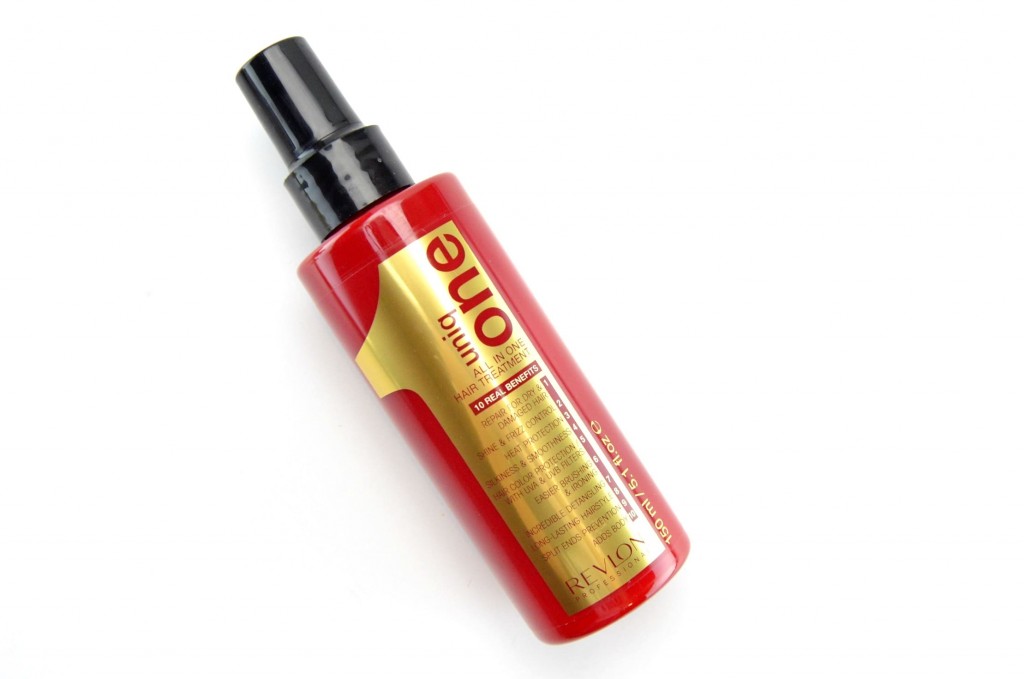 Also before my relaxing and soothing bath, I like to apply For Beloved One Hyaluronic Acid Mask to help moisturize and hydrate my skin. It's no secret that my skin is extremely dry and dehydrated all year long, so I often look for products that contain hyaluronic acid. Not only does it retain moisture, 1 gram is able to hold up to 6 liters of water, it can actually keep your skin hydrated for up to 24 hours. This unique mask uses a "water-activating technology" that not only helps to capture, replenish and create water, it can effectively maintain moisture in the skin at a deeper level. It's innovated cellulose sheet-mask design sticks and molds perfectly to your skin, without slipping and sliding like other masks. There is absolutely no solution dripping onto the floor (or into the tub), ensure all the wonderful benefits of the serum gets fully absorbed into the skin. Talking about the serum formula for a minute, each mask contains an entire bottle of serum and is left on for upwards of 20 minutes and can be used once every 10 days. Now, don't be shocked by the somewhat expensive price tag, $63 for a box of 3 at T&T Supermarket, because for a hyaluronic facial treatment at your local spa would cost much more. It provides me with 24 hours of moisture, instantly repairs and rejuvenates my dry, dull skin and with a healthy, luminous glow. It really does an excellent job at brightening and restoring my skin's radiance in as little as 1 to 2 treatments.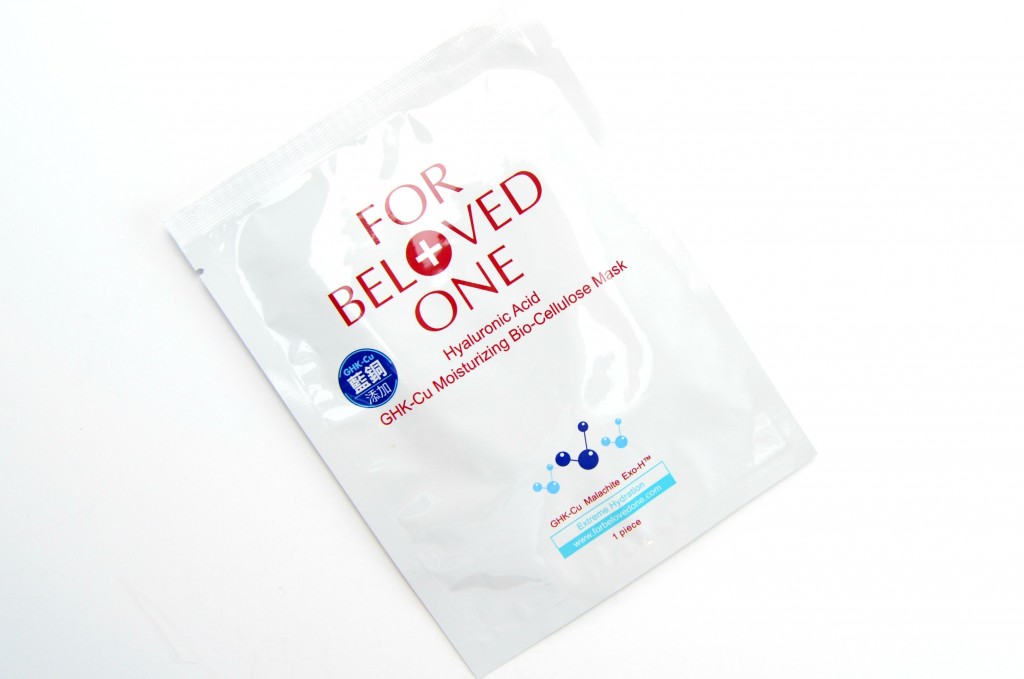 While I'm in the tub, I like to exfoliate my skin. By using gentle circular motions, I massage a small dime size amount of Saje Coconut Kiss Body Scrub, into my skin to slough off all dead skin. It features coffee and coconut extracts that not only smell incredible, but leave my skin feeling soft, smooth and healthy. It also contains sweet almond oil, jojoba oil and safflower oil to help moisturize and hydrate the skin, nourishing it from the inside out. It helps to keep my skin toned and firm, while revitalizing the look of it. It retails for $14.95. After my skin is completely soft and smooth I shave my legs and other body parts, and since my skin is exfoliated, it makes this process so much easier.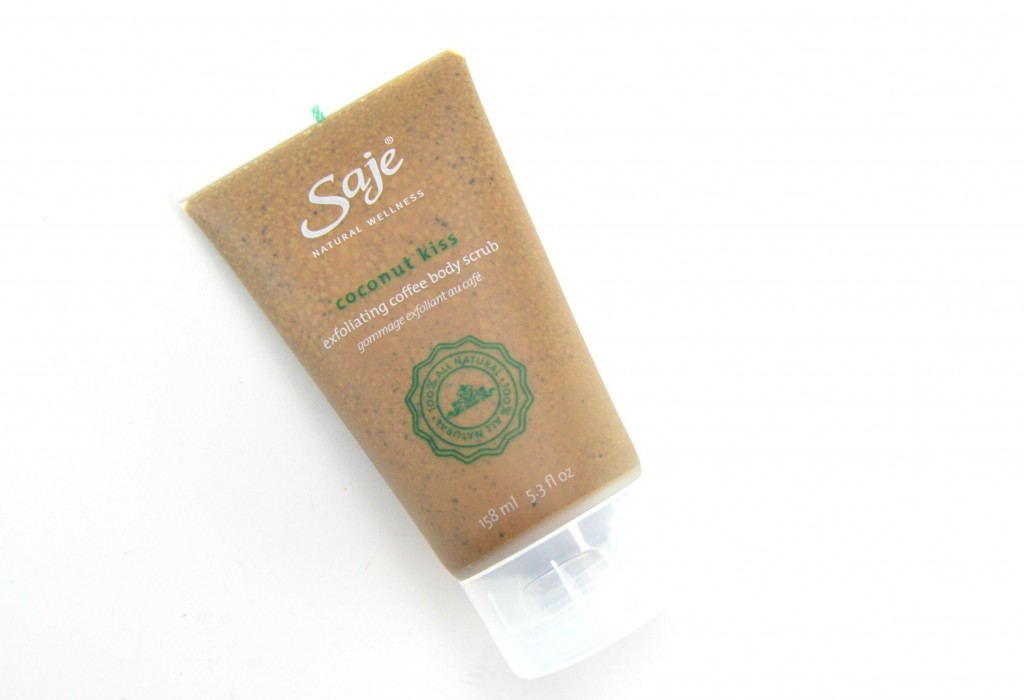 After a solid 30 minutes in the tub, it's time to get out (partly because the water is no longer steaming hot and partly because I hate the look and feel of wrinkly fingers). I towel dry my skin and then apply a nourishing lotion while my skin is still slightly damp. This not only helps to seal in the moisture, but it actually helps the lotion to glide on easier. I've been loving the Saje Lavender Body Butter, as it has rich and creamy, almost whipped texture, but isn't so thick that you can't blend it into the skin or that it takes forever to absorb. It features shea butter, aloe vera, mango butter and essential oils to not only hydrate the skin, but it awakens your senses. It retails for $19.95. Immediately afterwards, I wrap myself up in my luscious bathrobe to allow time for my lotion to get fully absorbed into my skin before getting dressed or putting on my PJ's.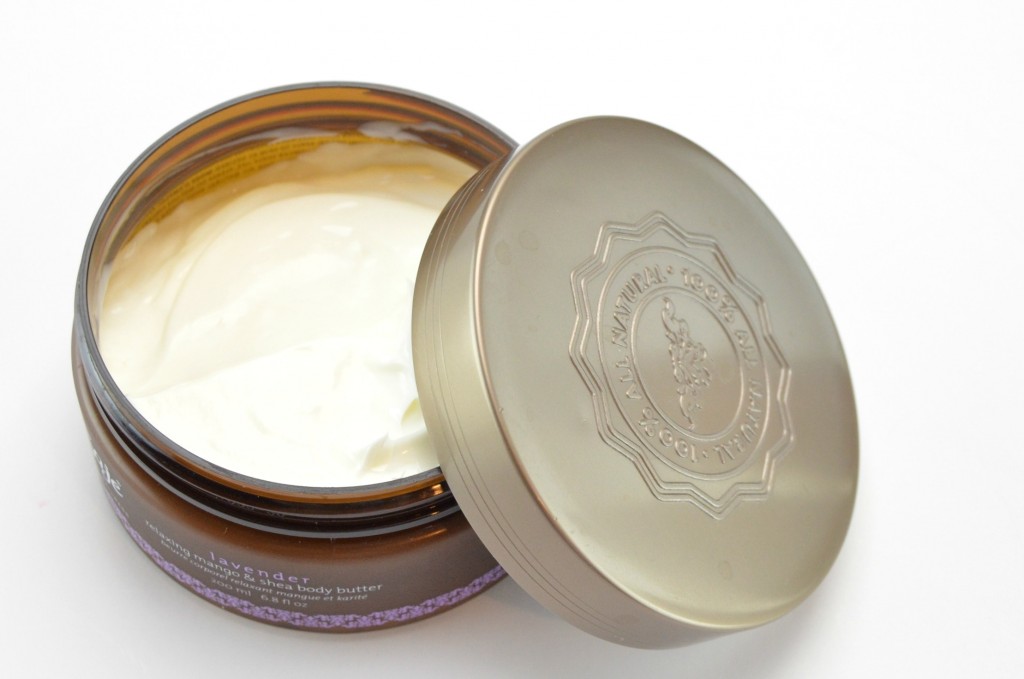 On days when I have a little extra time I like to apply Skin Republic's award winning masks to both my feet and hands. The Skin Republic's Hand Repair Mask is a unique sheet like-type mask for your hands that has a plastic like material on the outside, allowing you to still be able to do things around the house while your mask is on, while the inside features a fabric layer to help absorb the nourishing serum within. You simply slip your hands into its serum infused gloves and let the treatment do its thing for upwards of 20 minutes. It's enriched with moisture boosting marine collagen, rich in shea butter, revitalising vitamin E along with 7 plant extracts that are designed to work together to help to soothe, soften and rejuvenate dry, rough hands. Skin is instantly left moisturized, firm and healthy. It retails for $9.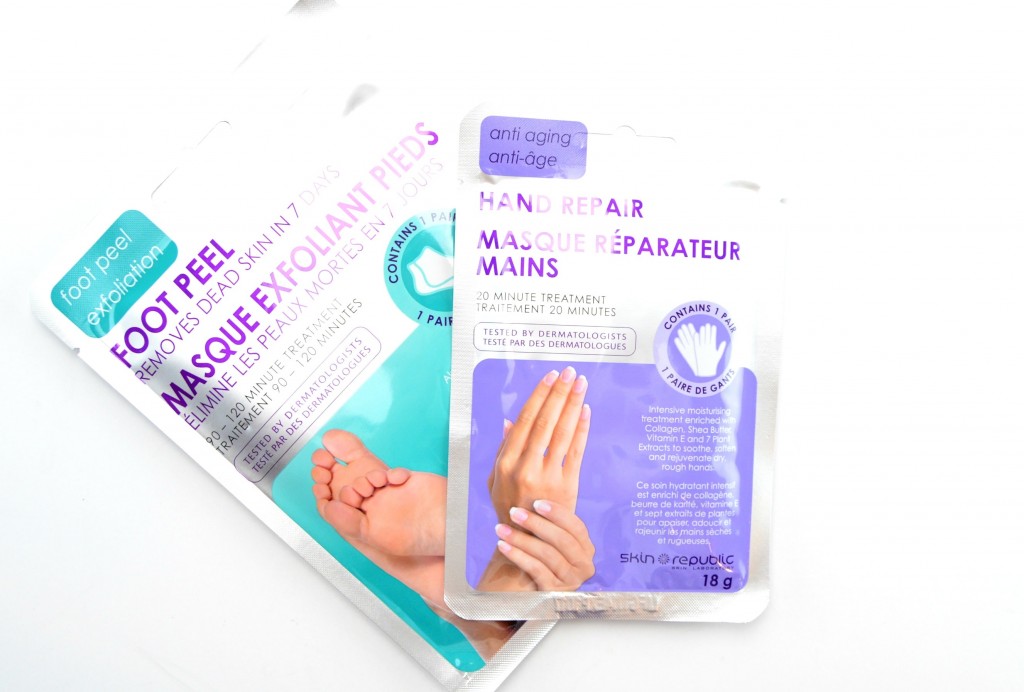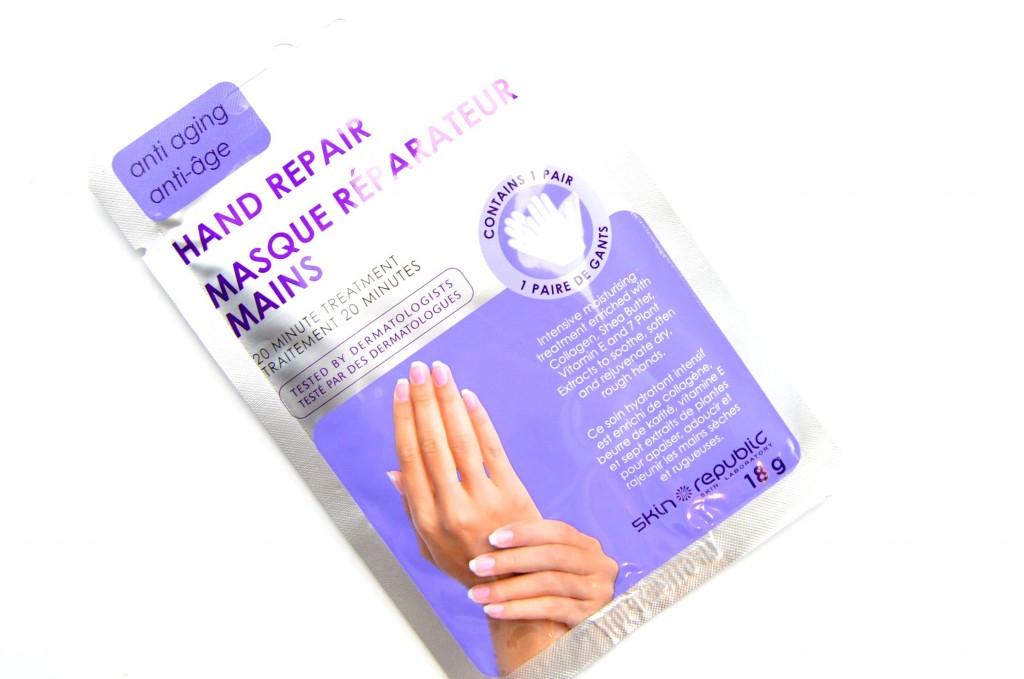 The brand also offers a mask for your tender tootsies, the Skin Republic's Foot Peel Mask is much like the hand mask, but is enriched with 15 pure plant extract to provide intense moisture and nutrients to the skin. It also contains AHA that helps to exfoliate dead skin cells, leaving your feet silky, smooth and soft. Slip your tired feet into the serum infused booties and leave on for 90 to 120 minutes. Although that does seem like a long time, just like the hand mask, the outer layer stays completely dry, allowing you to continue on with daily activities. Over the next few days your dead skin will start to naturally peel, revealing baby smooth skin underneath.  It retails for $16.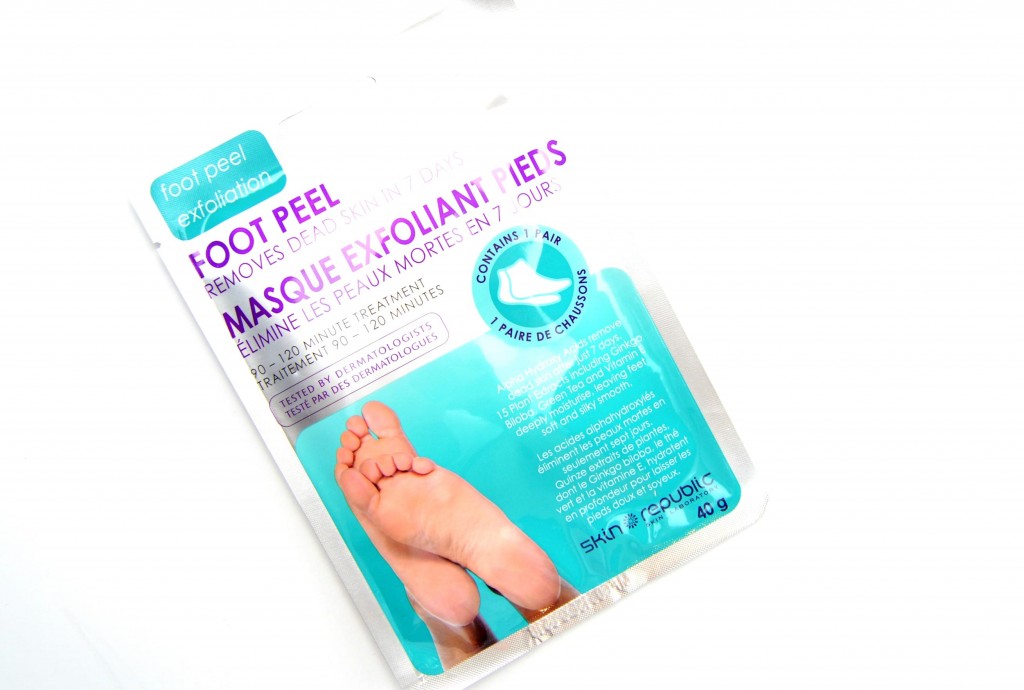 The last thing I do is give myself a mani/pedi, cause we all know this girl doesn't have the time to hit up the nail salon. The shade I'm loving at the moment, and the one that makes me feel extra special, is the new 1000th shade from Essie. There's nothing mellow about Essie Aim To Misbehave, it's a stunning scandalous citron yellow with an incredible amount of shimmery goodness. Party till the sun comes up all summer long in this shimmering confetti shade.