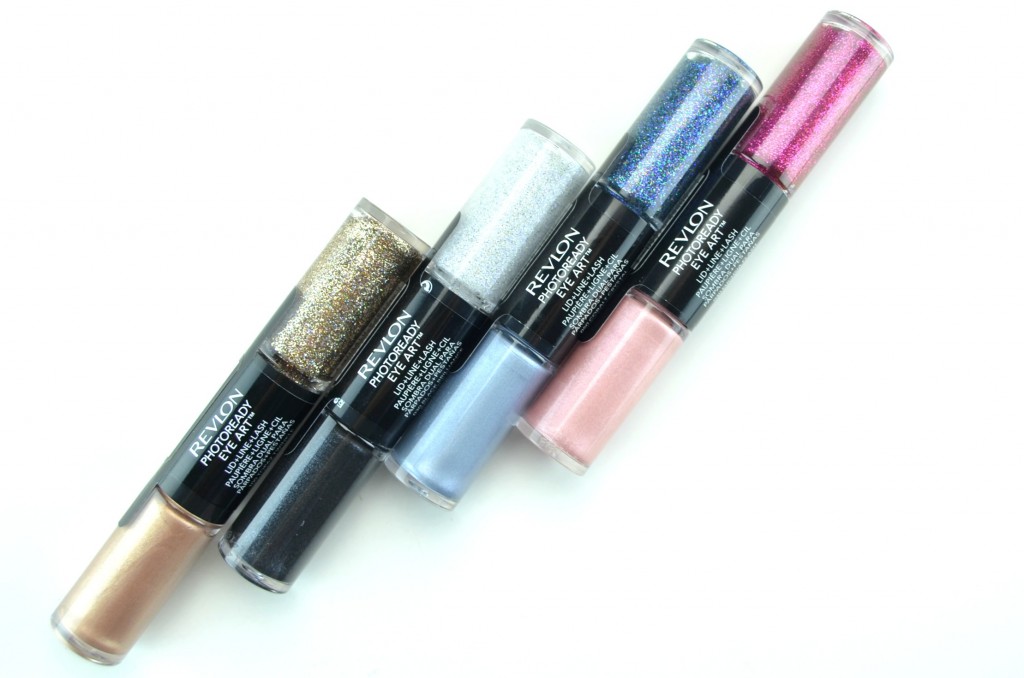 Coordinating eyeshadow and eyeliner

Just in time for the holidays, Revlon released a new 2-in-1 product that will sure to add a little glitz and glamour to your look this season. The Revlon Photoready Eye Art Lid + Line + Lash is a brand new coordinating eyeshadow and eyeliner all packaged into one chic design. It's much like the Revlon Nail Art polish, but packaged in a plastic tube instead of glass. It features a cream shadow on one end and a glittery eyeliner on the other.
Revlon Photoready Eye Art Lid + Line + Lash comes in duo-ended tube with a creamy metallic eyeshadow with doe-foot applicator on one end and a sparkly and glittery eyeliner with bristle brush on the other end. The metallic eyeshadow is extremely lightweight, creamy and applied effortlessly to the eyelid. Just dab a small amount onto the eyelid and blend with your finger. Since it is so creamy and takes a few seconds to set and dry, it makes blending a breeze. It's highly pigmented and truly opaque in one single swipe. I find it best to apply a small amount of shadow over top or a translucent powder to avoid creasing. It's also stunning as a base for powder shadows to adhere to, in return providing longer lasting wear time. It does take a few minutes to completely set and dry, but once it does, it isn't moving for the entire day. It gives a nice metallic, almost wet look to the eye, even when completely dry. The eyeliner base is somewhat clear with a mixture of iridescent glitter, along with matching coloured glitter, depending on the shade. You need to let the cream shadow completely dry and set before applying the glitter over top or you can expect some flaking. The fine tip allows for precise and easy application and the fluid formula glides onto the lid without pulling or skipping. It actually doesn't budge or flake off during the day and is fairly easy to remove at the end of the day. It comes in 10 different colour combos to help you achieve a glitzy and glamourous finish this season and retails for $11.49.
Since the shadow does take a few minutes to dry, you have enough time to blend and mix with other shades if need be. I find you need to set it with a powder, otherwise it will start to crease within the hour. I also find that the glitter liners work best on the lower lash line, as it sometimes bleeds into the mascara, making a mess. Overall, I love the idea of this two in one product, you get an eyeshadow and eyeliner combined into one pretty packaging that's perfect for travelling. I love the metallic finish with the glittery liner, perfect for the holidays and a night out on the town.
Revlon Photoready Eye Art Lid + Line + Lash in Topaz Twinkle is a metallic rosy champagne shade with tiny multi-coloured glitter with largerer gold glitter throughout.
Revlon Photoready Eye Art Lid + Line + Lash in Fuchsia Flash is a pale metallic pink with bold and bright fuchsia glitter.
Revlon Photoready Eye Art Lid + Line + Lash in Crystal Cobalt is a winter, icy metallic blue with blue and silver glitter.
Revlon Photoready Eye Art Lid + Line + Lash in Black Brilliance is a stunning black metallic with iridescent blue, white and silver glitter.
 If you like this Revlon Photoready Eye Art Lid + Line + Lash Review, you might also enjoy Mark. All Time Eye Hook Up Longwear Eye Shadow