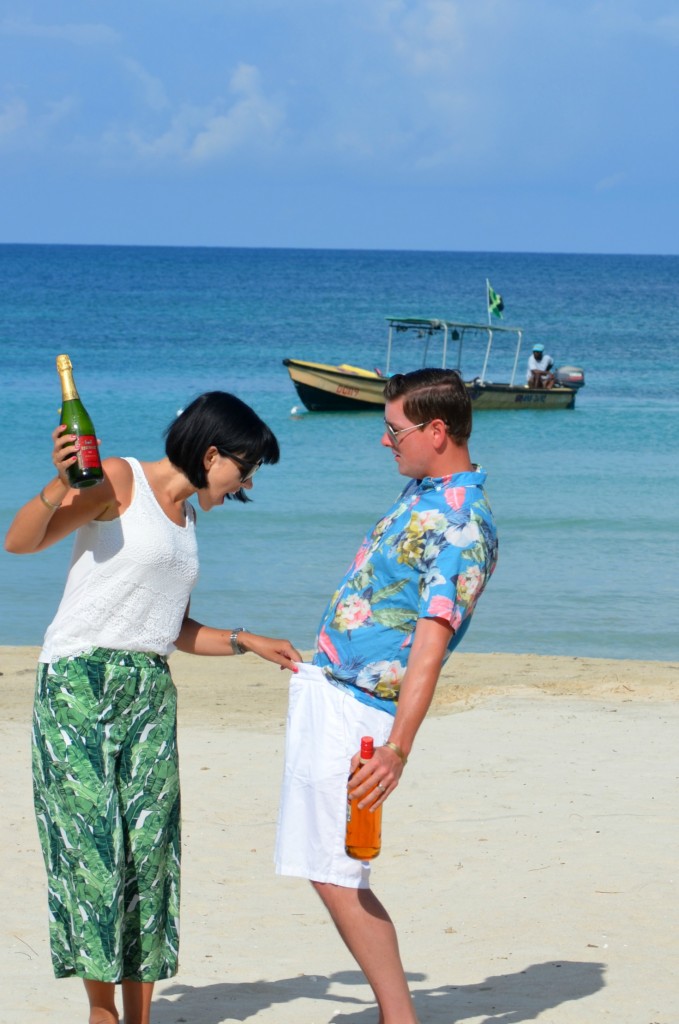 First resort in 13 years that I wouldn't recommend. As you know, Derek and I just returned from holidays and I thought I'd share my experience with you (along with some outfits of the day). It's been 10 years since we've been to Jamaica, Derek actually proposed to me at Dunns River Falls way back in 2005, so we thought it would be fitting to revisit this beautiful island. We originally planned on staying at the Bahia Principe, as we've had nothing but wonderful experiences at this chain of hotels, but sadly for us, the flight got sold out the day we went to book. Our travel agent recommended the Riu Palace Tropical Bay in Negril, and in fact, said it was even better than the Bahia…. we went for it.
I want you to keep this in mind while reading this review, we have never complained about a resort and understand that sometimes things go wrong, however, the Riu left us completely unsatisfied. Customer service is everything to me, and I just felt that each employee could care a less about us. Frist off, upon check-in, although we requested a bottom floor room when booked, they placed us on the top floor, okay no problem, we can handle that. We arrived in the room around 9PM, after a long day of travel, to find our room in the mid-nineties. We turned down the AC and waited. It was blowing nothing but room temperature air, so we headed to the front desk. They sent maintenance to the room, where we were told this is the coolest it gets. Not okay. If it's in the nineties in the evening, what is it going to be like in the daytime? We sweated it out till morning. Went back to the front desk and asked to change rooms, we got a snotty attitude and was told all the rooms were the same temperature. Again, so not true. After fighting with them, they finally switched rooms (in which the AC worked perfectly fine) and just goes to prove that not all rooms are in the nineties. I just think for the money we paid, we should have been moved that first night and I shouldn't have to fight and explain myself.
Second day, we returned from the pool to find my Chi flat iron broken into three pieces. Again, totally fine, accidents happen, but it would have been nice to come back to a note saying something like "sorry we broke your straightener, please head to front desk". Don't just place my flat iron back on the counter and pretend nothing happened or think I wouldn't notice. Long story short, after investigating, wasting more of my holiday back and forth to the front desk and manager's office several times, I was told that they could only offer me half of what I paid. In what world does that make sense? You break something of mine and then insult me by only offering half. Keep in mind, I was honest with them and told them exactly what I paid, even showed online sites with the same flat iron, so they could see the original price. I could have lied and went higher, in which I could have actually got paid the correct amount, I guess it doesn't pay to be honest? I guess half is better than nothing? They originally just super glued it together and said they fixed it. Again, in what world do you think gluing something that reaches 450 degrees makes sense? It could melt, in which case I would have glue stuck to my hair, or I also heard it can catch on fire. It was the fact that they didn't seem to care that they broke it, never said they were sorry and then just wanted a quick fix to solve the problem.
Third day, the spa there was nice enough to let me borrow their flat iron for the week, cause this girl needs to straighten her hair for photos hehe. It blew up in my hands. Actually blew the fuse box open, which was under lock and key, sparks were flying everywhere, got extremely hot and almost burnt my hair. Back to the front desk we went. Again, no one seemed to care that it blew up in my hands. Awful customer service. Not one person at the front desk was happy, smiling or welcoming.
Forth day, electricity was out for over 5+ hours. It wouldn't be so bad if it was during the day, but it was out well into the evening. Have you ever tried to get ready for dinner in complete darkness. Again, no one seemed to care. Also, one of the families we met had their ceiling fan fall on them during the night, and all the hotel did for them was change rooms.  That's not only scary, but extremely dangerous and no one seemed to mind.
Now, onto the hotel itself. It offers 4 specialty restaurants, in which we booked the following day we arrived, only to find out everything was already sold out for the week. After complaining, we did manage to get into the steak house once that week. I just think booking the day after you arrive is plenty of time and we should have been entitled to at least 2. Buffet for 6 nights is unacceptable for a 5 star hotel. The food on the other hand was very delicious though.
The beach was kept immaculate, the grounds were beautiful, but the pool, we didn't see anyone clean it for the entire duration of our stay. It had cups floating in it, which we had to pick out ourselves, a ton of bugs, cigarette butts and just overall dirty. They didn't seem to clean the area around the pool area at all. Garbage that was left by the pool (besides the cups) were there the entire 7 days we were there. On the plus side, our house cleaning staff were amazing, chatting, easy going, took time to get to know us and beyond.
I could go on and on about all the problems we had, how in no way is this a 5 star hotel, how the staff were some of the most unfriendly people I've ever met, but I'll leave you with some of the beautiful photos that Derek and I captured. You gotta make the most out of every situation. On the plus side, we made some wonderful friends, enjoyed the sun and heat and had the chance for some quality alone time together.