For the past 3 months, I've been focusing on getting back to natural sleep with Pascoflair. I've learned how important it is to have a little "me" time at the end of a stressful day, and not to feel guilty about it. I've also learned the importance of quality sleep and just how much it effects my daily activities and routines. I'm trying to kick bad habits, stick to a regular sleep schedule and trying to relax and unwind after a busy day.
I'm in the middle of turning our spare bedroom into an office, cause for anyone that works from home knows how important it is to have a separate work area. I want (and need) to distance myself from my blogging world to the rest of my life and this is going to be the best option. I'm going to "try" and stick to a work schedule and be done by 6PM every evening. I've also been trying to turn off all electronics at least an hour before bed and surround my bedroom with calming and soothing elements. I already take hot, relaxing bubble baths in the evening to help me mentally prepare myself for sleep, but I was looking for another alternative to help enhance my sleep routine.

Meet my newest obsession, the Saje aromaOm Ultrasonic Nebulizer. This sleek and elegant ceramic white diffuser not only looks like a stunning home décor piece, it actually helps reduce dust and other common allergens. You simply add a few drops of your favourite essential oils and watch as it creates a pleasing, relaxing and aromatherapy atmosphere. Its heat-free design helps preserve the integrity of any oil you place in it, which allows for optimal benefits. This air purifier and humidifier includes both a continuous and intermittent running cycle that provides 3 to 6 hours of misting goodness into the air. It features a soft LED illuminating light that acts perfect as a nightlight. Although its soft light doesn't interfere with your sleep, you can of course turn it off while it's still misting. It's not completely silent, meaning you can't hear the nebulizer running, but you do hear the misting of the diffuser. I find this to be actually quite calming and soothing. When the water in the reservoir reaches a certain level, the nebulizer automatically shuts off, ensuring its safe enough to use, even while sleeping.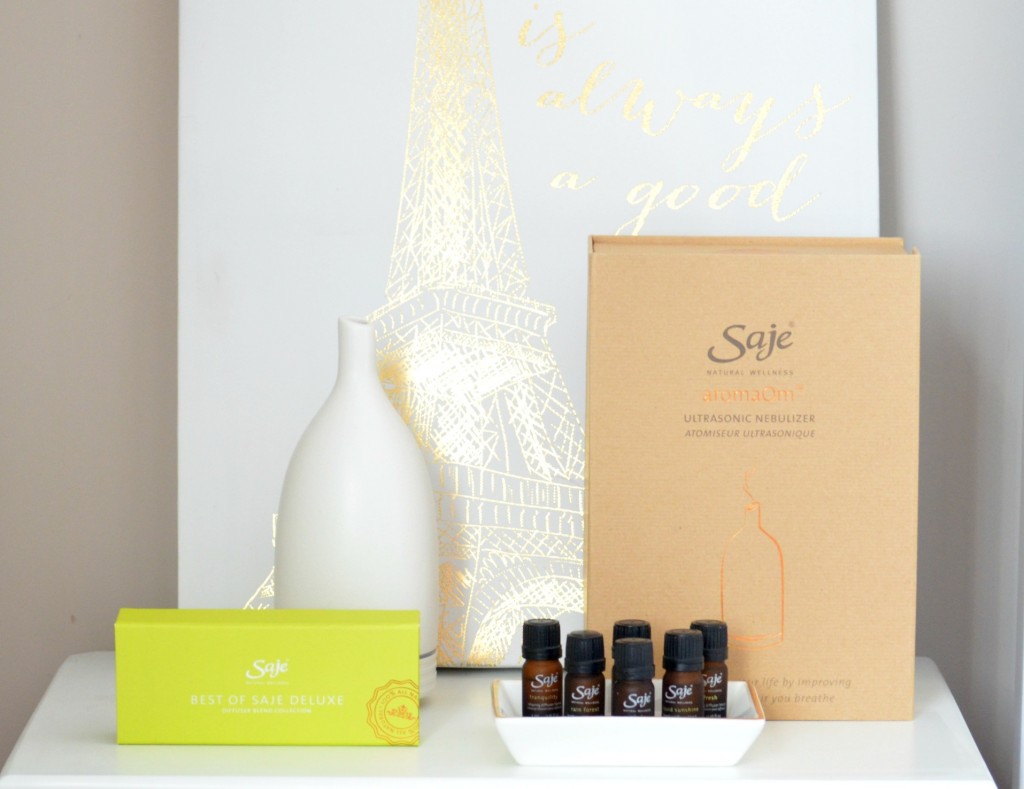 I really can't get enough of my new Saje aromaOm Ultrasonic Nebulizer. I want to pick up a few others for different rooms in my house. They have this stunning gold one that would look super sharp in my livingroom. If you're looking to freshen up your home, without the use of plug-in air fresheners that only mask the odors, I highly recommend a diffuser from Saje. The cold stream that omits through the diffuser instantly humidifies the air taking out all toxins. This not only allows me to breath deep, getting more oxygen into my body, it actually helps to clean out my system thanks to the essential oils that are moving through my blood stream. It instantly sends me off to dreamland and allows me to sleep soundly throughout the entire evening. It retails for $89.95.

Although Saje has an array of individual essential oils, the Best of Saje Deluxe Diffuser Blend Collection is perfect for those, like myself, just getting into using their diffuser and looking to test out several aromas. The kit features 6 favourite blends, including Tranquility, to help support a deeper and more restful sleep, Refresh, for some spearmint-charged vigour in your day, Spa Spirit, for a healing, spa-like atmosphere in your own home, Exhale, for an exhilarating body- and mind-clearing blend that renews and strengthens, Liquid Sunshine, for a citrus-fueled burst of revitalizing energy and Rain Forest, for meditative, nature-infused calm. It retails for $54.95.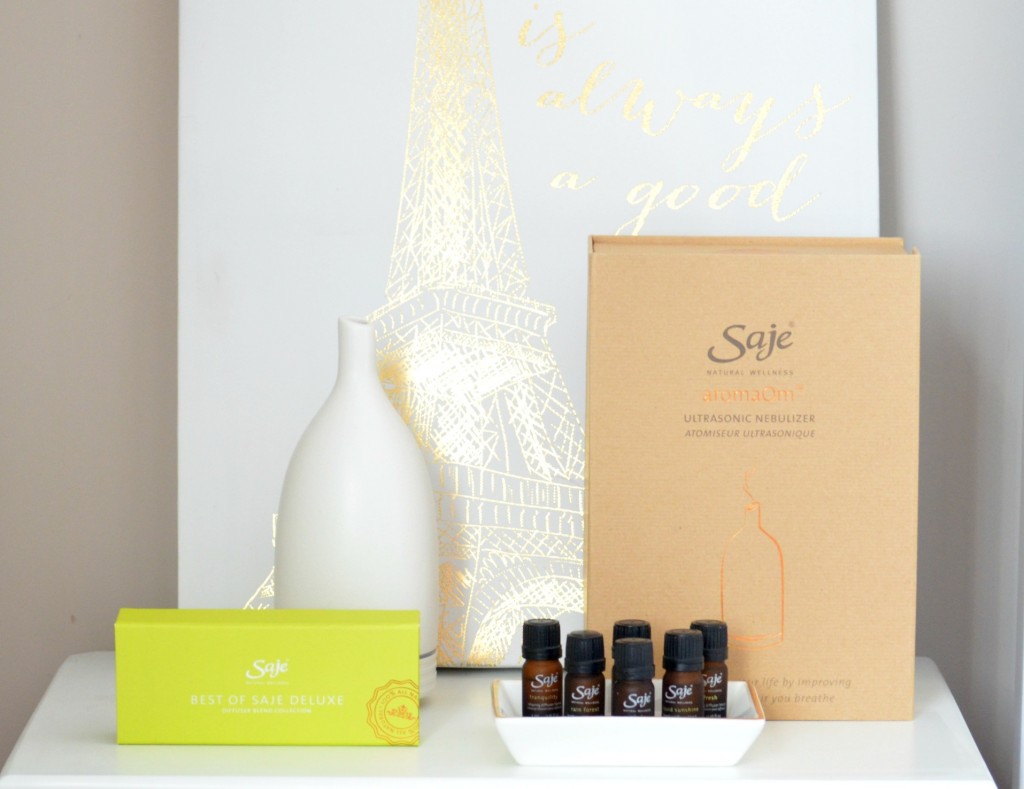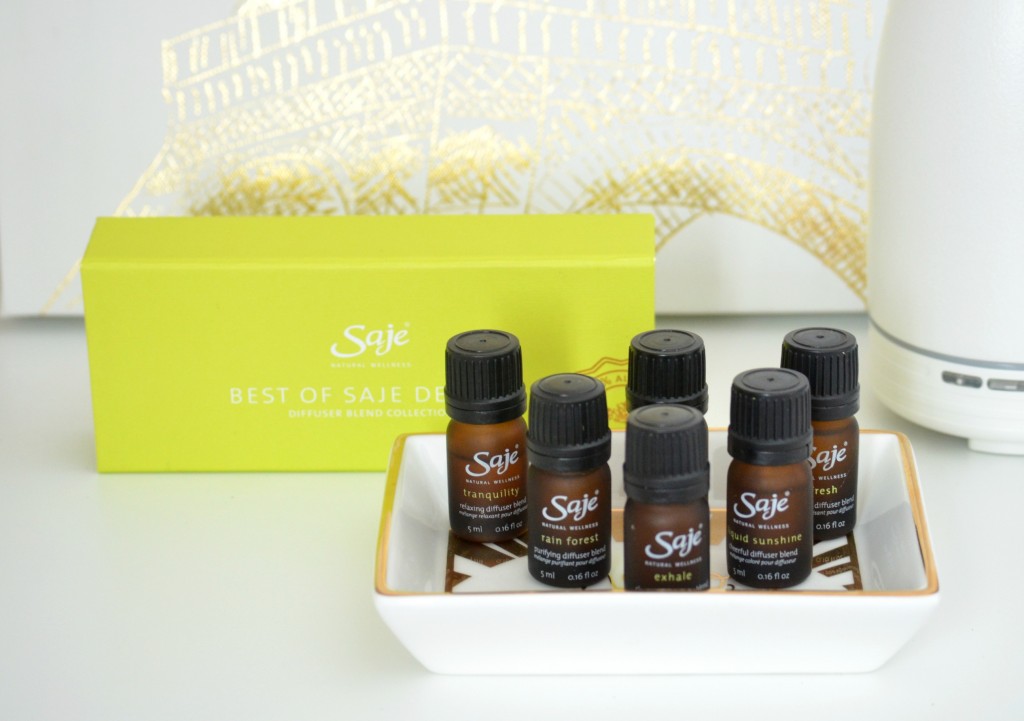 Up next, I want to try Sandalwood, because it's one of my favourite scents in perfumes and of course, Peppermint, because I heard it does miracles on headaches.