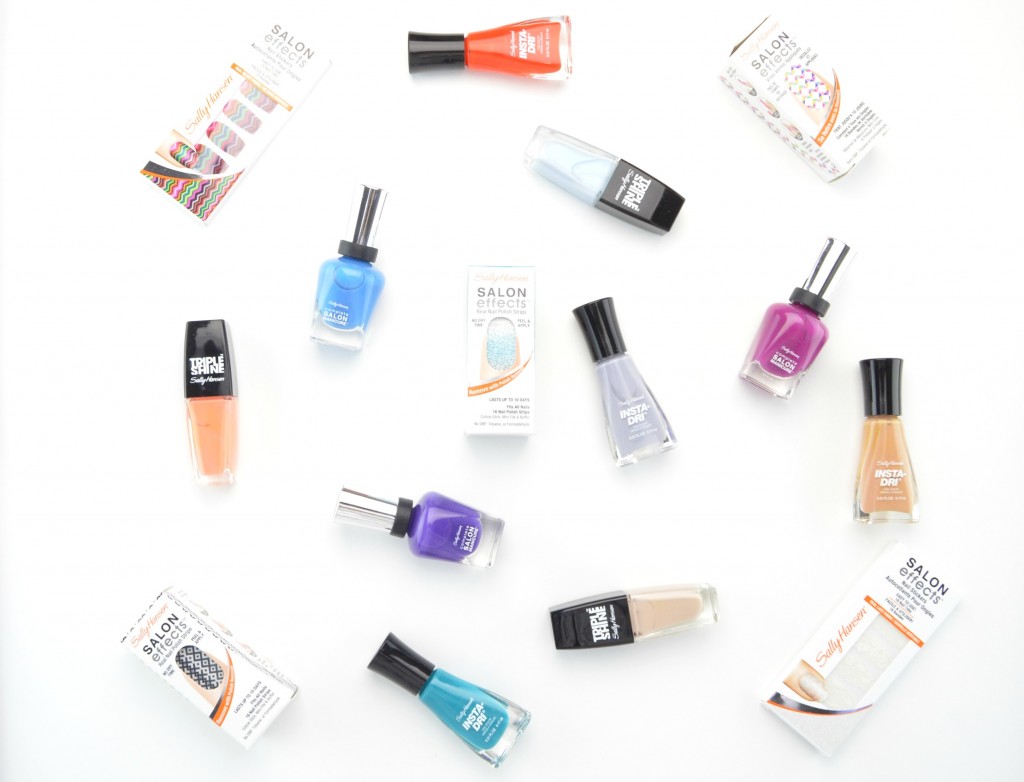 Nail Art

Nail the colours of the season and accent your wardrobe with incredible new shades from Sally Hansen. When it comes to trend colours, Sally knows where it's at. You have your pick from killer jade green to hot cornflower blue, whatever shade you choose, it's sure to be one of the hottest "it" shades of the season. Your nails will be cutting edge with a hint of glam that's sure to turn heads.
Are you ready for the ultimate accessory to help complement your fashion-forward spring look? Look no further than 10 stylish, irresistible new Sally Hansen Complete Salon Manicure shades in addition to their already popular 7 fall shades. It feature a flawless finish brush that's designed to fit the curve of your cuticles and hug the contours of your nails for easy, effortless application with superior wear time.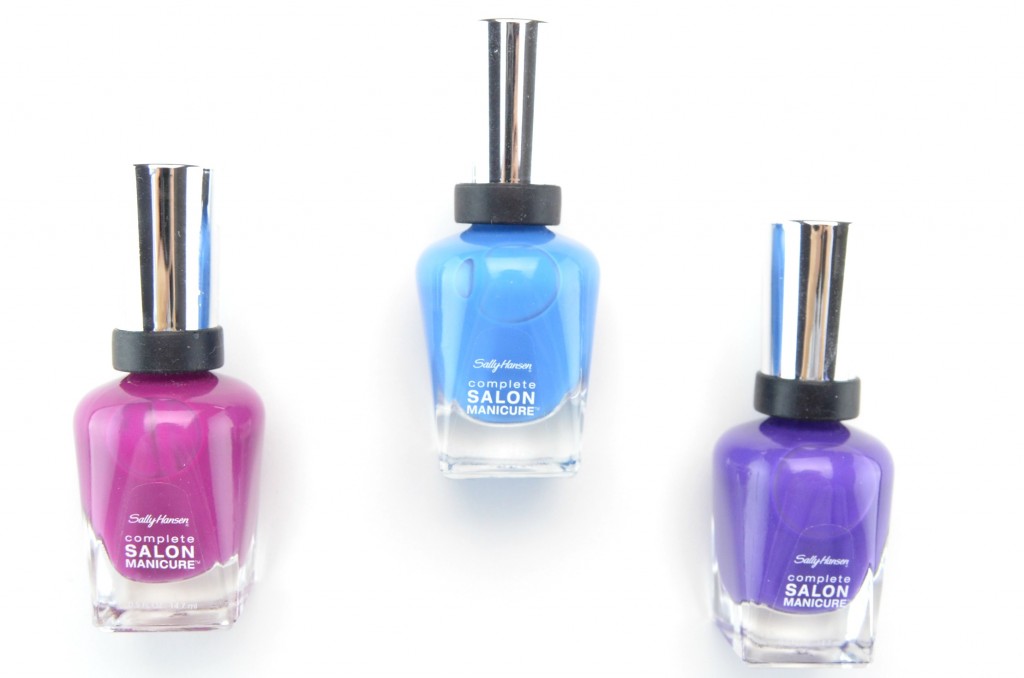 I love that Sally Hansen Complete Salon Manicure is a base coat, top coat, colour, growth enhancer and strengthener all in one. It gives the benefits of several bottles, but in half the time. It's slightly larger brush covers my entire pinky in a single swipe and my large thumb nail in 2 swipes, having me out the door sooner. The built in strengthener helps to really reinforce my nails to prevent splitting, cracking and chipping throughout the entire wear time. The colour is just as vibrant and shiny on the 5th day as it is on the first. The top coat not only helps to lock and seal in the colour, but provides a nice shiny, glossy finish. It has a medium consistency that isn't too thick or runny and it applies evenly and easy in a single swipe. It does take two coats to get true opaque colour, but the dry time in between each coat is fairly quick. It provides a smooth, even surface that's chip-resistant up to 5 or 6 days. Perfect for those girls that don't like to switch out their colour every other day.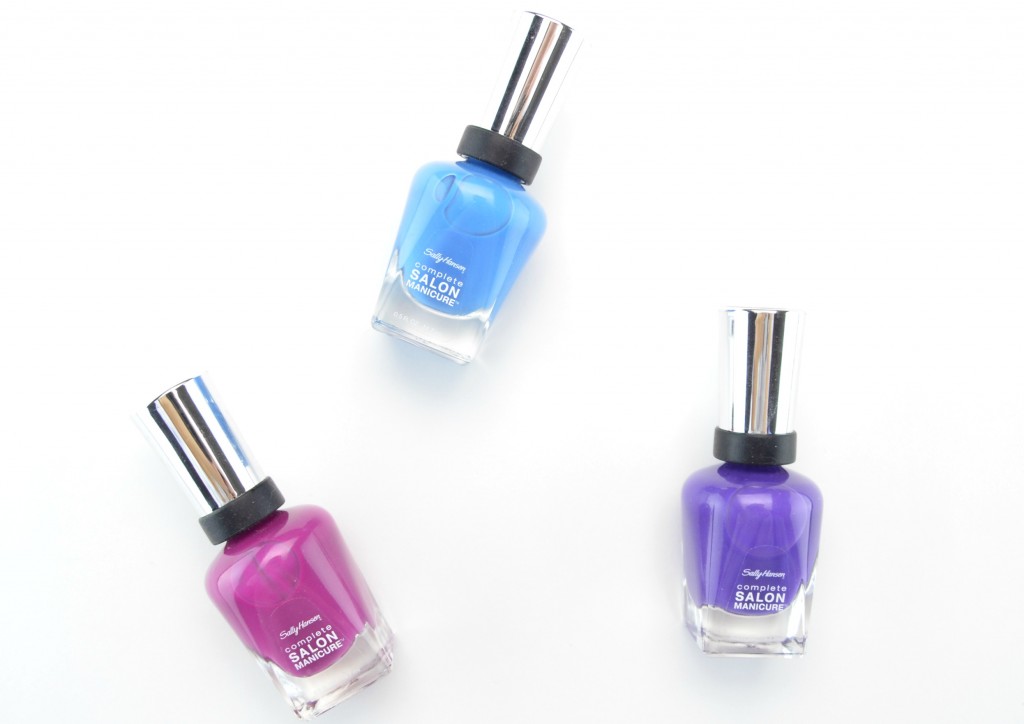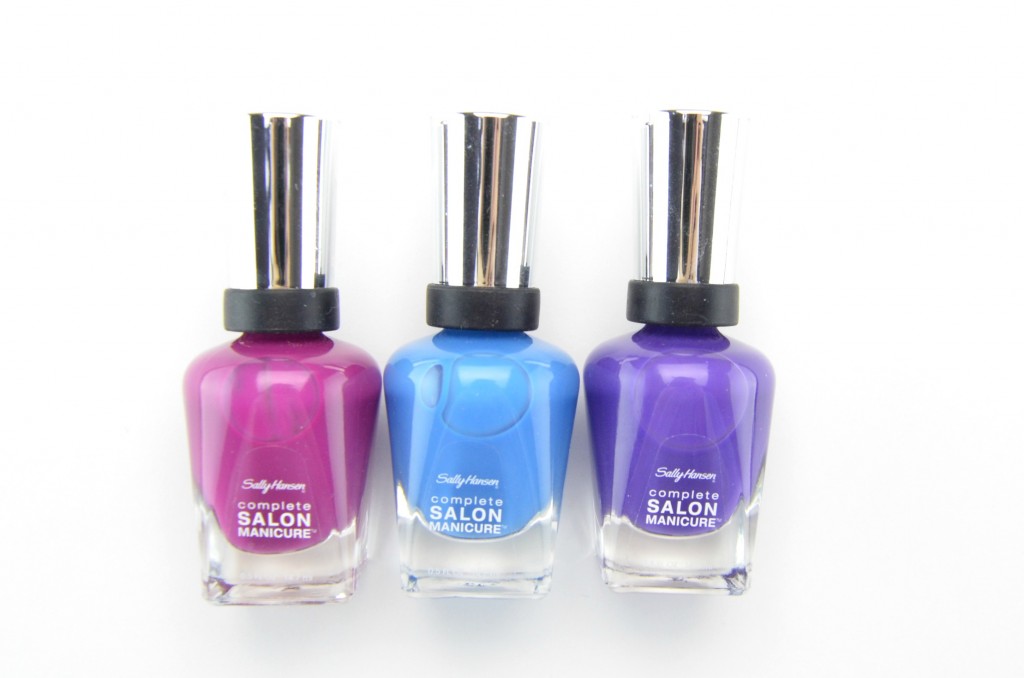 Fall shades include, Ginger Zinger, Brown Nose, All Bark, Hello Pretty, Scarlet Lacquer, Orchid Me Not, Mardi Grape, Clean Slate, Greenlight, Blue Chip with the new spring shades of Let's Snow, Branch Out, On Pines and Needles, Camelflage, Grape Gatsby, Fe Fi Fo Plum and Dark Huemoor just hit stores last month. Each shade retails for $10.95 at mass drugstores and retailors across Canada.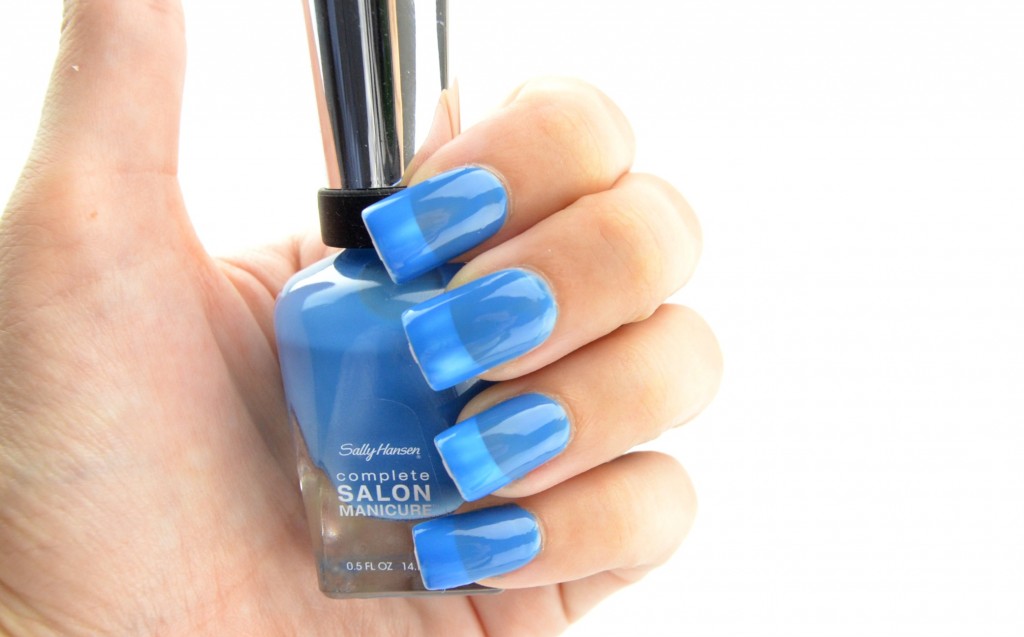 Sally Hansen Complete Salon Manicure in Orchid Me Not, Blue Chip and Mardi Grape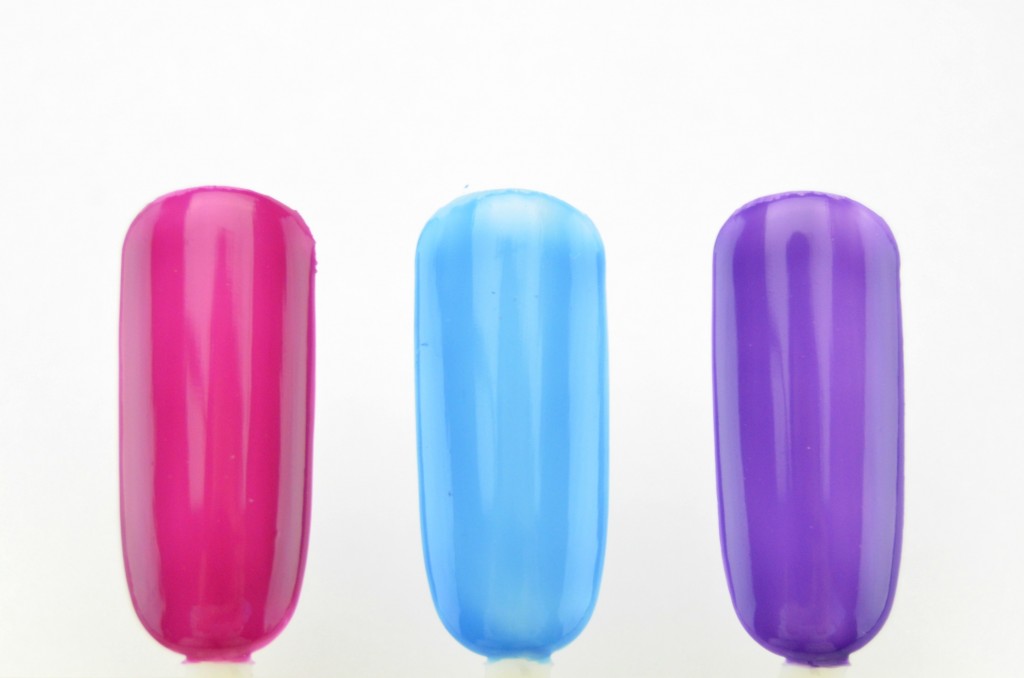 Sally Hansen Insta-Dri gets a makeover with a new and improved formula and new fashion-forward shades. These must-have shades incorporate this season's hottest runway trends in cozy or bold shades, allowing you to turn up the intensity as much as you like. It's quick-drying, high-shine formula provides extended wear and enhance shine in a single stroke and only one coat. It too is multi-functional and contains both a base and top coat along with vivid colour to get that perfect high-gloss manicure in minutes. It provides full-coverage colour with intense shine and dries to the touch in less than 60 seconds.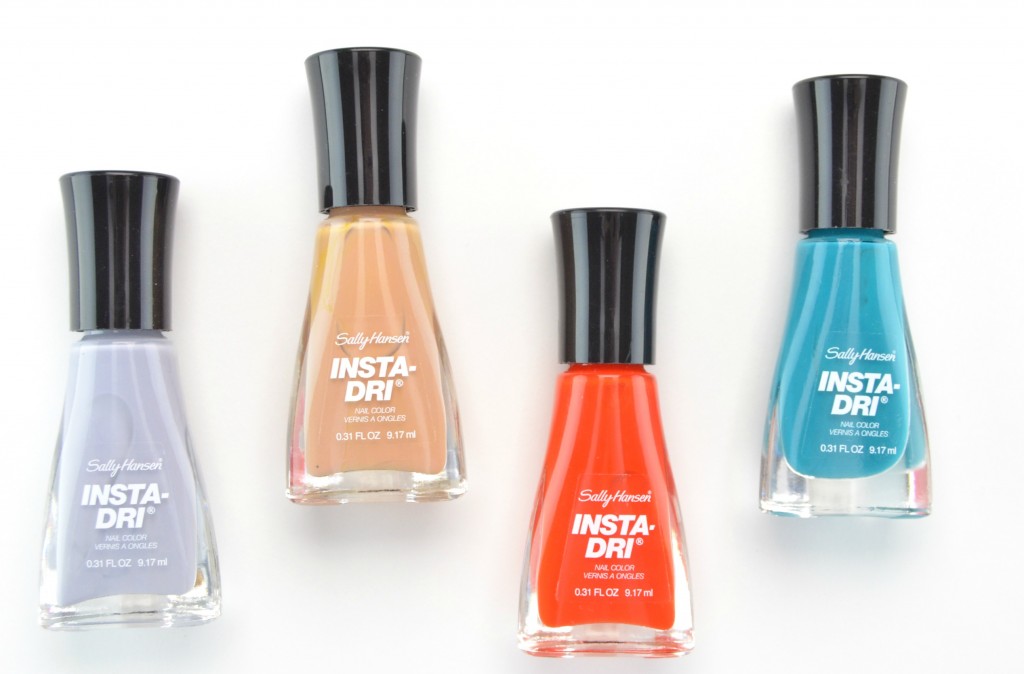 It's hard to go back to regular nail polish after you use one that contains both a base and top coat. I really don't have time (or patience) to apply several coats, so I usually skip the base coat, and then wonder why my polish doesn't last more than a day. I love that I don't have to worry about this when applying Sally Hansen Insta-Dri. It's also fairly pigmented and provides true colour payoff in a single stroke. It has a slightly thicker consistency than other polishes, but this only means you get full coverage in a single coat. Although I do get opaque colour in one coat, I usually apply a second coat out of habit. Since it's so fast drying, it really does only take a minute or so to set and dry, so I don't mind applying another coat. Even though it's fairly thick in texture, it applies evenly and smoothly. It lasts a solid 5 days without chipping and the colour doesn't seem to fade or get dull.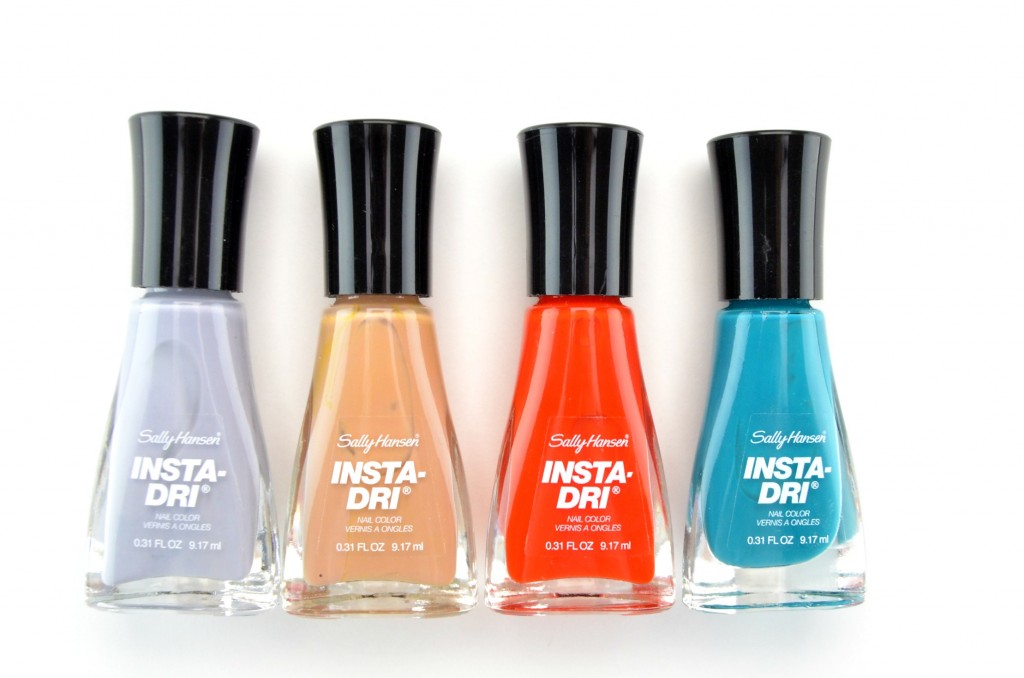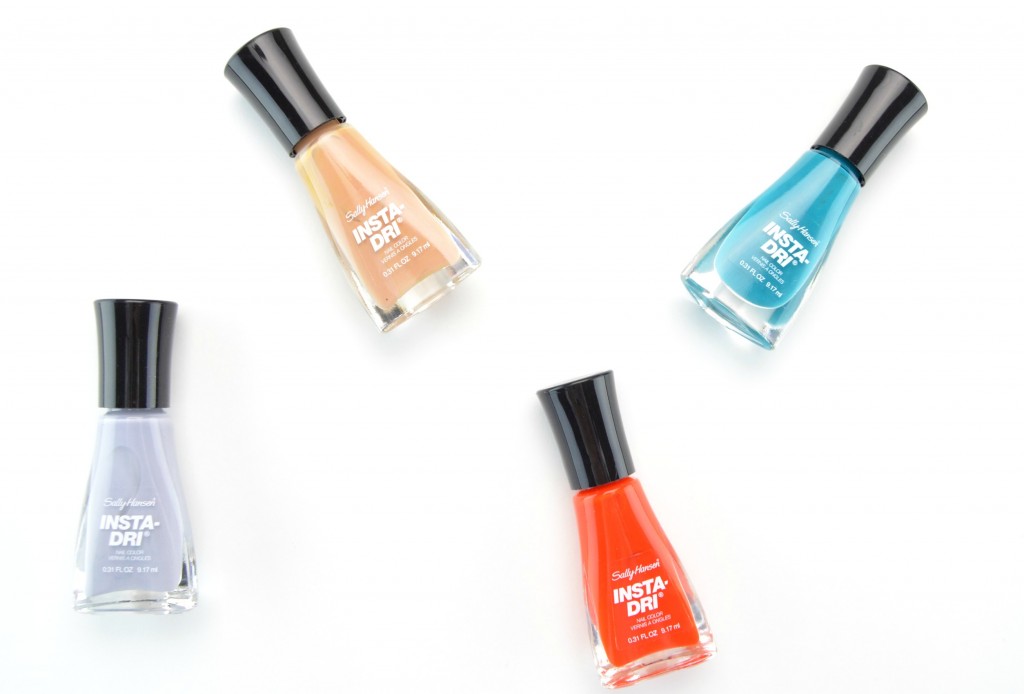 The line already features 26 fast-drying shades, but you now have another 14 fashionable new shades for spring to pick from, Making Mauves, Cocoa A Go Go, Cherry Fast, Black to Black, Set Sail, Ablazing, Navy Fleet, In Nude-tral, Orange Zest, Plummet, Quick Fire, Reteal Therapy, Show Steel-er and Leapin' Lilac. Each shade retails for $5.95 at mass drugstores and retailors across Canada.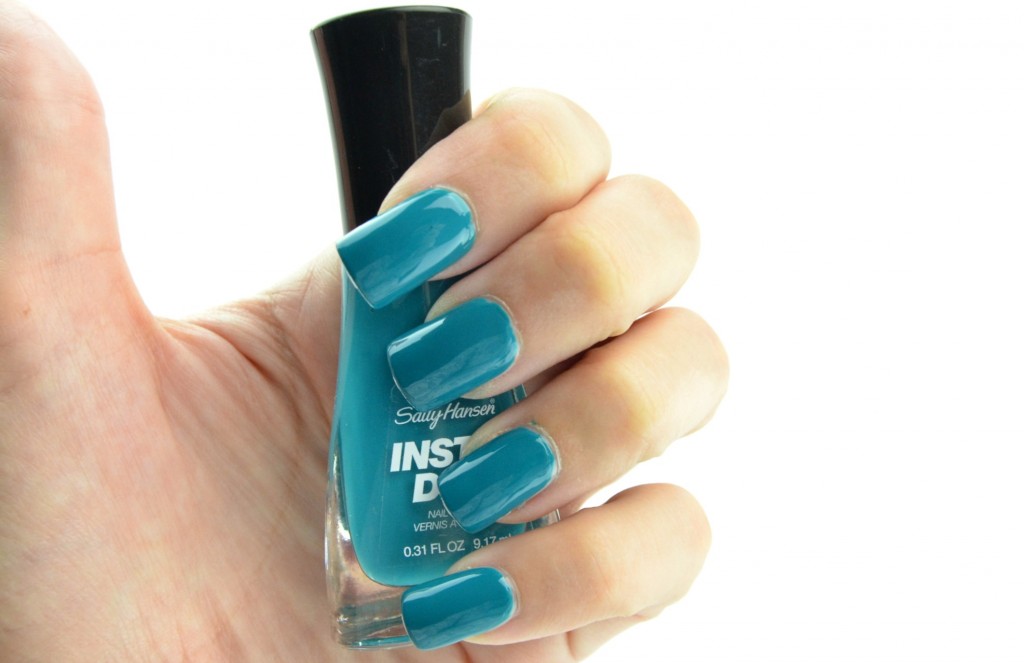 Sally Hansen Insta-Dri in Show Steel-er, In Nude-tral, Quick Fire and Re-teal Therapy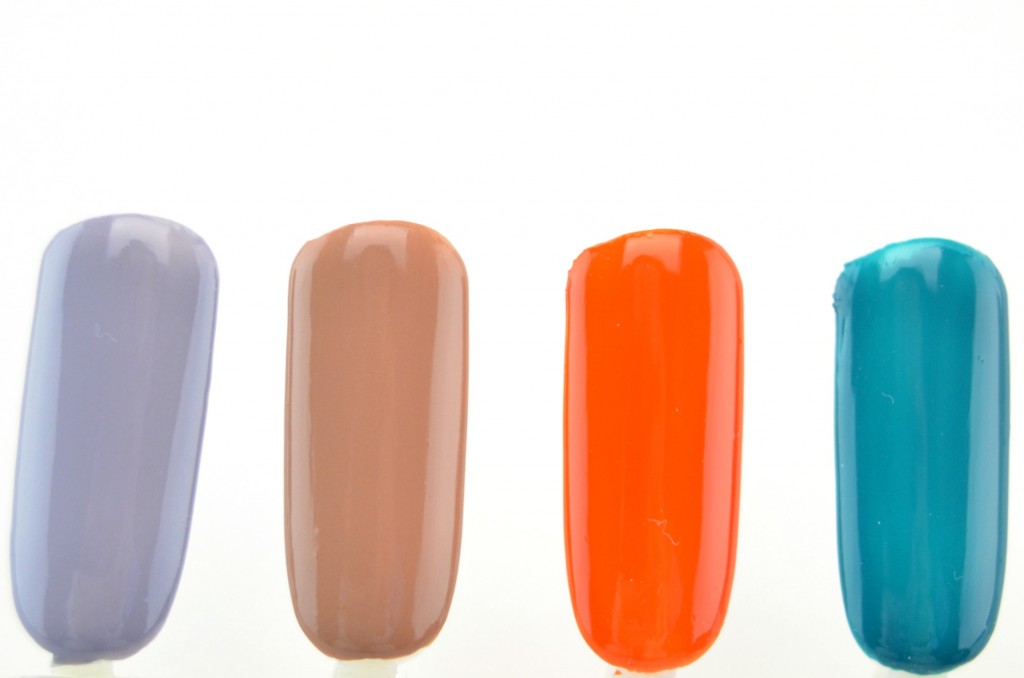 Sally Hansen Triple Shine features natural crushed pearls to give the formula a nonstop, unparalleled brilliance and shine. It gives a high-impact and high gloss effect to the nails in this season's hottest runway hues.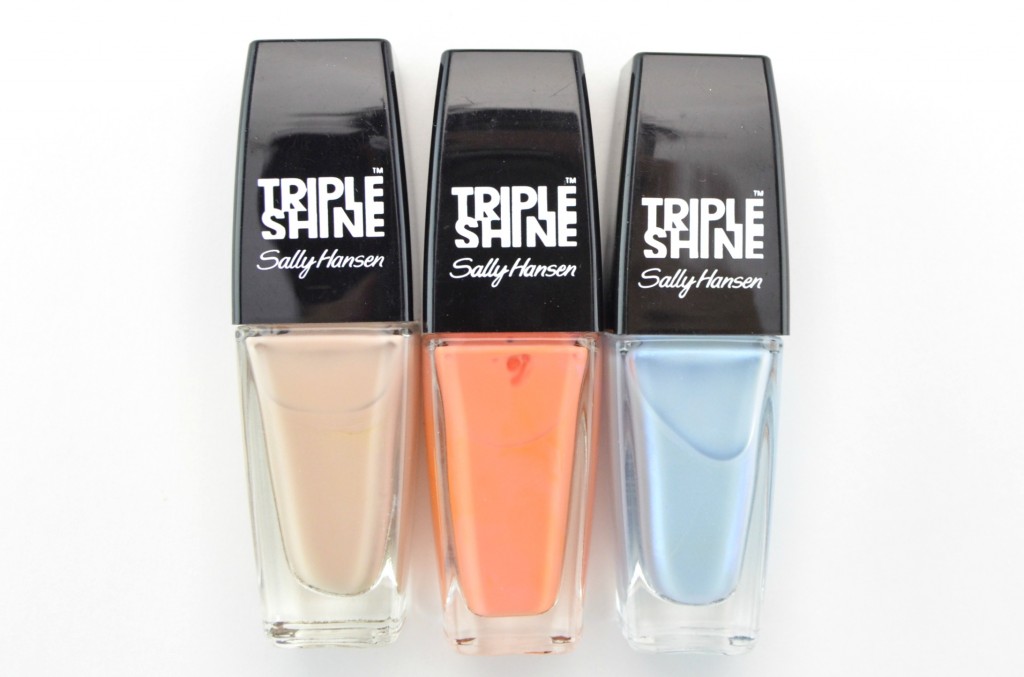 Sally Hansen Triple Shine is the perfect polish for traveling and hot summer days. Not only is it longwearing, it provides daily defense from water; perfect for swimming in the ocean or lounging in the pool. It comes with a wide paddle brush that although provides even coverage in a single stroke, I find it hard to get back into the bottle without bending some of the brush hairs. The pigmentation is pretty good and almost completely opaque in one coat, but because of its almost jelly-like texture, I usually apply two coats to be safe. It provides about 4 to 5 days' worth of wear before chipping and before the colour starts to fade.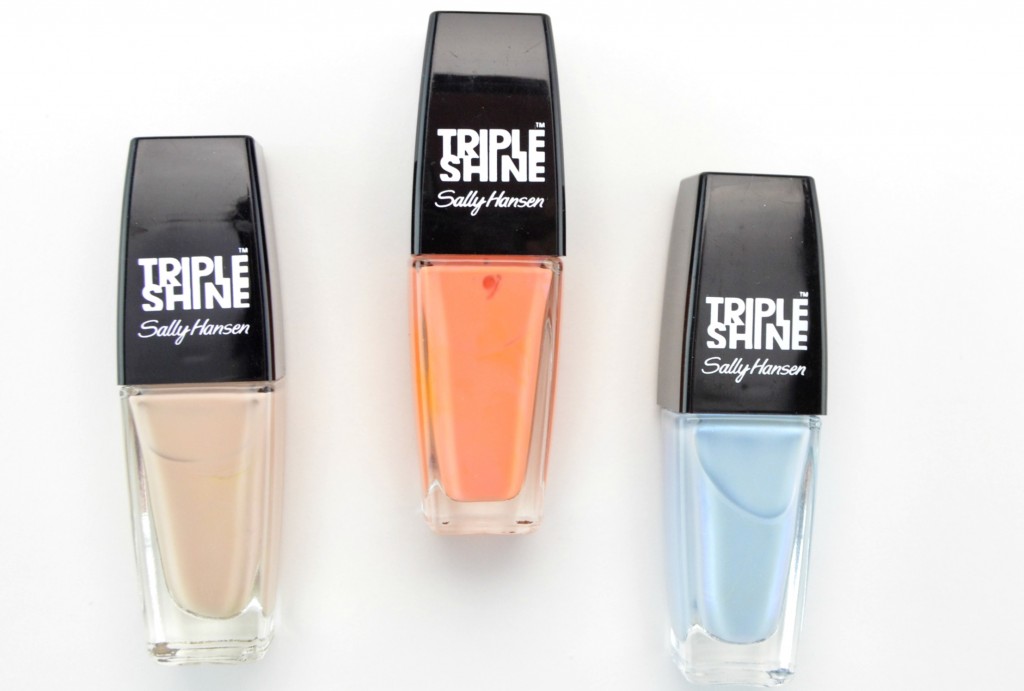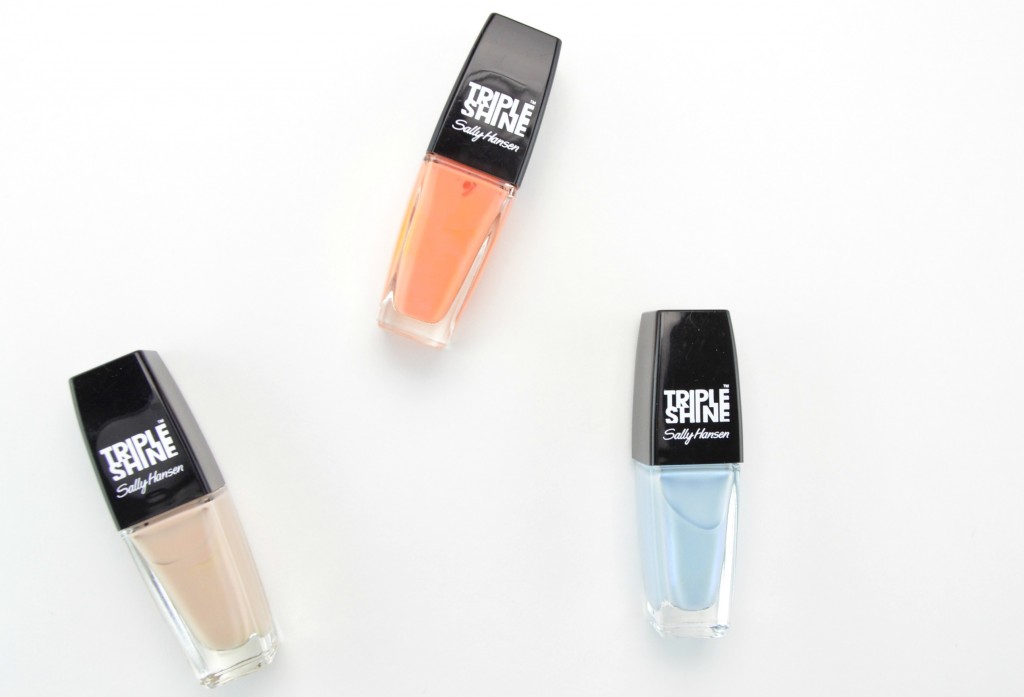 It comes in 10 new standout classics, Peach Party, Make A Splash, Water Lilly, Wet Suit, Seas The Day, Shark Bait, Shelling Secrets, Redflection, Watts New and Deep End. Each shade retails for $6.95 at mass drugstores and retailors across Canada.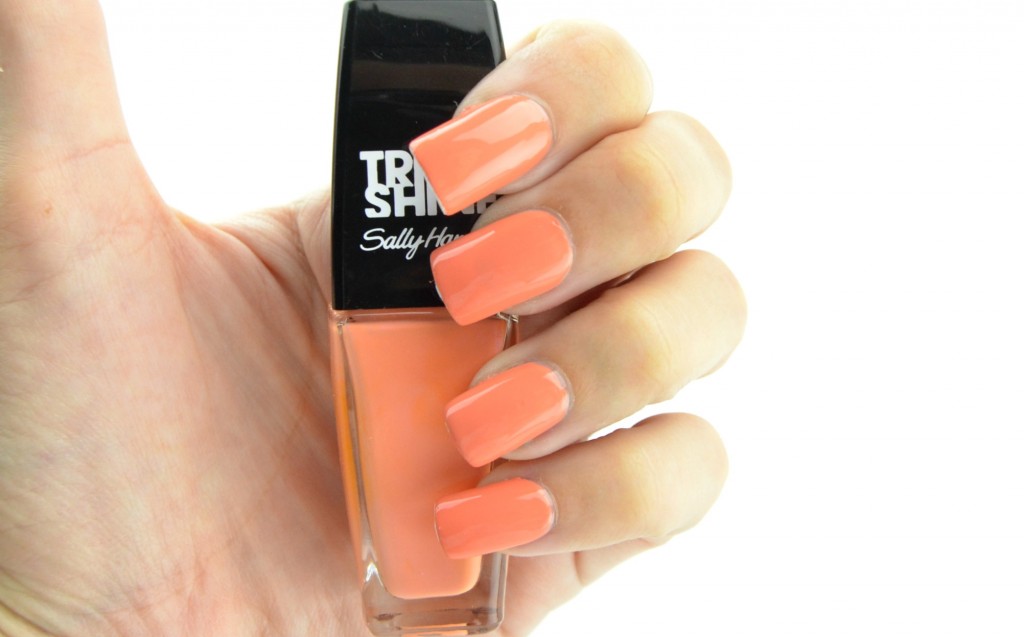 Sally Hansen Triple Shine in Shark Bait is a luxurious light beige; the perfect sandy neutral, Peach Party is a feminine coral with pearlescent shine and Make a Splash is baby blue that's sophisticated, not juvenile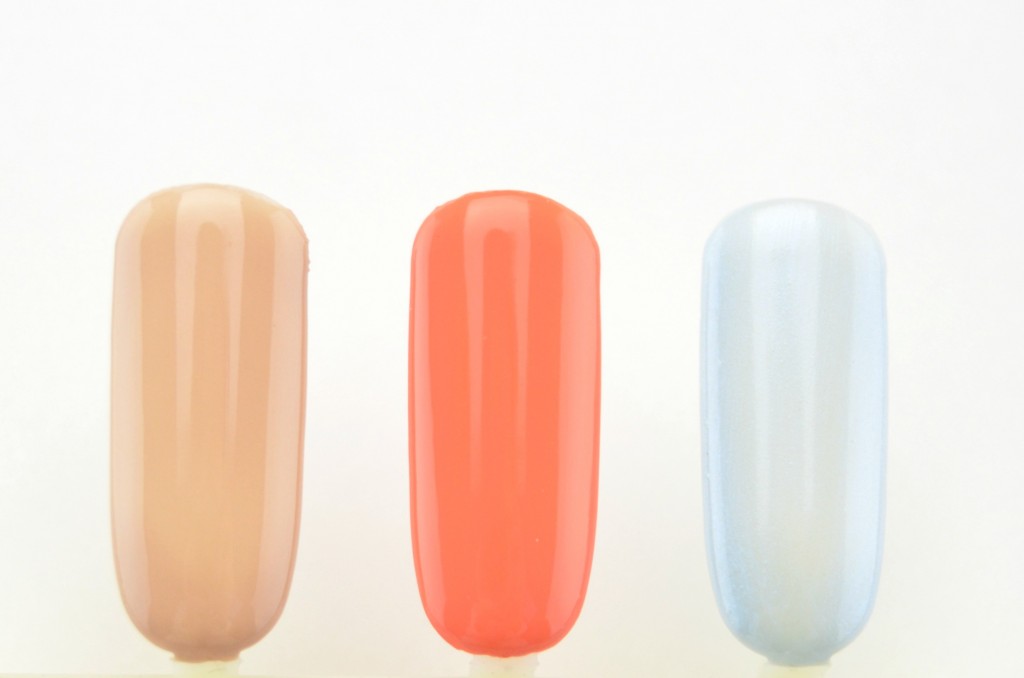 Also released this season is Sally Hansen Xtreme Wear in 8 new shades.
Sally Hansen Salon Effects Real Nail Polish Strips help to achieve precise, bold looks you'd get at the salon, without the salon price. These easy to use, peel and stick nail strips actually use real nail polish to help create a high-impact statement without the stress and hours spent on nail art manicures. These new shades for spring are inspired by the trends found on the catwalks in chic, colour block, animal print and tribal designs.
Sally Hansen Salon Effects Real Nail Polish Strips are super easy to use, start with clean, dry nails (filed to your desired shape and length). I usually quickly swipe a nail polish remover over each nail to ensure its clean of all dirt, oil and excess polish. This just helps the polish strip to adhere and stay on longer. Then simply peel the backing off the polish strip and press onto your nail. I start by securing it at the base and stretching it over the edge of my nail, smoothing it onto the nail, followed by the cuticle stick to secure the edges. You can use the mini nail file to file off any excess polish strip, followed by a topcoat, if you like. I also find this helps with the wear time.
8 new, look-at-me designs, Pitter Pattern, Cat Call, Amazing Lace, Geome-Trick, Get the Point, Giving Lip, Stripe Out and Crowd Surfer. Each set retails for $7.95 at mass drugstores and retailors across Canada.
New limited edition Sally Hansen Salon Effects Fabric Stickers give any nail enthusiast a fashion-forward boost with these stylish, never seen before, nail stickers made of real fabric. These bring the best in fashion texture to your manicure with designs you can not only see, but feel too. Create cutting edge looks with feminine lace, plush velvet, cozy wool and so much more. Your nails will be the ultimate fashion accessory this spring.
Sally Hansen Salon Effects Fabric Stickers are applied the exact same way as the Sally Hansen Salon Effects Real Nail Polish Strips and last the same amount of time, but these have a fun 3-D texture to them. Totally fun and totally unique. I love that these dazzling patterns and designs can be worn alone or over top of my favourite nail polish colour to help create and achieve my own personal combination and customized look.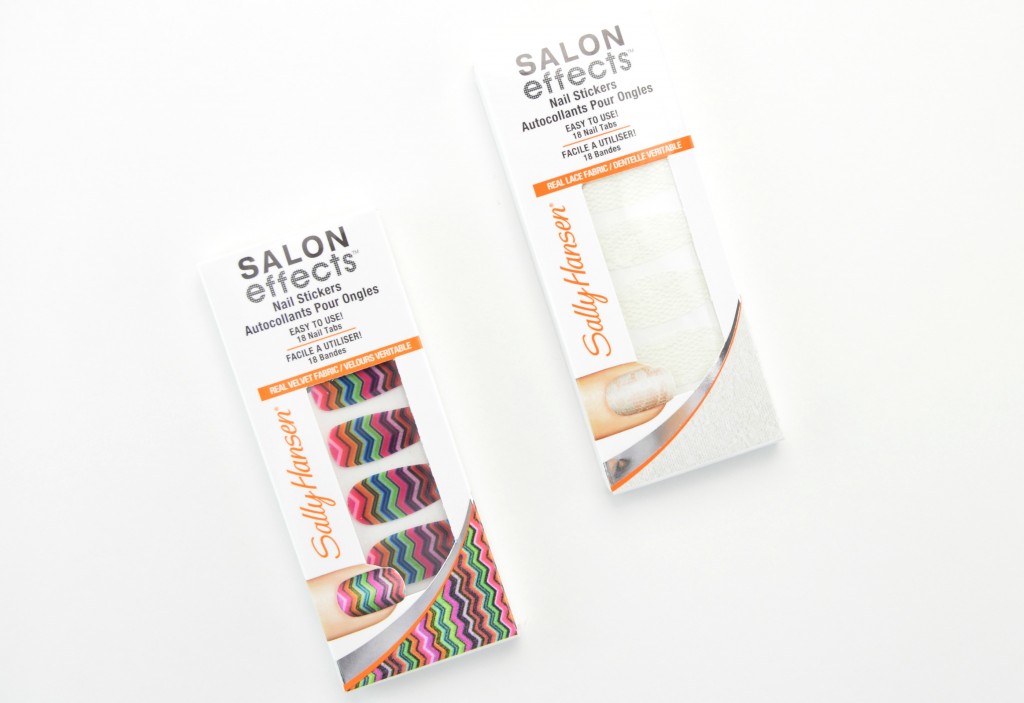 These come in 8 new limited edition patterns, Faux Real, Black to Basics, Goldwork, Thread Lightly, Fab-ric and Lacey Does It. Each set retails for $7.95 at mass drugstores and retailors across Canada.